Are you a haggler? Do you love to grab a bargain? Or do you simply enjoy soaking up the atmosphere of daily life? If so, you'll love this list of our favourite markets around the world. 
Marché de Dantokpa, Benin
The huge Marché de Dantokpa explodes across the streets and alleyways in Cotonou. It's open every day of the week from first light until sundown, though as with most markets the activity is most frenetic in the morning before the heat starts to repress even the boisterous behaviour that this market creates.
Dantokpa is far and away the largest market in Benin and should not be missed. As with all markets each product is designated its own quarter and if you cannot find what you are looking for in Dantokpa then the chances are that it simply doesn't exist.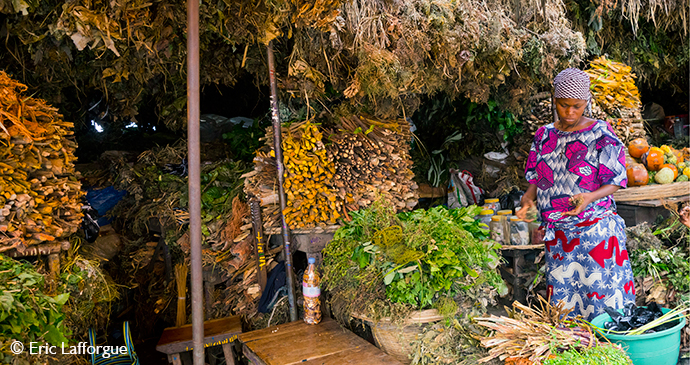 Household goods? Fill your garage with rubbish for next to nothing. Food? The exotic and dull will be spilling out of your kitchen cupboards before you know it. Clothing and textiles? A rainbow of colourful material will bulge from your wardrobe by sundown. Snake skins and rat heads? Well, if for some perverse reason you should have need for such things then you can easily change your medical kit for ever. Illicit goods? Undoubtedly!
Much of the market is stress-free though the fetish and spice sections are more tourist-savvy and shop owners will demand money for photos. Anywhere in the market you have a good chance of finding yourself with an unofficial guide at some point.
Srinagar floating market, India
Set on the spectacular Dal Lake, Srinagar is one of Jammu and Kashmir's most picturesque towns. Business at the daily floating vegetable market starts even before the sun comes up. Men in their open shikaras haggle enthusiastically for armfuls of knobbly green gourds, white radishes and bundles of spinach.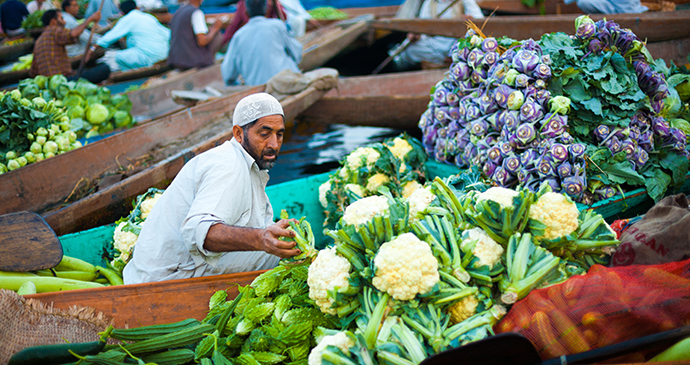 Though this is a photographer's dream, and large numbers of tourists do come to spectate on the scene, this is a real market, the place of choice for local people to buy their vegetables, fruits and fresh flowers.
Dakar fish market, Senegal
The fish market down on Dakar's beach only kicks into gear when the pirogues come back in the evening, starting around 16.00 – it's a frenzy of commerce as an army of fishmongers descends on to the beach to inspect the catch.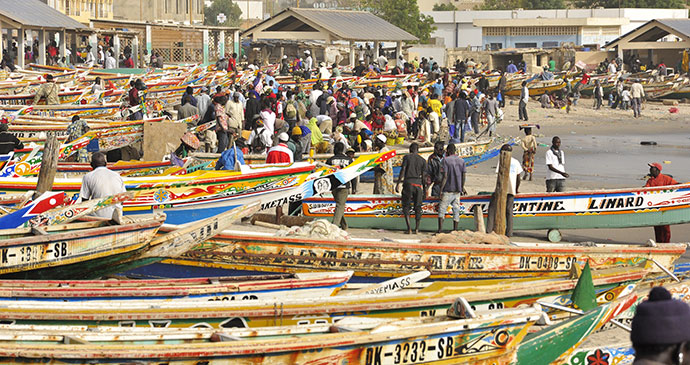 The real treat, though, is the dibiterie stands nearby – bring them a fish or let one of the women choose for you, and they'll grill it up for you on the spot.
Mutrah Suq, Oman
The largest suq in Oman, Mutrah is in reality two suqs: the eastern area under the fort is the wholesale market, while the western area is for retail. Walk the colourful passageways and you'll find yourself immersed in real Arabia as the aromas from spices and incense burners fill your nostrils.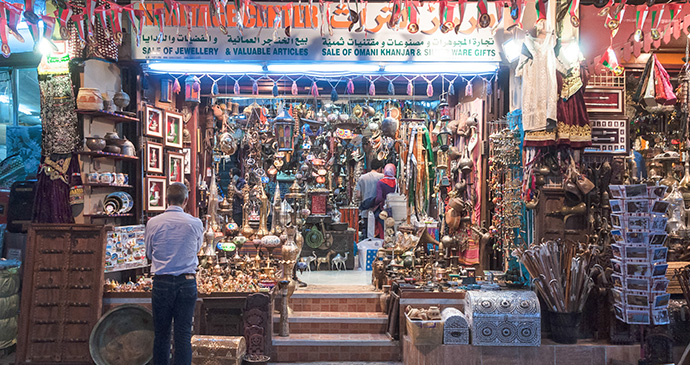 You'll find a serious wealth of items here: coffee pots, rose-water sprinklers, henna, the ubiquitous pashminas, dishdashas, antiques, gold, silver, chests, rugs, handicrafts and even the essential animated toy camel. Khanjars, the Omani man's ceremonial dagger, are popular but expensive souvenirs. Friendly haggling is expected in all of the suqs. Try one of the fantastic milkshakes or fruit juices in the coffee shops just outside the suq on the corniche.
Forodhani night market, Zanzibar
Once a ramshackle collection of waterfront stalls, the renovation of the gardens in Stone Town has led to the creation of a purpose-built, hard-standing food area. The smarter surroundings, organised litter collection and arrival of chefs' hats for the traders have certainly improved the market's hygiene and image, although in many ways the experience is unchanged.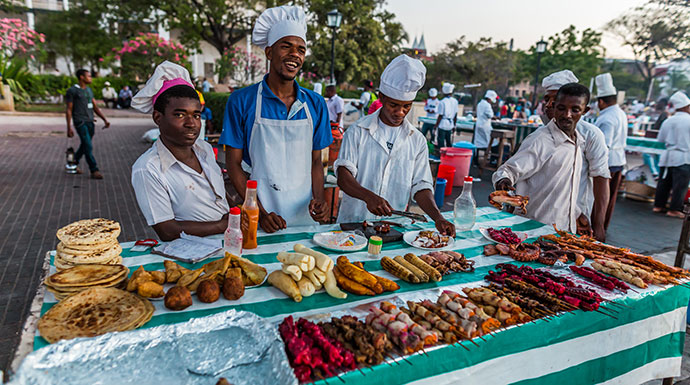 The food stalls remain a social gathering place for both locals and tourists, and as the sun sets the stallholders fire up their braziers and hurricane lamps, serving fish and meat kebabs (mishkaki), grilled squid and octopus, samosas, chapattis and 'Zanzibar pizzas' – akin to a filled savoury pancake. Try the nutritionally challenged chipsi mai yai: an omelette filled with chips, sometimes served with shredded cabbage.
Mercado del Puerto, Uruguay
This 3,500m² market is an unmissable stop on a trip to Montevideo that shelters a variety of restaurants specialising in fish and, of course, asado. They are not cheap but are very popular with locals and tourists alike, especially at weekend lunchtimes.
There's no smoking inside, of course, but thanks to all the parrillas grilling away inside, the cloudy vaults could almost belong to a steamera railway station after all. There are also restaurants outside, which remain open into the evening when the market itself is closed, and there are buskers and other entertainment, especially at weekends.
Hargeisa camel market, Somaliland
This bustling market, 30 minutes' walk south of the town centre, is well worth a visit, ideally between 08.00 and 11.00 when it is busiest. Multitudes of camels, goats and 'fat-tailed' sheep are all on sale here, and visitors are welcome to take photographs or to sit with the traders and sip a Somali tea in the shade.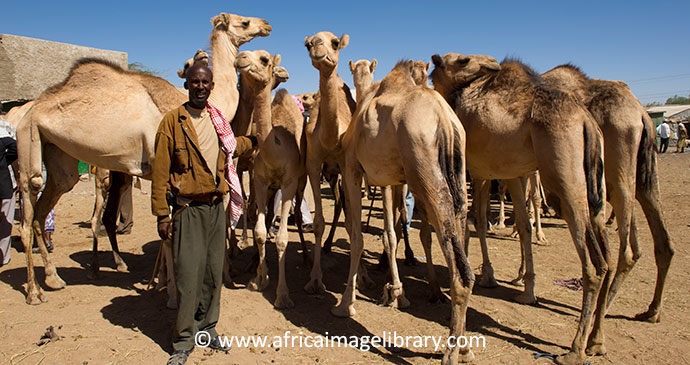 If you are thinking of buying, bargaining is de!nitely the order of the day, and word is that a camel might cost anything from US$1,000 for a strong fully grown stud to around US$300 for a punier three to four year old. By contrast, you can pick up a sheep or goat for a mere US$60–80.
Chorsu Bazaar, Uzbekistan
The modern incarnation of Silk Road trading posts now long gone, this market buzzes with energy and everything conceivable (and, like the cow heads, a few things normally inconceivable) is for sale.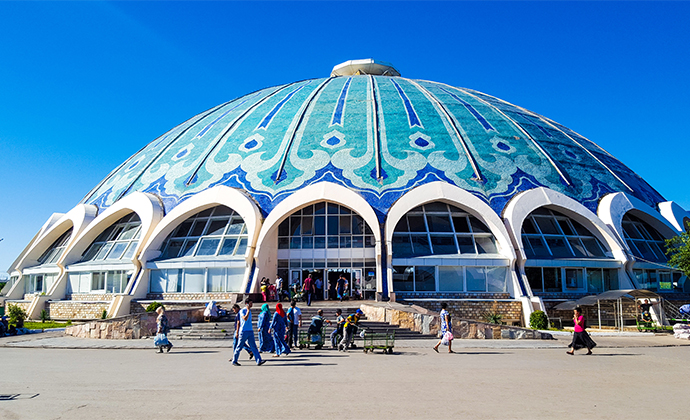 You can of course buy a trailer-load of watermelons and 300 plastic buckets, but the real delight comes in spending an hour or three exploring the trading domes, drinking bowls of fragrant black tea, smelling the shashlik grilling and engaging in an animated, good-natured haggle for a bag of salted pistachios and a fresh, pink pomegranate. Come here for some well-placed souvenirs, including a wide selection of ceramics, and the best peoplewatching in Tashkent.
Kejetia Market, Ghana
Ghana is well known for its colourful markets, but Kejetia really is the cream of the crop. Sprawling over 12ha immediately southeast of Kejetia Circle, this is reputedly the largest open market in West Africa, hosting around 10,000 traders within its confines (a figure that excludes the innumerable stalls that spill out along the surrounding streets).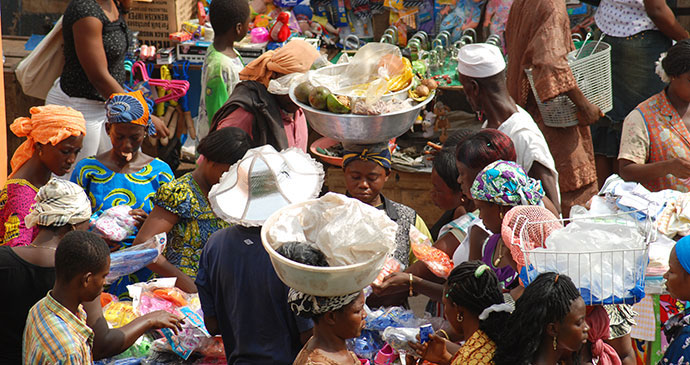 Aside from the decidedly smelly part of the market where fish and meat are sold, this is a fascinating place, well worth dedicating an afternoon or morning to, and a great place to buy curios and crafts in an environment where tourists form a fraction of the clientele. Getting lost is part of the fun – the market isn't so large that you are likely to lose your bearings for long – and there is little cause for concern about hassle or theft, though many travellers do prefer to explore the market with a local guide.
Tripoli's souks, Lebanon
The contrast with the glitz and glamour of Beirut couldn't be more pronounced in Lebanon's second city as the ubiquitous boutiques and shopping malls of the capital are largely absent in Tripoli, giving way to a much more antiquated and authentic Arab shopping aesthetic.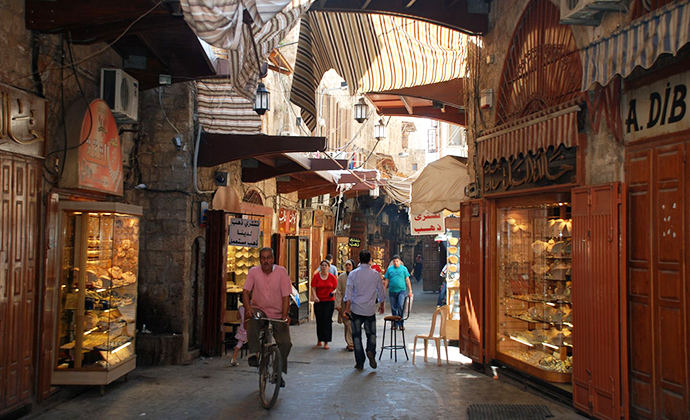 It probably goes without saying that the best and most satisfying shopping, unless modern designer labels are your thing, is in the city's old-style souks and khans. Each has its own special character and goods, which are well worth a look even if you are not intending to buy, just to watch the craftsmen at work. Tripoli has long been famous for the manufacture of soap and sweets, and the two shops below are well worth searching out, both for the products themselves and the still-traditional processes involved in making them.
Albert Market, The Gambia
This Banjul started life in the mid 19th century and is still going strong today, albeit behind a relatively modern façade constructed after it was razed by a fire in 1988.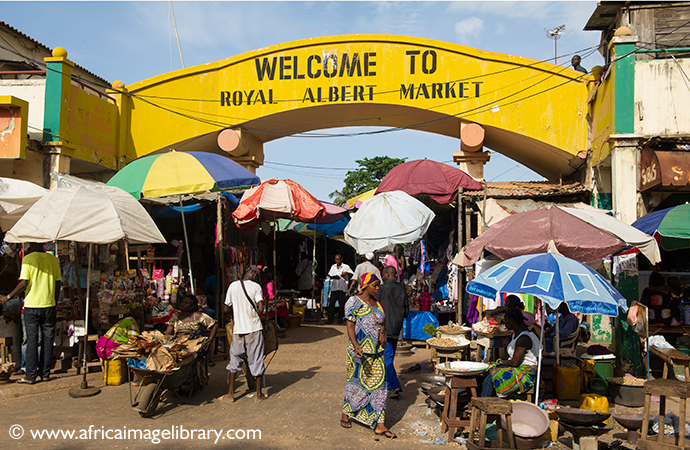 For curio hunters, it is the site of the excellent Banjul Craft Market, an excellent place to buy everything from sculptures and traditional musical instruments to tie-dyed batik clothing and locally made jewellery. But even if you are not interested in buying, it is a fascinating place to stroll around, with different sections devoted to clothing, fish, meat, fresh produce, fetish stalls and hardware, all of them catering mainly to local buyers rather than tourists.
Liuhe Night Market, Taiwan
The night markets throughout Taiwan are a great place to find a vast range of tasty snacks, many of which are deep-fried and slathered with sauce.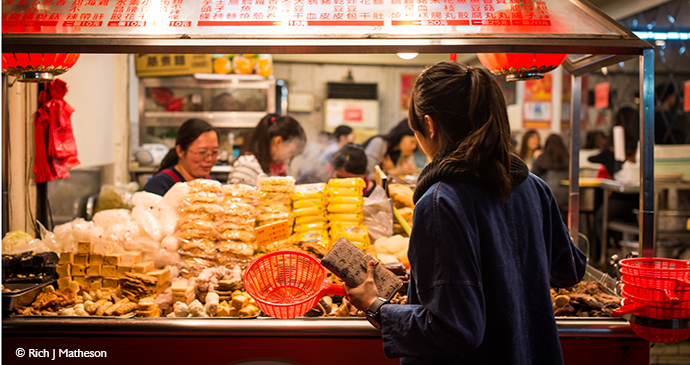 Kaohsiung's most famous night market is also a great place for Taiwanese snack foods, of course, but that doesn't mean it isn't international. In recent years Turkish ice cream & Pakistani dishes have been available, as have sushi, sashimi and Japanese seaweed wraps filled with salad or roe.
Naitakwai Cattle Market, Uganda
This fascinating market takes place every Monday on the south side of the Soroti Road about 3km west of Moroto. Cattle and other livestock are the Ugandan market's main focal point, with going rates being around US$200 for a calf or cow and US$500 for a bull.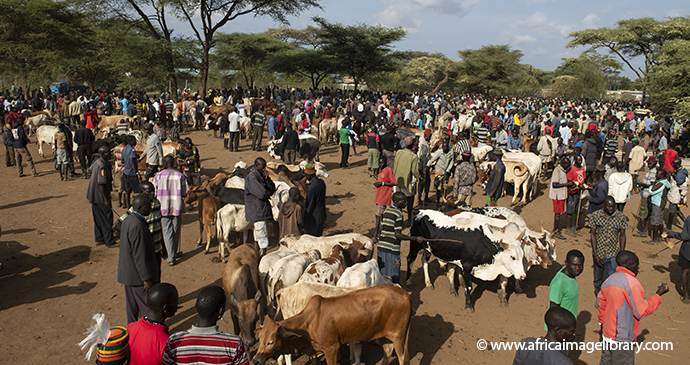 But plenty of other rural produce and other merchandise is on sale, from maize and sorghum to rope and clothes – not to mention a type of local hat made from human hair! And although Karamojong people predominate, you might well also encounter traditional Turkana women with their trademark Mohican hairstyle.
---
More information
For more information, check out our guides: