Orkney has more than 550 miles of coastline, much of it punctuated by dramatic headlands and high cliffs that make for superb views and elemental – and occasionally hair-raising – walking.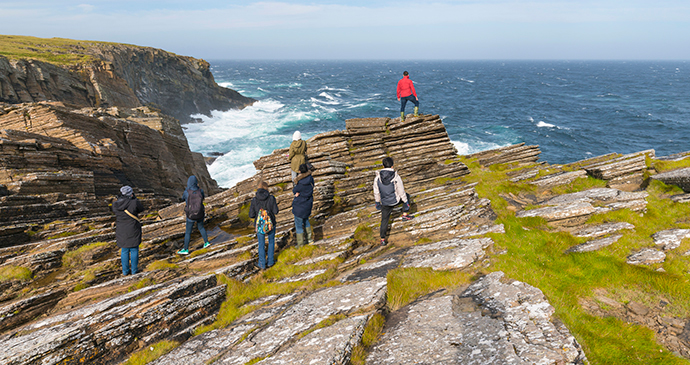 Magnificent cliff walks include Marwick Head on the west coast of the Mainland, where you will spy hundreds of seabirds such as kittiwakes and fulmar, as well as the ever-wary bonxie (great skua). The 11-mile walk from Stromness to Skara Brae along the coast is less giddying but no less impressive, with magnificent landscapes around the sea stacks of Yesnaby.
Elsewhere on the Mainland you can enjoy superb views along the coast of Durness: a scintillating coastal walk that takes in both a gloup (blowhole) and the Brough of Deerness, a rocky sea stack tethered to Deerness and reached by a tiny walkway.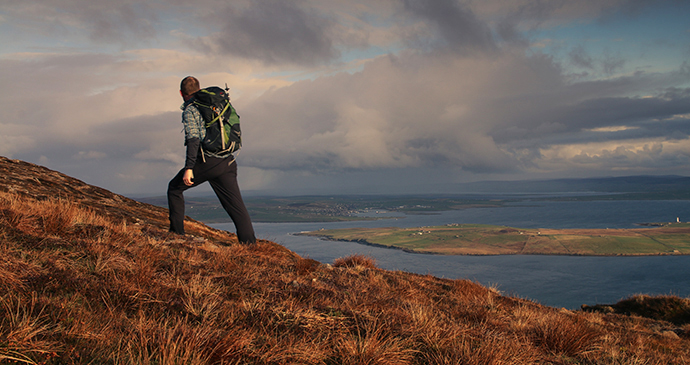 The Southern Isles are just as mesmerising. On Hoy, an iconic clifftop walk takes you from Rackwick Bay to the Old Man of Hoy, the islands' most spectacular sea stack. Apart from one 80yd section where the path narrows near the cliff edge, the walk is fine – just keep back from the edge when you reach the Old Man (a wooden pole is a good place to stop if you feel vertigo creeping up on you).
Equally superb walking awaits on the adjacent island of South Walls (connected to Hoy by a causeway); a wonderful route, along lower cliffs than elsewhere mentioned here, curls its way in and out of chasms and geos to lead you for five miles from the causeway to beautiful Kirk Hope Bay.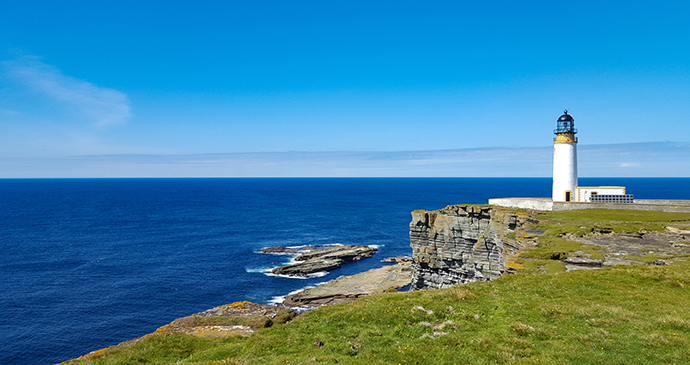 In the Northern Isles, Westray offers some superb clifftop walking. You can wander all the way from the hamlet of Kirbest on the west coast right to the tip of the island at Noup Head, where the cliffs look like they have been guillotined, falling sheer to the sea.
Although the walk is tricky (luckily there are plenty of stiles to take you inland and around the edgier bits), the reward, as you reach the Rousay flagstone edges below the lighthouse at Noup Head, is the closest beak-to-nose encounter with gannets you may ever have – they fly past, almost close to enough to touch (don't try!) bound for their nests on the cliff ledges.
---