Whatever your preconceptions of Glastonbury, they're probably true. Ordinarily this would be a fairly mundane little market town, were it not for a high street teeming with psychedelically painted shops, cafés and healing centres bearing names like Man, Myth and Magik, The Speaking Tree, and the Chocolate Love Temple, and an assortment of oddball characters – hippies, druids, knights, pixies (not real ones) – nonchalantly going about their business. But that's really only the half of it.
With over 70 different faith groups present, it's little wonder that Glastonbury retains its own unique personality; there's nowhere else quite like it in Somerset, or, for that matter, the country. Central to it all is the abbey, though there's plenty more to keep you occupied for a day or two if you've got the appetite and the stamina, including the Chalice Well and, nearby, the engaging Rural Life Museum. Not forgetting Glastonbury Tor, which is within easy walking distance of the town centre.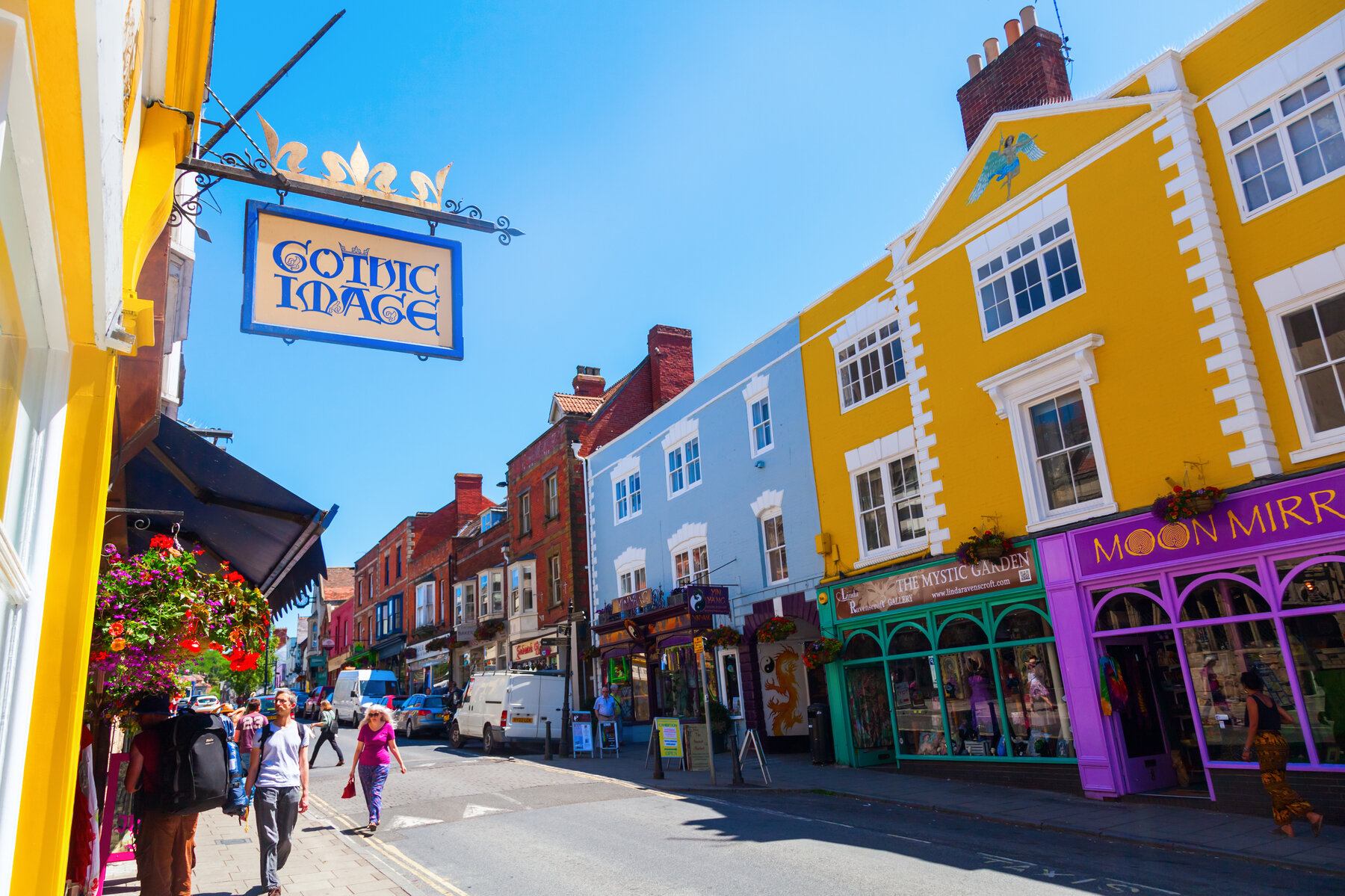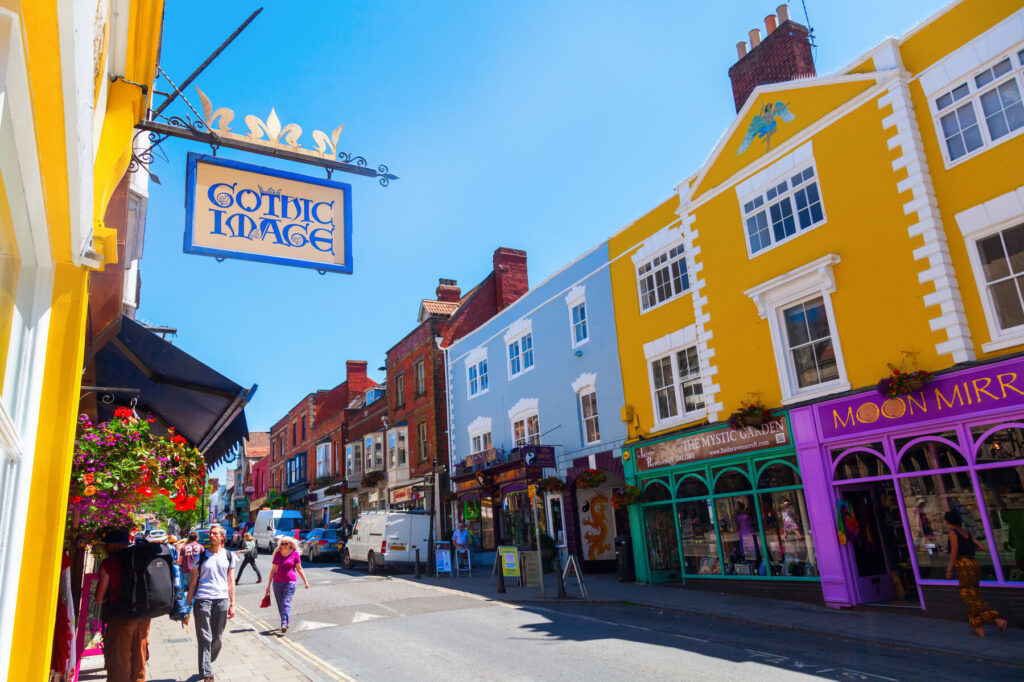 What to see and do in Glastonbury
Glastonbury Abbey
Founded in the 7th century, possibly even earlier, Glastonbury Abbey can lay fair claim to being the country's oldest Christian site. Enlarged by St Dunstan in the 10th century, it suffered a catastrophic fire in 1184, which pretty much gutted the entire complex and necessitated a complete rebuilding job. The burial place of kings Edmund I, Edgar I and Edmund II, its influence spread far and wide; it's also claimed that Glastonbury had the largest collection of books outside the library of Alexandria in Egypt. Upon the Dissolution of the Monasteries in 1539, many of the buildings were plundered and stripped, leaving the complex to crumble. Above all though, the abbey remains central to the Arthurian story, which, despite the dubious associations, has fired the imagination of pilgrims and visitors for centuries.
Before exploring the grounds, it's worth learning a bit more about the abbey 's history in its absorbing museum. Many of the objects on display – stone-carved heads, grave markers and effigies of monks – were either salvaged following the fire in 1184 or retrieved following the dissolution of the abbey. Keep an eye out, too, for some of the smaller exhibits, notably a sublime collection of oyster shell palettes (still retaining some pigment) and fragments of blue stained glass from windows commissioned by Henry Blois, erstwhile abbot of Glastonbury and grandson of William the Conqueror.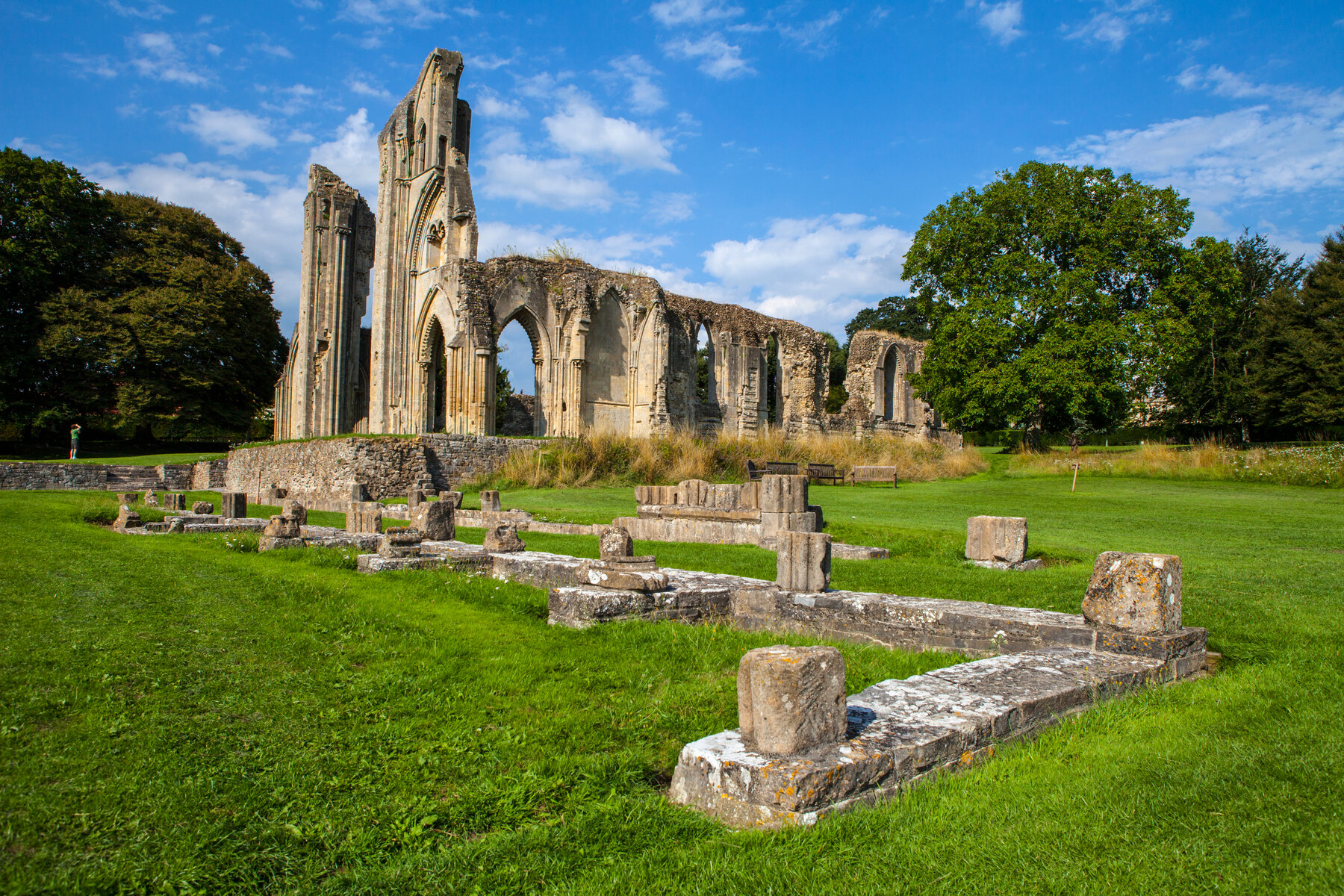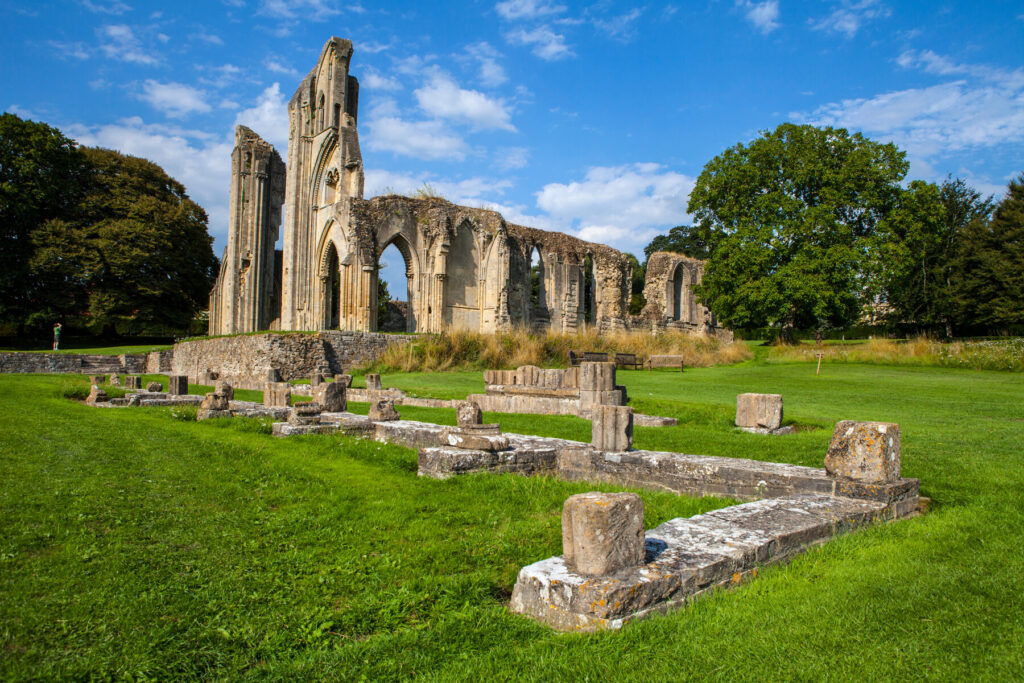 The centrepiece of the abbey complex is the magnificent, roofless shell of the Lady Chapel. One of England's finest late 12th-century monuments, this largely Romanesque structure retains an extraordinary sense of grandeur that not even a few relatively modern accretions can quash. Its stonework, in particular, betrays some wonderful detail, including carved figures of the Annunciation, Herod and the Magi, alongside other richly sculpted ornamentation, bits of which, remarkably, still bear traces of the original paintwork.
In an unassuming spot adjacent to the Lady Chapel, a small sign deems this the burial site of Arthur and Guinevere, though in truth it's probably nothing of the sort. Indeed, the claim that it was such, which first surfaced in 1191, was most likely a crude attempt by monks to raise much-needed funds by increasing pilgrim numbers following the catastrophic fire seven years previous. Whatever the truth of Arthur's alleged burial here, what is known is that any remains were lost for eternity following the abbey's dissolution.
You can wander at leisure around the monastic ruins, herb gardens, ponds and orchards – all of which make for tranquil picnicking spots. The free guided tours of the abbey grounds, which take place daily on the hour, are well worth joining.
The Rural Life Museum
The splendid Rural Life Museum occupies the renovated farmhouse and cowsheds of Abbey Farm, a working unit owned by the Mapstones until 1972. A thoroughgoing, and thoroughly entertaining, trawl through Somerset life in its many wonderful guises, themes covered include community trades (carpentry, coopering and gloving among them), social and domestic life, and a variety of different themes such as celebrations, religion, folklore and the arts (keep an eye out for the Glastonbury bin). But as you'd expect, it's farming and food production that features most prominently, from traditional industries like dairy farming and cider-making (check out the magnificent press from 1792) to similarly well-established but less familiar local practices like willow growing and eel farming.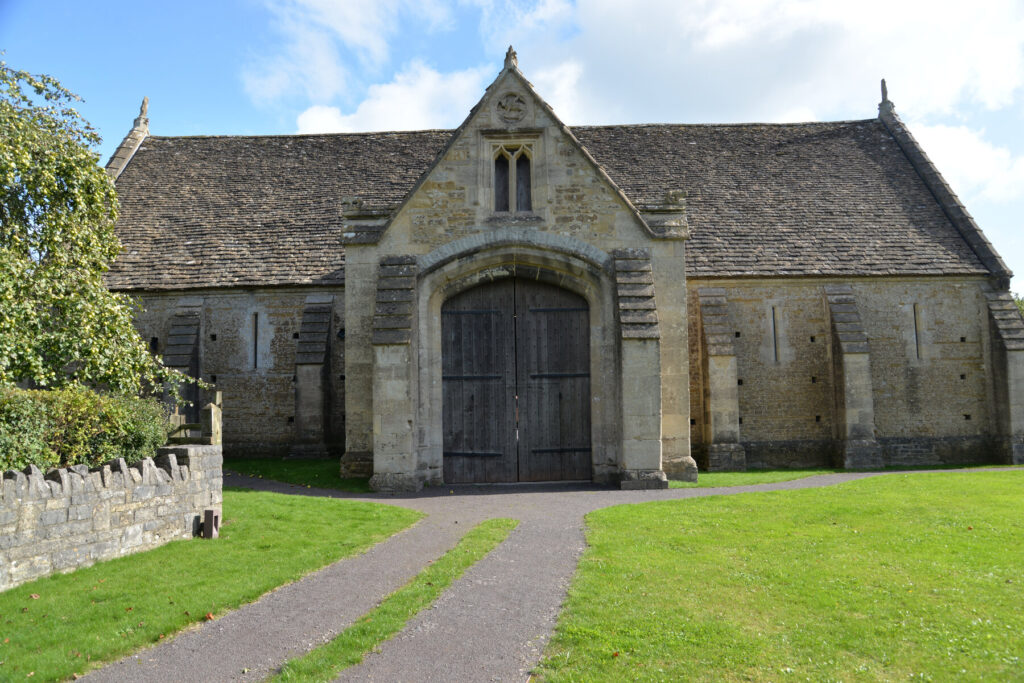 Two of the more curious exhibits include a mummified cat – these were traditionally hidden in walls and chimneys to ward off evil spirits – and Evelyn Waugh's ear trumpet telescope.
The Chalice Well
'A place of great spiritual significance for many faiths' is how Natasha Wardle, project manager at the Chalice Well, describes these tranquil gardens. People from all over the world have been coming to the well for at least 2,000 years, to take the waters and to be healed, and for many it remains the most spiritual of all Glastonbury's many sacred sites. The gardens were owned by the poet and playwright Alice Buckton from 1913 to 1944, though it was the visionary spiritualist Wellesley Tudor Pole – probably best remembered for the One Minute Silence, which played out at 21.00 each evening on the BBC from 1940 until the mid 1950s – who founded the Chalice Well Trust in 1959.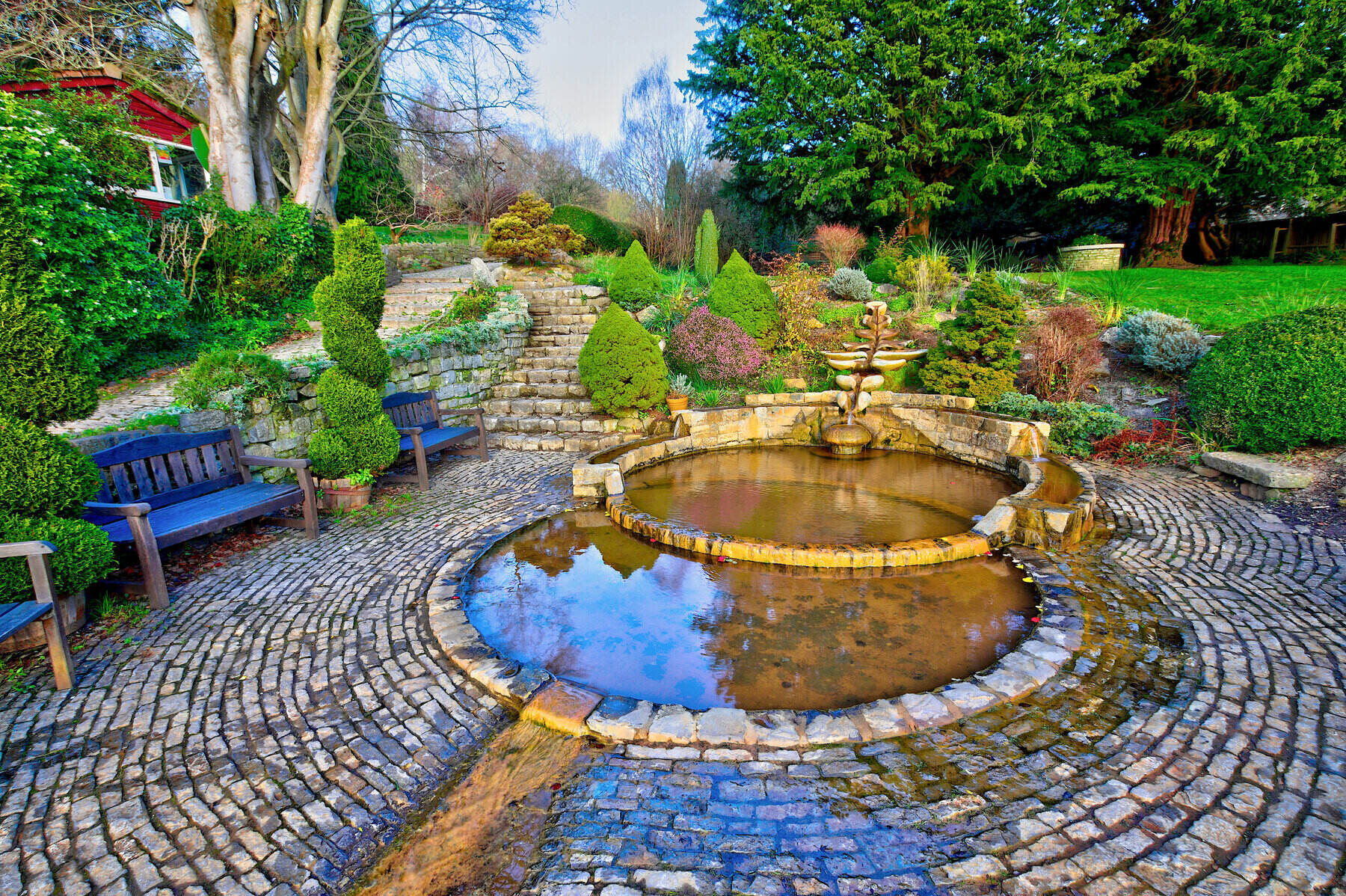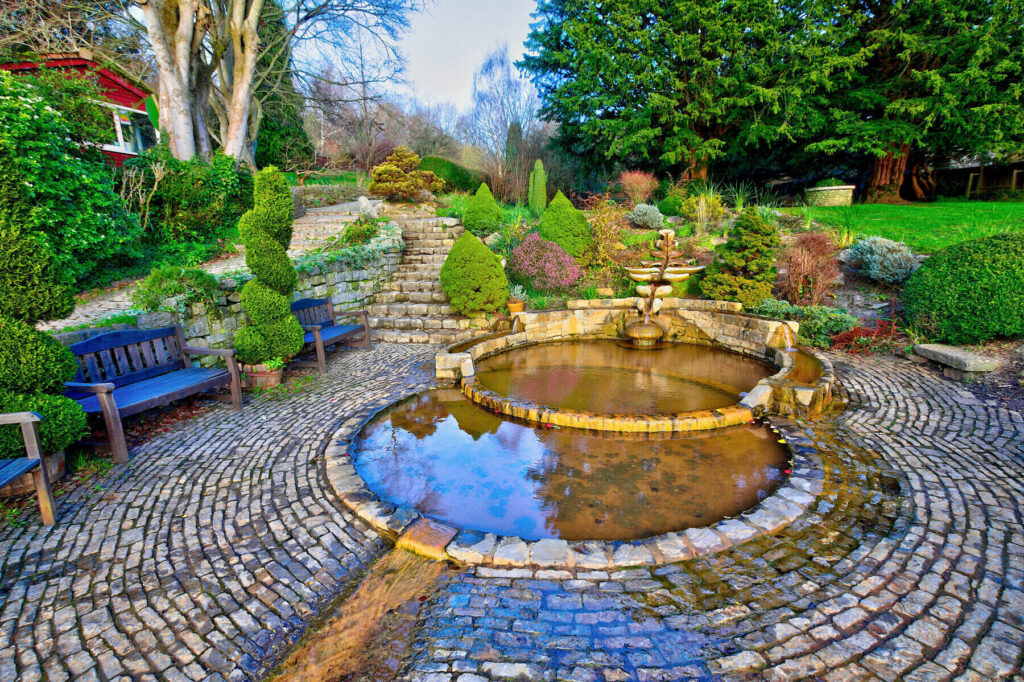 The Red Spring is known as such on account of the blood that flowed from the Holy Grail when it was supposedly brought here by Joseph Arimathea shortly after Christ's death, though more prosaically it's because of its dense iron oxide properties. As it is, the chalybeate water issues forth from the Lion's Head fountain, and flows down to the abbey fish pond; indeed it may be these iron deposits that have spawned such ginormous fish. The mildly ferrous taste is, as you might imagine, an acquired one, though you're advised not to drink too much – a sip'll do. While the water's source remains unknown, what is known is that there was a covered bathhouse here some time in the 18th century, as evidenced by some shallow remains, into which water tumbles from a mini waterfall. The well itself, which sits at the top of these ample, beautifully landscaped gardens, invites further opportunities for quiet contemplation.
Glastonbury Tor
Rearing up sharply from the iron-flat Levels and visible for miles around, Somerset's giant mystic hill (518ft) is yet another local landmark bound by legend – among them that the hill was home to one Gwyn ab Nudd, Lord of the Celtic Underworld. The best way up the tor is via a circular walk starting in the town centre: at the top of the High Street, turn right on to Chilkwell Street then left up Dod Lane; cross the field and walk along Stone Down Lane before turning right along a path through a field, where you begin the ascent (in any case it's all well signposted). Return down on the exact opposite side, which brings you out near the Chalice Well – you can of course do this in reverse.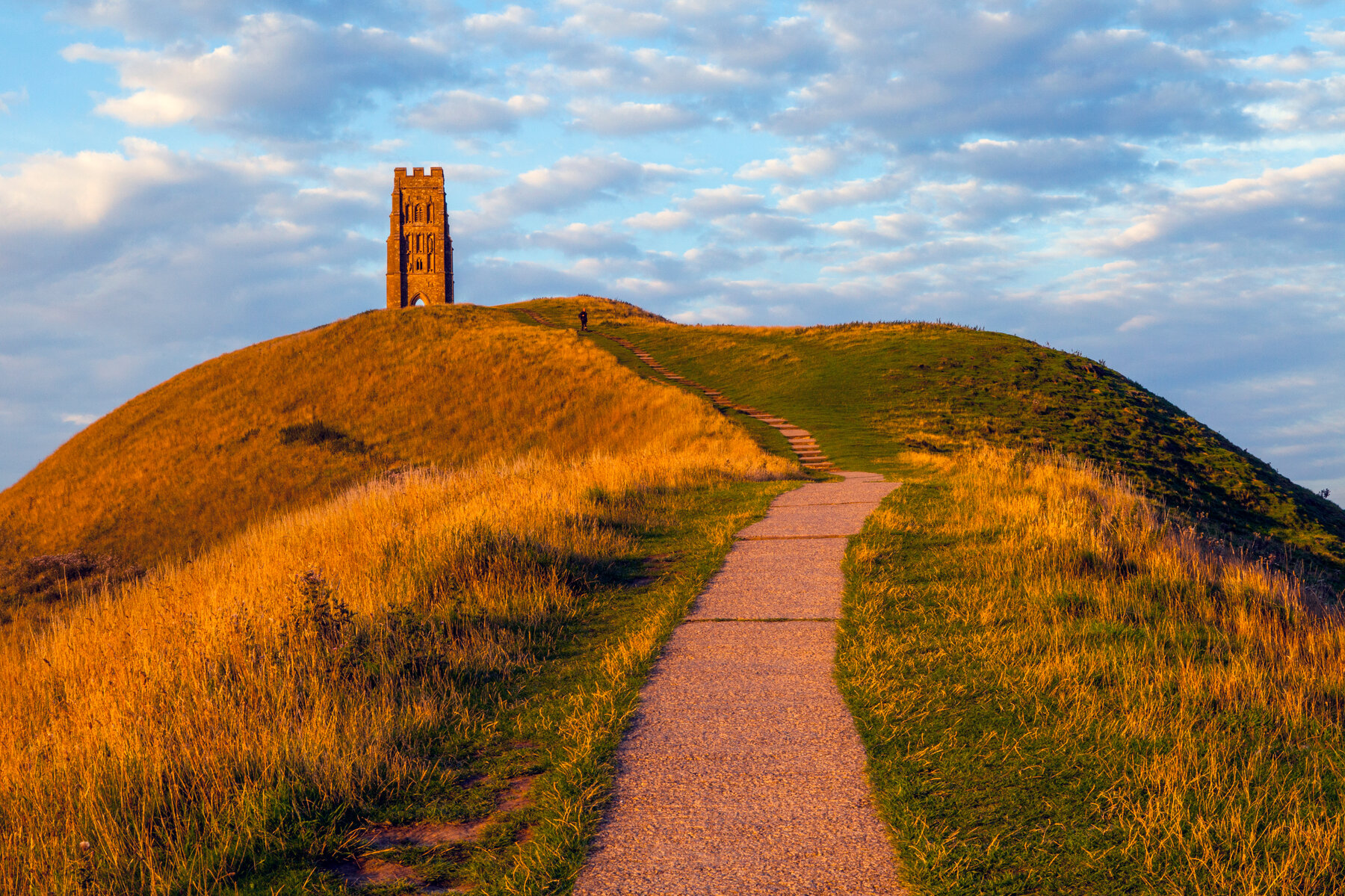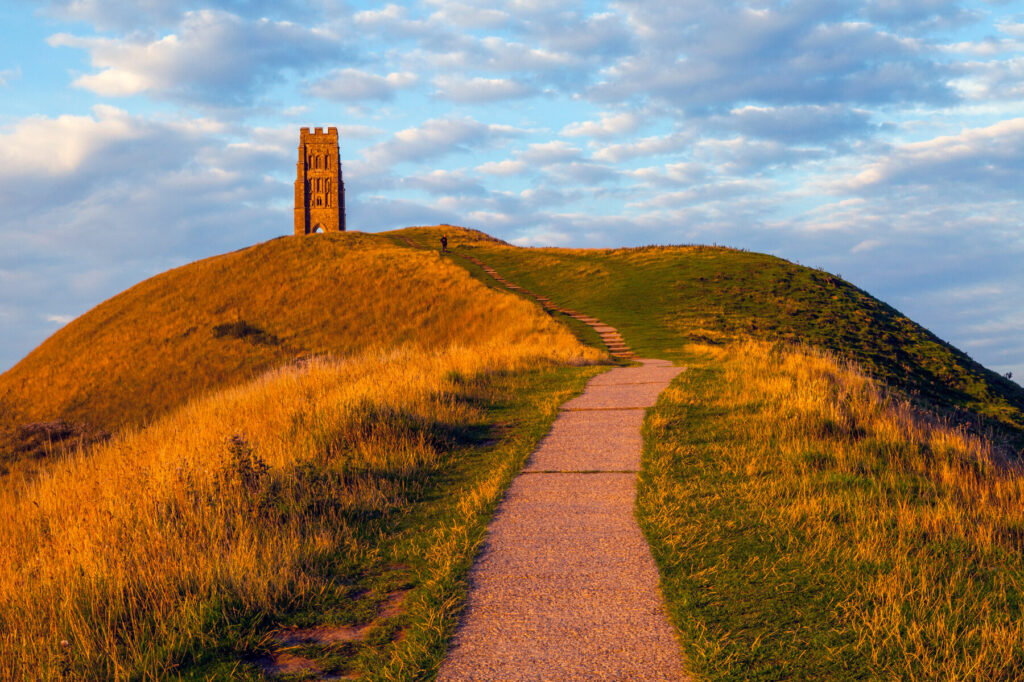 Although it's not an exacting climb, a reasonable level of fitness (and some half-decent boots) helps. Crowning the hill is St Michael's Tower, which is all that survives of the original 14th-century church. But of course you come here for the views, which are stupendous: on a clear day it almost feels as if there's not a single part of Somerset that you can't see. Expect to take quite a buffeting from the wind, however; it blows hard up here.
Accommodation and restaurants Glastonbury
Rainbow's End Café
Family-run for more than 30 years, this friendly old place tucked away down a tight alley is the original Glasto veggie café; a colourful salad bar is complemented by regular favourites such as spicy carrot and dahl soup and daily specials like cannellini bean casserole. In warmer weather there's a lovely little suntrap courtyard out back.
The George and Pilgrims
The George and Pilgrims is an imposing 15th-century public house and hotel whose graceful stone frontage, bearing fine mullion windows, conceals a delightful warren of Gothic-like alcoves.
The snug bar serves up a tip-top selection of draught beers, and the food ain't half bad either. Some say the place is haunted…
Magdalene House
Occupying a former convent, this handsome Grade II-listed building opposite the abbey has three beautiful, light-filled rooms. No children under seven are allowed making this the perfect spot for couples and older travellers seeking some tranquility on their classic British weekend away.
Getting to Glastonbury
Thanks in part to its relatively central location within the county, Glastonbury is well served by buses. The principal route is the Mendip Xplorer (service 376), which runs between Bristol and Glastonbury via Wells along the A37 and A39.
Other useful services include bus 77, which starts in Wells before passing through Glastonbury and then continuing south down to Somerton and Yeovil, bus 29 southwest to Taunton, and bus 75 east to Bridgwater, which also passes through Ashcott, Shapwick and Catcott on the Levels.
---
More information
For more information, check out Norm Longley's guide: