To celebrate International Women's Day, we take a look at some of the most inspiring women in travel who are continuing to blaze the trail for future generations.
As a child, Dr Jane Wilson-Howarth dreamed of intrepid adventures, but she didn't really start exploring until – aged 22 and with a zoology degree – she organised an expedition to record the wildlife of Himalayan caves. A long, convoluted story, but this led to a medical qualification, a husband, many more mountain trips and even some useful child-survival work in various remote parts of Asia. In this interview she tells us what parts of her career she's most proud of, and offers her top travel tips.
Dr Jane, you've written nine travel-related books, are a long-term contributor to Wanderlust magazine and have had pieces published in travel anthologies including To Oldly Go. Which writing are you most proud of?
My memoir A Glimpse of Eternal Snows took the most time and emotional effort to write and I believe communicates my passion for Nepal, warts and all. Readers have said they can smell the spices and imagine the vibrancy of the country. But Your Child Abroad is probably the most useful book I've written and I hope it empowers intrepid parents to strike out and explore exotic destinations with the children. Kids are such great travellers and introduce you to so many people you otherwise wouldn't meet.
What travel writers do you admire?
I love travel writers who understate their skills and competence. Mary Kingsley is my all-time favourite; it is astonishing how she glosses over having to wear her 'good thick skirt' and leaky boots in her travels through the steamy jungles of West Africa.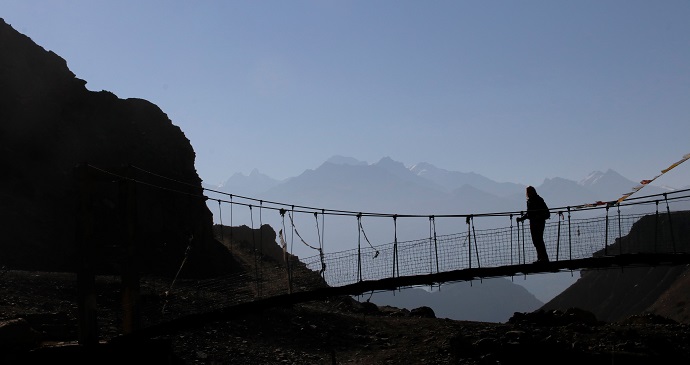 I also delight in fiction set in exotic places, for example the powerful novel Red Dawn Rising by Katrina Butterworth, which poignantly portrays a family surviving the civil war here in Nepal.
When you are in the jungle or on a remote trip, what are your essential pieces of kit?
Torch, repellent, squirty water bottle (to avoid the need for buying water in plastic bottles AND toilet paper) and a notebook. I'm not a great diary writer but find I can hand-write descriptive pieces by the light of the fire in the evenings.
Is travelling with women different to travel in a mixed group or with a male partner?
I guess this can depend on the destination. In Pakistan disrespecting a woman means disrespecting her father/brother/husband. Here it is unusual for local women to travel alone so foreign women travelling without men might occasionally need to remind locals of what is honourable behaviour. Even in challenging destinations, I've had lots of positive encounters – albeit slightly chauvinist experiences – where I've been championed and protected by both male and female strangers.
What top tip would you give to women who want to travel?
Network and choose your location carefully according to your temperament especially if travelling alone, be culturally sensitive in your dress and then relax and enjoy the adventure. You'll meet lots of wonderful hospitable people who will mother you!
---
Want to read more from Dr Jane? Check out her books: