Written by Hilary Bradt
I can pinpoint the moment when I first questioned my conviction that rural lifestyles should remain unchanged. A few years earlier, in the late 1960s, I had visited one of the car-free villages around Lake Atitlan in Guatemala and filmed, with my old cine camera, the village women collecting water from their communal well. I watched them scoop up the water in hollow bamboo and trickle it into their earthenware vessels, chatting and laughing together before heading back to their houses with the heavy pots supported on their heads. With their exquisitely embroidered blouses and the terracotta pots it was a beautifully photogenic scene, one I was proud of.
A few years later I returned and headed to the same village with my camera. Oh no! The women were still collecting water, but the well was now a stand pipe and the pots were all made of plastic (though the same shape and size as before). Not worth taking photos this time; the curse of plastic had even reached this remote village. And then I stopped to think. This material was far more suitable than clay for the purpose of carrying water: lighter and unbreakable. It made these women's lives so much easier.
It's hard-wired into us travellers that the simple life is the best life, one that should stay the same. Many of us are therefore uneasy at any influence we may have, however well-meaning. This is nothing new. Over 100 years ago Mark Twain wrote pithily about the Native Americans: "Soap and education may not be as sudden as a massacre, but they are more deadly in the long run." The romantic concept of The Noble Savage, uncorrupted by civilisation, is centuries old. Books and television programmes champion the explorer who treks for weeks to meet uncontacted tribes, takes part in their rituals, embraces their way of life – and then returns to his comfortable home, changed, he assures us, for the better after immersing himself in their culture. But are the people he stayed with also changed? Almost certainly. They will have had a glimpse of another world, and the youngsters will want a taste of it.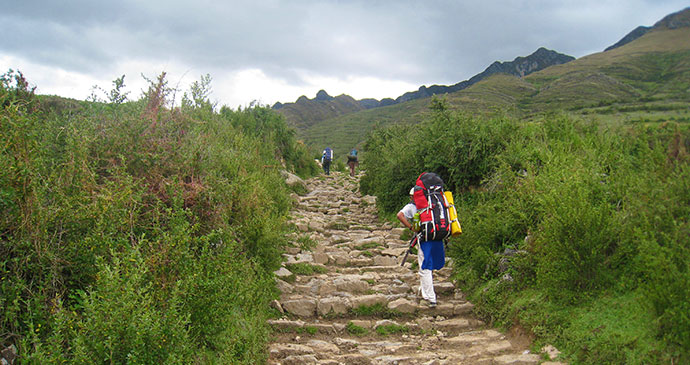 Hilary Bradt's first experience of a cultural tourism conundrum was in Peru © Hilary Bradt
That's the problem, I believe, with cultural tourism. I experienced it some 40 years ago in Peru, though a glimpse of rural life was only an incidental part of trekking in the Andes. In 1973, I walked the trails worn by centuries of bare peasant feet, passing through villages of surprised people, sometimes friendly, sometimes hostile, with children peeping shyly from doorways. We carried a frisbee in our packs and introduced them to this new game. And thus we played our small part in changing expectations. A decade later I returned as a trek leader, and learned firsthand that a single visit by tourists with the innocent and understandable desire to see a child's face light up with a smile can irrevocably change a community's perception of outsiders. Rather than aliens to stare at, they are now seen as providers of material goods. The backpackers and trekkers who came after me gave sweets and pens. It only took a few years to convert the children in villages along a trekking route from observers to beggars and then to thieves when the expected presents were not forthcoming. I lamented the part I had played in this. Rural communities worldwide have a way of life based on reciprocity. You help me build my house, I'll help with yours. But tourists want the gratification of smiling children and cooperative adults for their photos, and gifts are the quickest way of achieving this. And, they tell me, "we have so much, they have so little".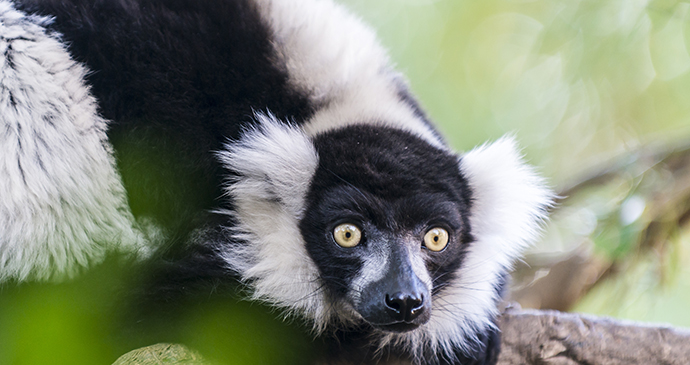 Hilary Bradt has been visiting Madagascar for over 30 years © Sergey Didenko, Shutterstock
As a guidebook writer and tour leader in Madagascar for over 30 years I have been able to avoid cultural tourism. There are villages that I've omitted from the guide because I'd seen their community in action, loved what I saw, and wanted to keep it that way. There are some festivals, however, such as the exhumation ceremony, famadihana, where the Malagasy often enjoy having tourist visitors, but fortunately it has to be a spontaneous decision and cannot be built into the programme. Even in the three that I have attended, money has paid a conspicuous part of the reciprocity. So when our hotel in the southwest of the country suggested they try to seek out the illusive Mikea people for us, I was wary. This clan of hunter-gatherers have lived, unmolested, deep in the spiny forest that has now become a national park. However, brushing my concerns aside the hotel manager provided us with a guide who had made contact with one family. They had only seen two other white people before, Andry told us proudly.
"Some local people believe the Mikea can make themselves invisible" the guide explained. "They see a smoking fire in a clearing, and they feel the presence of the Mikea but they're nowhere to be seen". The sandy paths were narrow, and the thorny scrub vicious: grey green with fearsome spines, broken by the waving tentacles of Madagascar's octopus trees. We walked into a clearing and there was our first sign of the invisible people : a smouldering fire. Whoever made it must have left very recently. We stopped to listen to the sounds of the forest: bird song and something else, a baby's cry. Andry asked us to wait while he investigated. "They say you can come" he said, and led us to another clearing, with another fire and a family, man, woman, and two little girls, sitting on the ground. They were clearly terrified. Both the woman and man wore short fringed loin cloths made from material which might once have been blue but was now a dull charcoal grey. The children were naked. The woman kept her eyes downcast and her face contorted into an expression of misery. The children hid behind her. The man nervously scraped a hole in the sand with a stick.
Eventually he spoke. "Have you come to kill us?" Andry reassured them, and explained that we wanted to learn about them. Answers to our first questions were unrewarding. "How old are the children?"
"They don't know".
"What do they eat? "
"What they can find". After some persuasion, the man elaborated, saying they dug for roots and sometimes trapped a tenrec (about the size of a rabbit). Occasionally they managed to kill a wild boar. He demonstrated the two sorts of trap. For a tenrec he would dig a hole and implant spikes in the bottom, covering the top with a fragile lattice of dry twigs. A different tactic was used for the immensely strong wild boar. An obstacle was created out of sticks and sand across their favourite pathway. On the landing side, when they jumped over, was a row of slanting pointed stakes.
Through Andry we encouraged them to questions us.
"Are you human?"
"Is your blood also white?"
"Is it poisonous like the sap of the euphorbia tree?"
"Why is your hair like that?"
A quiet conversation between our two guides followed. They had difficulty finding enough drinking water, we were told. They used the large shells of land snails as receptacles but they don't hold much and it was the dry season.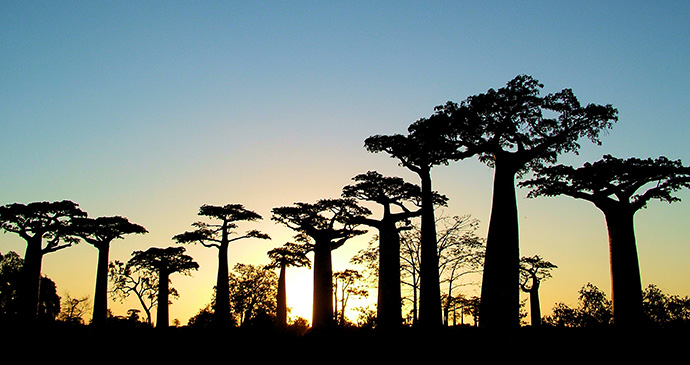 The Madagascan landscape can be just as unforgiving as it is beautiful © Madagascar Tourism
Our guide held out a plastic bottle of water. "This is our gift" he said. A ripple of concern went through the group. Oh my God, the demon plastic! My more nuanced response was that this family would never be the same again. What a wonderful present! Once the man had learned how to work a screw top (it was the first time he had seen one) he would use and reuse the bottle until it fell apart or was stolen. There was no danger of it joining the plastic waste that litters the island. But – and what a big but – will this family ever again collect water in a snail shell? And when they show their treasure to others in their community will a fight ensue? Will other families now seek out tourists with the hope of receiving similar gifts?
We walked back to the vehicles in silence. Yes, it had been an extraordinary experience. Unique in all my years of travel, but what had we done? And, actually, does it matter? Were we right to believe that the Mikea should remain untouched, that they should continue to scratch a living from their hostile forest, should go hungry and thirsty because we hold dear the concept of a simple life lived close to nature?
I don't know.
---
This article was written for, and first appeared in, issue 85 of Travel Africa magazine.
Want to learn more about the destinations mentioned in this article? Take a look at our comprehensive guides: