While lazing on the beach can be very relaxing, if this is the limit of your activities then you will miss out on a lot. Our guide to the best things to see and do in Zanzibar will ensure you make the most of everything these unique islands have to offer.
Dive in crystal-clear waters
A highlight of many trips to Zanzibar and Mafia is the diving, which is good at many places around these islands. For shallow offshore coral gardens dancing with colourful reef fish, and steep drop-offs home to a haunt of marine turtles, head to Mnemba Island.
More advanced divers should consider the challenging waters around Pemba. Unlike the reefs around Zanzibar Island, many of the reefs off Pemba fall away into steep walls, offering opportunities for some exciting drift dives and the chance to see creatures such as the spotted eagle ray, with its 3m wingspan.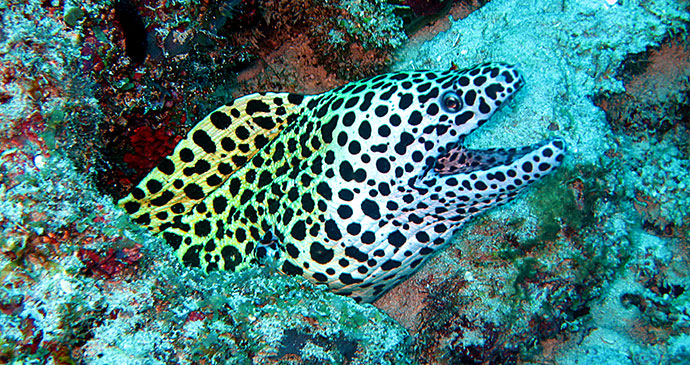 The diving on Mafia is often considered the best anywhere in East Africa. Lookout for the large predatory fish in these waters such as grouper, Napoleon wrasse and barracuda. Stingray, manta rays and several species of shark are also encountered in Kinasi Pass. The less aquatic might prefer to go snorkelling, and if so they should add Chumbe Island to this short list of reefs, with its world-class, pristine coral; no scuba diving is allowed there.
Relax on a sunset dhow cruise
The word 'dhow' commonly refers to any traditional seafaring vessel used off the coast of East Africa. Often comprising of dugout canoe-type boats made by hollowing out the trunk of a large tree (the mango tree is favoured today) and attaching a sail, these traditional watercraft line Zanzibar's horizon.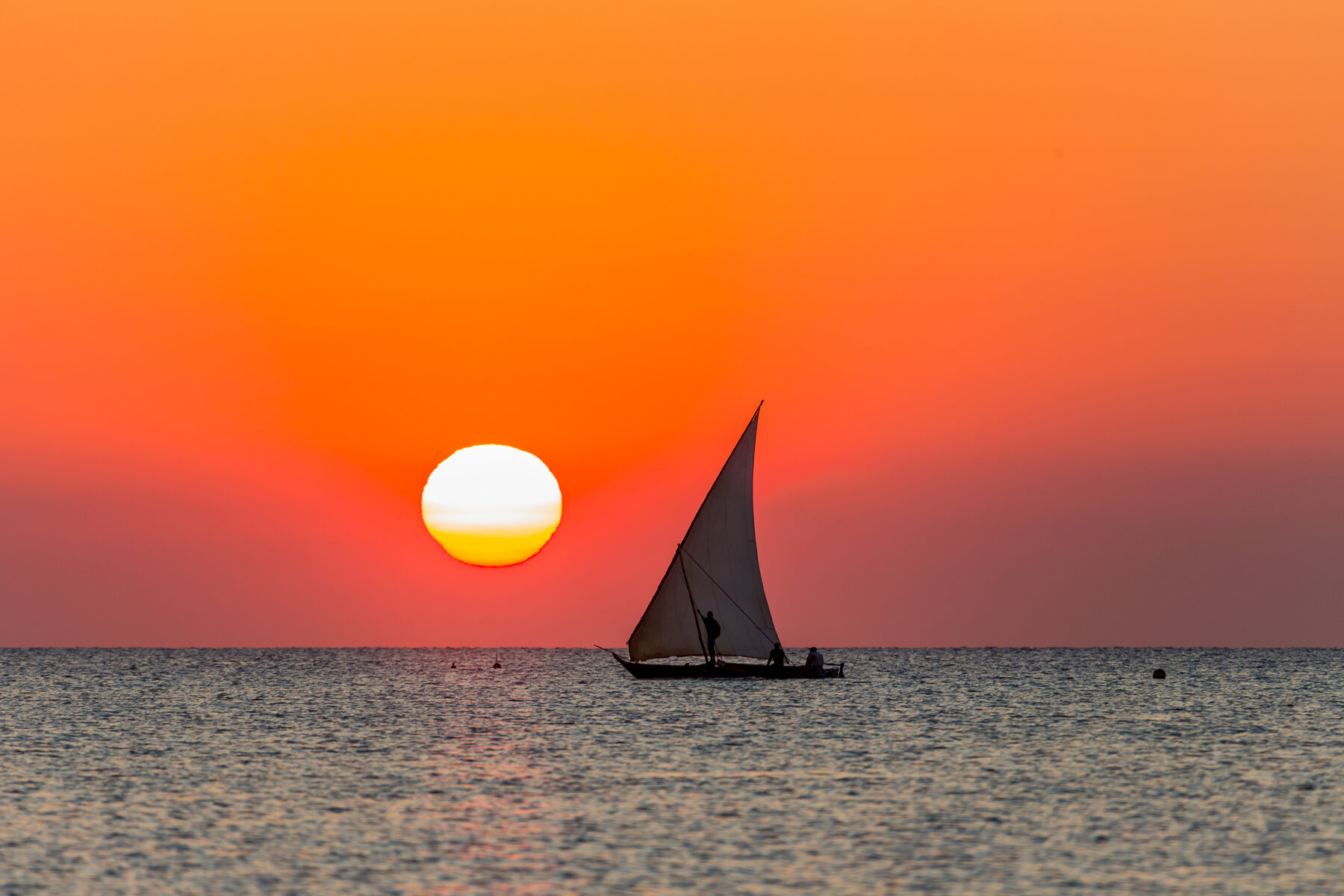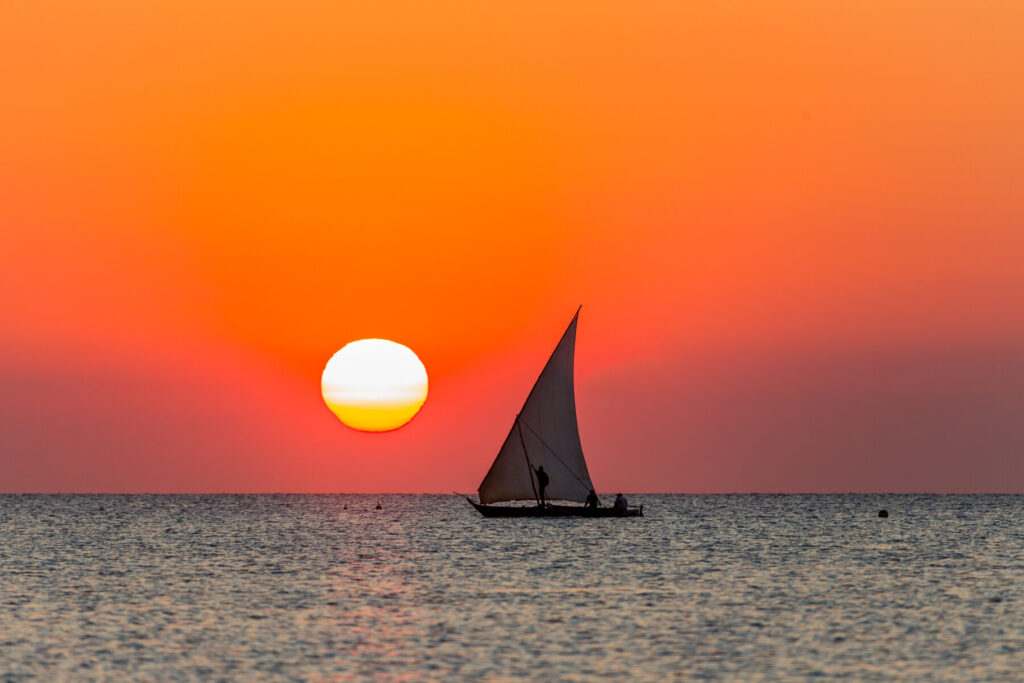 A sunset dhow cruise can be magical and romantic, but better still is a dhow trip to a remote sandbar: lie on a deserted beach, snorkel on the reef, eat fresh seafood and look out to nothing but tropical ocean. For travellers on Mafia, head to the upmarket Butiama Beach lodge where trips are arranged from Chole Bay. On Zanzibar Island, Fumba Beach Lodge, Unguja Lodge and ethical operator Eco+Culture all run similar trips in the Menai Bay Conservation Area.
Get up close and personal with fantastic wildlife
For animal lovers, visit the Kirk's red colobus monkeys that inhabit Jozani- Chwaka Bay National Park. Many wildlife fans rate this as one of the best monkey-viewing experiences in Africa. Certainly, there are few other places where you can get so close to a wild monkey that is neither aggressive nor likely to bite, and is also attractive, endearing and very rare. Other residents of Jozani include a population of Zanzibar Sykes' monkey, Ader's duiker (a species of small antelope found only on Zanzibar and some parts of the Kenyan coast), and leopards.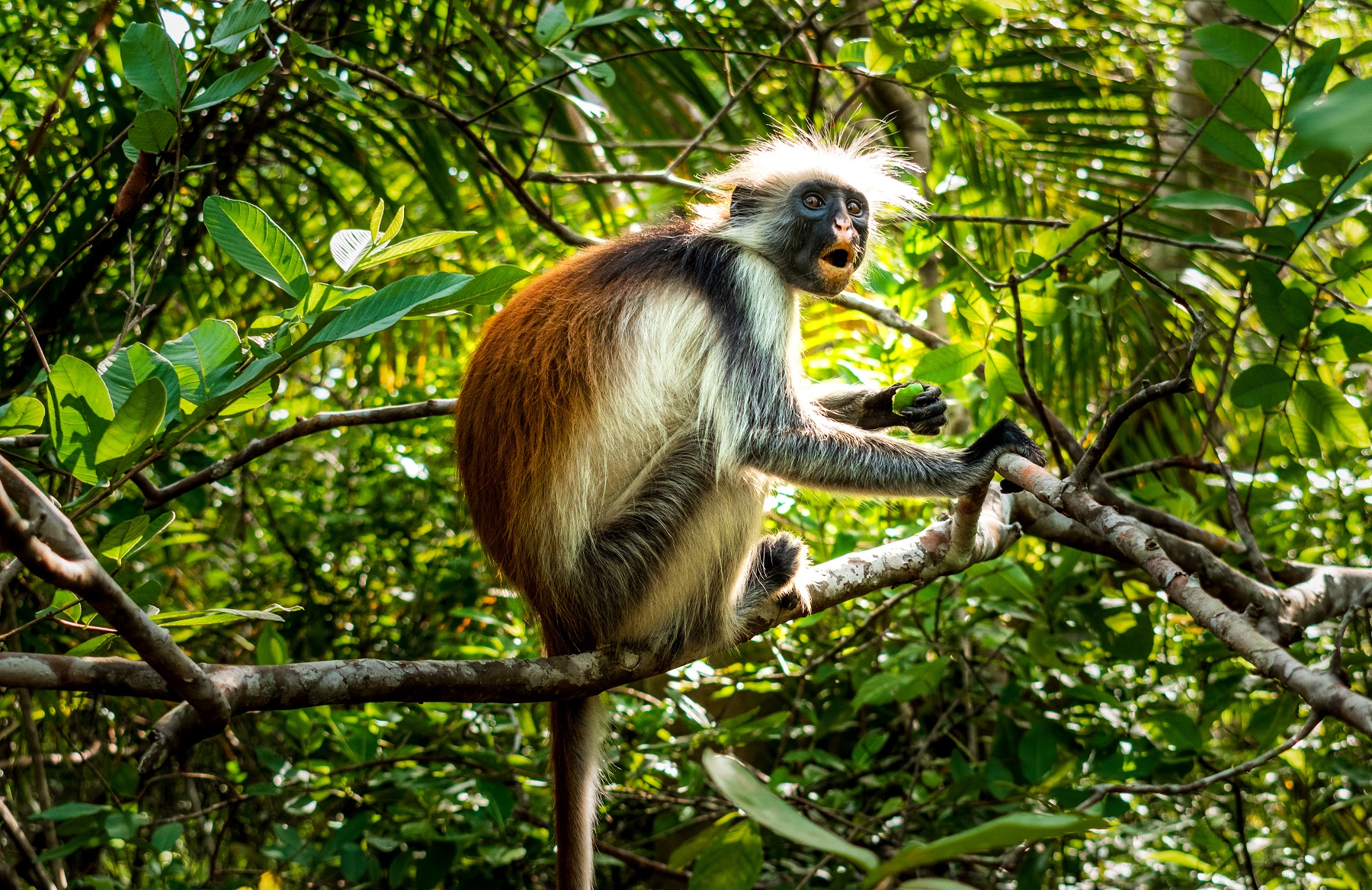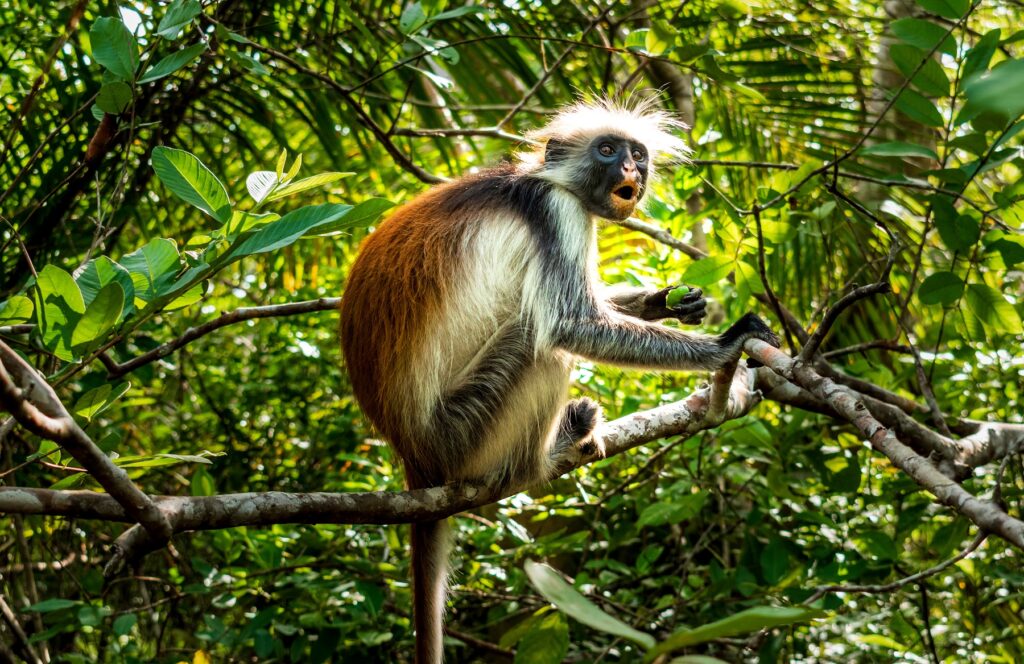 Meanwhile, those in search of a much more original, albeit less predictable, experience should consider visiting Ufufuma Forest. Although red colobus monkeys are no longer seen here with any regularity, you should be able to spot some impressive birdlife and possibly snakes and lizards. Honey is also collected from the forest, so look out for the canopy-height hives.
Perhaps the ultimate wildlife experience, however, is the opportunity to see and swim with whale sharks off Mafia's coast. Between September and March annually, there are some fabulous trips through Kitu Kiblu to learn and interact responsibly with these enormous plankton-eating fish. A spectacular encounter!
Learn about the island on a spice tour
More generally, any trip to Zanzibar Island should include a spice tour: ask around to make sure you will have a knowledgeable guide. The trip idea may seem clichéd, but plucking everyday spices from what seems like a tangled bit of unruly forest can be fascinating.
A spice tour is probably the best way of seeing the countryside around Stone Town and meeting rural communities. Guides take you on a walking tour of the villages and plantations at Kizimbani or Kindichi, picking bunches of leaves, fruit and twigs from bushes and inviting you to smell or taste them to guess what they are. Pretty much all the ingredients of the average kitchen spice rack are represented – cinnamon, turmeric, ginger, garlic, chillies, black pepper, nutmeg and vanilla among many others.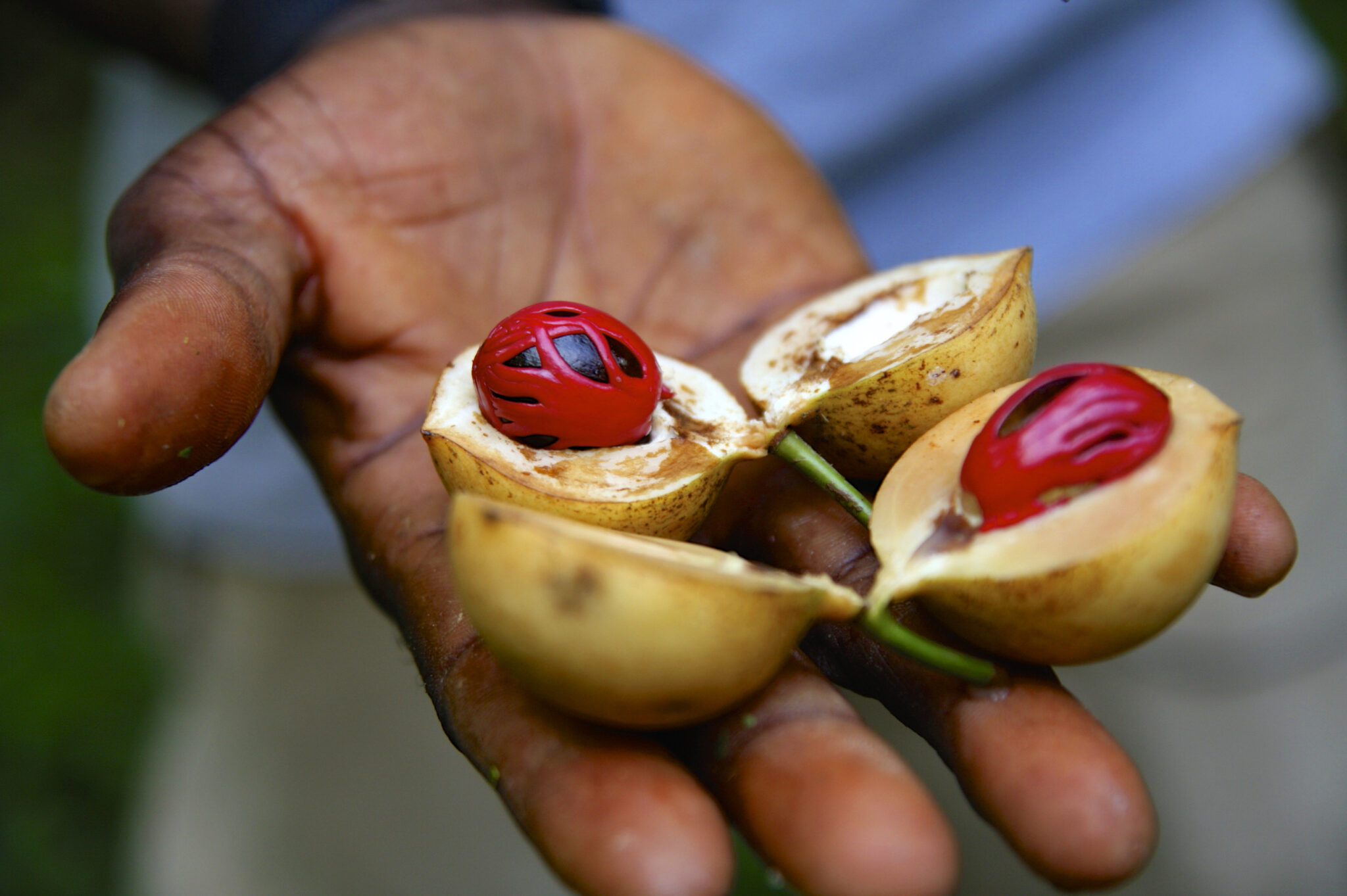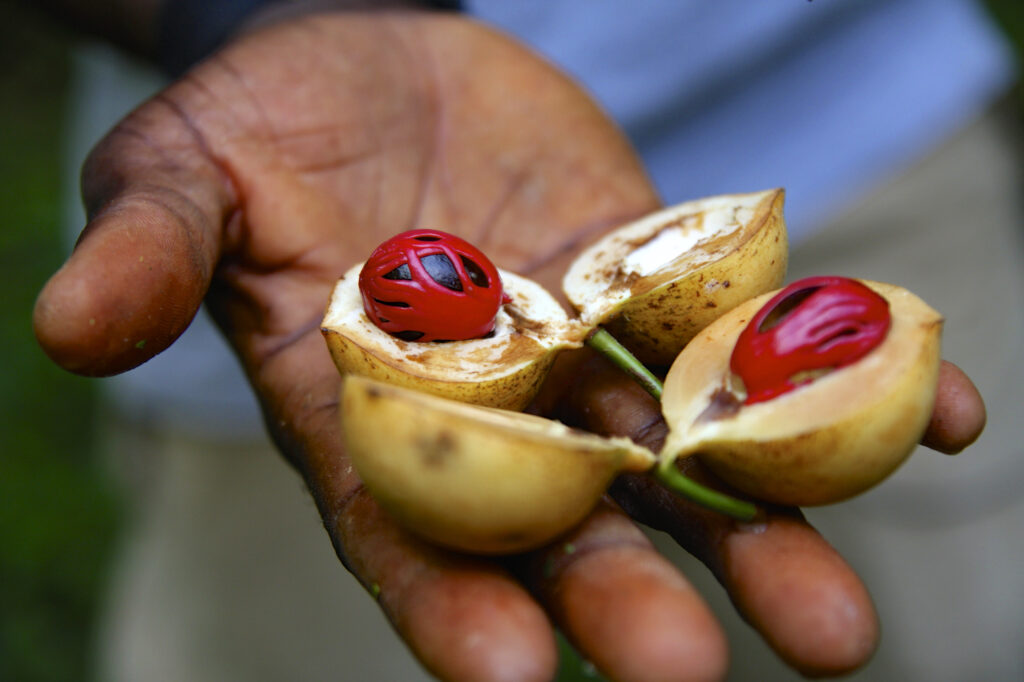 Local children follow you all the way round, making baskets of palm leaves and filling them with flowers to give to you. At lunchtime, you'll stop in a local house for a meal of pilau rice and curry, followed by sweet Arabic coffee and perhaps a slice of lemongrass cake. Many spice tours include a visit to the Persian baths built by Sultan Said for his harem, and stop at Fuji or Mangapwani beaches just outside Stone Town for a swim on the way back.
For something slightly different, combine the spices with some Zanzibari history on the acclaimed Princess Salme Tour. Starting at Mtoni Palace, the day trip takes in the palace ruins, a traditional coffee ceremony, the Kidichi plantations and a delicious Swahili lunch, and even helps fund the palace conservation initiatives.
Interact with local communities
For some genuine community insight and interaction, the Jambiani Cultural Tour is really very good. Tailored to the particular interests of the visitor, it offers some hands-on entertainment and enlightening insights into the lives of the rural population, and ensures a percentage of the tour is reinvested into necessary village development.
Guided by resident Ramadhan, the tours last anything from a few hours to the best part of a day (depending on your enthusiasm and heat tolerance), and take in many aspects of everyday life. Spend time helping the women make coconut paste, reciting the alphabet in unison at the efficient kindergarten and meeting the mganga (traditional healer). Ramadhan's presence, reputation within the community and ability to translate allow for genuine interaction with the Jambiani residents and a thoroughly engaging time.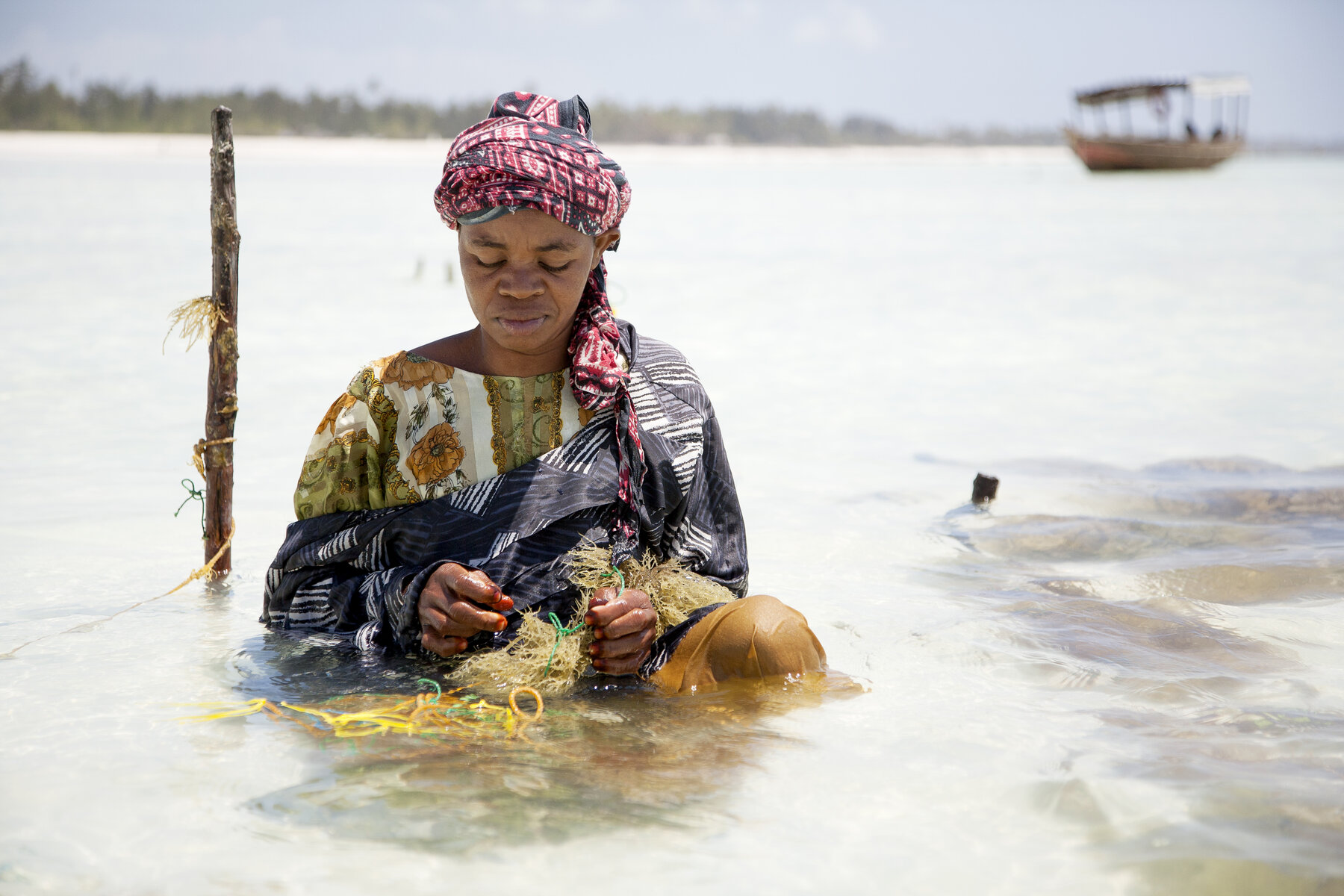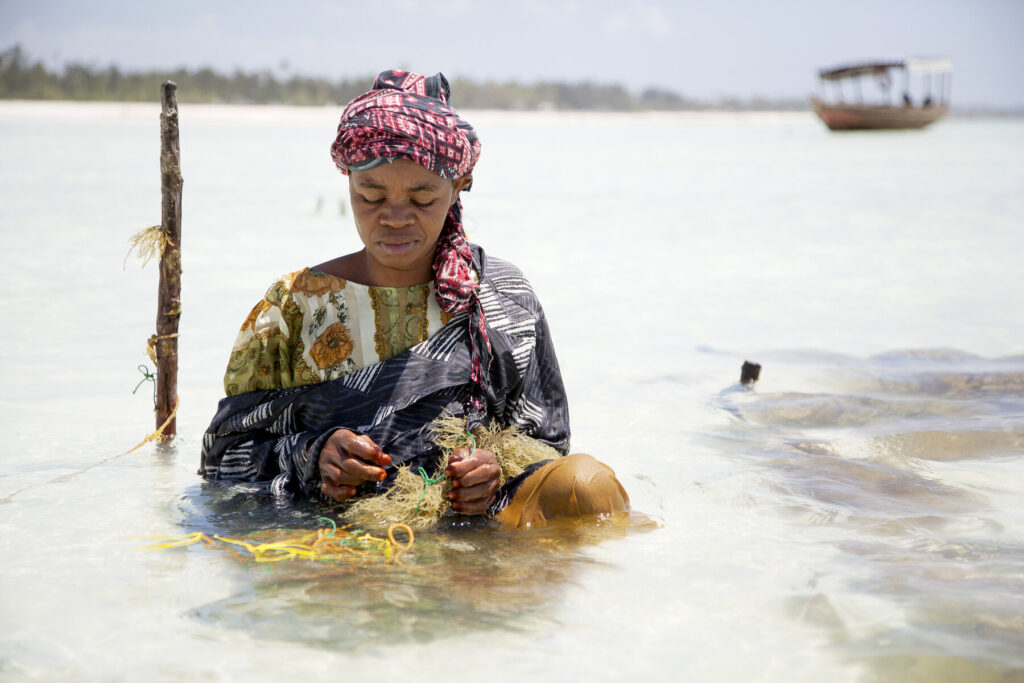 Equally, the Mwani Zanzibar Seaweed Company in Paje offers tours and valuable insight into the importance of this marine agriculture to local villagers. An informative 1-hour guided tour, including a glass of seaweed juice and a visit to one of the seaweed production areas on the nearby beach, costs US$15 per person. The on-site shop sells a range of organic seaweed products, including soaps, scrubs, and oils, that make perfect, lightweight souvenirs.
---
More information
For more information on Zanzibar, check out Chris and Susie McIntyre's guide: