Written by James Proctor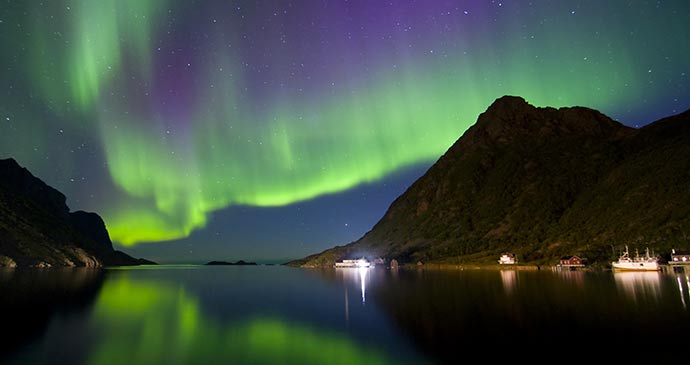 © Lunde Ingvaldsen/Northern Norway Tourist Board (www.visitnorthernnorway.com)
It's the question I'm asked most frequently when the subject of Lapland pops up in conversation: 'where's best to see the northern lights?' Annoyingly, there's no definitive answer to the question – in large part, the choice of where to go to see the aurora depends on what else you want from your Lapland holiday. Tromsø, for example, is a good choice; it's accessible (there are direct flights from London), the average winter temperature is only around –4˚C and clear skies are relatively common (the surrounding mountains help keep the sky cloud-free in winter). Plus, there's plenty to keep you occupied when you're not hunting for the lights – the town's wide range of museums, bars and restaurants probably, therefore, makes it the best destination to head for in Norway. However, Norway's high prices are legendary and you may decide you're better off in Sweden or Finland where everything is significantly cheaper. In Sweden, Abisko is perhaps geared up for the lights better than elsewhere, offering a trip by chairlift to observe the aurora from the top of Nuolja Mountain. Of course, you don't need to go up the mountain to see the northern lights – if the sky's clear, you can see them anywhere – the chairlift ride is simply part of the experience. Another option in Sweden, if your pocket can face it, is Icehotel at Jukkasjärvi. If you plump for Finland, maybe because you want to combine seeing the lights with Santa Claus, then consider Rovaniemi, Luosto or perhaps Torassieppi – there's really no right or wrong place. Across Lapland you'll find activities operators offering snowmobile tours or husky safaris to hunt for the northern lights. Once again, you don't need to be on a husky sled or a snowmobile to see the lights – it's simply a way of creating an experience around the adventure. What's much more important is the weather. The aurora can't be seen on cloudy nights so, remember, that, statistically, the longer you stay in Lapland the greater the chance of spotting the lights – no matter where you are. You'll find a reliable forecast of northern lights activity at www.gi.alaska.edu/auroraforecast/europe.
For a list of tour operators running trips to see the northern lights, click here.
For more on the northern lights, see The Northern Lights: A Practical Travel Guide by Polly Evans.