Slow Travel Norfolk author Laurence Mitchell takes on one of his favourite walks along the River Wensum near his home in Norwich.
This walk begins on St Benedict's Street at St Lawrence's Church. Descend the steps to cross Westwick Street and pass the apartment block that used to be the Anchor Brewery, before crossing Coslany Bridge to follow the pedestrian access along the River Wensum's north bank. Across the water is a disused warehouse where the entire text of Thomas More's Utopia has been scrawled in white across the brickwork as if it were the work of a 16th-century graffiti artist with a taste for political philosophy. It was actually done by local artist Rory Macbeth in 2006 – the building was scheduled for demolition in the following year yet, perhaps as a result of its utopian graffiti, it still stands today.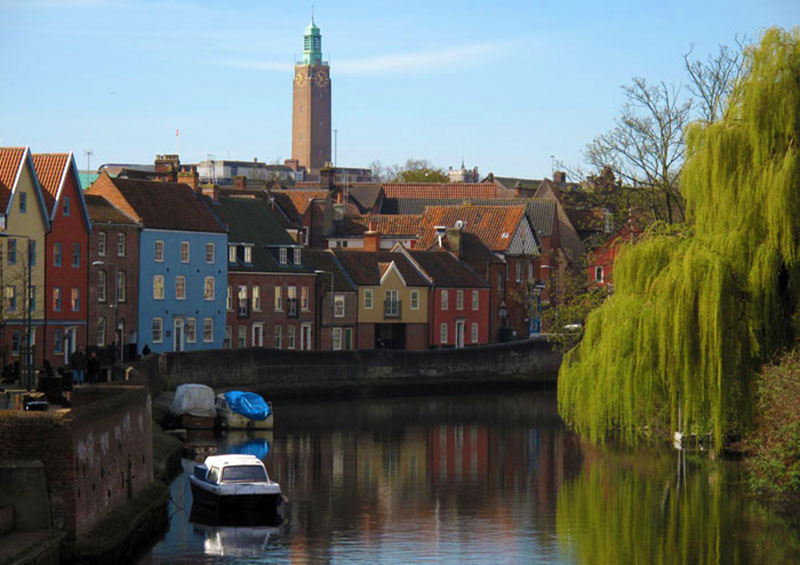 Crossing Duke Street by means of Duke's Palace Bridge, a brief detour along Colegate is necessary to reach Blackfriars Bridge by the Norwich School of Art from where a path continues beside the river to reach Fye Bridge and Fishergate. Whitefriars Bridge comes next and the eponymous friary once stood on the site of the large edifice that looms ahead: the Jarrold's Printing Works, built in 1834 and formerly a mill owned by the Norwich Yarn Company. Beyond the printing works you'll come to a renga – a word map created by means of an ancient Japanese tradition of shared writing – stringing a snake of words and phrases along hoardings beside the river. A Renga for St James, which utilises the local Norwich vernacular, was created here on site in 2009.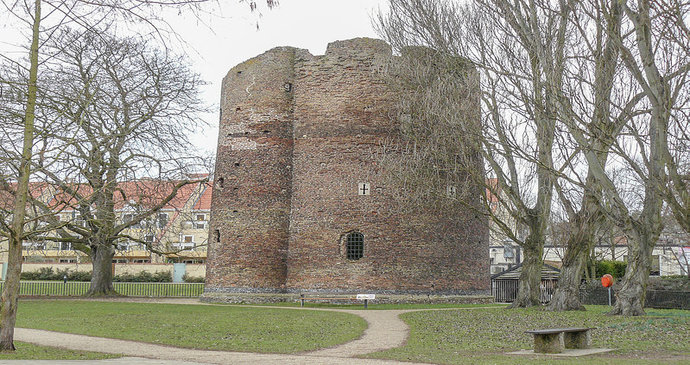 Continuing east, you soon see Peter's Bridge, a footbridge opened in 2012 and named after a former Jarrold's chairman. Most of the Wensum's bridges are so ancient that they are firmly embedded in the city's psyche but there have been three new footbridges so far this millennium: this one, the 2009 Lady Julian Bridge close to the railway station, and the Novi Sad Friendship Bridge, opened in 2001, near Carrow Bridge and Norwich City FC football ground.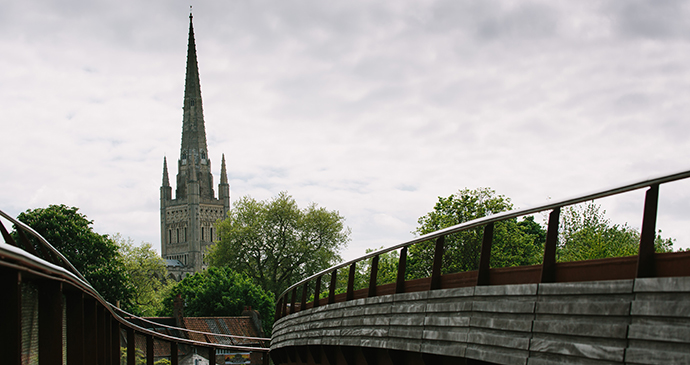 Crossing this graceful, J (for Jarrold's)-shaped footbridge, the riverside walk continues towards Cow Tower, a 14th-century defensive tower that was badly damaged in Kett's Rebellion of 1549. Just before Cow Tower you will pass what looks like a sluice leading into the river. This is, in fact, a rare 18th-century example of a swan pit, a pool in which wild cygnets were kept and fattened for the table after having their wings clipped and beaks marked by their owners. From Cow Tower walk a little further on to reach Bishops Bridge, then turn right to leave the river behind as you head for Cathedral Close and Tombland.
---
Discover more local treasures in Laurence's guides: