I travelled in April and stayed in Garden View Suite which starts from £880 B&B. Other fabulous suites start from £700 B&B and private Pool Villas from £1160 B&B
Address
The Siam 3
2 Thanon Khao
Vachirapayabal
Dusit District
Bangkok 10300
Thailand
Contact
Phone: +66 2 206 6999
Website: https://www.thesiamhotel.com
The Siam overview
An exquisitely designed residence where every nook and cranny has been well thought out; you'll discover new items as you walk around from the owners' private collection, including rare antiques and quirky hard to find objets de curiosité.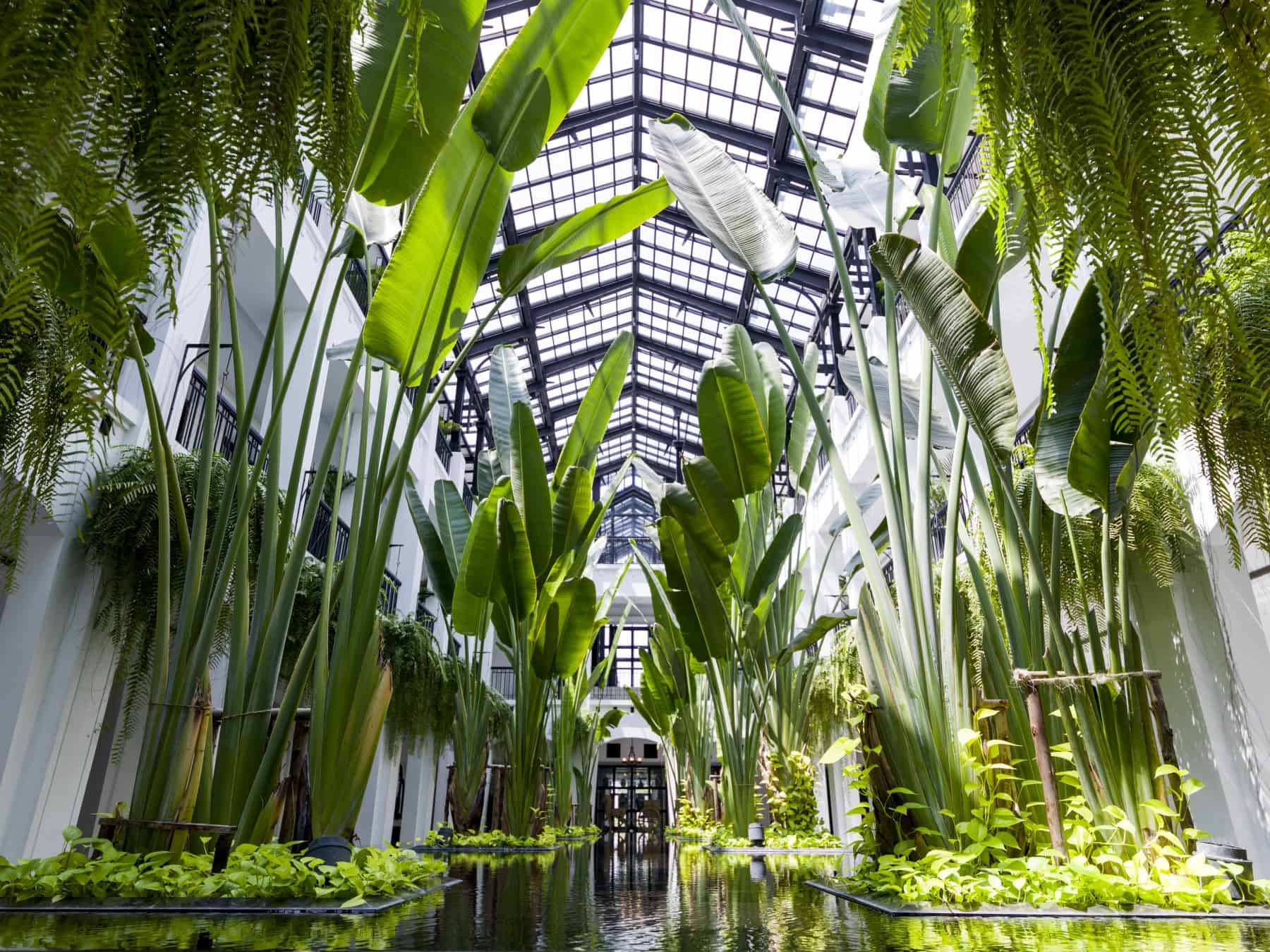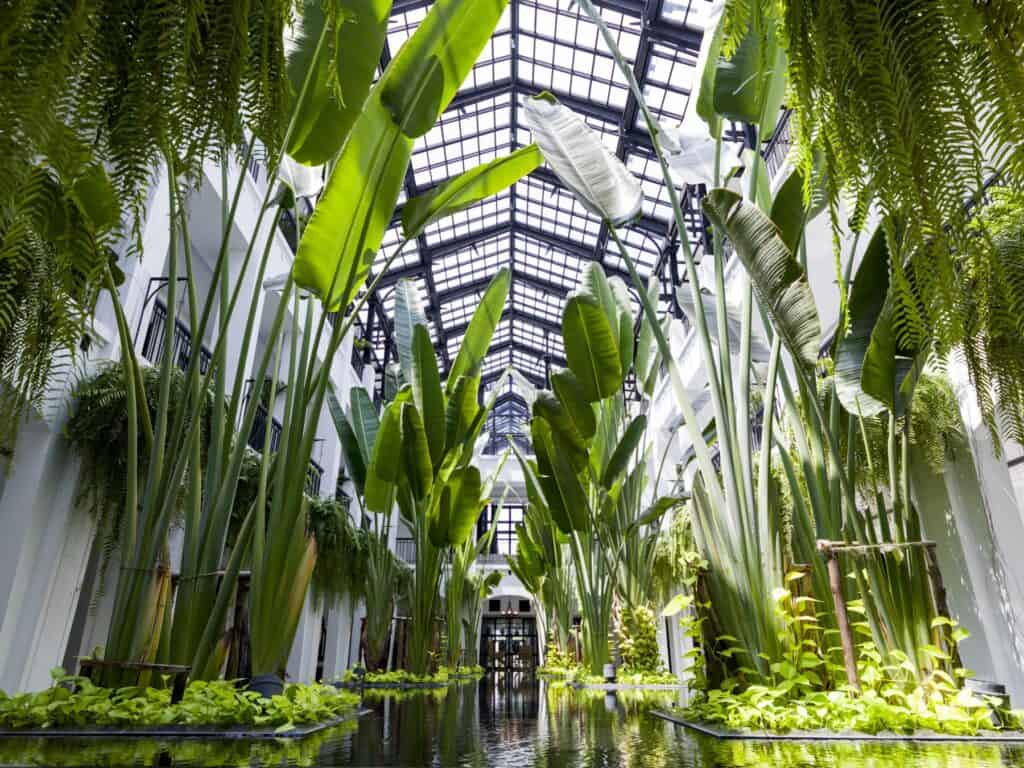 The food is authentic and sumptuous, the pool offers calming views of the Chao Phraya River which the hotel is located alongside and you can indulge in Thai traditions without even leaving; from Muay Thai in their dedicated ring, to Thai tattoos, to a local Thai herbal compress treatment in their stunning spa setting.
Décor and vibe
The design is decidedly Art Deco and bright, light and spacious. The owners' eclectic taste and collections along with renowned designer Bill Bensley, ensure guests are surprised, amused and intrigued as they wander from room to room seeing objects dating from AD to the Ming dynasty to a quirky biscuit tin from Liverpool in more recent times, yet still antique.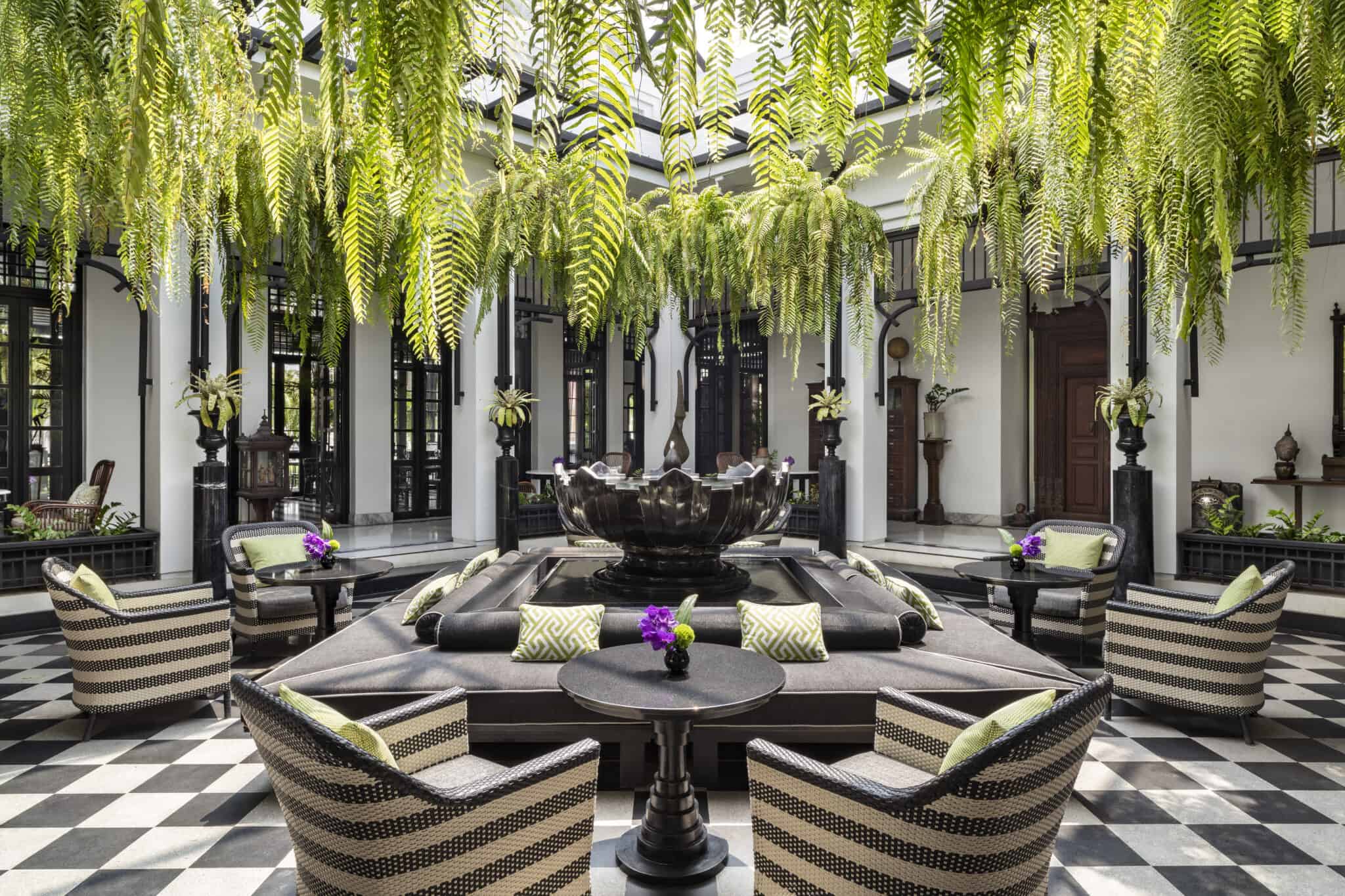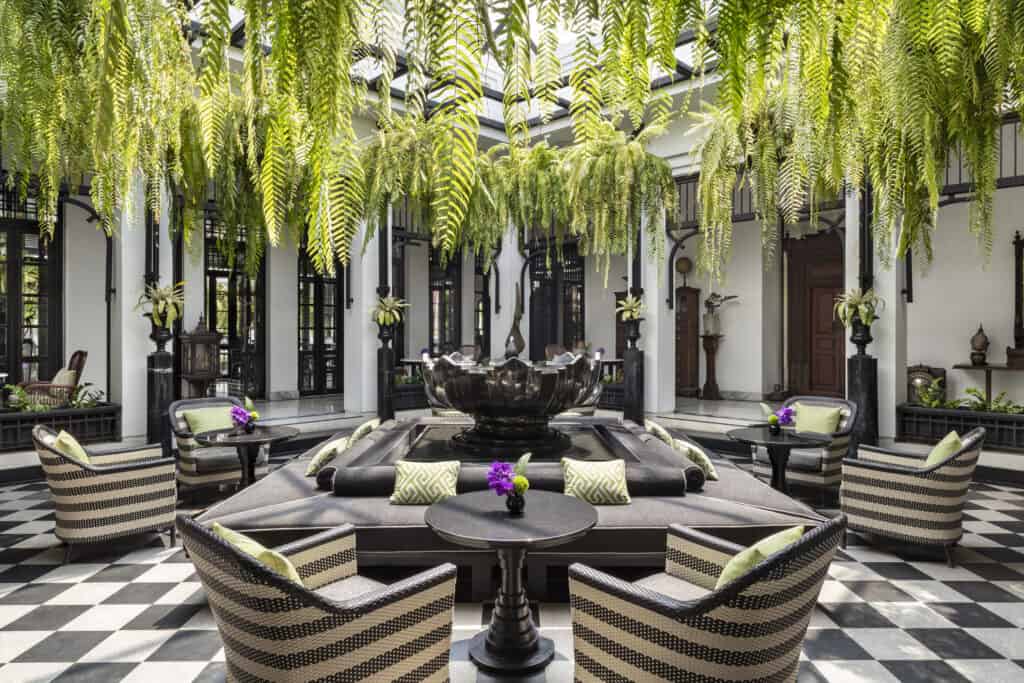 The treasure trove theme continues into the antique shop where guests can buy their own decorative pieces. I particularly liked the music room which has a large collection of vinyls for guests to pick and choose to play, as well as the screening room where you can watch films surrounded by quirky items from the son of the owner, including an impressive E.T. sculpture.
Bill Bensley's artwork is housed in a traditional Thai teak house in the garden as well as silks from reputedly the King of silk 'Jim Thompson'.
Services and facilities
Room service
Pool
Laundry
Fitness centre
Sauna
Steam room
Hot tub
Rooms (and suites)
As I entered my room 'La Vie En Rose' was playing in the background, the first thing I noticed was how high the ceilings are and how spacious the suite was.
The striking black wooden floorboards tie in with the art deco wall lamps, towel rails, mirror frames, bed frame and black and white marbled countertop in the bathroom, beautifully juxtaposed with clean white and soft grey on the walls.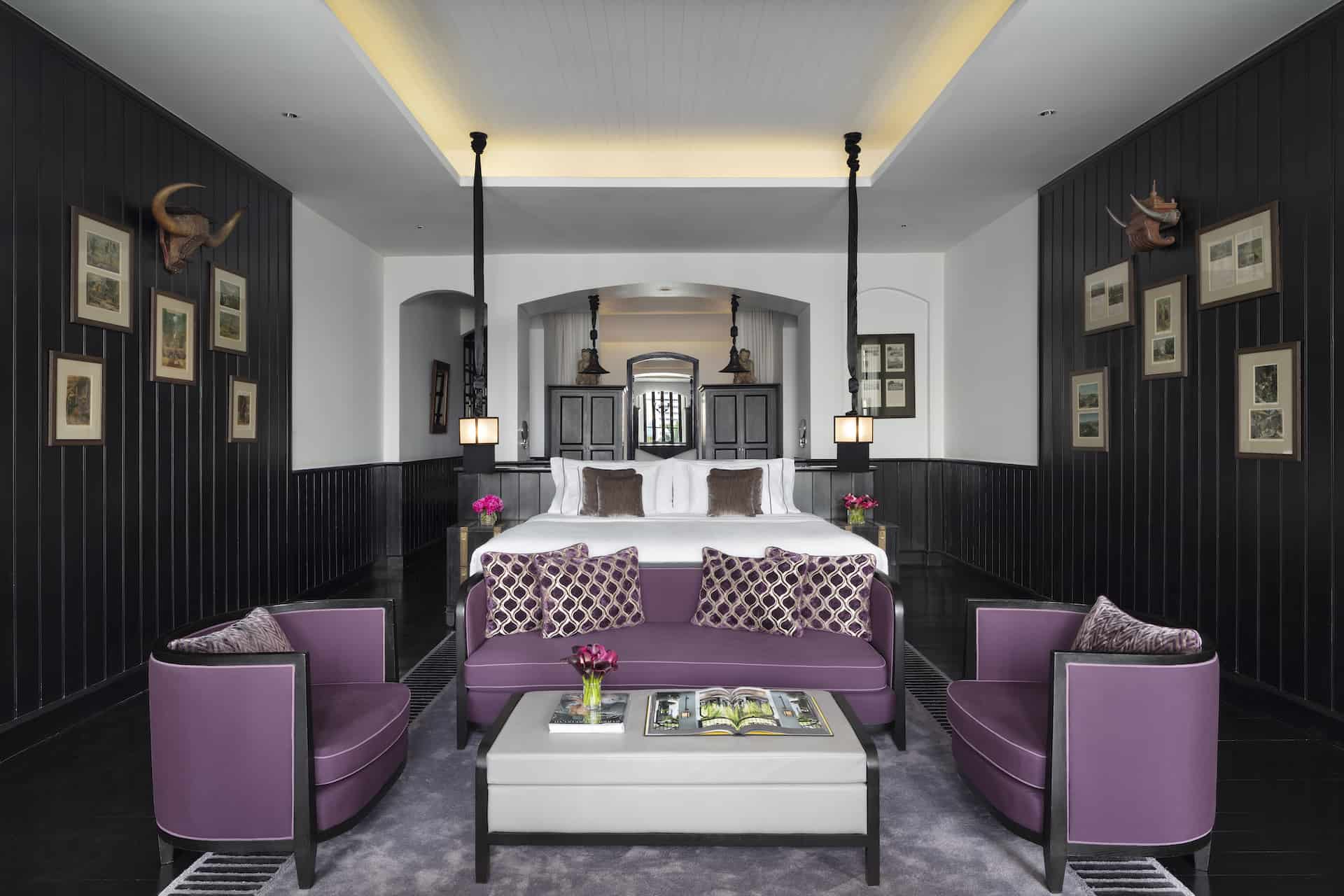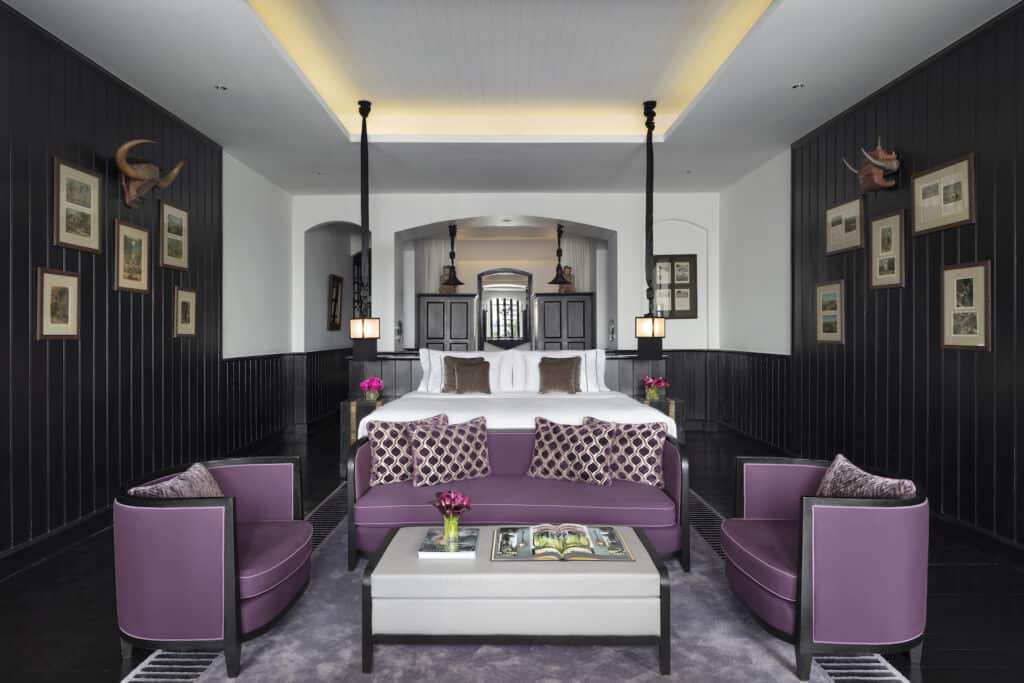 Splashes of colour come from the magenta upholstered seating and patterned scatter cushions. Rather fittingly, as I had watched a Muay Thai fight the night before, a sport integral in Thai culture, my suite was Muay Thai themed, touting books on the sport, to old photographs of fighters practicing alongside newspaper cuttings of fights framed on the wall and Muay Thai sculptures.
The Potted plants, fresh flowers on the desk and floor to ceiling window views over the palm trees and garden bring the outside in to this natural light flooded suite. Each suite is individually designed and there are also villas should you require more space or your own private plunge pool.
Food and drink
Dinner at Chon Restaurant is a treat, from the Chao Phraya views with lights sparkling and reflecting off the water, to the tantalising authentic Thai cuisine on offer.
I started with a moreish floral Lychee en rose mocktail and watermelon topped with crispy fish which is an unusually tasty pairing, followed by a spicy tom yum poh taek soup full to the brim of fresh seabass, tiger prawn and mussels, perked up by fragrant holy basil, then tender blue crab meat from southern Thailand in a fragrant, memorable yellow curry, dessert was a glorious coconut crunch ice cream bowl.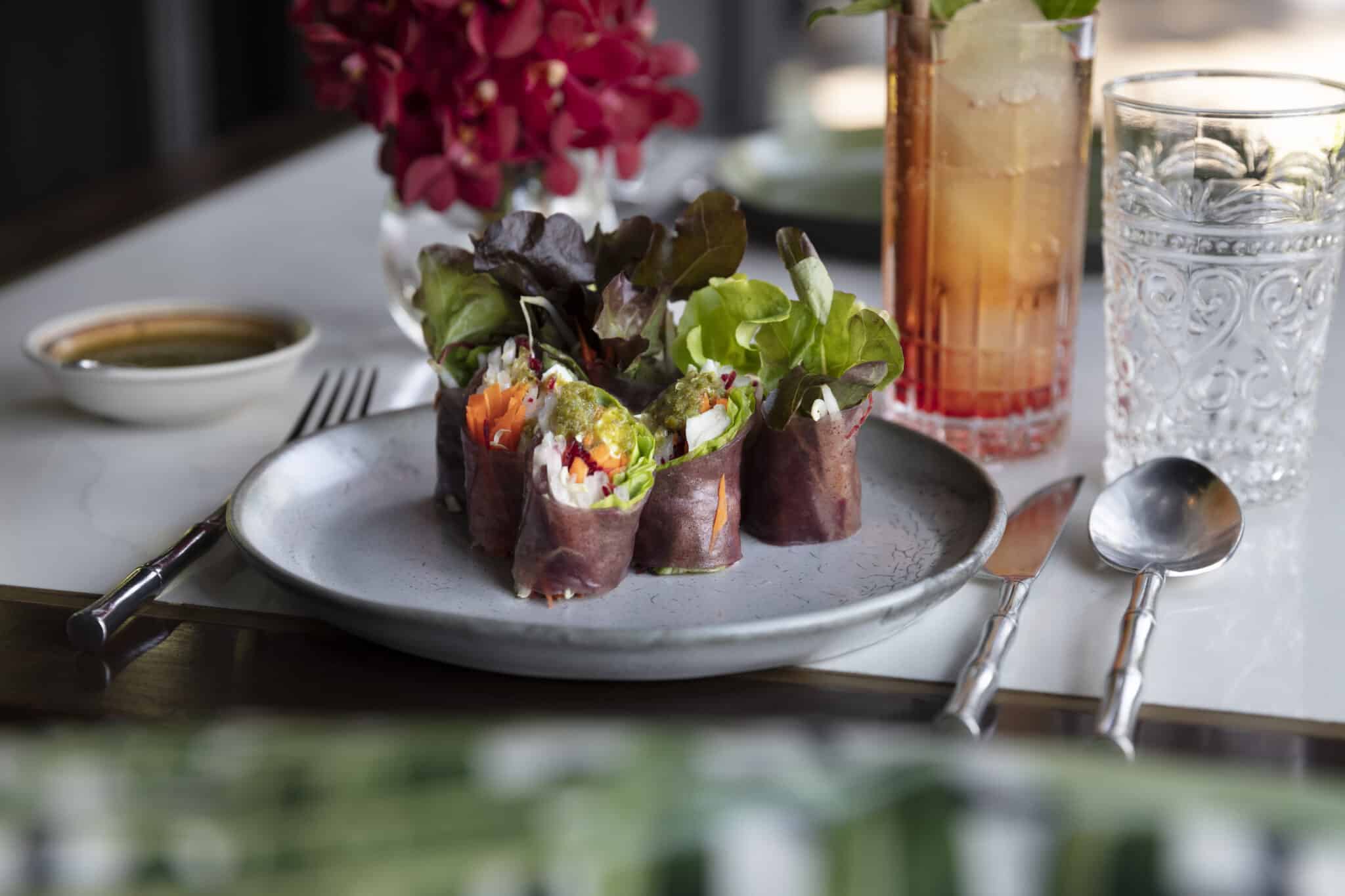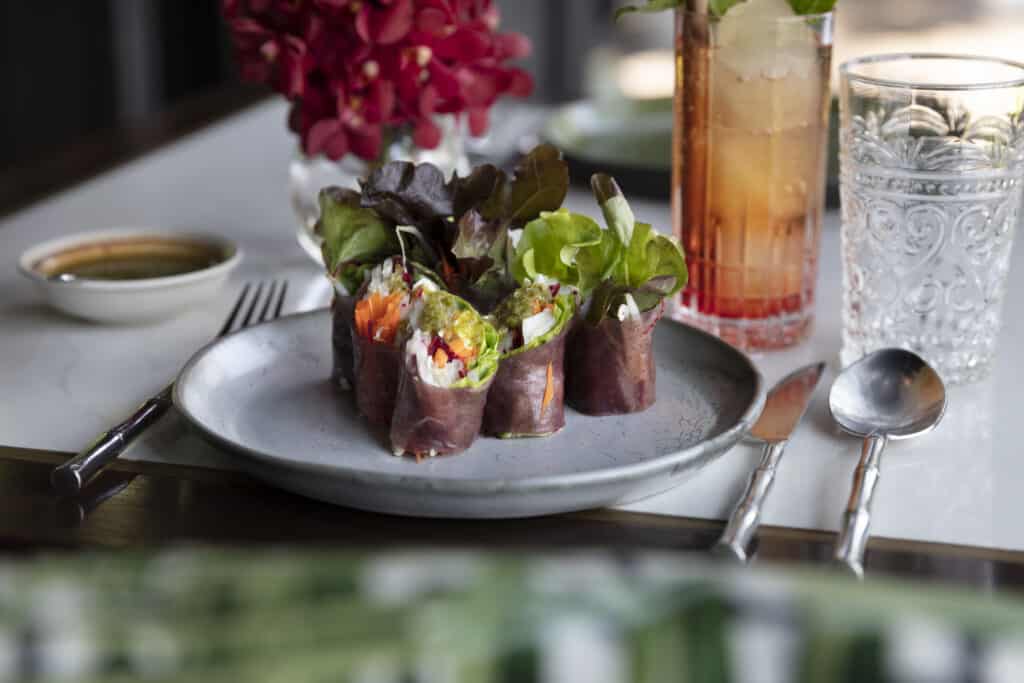 You have four places to eat to choose from, such as Story House restaurant which serves international dishes like as whole baked triple cream brie with longan honey, almond brittle, and grilled bread for starters, grass fed ribeye steaks for mains and tempting desserts such as a cinnamon doughnut with dulce de leche ice cream and candied banana. Breakfasts offer both international and Thai, they do a mean Thai omelette!
More information
For more information and bookings, visit the hotel website at: thesiamhotel.com.