There's something otherworldly and mesmerising about witnessing the northern lights illuminate the sky above you. The clash of protons and atmospheric gases creating extraordinary displays of light and form that are a bucket list essential.
Sightings of the aurora borealis have been spectacular so far in 2023 as the solar cycle ramps up towards solar maximum, which is predicted to peak in 2025. Several powerful solar flares have meant the northern lights have been visible at lower latitudes, and as such, later in the year than is normally possible. Parts of the UK and US were treated to spectacular displays in July – something not possible in typical aurora destinations where there is too much daylight.
What does this mean for aurora hunters? Where are the best places to see the northern lights? Even with the exceptional behaviour of this year, the best advice for anyone considering a trip to see this natural light show, is to head north into an area known as the aurora oval. Iceland and the northern regions of Sweden, Norway and Finland fall into this oval and offer great chances to catch glimpses of green between September and early April.
The northern lights cannot be guaranteed so putting yourself in prime locations for viewing is the best way to achieve aurora hunting success. It's also important to consider how you'll spend your time when not gazing at the night sky. Read on for a selection of the best places to stay to see the northern lights.
The best places to stay to see the northern lights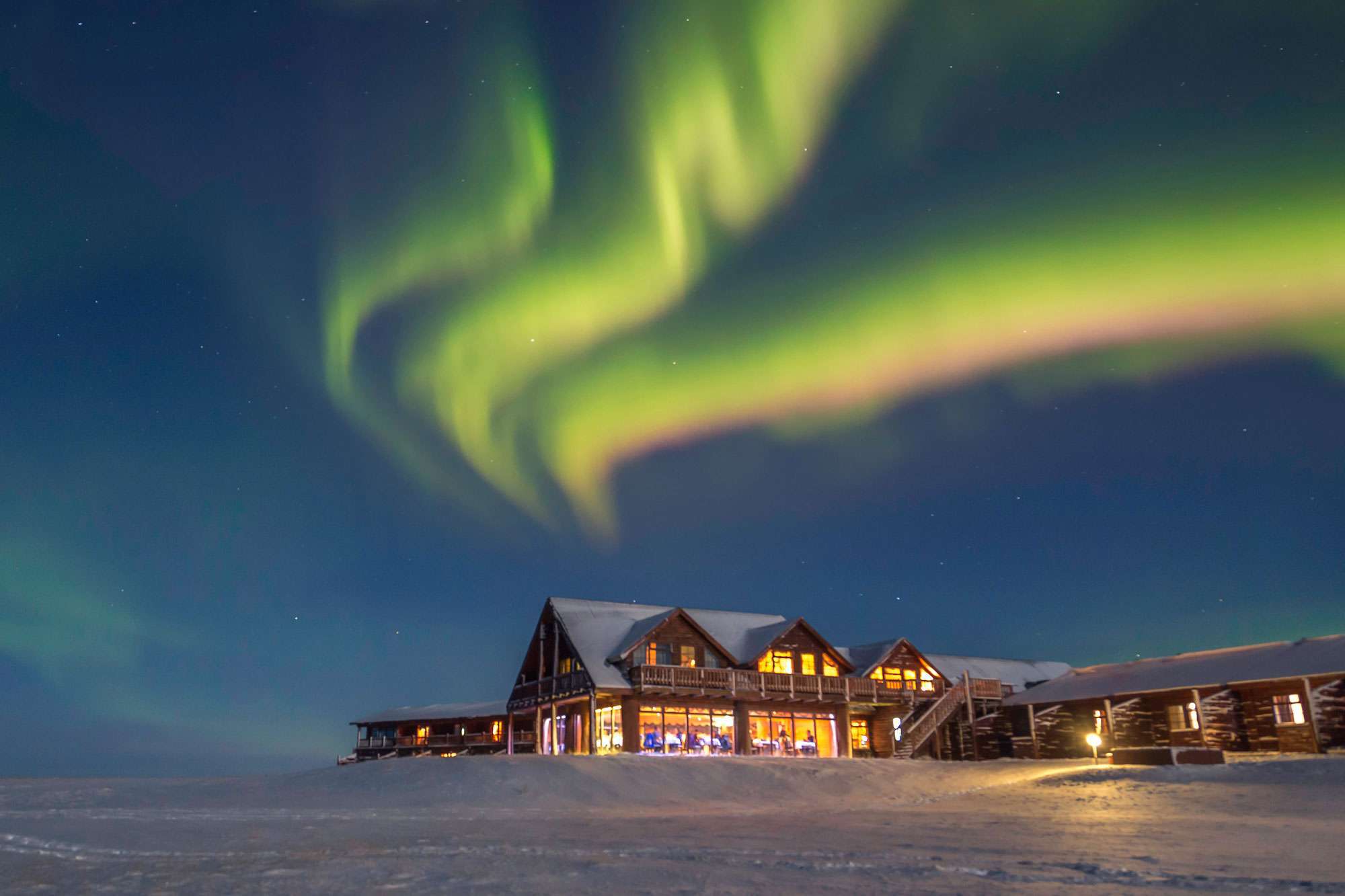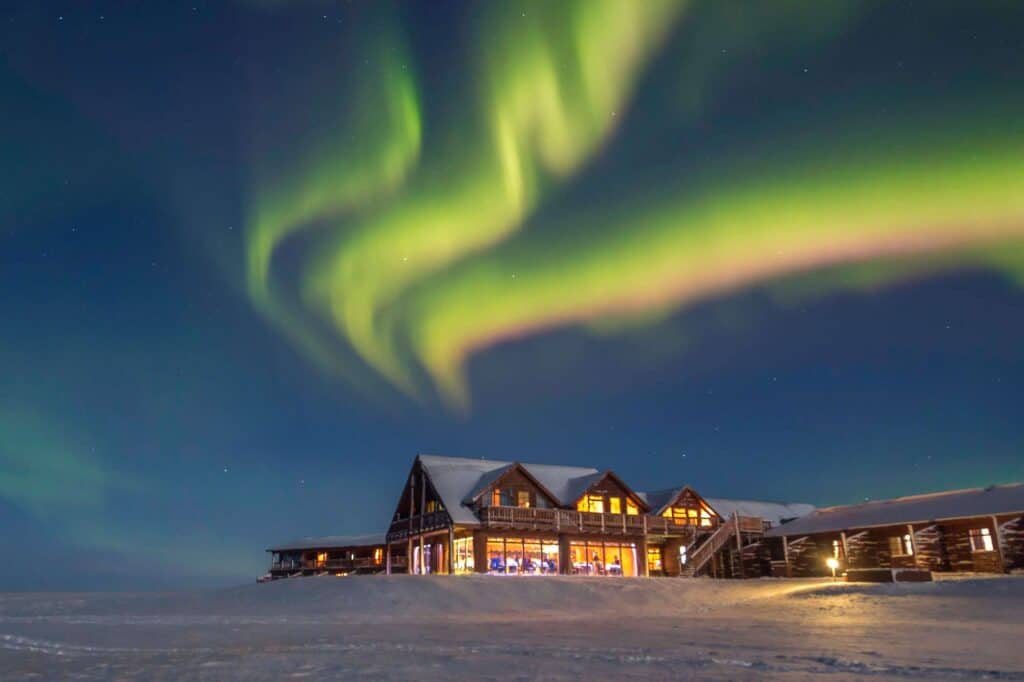 Hotel Ranga, South Iceland
Big skies perfect for aurora viewing is exactly what you can expect staying in the heart of Iceland's countryside at riverside Hotel Ranga. One of the finest countryside hotels in Iceland and renowned for its exceptional dining, this is a perfect base for a short winter break. Spectacular waterfalls like Skogafoss and Seljalandsfoss are within reach for daytime exploration, as well as the iconic wonders of the Golden Circle. Return to the hotel to relax in outdoor hot tubs and with luck, await the aurora. The hotel also has its own observatory, and you can book a wake-up call so you don't miss out should the lights appear after you've gone to bed.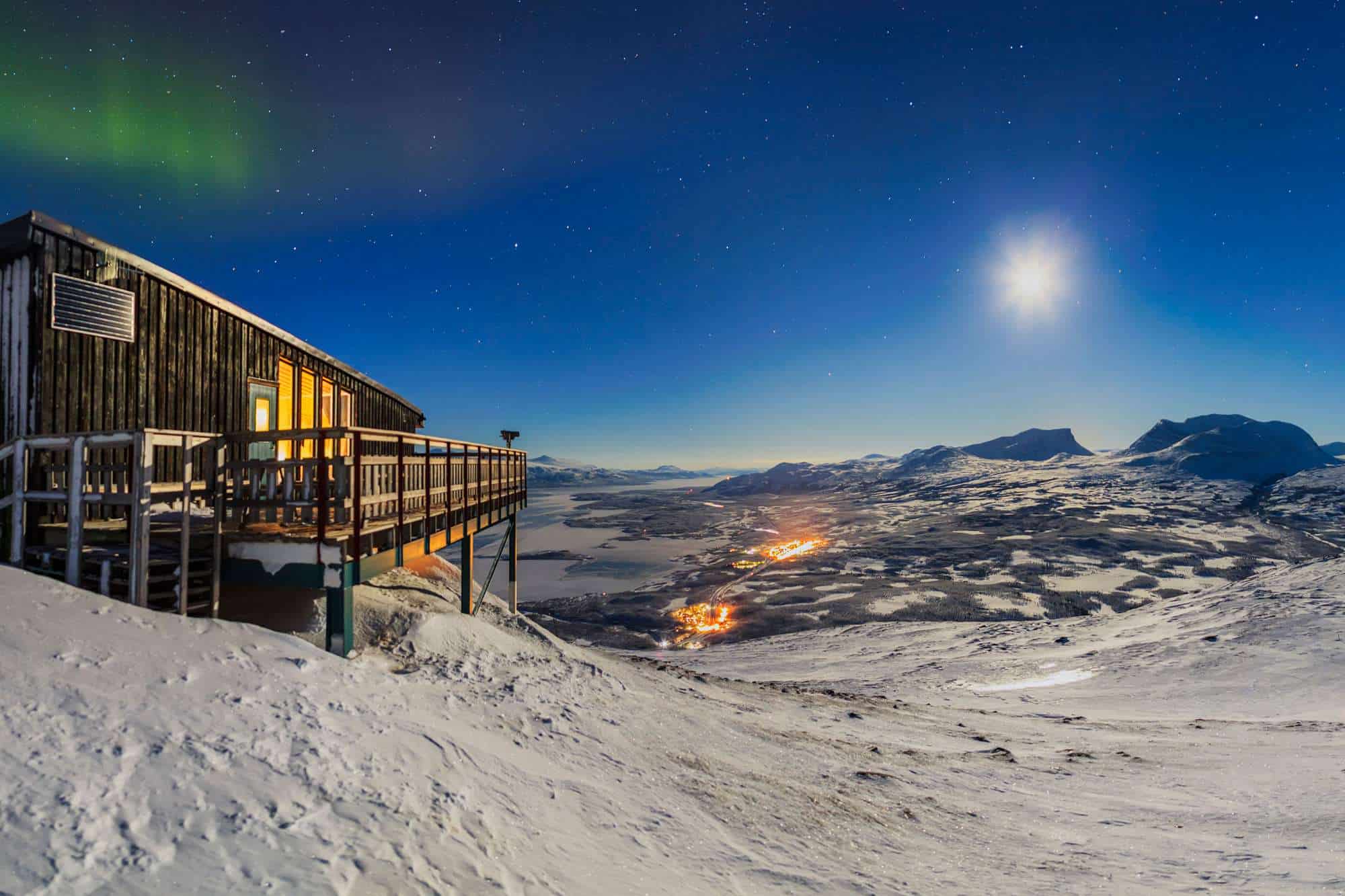 Abisko National Park, Swedish Lapland
Perfectly positioned under the auroral oval, Abisko in Swedish Lapland boasts more nights of clear skies than anywhere else in Europe making it a perfect spot for seeing the northern lights. SFT Abisko Turistation, formerly known as Abisko Mountain Station, is the only hotel located within the national park and is close to the aptly named Aurora Sky Station. A chairlift ride takes guests to this mountaintop lookout for unrivalled 360° views. The station's picture windows and outdoor decks offer superb vantage points for sightings of the aurora. Abisko can also be paired with a stay at the world famous Icehotel where you can marvel at stunning ice sculptures, take part in thrilling activities like husky sledding and snowmobiling and spend an extraordinary night sleeping in ice.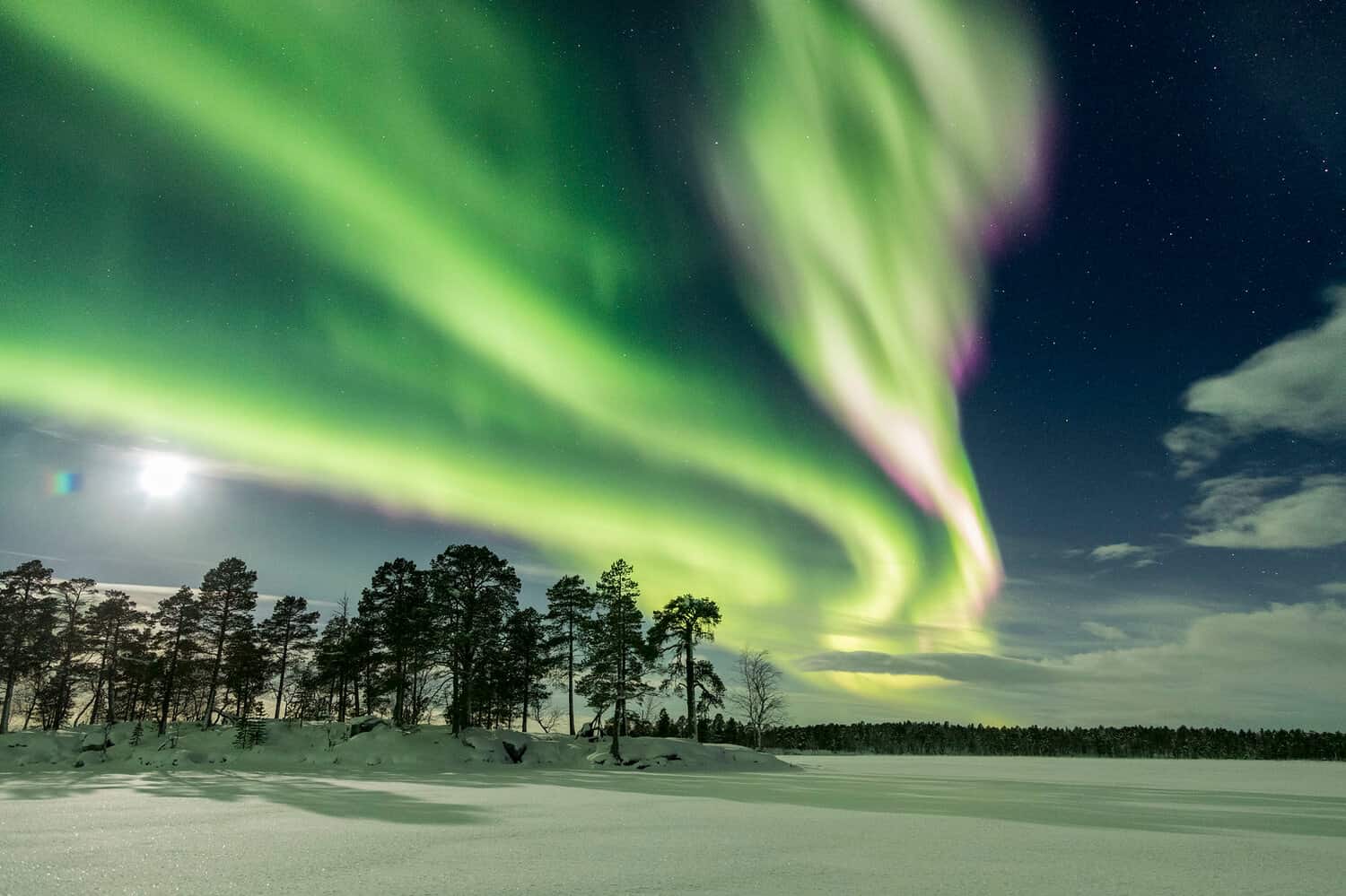 Inari, Finnish Lapland
Finnish Lapland is always a great choice for a northern lights holiday with its pristine wilderness and dark night skies. Snow-laden pine forests and frozen lakes provide a picturesque backdrop for a range of fun activities to suit everyone, from adrenaline junkies through to nature lovers. The all-inclusive wilderness hotels dotted along the shores of Lake Inari offer flexible, good value options for a northern lights break. This collection of stylish properties offer a choice of cosy accommodation including log cabins and aurora chalets as well as Aurora Bubbles with thermal glass roofs for optimum aurora viewing in comfort.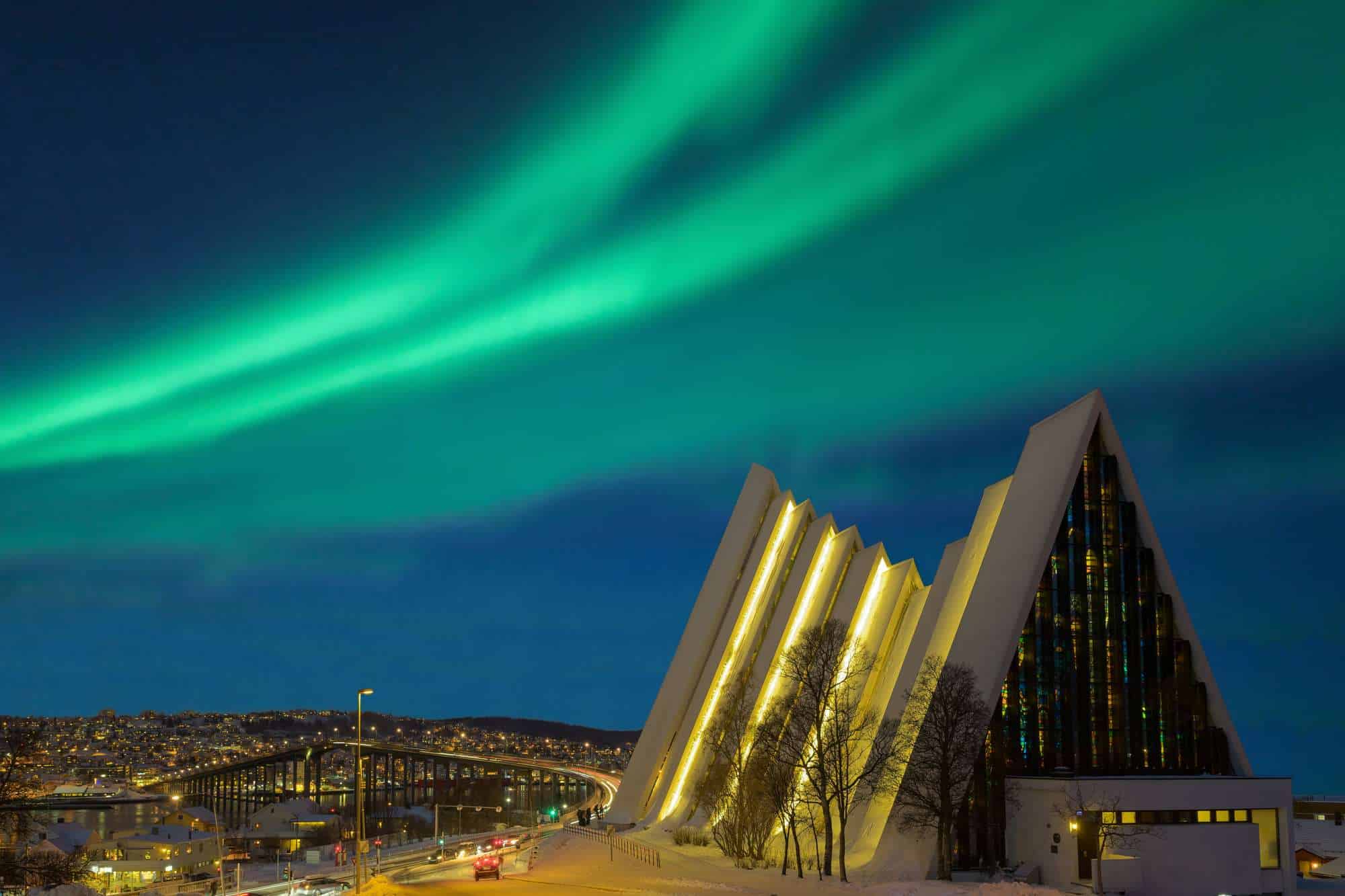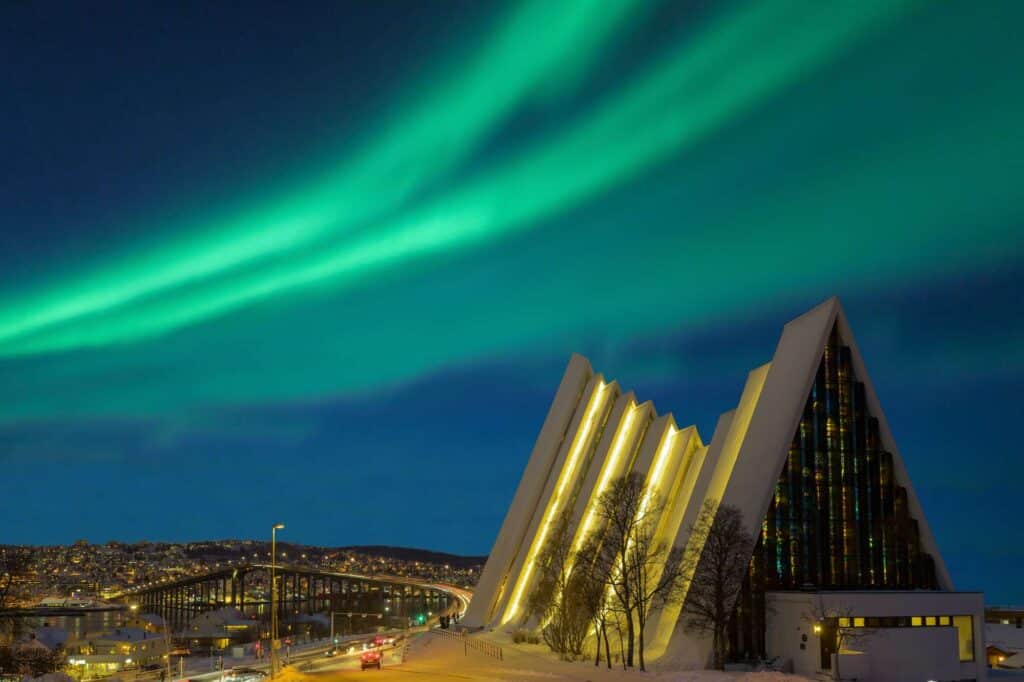 Tromso and Malangen Resort, Northern Norway
Tromso in Northern Norway is a popular haunt for those chasing the aurora. This Arctic city is steeped in history and surrounded by striking landscapes of mountains and fjords. Tromso is vibrant and fun to explore with the distinctive Arctic Cathedral, its most famous landmark. It also offers easy access to remote locations away from artificial lights and is therefore ideal for seeing the northern lights. For instance, a 90-minute drive south of Tromso, Malangen Resort is a fjord-side hideaway offering dreamy views from its cabins perched on stilts right at the water's edge. A short walk leads to the resort's hilltop aurora lookout, while other must-do activities include snowmobiling, dog sledding and Sámi storytelling.
Planning a northern lights holiday
With nearly four decades of experience creating northern lights holidays, Discover the World know the very best places to stay to boost your chances of witnessing the aurora between September and April. They have curated a diverse and thrilling collection of aurora breaks in Europe's Far North. Experts with first-hand knowledge will help you find the best itinerary to suit you, including quintessential winter experiences that ensure seeing the aurora is the cherry on top!
---
More information