Estonia on a plate: your inside guide to the very best food in Estonia.
Known for its charming medieval towns, serene natural beauty and friendly people, Estonia is a unique blend of Scandinavian and eastern European influences – and its food is no exception. A blend of hearty and unpretentious fare that's perfectly suited to the cold Baltic winters, it takes full advantage of local ingredients, reflecting the country's rich agricultural heritage.
How about a flavourful blood sausage served with lingonberry jam, or a sprat sandwich topped with delicately smoked fish? With each bite, you'll be tasting a piece of the nation's vibrant history.
Join us on a culinary journey as we delve into the delicious ingredients and mouthwatering traditional dishes that Estonia has to offer.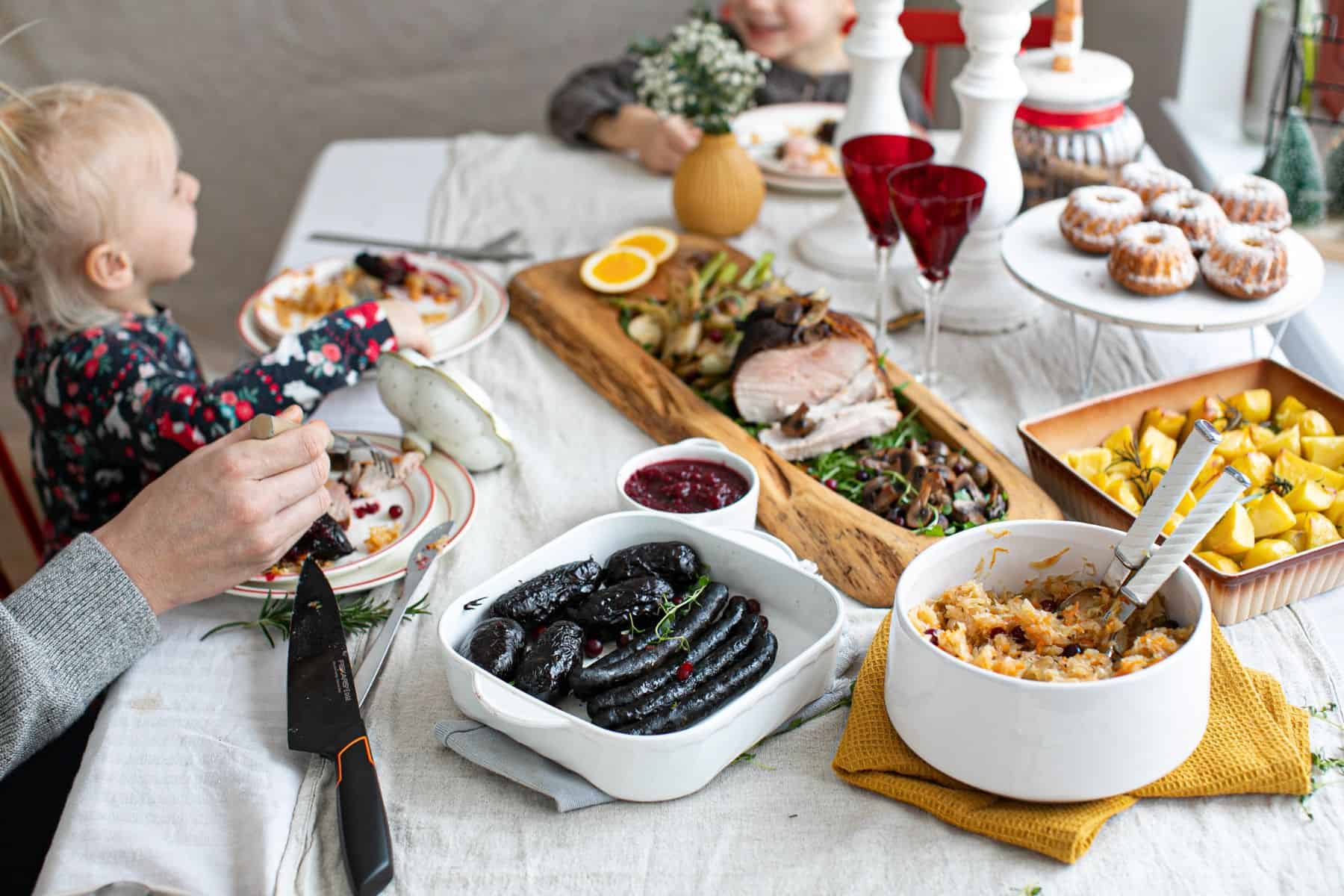 What is Estonian cuisine famous for?
Known for both its simplicity and satisfying variety, Estonia's traditional cuisine includes a mix of centuries-old recipes and cooking rituals. Here are some of the most popular classics.
Black bread
Nothing quite captures the essence of traditional Estonian cuisine like homemade bread. This staple food, usually made from dark rye or wheat flour, is a crucial part of daily meals. Known locally as 'black bread', it's served alongside almost all traditional dishes. Try a slice spread with a layer of Estonian cheese to experience it at its best.
Verivorst
Verivorst, or blood sausage, is a popular dish that's mainly served during the cold winter months. This hearty meal is made from pork, barley and blood, giving the sausage its distinctive name and flavour. Usually served with a dollop of sour cream, verivorst perfectly demonstrates the Estonian knack for creating soul-soothing dishes from basic ingredients.
Mannavaht
For a taste of traditional Estonian comfort food, try mannavaht, or semolina foam. This sweet, mousse-like dish is made from semolina, milk and sugar, and often incorporates fresh berries. It's commonly served in school cafeterias, making it a cherished childhood favourite.
Estonian cheese
Originating from the country's lush pastures, this rich cheese is a staple in Estonian cuisine. The primary ingredients are fresh – usually sour – milk and a variety of fresh herbs. Whether it's served on a slice of rye bread or melted into a hot, sweet, bread soup, it's unfailingly delicious.
Pork and potatoes
The simple yet delectable combination of pork and potatoes is perhaps the epitome of Estonian comfort food. This main dish, often served with sour milk or a side of sauerkraut stew, is a regular sight on most dining tables.
Aspic
The Estonians have a certain fondness for aspic, a dish also known as meat jelly, which has its roots in northern Europe. The traditional Estonian take features a delightful mix of hard-boiled eggs, a variety of fresh herbs and pork. It's often made for special occasions.
Smoked sprats
Smoked sprats are small, oily fish that come from the Baltic Sea, and are a much-loved delicacy in Estonia. They're usually served as the main course, accompanied by black rye bread and green onions – a pairing that enhances the rich, smoky taste of the fish, making it a must-try for any visiting foodie.
Marineeritud angerjas
Like smoked sprats, marineeritud angerjas, a traditional pickled eel dish, is made with fish caught from the Baltic Sea. It's served in a similar manner – with green onions, dark rye bread and hard-boiled eggs – but is distinctive for its strong fish flavour. It's typically eaten cold.
Estonian beer
To drink, there's a choice of local beer, a testament to Estonia's long history of brewing. One particularly popular variety is the Baltic Porter, a dark, strong lager made with natural ingredients including malted barley. Its rich flavour and frothy texture make it a favourite for large group gatherings and festive occasions.
Vana Tallinn
Vana Tallinn is more than just a drink, it's a celebration of Estonia's capital city. This unique liqueur is a blend of rum, citrus oils, vanilla and spices, offering a treat for anyone with a sweet tooth. It's traditionally served in small glasses, either straight or mixed into cocktails. Terviseks (cheers)!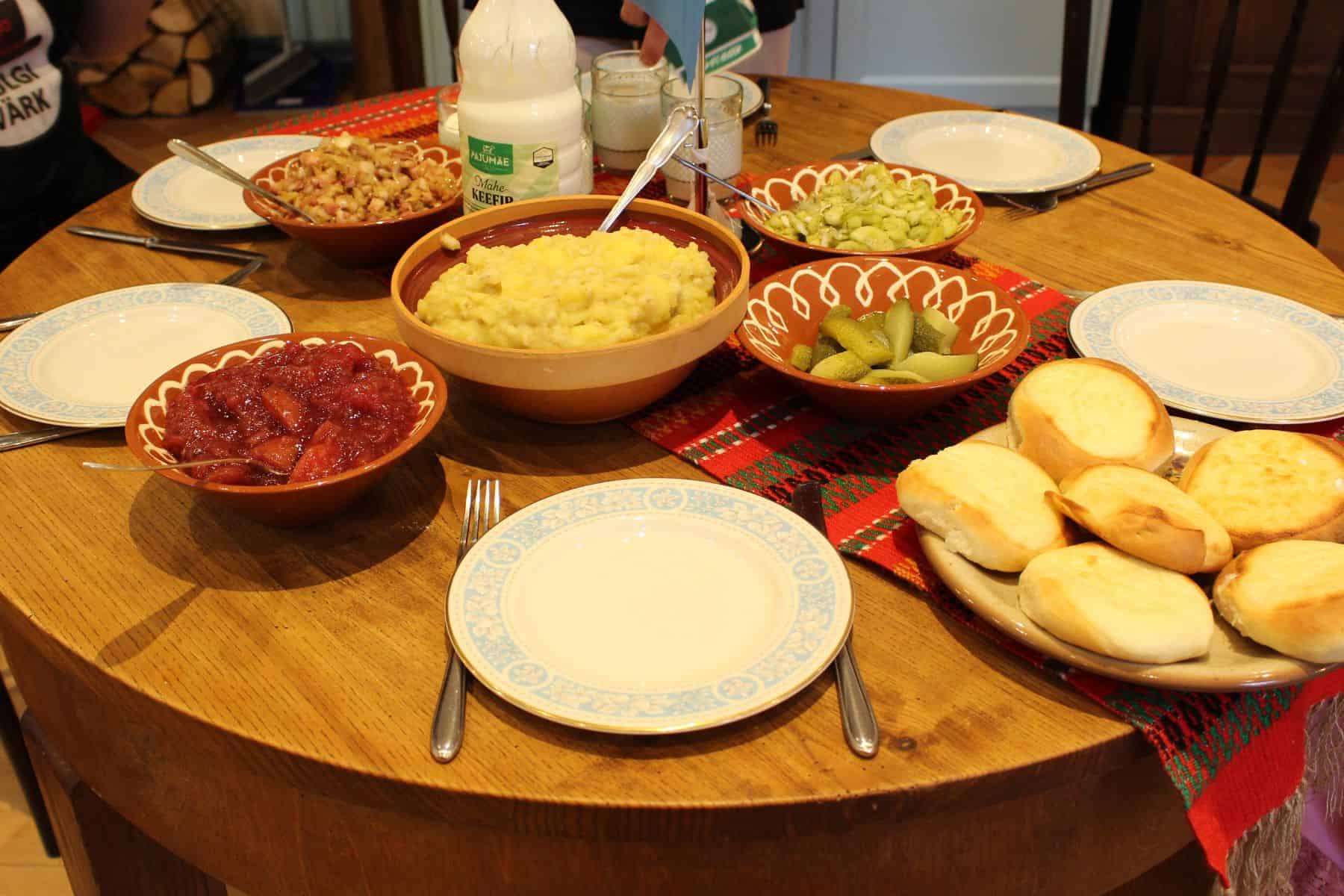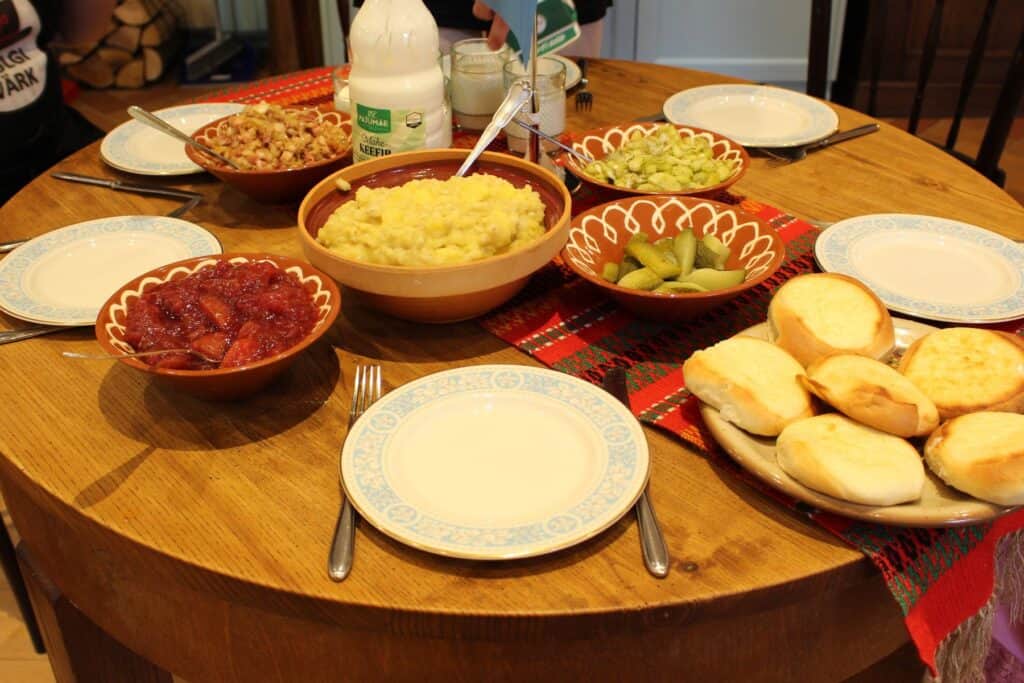 Estonian dishes you shouldn't miss
Traditional Estonian cooking is dominated by potatoes, pork and pickled ingredients, but you'll find that local chefs always give them their own twist. Try at least a few of the dishes on our list to enjoy a good overview of eating the Estonian way.
Mulgipuder
Originating from the southern regions of Estonia, mulgipuder is a hearty porridge that's been a staple of the country for centuries. It's a humble combination of potato and barley, often served alongside aspic and a chunk of black bread. This dish is traditionally enjoyed during the colder months, bringing welcoming comfort and warmth.
Rosolje
Rosolje, a vibrant pink salad, is a Christmas Eve classic in many Estonian households. Its main ingredients are potatoes, beetroot (which gives the salad its unusual colour), herring and hard-boiled eggs. It's often served with a side of the ubiquitous black bread.
Kiluvõileib
The kiluvõileib, a traditional Estonian sandwich, is made with sprats caught from the icy waters of the Baltic Sea. Topped with fresh herbs and served open-faced on dark rye bread, it's a common sight at social gatherings.
Kohupiimakreem
If you like creamy puddings, kohupiimakreem is for you. This quark-based dessert is a beloved Estonian recipe, often enjoyed with fresh berries or a spoonful of jam. Its rich texture and mildly sweet flavour are a truly delightful end to any meal.
Kama
A unique Estonian invention, kama is a porridge-like dish made from a blend of roasted grains, including pea flour. Traditionally, it was a convenient food for travellers, but today it's enjoyed as a breakfast dish served with sour milk or yoghurt.
Pirukas
Pirukas are hand-sized pastries filled with a variety of ingredients such as meat, cabbage or cheese. These savoury treats are an integral part of Estonian food culture and are often served at social events, enjoyed with a glass of Estonian beer.
Kohuke
Another quark-based sweet treat, kohuke is a chocolate-glazed bar that's an everyday favourite. Made with freshly pressed sweet curd, these bars are commonly found in Estonian supermarkets and grocery stores and make an excellent on-the-go snack.
Hernesupp suitsukoodiga
Next on the list is hernesupp suitsukoodiga, a filling pea soup with smoked pork. This rich dish is a popular winter warmer during the colder months, the smoky flavour of the pork providing a delightful contrast to the creamy peas.
Eesti kartulisalat
Eesti kartulisalat, or Estonian potato salad, is a much-loved dish for family gatherings and festive occasions. It combines boiled potatoes, onions, carrots, pickles and sausage with a dressing of sour milk and mayonnaise, bringing a unique Estonian twist to a classic.
Mulgikapsad
Mulgikapsad is a traditional dish hailing from southern Estonia, typically made of stewed sauerkraut, pork and barley. A regular feature on Christmas tables, its humble ingredients reflect Estonia's traditional reliance on preserved foods during long winters.
Kamavaht
Kamavaht is a sweet, fluffy dessert made from a fermented mixture of pea and barley flour. Historically, it was consumed as a breakfast meal or dessert, often paired with a refreshing Estonian beer.
Seapraad ja hautatud hapukapsad
If there's one dish not to miss in Estonia, it's seapraad ja hautatud hapukapsad – made by roasting a juicy cut of pork until it's beautifully browned, then serving it with a generous helping of sauerkraut, or hapukapsas. The hapukapsas is often fermented for several weeks, creating a tangy, sour side dish that perfectly complements the richness of the pork.
Kruubipuder
Kruubipuder, an Estonian pearl barley porridge, is a simple, wholesome dish prepared mainly with barley, butter and water. It is often served alongside marineeritud angerjas (marinated eel).
Kaneelirull
Adopted from neighbouring Sweden, kaneelirull, or cinnamon roll, has become a beloved bakery staple, frequently enjoyed with coffee. Made with a rich, yeasty dough and a filling of cinnamon and sugar, these tasty rolls are said by Estonians to bring good luck.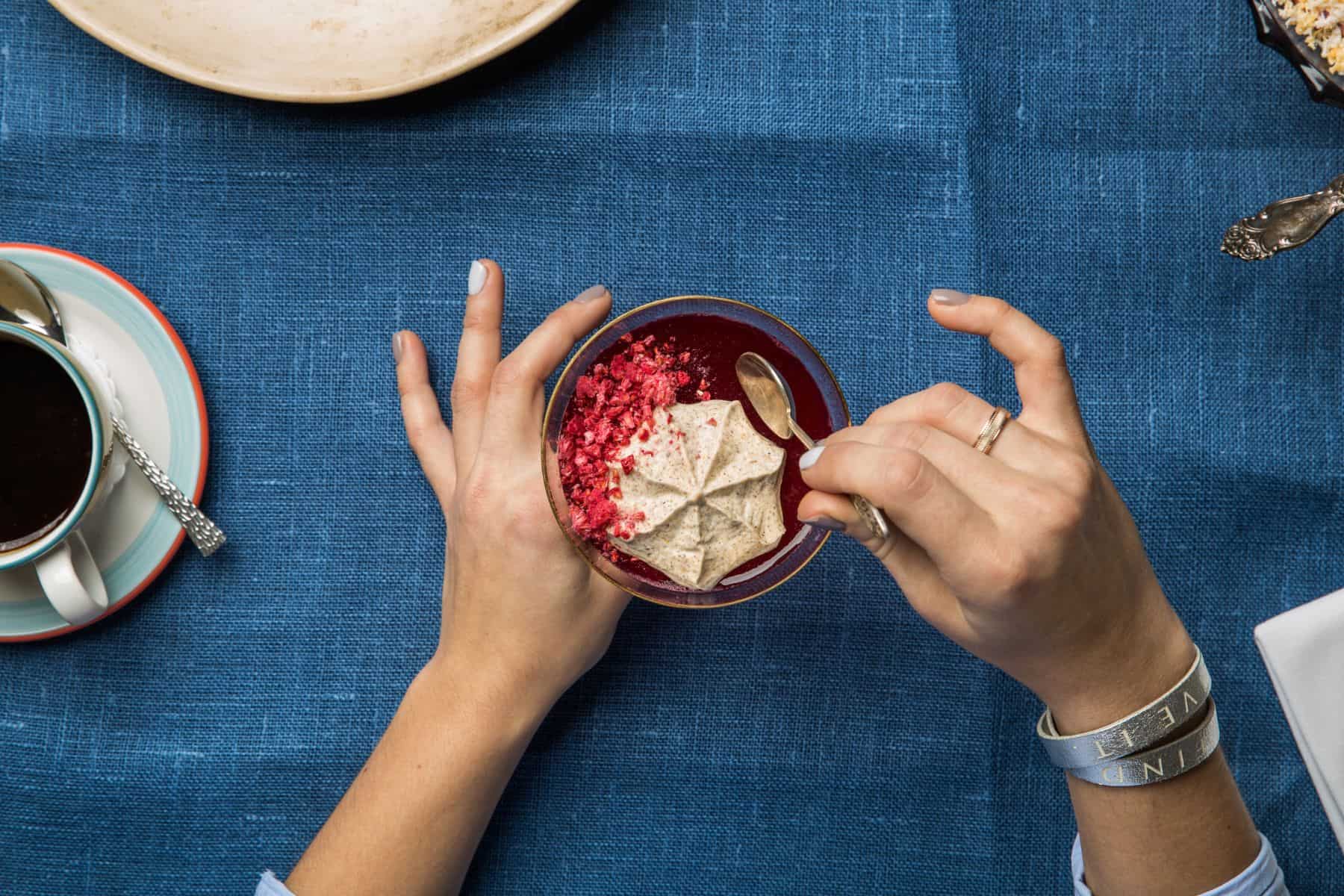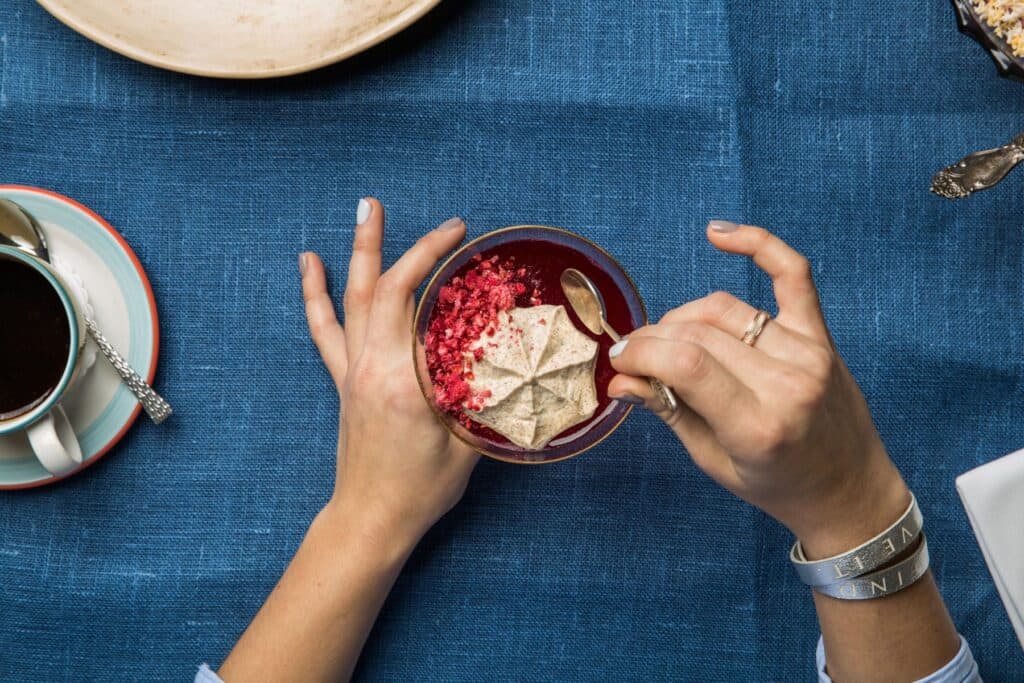 Where to start
With so many delectable dishes to choose from, how do you decide what to eat first? Any of the above foods are well worth a try, but if you want to ease in gently then you can't go wrong with kama or pirukas. Here are our recommendations for starting a culinary tour in Tallinn.
Kama: Rukis
When in Tallinn, do as the locals do. Enjoy a hearty breakfast at Rukis, a quaint bakery renowned for its authentic Estonian pastries, ending with a bowl of their famous kama. Rukis' take on kama is a harmony of flavours, with the just right balance of sweetness and the wholesome taste of mixed grains.
Peisi Koha: Kaerajaan
Bridging the gap between past and present, Kaerajaan serves traditional Estonian dishes with modern twists. Sitting in Tallinn's Town Hall Square, the restaurant is named for a traditional Estonian fairy tale and its interior design is inspired by the country's folklore. While there, be sure to sample the Peisi koha, a dish made with pike-perch from Estonia's own Lake Peipus.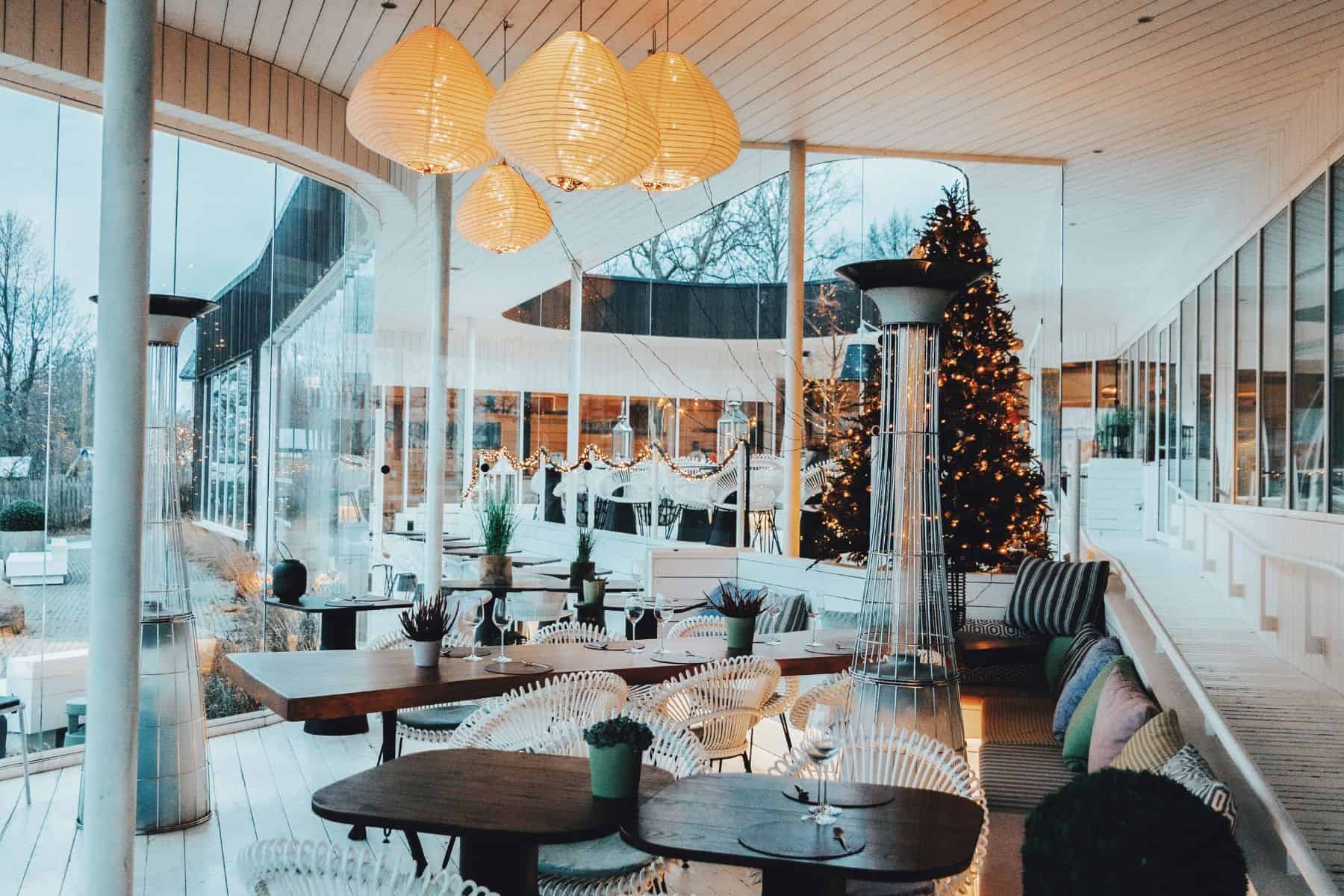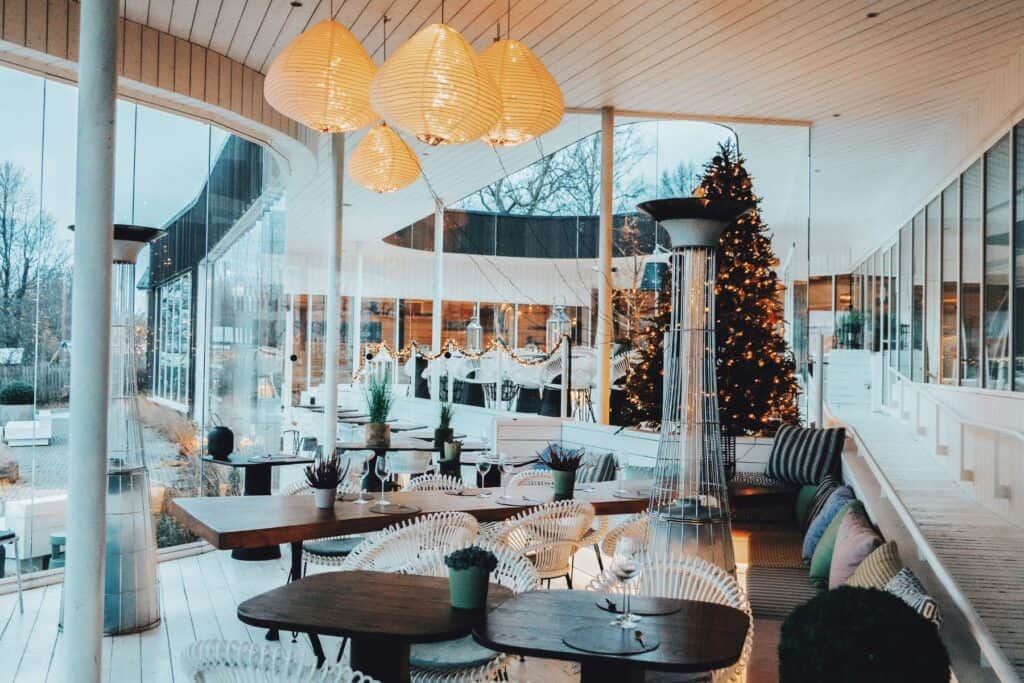 Michelin Star Estonia
In May 2022, Michelin announced its guide to Estonia, making it the first country in the Baltics to receive this prestigious recognition.
A new generation of Estonian chefs are pioneering a rapidly emerging fine-dining scene, transforming foraged produce into innovative, modern cuisine. The chefs use centuries-old techniques and traditional, seasonal ingredients alongside contemporary European methods to create a fusion-style of cooking.
Thirty-one restaurants were recommended by the guide, with two receiving a renowned Michelin star of their own: NOA Chef's Hall and 180° by Matthias Diether.
NOA Chef's Hall
NOA Chef's Hall uses a blend of the world's best luxury ingredients alongside locally foraged and preserved produce. The creative seven-course menu, designed by chefs Roman Sidorov and Tõnis Siigur, keeps customers engaged from start to finish, with complex and highly original dishes full of complementary flavours and texture layers.
180° by Matthias Diether
180° by Matthias Diether is situated in Tallinn's modern harbour development, Noblessner, on the edge of the city centre. The restaurant is named after the 180° view from its u-shaped open kitchen. Head chef Matthias Diether's hallmark is his modern creations, offering an array of both flavour and texture contrasts, as well as paying great attention to detail.
Rewarding sustainability
In addition to the establishments listed above, two restaurants were awarded a Michelin green star for their sustainable commitment to gastronomy: Restaurant SOO in Maidla and Fotografiska in Tallinn. Whether through their locavore approach, efforts to reduce the restaurant's ecological footprint, initiatives to recycle food waste, grow their own vegetables and herbs, or educate their guests about a more eco-responsible vision of gastronomy, these restaurants are a true source of inspiration for gourmets and restaurateurs alike.
You can find out more here.
---
More information
This project is in co-operation with Visit Estonia and co-funded by the European Union.
For more information, you can also see Neil Taylor's guide to Estonia: