There are some wonderful swimming spots in Malta and Gozo, but the brochures do not always give a very honest impression of what to expect.
You may be promised a 'private beach' and find a rocky foreshore. Nothing wrong with swimming from rocks – unless you were expecting to build sandcastles. Here's everything you need to know about swimming in Malta and Gozo.
For more information, see Juliet Rix's guide to Malta and Gozo.
Blue Lagoon
Malta's most sought-after swimming spot – the target of flocks of tourists each day in summer – is actually on its neighbouring island: the Blue Lagoon on the coast of Comino.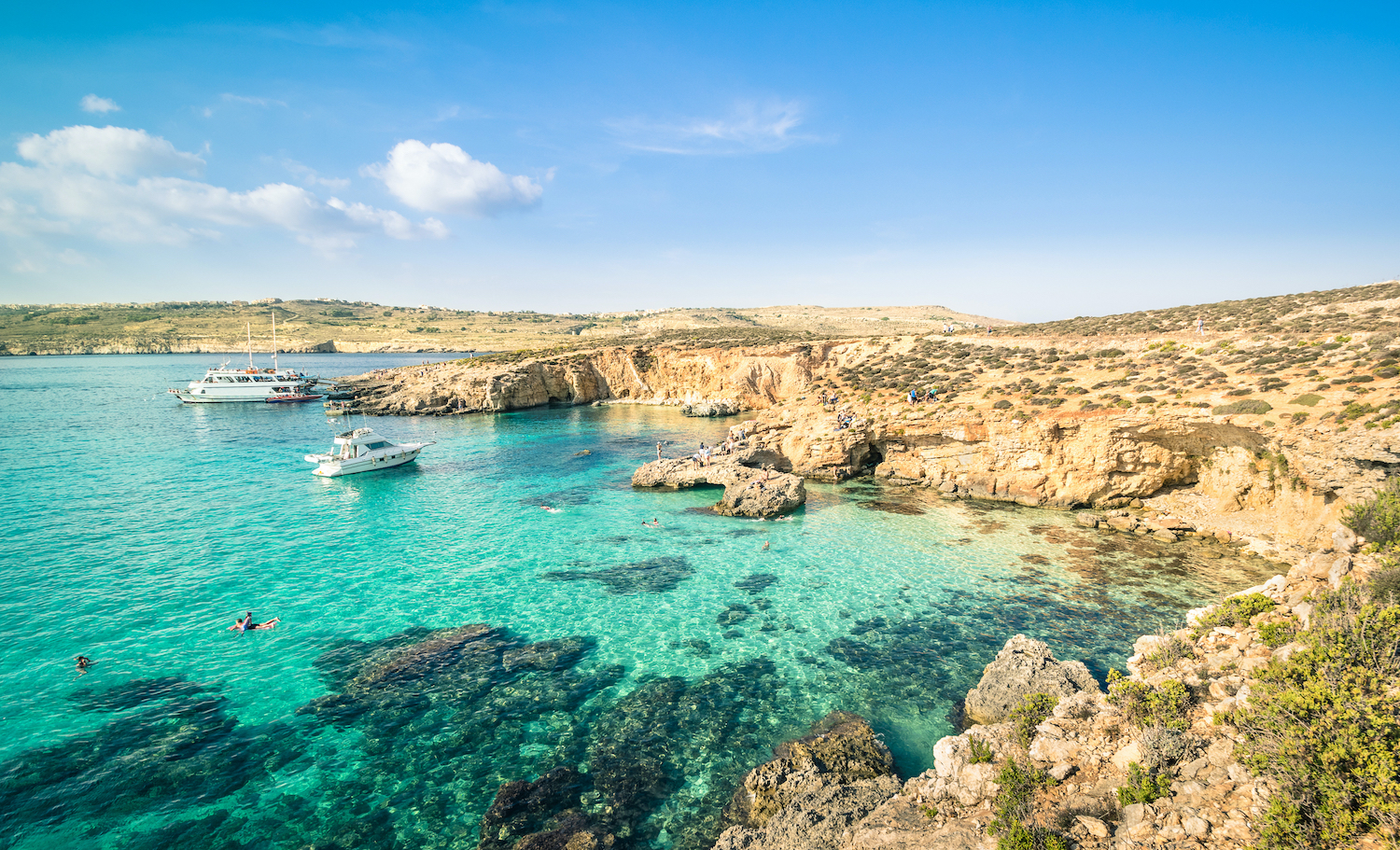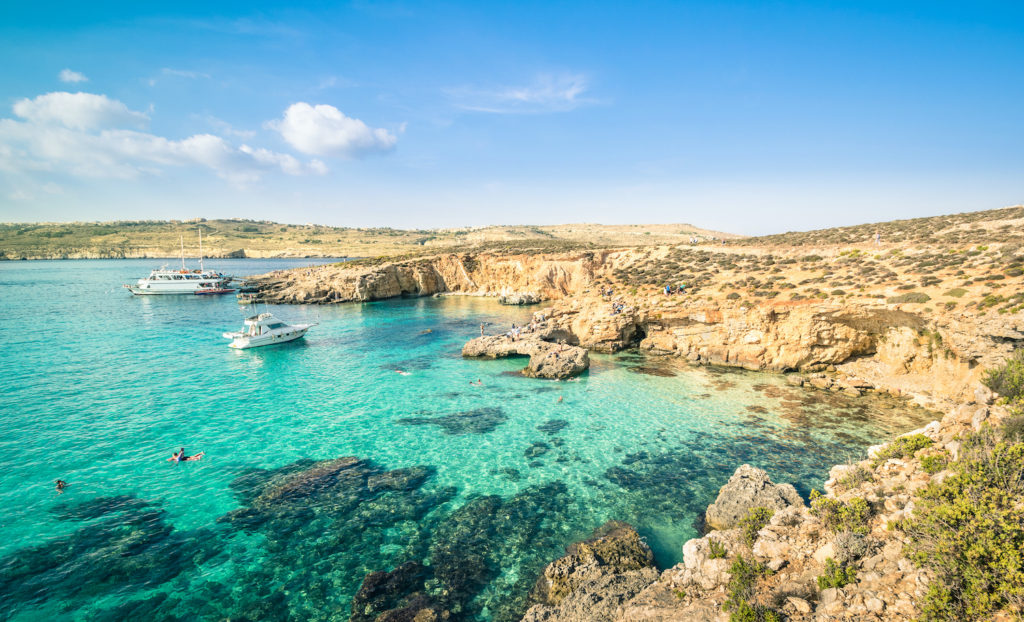 The lagoon is a glorious area of clear blue sea over white sand perfect for swimming and neighbouring a stretch of fish filled seaweed ideal for snorkelling, all surrounded by picturesque caves. Note that it has little shore and what there is gets absurdly crowded in summer.
Ramla Bay
This lovely red sandy bay is arguably Malta's nicest beach and unsurprisingly it's Gozo's most popular. Known locally as Ramla il-Hamra ('the red sandy beach'!), this blue-flag beach gets quite crowded on summer weekends but it is large enough to cope.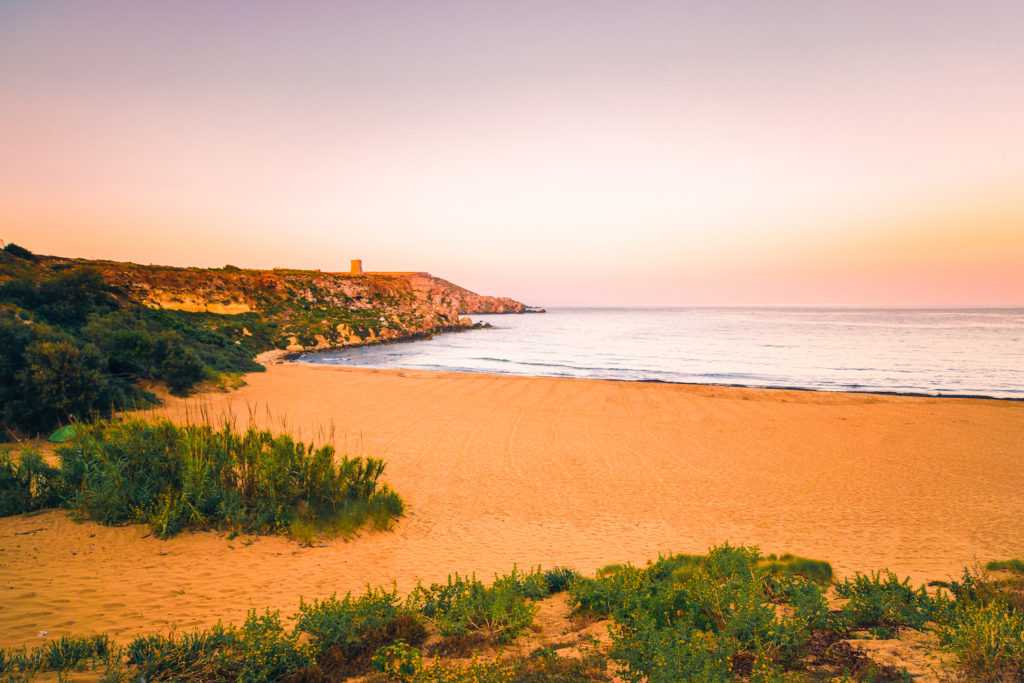 There is a fairly gentle slope into clear blue water ideal for swimming, with rocks at the margins and further out for snorkelling.
San Blas Bay
A mini Ramla just along the coast from its larger neighbour, San Blas is more enclosed by cliffs and greenery. It used to be kept sparsely visited by the very steep (repeat, very steep) track you had to walk down (and then up!) to get to the beach.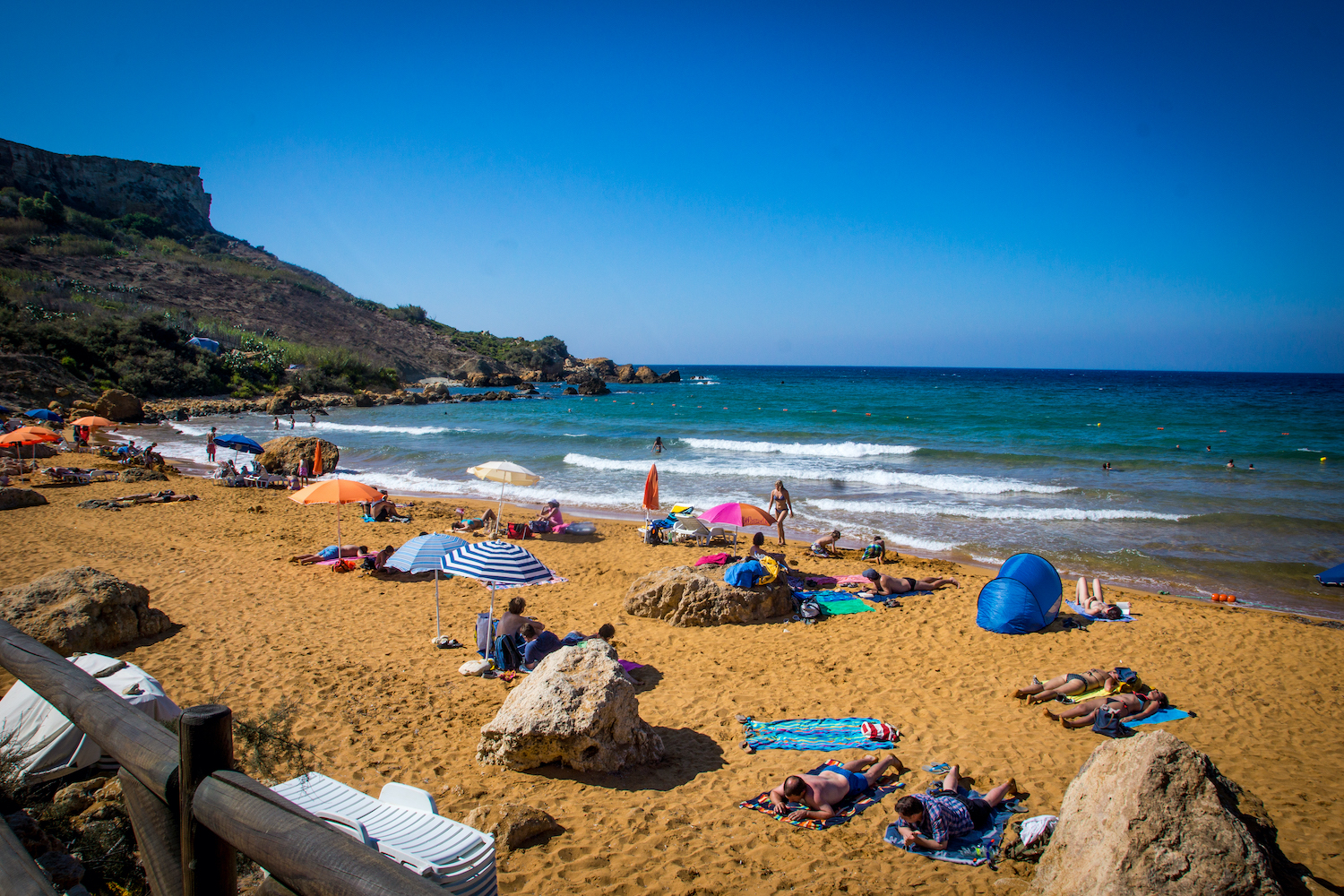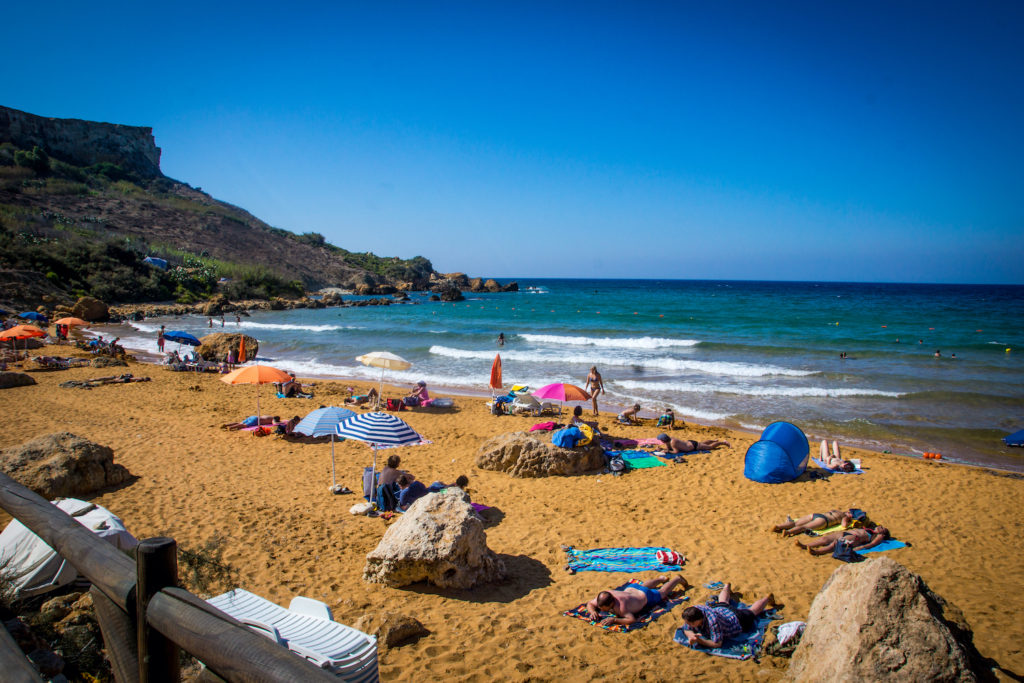 Now it is often possible in summer to get a jeep to take you back up. Like Ramla there can be rip currents here and there is no flag system to warn you so check with locals, especially if the weather has been windy, and keep young children and weaker swimmers in their depth. You can park at the top of the steep track and there is a small snack bar at the bottom.
Paradise Bay
On the other side of Marfa Point (at the tip of which is the Gozo ferry terminal), lies Paradise Bay, accessed down a flight of stone steps.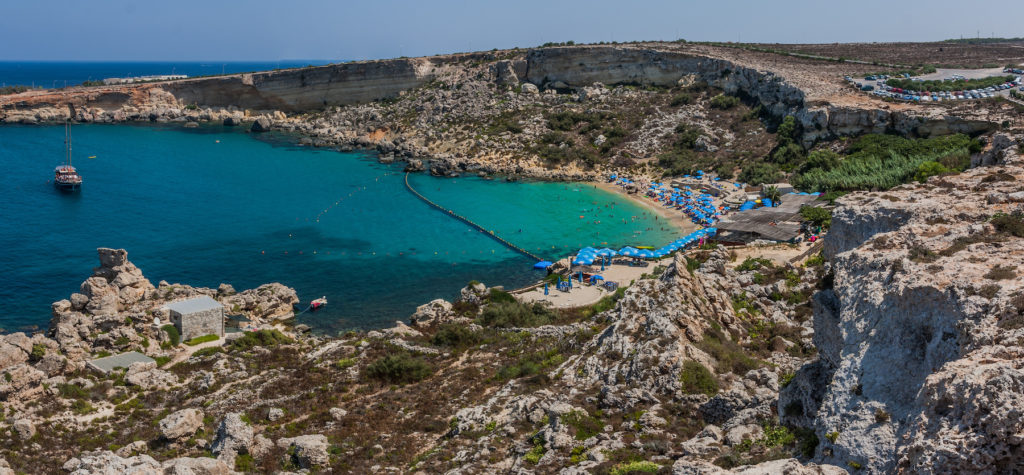 It is sandy with clear blue water and a thatched bar and restaurant – easily the nicest beach along this coast.
Mġarr ix-Xini
A narrow, pot-holed road along a fertile valley leads from Sannat or Xewkija to this steep-sided rocky inlet (only attempt the final ramp if you are sure your car will make it up again!), Mġarr ix-Xini (pronounced imjar ish shini) is a lovely place for a swim, snorkel or dive.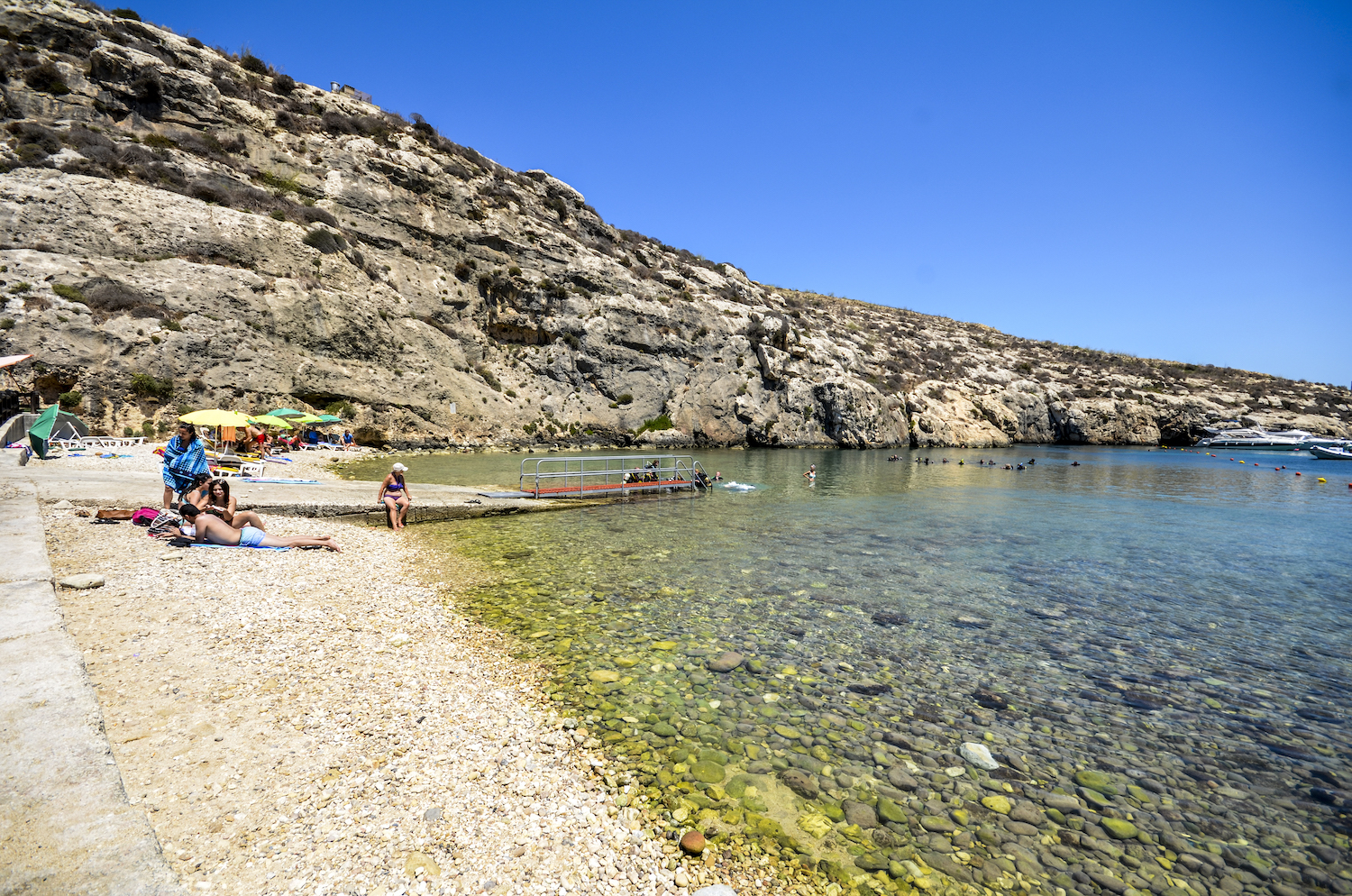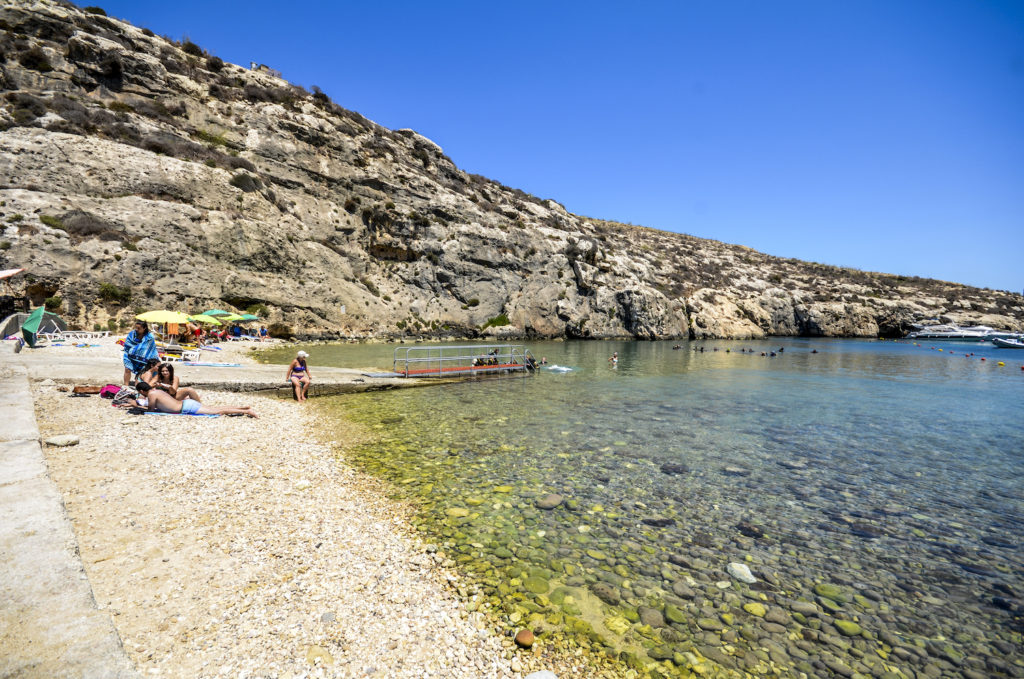 It is also the location used to represent the south of France in the 1970s in Angelina Jolie and Brad Pitt's 2015 film By the Sea. The tiny interior of the mainly outdoor fish restaurant at the head of the creek was used as the village shop and the décor and a few props remain.
Until recently right off the beaten track, Mġarr ix-Xini and its restaurant have now become popular with main-island Maltese so this once-quiet inlet can get quite busy with boats and diners on summer weekends.
Peter's Pool
On the Delimara Peninsula (near Marsaxlokk on Malta), this has insalubrious wider surroundings, but is itself a delightful rocky cove. Until recently, its distance from bus routes and parking made it hard to access. Boats that now run from Marsaxlokk to the Pool have made the trip much more manageable.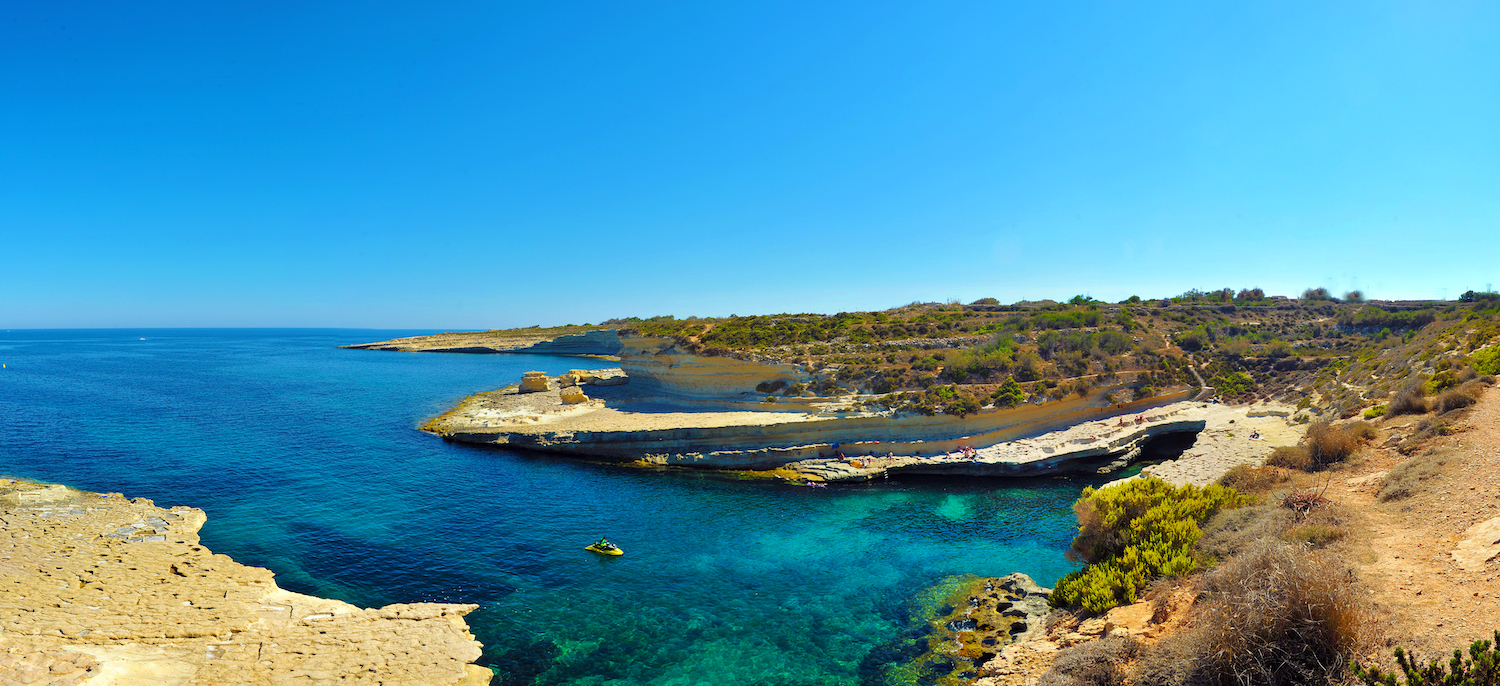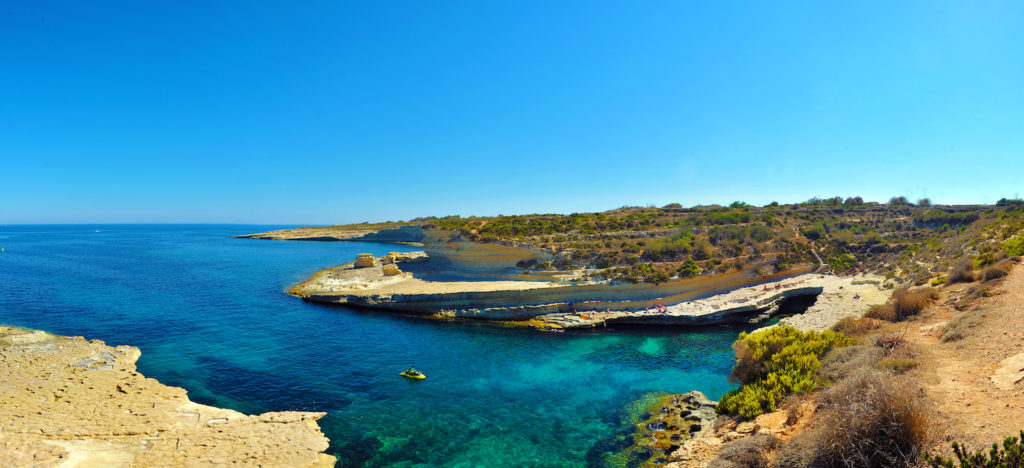 Though the new boat route is making the once deserted cove a little livelier in summer, Peter's Pool is still rarely overcrowded – particularly in the spring and autumn – making it one of the best places to swim in Malta. Be warned: it is not safe to swim here if there is any swell or choppiness. It is blissfully free of any commercialisation so you will need to bring your own water and refreshments.
Għar Lapsi
On the coast south of Siġġiewi is Għar Lapsi, one of the best places for swimming in Malta on windless summer days (it isn't safe when there are waves).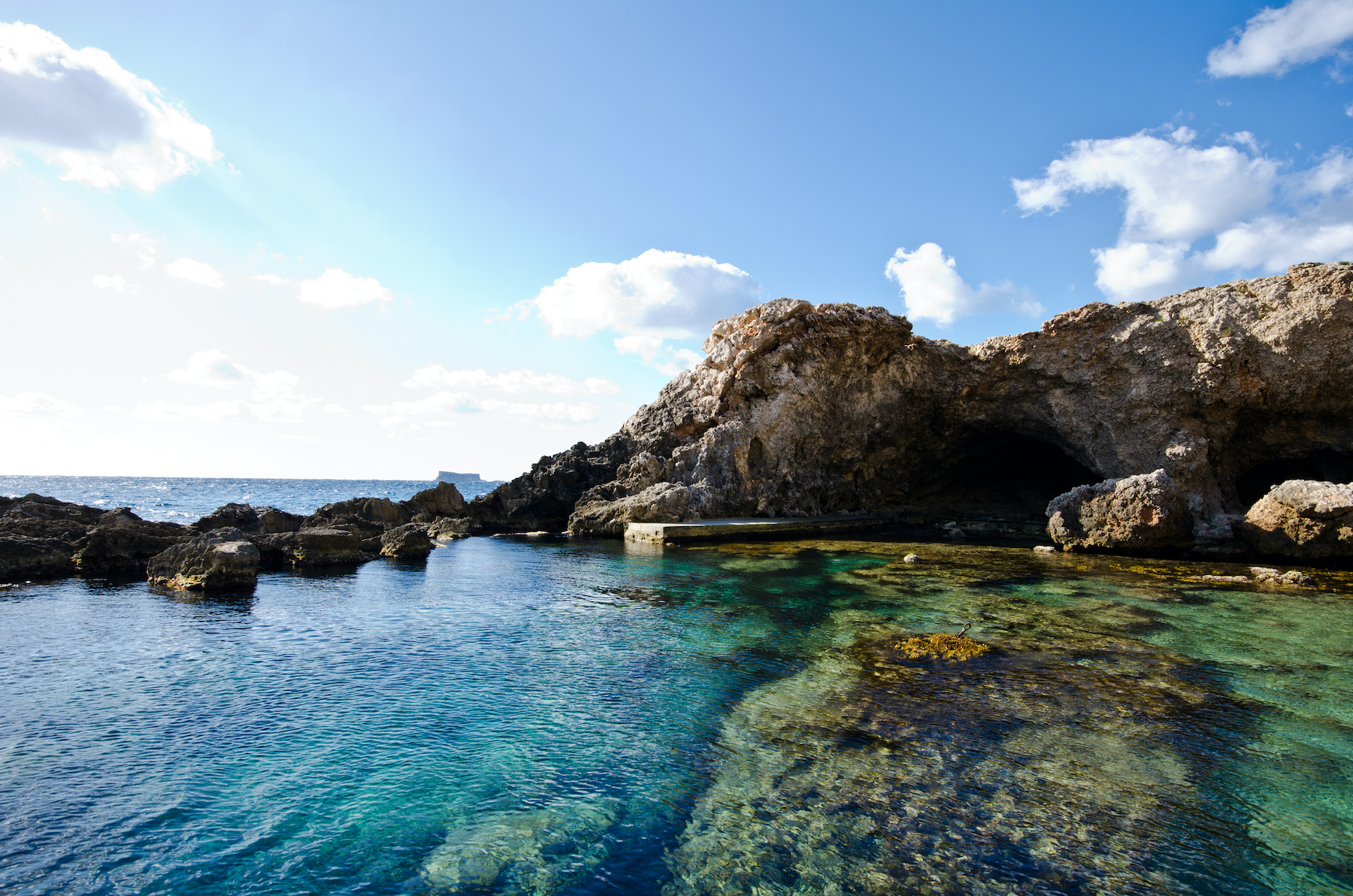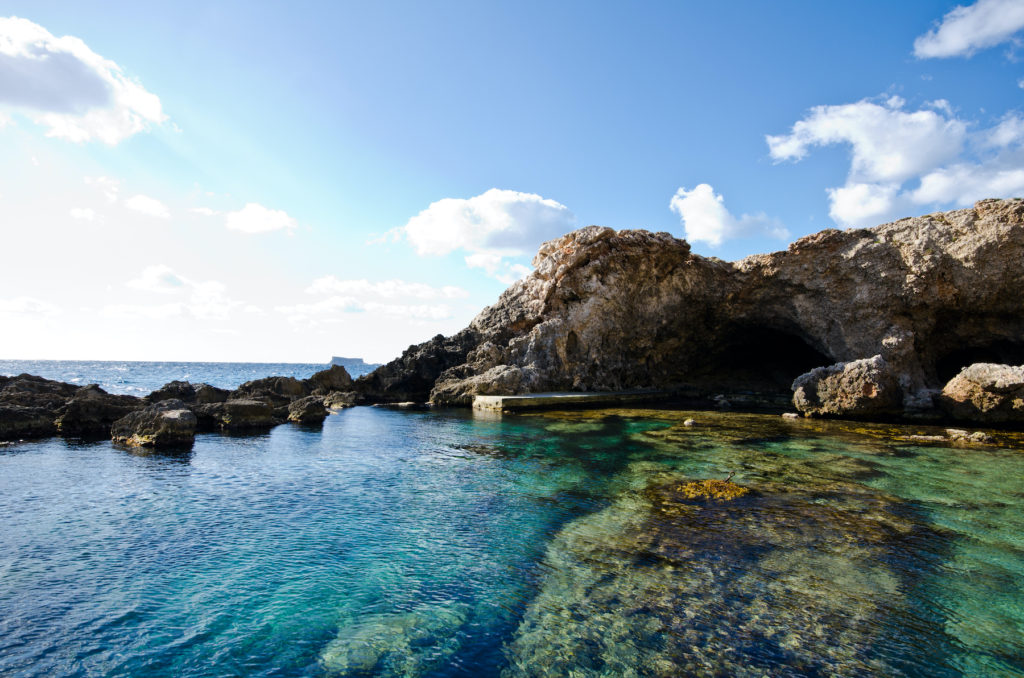 The rocks here form protected little lidos and, despite the length of concrete shore, it is an inviting place to enter the clear blue water. It can get very crowded with locals (and a few tourists) on summer weekends.
Mellieħa Bay
This is a classic white-sand beach, the longest in Malta (about 800m) with a gentle slope into clear blue sea, making it great for families.

There are sunbeds and umbrellas galore, snack bars and watersports facilities. It is a shame about the busy main road that runs its full length and the ugly buildings at either end, but this blue-flag beach has plenty going for it.
Għajn Tuffieħa
The long flight of steps that leads down from the car park to this blue flag bay means that this lovely narrow red sandy beach does not get as crowded as Mellieħa Bay.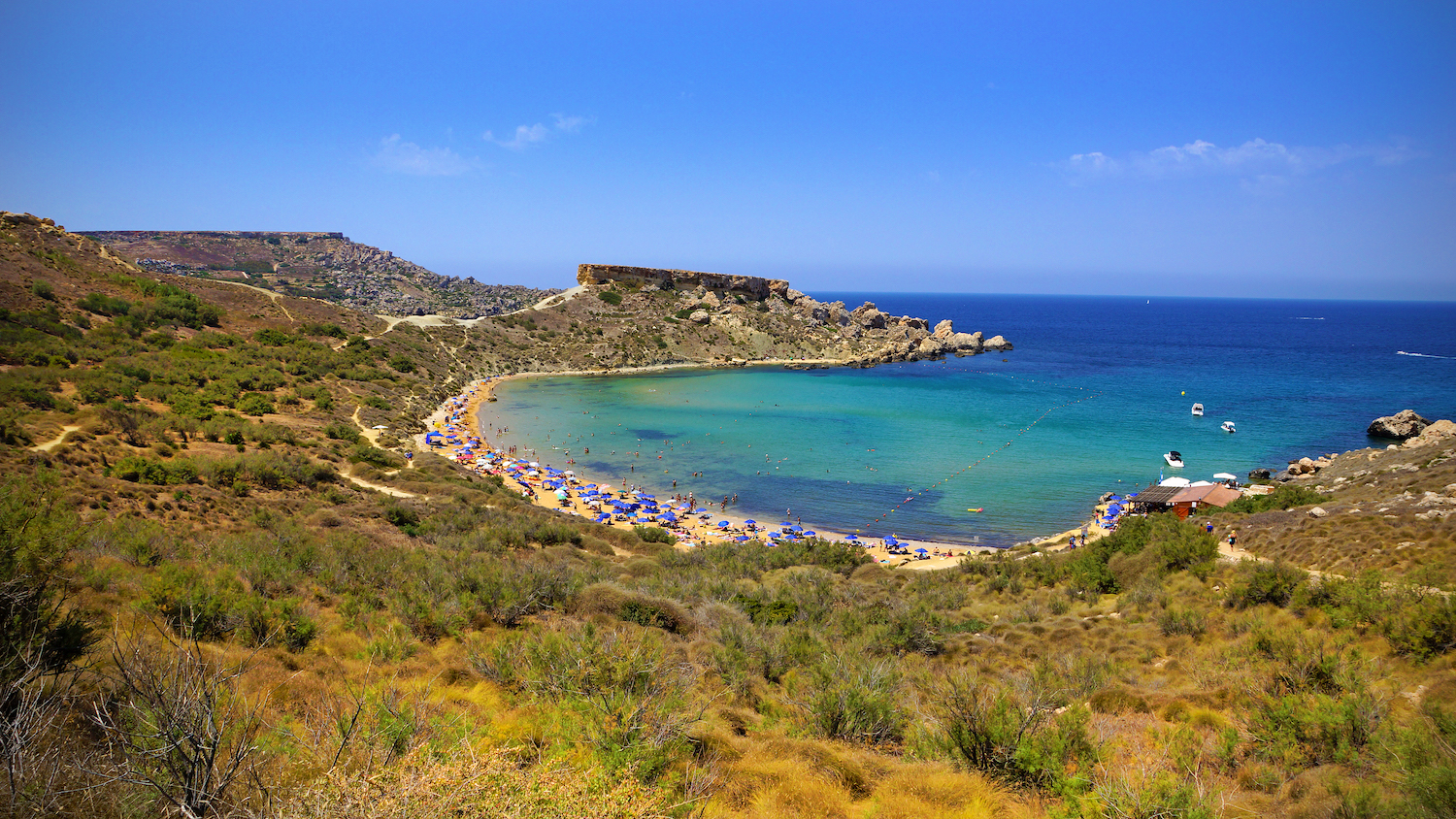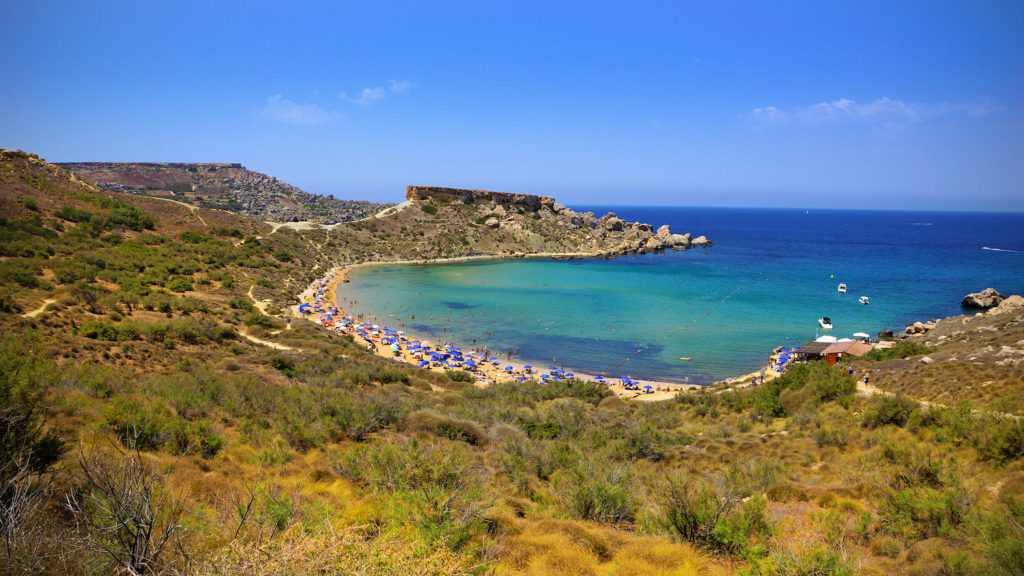 The beach has a snack bar and small watersports and sunlounger outlets. It is not built up and is managed by GAIA Foundation, a conservation NGO. This is a thoroughly pleasant place to relax and swim.
Wied il-Għasri
A fertile valley runs from the Gozitan village of Għasri, between Żebbuġ and Gordan Hill, down to the sea, ending in a narrow inlet flanked by high cliffs. There is a tiny pebbly beach here and the place is popular with divers and those looking for a secluded swim or snorkel (though it is not as little visited as it used to be).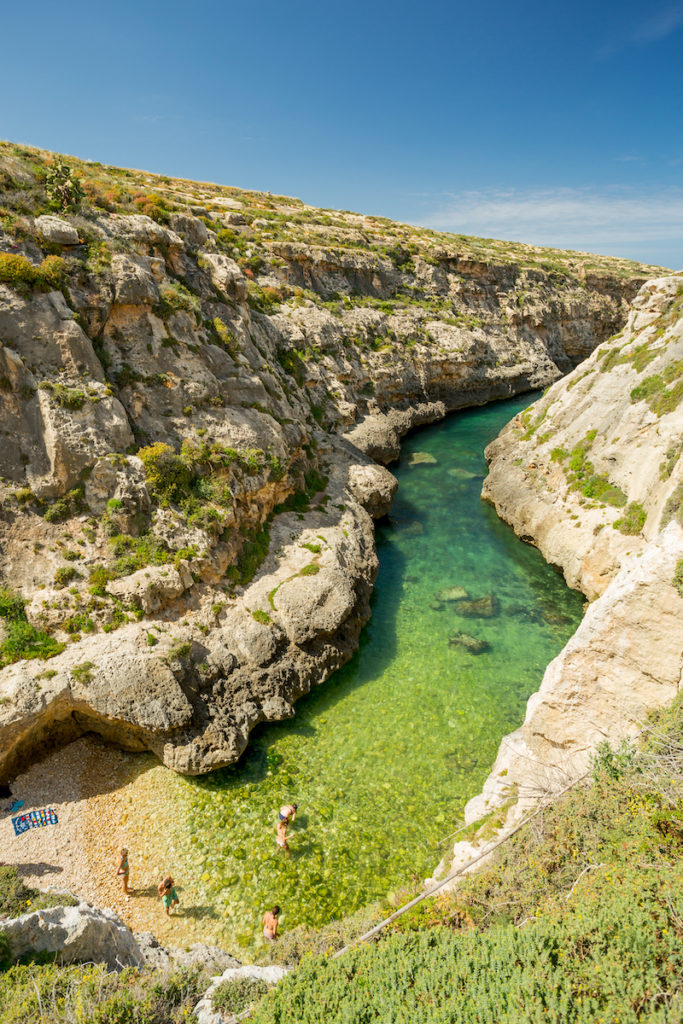 A dirt track runs along the top of the eastern cliff and there is a steep flight of over 100 steps leading down to the 'beach'.
---