Written by Paul Doyle
It may not be the first thing that springs to mind when one thinks of Lebanon, but this country produces some excellent wines, which have won many international awards over the years. In fact, Lebanon is one of the most ancient wine producers in the world, estimated by many authorities to date back to 7000BCE.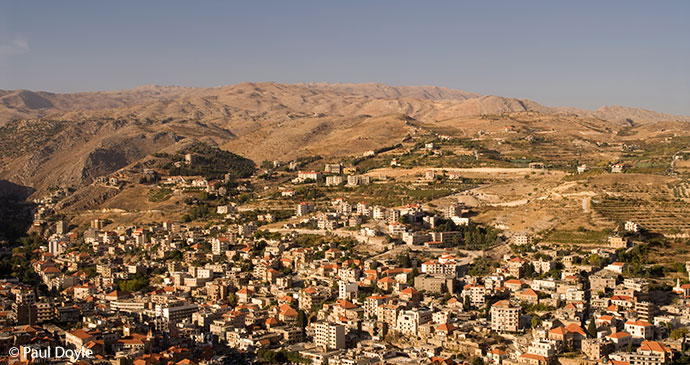 The town of Zahlé is often referred to as the 'Bride of the Bekaa' by locals for its picturesque setting, and makes for an excellent base for a tour of the Bekaa vineyards © Paul Doyle
The Bekaa Valley has always been the epicentre for viniculture – the predominantly chalky soil, wet winters and long, dry, hot summers with some 240 days of continuous sunshine, provide ideal growing and ripening conditions for the grape. The ancient Phoenicians were prolific producers, and oceanographic and archaeological evidence from shipwrecks suggest that this entrepreneurial race produced and exported the drink throughout the Mediterranean region, ushering in a golden era for wine production from 3000BCE to 350BCE. The era of Roman rule continued the tradition, with the Temple of Bacchus at Baalbek paying homage to their god of wine. Production declined with the onset of Islamic rule, but picked up again during the Ottoman period. The French Mandate era, following the end of World War I, was influential in popularising wine, and this impact survives to this day.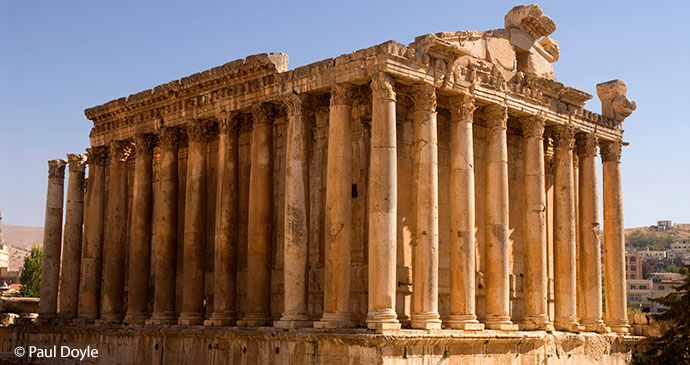 The Temple of Bacchus at Baalbek was built by the Romans to pay homage to their god of wine © Paul Doyle
Lebanon now produces some seven million bottles annually with the industry worth more than US$40 million per annum, a small figure by the standards of other major international producers (Lebanon produces less than 1% of the wine made by France, for example). Nonetheless, Lebanese wine is exported to more than 30 countries, with the UK, followed by France and the USA the largest importers amongst Lebanon's main western markets.
Below is a selection of Lebanon's wineries, which are open (in some cases by prior appointment only) to visitors.
The oldest winery in Lebanon, multi-award-winning Château Ksara began life in 1857, when the religious order of the Jesuits inherited a 25ha parcel of land and began to produce wine for religious purposes, importing the vines from Algeria. The more than 2km of labyrinthine Roman-era caves beneath the château, discovered in 1898, provide optimum conditions for the storage of wine and are still used today. The Ksara estate now extends over some 440ha and harvests some 3,000 tons of grapes from its ten vineyards around the central and western areas of the Bekaa Valley. Without doubt, Ksara is the best of Lebanon's many vineyards to visit and welcomes some 70,000 visitors annually.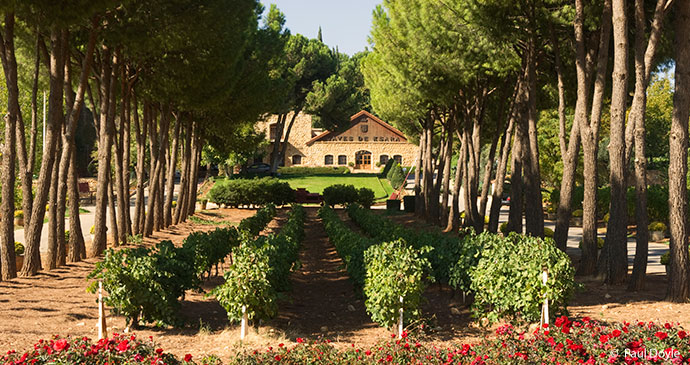 If there is one winery that symbolises the tradition and importance of wine-making in Lebanon, it is the multi-award-winning Ksara © Paul Doyle
With vineyards spread over more than 300ha, Château Kefraya, one of Lebanon's newer wineries, began producing its own wine in 1979, and its mantra 'semper ultra' (Latin for 'always better') has resulted in its label winning an array of national and international accolades, including numerous awards for its Chateâu Kefraya Celebration red wine. Located just over 20km south of Chtaura, the majority shareholder is Druze leader Walid Jumblatt.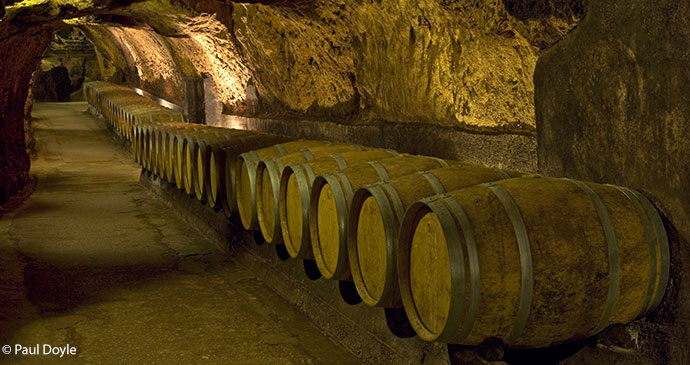 Barrels are kept in caves below the vineyards at Château Ksara © Paul Doyle
Château Massaya is predominantly owned and run by brothers Sami and Ramzi Ghosn, who returned to Lebanon in 1992 after the civil war to kick-start the family's vineyard estate. They re-established the production of the liquorice aromatic arak and, in 1998, added red and white wine production to their viniculture portfolio. They now produce on average 200,000 bottles a year.
Probably Lebanon's most recognisable label internationally, Château Musar is located away from the vineyards in the Bekaa Valley, in the village of Ghazir, above Jounieh, north of Beirut. The winery was born in 1930, in the vault of a 17th-century castle, as a pastime of Gaston Hochar. This hobby quickly blossomed into a 'passion', and since 1962 the 180ha vineyards have been run by Hochar's youngest son, Ronald, producing wine almost exclusively for the overseas market, and its own variety of arak, L'Arack de Musar, which is aged for 12 months before bottling.
Established in 1997, Domaine Wardy became the first winery in the country to donate a portion of sales, in 2004, to its Cedars Campaign, the winery's own initiative to help preserve Lebanon's natural heritage. It produces a variety of reds, a rosé, two varieties of arak and a selection of whites including a fruity, aromatic Sauvignon Blanc.
---
Inspired to visit? Get 10% off our Lebanon guide: