Many people's first association with visiting Croatia is, understandably, its beautiful seaside. The Dalmatian coast frequently tops lists of the most popular tourist destinations in Europe in terms of visitor numbers. But there is another side to this popular destination that we'd like to showcase.
Enter the Istrian interior. This area of the wedge-shaped peninsula is, without any doubt, the least-visited part of terra magica (as the Romans are said to have nicknamed Istria). While tourists throng to the coast to see iconic Rovinj, the arena at Pula or the beaches of Medulin, inland Istria steps down a gear or two – enter a world of perfectly preserved medieval hill towns, hidden frescoes and heavenly food.
Motovun
Without any doubt the most photographed of central Istria's hill towns, Motovun sits atop a flat-topped hill on one side of the Mirna Valley.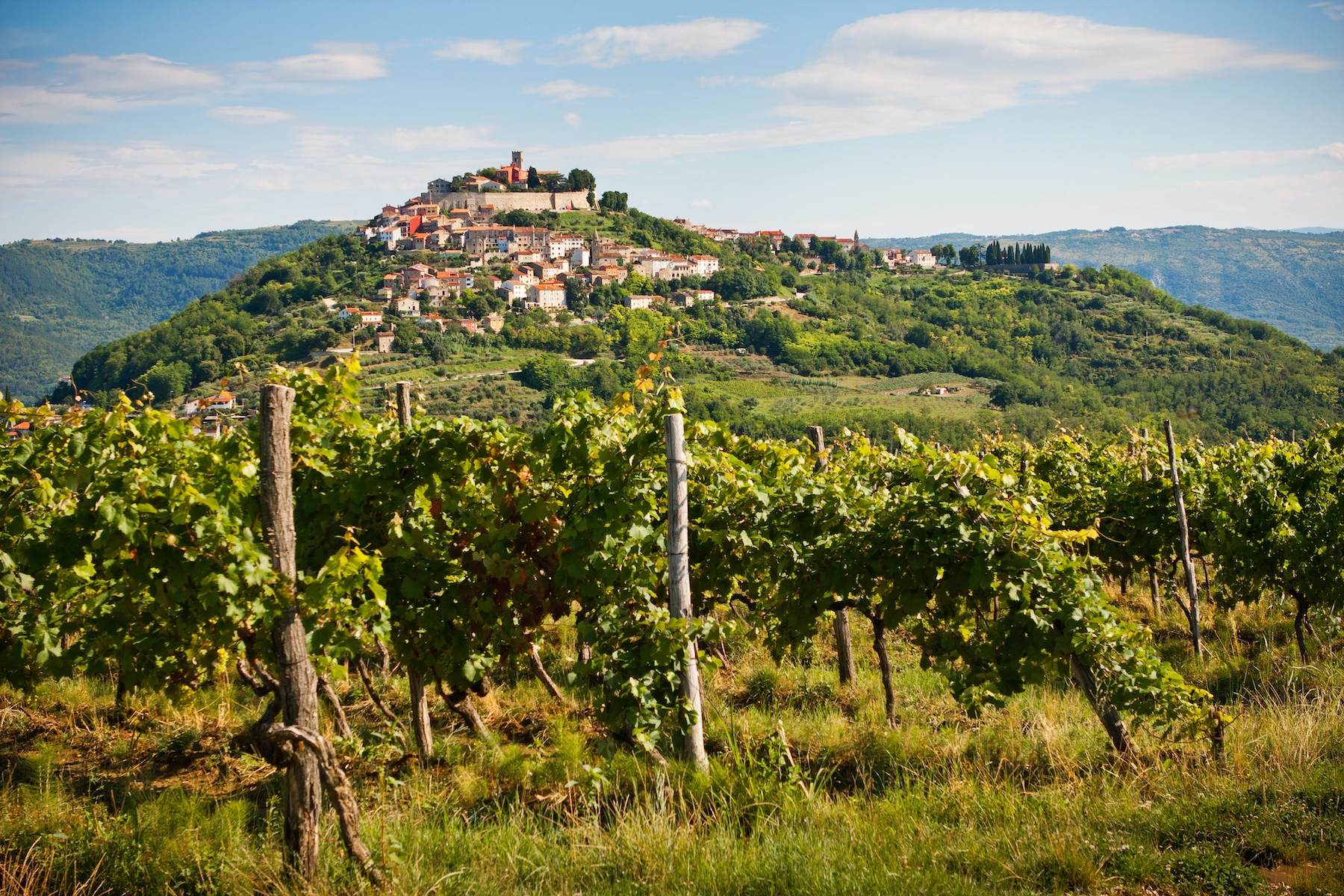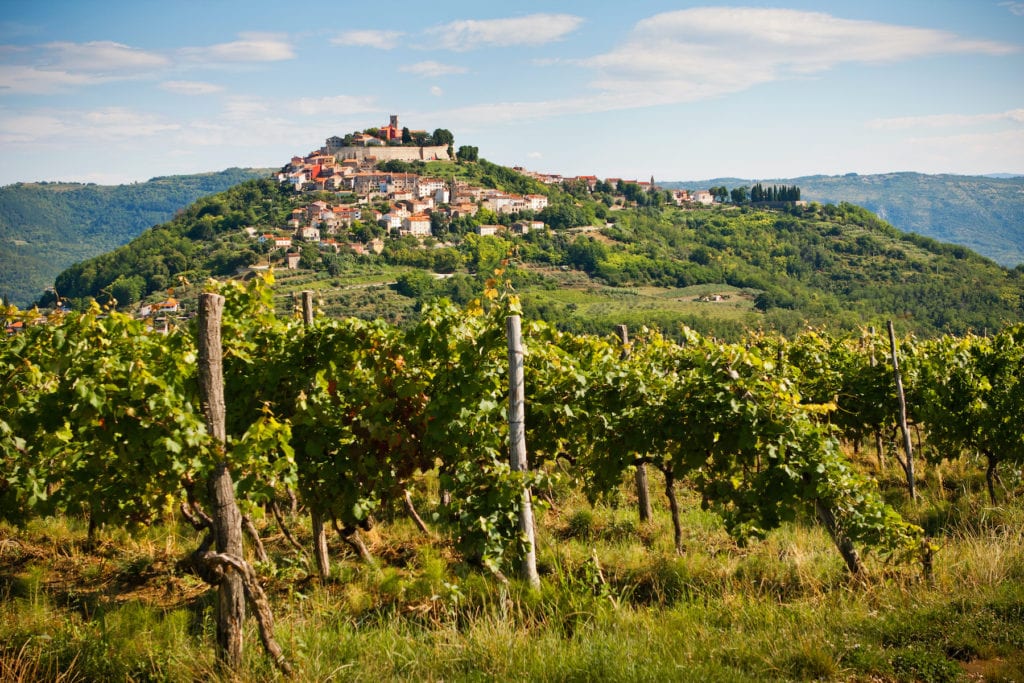 The main thing to see in Motovun is the town itself – a walled Gothic and Renaissance citadel draped across the top of a flat-topped hill. Enjoy a stroll along the cobbled streets, pause at one of the pavement cafes for a coffee or an ice cream, and discover one of the region's culinary highlights in the many truffle shops.
Indeed, Motovun is one of the best places in the country to sample tartufi, for which the deciduous woodlands of the Istrian interior are famed. You'll find tartufi on the menu in most parts of Istria – in pasta sauces, infusing local cheeses, shaved over the top of steaks, even in ice cream (which is actually much tastier than it might sound) – and they are generally cheaper here than their counterparts in Italy and France (indeed, plenty of Italians come to Istria to eat, or buy, truffles).
Oprtalj
Almost directly opposite Motovun across the Mirna Valley, the village of Oprtalj receives much less attention – and infinitely fewer visitors – than its more famous neighbour. At the entrance to the village there is a large Venetian loggia, and a lovely terrace overlooking the Osoje Valley from beneath ancient chestnut trees.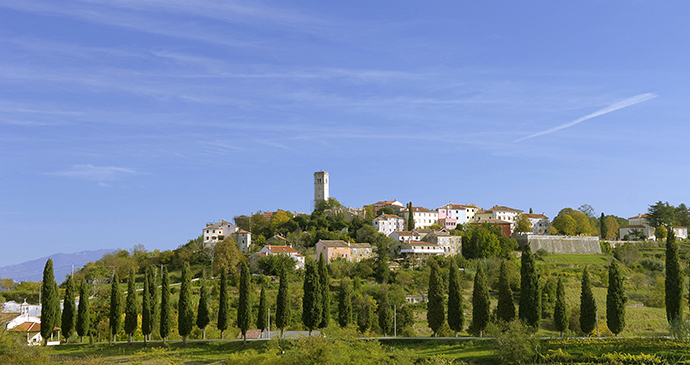 At the entrance to the village there is a large Venetian loggia, and a lovely terrace overlooking the Osoje Valley, which runs southwest to the Mirna, from beneath ancient chestnut trees. There's not a great deal to see within the walls – entering the village through the main gate leads you past a medley of renovated and abandoned houses, to the 16th-century Parish Church of St George and its square-topped bell tower. Award-winning local beekeeper and honey producer Dario Vežnaver has a small shop just inside the main gate (alternatively you can buy honey and other products from the Vežnaver beekeeping farm at Škofi 34, about 5km northeast of Oprtalj).
Grožnjan
Grožnjan is a pretty little town, with a well-preserved old medieval centre and fine views over the Mirna Valley. Despite having been left largely deserted after the Italian exodus that followed World War II, the municipality of Grožnjan today has a higher proportion of people describing Italian as their first language than anywhere else in Istria.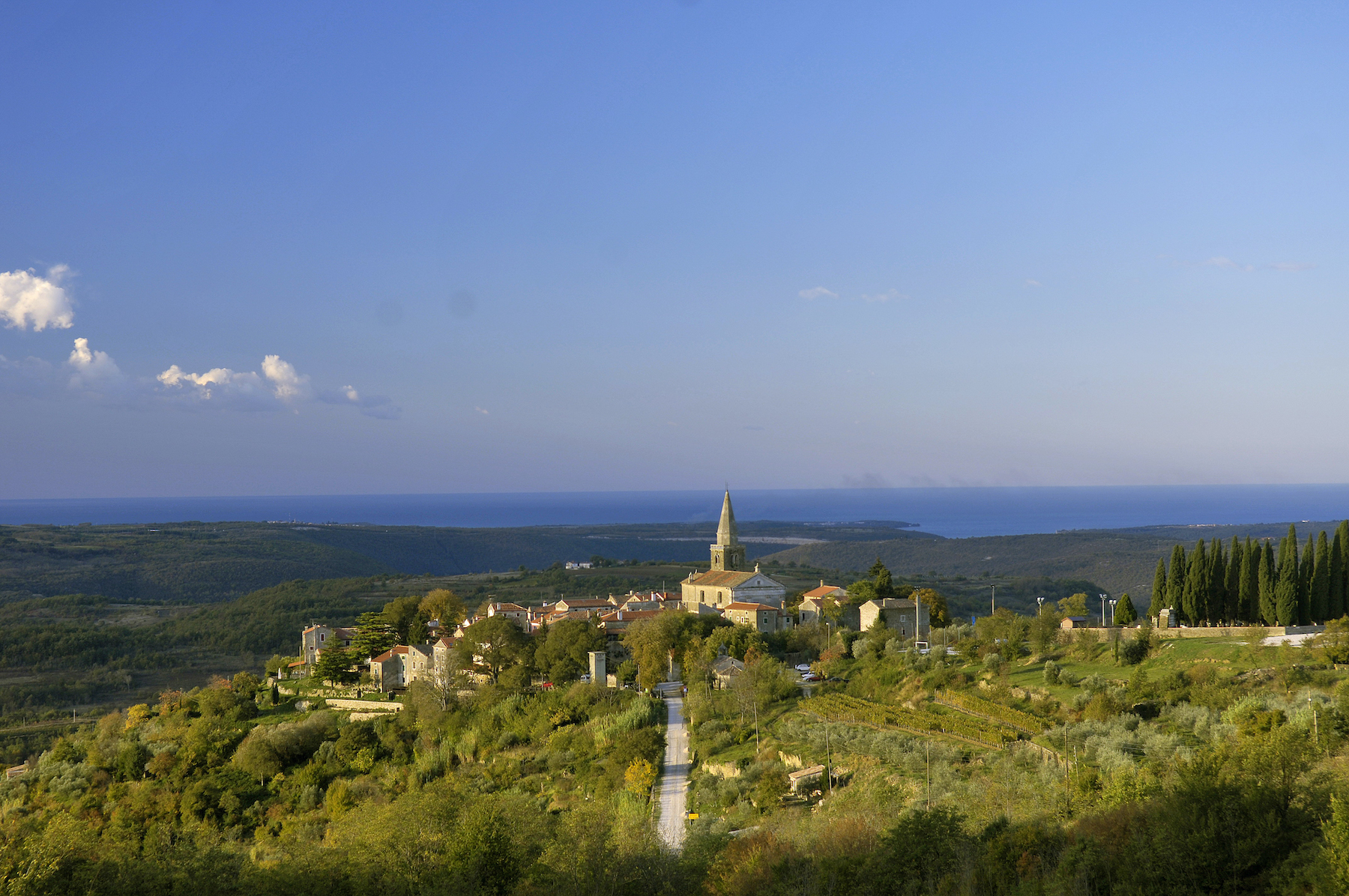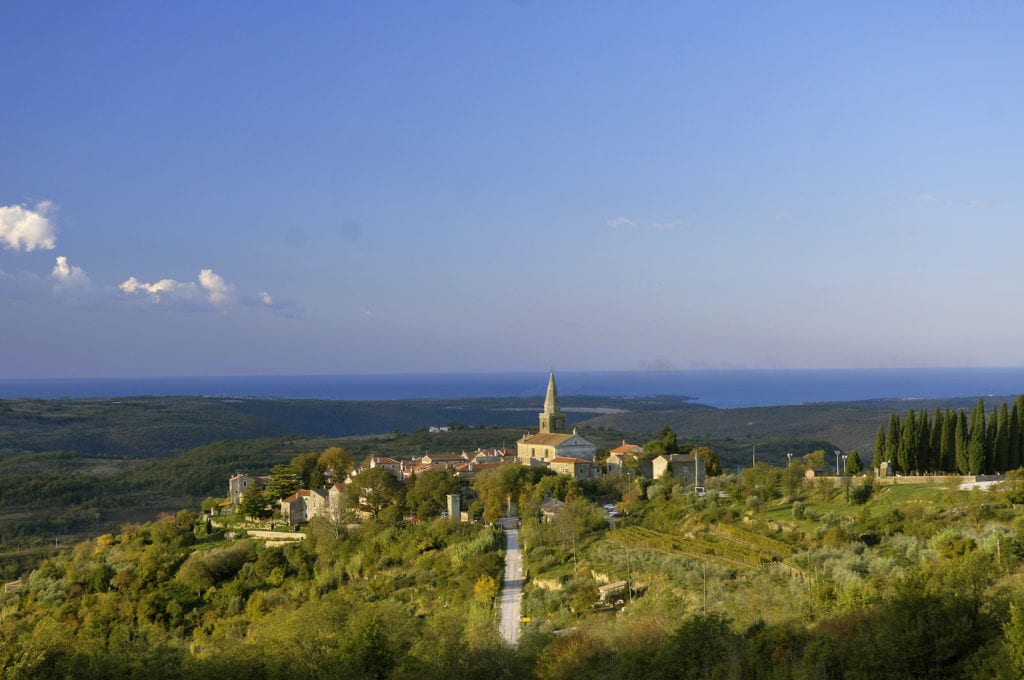 Artists in particular were encouraged to move to the largely depopulated town from the late 1960s onwards, and today the self-styled 'Town of Artists' is full of little galleries and boutique shops selling art, handmade jewellery, wine, olive oil, etc. Full being a relative term, of course – Grožnjan, like other Istrian hill towns, is still a fairly sleepy place, and has fewer than 100 inhabitants.
Pazin
Pazin (Italian Pisino, German Mitterburg), despite being the capital of the Istrian županija or county, is one of those places most visitors miss – which is a shame because it's an interesting little town with a cracking castle, a dramatic gorge and literary associations aplenty, which for around 1,000 years followed an entirely different historical trajectory from the rest of Istria. You can even get here easily on public transport, which is saying something for inland Istria.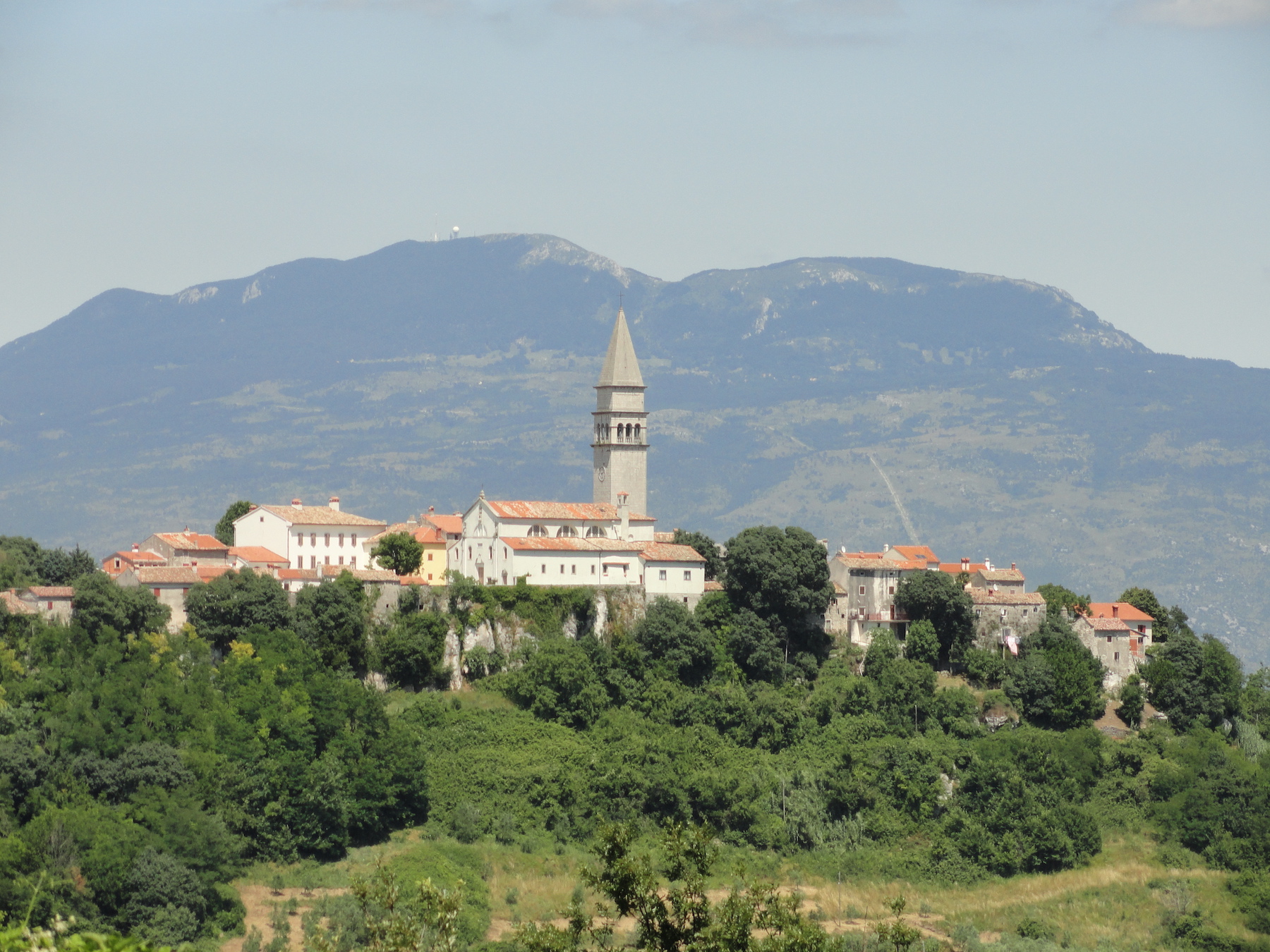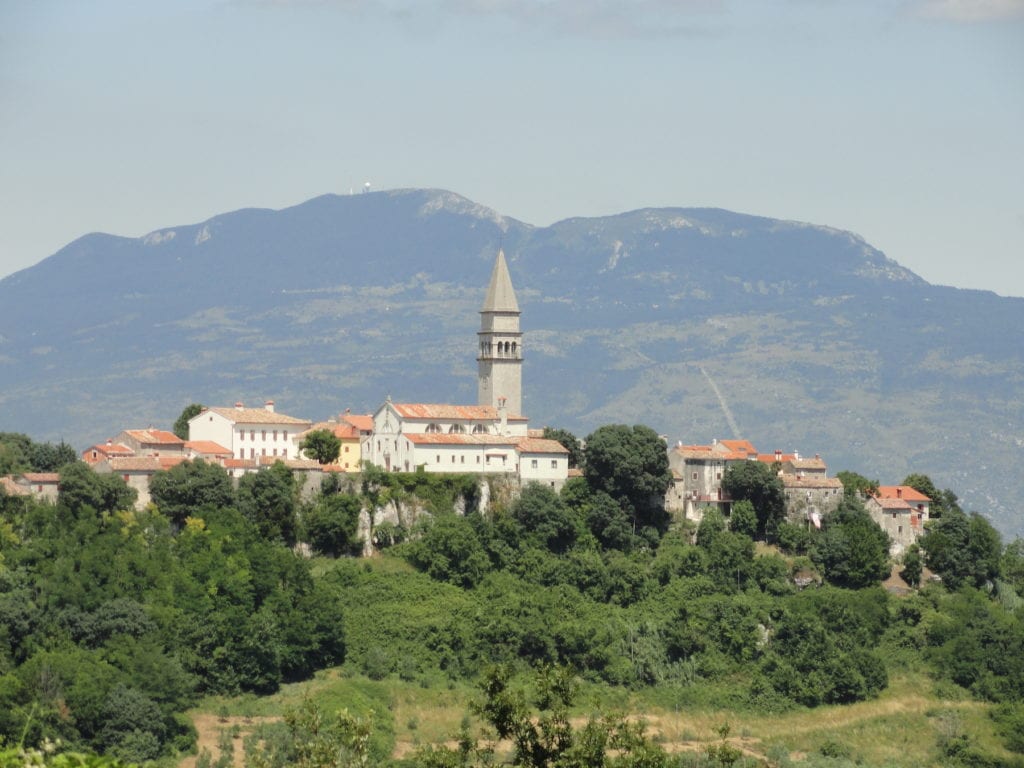 The reason most people visit Pazin is to see the dramatic gorge of the Pazinčica River, where it disappears into the Pazinska jama or 'Pazin abyss', a cave and sinkhole at the base of a 100m sheer cliff. The cave was popularised in the late 19th century through the writings of Charles Yriarte and in particular the publication of Jules Verne's novel Mathius Sandorf , though much earlier than this it may have provided inspiration for the entrance to Hell in Dante's Inferno.
Buzet
Perched on a hill and overlooking the truffle-rich Mirna Valley on one side and the forested slopes of the Ćićarija Mountains on the other, Buzet (Italian Pinguente) is, in our opinion, the most rewarding of the Istrian hill towns – with great hiking and biking opportunities in the surrounding hills and valleys and a wealth of cultural interest in nearby towns and villages. There's even a good bus service to Rijeka and Zagreb.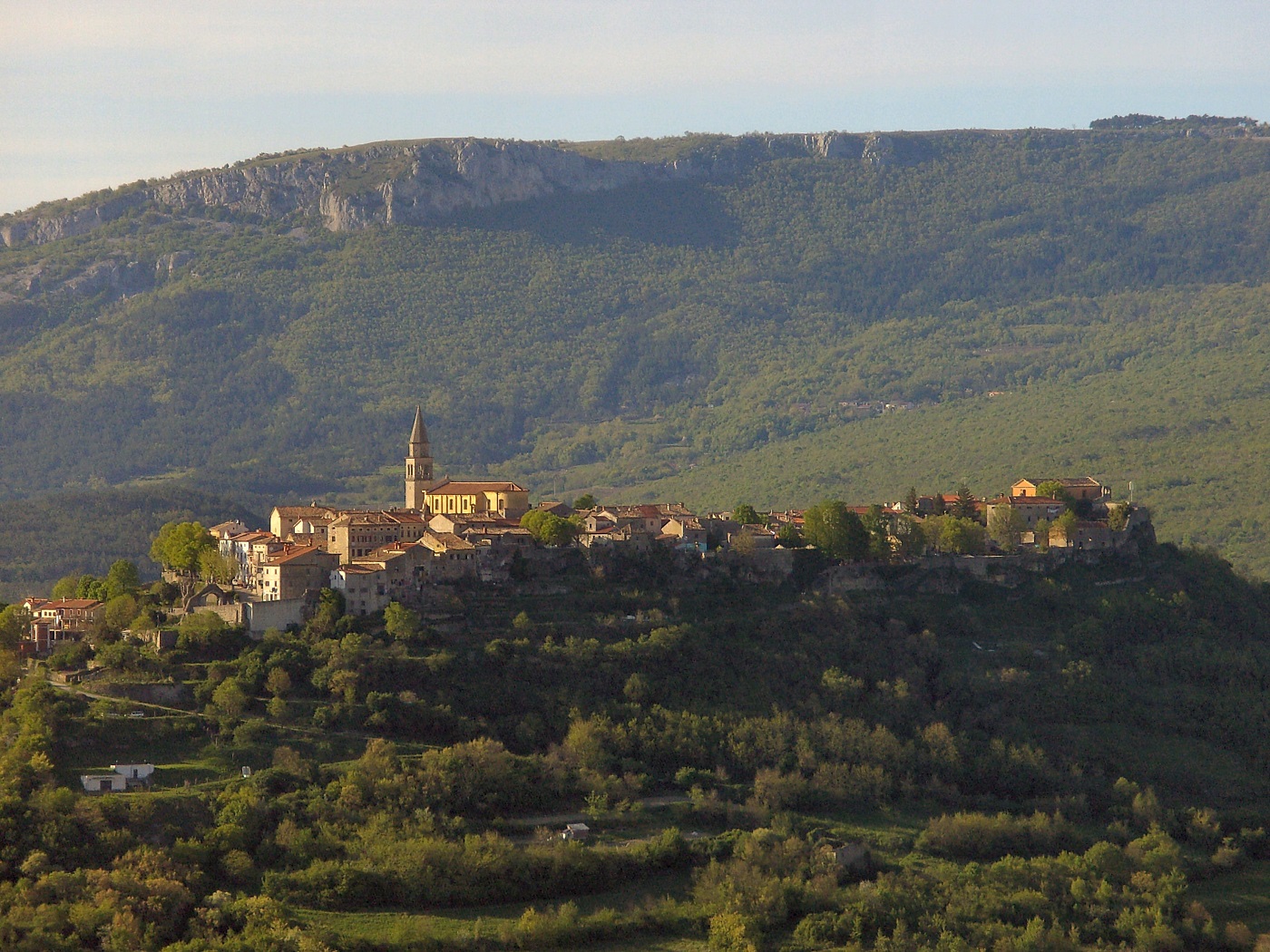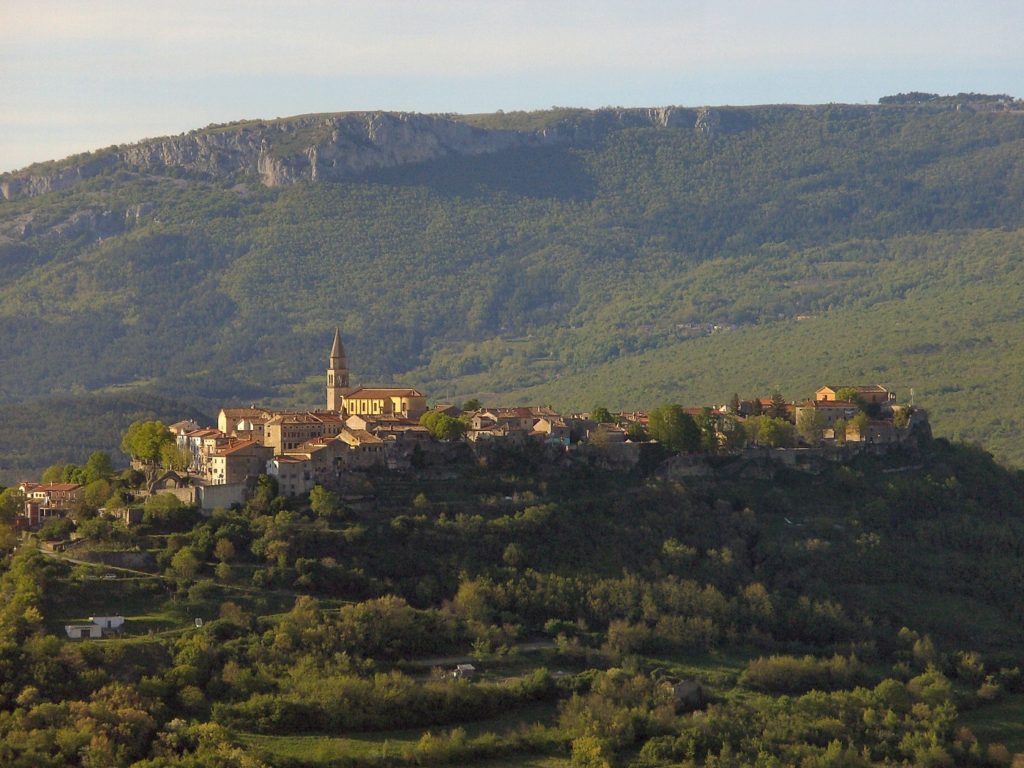 Nevertheless, Buzet receives much less attention and fewer visitors than Motovun and Grožnjan further west. Often called the 'City of Truffles', there are two big truffle events in its annual calendar, and Istria's favourite local beer, known appropriately enough as Favorit, is brewed here.
Draguć
A little over halfway from Buzet on the road to Cerovlje, a turn-off to the right (west) leads down to what must be counted one of the most beautiful villages in Istria.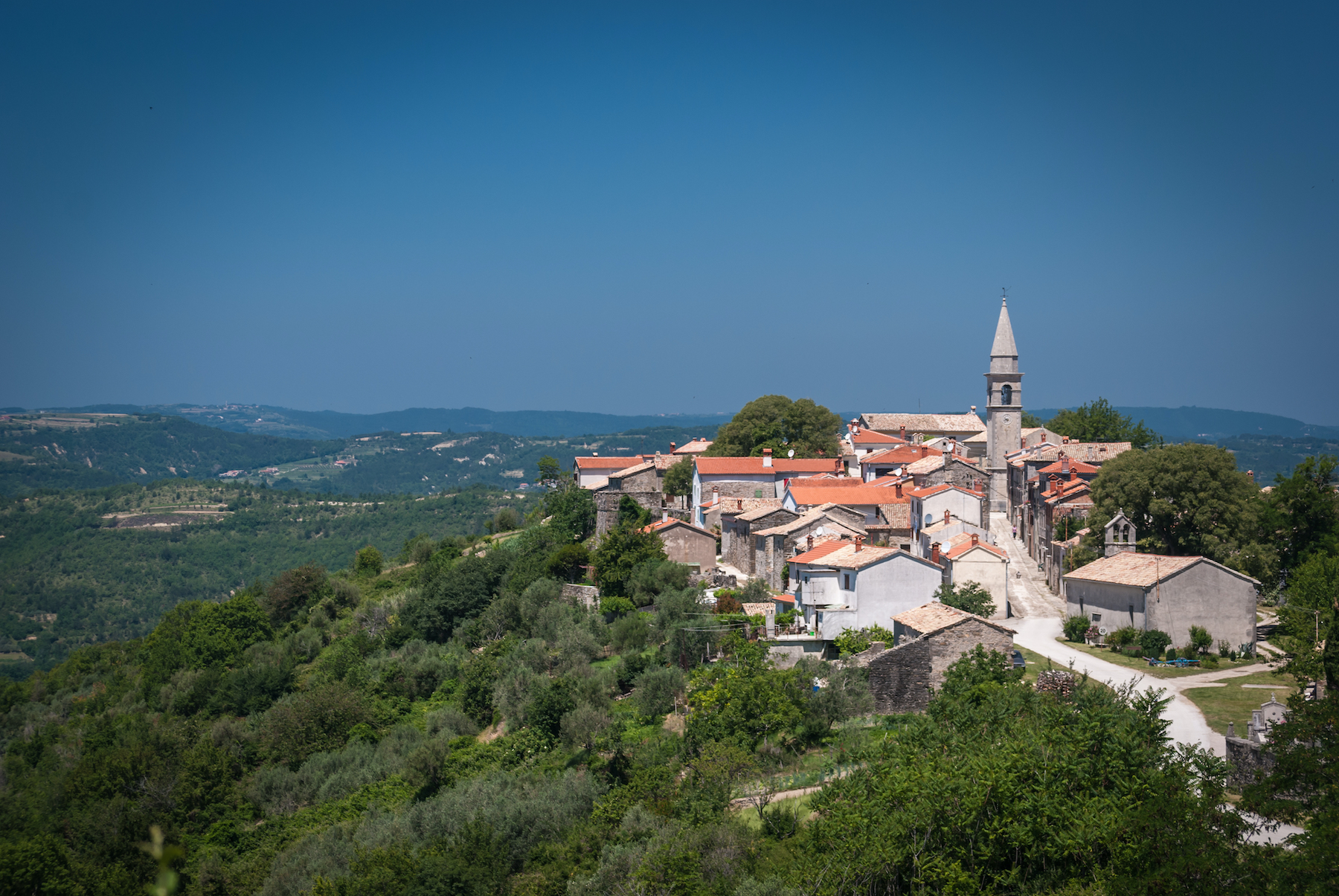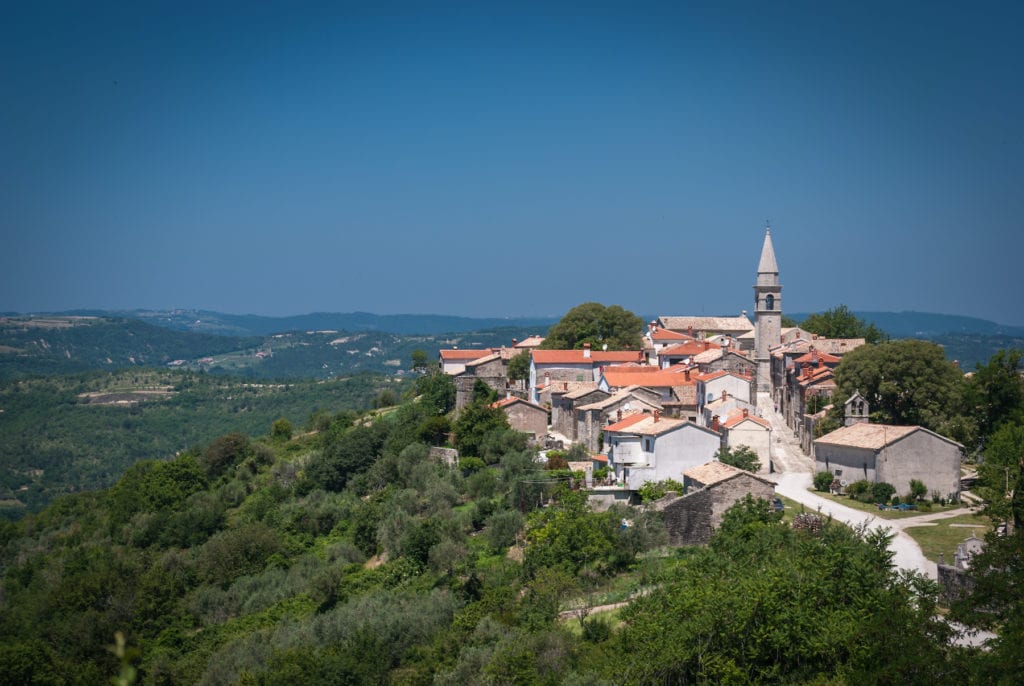 Sighted on top of a slight bump in the hillside overlooking Butoniga jezero, it was once an important centre for the cultivation of silkworms, though it's now a quiet settlement with a population of fewer than 100. Draguć is a popular film location and has appeared in Croatian as well as international productions (including La Femme Musketeer with Gérard Depardieu and Nastassja Kinski).
Labin
Perched on a hill 320m above the sea, Labin has a proud history, in which it has often asserted an independent spirit. Once a mining town, and renowned for staging the first anti-fascist revolution, it's now better known within its medieval walls for its flourishing art.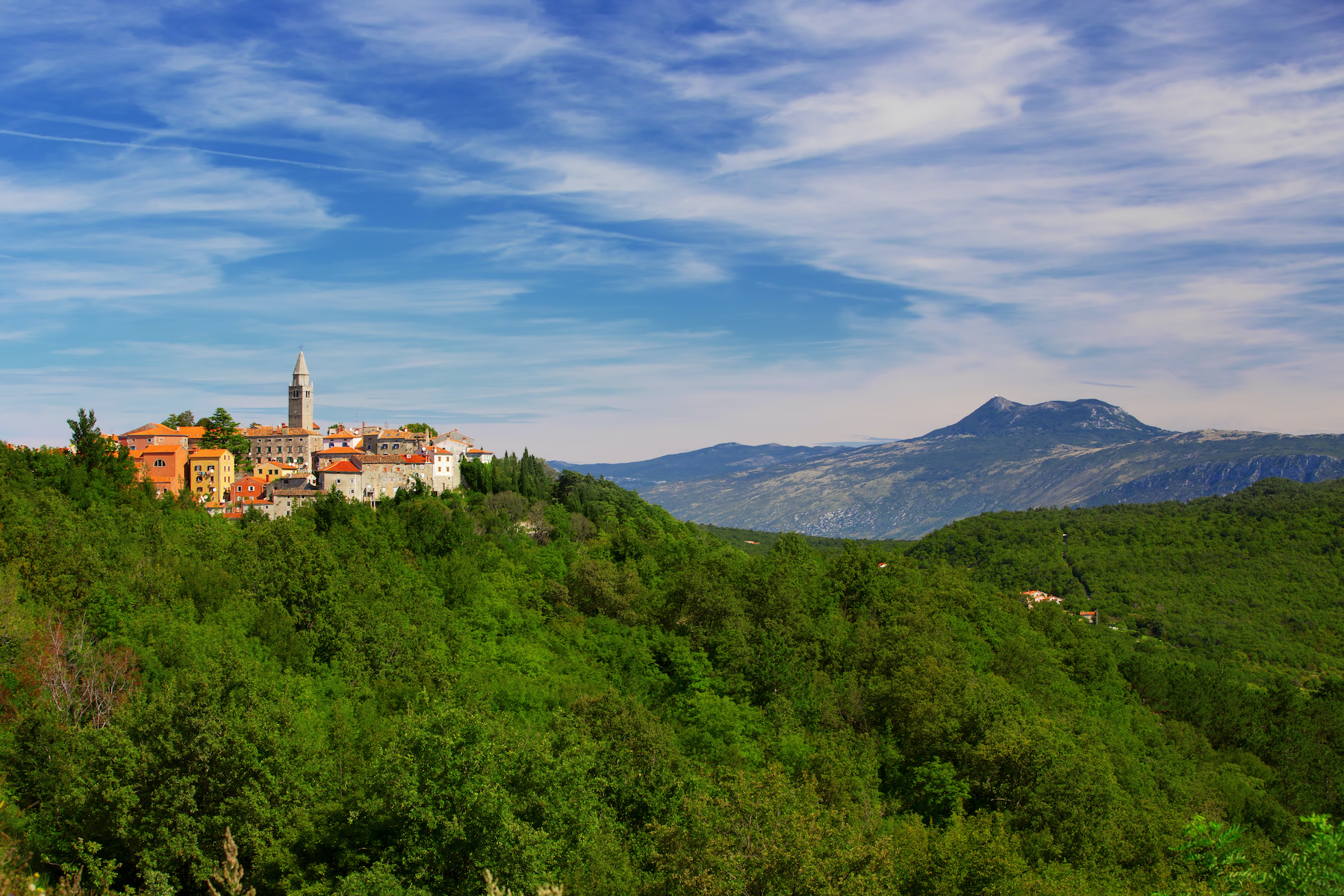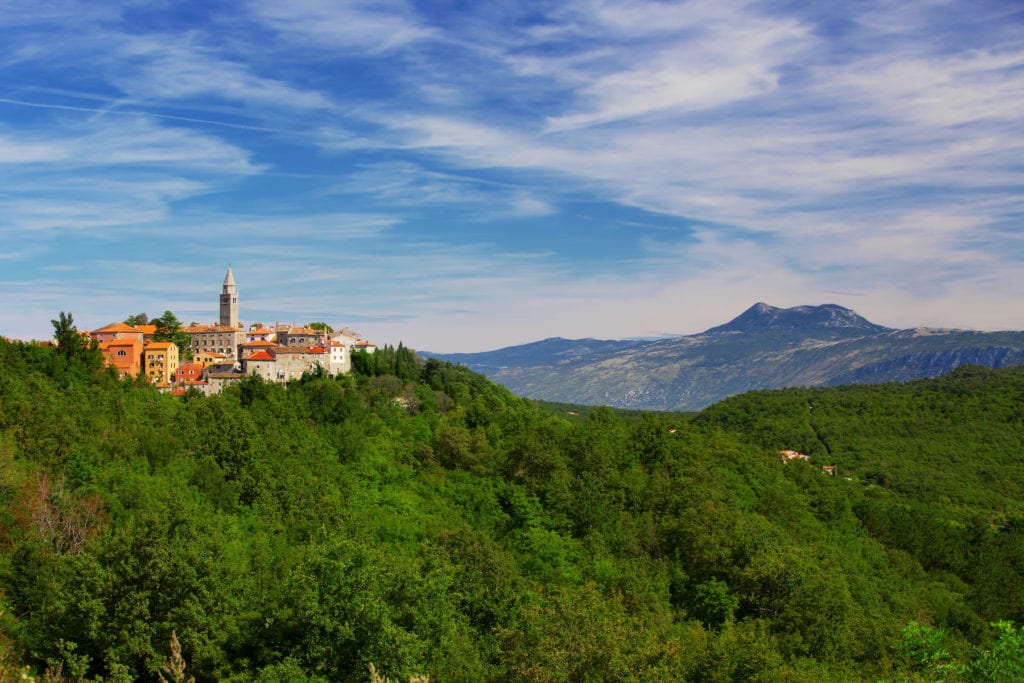 Labin saw human settlement as early as 2,000 years ago, when a Bronze Age fort was founded under the name Kunci. Illyrian Celts later named the settlement Alvona, meaning 'town on a hill'. More recently it became the centre of Istrian coal mining by the beginning of the 20th century.
Hum
The tiny, walled hilltop settlement of Hum – which loudly proclaims itself to be the 'smallest town in the world' – has a grand total of around 20 inhabitants, and consists of little more than a church, a few houses and two streets.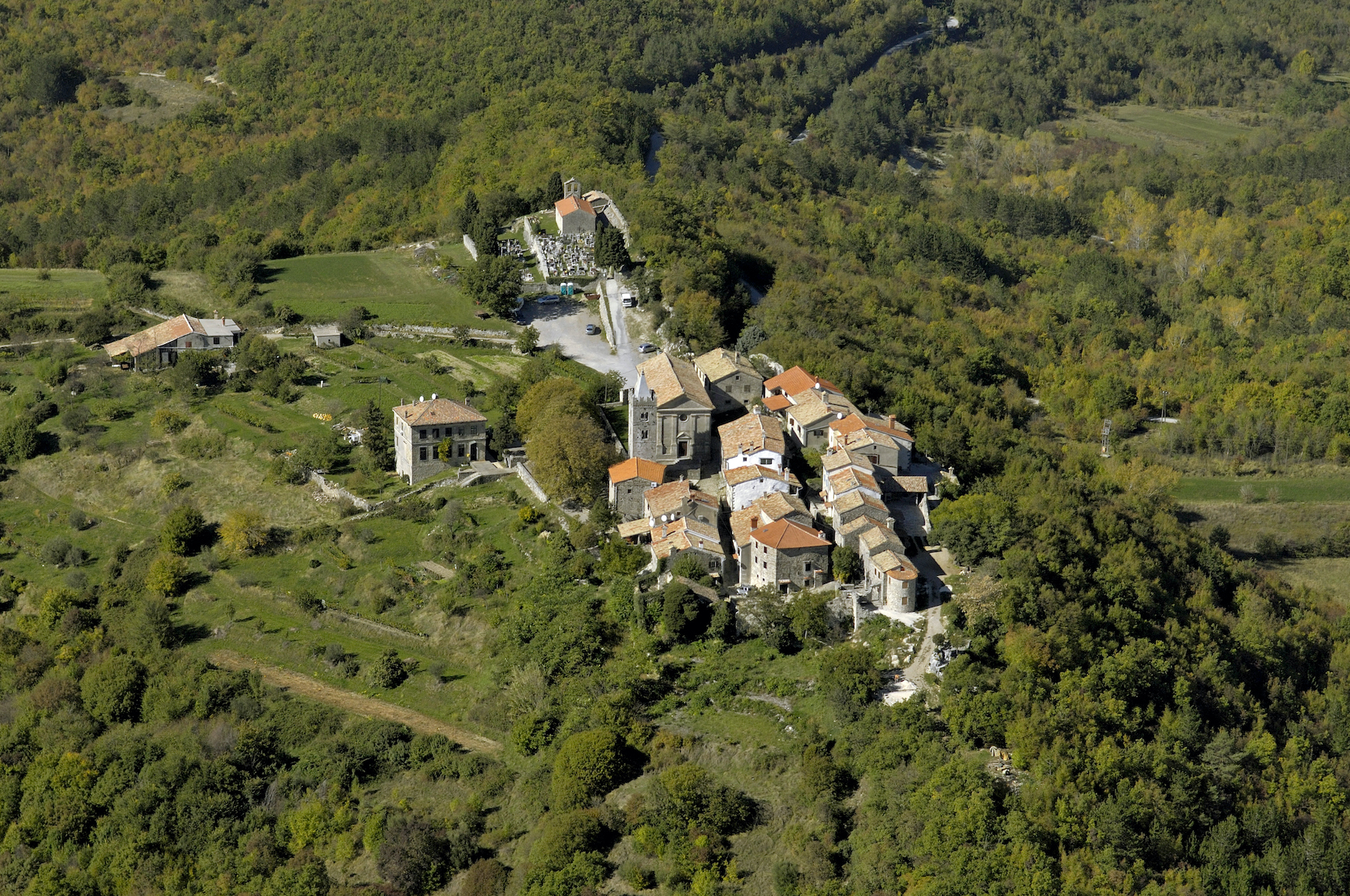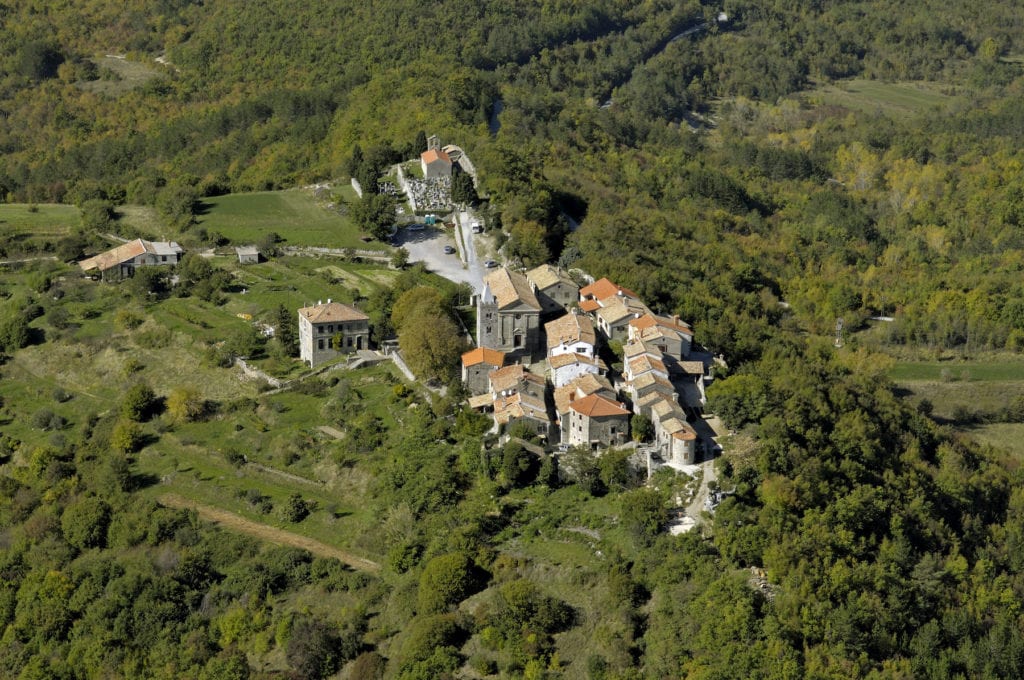 The small Church of St Jerome has frescoes from the 12th century, along with various bits of Glagolitic 'graffiti' dating from between the 12th and the 15th centuries. While in Hum, make a point of sampling Humska biska, a local type of rakija with white mistletoe and four kinds of grasses.
---
More information
Motovun is the cover star of our Istria guide, which you can buy here: