Written by Dr Françoise Hivernel
In her story, Is this where Lawrence blew it up, Mum?, Dr Françoise Hivernel shares her adventures in Jordan with her two teenaged sons, camping in the desert and following in the footsteps of Lawrence of Arabia, who bombed the famous Hedjaz railway during World War I.
---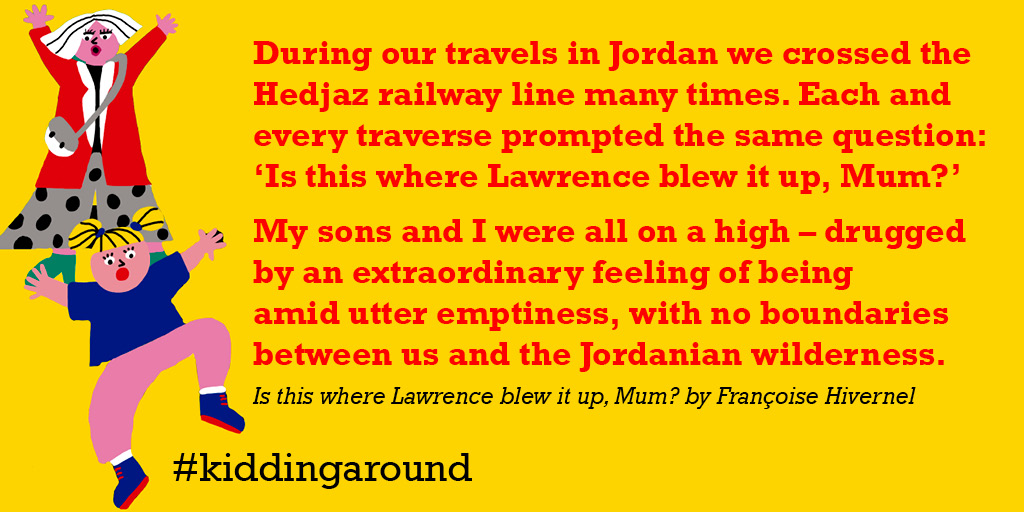 I heard that question so many times from my two excited sons, both keen travellers. I had started reading to them Revolt in the Desert by Lawrence of Arabia. What my sons – Christophe (aged 13) and Gregoire (ten) – were talking about was, of course, the famous Hedjaz railway, which used to run from Damascus in Syria via Jordan to Medina in Saudi Arabia. During the World War I, this transportation route became a favourite target of Lawrence of Arabia and the Arab Revolt. Although it was 1989 now, it could well have been 1916 in my sons' inflamed imaginations, as the landscape in which we were camping can't have differed greatly from Lawrence's time. We now found familiar the occasional apparition of a group of camel-mounted Bedouins emerging from that strange twilight world where evening sky and desert melt into one. During our travels we crossed the track many times. Each and every traverse prompted the same question: 'Is this where Lawrence blew it up, Mum?'
In 1982, I had worked in Jordan with an archaeological expedition to explore the lava and flint deserts around the ancient oasis of Azraq and as far as the border with Saudi Arabia. Seven years later it was time for Chris and Greg's first visit to the Middle East. Coming from a few months working in comparatively lush East Africa to this desert environment was a shock. Not a blade of grass, not a bird, no apparent life in the desert around us, just an incessant wind. Such an absence was an entirely new experience for my children.
We arrived in Amman late one evening in July, all unequivocally excited. On the part of Chris and Greg, high spirits were a choice tool to maximise embarrassment to their mother, particularly when deployed in public places. Just like the puppies that they often pretended to be, rolling on the airport floor in a mock fight! In such moments I had learnt not to try to apply any discipline but instead to steel myself and disappear into an autistic bubble that protected me from the disapproving stares of fellow passengers.
Andy, a friend and former archaeologist colleague, was waiting for us at the airport. He brought us back to his Amman flat with its sweeping cool marble floors but (luckily) neither precious nor destructible objects. Drinks in hand, we tucked into meze – my sons' eyes widening when they realised that we were to do so with our right hand rather than a pesky fork or spoon. They took heartily to this introduction to Middle Eastern food, relishing the numerous small dishes of hummus, babaganoush (aubergine puree), olives, falafel, kebabs, marinated chicken and more besides. I wonder how much the change in table etiquette was responsible for their appetite.
'Beware of the black widow!' Andy's warning about the spider caused my sons to draw up pretty sharply as they charged towards the basement of Andy's workplace the following day. Andy commented that the infamous arachnid had been spotted there not long previously in this old Ali Baba's cave, which housed the camping equipment we were due to use. As we carefully selected what to take, a scream from Chris, followed by a long bellow, stopped us short. 'You wait, you little shit!' Greg dashed behind me, giggling but evidently nervous at his older brother's sudden fury! It transpired that Greg had crept behind Chris and slowly run spider-like fingers across his brother's back, then told him it was a black widow.
We needed the camping equipment as Andy had sprung a surprise by offering to take us back to the site near Azraq oasis where he and I had worked. We would see excavations in progress, attend a party in the desert and spend a night near a prehistoric site with rock carvings! Adventure beckoned.
The next day a happy bunch was ensconced in Andy's Toyota pick-up truck. Following a desert road with intermittent tarmac, we paused about 35 miles east of Amman at Qasr Kharaneh. This was one of Jordan's famed 'desert castles' in which Andy and I had stayed during the first part of our 1982 surveys.
I don't quite know what the words 'desert castle' had conjured up in my sons' minds. If it were a crenelated, medieval European castle standing several storeys tall, it would certainly not have prepared them for what faced them here. Qasr Kharaneh stood in the middle of nowhere. In a flat, featureless and almost colourless desert, the building looked as if it had been painted in washed-out, tan-toned mud extracted straight from the ground. As we approached, the castle coalesced into a stolid rectangular mass. Qasr Kharaneh proved to be an impressive, austere castle built out of limestone blocks. When we entered the courtyard, Andy and I pointed out old underground cisterns that had once stored water whenever rain decided to fall (which it did in yesteryear's less arid climes). This prompted questions from my sons about how we lived there, where we slept, washed and so on.
What my sons couldn't quite comprehend was why and how such a place had been built in what was now an unremittingly hostile environment. We tried to explain that, in the past, the weather had been different. We emphasised the point by taking them to see the remnants of a Roman dam built in the (now dry) river bed of Wadi Kharaneh. The Roman dam interested Chris and Greg, but nearby excavations left them cold. 'Where can we get a Coca or a Fanta, Mum? Pleeease!' Such demands were to become as much a leitmotiv of this trip as the blowing up of the railway.
We drove off again through the emptiness towards another castle called Qsar Amra. This hunting lodge featured once-beautiful but now rather faded frescoes of hunting scenes: men on horseback with hounds, who were hunting deer, gazelles and onager (a wild ass). My sons' curiosity was piqued further by the bathhouse walls being decorated with scantily dressed women. But it was the richness of wildlife depicted, among it a variety of birds even including peacocks, that made my sons realise that a very different landscape must have existed at some point in the distant past.
It was evening by the time we eventually reached the oasis of Azraq and booked into the Hunters' Lodge. Its decoration was extraordinary and mainly the work of the proprietor's Bulgarian wife. Most rooms had Walt Disney frescoes with Bambis frolicking and Snow Whites gazing from starred ceilings, while the tiling of an outdoor swimming pool was festooned with cherubs. Having only had a brief wash and cool drink after our travels, we could only dream of how the pool would have felt, had there been water in it!
Then we were off to a party in the desert to meet up with archaeologists working near the Roman dam. This generated an abundance of novel experiences for my sons. Amid the natural desert smells, in the absence of wood we used buffalo dung to light a fire on which to barbecue tasty lamb. We reclined on mats, peering upwards at the sky and talking until the stars started to fade and the greyness of dawn began to creep in. We then retreated to our Walt Disney quarters; no air conditioning meant for a hot and sweaty sleep.
Later that morning we relocated to where Andy and I had stayed for the other part of the expedition. Men had put up their camp beds in Azraq castle, a great sturdy black basalt thing. As it would have been inappropriate for a woman to sleep in the same room as men, I had been obliged to stay in the guard's house. Lawrence of Arabia had also stayed at Azraq castle in 1917; very carefully, my sons investigated the room in which he was supposed to have slept.
Lying pretty much at the intersection of routes into Saudi Arabia, Iraq and Syria, Azraq owed its existence to spring-fed pools. Luscious gardens grew in the shade of palm trees, spurred on by the surrounding moistness. We bought live chickens from the roadside for dinner; the men took my sons to kill and pluck the fowl by using some barely believable plucking machine.
In the afternoon we sped off into the desert again, this time towards the border with Saudi Arabia. Here we visited Jebel Qurma, a prehistoric rock-art site plonked apparently randomly amid the endless desert. Jebel Qurma is a low promontory capped with huge tumbling blocks of black basalt. Chris and Greg clambered up onto it, shrieking with delight at pictures they discovered. Gazelles, ibexes, camels, ostriches and lions were engraved, white against the black of the rock, along with human figures. All possibly dated back two millennia, and all depicted in an environment where – at the time of our visit – neither a scrap of vegetation nor any apparent animal life existed. This was further testimony of a very different kind of climate in the past.
We set up camp beds at the foot of Jebel Qurma. Lying under the stars at the base of this magical place put us all on a high – drugged by an extraordinary feeling of being amid utter emptiness, with no boundaries between us and the wilderness. We were simultaneously part of the place and excluded from it, both participants and outsiders.
Before falling asleep, we twice heard the faint noise of a distant motor. Andy suggested that this probably signalled black-marketeers running stock across the border with Saudi Arabia or even Iraq. This was dangerous and exciting enough for a kid, but even more perilous (if somewhat less positive) was Andy's news that there were scorpions in the desert. Andy and I suggested that any nocturnal toilet trips would require both torchlight (over and above the bright moonlight) and very careful footfall. My sons met this with a very firm and loud 'No!' When nature inevitably called, Chris demanded that I accompany him, while Greg insisted that I bodily carry him in my arms. My young explorers aiming at being like Lawrence were not yet prepared to take on scorpions.
The next day we drove to an oval flat-topped hill, capped with basalt and encircled by tomb cairns. The site is known by archaeologists as 'Maitland's Fort'. In the late 1920s, a RAF flight lieutenant named Maitland used to fly mail planes between Cairo and Baghdad. Spotting the site from the air, Maitland thought it resembled a Welsh Iron-Age hill fort. Here my sons' imaginations were stirred by landing strips along the dirt road, which were used as emergency refuelling points for planes in the 1920–30s. Soaring into the permanently blue Jordanian sky, they saw themselves wearing a leather jacket, a leather cap and goggles while at the controls of a light aircraft. Was it this very experience, I wonder, that led to Christophe's subsequent decision to join the RAF cadets and commit to his own future airborne adventures?
On our return to Amman (and hence to England), our route meant that we again crossed the Hedjaz railway. Once more (and then some!) I was required to confirm that this was indeed where Lawrence blew it up…
---
Dr Françoise Hivernel arrived on English shores from France in the 1970s. After a full professional life encompassing archaeology and psychoanalysis, she is now retired and writes for pleasure rather than for duty. In 2015, Françoise published a travel narrative, Safartu: Travels with My Children. In 2018, she co-authored an anthology of travel with four other women (including Jane Wilson-Haworth) entitled 50 Camels and She's Yours.
---
To discover more intrepid tales of travelling with children, check out our anthology: