Somewhere between Usakos and Swakopmund, a mountain range rises dramatically out of the surrounding flat expanse. These bald granite boulders are over 700 million years old and are part of an ancient range of volcanoes that were formed when the supercontinent Gondwanaland started to break apart. Known as Spitzkoppe (a German word for pointed dome), the pointy peak that resembles the Matterhorn is often seen in stock images of Namibia, but rarely found on the destination's must-see travel lists. It's almost as though someone is trying to keep it a secret…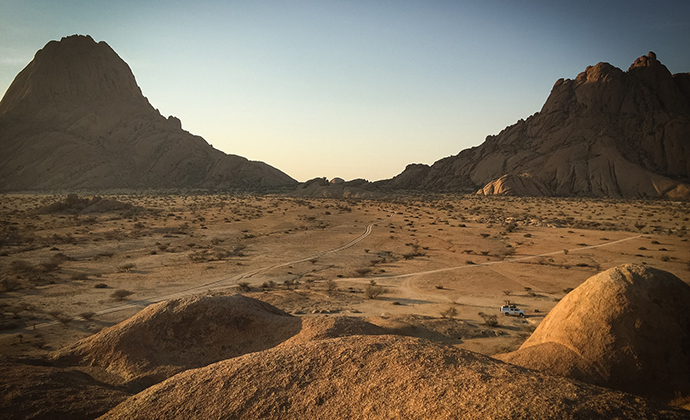 It's a special place with an unmistakable aura; the light here shifts and changes through the day with the rocks transitioning from crimson to burnt sienna to pale yellow as the sun travels across the sky. At dusk and dawn they have a soft pink glow, made all the more magical in the presence of a full moon. Shadows shorten and expand, providing much-needed coolness in the afternoon heat. It's very dry here, real desert country. When the rain does fall, however, then the entire area undergoes a green transformation and rock pools are filled with clear, cool water. On the mountain, there is a picturesque rock arch that creates a natural frame to one of the most beautiful sunsets you will ever see. At night, the stars are phenomenal and the stillness is absolute.
It's a great place to spend a day or two, exploring the boulders, looking for lizards, relaxing in the shade, observing the colours change and taking in the stillness of the desert. Anyone with an interest in ancient San rock art should take the guided tour of the designated 'Bushman's Paradise' area. In these protected caves you'll see rock etchings and paintings dating back to 4400BC and AD100. The area is only accessible on a guided tour, as unfortunately there have been incidents of vandalism.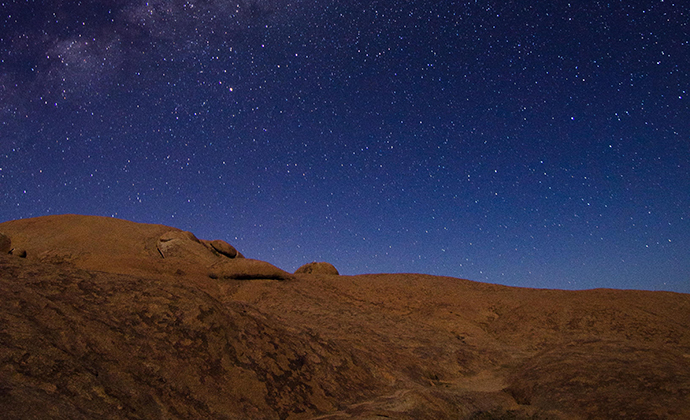 The community-run campsite at the base of the mountain is simple but very satisfactory; some even say it's one of the best campsites in Namibia. Campers can take their pick of areas clustered in comfortably close proximity, which is ideal for friends or family travelling together, or solo travellers can find more secluded areas where they will feel like they have the place to themselves. To reach the campsite, head north along the B2 highway, before turning left onto the D1918 gravel road towards Henties Bay, 40km before Usakos. After 18km, take a right onto the D3716 and then drive a further 11km before reaching the destination.
Visitors to Spitzkoppe often struggle to describe just what makes it so special and often find it a surprise highlight of their journey through Namibia. It somehow touches their soul and takes a special place in their heart. What they do know is that it's definitely the place to go for anyone searching for solitude, exceptional natural beauty and something a bit different and unexpected… a seemingly secret escape in a country that already boasts incredible remoteness.
Marguerite Engelbrecht, Jenman African Safaris
---
To discover more about Namibia's hidden highlights, check out our guide: