Subways tend to be known for their dark, enclosed spaces rather than their interior design. But a select few metro stations across Europe and Asia can be classed as beautiful works of art in their own right, destinations to be visited and marvelled at rather than just passed through.
Pyongyang, North Korea
Much like the country itself, North Korea's only metro system has been steeped in mystery and speculation since it opened in 1973, with rumours of secret lines leading to palaces, military installations and massive nuclear bunkers all helping provide additional excitement to a journey that costs, in Western terms, a fraction of a penny.
These rumours circulate with another laughably contrary one: that just two stations exist (Puhung and Yonggwang, the ones most commonly used by tourists) and that all the busy commuters are actors.
There are actually 17 stations in total, but as two of these are closed the metro isn't extensive. What it lacks in length it makes up for in its depth and architectural splendour – making it one of the world's most impressive systems and an absolute must for any visitor to Pyongyang.
Tashkent, Uzbekistan
The city's most important transport network was born out of the destruction of the 1966 earthquake that shattered most of Tashkent's infrastructure.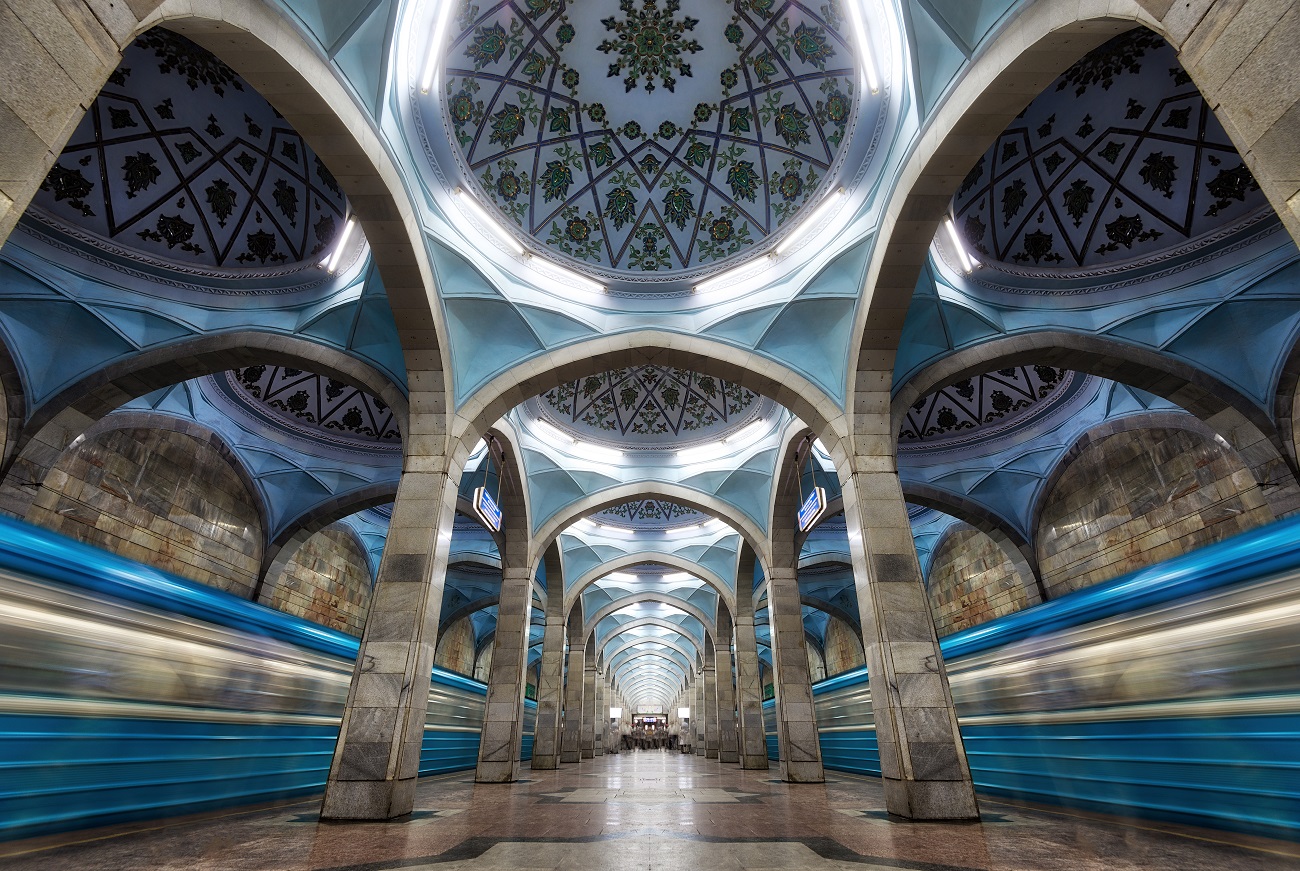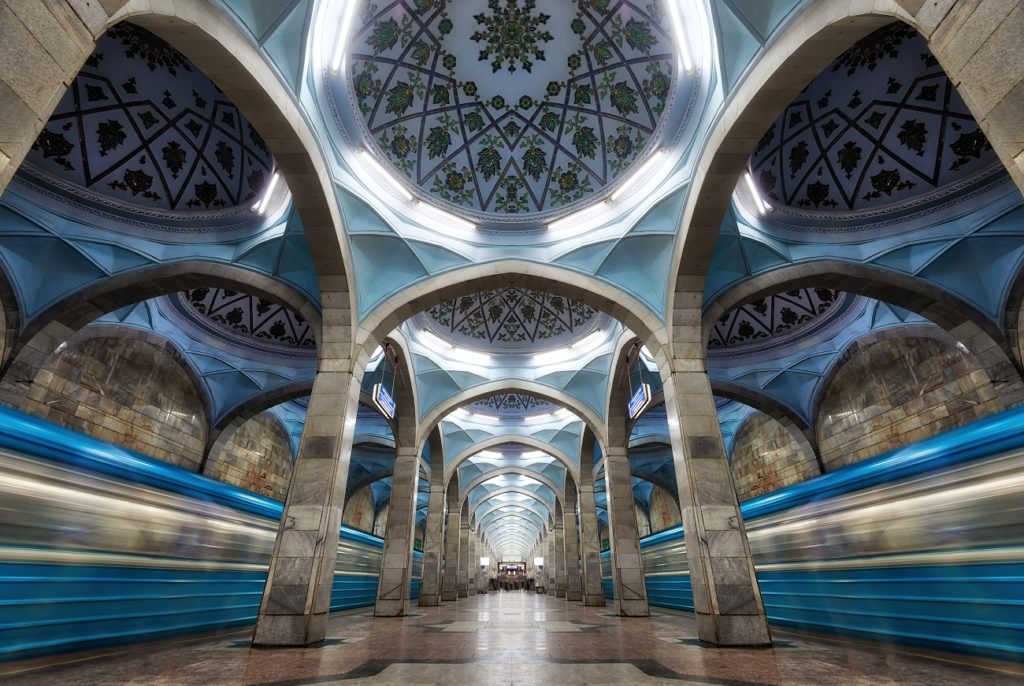 Planners, architects and workers came from across the USSR to build a new model Soviet city, installing sewerage systems, wide boulevards and parks and, as a centrepiece, a metro system whose design and architectural beauty drew considerable inspiration from the jewel-like Moscow metro.
Opened in 1977, it has 29 stations on three lines with plans afoot to extend further out to the city suburbs. Click here for more information.
Stockholm, Sweden
The Swedish capital's metro system is unlike any other in the world. Featuring 100 stations, each is elaborately decorated with local art either on the walls, waiting room or platform itself.
Since 1957, local artists have been enlisted to create designs for any new stations being built, and those that were constructed before then have since been revamped with ornate paintings and sculptures.
Toledo, Naples, Italy
Boasting a blue-violet swirl of glittering mosaic, this award-winning station is often cited as one of the most beautiful metro stations in Europe.
It's the jewel in the crown of Naples' 'Art Stations' project, which invites local artists and architects to create unique installations 'in order to bring art to people's everyday lives'.
Toldeo's most impressive feature is undoubtedly the 'Crater de Luz', a large cone that above the escalator that creates a wide opening to the quayside above, allowing kaleidescopic beams to flit around you as you travel.
Formosa Boulevard, Kaohsiung, Taiwan
This station's four tepee-shaped glass-and-steel entrances call to mind the little pyramids I M Pei controversially added to the courtyard of the Louvre in the 1980s. Japanese architect Shin Takamatsu titled these creations Prayer, and they do resemble church spires. Not everyone was impressed, however; nearby landowners complained about the impact on feng shui, saying the spires are like swords pointing into their homes.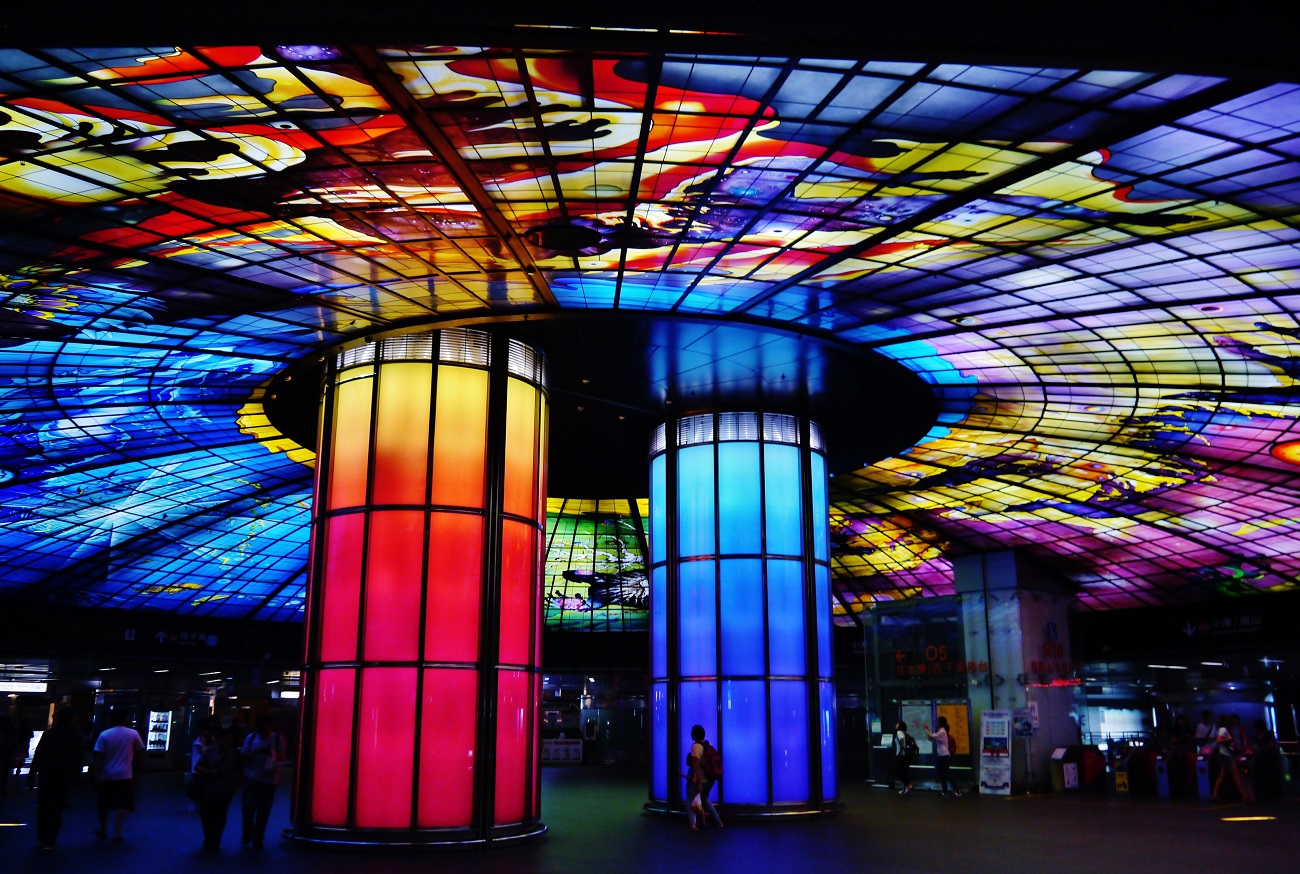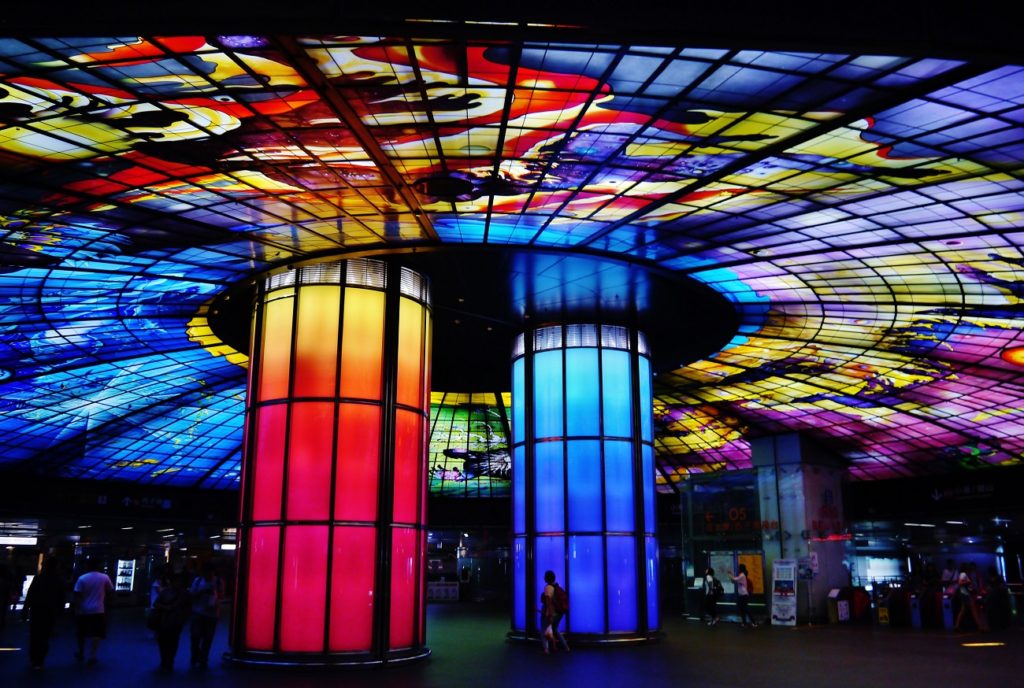 Inside the station there's a 667m² indoor ceiling installation called The Dome of Light. Said to be the world's largest piece of glass art, and representing 'birth, growth, honour, destruction and rebirth', it's a wash of colours and images that took Narcissus Quagliata, its Italian creator, more than 3½ years to finish. As with any other piece of art of this size, it's worth zooming in on details, then stepping back to appreciate the overall effect.
Komsomolskaya, Moscow, Russia
Soviet subway or Strictly ballroom? Moscow's metro system is known for its magnificent decor and exquisite decoration, but Komsomolskaya really takes the top spot. Featuring Baroque ornaments such as chandeliers, pillars and white-marble columns, it is one of the busiest stations in the city.
The theme of the design is the Russian fight for independence, illustrated in eight large ceiling mosaics by Pavel Korin. Korin is said to have been inspired by Josef Stalin's speech at the Moscow Parade in 1941, where he urged soldiers to take heed in their defeat in the Second World War and remember the historic efforts of their forefathers.
Georg-Brauchle-Ring, Munich, Germany
One of Munich's newer U-Bahn stations, it is also one of the most colourful.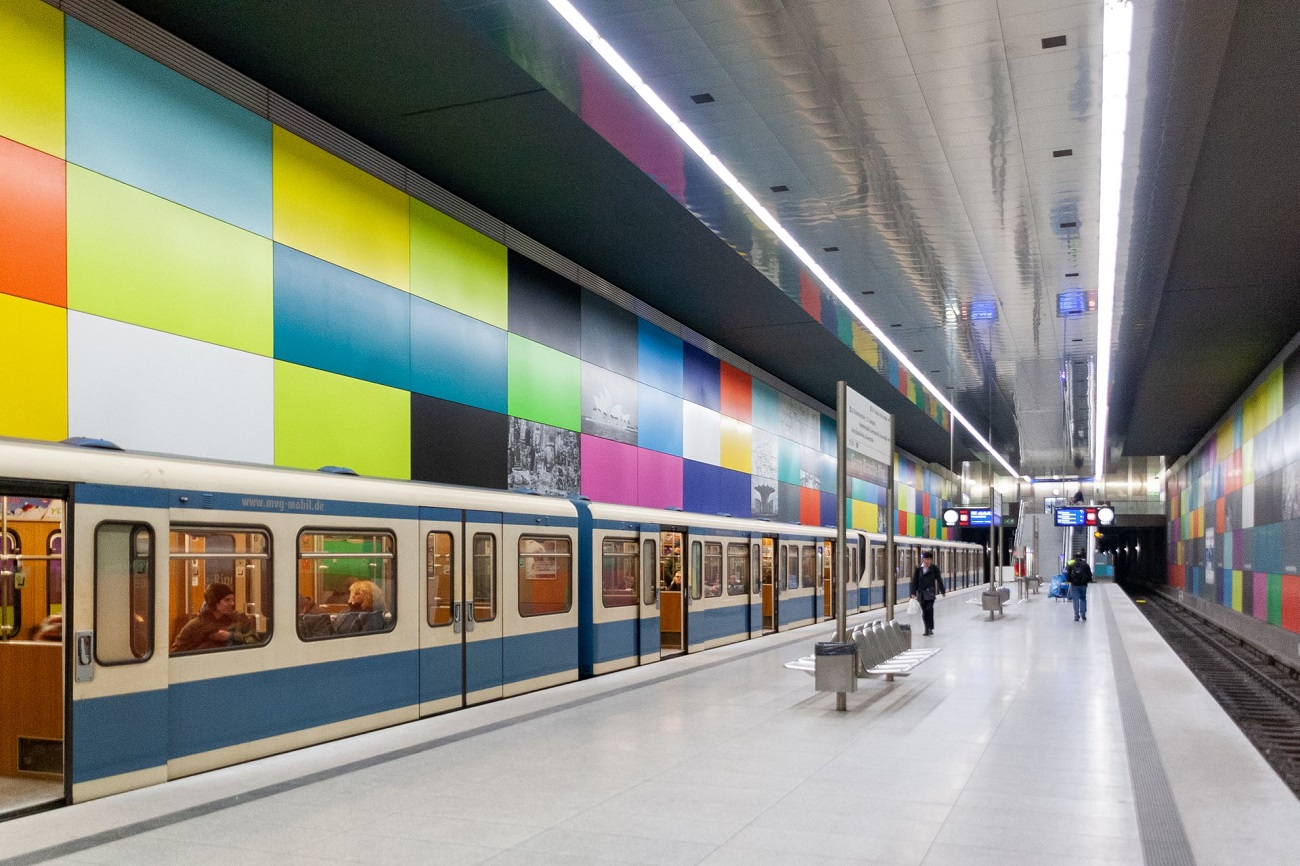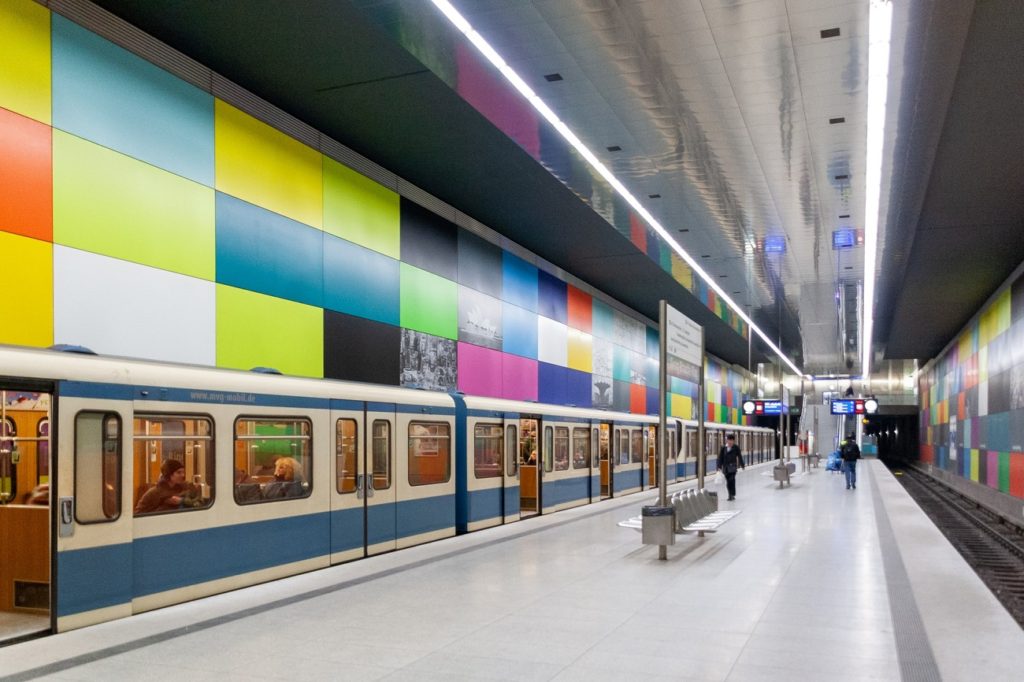 Opened in 2003, the station's platforms play host to two patchwork walls designed by Franz Ackermann, entitled The Great Journey, each of which weights 30 tons and consists of 400 panels.
Yeritasardakan, Yerevan, Armenia
One of Yerevan's original metro stations, Yeritasardakan opened in 1981 and is a classic example of Soviet Brutalist architecture.
Its impressive concrete exterior is an icon of the city, while the station interior features plenty of nationalist motifs typically associated with the Soviet era.
Baikonur, Almaty, Kazakhstan
A design fitting for a metro station named after a cosmodrome.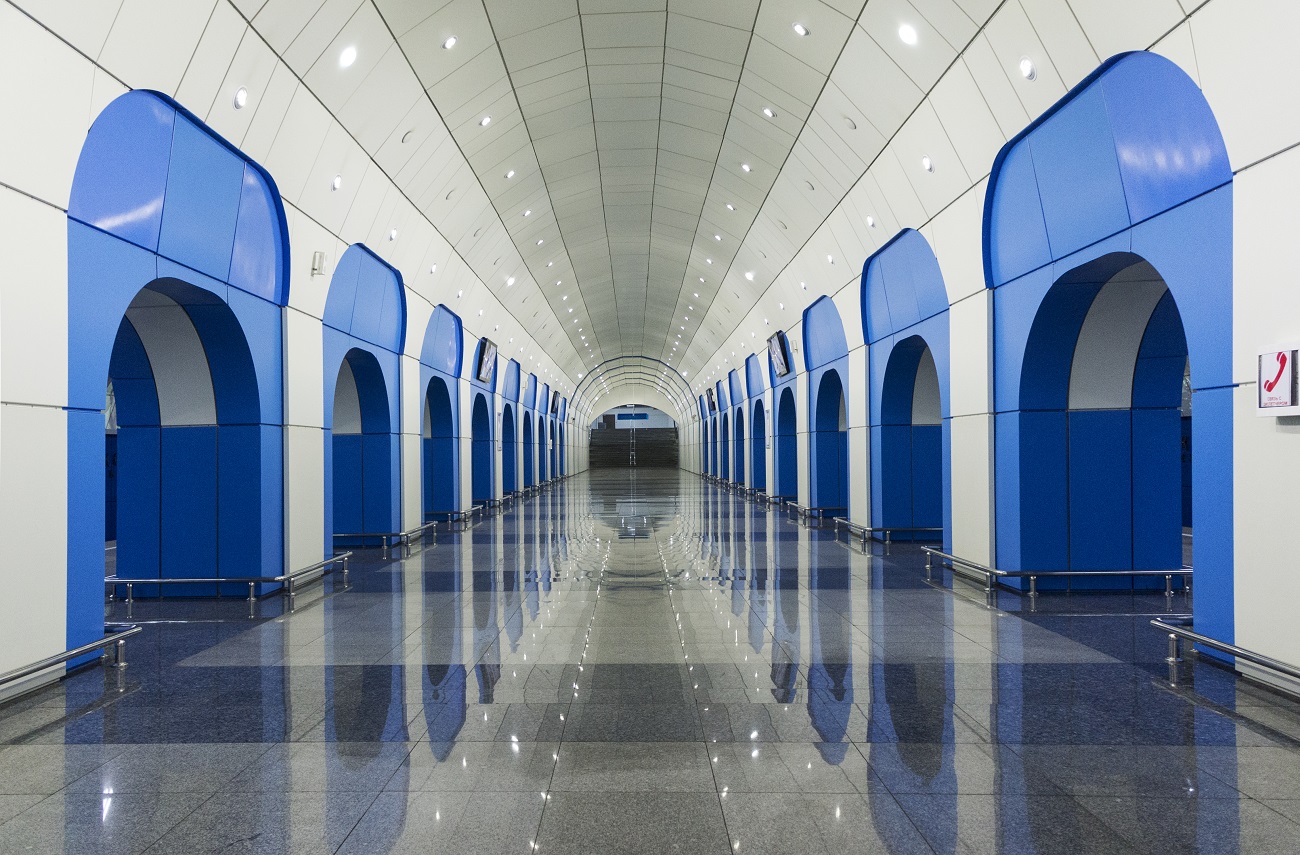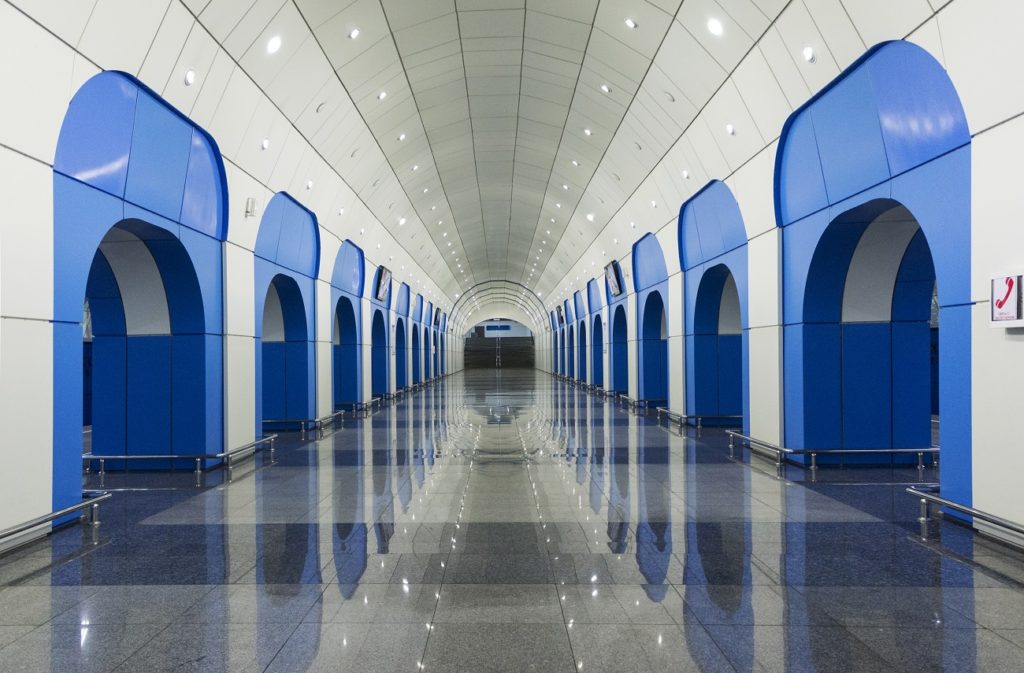 Opened in 2011, this futuristic-looking subway is one of the busiest in Kazakhstan's most populous city. While you wait for your train to arrive, you can watch a film that showcases rockets taking-off from the facility. Very high tech.
More information
Discover more in our guides: