Sometimes great adversity can present the opportunity to implement great solutions, and so the Tashkent metro, the city's most important transport artery, was born out of the destruction caused by the earthquake that levelled much of the Old City in April 1966.
Planners, architects and workers came from across the USSR to build a new model Soviet city, installing sewerage systems, wide boulevards and parks and, as a centrepiece, a metro system whose design and architectural beauty drew considerable inspiration from the jewel-like Moscow metro.
The Tashkent metro, opened in 1977, has 29 stations on three lines (Uzbekiston, Chilonzor and Yunusobod), covering 36km in total. As the city sprawls out ever further (building wider, not higher, is a logical plan for a conurbation in a seismically active area), so will the metro. Extensions to the first two lines opened in stages in 1991, and the first 6km phase of the third line (Yunusobod) opened in 2001.
More extensions, will, in theory, see the Yunusobod line continuing 3km north, a fourth line (Sergeli) (7km, above ground) heading south from Olmazor (the current terminal of the Chilonzor line), and the first stage of a new ring line running south from Do'stlik to Kuyluk Bazaar (for transport to the Fergana Valley).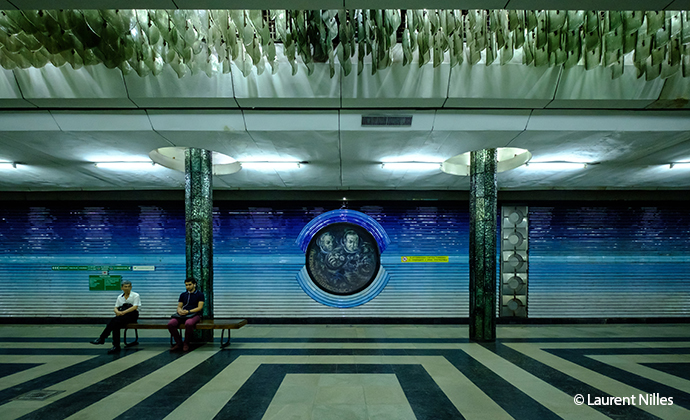 The system is exceptionally clean, safe and runs reliably until late at night. A typical travel experience might begin with consulting the metro map (posted at the entrance to each metro station), a relatively courteous inquiry by a policeman to check your bag, the purchase of a small, translucent blue plastic token (US$0.14) and then descending into the station to join some of the 400,000 commuters who use the metro each day. Station signs are in both Cyrillic and Latin scripts, a boon to foreign travellers. On the train, the first word of the arrival announcement is the name of the station, and the last word of the departure announcement is the name of the next station.
What you first notice is the space: it's not something normally associated with the economics of creating a subterranean complex. The platforms are wide and the ceilings are high. Each station is unique in its décor, which is generally themed on some aspect of Uzbek life or culture. For instance, in the Mustakillik Maydoni station, Ulug Beg, grandson of Timur and historical astronomer of note, is acknowledged with the star patterns in the marble floor of the platform.
The beautiful mosaics of cotton found on the walls of Pakhtakor station acknowledge the impact this crop has had on life in Uzbekistan. And at Kosmonavtlar, where Valentina Tereshkova, the first woman in space, is immortalised, the ceramic wall panels fade from blue to black in imitation of Earth's atmosphere. You are now able to photograph these beautiful stations.
---