The country cannot be truly explained, accurately described, or even truly understood. Visiting is the best way to try and get your head around the place – but it could well leave you, like me, more confused than ever before.

Henry Marr, author of North Korea: the Bradt Guide
A holiday to North Korea is, in some ways, a step back in time, while in others it is a journey to an altogether parallel universe – a destination more akin to a dream you may have had, or a scene from a science-fiction movie, than anywhere 'real' you may have been to here on Earth. Venturing beyond the showcase Shangri-La of socialism that is Pyongyang, more can be seen across the country than ever before, as the heavy red curtain is pulled back, inch by inch, year by year.
Stare into South Korea from inside the Joint Security Area, hike deserted trails around Mount Kumgang or Mount Myohyang, relax in opulent beach hotels near Hamhung or catch a vintage aircraft to fly to Mount Paektu.
Strive to unravel the enigma that is North Korea by trying to get your head around the Juche philosophy, the contemporary North Korean mindset and the reasons for the seemingly unwavering loyalty towards the Kims, while you explore cooperative farms, tour ostentatious museums and revel in the enchanting UNESCO World Heritage tombs and temples that pepper this misunderstood country.
Almost always vilified and oversimplified, open minded travellers to North Korea will discover a mesmerising nation that will draw them down a rabbit hole – each twist and turn leading deeper into the unknown.
---
Food and drink in North Korea
Acknowledging the famine of the 1990s, many Westerners employ a spot of gallows humour when it comes to wining and dining in North Korea, likely asking mocking questions in advance of travel along the lines of 'will I be fed?' or 'do I have to take all my own food with me?' Yes, acute malnutrition still exists in parts of the country but remember, you will be a guest, a VIP of sorts; looking at Kim Jong Un's frame it is clear that the important are well fed in North Korea.
Many regional dishes and specialities exist in the country and there is plenty of opportunity to enjoy dishes such as cold noodles (naengmyeon), where noodles (typically buckwheat) are served up in a spicy broth with vinegar, radish and a varying range of other ingredients thrown in, all served up cold. Also popular is bibimbap (which literally means mixed rice but is a meal in itself), normally served piping hot in a stone pot with sautéed and seasoned vegetables together with chilli, soy sauce, egg and sliced meat – simply delicious. Other notable dishes include Korean hotpot (sinseollo) and a variety of delicious barbecues, often with their own regional nuances.
Tap water should be avoided. You may be told locally that it is safe to drink, but given the ready availability and low price of bottled water it really is not worth taking the risk. An increasing number of inexpensive domestically produced soft drinks and juices are available. Sadly, the ever popular 'Crabonated Cocoa' drink is now carbonated and crab free.
Alcohol has long been the opiate of the masses in North Korea, and while public drunkenness is not nearly as endemic as in parts of western Europe, an increasing disposable income and number of bars make a perfect cocktail for a night out, although the real spit and sawdust drinking dens (they do exist) are normally kept
off the tourist trail. Koreans do enjoy a drink, and beer is typically served at lunch and dinner. Self-proclaimed experts agree that North Korean beer is rather good and far better than what is churned out in the South. The boom in the number of micro-breweries is an unforeseen result of the diminishing role of Pyongyang's centralised economy and supply chains, with many hotels and cities now making their own special brew.
Health and safety in North Korea
Health
Medical facilities in the country as a whole are basic, particularly in rural areas. Hospitals and clinics in the latter are usually able to offer only the very minimum medical care. Clinical hygiene is poor, anaesthetics are frequently unavailable, and electricity supply to the hospitals (even in the capital) can be intermittent; you should try to avoid serious surgery if you can. Take any medications you are likely to require with you as supplies are limited and can be very difficult to buy. There are no reciprocal health-care agreements with the UK, so ensure that you have comprehensive medical insurance and that you carry adequate supplies of any prescribed medication that you usually take.
The only requirement for vaccination is for a yellow fever vaccine for travellers over one year of age entering North Korea from a yellow fever endemic area. However, there is no actual risk of the disease in North Korea.
Travel clinics and health information
A full list of current travel clinic websites worldwide is available on www.istm.org. For other journey preparation information, consult www.travelhealthpro.org.uk (UK) or wwwnc.cdc.gov/travel (US). Information about various medications may be found on www.netdoctor.co.uk/travel. All advice found online should be used in conjunction with expert advice received prior to or during travel.
Safety
Crime against foreigners in North Korea is so low it is practically unheard of. Tourists are essentially respected guests and are treated accordingly. Despite having a poor name in the Western media and the occasional news story of tourists being arrested, one would have to be wilfully stupid to actually get arrested or into any bother while in the country; noting a few basic rules will ensure you have a safe trip:
Tourists are not permitted to walk freely within the country, and must stay with their guide throughout. Do not attempt to detach yourself from your group or sneak out of your hotel at night.
Tourists must not break photographic restrictions that are in place. In North Korea it is nearly always 100% obvious what should not be photographed – if in any doubt, always ask your guide.
Tourists must not make any negative or derogatory comments regarding the North Korean government and its policies, philosophy or leaders, past or present. Particular importance is placed on the 'history' of the DPRK and the life and works of Kim Il Sung, Kim Jong Il and Kim Jong Un. Even behind closed doors, negative comments may cause offence and any overheard remarks could have serious repercussions. Please keep any opinions you may have to yourself.
Images of leaders should be treated with respect, and not folded, creased or marked.
Tourists must not discuss religion with any Koreans unless prompted, and must not show, distribute or leave any religious texts/leafl ets or the like in Korea. Many of the Westerners arrested in recent years were involved in proselytising Christianity. If you must take any religious texts with you to Korea this should be for personal use only, and read in the privacy of your hotel room.
There are restrictions on what you may take into the country with you. Any publications that could be considered by the North Korean authorities to be offensive to the 'supreme dignity, ideology, system or culture of the DPR Korea', together with films (or such materials) of any nature made in South Korea are strictly forbidden. Furthermore, anything deemed as being pornographic is strictly forbidden.
Female travellers
There are no particular safety problems that women should be concerned about, but as North Koreans dress rather modestly, scantily clad women (and men for that matter), may be stared at; most in the country have never heard of, let alone seen, a miniskirt.
LGBTQ+ travellers
Homosexuality isn't illegal in the country, but many in North Korea insist that this is because it doesn't need to be, as homosexuality is a Western 'disease' that doesn't 'afflict' Koreans – there is no need to ban something that doesn't exist. Such naivety highlights that sex and sex education is taboo – the country is, publicly at least, almost puritan. Same-sex couples travelling to North Korea will almost certainly be thought of as just heterosexual friends and it is best to gently maintain this allusion, as even public displays of affection between heterosexual couples can still cause a commotion.
Travelling with kids
North Korea isn't the most family-friendly destination, but children will likely be fawned over, particularly if they are blonde-haired and blue-eyed toddlers, as few people will have ever seen a 'foreign' baby. Family life is important in Korea so you will be fussed over, but don't expect to easily find baby food, nappies, car seats or any such items – bring everything you require. Conventional tour itineraries are not family friendly, but a private trip tailored for a family could be a most enjoyable – if bizarre – experience for children and parents alike.
Travel and visas in North Korea
Visas
Save for the rarest of circumstances, all travellers to North Korea will be travelling via China or Russia, compounding the red tape required to visit. Those passing through China should ensure that their passport is valid for at least six months from the date of entry, while those passing through Russia will require a passport valid for six months beyond the expiration date of their Russian visa. Both Russian and Chinese visas will take up a full page of your passport and require additional space for entry and exit stamps. Almost all nationalities require a visa to China or Russia, and you will likely need double-entry visas, assuming you return from whence you came. However, citizens of 53 countries can currently spend up to 144 hours visa free in Beijing under the Transit Without Visa Scheme (TWOV). This scheme only applies if you arrive directly into Beijing by air from another country, and are travelling directly out of Beijing, by air, onto a third country (ie: North Korea). The rules are a little complex with a few clauses and exceptions, but most travellers happy to fly in and out of North Korea from China can now avoid the headache of applying for a costly Chinese visa and spend a few days exploring Beijing in the process. Shanghai and Shenyang, an occasional route of entry to North Korea, also operate a TWOV scheme, for 144 and 72 hours respectively.Your tour operator will be able to clarify criteria for these visa exemptions, as they do change and are not well publicised.
The DPR Korean visa must be obtained in advance, and a tourist visa is always single entry/exit and valid for the precise duration of your trip. Before one can apply for a visa, your invitation/approval to visit the country must be obtained. This normally takes a couple of weeks, but has in extreme cases been arranged in just a few days. Regardless, many tour operators are reluctant to take bookings with less than four to six weeks' notice due to the complications in arranging tours to the country. The earlier you book the quicker you should get your visa and the more polished your tour will likely be. You will not see your approval document; it is essentially a message sent to your nominated DPR Korean Embassy, normally by fax, granting permission for your visa to be issued.
Your tour operator should handle all the documentation in order for your visa authorisation to be granted and as an absolute minimum will require a colour scan or photocopy of your passport together with your home address, contact details and full employment information. The Pyongyang authorities essentially want to know
who you are and what you do, and to make sure you are not involved in journalism or similar fields. The details required of you will be clarified by your tour operator, most of whom are well versed in the protocol, processing these applications day in, day out. They will also be able to inform you of the precise requirements, as they vary somewhat depending on your nationality, residency and the nominated embassy issuing your visa.
Only once your visa authorisation has been issued can the visa be applied for. This is a straightforward exercise as the issuing embassy will now have full permission to issue your visa. They will require at least one completed visa application form and at least one passport photograph, but again, requirements differ. Some tour operators include the visa fee in their costs, while others charge. The visa cost is an arbitrary but reasonable figure that differs from one embassy to the next. Many tour operators issue the majority of their clients' visas through Beijing for ease. In this instance the visa is a document separate to your physical passport, so can be obtained on your behalf and handed to you locally, typically a day or two before your trip commences. Other DPRK embassies affix a full-page visa to your passport – a great souvenir, but this does often mean giving up your passport for a few days or having to go to an embassy in person.
Obtaining a visa is normally far easier than one would expect and as long as you have been accurate, honest and truthful in your application they are almost never refused. The only people who normally find it difficult to obtain visas to North Korea are journalists (who really must not try to sneak in posing as tourists), together with those travelling on South Korean or Japanese passports. Protocol changes with the diplomatic ebb and flow and though North Korea was accepting tourists from the US at the time of writing, the US Department of State will invalidate the passports of any traveller who does so, unless they have obtained a Special Validation Passport (which is extremely unlikely to be issued). In addition, US citizens may not enter or exit the country at the Sinuiju border and a small number of hotels do not accept US travellers, but rules change and should be checked in advance with your operator.
Getting there and away
By air
The sole passenger airline within the country is Air Koryo. The carrier is often mocked in the Western media as being the 'world's worst airline' or as a 'one-star airline'; titles that are unfair and wide of the mark, as Air Koryo is not only reliable but also proffers an enjoyable and authentic North Korean experience that harks back to the golden age of jet travel, with immaculate air stewardesses, a complimentary meal and service with a smile. Internationally, Air Koryo operates reliable scheduled flights from Pyongyang to Beijing, Shenyang and Vladivostok. In addition, they occasionally serve Shanghai, but only as and when demand sees fit.
Besides Air Koryo, just one other airline, Air China, serves the country. Sadly, though, they just cannot make up their mind about what they want to do with their undersubscribed Pyongyang service, which currently operates only in the high season, as they seem to cancel, postpone and alter schedules with such frequency that tour operators are reluctant to endorse this route with them. After pulling the service altogether in 2017, Air China relaunched the Beijing–Pyongyang route for summer 2018, promoting thrice-weekly flights on Mondays, Wednesdays and Fridays (in both directions).
By rail
From/to China
North Korea is well connected by train to China and many tour operators include arriving or departing by rail as a standard feature of their tours. Four trains a week operate between Beijing and Pyongyang (and vice versa), while a daily service now also operates between Dandong and Pyongyang (and vice versa).
From/to Russia
What was for years the forbidden rail line linking Pyongyang with Russia, this route is now permitted for foreigners to use; an epic journey through some wonderfully remote parts of both countries. The service is still hampered by delays, so a degree of flexibility and an open mind is essential. Seven times a month, train 007 is scheduled to depart Pyongyang at 07.50 for Rason. This train may depart one day earlier, and the precise date of operation is normally only confirmed 30 days in advance. The service is scheduled to take 29½ hours to reach the northeastern corner of North Korea (and passes through Hamhung and Chongjin en route), but can in fact take much longer. The goal is to ensure that the train arrives in Tumangang, on the border with Russia, in time to couple with the Moscow-bound train, which is fixed to depart Tumangang six times a month, on the 4th, 8th, 12th, 18th, 24th and 28th. The trains within Korea comprise ageing four-berth sleeping compartments with no restaurant car – bring plenty of supplies and wet wipes to wash with. A samovar in the carriage dispenses hot water.
By road
The land borders between Dandong and Sinuiju, Tumen and Namyang and Yanbian and Rason are open to travellers with the relevant permits and arrangements in place.
Getting around
As a tourist, all of your transport will be pre-arranged and serve you from start to finish. This will normally be a private vehicle, anything from a car to large bus depending on your party size. Most of the vehicles on offer are cheap Chinese brands that were not designed for the pot-holed rural roads of North Korea, but are comfortable enough when all is considered. Do not expect the likes of seatbelts, however.
While a number of cities have bustling buses, trolleybuses and trams, these are generally 'not for tourists' and off-limits – if they can be accessed it is only by private charter. Accordingly, public transport within cities, bar the possibility of incorporating the 'standard' Pyongyang Metro tour into a city tour, is not yet viable.
Intercity travel is also normally by private vehicle, but long-distance travel by scheduled passenger train is now possible to the cities of Sinuiju, Hamhung, Chongjin and Rajin – a recent and exciting development. Meticulous planning is required, as other than the daily service to Sinuiju, these trains run just a few times a month. Air Koryo is slowly trying to launch domestic flights to destinations such as Wonsan and Orang, but to date these have been so unreliable and prone to eleventh-hour cancellation that they cannot be relied upon. However, private charters in the country are becoming increasingly common.
When to visit North Korea
Gone are the days when the country would close its doors to tourists during the depths of winter – travellers may now visit year-round. However, access to farflung areas can be restricted during the icy depths of winter and during the sudden summer rains that can turn rural roads into a quagmire, so more comprehensive tours are best undertaken from early April to late June and late August to late October, when it is generally cool and dry. Weather aside, visiting in the low season can be very rewarding, as so few travel to the country it may feel like you have the entire place to yourself. Those looking for pomp and ceremony might consider timing their visit to coincide with a national holiday or special events, but do bear in mind that around major celebrations the country can seem deceptively bustling with many tour groups and foreign delegations in town, the crowds often overshadowing the overall spectacle of the anticipated celebrations.
Climate
North Korea has a combination of a continental and oceanic climates, with the extreme northeast having something of a Siberian look and feel – forests of fir, spruce and larch can be found at higher altitudes. As a rule, winters are marked as being long, cold and dry, while summers are short, hot and humid – over 50% of annual precipitation falls during the East Asian monsoon rains of July and August, a time when flooding is common across the country. In a nation that has self-reliance or 'Juche' as one of its core philosophies, the lack of suitable farmland mixed with the propensity for droughts and floods ensures that putting enough food on the table is a never-ending battle – a battle that was lost in successive years during the 1990s and contributed to the famine of 1994–98. Energy shortages during bleaker years led to notable deforestation in the lowlands, further exacerbating flooding and reducing agricultural output, but current reforestation projects are trying to redress the damage done. 
While it's apparent that toiling the land is a struggle, living off what lies beneath has the potential to be far easier. The ground is rich with metals such as gold, tungsten, zinc and molybdenum and, before economic sanctions hit, an estimated 40% of North Korea's GDP came from the sale of coal briquettes alone. With the country sitting on an estimated US$6–10 trillion dollars of mineral wealth, venture capitalists the world over have been keenly watching recent events unfold, in the hope that North Korea will open for foreign investment, dragging the dilapidated mining infrastructure into the 21st century.
What to see and do in North Korea
Chongjin
A small fishing village before the arrival of the Japanese, Chongjin transformed itself over the course of the 20th century to become a major industrial city and port. This 'City of Iron', as locals often call it, also proudly promotes itself – in somewhat unique socialist-romantic tones – as being a 'Grand Ferrous Metallurgical Base', with massive complexes such as the Kim Chaek Iron and Steel Complex and the Puryong Alloy Steel Complex making great chunks of this city of 668,000 look like a Lowry artwork.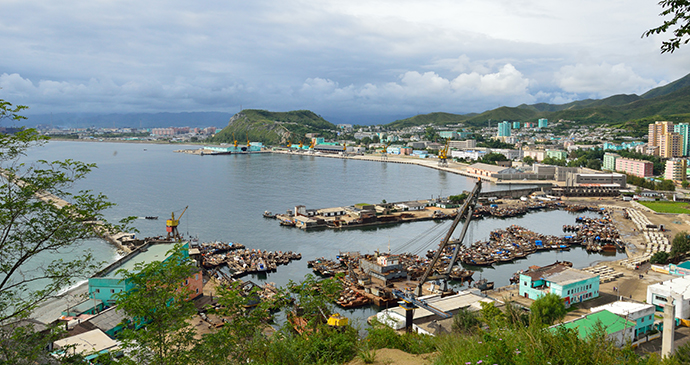 Chongjin has seen a slight transformation over recent years, becoming the country's unofficial northern capital © Carl Meadows
The economic collapse of the 1990s devastated Chongjin. At first the factories struggled and people became malnourished, but as time went by many plants shut up shop completely. Those who were young, or savvy enough, managed to adapt – just – by engaging in pursuits such as private enterprise and smuggling, or by simply foraging for food in the hills. However, many of Chongjin's residents, who had only ever known a system where the state provided all and only knew to do as they were told, ultimately starved. The city seemed to have been forgotten by the state and by Pyongyang, and left to fend for itself. The worst was over by the turn of the century, but Chongjin looked in parts like a dystopic wasteland – a forest of scrap metal and sea of cracked concrete, with smoke and dust heavy in the air.
Over the last ten years or so, however, Chongjin has slowly begun the long process of picking itself up, dusting itself off and getting back to work as the country's unofficial northern capital. Factories are slowly coming back online, more traffic – including the previously semi-dilapidated trams – can be seen on the streets and, perhaps most tellingly, the people that call this struggling city home seem happier and more optimistic – like a great weight has been lifted from their shoulders. As the province looks to the possibility of doing serious business with Russia and China (Vladivostok and the massive Chinese city of Changchun are both closer than Pyongyang is), prospects in Chongjin can surely only improve as time goes by. But for now, it feels that every tourist dollar spent will likely do more good here than anywhere else in the country.
Hamhung
Hamhung is North Korea's second city, but is very different from impressive Pyongyang. With a population of approximately 769,000 people, this industrial city seems to be somewhat ignored by the capital, with its infrastructure and large factories seemingly struggling to operate. While Pyongyang has seen a wide array
of showcase developments in recent years, Hamhung seems little changed since the 1980s.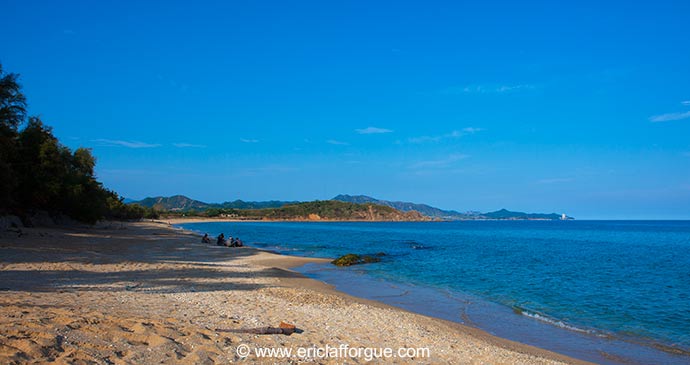 Hamhung makes a good jumping-off point for the beach resort of Majon © Eric Lafforgue
Heavily damaged during the Korean War, assistance from East Germany from 1955–62 helped to rebuild the city, which does have a few interesting sites that alone can occupy half a day. Those visiting in warmer months may wish to factor in some downtime and enjoy a few hours relaxing on the beach or paddling in the sea at Majon, home to two of the city's three hotel options.
Mount Chilbo
Mount Chilbo (or Chilbosan), literally the 'mountain of seven treasures', is a remote and undeveloped area of dramatic coastline, jagged peaks and steep valleys, part of the volcanic Paektu chain that stretches all the way from Mount Paektu to Ulleung Island in South Korea. Millennia of weathering on the basalt, trachyte and other igneous rock has wrought the landscape, the provincial propagandists will tell you, 'into fantastic forms and sheer cliffs, which present beautiful and original scenery in good harmony with the East Sea of Korea'. A bit of a mouthful, but a spot-on description. Like Mount Kumgang, this area is also divided into three parts: Inner Chilbo, Outer Chilbo and Sea Chilbo.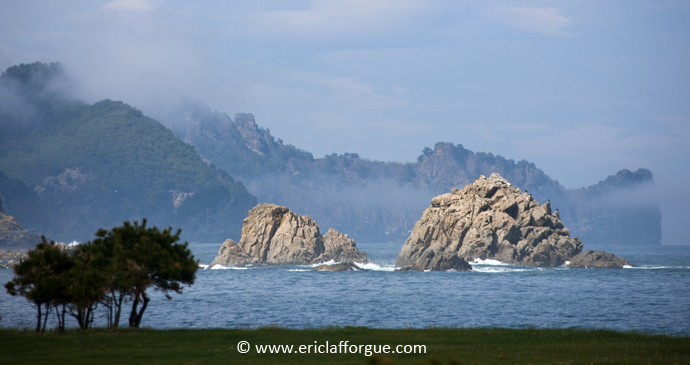 The rugged Chilbo coastline is spectacular for its rocky islands and outcrops © Eric Lafforgue
The area, which became a UNESCO Biosphere Reserve in 2014, is best visited from early May to mid-October, but there is something to be said for visiting at the bookends of this window, which allows you to see the very best of the spring or autumn colours. Regardless, as long as it's not shrouded in mist, the scenery in this national park will be memorable: 503km² of craggy mountains that rise to 1,103m above sea level, blanketed in dense forest, save for when the gravity-defying rocks jut skywards.
Mount Kumgang
Running along the eastern edge of the Korean Peninsula, the Taebaek Mountains stretch for 500km from Wonsan in the North all the way to the port city of Busan in the South. While South Korea may lay claim to having the greatest infrastructure for those heading in to the hills (thanks to the 2018 Winter Olympics taking place in Pyeongchang in the South) and boast the highest peak in the range with Seoraksan's Daechongbong (1,708m), the North can argue that they have the most pristine and best-preserved stretch of mountains on their soil in Mount Kumgang.
Revered by all Koreans, Mount Kumgang (meaning 'Diamond Mountain') has been a site of near-mythical status since at least the 7th century, with many writers, poets, artists and clergymen making pilgrimages to this beautiful corner of Asia. Like some other regions in Korea the mountain has four names, one for each season ('Kumgang' in spring, 'Pongnae' in summer, 'Phungak' in autumn and 'Kaegol' in winter), but over time Kumgang has become the most used. According to local cartographers, Kumgang has over 100 principal peaks, and a grand total of 12,000 lesser peaks; while few may have verified this subsequently, after a walk in Manmulsang, or almost anywhere in the region, most will hopefully accept this figure as just a slight exaggeration and dispel any need for thoughts of independent verification.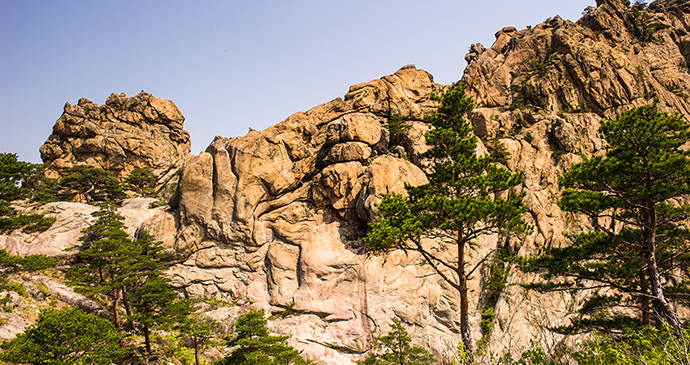 This beautiful corner of Asia is known for its craggy peaks © Anton Ivanov, Shutterstock
The mountain is loosely divided into three regions, from the attractive lakes and coastline of the Sea Kumgang to the stunning scenery of Kuryong and Manmulsang in Outer Kumgang, before it rises all the way up to the 1,639m Piro Peak (not to be confused with the other Piro Peak in North Pyongan) in Inner Kumgang. Covering an area of 530km2, the region was previously a part of Kangwon Province until becoming the Kumgangsan Tourist Region in 2002, a result of the deal made between Hyundai Asan (a branch of Hyundai, the South Korean conglomerate) and the North. Somewhat confusingly, the region is still occasionally included as part of Kangwon Province (as it is in this book), now that Hyundai Asan has no control in the region.
Mount Myohyang
Mount Myohyang, one of the five celebrated mountains of Korea, is the most accessible mountain area in the country, at only 150km by road from Pyongyang. While just about manageable to visit in a long day trip from the capital, spending one or two nights in this area, which roughly translates as 'the mountain of fragrance', is recommended. Although Mounts Paektu and Kumgang are arguably more attractive, they are of course harder to get to, so if you cannot get to those far-flung corners of North Korea, then it's worth making time to fit in Myohyang.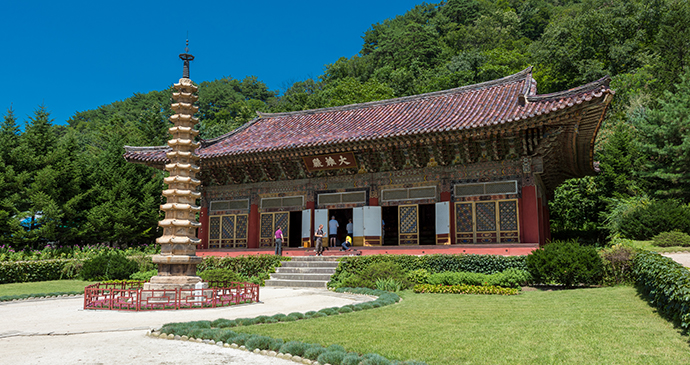 Pohyon Temple is one of the area's most interesting sights © Kanokratnok, Shutterstock
Rising to 1,909m above sea level, the mountain sits near the confluence of the Chongchon River and the Myohyang Stream, with its long main ridgeline slowly rising from west to east. While the entire peak occupies 375km2, the focus for visitors heading into the hills is on the four key valleys of Sangwon, Manpok, Chonthae and Chilsong, all of which are approached from the Myohyang Stream. Despite this, most visitors to the region will not explore the Myohyang massif in any depth, with the majority of those who venture here focusing on less arduous visits to sites such as the International Friendship Exhibition and the Pohyon Temple.
Mount Paektu
The prime reason for visiting the region is to come to Mount Paektu, or Paektusan as it is known to all Koreans. The importance of Mount Paektu in the DPRK cannot be emphasised enough, and local texts perhaps summarise it best: 'It is said that if one is to know Korea one must see Mount Paektu.'
The mountain, which rises up to 2,750m above sea level, is an active volcano and the highest peak in not just the Korean Peninsula but Manchuria also, as it sits on the border of both, with the summit, Janggun Peak, situated in and accessible only from the Korean side. The crater lake of Lake Chon, formed in AD946, lies in the caldera atop the mountain at an altitude of 2,190m. Further eruptions, the last in 1903, have occurred over the centuries and the mountain is studied by both domestic and foreign volcanologists, all trying to predict when the mountain may next blow its top. Alleged to hide in the depths of the lake, the Nessie-esque 'Lake Tianchi Monster' ('Tianchi' being the Chinese name for the lake) is believed by some to surface from time to time, but the jury is still out on that one. Still, with an area of just over 9km2 and a maximum depth of 384m, the lake is as good a place as any for a cryptid trying to keep a low profile.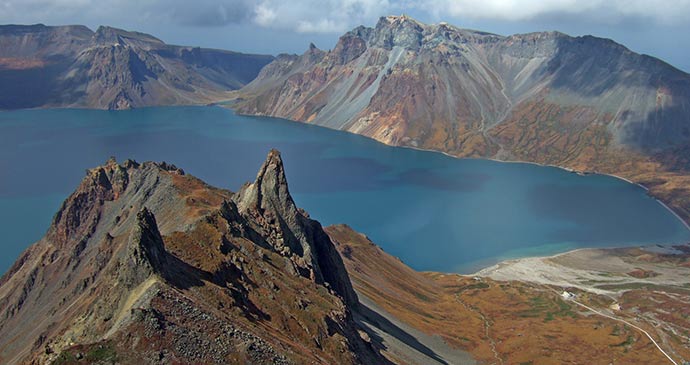 Mount Paektu is one of the most revered peaks in North Korea © Maxim Tupikov, Shutterstock
Geography aside, the mountain is considered a place of Korean ancestral origin and the birthplace of the legendary founder of the Ancient Joson Dynasty, Tangun Wanggeom, the grandson of heaven and son of a bear. While proof of his existence is very questionable, Tangun's 5,000-year-old bones and relics were discovered (yes really!) in 1993, in Pyongyang's Kangdong District. Fast forward 5,000 years or so, and the mountain has been used as the backdrop for more legends, with Paektu so steeped in revolutionary history that it is quite possible Korean People's Army divers will soon discover an Excalibur weapon of some kind, à la King Arthur, that Kim Il Sung carried in the vanguard of some campaign against the Japanese.
While accurate Soviet records will tell you that Kim Jong Il was born in Vyatskoye, near Khabarovsk in Russia, on 16 February 1941, all North Koreans will tell you otherwise – Kim Jong Il was born one year later on the southern slopes of Mount Paektu, in the Paektu Secret Camp. The region is littered with numerous 'secret camps'; formerly hidden military camps deep in the forest and mountains. It was at the camp, you will be told, that Kim Il Sung was headquartered from 1936 through to 1943, and also from where Kim Il Sung and his band of merry men frequently came out of hiding to deal repeated blows in hundreds of 'battles' against the Japanese who, despite their superior strength, lived in great fear of Kim Il Sung. The seeds of independence were literally sown on the legendary Paektu.
Endless tomes have been published in Pyongyang on the 'history' of the revolutionary struggle and anti-Japanese activities during the Japanese colonial war, and while the majority of it seems totally fabricated, some is indeed true. The Korean government, with total control over all facets of media in the country, has concocted such a fantastical tale that it has become, locally, undisputable fact. The region is therefore not just an area of outstanding natural beauty; it is the birthplace of the Korean people, of North Korea and of its former Dear Leader, Kim Jong Il. Mount Paektu is renowned locally as the sacred mountain of the Korean Revolution, and as such has become the Mecca of the DPRK.
Panmunjom
Nowhere so singly highlights this divided nation as Panmunjom, where, you will be told, the US forces, 'fell to their knees before the Korean people and signed the Armistice Agreement'. Panmunjom is actually a village just north of the border, but over the years it has come to be used as a metonym for what should more accurately be called the Demilitarised Zone (DMZ) and/or the Joint Security Area, the famous photographed spot where troops from each side glare and stare at each other, standing in the extreme reaches of their respective territory, the actual border: the Military Demarcation Line (MDL).
The three-year Korean War was one year of fierce fighting followed by two years of relative stalemate; though the fighting continued, little territory changed hands. By December 1950 the US was already discussing terms for an agreement to end the war, mooting at one point a 32km-wide demilitarised zone, but it was not until 10 July 1951 that armistice discussions started. Talks were originally held in Kaesong, in the possession of the North, but were moved shortly after to near Panmunjom, with the agreement that the protection of the area was shared by both powers.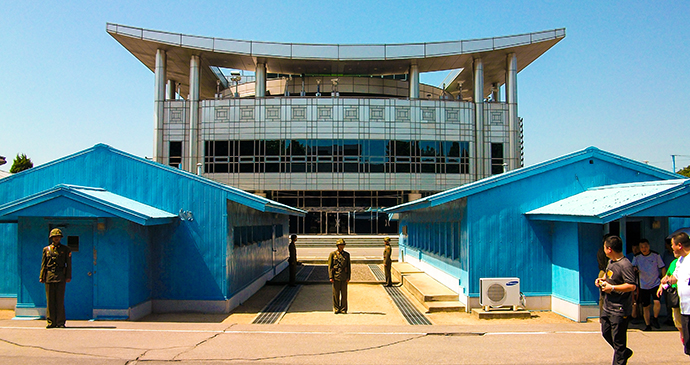 Panmunjom is the most heavily militarised border in the world © Chintung Lee, Shutterstock
The tense, painful and protracted meetings – 565 in total, comprising 227 liaison officer meetings, 179 subdelegate meetings and 159 plenary sessions – laboured over every point for a total of two years and 17 days, in which time the death toll continued to rise. The talks themselves were often a charade, with both sides engaging in time wasting and being deliberately obtuse, acerbic and venomous, such was the absolute aversion they had for each other. At last, on 27 July 1953 the armistice was signed. The North managed to paint the armistice as a victory, as while their original goal was to 'drive the enemy into the sea', in 1951 they quietly changed this slogan to 'drive the enemy to the 38th parallel', something they more or less achieved.
With the agreement signed, the Military Armistice Commission (MAC) was established to supervise the armistice, while the Neutral Nations Supervisory Commission (NNSC) was also set up to ensure both sides adhered to the finer points of two sub-paragraphs of an agreement that was understandably complex, to put it mildly. Both commissions still exist, but the passage of time has very much changed how things operate. Originally, an area called the Joint Security Area (JSA) was formed, a roughly circular enclave, approximately 800m in diameter, bisected by the Military Demarcation Line. This was envisaged as a neutral area, with free movement of both sides within the JSA; US and United Nations Command (UNC) troops could step into North Korean sovereign territory (and vice versa), as long as they stayed within the confines of the JSA. From 1953 to 1976 the JSA, despite perpetual tension, more or less functioned as a neutral zone, up until the Panmunjom Axe Incident resulted in the freedom of movement within the MDL ceasing. Since 1976 respective sides have stayed firmly on their own side of the border, save for when they have access to the huts that perfectly straddle the border, huts that are still in use to this day by both sides when they need to try and thrash out agreements on matters such as the 2018 Winter Olympics.
Today, in this sad place where, decades on, peace seems as far away as ever, crossing the border is impossible to all bar the very rarest of VIP delegations. No matter how small that little cement threshold appears, do not even think of trying to cross – it could well be the very last thing that you do; as the apt saying goes, 'the line between bravery and stupidity is so thin that you don't know you've crossed it until you're dead'.
Pyongsong
Capital of South Pyongan, Pyongsong is a mere 30km north-northeast from Pyongyang and was, for many years, considered little more than a sleepy satellite town. Thanks to its good rail connections with all corners of the country, however, this quiet town has grown over the last few decades to become a typical provincial industrial city and major transportation hub. Indeed, Pyongsong has fared better than many other cities in the post Kim Il Sung years; private enterprise, markets and the transit of all manner of goods has helped keep the city afloat, partly due to the comparative ease for traders to visit here when compared with Pyongyang (remember, freedom of movement in the country, particularly to the capital, does not exist).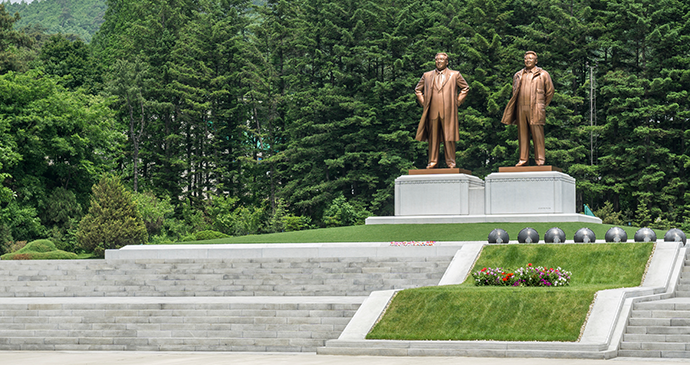 Twin statues are found in every town and city across the country, including here at Pyongsong © Torsten Pursche, Shutterstock
Of late, Pyongsong has developed into something of a scientific centre – North Korea's answer to Silicon Valley, with a good deal of modern apartment blocks being constructed recently for the 284,000 people that call it home, many of whom are employed by organisations such as the Space Science Research Institute and the Atomic Energy Research Centre. The city is also alleged to be responsible for a significant portion of the methamphetamine produced in the country, but the good people at the Pyongsong College of Science, one of the institutions accused of being involved in this illicit manufacturing, would of course vehemently deny this.
For many years, all that most people knew of the city was that it was the home of Ponghak, one of the most famous beers in the country; it was only in 2012 when it opened to visitors that they discovered there was more to Pyongsong than the two varieties of pale lager produced by the Ponghak Food Factory. OK – the sights to visit are still a little thin on the ground and similar, or better, examples may be found elsewhere, but Pyongsong has enough to keep visitors busy for half a day or so and will give an insight into life in lesser North Korean cities. Those not venturing further afield to more interesting cities such as Chongjin, Hamhung and Wonsan should well consider a visit.
Pyongyang
The very name 'Pyongyang' stirs up a range of evocative thoughts and images in the mind of almost anybody who hears it; while some may envisage it as a socialist Shangri-La, the majority sadly picture this misunderstood and secretive city, which is so rarely out of the news, as something diametrically opposite – as a city of 3.3 million deranged communist automatons. Vilified in the 21st century, the world's easternmost 'Axis of Evil' capital has struggled for years to accurately portray itself to the outside world, with the global media preferring to denigrate Pyongyang, as it does the entire country, rather than attempt to understand it, or approach it impartially.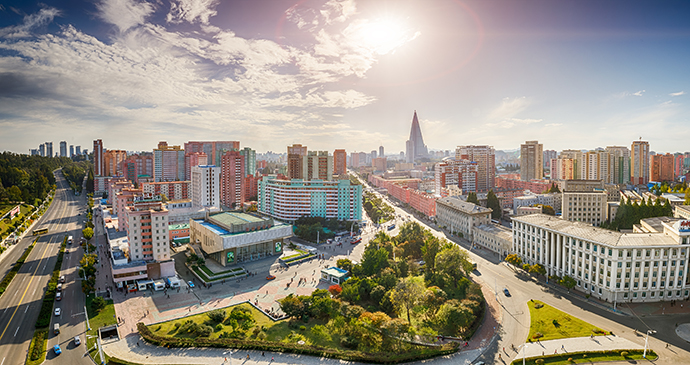 Pyongyang was designed as a workers' utopia © Truba7113, Shutterstock
This obsessively centrally planned city, where seemingly everything has its place and purpose, was designed as a workers' utopia and is the pride of North Korea, where Kim Il Sung was born, dreams are made and the former leaders are laid to rest. This is the epicentre, the beating heart, without which the nation could not survive. In 1953, following the destruction of the Korean War, Kim Il Sung strove to create what was – in his eyes – perfection from a near-blank canvas. The blueprint for this city was socialist-modernist, with wide streets, utilitarian high-rises, grandiose civic buildings and world-class public facilities, all complemented by parks and greenery. There is no denying that Pyongyang is impressive – there are few cities where the word 'unique' can so justifiably be used – but of course the original vision has not been completely realised, and if you look for faults you will find them in abundance. Still, there is a great deal to impress, charm and surprise in this mysterious capital, where the slight undercurrent of a Cold War atmosphere always prevails, injecting a permanent drip of adrenaline into every second spent in the city.
Under former dynasties and long before the devastation of the Korean War, Pyongyang was a walled city, and though today the walls that protect citizens from the outside are merely bureaucratic, they are just as insurmountable. Those that live in the capital are undoubtedly the chosen few – the lucky ones. Pyongyangites are largely blessed by their heritage; of the younger generations almost everybody was born in the city, incongruous to most Asian cities where rural–urban migration is a pressing issue. Owing to their Songbun (social class), Pyongyangites have poor knowledge of what lies beyond their sanctuary, just as those in the hinterlands have little knowledge of life in the ivory tower of the capital. Pyongyang is not North Korea – it is the emerald city that everybody else in the country strives to reach. To see only the capital, with its bombastic monuments and monumental edifices, will give an unbalanced view of the country as a whole – but to see it is truly something to behold.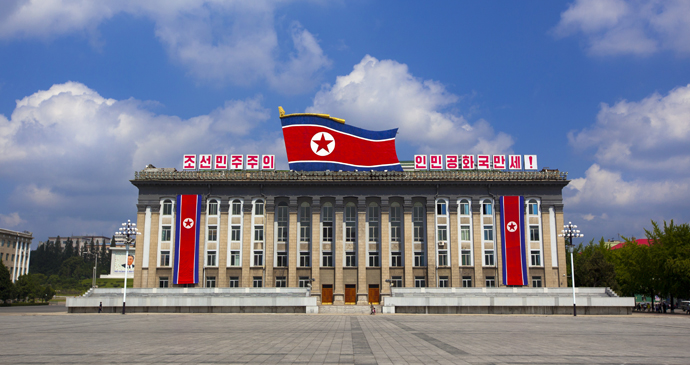 At the centre of the city, Kim Il Sung Square is a huge open plaza of 75,000m² of granite © Eric Lafforgue
Should you be mature in years and fortunate enough to have visited the USSR in the 1960s, China in the 1970s or Albania under Hoxha you may have an idea of what to expect; but for the rest of us Pyongyang is the last city standing, a relic of communism that soldiers on while almost everywhere else has moved on – in many ways feeling more akin to a dystopian city from celluloid than an actual place you'd expect to find here on earth. But change is coming – streets that were devoid of traffic a few years ago now have cars, shops with once-barren shelves are now full of goods, and a small but growing middle class show us that while all Pyongyangites are equal, some are more equal than others. The Pyongyang of tomorrow may well be a better place than it is today for the millions who call it home, but the Pyongyang of today could not be more fascinating. An increasingly electric atmosphere fills the city, as if after decades in the wilderness the prospect of real change is just around the corner, one that will define the Pyongyang, and North Korea, of tomorrow. Whatever the country becomes in the years to come, it appears unlikely that it will be of the nature envisaged back in 1948, when the country was founded with the help of Georgia's infamous hot-headed son, Joseph Stalin.
Rason Special Economic Zone
The 746km2 Rason Special Economic Zone lies in the extreme northeast of the country, bordering China and Russia. This curious corner of an already bizarre nation came into existence in 1991 when Pyongyang, in reaction to the economic reforms that were taking place in China, decided to flirt with trials of a more open
financial system. As global communism essentially collapsed and economic chaos was unleashed from the Baltic Sea to the Bering Strait and beyond, Pyongyang's main trading partners fell, one by one, by the wayside. The Cold War was over and old allies were embracing a new economic era: capitalism.
While many of these former communist nations went through an economic 'hard landing' in the 1990s, the DPRK, as with nearly all things, decided to try and usher in these much-needed changes under draconian controls. Rather than roll out nationwide reforms it was decided that a litmus test was required, something that the old guard in Pyongyang would be able to swallow – and where better to trial a more open system than in the remote northeast. With the gift of hindsight, we now know that the attempt at these reforms in the wake of communism's global collapse was too little, too late: North Korea went through the hardest landing of all in the 1990s, decimating the country. The counties of Rajin and Sonbong (the name Rason deriving from the 'Ra' of Rajin and 'Son' of Sonbong) were part of the economic basket case that was North Hamgyong until this special zone came into existence.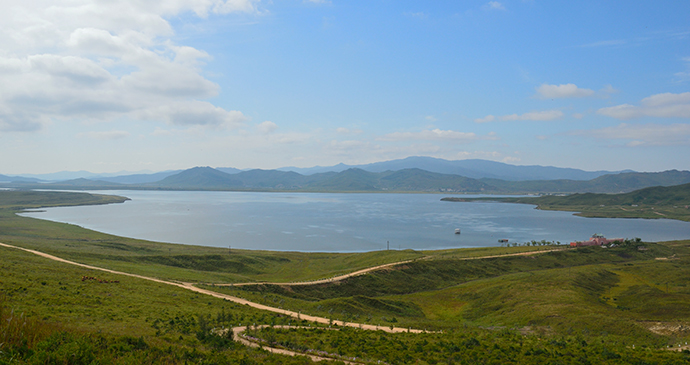 Rason is home to some of North Korea's finest lagoons, beaches and hills © Carl Meadows
On paper, Rason offered everything to seemingly keep all parties happy: a distance from Pyongyang; a rail link with Russia; an ice-free port; and a border with China's Yanbian Korean Autonomous Prefecture. A good analogy for the aim of Rason is to compare it with how things work in China and its Special Administrative Regions of Hong Kong and Macau. Rason, like Hong Kong, has, on paper, some form of semi-autonomy with different laws, rules, regulations, customs and visa requirements from the rest of the country which all, purportedly, make it more open for business with the outside world than the rest of the country. Separated from the rest of the country, a country within a country almost (with a border fence to prove it), Rason opened for investment. Of course, little came. Foreign speculators would be taking major risks by investing here, and the majority of the 'businessmen' that can be found here today would be called 'traders' by most. Yes, some business has come; the Russians have been trickling money into developing the rail infrastructure and the aforementioned ice-free ports, while China, Mongolia and others have dipped their toes into certain other waters, but most of the business is still small scale and speculative, with many of those who have decided to try their luck in Rason having political or ethnic ties to the DPRK.
While Rason strives to become a bustling hub of business in this self-proclaimed 'Tuman Triangle', where China, Russia and the DPRK meet along the Tuman River, it is, in reality, a sleepy and picturesque corner of the country, with some of North Korea's best sandy beaches, photogenic lagoons and green hills, all of which can be visited with relative ease. The atmosphere is different here, somewhat more relaxed, and the different setup for tourists makes a visit to Rason of particular interest to those who may have already been to North Korea and want to see an alternative version of how things could be. While three or so days is more than enough time for most visitors, the relaxed nature of the zone does allow for the possibility of longer leisurely trips – perhaps to soak up the summer sun or to focus on special interests, such as cycling and fishing.
While Rason may be rooted to its two namesake counties, both of which having a town of the same name, Sonbong is a lethargic underling compared with Rajin, which is the only town of real note. Accordingly, Rajin is the logical base for exploring the region, as any corner of Rason can be visited from here on a day trip. More of a town than the city it strives to be, central Rajin is quite walkable, although you will likely be obliged to drive from point to point. Being an autonomous capital of sorts, Rajin is slowly being upgraded and now has, by North Korean standards, a comparatively affluent air about it. The town develops from one year to the next as money, particularly from China, comes in. The state too now affords Rajin with more importance than it may have had in the past; the bustling Rajin Market and showcase foreign-language school highlight that Pyongyang may not be completely closed to the idea of rolling out wider economic reforms. Life here may still be hard, but on the face of it few North Koreans will have seen such an improvement in their lives over the last 30 years or so as those of Rajin have done, as it has transformed from being a remote backwater to being admired, somewhat begrudgingly, by the top-of-the-pile Pyongyangites.
---
Related books
Related articles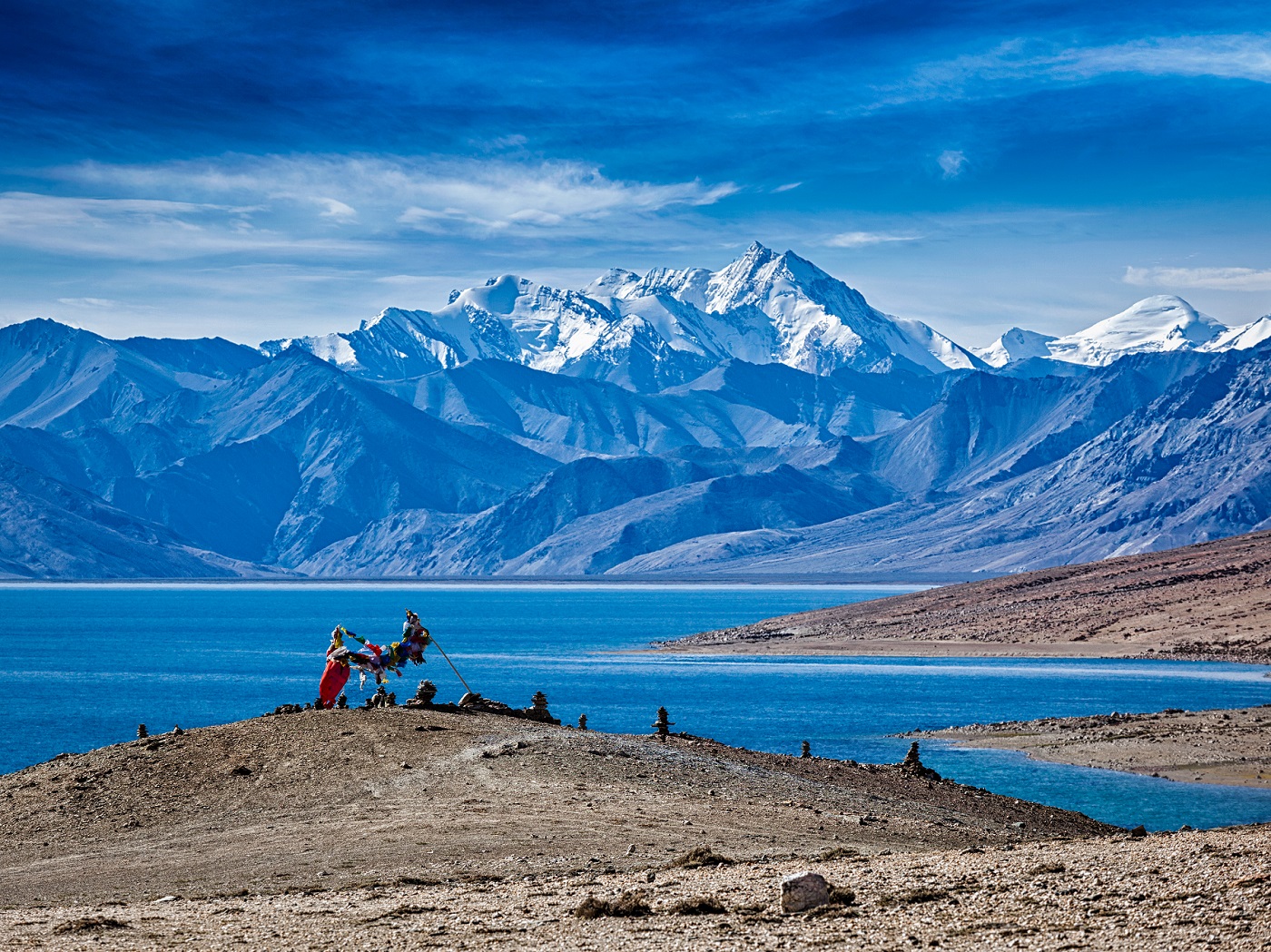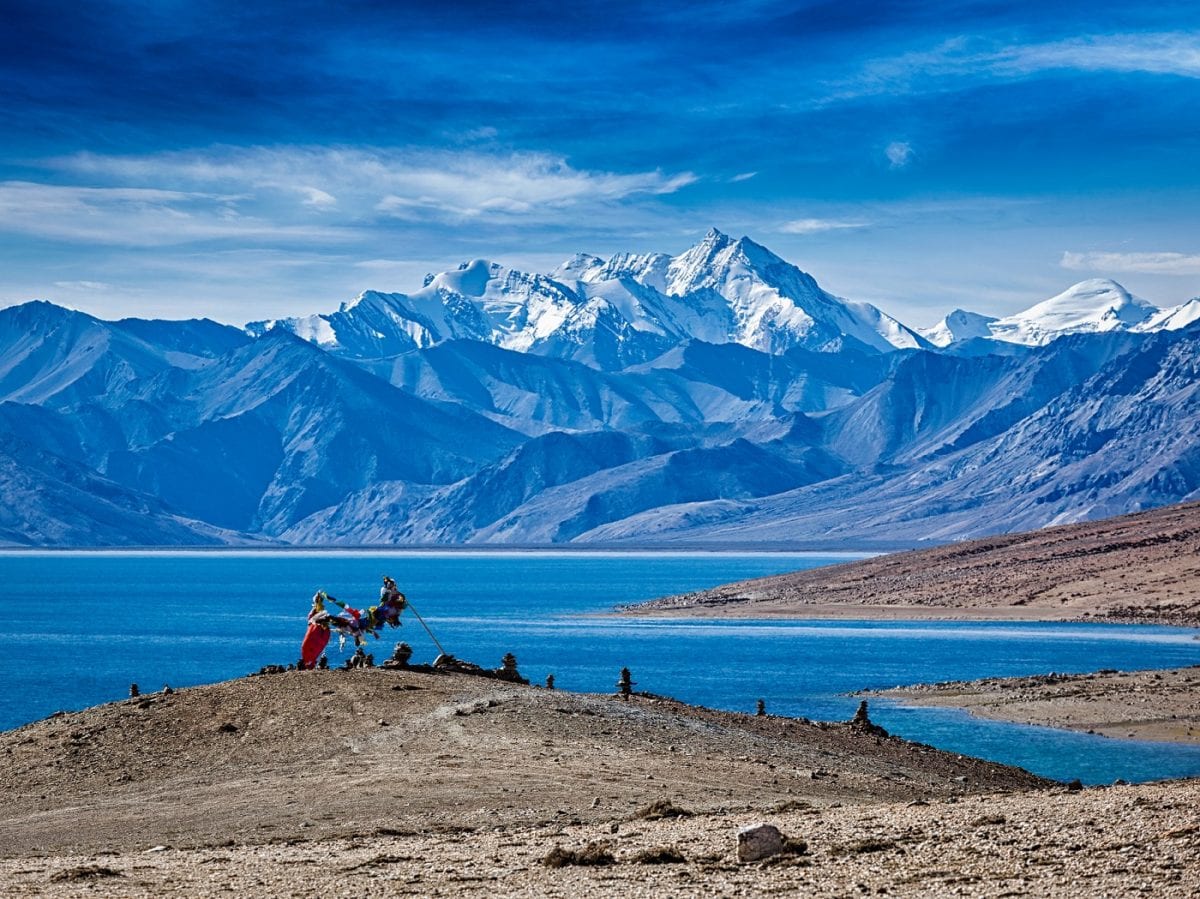 From boiling lakes to vast alpine bodies of water, these are our favourite lakes from around the world.