Dominica has seen both sides of the coin when it comes to nature: while it has become well accustomed to its beauty, it has also seen its wrath. Hurricane Maria devastated the island in September 2017, destroying approximately 80% of Dominica's buildings, roads, bridges and utilities, and ravaging its once-dense rainforests.
Today, however, thanks to the generosity of the international community and the fertility of its land, most visitors would never know what happened. The hurricane lives on in occasional unrepaired buildings – now ruins succumbing to vines – in memories and nightmares, and in Dominica's cultural landscape.
The Waitukubuli Artist Association (WAA) was formed just before the hurricane and came into prominence in its aftermath. This dynamic collective of young local artists drew inspiration from the devastating power of nature, capturing this moment in history by portraying images of rural and urban scenes of both destruction and survival.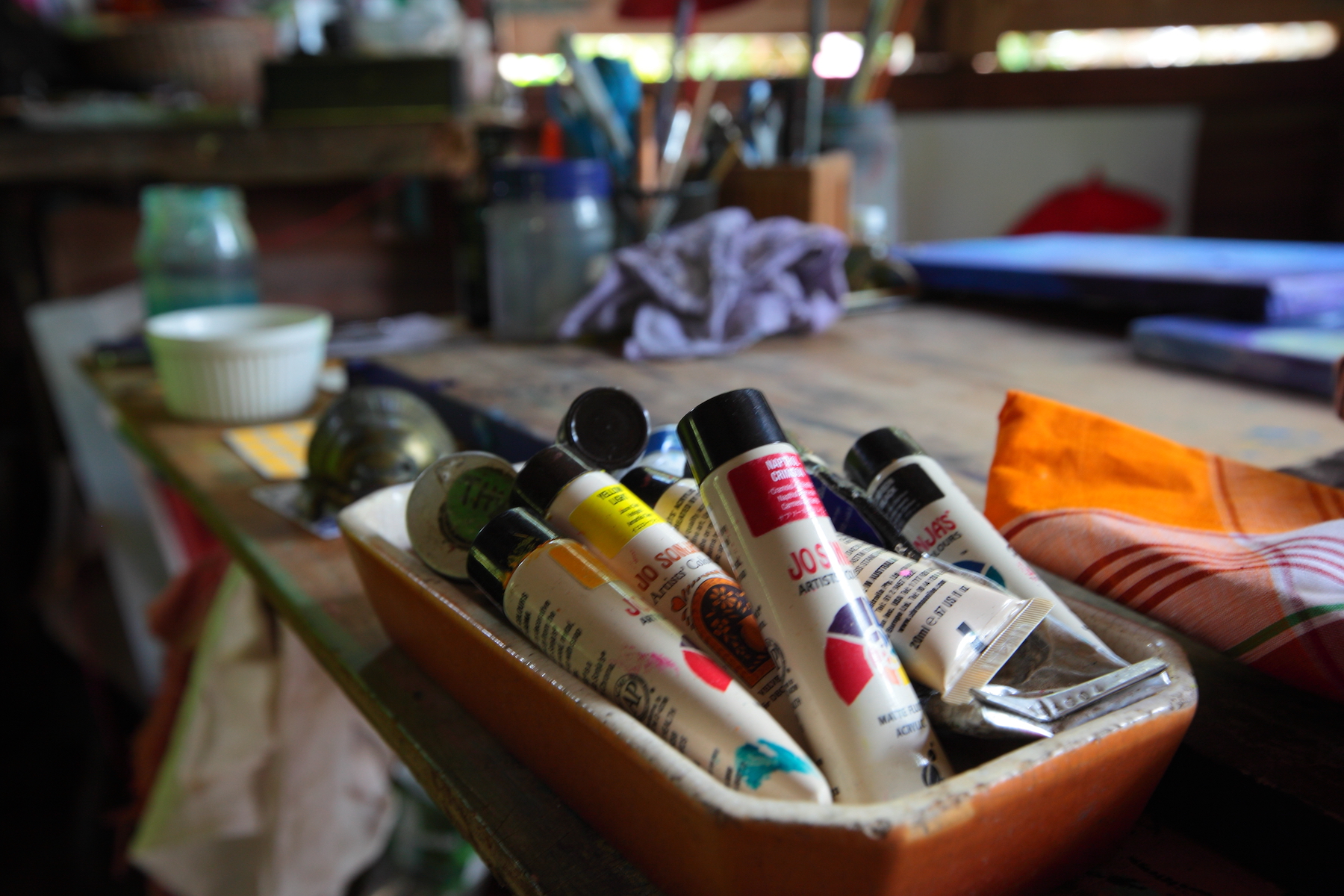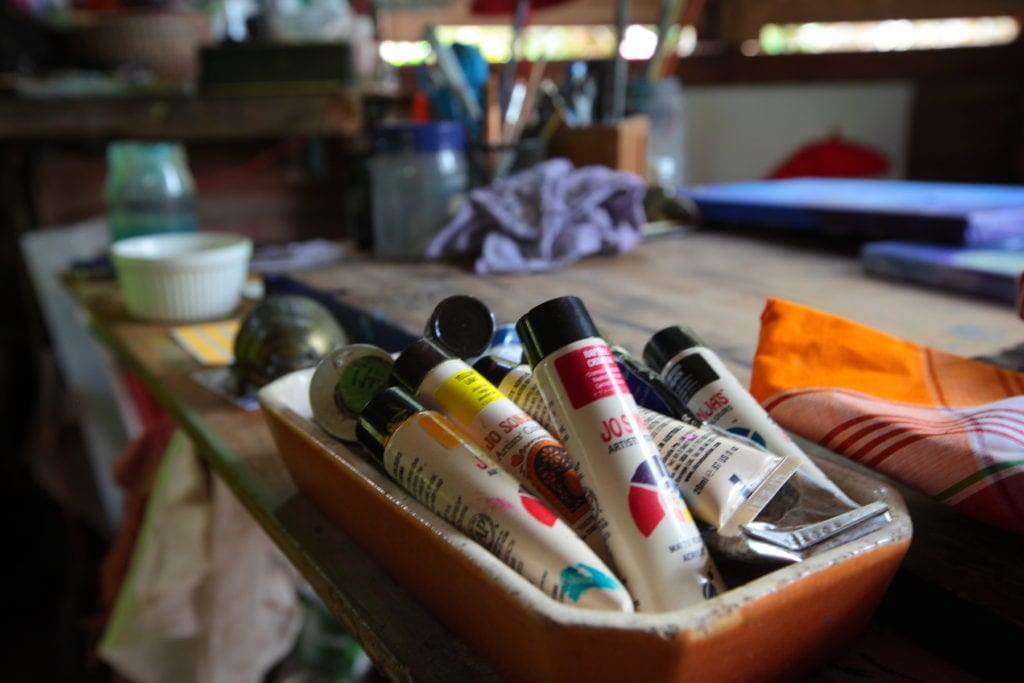 As Dominica's revival began, the beauty and fertility of nature took centre stage, and the group set about painting inspirational murals all around the island, as well as hosting exhibitions of their burgeoning portfolio of work. Membership grew, with the group appealing to creatives from all four corners of the island who had never previously had an outlet, nor an opportunity, to share their work. Ironically, Dominica's local art scene began flourishing because of the worst natural disaster in living memory.
Sometimes travellers arrive in Dominica and love its natural beauty and simplicity so much that they decide they want to pack up their lives and come and settle here. Dominica is not as 'developed' as its island neighbours – it has no large, air-conditioned shopping malls, designer boutiques or large all-inclusive beach resorts.
Its interior is crowded with forest-covered volcanoes, rivers and waterfalls, and its relatively small population inhabits compact coastal towns and fishing and farming villages that are dotted around the forest margins. A growing number of artists from Europe and the Americas have made Dominica either their new or second home, finding inspiration in the island's terrain and a down-to-earth lifestyle.
But there's another aspect of island life visible in the country's artworks. Caribbean Creole culture is a product of the Atlantic slave trade, when enslaved Africans adopted some of the customs of European estate managers and their families and merged them with their own traditions.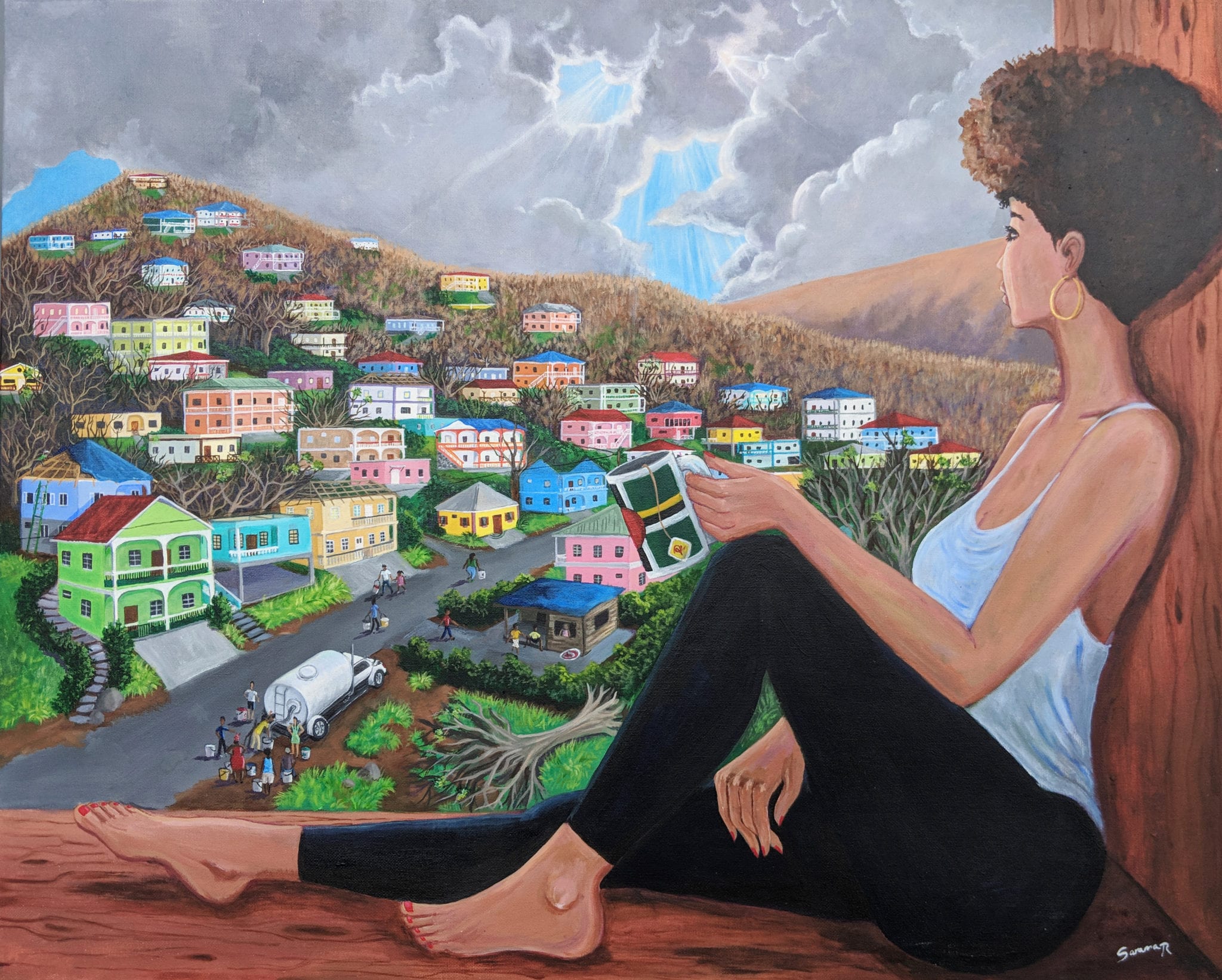 In Dominica's case, the biggest European influence was France, due to the proximity of its two island neighbours, Martinique and Guadeloupe. Despite the tragedy of its origins, all three isles share a similar French-Creole culture, even today. It is the foundation for traditional cuisine, music, dance, dress and language, and also plays an influential role in some of Dominica's most striking artworks.
Dominica's dramatic, unspoiled landscapes coupled with its Creole heritage provide a wealth of inspiration for home-grown and visiting artists. For visitors wishing to experience some of the island's finest, the Old Mill Cultural Centre on the outskirts of the capital, Roseau, displays a wide selection of paintings – especially by members of the Waitukubuli Artist Association – and also hosts regular exhibitions featuring the works of individual artists.
Some more local and expat artists worth seeking out include the following:
Earl Etienne
Earl is Dominica's most famous painter of Creole tradition, and his depictions of bélé dancers dressed in madras (injiri cloth from India, made its way to and worn by Igbo women in Nigeria) and wob dwiyet (a combination of European and African dress) costumes are much loved and sought after.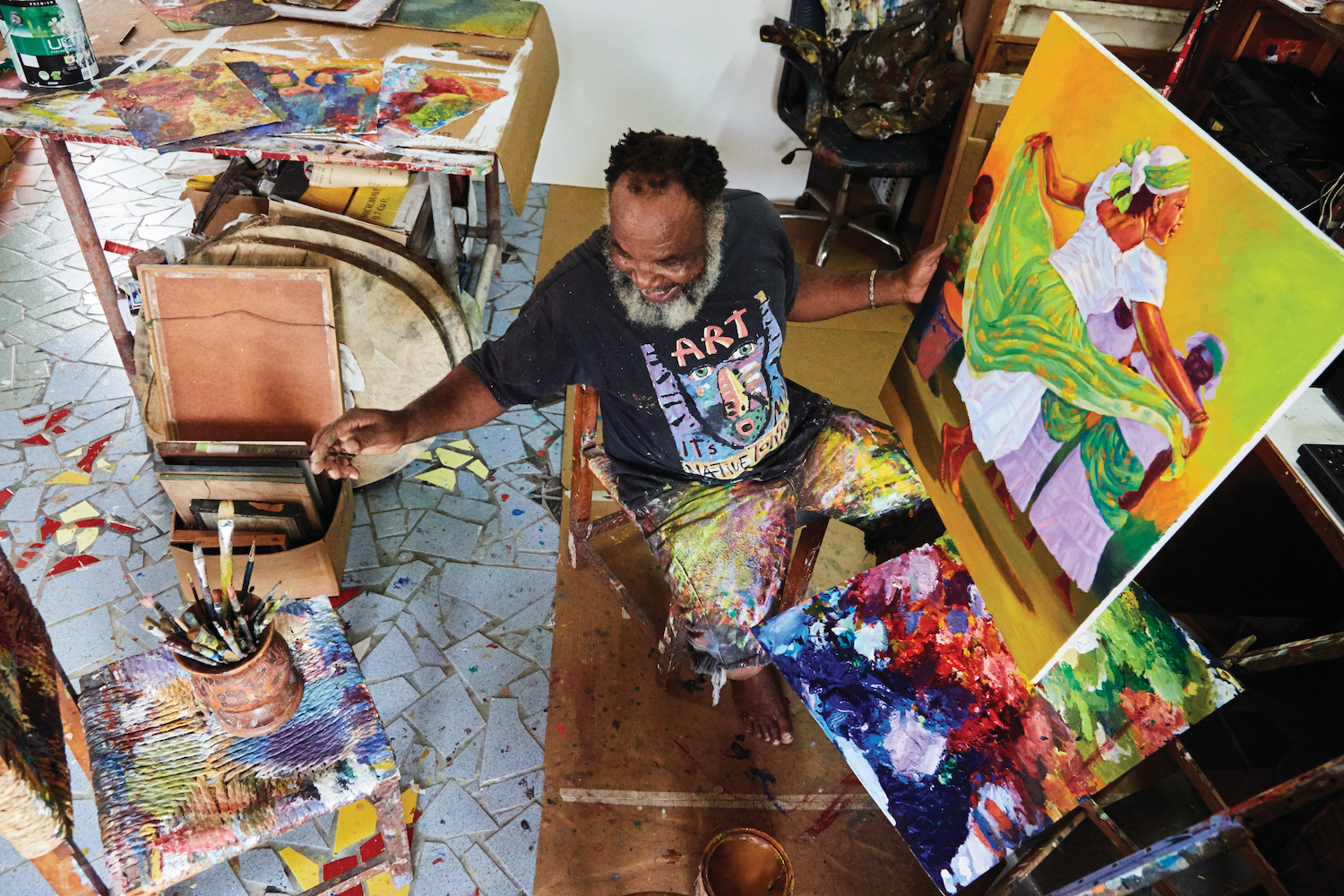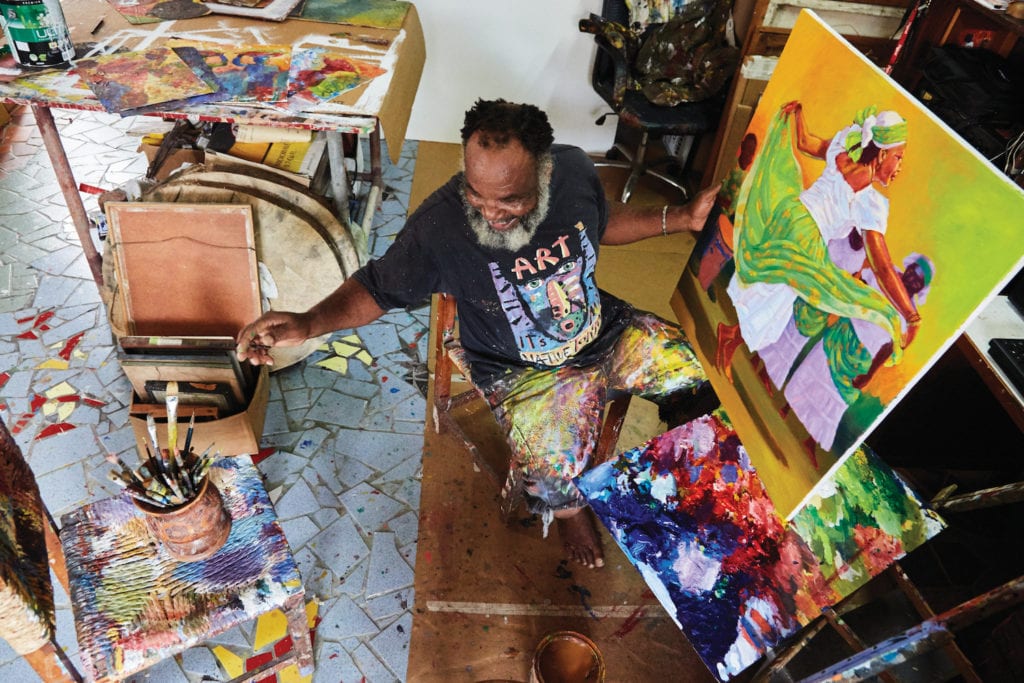 His studio, Art Asylum, in the village of Jimmit on Dominica's west coast, is a treasure trove of fabulous paintings.
Lowell Royer
The nephew of Earl Etienne, Lowell attended the Edna Manley School of Visual and Performing Arts in Jamaica before returning to his homeland where he is a noted artist and inspirational member of WAA.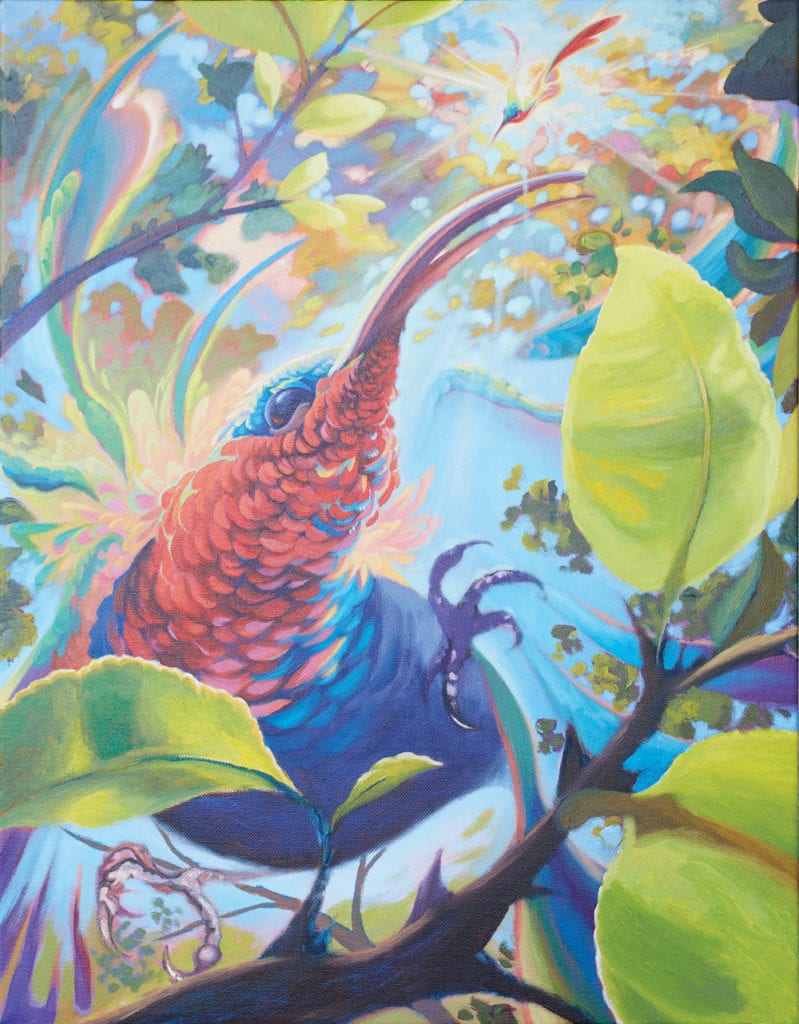 His work is diverse in style, inspired by his natural surroundings.
Aaron Hamilton
A self-taught artist and member of WAA, Aaron's portfolio is diverse and impressive.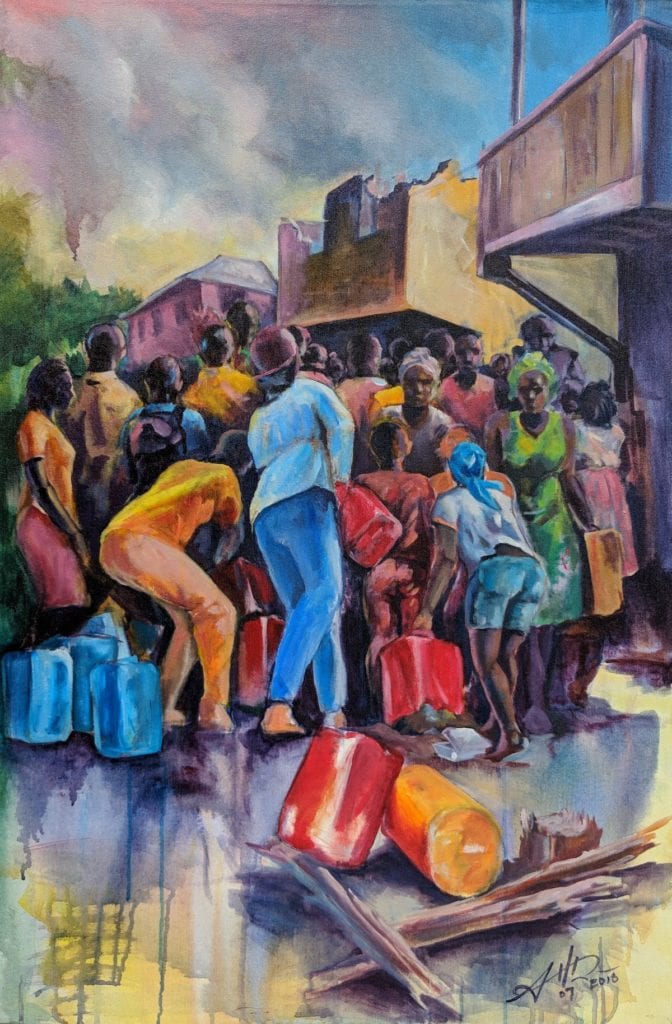 Perhaps his most moving paintings are those that were inspired by Hurricane Maria in 2017.
Michelle Murphy
Originally hailing from Philadelphia, Michelle ended up in Dominica after travelling and creating art in South and Central America.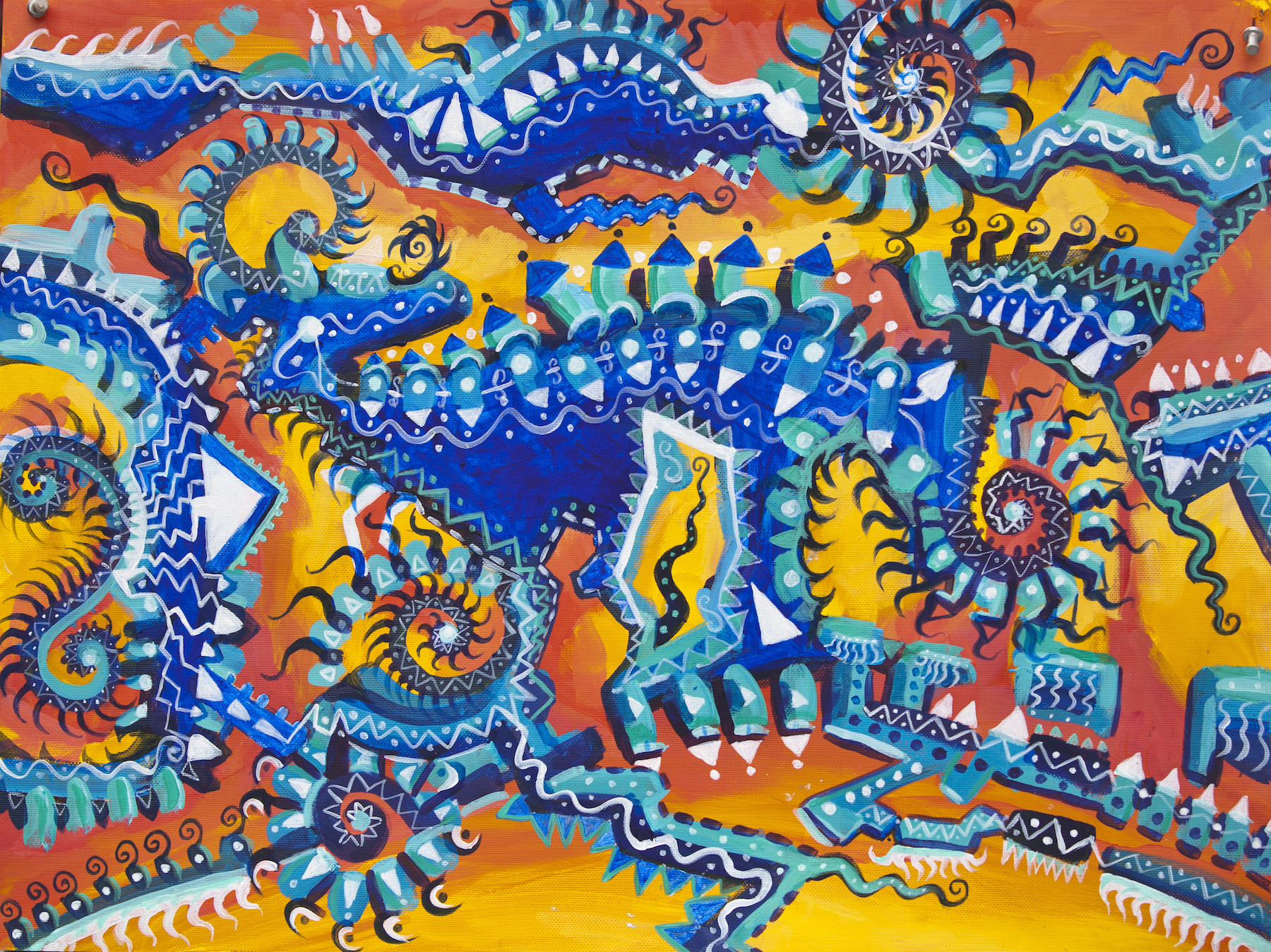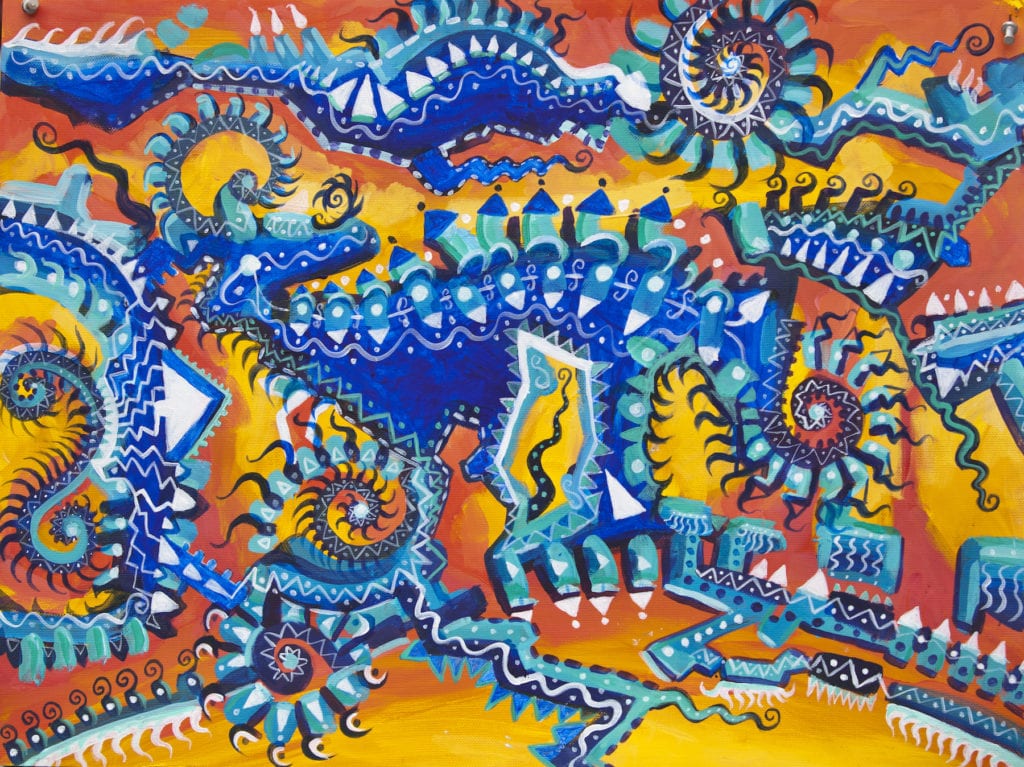 Her fascination with Dominica's cultural landscape and diverse flora is a reflection of her other profession as a landscape gardener, and she paints vibrant pictures of tropical flowers and coastal scenery around her home at Pointe Baptiste in the north of the island, noted for its spectacular and otherworldly red rock cliff formations.
Annika Wide
Known more for her illustrations and sculptures back in Sweden, Annika has produced many beautiful acrylic paintings of flora and fauna.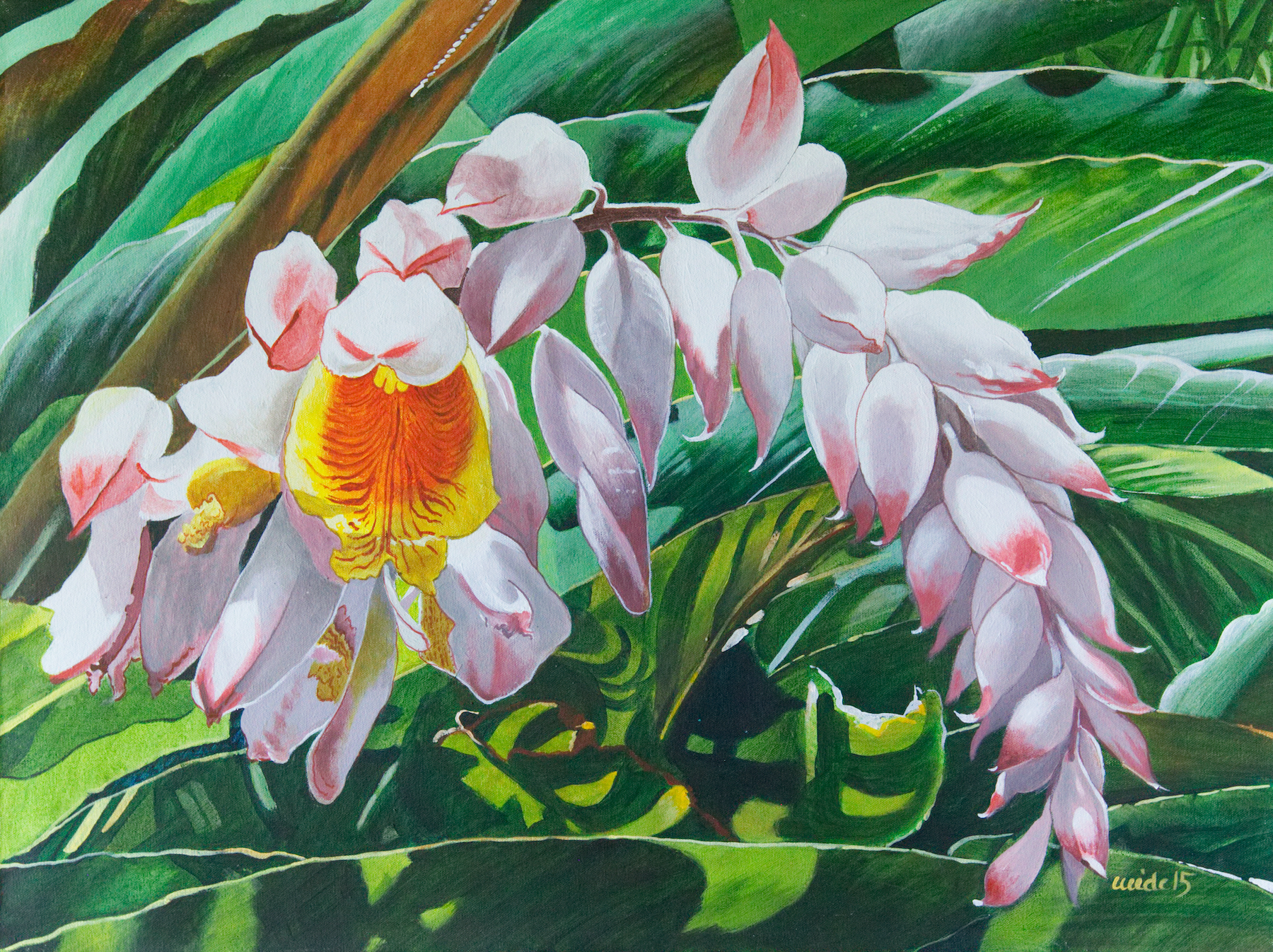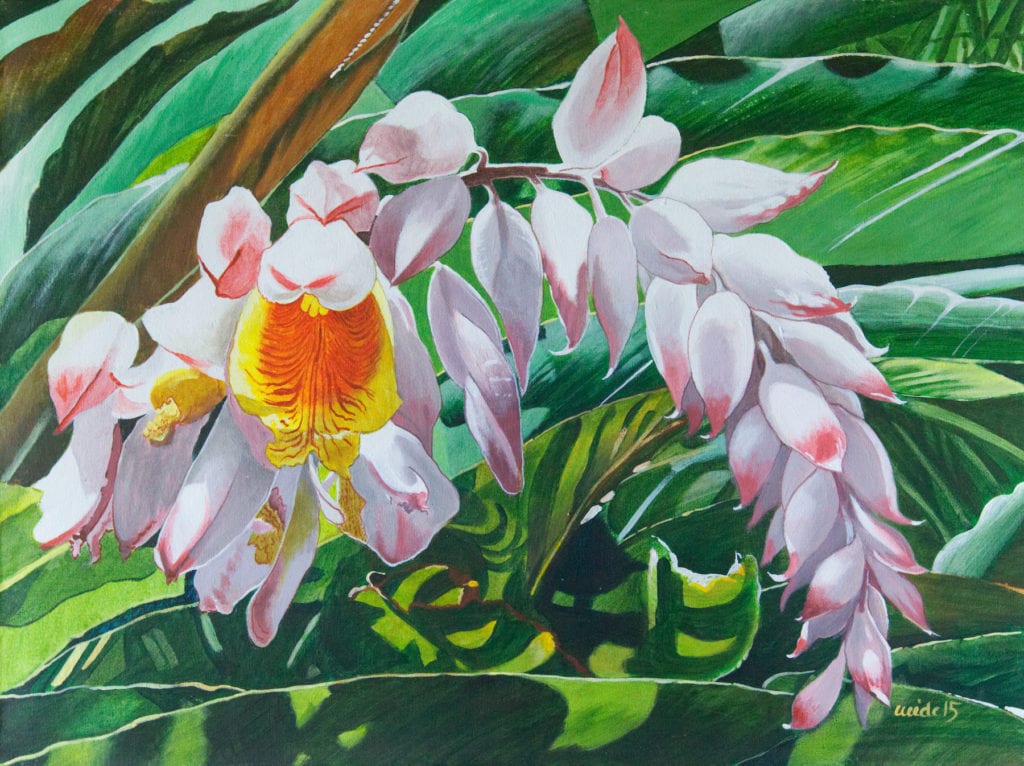 Her range of portraits are typically set in the village of Savanne Paille on Dominica's west coast.
Marie Frederick
Born in Deauville, France, Marie found herself falling in love with and settling in Dominica. Her treehouse studio is called Indigo and it can be found in the northern village of Bornes.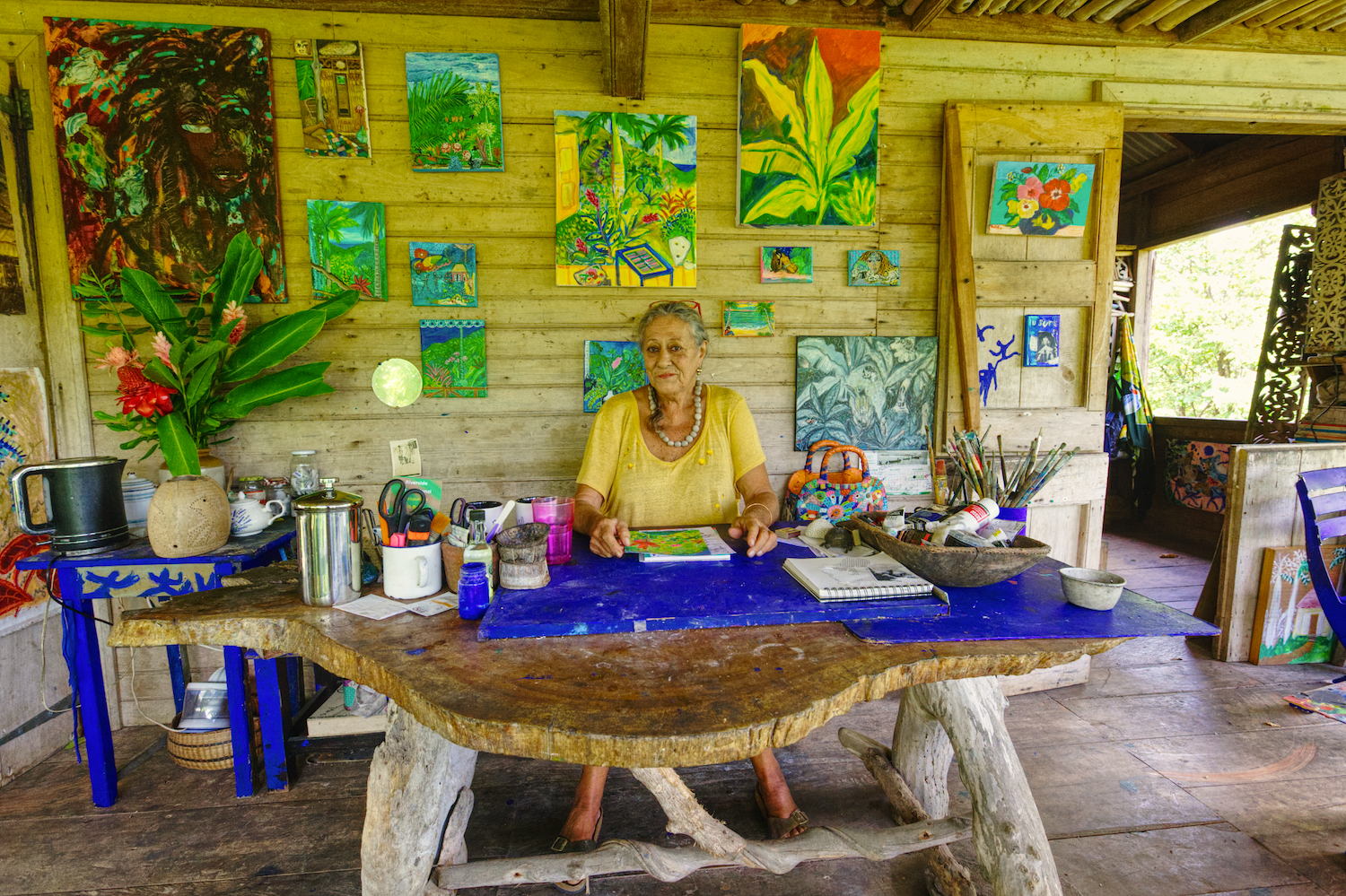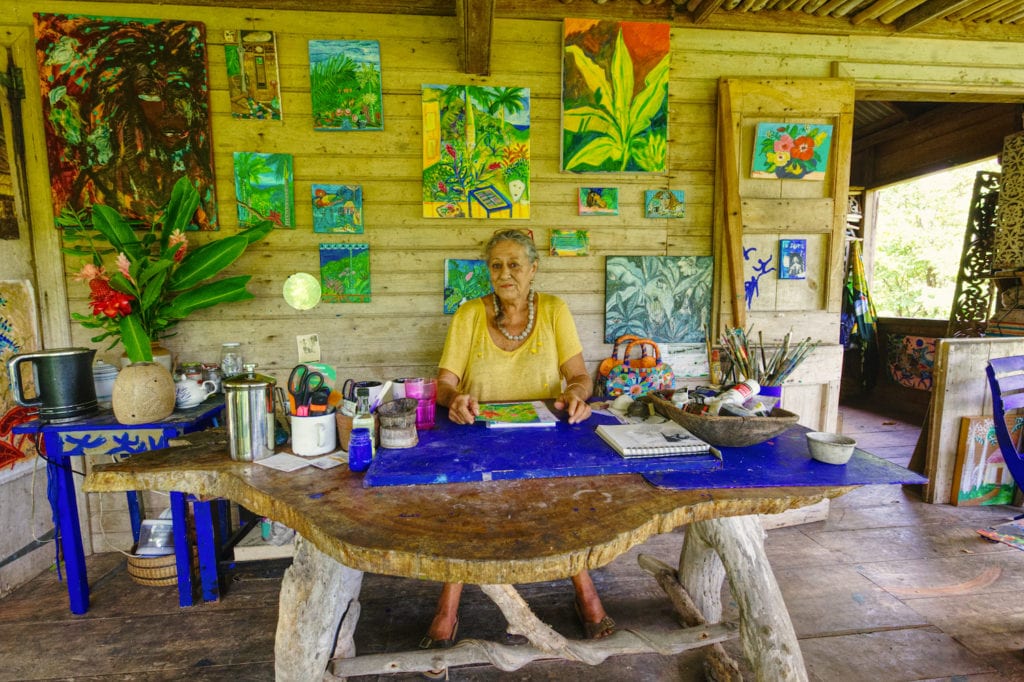 Described as fauvist in style, Marie Frederick's colourful acrylic paintings combine nature and cultural heritage in scenes of everyday village life.
More information on Dominica's cultural landscape
For more on Dominica's cultural landscape, take a look at Paul's guide: