Written by Bradt Travel Guides
There are few places left that feel so pristine and remote as this undiscovered corner of South America, where nature is largely raw and unaltered. A lack of interior development has allowed Guyana's unique geography – coastal waters, mangroves, marshes, savannahs, mountains and tropical rainforests – to support a range of ecosystems that widely remain in an untouched natural state. Guyana's tourism offerings are largely nature-based and ideal for discerning visitors who like a sense of adventure with their travels – so what are its must-sees? Here are six of Guyana's top natural attractions.
Kaieteur Falls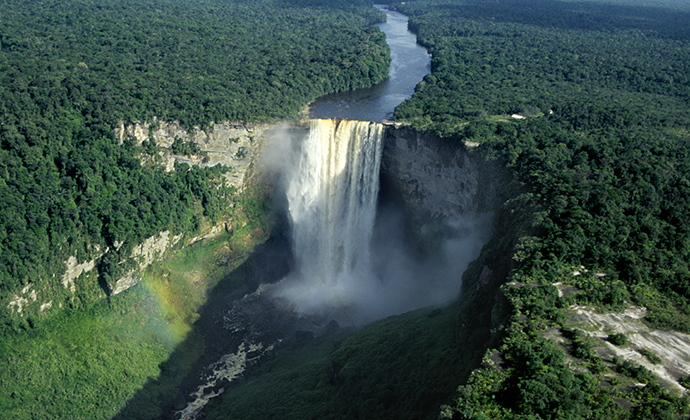 The sheer size and power of Kaieteur Falls is a stunning sight © Fotonatura, Guyana Tourism Authority
Kaieteur Falls is the jewel in Guyana's scenic crown. During its peak, some 660m3 of water cascades over a 226m-sheer drop every second, making Kaieteur Falls one of the world's largest and most powerful single-drop waterfalls. The beauty of Kaieteur Falls lies in its sheer size and power – during the rainy season, watching 30,000 gallons of water per second flow over the nearly 122m-wide edge is a stunning sight and sound – but also lies in its raw state – the isolated location of the falls has kept much development at bay. There are no guardrails, let alone kitschy tourist shops (or any tourists really). Nature, by and large, is left undisturbed.
Shell Beach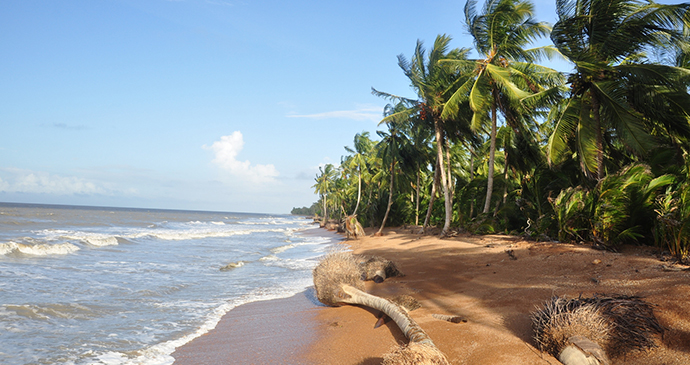 Leatherback, green, hawksbill and olive ridley turtles can be found nesting on Shell Beach in spring and summer © Marco Farouk-Basir, Wikimedia Commons
This 145km stretch of beach is the main reason people find themselves planning a trip to this region of Guyana, but visitors don't just come for the endless expanse of unspoiled Atlantic coastline; they come hoping to see a prehistoric sea turtle crawl ashore and lay her eggs. From March to August, Shell Beach, this undeveloped beach in northwestern Guyana, becomes the nesting ground for four of the world's eight endangered species of marine turtles. Unfortunately, in 2017, the beach was closed to tourism following serious flooding and coastal erosion; for up-to-date information go to www.nre.gov.gy.
Iwokrama Forest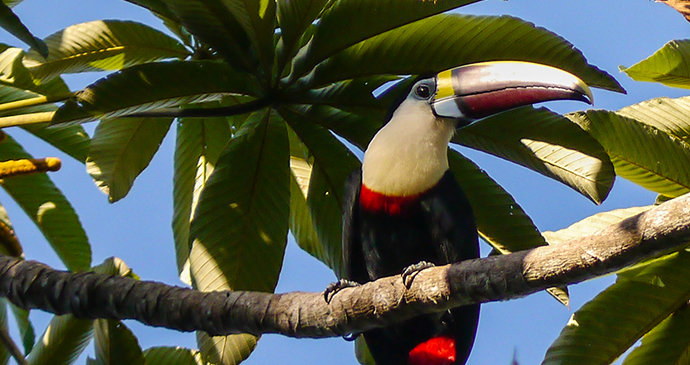 Red-billed toucans can be spotted in the rainforest canopy © M M, Wikimedia Commons
Iwokrama International Centre for Rainforest Conservation and Development encompasses close to 371,000ha of pristine Guiana Shield rainforest that serves as a living laboratory for scientific research, ecotourism, and sustainable tropical forest management. Located in the heart of Guyana, the Iwokrama Forest has an amazing cross-section of Guyana's biodiversity, including over 1,500 species of flora, 200 mammals, 500 birds, 420 fish and 150 species of reptiles and amphibians. One of the highlights of Iwokrama is the canopy walkway, a series of suspension bridges and viewing decks up to 30m above the rainforest floor and 154m in length. It's a unique opportunity for visitors to immerse themselves in the mid-level canopy of the forest.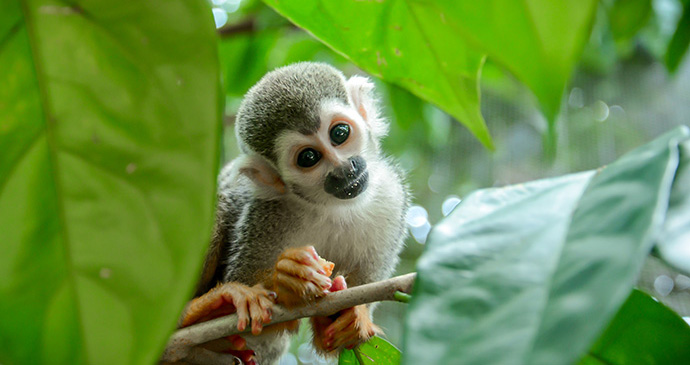 Most mammals spotted in the forest will be primates, including families of squirrel monkeys © Hisham Abdullah, Shutterstock
Essequibo River
Running the entire length of the country, the Essequibo River is a must-see for visitors © Guyana Tourism Authority
The Essequibo River is South America's third-largest river and runs the entire length of Guyana. From its humble source in the Acarai Mountains along Guyana's southern border with Brazil, the Essequibo River flows north for more than 966km – winding, twisting and roaring through savannahs and tropical forests along the way – until its mouth opens up some 32km in width and it spills into the Atlantic Ocean. Visitors can rent houses along the river and take boat trips in search of black caiman, tree boas and capybaras.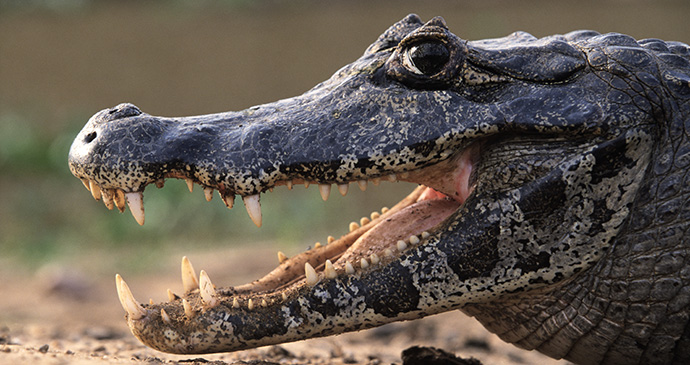 The Essequibo River is home to a healthy population of black caiman © Fotonatura, Guyana Tourism Authority
Rupununi Savannahs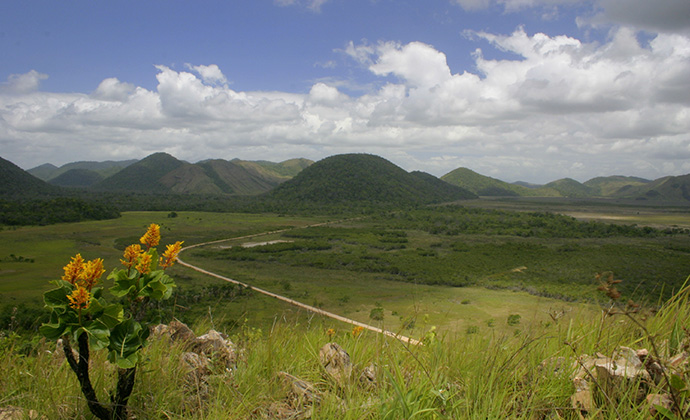 The Rupununi Savannahs are one of the most untouched areas of the world © Dwayne Hackette, Guyana Tourism Authority
In an area of the south, Guyana's forest ends, and does so abruptly. One moment you're driving through a sea of green that surely stretches into eternity, and the next moment it stops and spits you out into vast savannah lands resembling East Africa. Welcome to the Rupununi, the other half of Guyana and one of the most untouched areas in the world. The Rupununi Savannahs encompass roughly 13,000km2 and cover a significant portion of southern Guyana and parts of northern Brazil. Within the Rupununi Savannahs there are some of the world's most biodiverse wetlands, rainforest-covered mountains, endless freshwater river systems marked by strands of palms in the middle of grasslands, Dr Seuss-like termite mounds, sprawling Amerindian villages and cattle ranches steeped in history.
Rewa River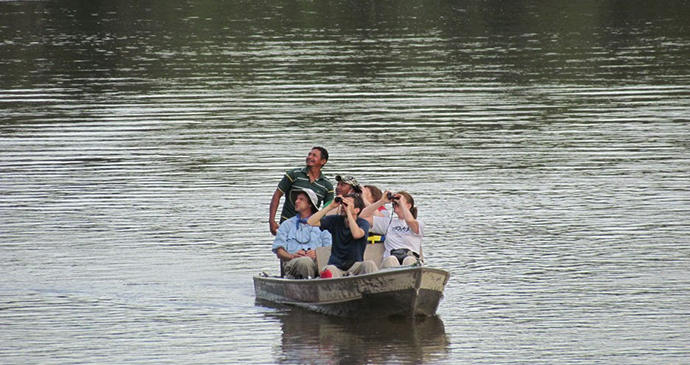 The Rewa River is renowned for its excellent wildlife viewing © Courtesy of Wilderness Explorers
Located in the heart of the Rupununi Wetlands, as well as being surrounded by pristine rainforest, Rewa is a great destination for ecotourists looking to get off Guyana's beaten path. The Rewa River is renowned for the excellent wildlife viewing. The area offers visitors one of the best chances of seeing many of Guyana's great mammals, including jaguar, ocelot, tapir, capybara, brocket deer, giant armadillo, peccaries and seven different monkey species. In the rivers there are healthy populations of giant river otters, black and spectacled caiman and giant river turtles.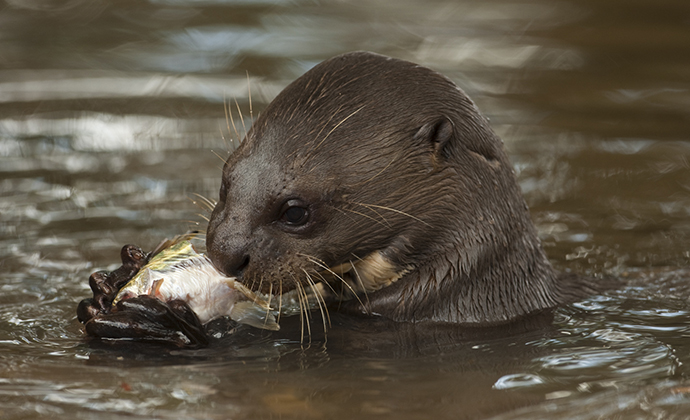 Giant otters are often seen in groups of five or more on remote rivers and lakes © Guyana Tourism Authority

---
To discover more of Guyana's flora and fauna, check out our new guide here: