For the first-timer, a visit to Exmoor National Park can verge on overwhelming. A melting pot of landscapes and history, there's almost too much to see – and that's just in the region's open-air spaces. Don't worry, though: we've got you covered with our list of the best outdoor activities Exmoor has to offer. By familiarising yourself with a few of the following sights, you'll be feeling at one with the region in no time!
Wimbleball Lake
East of Dulverton is the huge expanse of water that is Wimbleball Lake. This reservoir has been developed into a country park with all sorts of water and land activities in pleasant surroundings. Above the lake, networked with paths and beloved of dog walkers, is the gorse- and heather-covered Haddon Hill with splendid views over the reservoir and beyond, and a rewarding walk down to Wimbleball and through woodland along the River Haddeo.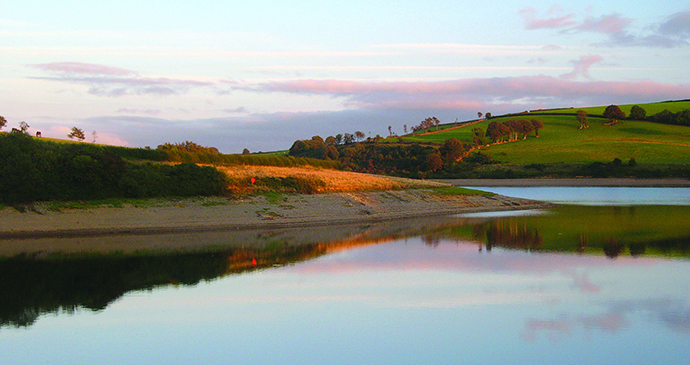 Wimbleball Lake is all about watersports. It's the leading centre for freshwater activities in the region, and you can learn just about any water-based sport here (kayaking, canoeing, stand-up paddleboarding, sailing and windsurfing), or you can hire a rowing boat or dinghy. There's also a fish farm so you can try angling for trout. If you don't want to go in or near the water there's archery, as well as climbing and high ropes, which have been described as aerial trekking.
Dunkery Beacon
Above Horner Woods the moorland stretches in purple swathes towards Dunkery Beacon, at 1,703 feet the highest point in Exmoor. From August to mid-September, when the heather is in bloom, this is the most beautiful heathland. Few other places on Exmoor have so much heather, nor such a satisfactory contrast with the green, chequerboard fields in the valleys and the sea beyond. On a clear day you can see the mountains of Wales.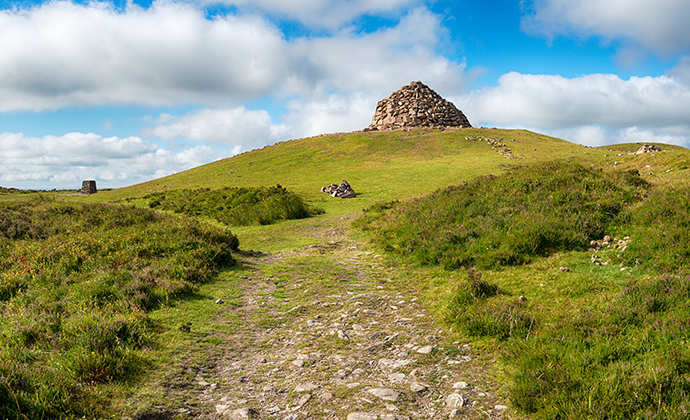 For keen walkers there's the long ascent to Dunkery Beacon from Horner or Webbers Post, but most visitors avoid the hard slog by taking the almost level track that leads off from the lane that runs between Luccombe and Wheddon Cross. There's a small parking area at Dunkery Gate (roughly postode TA24 7AT) and the walk to the Beacon will take only 15 minutes or so.
Tarr Steps
This is a beautifully preserved clapper bridge over the River Barle. Some say it's over a thousand years old but it's more likely to date from the 13th century. Either way, the feat of building it out of giant slabs of stone, which were brought in from a considerable distance, is remarkable. Some slabs are over six feet long and weigh more than a ton.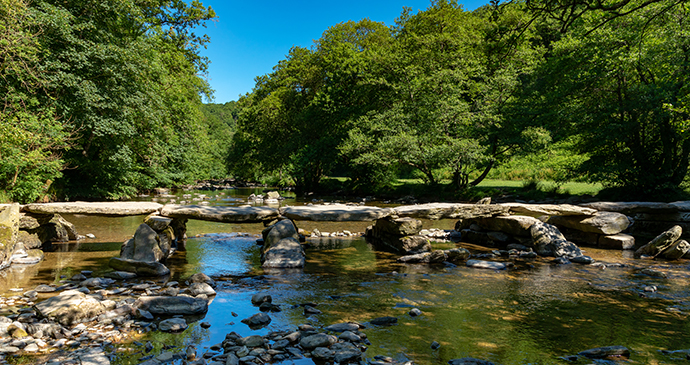 Tarr Steps is perfect for a family picnic, though it can get very crowded in the summer. Children and dogs love the paddling, and there are several deep pools where you can get fully immersed if you wish. Be cautious about sunbathing on the stones, however – that's the Devil's prerogative. Legend has it that he built the bridge, so was understandably peeved when mere mortals tried to use it. The locals asked the vicar to help; he prudently sent a cat across first to test the waters, so to speak, but it disappeared in a puff of smoke. Undaunted, the reverend set out himself and after a heated argument the Devil agreed to let people use the bridge. Except when he wants to sunbathe.
Valley of Rocks
The Valley of Rocks is accessible by car, but it's such a lovely walk that if you can it's well worth doing on foot from Lynton. The valley, which would be unexceptional on Dartmoor, is quite extraordinary on Exmoor where the soft sandstone has left few sharp contours. The most likely explanation for these heaps and castles of rock is that this was once a river valley, the boulders being deposited during the Ice Age, before the river changed its course. Glaciation and weather erosion did the rest.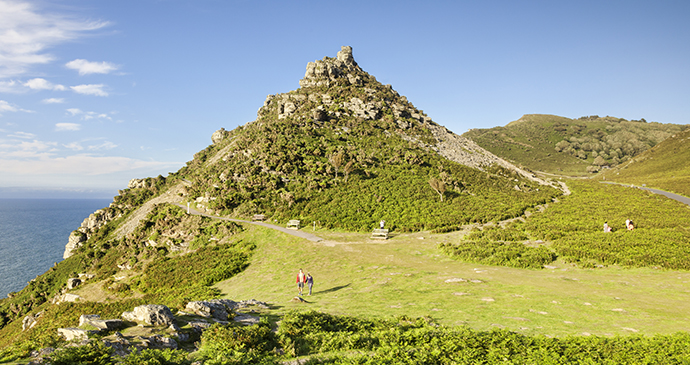 The place was already well known when R D Blackmore wrote Lorna Doone in the 1860s. The hero John Ridd goes there to consult a wise woman, noting that 'foreigners, who come and go without seeing much of Exmoor, have called [it] the "Valley of Rocks".' The rocks already had their names: 'On the right hand is an upward crag, called by some "The Castle", easy enough to scale… Facing this, from the inland side and the elbow of the valley, a queer old pile of rock arises, bold behind one another, and quite enough to affright a man, if it only were ten times larger. This is called the "Devil's Cheesewring" or the "Devil's Cheeseknife" which mean the same thing, as our fathers were used to eat their cheese from a scoop; and perhaps in old time the upmost rock… was like to such an implement if Satan ate cheese untoasted.'
Cow Castle
Cow Castle is an Iron-Age hillfort in the River Barle valley. The use of the hillfort remains a subject of much speculation: it might have been a defensive position for the local community, or perhaps even a safe haven for cattle overnight. The river here has some lovely deep pools, ideal for wild swimming.
Cow Castle can be reached by foot on an easy walk, 2 miles from Simonsbath alongside the River Barle. It can also be included on a popular 8 mile circular walk which takes in Picked Stones and the old copper mine at Wheal Eliza. From a high point on the walk you can see the enclosing ramparts.
Blackmore Memorial Stone
The publication of Lorna Doone in 1869 gave Exmoor tourism a marketing high that persists to this day, with 2019 seeing celebrations for its 150th anniversary. Blackmore's novel is more identifiably set in a genuine English landscape than most other literary classics and has led to floods of toursits seeking out Doone's home; a trend that seems set to continue.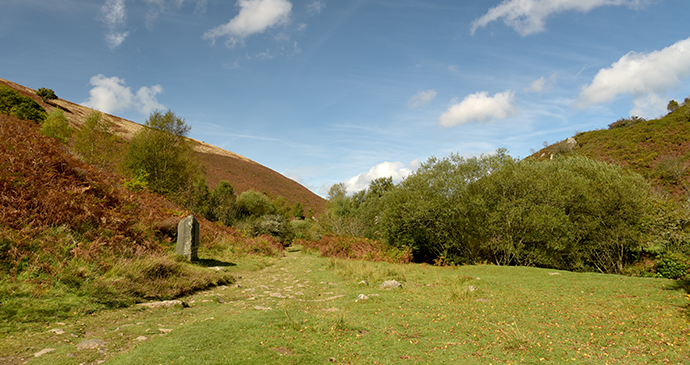 On the centenary of the novel's publication, the Blackmore Memorial Stone was erected and has become a key stop on what has become an extremely popular walk through the Doone Valley.
---