Written by Bradt Travel Guides
Whale watching, swimming, bathing in hot springs, mountain biking, kayaking, walking, birdwatching, visiting tea plantations, island hopping … the list of outdoor activities available on the Azores is endless. In an era when more and more people are looking for something different from their holiday, the islands of the Azores really are at the forefront of the 'natural' travel movement.
Canyoning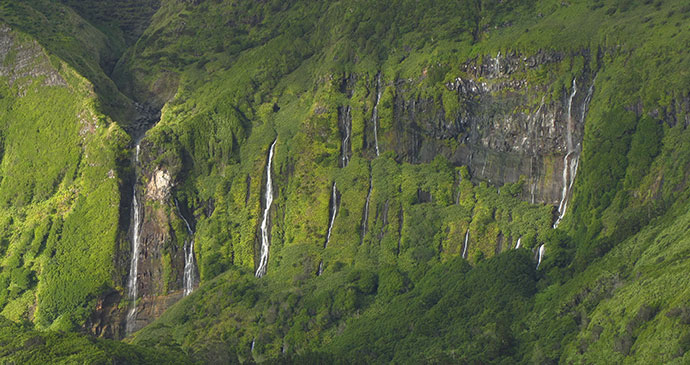 Flores has the most diverse routes for canyoning © faber, azoresphotos.visitazores.com
This is walking in streams, rappelling down waterfalls and generally getting wet in a diversity of geological settings. Because this is usually the only way to experience some of these places, there is often undisturbed native vegetation and rare plants plus birds as a bonus. Barely heard of just a few years ago, this activity has now burgeoned and has an enthusiastic local following as well as organised expeditions for visitors. There are at least 50 bolted routes of various difficulty levels and three islands are especially good; on São Miguel the challenges are less steep, Flores has the greatest diversity, and São Jorge offers the hardest routes as most are accessible only by boat.
Kayaking and canoeing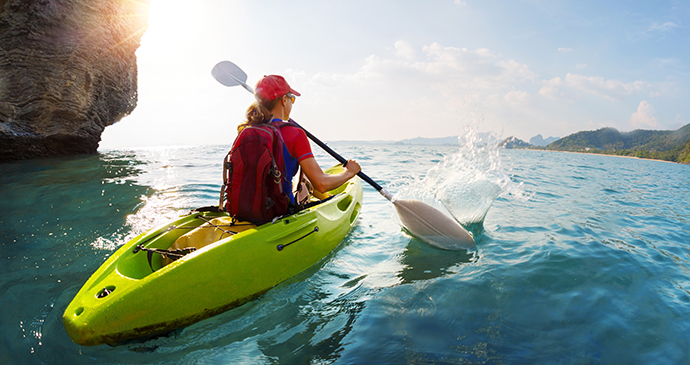 The archipelago encourages you to take your time and explore slowly © Sunvil
This is largely done on the caldera lakes of Sete Cidades and Furnas on São Miguel, and on the open sea exploring small islets, visiting caves and watching seabirds off the islands of Terceira and Flores. On Flores there is a spectacular coastline and waterfalls to enjoy and, by contrast, Terceira offers the bay of Praia and the southeast coast with its many sandy shallow bays and is emerging as one of the best locations. Organised trips are either half day or full day, with experienced guides.
Climbing Pico mountain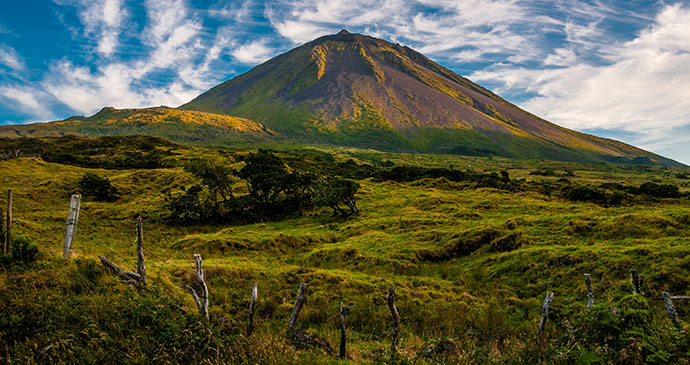 Over 15,000 people now climb Pico mountain each year © Robert Van Der Schoot, Dreamstime
Perhaps one of the most iconic activities in the Azores is to climb the summit of the tallest peak, Pico mountain, at 2,351m. The 5km journey begins at Cabeço das Cabras, at 1,231m. The difficulty of the ascent varies according to the weather, but the views from the summit are well worth the 6-hour round trip. No matter how many mountains you have climbed, there is something utterly mesmerising about looking out over thousands of kilometres of ocean and cloud below. It is truly an experience to stay with you for life.
Walking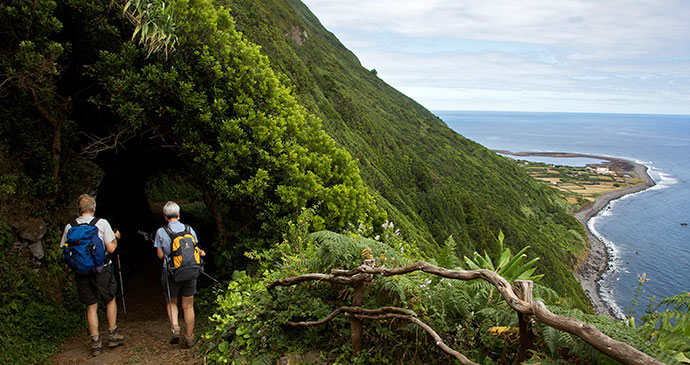 The 'Great Route' in São Jorge covers just over 40km of land © JoseAntonioRodrigues, azoresphotos.visitazores.com
Going hand in hand with the tranquillity and clean environment is walking, the finest to acquire a real feel for the islands. There are short and long walks, in the mountains, along the coast, sometimes on narrow trails, at other times on seldom-used farm roads. The views are always changing, and relics of the past are everywhere, from wheel-worn donkey paths hidden beneath the summer's flush of vegetation to abandoned farmhouses and crumbling watermills. Hiking routes have been waymarked and documented and are kept reasonably well up to date. Some published walks are short and many are linear rather than circular; the narrative descriptions can be vague and maps weak, but the waymarking itself is good and the whole trails programme is under constant review. Winter storms cause landslides, and vegetation is so lush that in a very few weeks freshly cleared paths are concealed.
For experienced hikers, the island of São Jorge is home to the 'Great Route' which covers just over 40km from Fajã dos Cubres in the north to Topo in the east.
Cycling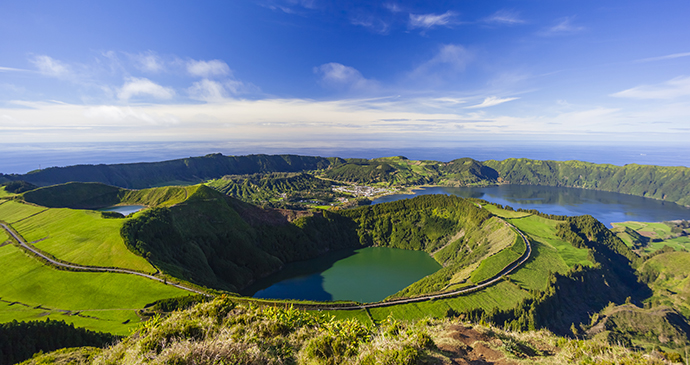 São Miguel has the best choice of companies offering bike hire or guided cycle tours © Sunvil
Next to walking, this is the finest way to get to know the islands, following quiet rural lanes and passing through pretty villages for frequent pit-stops. Some tour operators in the UK and travel agencies in the Azores offer fully supported eight-day packages with two-centred accommodation and daily transfers for around £850 excluding flights, while UK and other tour operators offer all-inclusive cycling holidays, though bikes are easy to rent on Pico and Santa Maria, too.
Diving
For a long time few people thought of the Azores as a diving destination, but this has changed, with operators in most of the islands taking advantage of a unique underwater environment and excellent marine life. The seabed, being of volcanic origin, offers large areas of lava and various volcanic debris, tunnels, arches, vertical cliffs, small caves and rock needles, while the Gulf Stream brings together both Atlantic and tropical fish. Large schools may often be seen – barracuda, mackerel, trigger fish – and very large stingrays as well as occasional giant mantas, curious octopuses and a diversity of other marine organisms. Giant whale sharks have also been spotted. With a visibility range of up to 20m, the great joy of diving off the Azores is that you never know what you are going to see.