Written by Murray Stewart
From the writings of early travellers to the Azores it appears that at least until the end of the 16th century only watermills, moinhos de água, were present in the islands, and that the windmills were a later innovation. Old long-disused watermills are still abundant and often now hidden beneath the vigorous growth of ginger lilies that also like the humid stream beds. The mills were built either over streams or below specially constructed dams, or were even seasonal, relying upon the heavier winter rains to drive them.
Like so many aspects of the archipelago, individual islands developed their own style of windmill, and there were at least eight different versions, of which four are still extant. Moving with the times, and tapping into tourist fashion, some windmills have now been restored and adapted to provide holiday accommodation.
São Miguel type
These Dutch-style windmills are common on a few islands © Turismo Açores, azoresphotos.visitazores.com
These are similar to the so-called 'Dutch' type and are found mainly on São Miguel, Santa Maria and Graciosa, with small differences between those on each island. They have a conical stone-built base with a wooden semi-ovoid rotating roof, and have four cloth-covered sails.
Faial type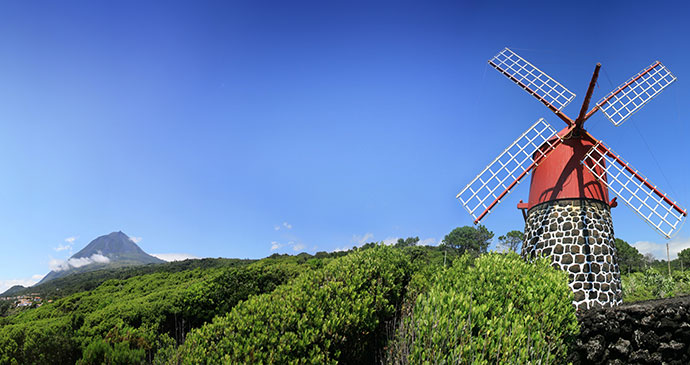 Faial's windmills are known as 'little houses' © Dave, Dreamstime
This has a truncated cone-shaped stone base with a substantial timber upper structure called a casota, or 'little house'. Access is by a staircase which also acts as a central tail to the casota. Originally it should have had a long mast with a pointed tip and eight crossed poles tied by guides and wire fasteners for triangular cloth sails, without bars. Today it is almost always of the square type, or is even replaced by rotors of two or four vanes. This type of windmill is to be seen on Faial and Pico.
São Jorge type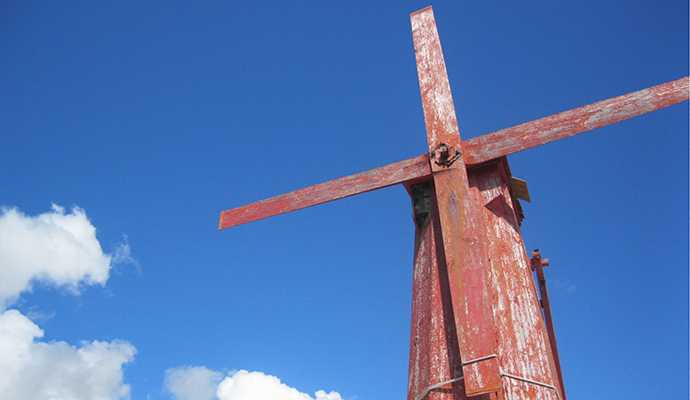 There are two types of windmill found on São Jorge © Rick Freitas, azoresphotos.visitazores.com
São Jorge has two types of windmill: the mechanical mill now most commonly seen is a modified form of an earlier mill. This earlier version had four triangular sails made of cloth without lattice work. The later, adapted version has a stone-built conical base upon which is a narrow vertical mill providing an elevated support for the rotor of either two or four blades. This small mill can either rotate or be fixed, in which case only the dome rotates. The narrow tail leads either from the body of the mill or its dome, reaching to the ground.
Corvo type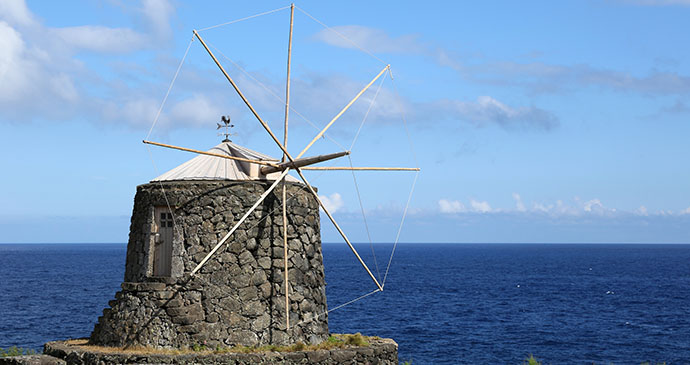 Corvo's windmills are very different to the others found on the islands © Boarding1Now, Dreamstime
Corvo's distinctive type has a low stone base and a squat conical tower, almost always rendered and whitewashed. The tower is built well inside the edges of the base so there is a wide ledge all round. The mast is long and pointed, leans upwards at a low angle and has eight sail poles with guides and fasteners for triangular cloth sails. Internal access is through a door in the tower reached by an external stone stairway rising from the ledge.
---
To find out more about the Azores, check out our guide to the islands: