With its Mediterranean coastline, UNESCO-listed Roman ruins and unique Hollywood history, Tunisia is an increasingly popular travel destination – which is why it's on our list of 2023 Exceptional Trips! We caught up with Star Wars Tours, a custom private tour operator dedicated to showcasing Tunisia's Star Wars highlights, to find out what not to miss.
The home of many of director George Lucas's legendary movies, Tunisia is the perfect destination for those looking to immerse themselves in the Star Wars galaxy. Today, the real-life film sites featured in classics such as Star Wars Episode IV: A New Hope and Star Wars Episode I: The Phantom Menace can be visited on our comprehensive 8-day Tatooine: Outer Rim tour. Here are just a few of the highlights visitors can expect to enjoy.
Spend the night in Luke Skywalker's house
One of the most memorable scenes in Episode IV is the introduction of Luke Skywalker (Mark Hamill) and his adopted parents, Owen & Beru Lars, at their home in the middle of their vaporator farm. Undoubtedly, visiting the main character's residence is an iconic experience for any Star Wars fan.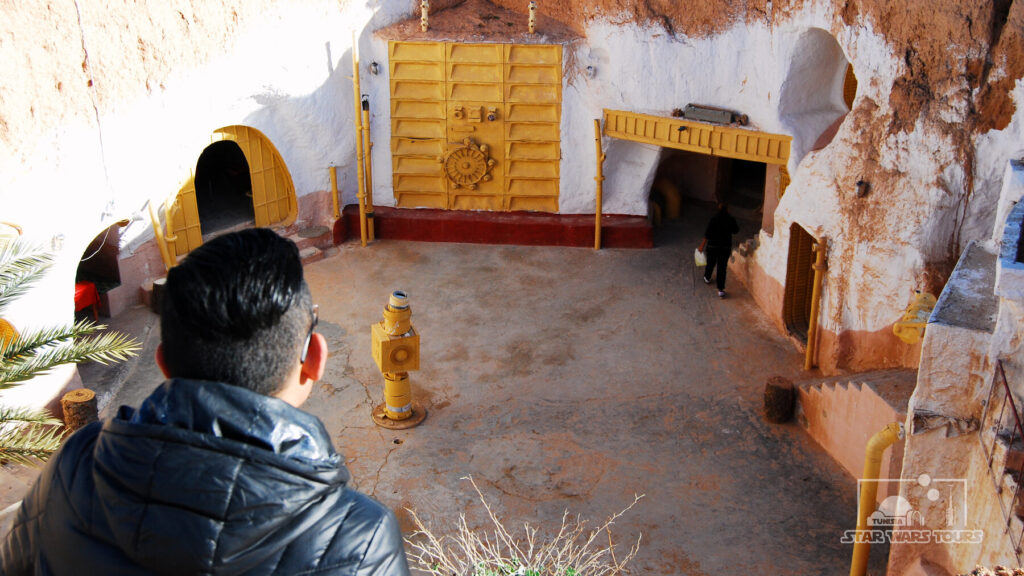 Remember the scene when Aunt Beru yells up to Luke from the bottom of their underground house? Turns out, this beneath-the-surface abode is a real place where visitors can take Luke Skywalker's spot and recreate the scene themselves. Although many of the original set pieces have been lost, various replica props (that give this ancient home a futuristic, industrial look) have taken their place, including a replica vaporator.
Underground dwellings, like the one Luke Skywalker was raised in, are famous in southern Tunisia. Known as troglodyte homes, these ancient residences protected local Amazigh families from the harsh conditions of the desert. Now, the exact troglodyte home featured in A New Hope is an operating hotel, where true fans can spend the night. In keeping with the vibe, the hotel walls are decorated with Star Wars-inspired paintings, including images of Darth Vader and stormtroopers.
Star Wars enthusiasts might also like to enjoy a glass of blue milk, or a traditional Tunisian couscous meal, in the very dining room where Luke storms off after being told to delay enrolment into the academy by his Uncle Owen.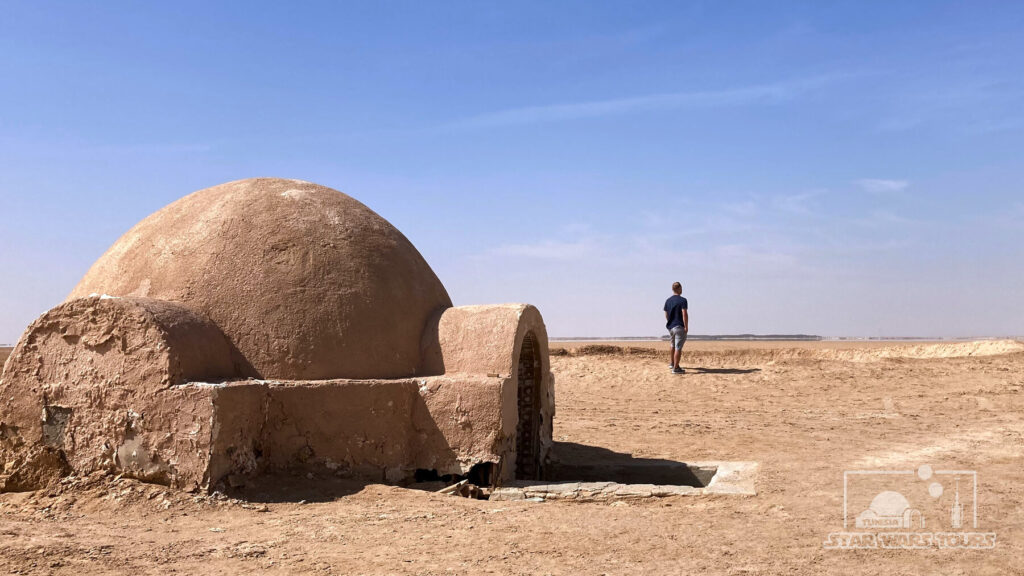 Of course, no visit to Luke's childhood home would be complete without witnessing the iconic igloo structure under the binary sunset of Tatooine. Back in the 1970s, this artificial structure was built expressly for the film on a salt flat in Tunisia's southwest. Interestingly, it is not too far from the Tunisian town of Tataouine, which inspired the naming of the Star Wars planet.
The scorching summer heat, wind, and briny air of the desert wear down the igloo house repeatedly. Thankfully, Star Wars fans over the years have contributed to restoring and preserving this piece of Hollywood movie magic, with renovations being made as recently as May 2022.
Hike Star Wars Canyon
Besides Luke Skywalker's home, another impressive Star Wars film location to visit in Tunisia is popularly known as Star Wars Canyon. Known by Tunisians as Sidi Bouhlel, it is named after the Islamic cleric of the region, who has a shrine and mosque built in his honour on the ridge overlooking the canyon. Whether you are interested in Tunisian history, or solely a Star Wars devotee, this is a must-visit.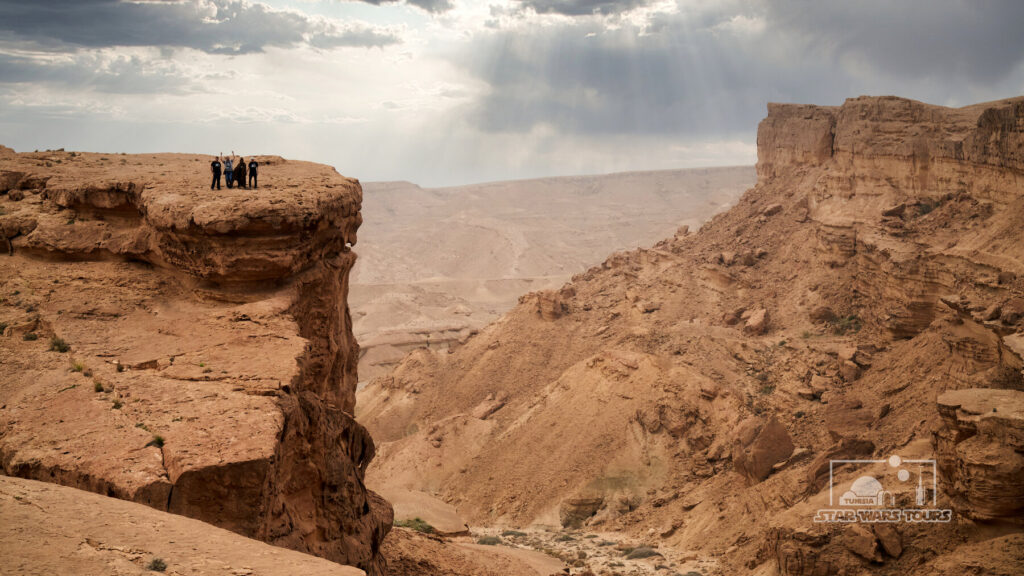 Tourists can trek through the bottom of the gorge, hunting for scenes from Episode IV (such as R2D2's kidnapping and the Tusken Raiders attacking Luke) as they go. For those wanting the full experience, it is possible to hike the ridges of the canyon sides, where many of the Tusken Raider sniper scenes were captured. Keep an eye out for anchors used to steady cameras and other equipment left behind from filming in the 1970s.
Interestingly, Star Wars Canyon was also featured in another of Lucas's films; Indiana Jones: Raiders of the Lost Ark. Fans of this franchise will recognise the ridge from the iconic scene in which Indiana Jones (Harrison Ford) stands and aims an RPG at the Nazi army marching through below.
Explore the streets of Mos Espa
One of the most impressive Star Wars film locations in Tunisia is the life-size town of Mos Espa. Built in the shadow of the Sahara's sand dunes in 1997, this location was featured in The Phantom Menace and Attack of the Clones. Visitors can walk the streets of the town square, just as Qui-Gon Jinn, Padme Amidala, and Jar Jar Binks did; or go in search of Sebulba's café and Watto's workshop and junkyard.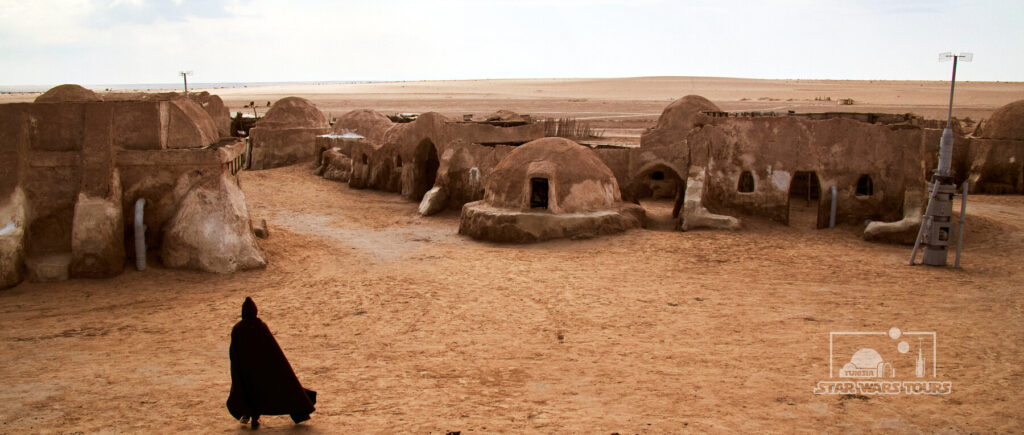 Star Wars fans will love taking photographs in the town square (where numerous replica vaporators can be found) and stepping inside the buildings for a behind-the-scenes look at the wooden infrastructure of the set.
For the adventurous, camel and 4×4 quad rides are also available here. Or visitors can pose for a photo with a fennec fox, a palm-sized desert native, for a unique memento of their experience. Travellers will also find various local vendors selling souvenirs to help them treasure the memories of their out-of-this-world holiday.
---
More information
Star Wars Tours specialises in delivering custom private Star Wars tours in Tunisia. Visitors can experience these highlights and more on their popular 8-day Tatooine: Outer Rim Tour.
You can find more information about this Exceptional Trip, including details on how to book it, on the Star Wars Tours website.
See the full list of 2023 Exceptional Trips here.