"Bothies are just basic shelters,'' said my cynical 13-year-old son Ruaridh as we headed for a weekend away.
"And it will be cold and damp and have no Wi-Fi,'' declared an equally unimpressed Flossie (11). Even my husband, Kenny, looked a little worried as we motored along towards Galloway.
Southwest Scotland is my favourite part of the country, as it's mainly unspoilt and doesn't attract herds of visitors like the Highlands. So I wasn't really bothered what we were staying in – it was an adventure, and at 51 after enduring the joys of lockdown, having something to look forward to was what kept me going!
After arriving at Galloway Activity Centre in the lovely village of Parton, just a few miles from Castle Douglas, the mood lifted instantly. Especially when we spied what looked like a giant beehive sitting majestically on the hill overlooking Loch Ken.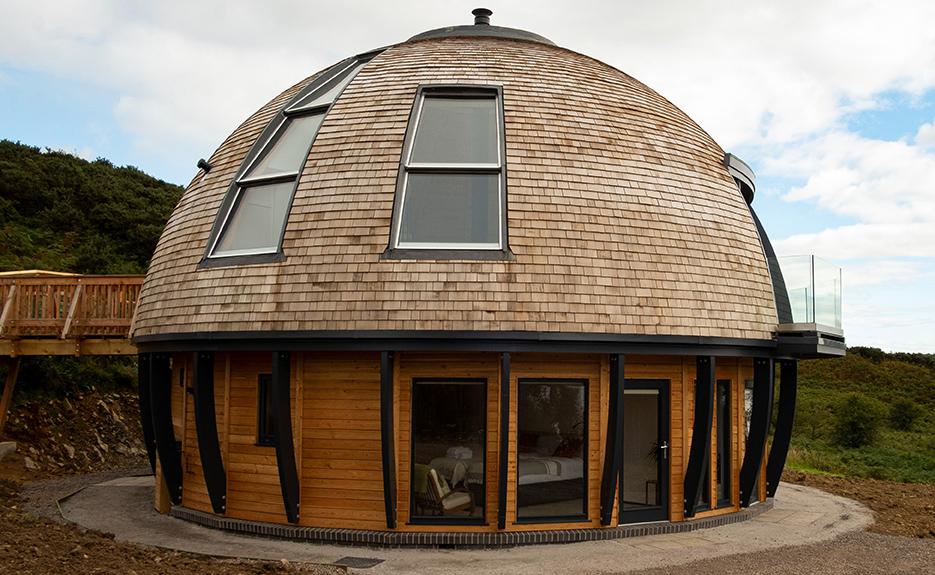 Ten minutes later and the doubters were on the back foot as they surveyed their new home for the weekend. Not only did it have a massive hot tub outside the front door, but once inside, we were greeted with a lounge-cum-kitchen with a vast glass balcony overlooking the sweeping scenery.
With a squeal of delight, Ruaridh and Flossie went to explore and bagsy the best bedrooms. In the lounge they spied a secret den up above, which not only housed a high-spec telescope, but – even better – two fluffy bean bags and rugs. It soon became an adult-free zone.
Flossie may have been right about the lack of digital amenities, but as Ruaridh pointed out, who needs that when you've got your own personal boathouse complete with paddle boards and kayaks?
A hive of activity
So mum had done ok after all – well, owners Richard and Heather Herman had, to be exact. This forward-thinking couple have sunk their life savings and energy into creating this impressive beehive bothy. Not only is it a perfect hideaway, it's so eco-friendly that even Swedish activist Greta Thunberg couldn't find fault.
And they deserve to do well. The pandemic has hit them hard, and at a time of life when most people their age are looking to slow down. But with a young and eager workforce to look after, Richard and Heather have battled on.
They were having to do an entire team's work, without drawing a salary, at the height of lockdown and the new bothy was stalled mid-build in April.
But now, a few months later, the bothy is open for business. Officially known as The Osprey to fit in with the animal theme – other accommodation on the site includes The Otter and The Red Squirrel – it has been a real labour of love for Richard and Heather who are passionate about the environment.
The bothy is built on passive principles – meaning that natural factors such as sunshine, shade and ventilation are optimised to avoid needing air conditioning or central heating – and is completely off-grid, with its own solar panels, mechanical ventilation and heat recovery, back-up generator and floor-to-ceiling log-burning stove.
We were lucky enough to have brilliant weather for September; warm, dry days and clear nights and there were plenty of shrieks of delight when we spotted shooting stars. Nearby Galloway Forest Park is a designated International Dark Sky Reserve, and there is ample opportunity to take in its delights either from the wood-fired hot tub or indoors from the mezzanine.
The bothy can cater for six people and a lot of thought has been made by the Hermans to make it a home from home. Taking pride of place is a very colourful staircase with Italian influences, created by daughter Lucy, from her home in Casale Sul Sile, just outside Treviso.
The couple are so committed to protecting the environment that they have just been awarded the Dumfries and Galloway Biosphere Certification, which marks their willingness to protect the natural beauty of Loch Ken. They are also ambassadors for sustainable tourism, having won a gold award from the Crichton Carbon Centre for their work.
It is obvious from talking to Richard how much he loves this wonderful part of Scotland and it is easy to see why, as the scenery is stunning, the air clear and the peace and quiet, bliss.
Lochs and laser tag
Ruaridh and Flossie were itching to get out on the loch, but Kenny and I didn't fancy falling in so some serious tuition was needed first.
Our instructor Arthur proved to be a gem and – not at all put off by his mismatch of talent – he attempted to teach us how to paddleboard. The sport might look easy from the shore, but when you have the knees of a pensioner, it's not so straightforward in practice.
With Arthur's patience and our steely determination – and after a few dips in the freezing loch – we were up and off. While my husband and I might not have been as elegant or as fast as the kids, we had great fun. Indeed, so confident were we that the following day, we used our bothy kayaks and enjoyed a lovely morning paddling up and down the loch.
But it isn't just water activities on offer at the centre. On land, we tried our hand at archery – where I had bragging rights, following a bullseye – and also laser tag, which brought out the competitive spirit in us all.
Other lessons offers include windsurfing and climbing. There are certified courses and instructor training available too, including foil sailing, where you fly from the water up into the air.
Outside the centre, you are not far from the magnificent Threave Castle and Gardens and there is plenty of excellent hiking and cycling routes and red squirrel spotting. It's all about the outdoors and protecting the environment in this magical part of the world – so get out and explore!