Eagles and swans swoop over the inlets, white-tailed deer skip across quiet lanes. The landscape is a patchwork of forest, meadows and orchards bordered with the occasional wooden red windmill, barn and farmhouse. Votive ships hang from the ceilings of ancient stone churches, gifts from sailors and a reference to seafaring traditions and heritage. Coloured garlands hanging from Midsummer poles swing in the breeze.
It might sound like an agrarian theme park, but a thriving and relaxed community populates the Åland Islands. Today it's almost impossible to imagine that this exquisite archipelago, occupying the stretch of the Baltic between eastern Sweden and southwest Finland, was the subject of a heated dispute between the two Nordic neighbours a century ago. The enduring acceptance of an agreement made to prevent conflict over Åland is held up as an example to learn from in solving contemporary disputes, as well as an exemplary case of Nordic cooperation.
The agreement, signed in 1921 and implemented in 1922, guarantees the demilitarised islands' traditional Swedish-speaking culture within Finnish sovereignty while also granting its people significant autonomy. It was a notable success of the League of Nations, the predecessor of the United Nations. Celebrations to mark the centenary of that agreement reach a climax this year with the opening of a Visitor Centre at Bomarsund, scene of a battle in 1854 between the Russian garrison at the time and an Anglo-French fleet in the Crimean War.
Åland (Ahvenanmaa, or 'the land of perch' in Finnish) is home to an easy-going but resourceful and creative populace who rejoice in the rugged Nordic beauty of their environment. Hiking, driving or, best of all, cycling through the islands, linked by bridges and public ferries, you feel immersed in a rustic idyll. The more generous part of your soul wants to announce it to the world, but a more selfish inner voice tells you to keep it to yourself.
Åland's retro lifestyle
What's so special about Åland? Hans Lindmark, who owns and manages the Björnhofvda Gård guesthouse with his wife Jackie, pauses to consider. They are seated in the biggest of three wooden houses that make up the complex, the oldest of which was the Lindmark family summerhouse in its earlier life.
"I would say it is like Sweden back in the 1950s or 60s," he says. "The pace of life, the way people speak, their more leisurely way of doing things."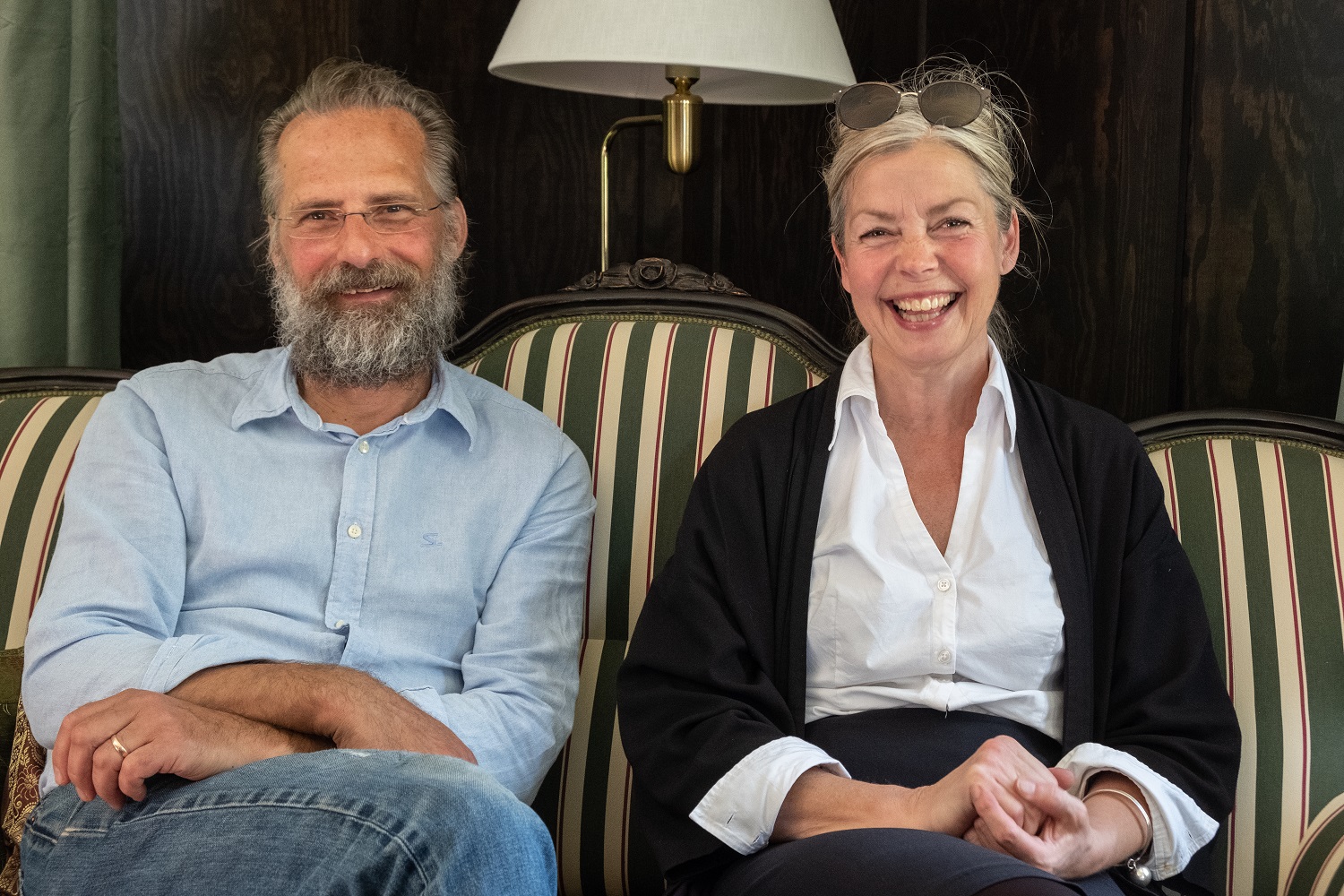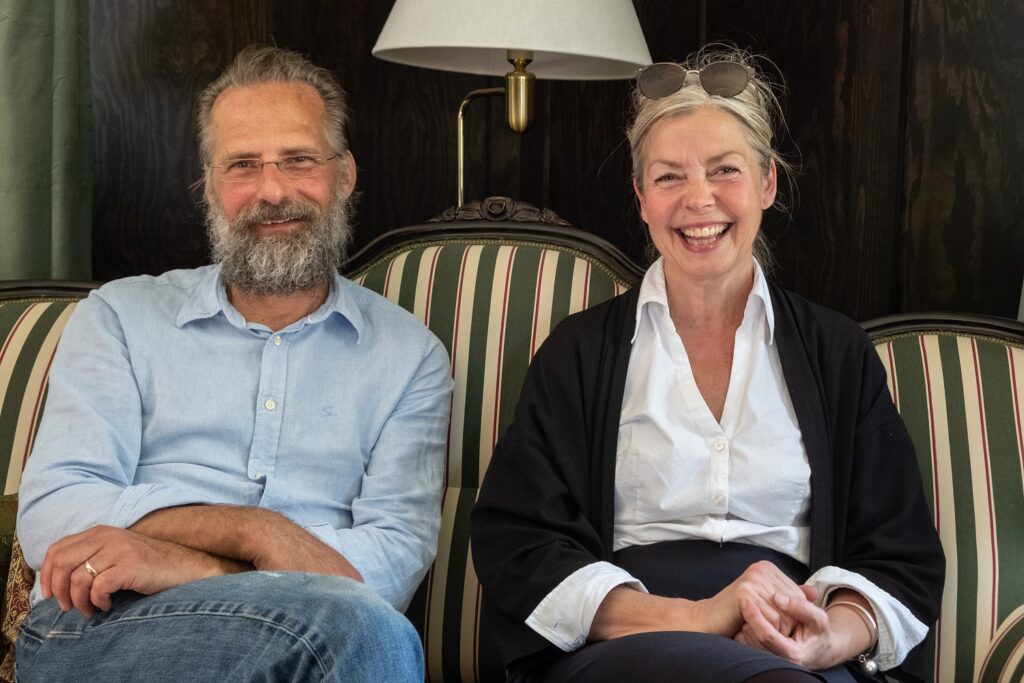 "It's very rural yet so close to both Stockholm and Helsinki," says Jackie. She pokes a thumb westwards, towards the 50-kilometre stretch of Baltic that separates the islands from the Swedish mainland (daily cruise ferries between Finland and Sweden call in at Åland's capital Mariehamn). Jackie was born in York, England but moved to Sweden as a child, still 'commuting' once a week to Stockholm to teach part-time in a high school. Hans is Swedish by birth, although his mother was born in Åland. Both are Finnish citizens. Hans was also a teacher in Stockholm before moving to Åland to live seven years ago.
Björnhofvda is at the end of a lane peppered with red barns and farms on the eastern edge of Åland's main island, known as Fasta Åland, some 12 kilometres from the fishing village of Eckerö. Short forest walks lead down to rocky shorelines and little beaches. Guests are housed in all three buildings, each of which includes a common lounge area. There is an elegant restaurant in the main building, with a well-stocked bar including the local Stallhagen brews, and it serves breakfast as well as dinner and weekend afternoon teas.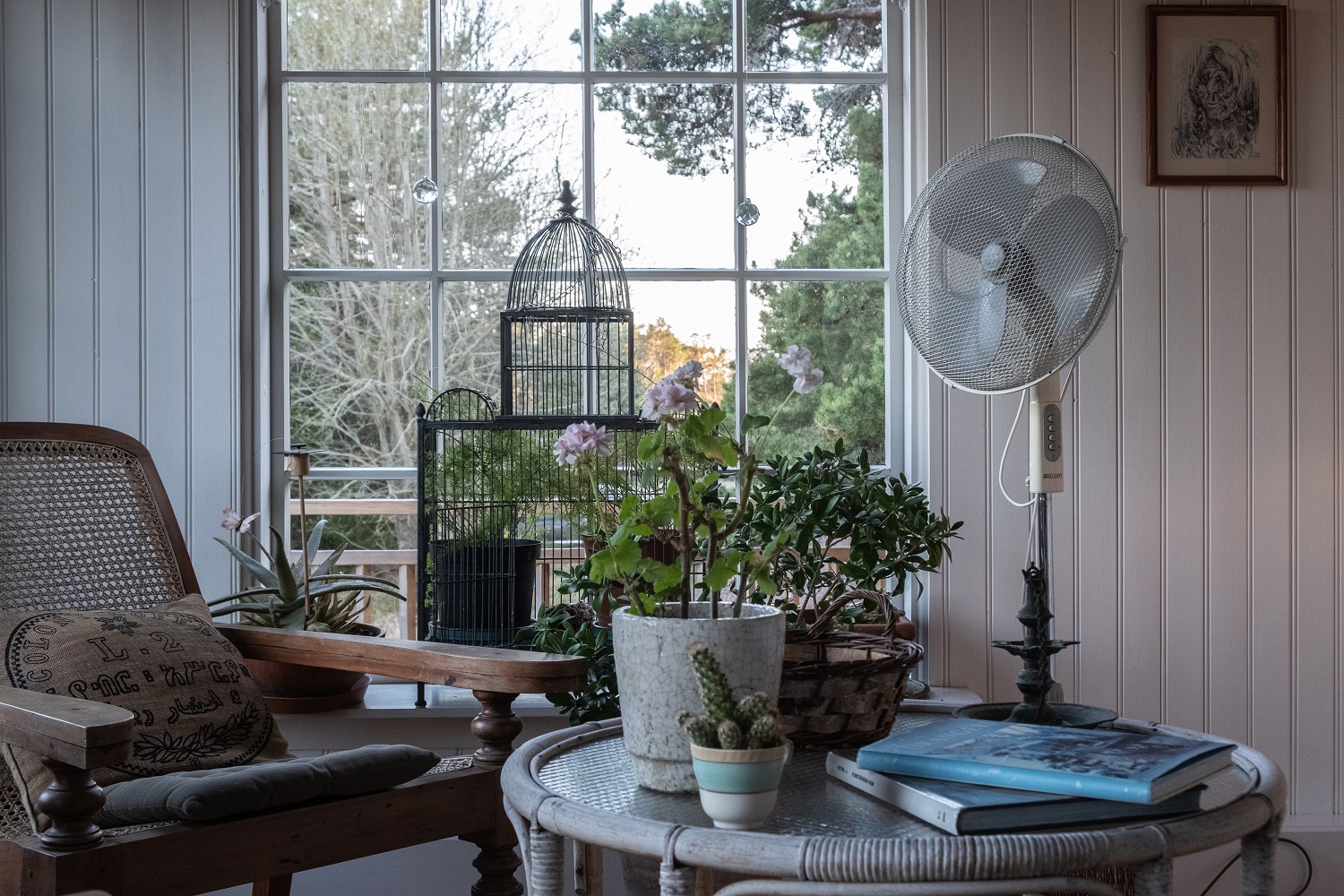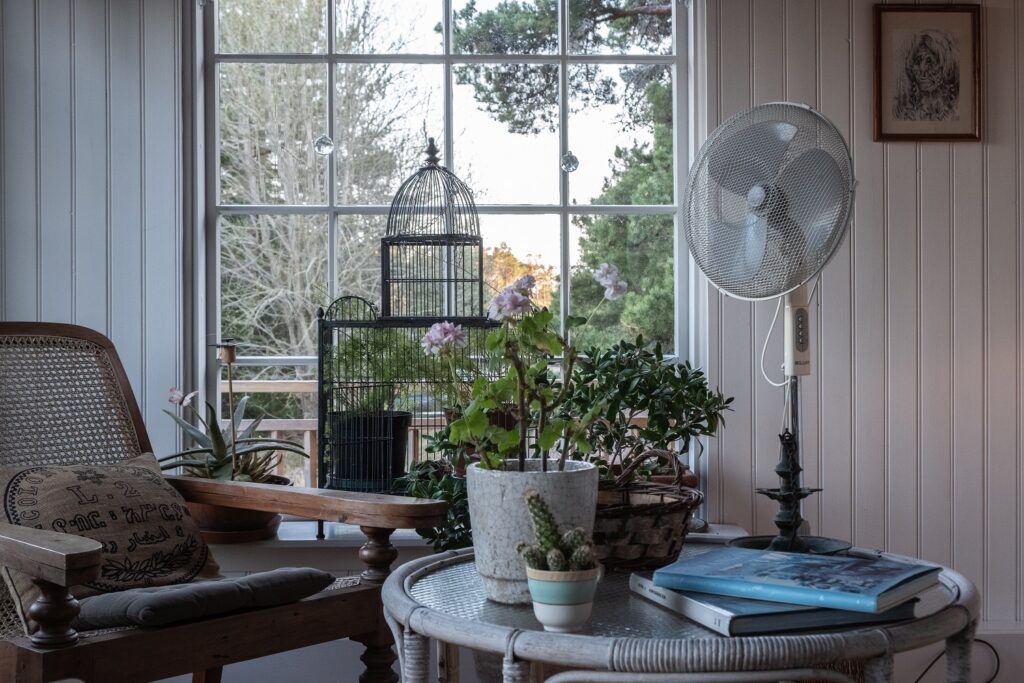 "There are many places in the Stockholm archipelago which are rather posh and expensive and more up-to-date in terms of fashion and interior design," Jackie continues. "Here, it's much more slow-paced and not so aware of trends. Other islands in the Baltic – Gotland [in Sweden], for example – are more based on tourism. In Åland, people live and work in the farms and out in the countryside. There's a special atmosphere. But if you come here by sailing boat, you might have the whole archipelago pretty much to yourself. And you can spend hours walking here without seeing another soul."
Islands of Peace
"Nowadays we can genuinely promote Åland as the 'Islands of Peace'. It's a land of quiet and silence."
Zaida Blomsterlund, manager and co-owner with her husband of the smartly renovated and expanded Park Alandia Hotel in the leafy Esplanade of central Mariehamn, the archipelago's compact capital, makes the case for her native islands.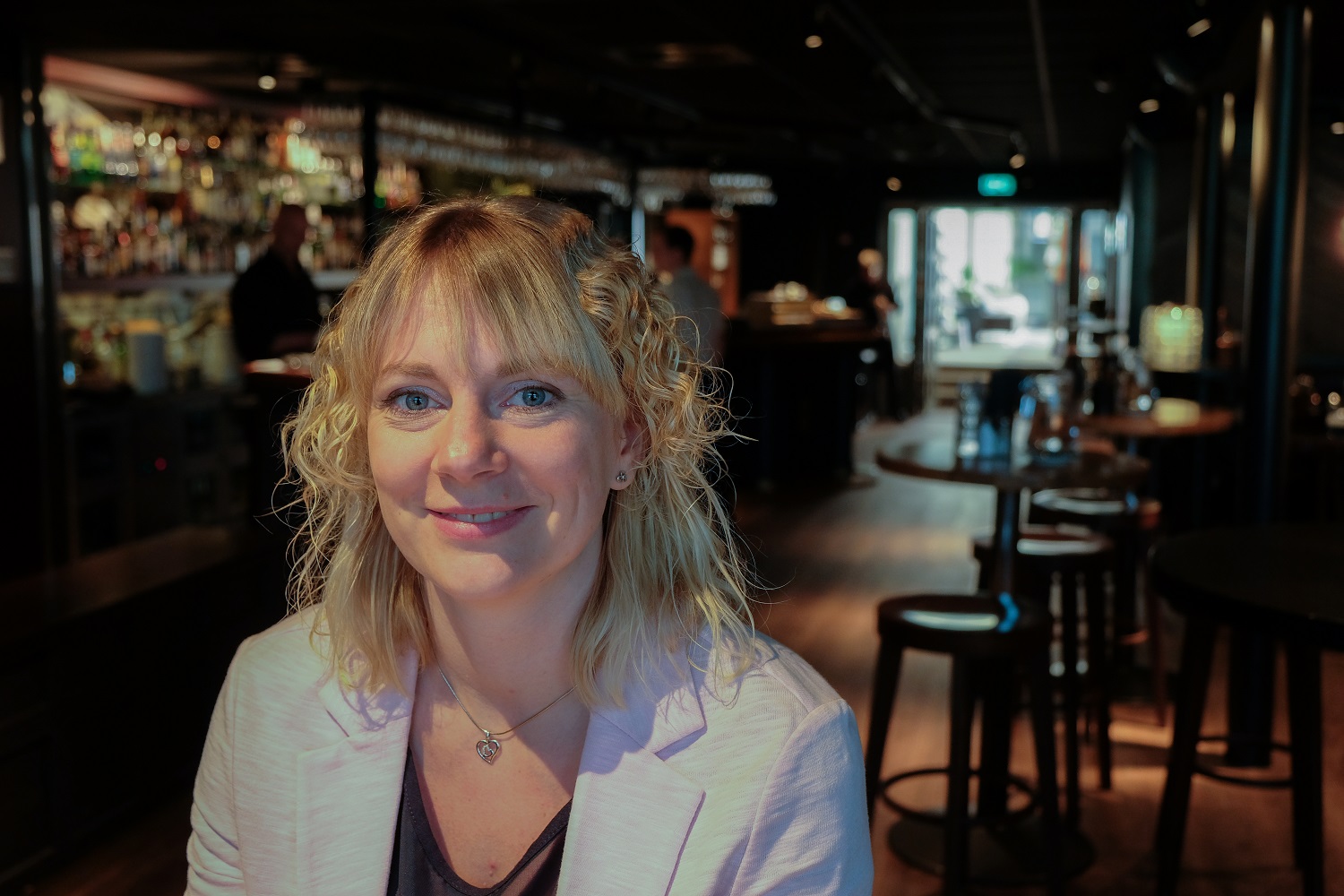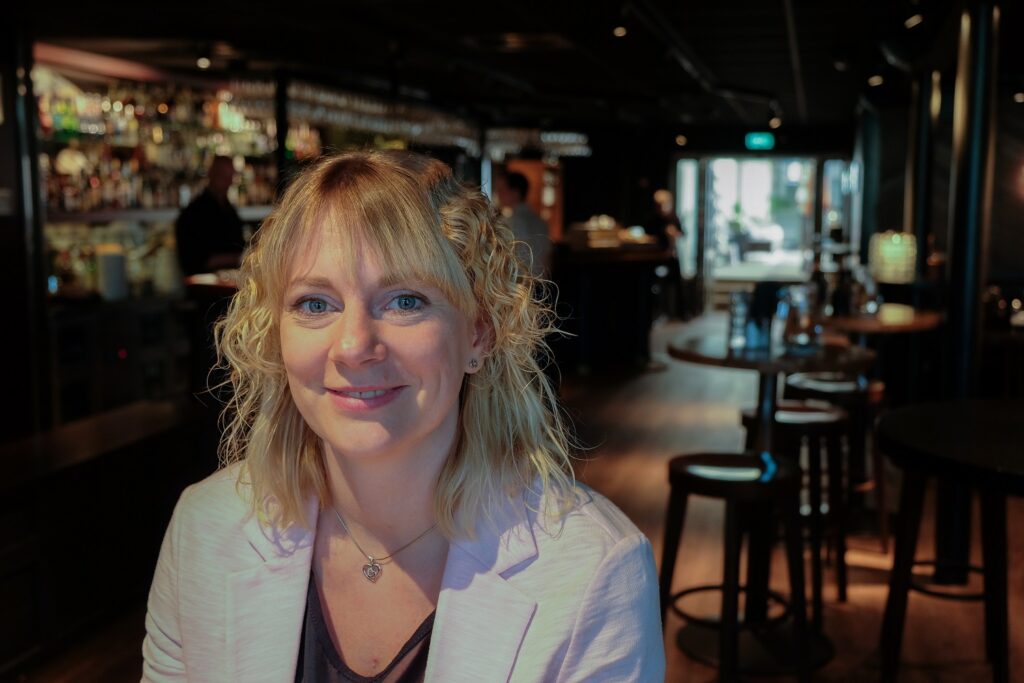 "You're always close to water. The people here are friendly and helpful. You can see a lot even if you are just on your way from Helsinki to Stockholm and stop off for one night. You can rent a bike and cycle north or south. You can enjoy beautiful scenery without going too far from Mariehamn."
The islands may be peaceful but Mariehamn, home to Åland's own Parliament House, has its exuberant moments. The bar at the hotel is a popular venue for live music, and there are annual events to entertain residents and visitors, including nine days of music and partying at the Rockoff Festival in late July. The Viking Market at Kvarnbo further north is another popular gathering that month.
Zaida is comfortable with Åland's Swedish-speaking identity within Finland's borders. "We watch more Swedish TV and read more Swedish magazines, which means we know more about Swedish politics and celebrities than we know about Finnish politics and celebrities. We belong to Finland, but we speak Swedish – our mentality is a mix of both countries. But when it comes to ice hockey – we cheer for Finland!"
The art of craft
The magnificent Pommern four-mast windjammer, launched in 1903, is Mariehamn's most conspicuous icon and takes pride of place in a berth outside the city's award-winning Maritime Museum.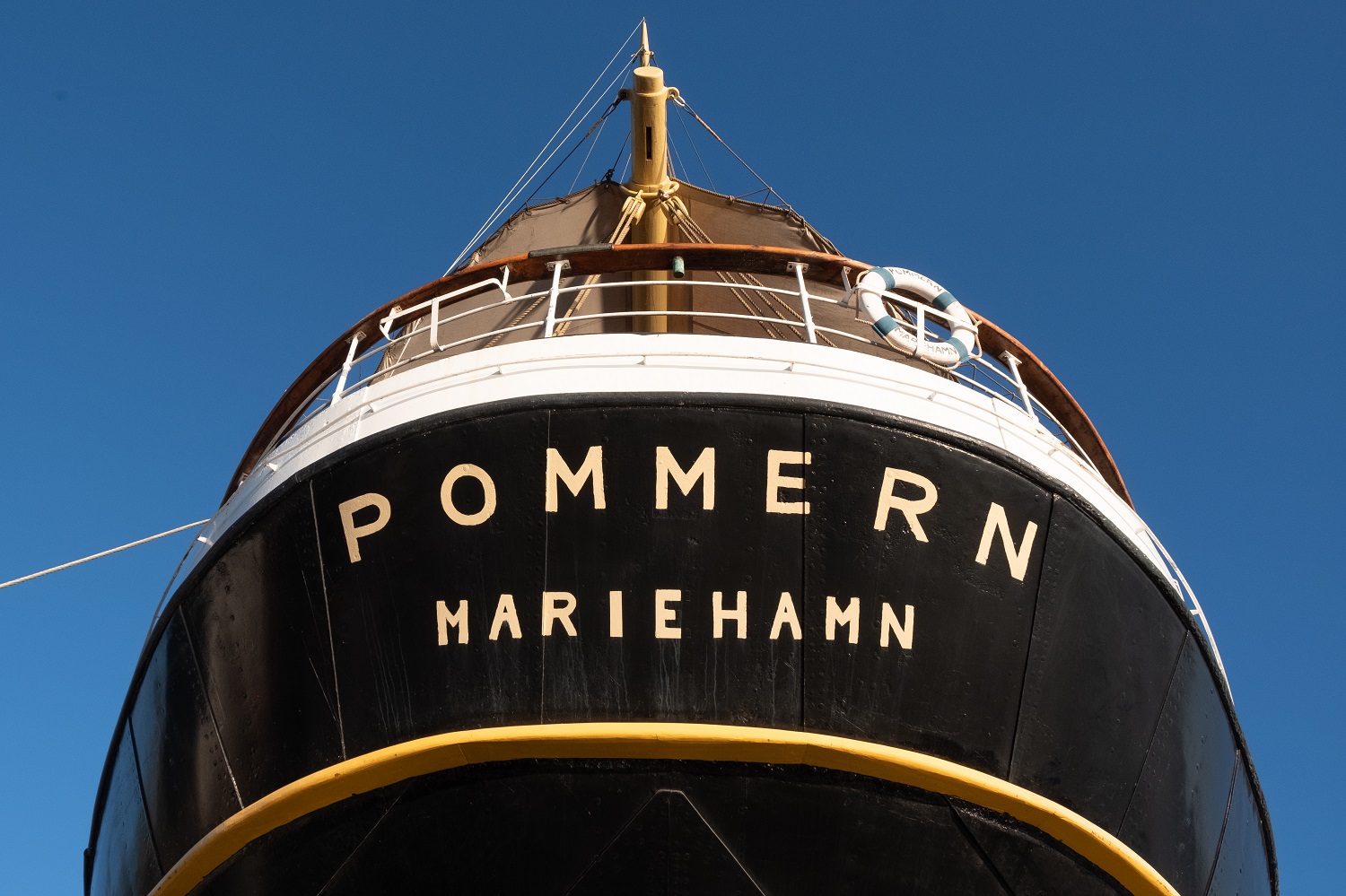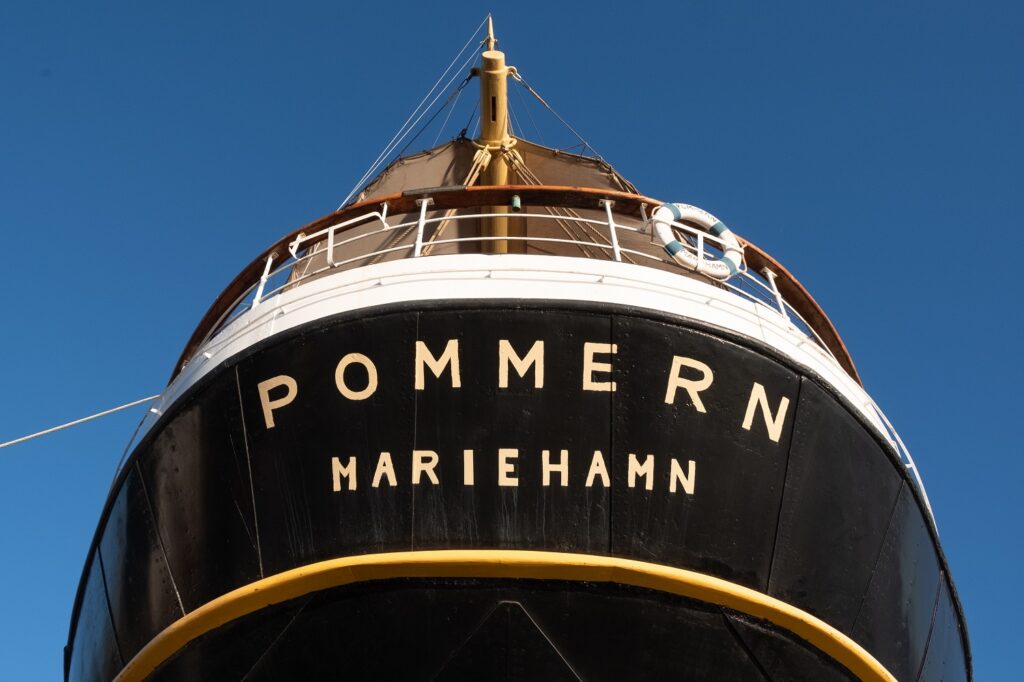 Craftsmen from the Mariehamn's Maritime Quarter, a cluster of traditional boatyards and artisan workshops dominated by the evocative mixed aromas of tar and timber on the eastern shore, fitted the ship with a new deck. One of these craftsmen is Petter Mellberg.
"We started work on the Pommern in spring 2017 and finished in March 2018. It's a rebuild of the old deck, made from Oregon pine."
Mellberg came to work in the Mariehamn yards as an 18-year-old apprentice from the Kauniainen municipality in the Helsinki region in 1994. "After that I studied boatbuilding in Finland for another year before working in Norway and at the Viking ship museum in Roskilde, Denmark. I worked on a big project there, the reconstruction of the Viking age warship, the Sea Stallion."
Traditional boatbuilding is a specialised trade, kept precariously afloat by Mellberg and his colleagues. His father Bosse is an expert in the building of traditional Nordic clinker boats granted UNESCO Intangible Cultural Heritage recognition in 2021.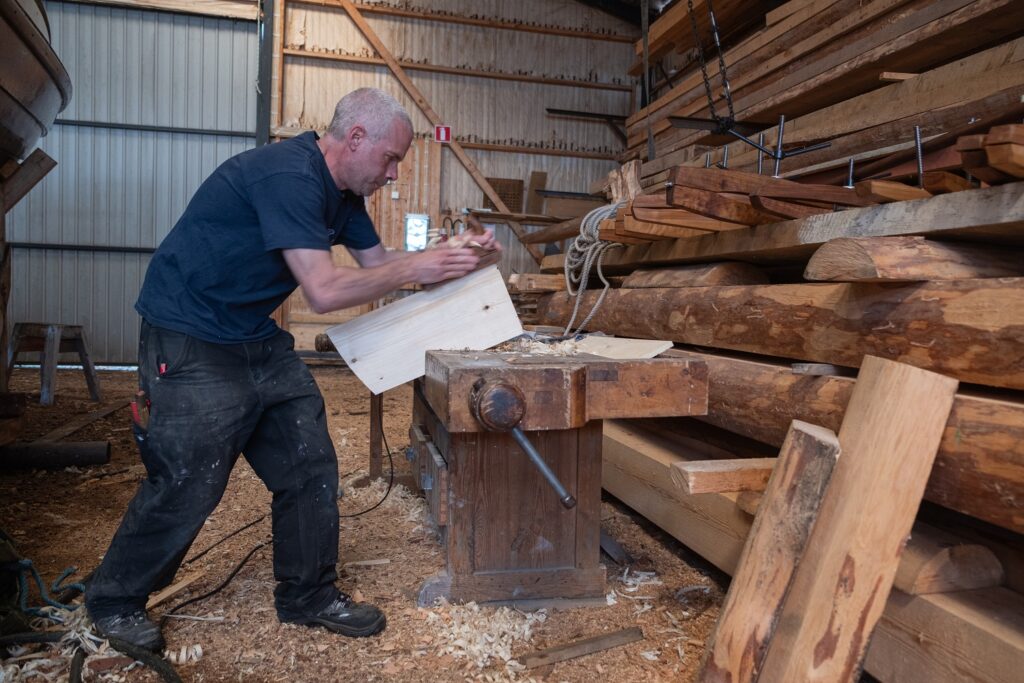 "There are a few boat builders in Finland but not so many who are experienced in the older boat types," he says. "The market goes up and down. Most of the time we get enough orders but it can be a bit tight. My customers are usually from Finland, and I repair boats as well as start from scratch with new ones."
He walks down to the quay and points at the handsome wooden galeas-class replica boat, the Albanus, the first traditional boat to be launched here in 1988 when the Tall Ships Race called in at Mariehamn. Mellberg has also been working on the successor to Albanus – the Emelia, which could be ready to launch when the race is due to call in to Åland again in 2024.
The happy potter
The Finnish way – which in spite of its Swedish connections is also the Åland way – is to express satisfaction in a calm and restrained manner. The less-restrained cheerfulness of ceramist Judy Kuitunen, when asked about life in Åland, however, is a clue to her origins.
She arrived in Finland as a 22 year old with a diploma in pottery in the mid 1970s, at the tail end of "an unhappy love affair" from London. After two marriages, both to Finns, she considered moving back to the UK in the early 1990s but made a conscious decision to stay. After opening her pottery business in an old dairy building in Mariehamn, where she still lives, she moved her studio and colourful, expansive showroom to Gölby, a village 12 kilometres out of town.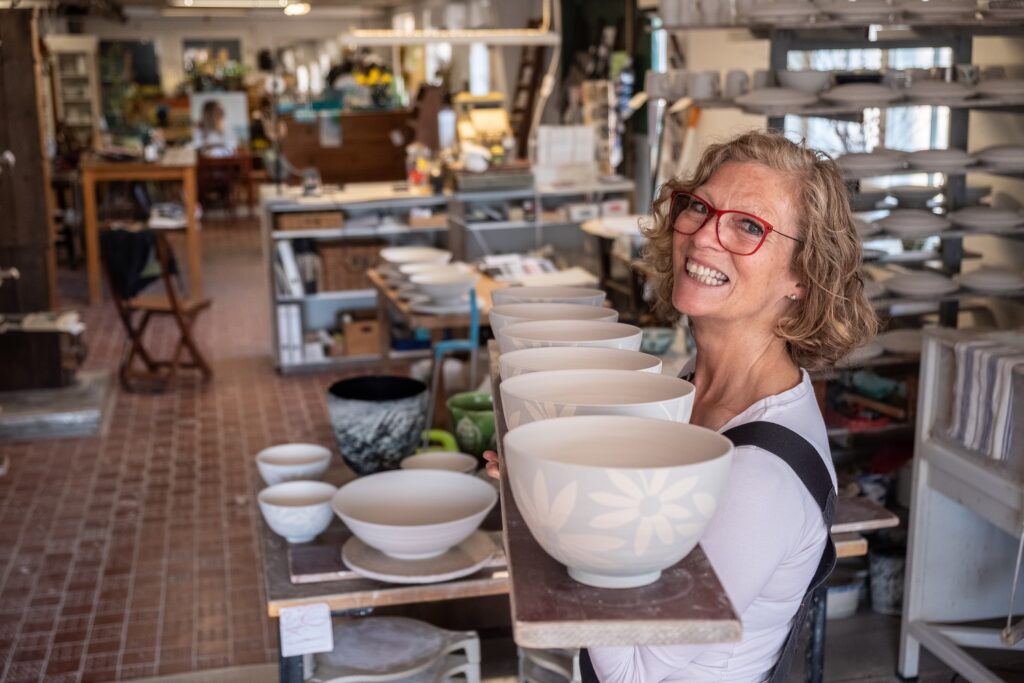 "I absolute love it here," she says, beaming. "It's been a really good move. I've got a lovely space and it's beautiful here with my kilns. I get a lot more peace and quiet which is good for my creativity."
Zero hassle is her worthy aim. "I want to be less stressed and make the pots that I like, not the ones that I have to make. I want to have a happy life. You choose the things that you want to do, you choose the people you want to spend time with. Whatever you do on holiday or in your spare time, it has to be something to do with making you feel good."
The rough edges of the Åland landscapes remind her of parts of her native England. "My grandparents were both artists living in the Lake District in northern England and perhaps that's why I love it here. I always wanted to live in Japan but I ended up here. You become a bit of a chameleon; you have your foreign side and your Finnish side. I'm proud to be Finnish now, I love the way politics work, and the schools, they're so nurturing, compared with how we had it at school in England."
---
Tim Bird is an English writer and photographer based in Helsinki, Finland. You can follow him on Instagram at @tim_bird_photo.