Straddling the Arctic Circle in the North Atlantic, Iceland has become wildly popular in recent years, attracting over 2 million tourists annually. Geologically active to the max, this rugged land of geysers, waterfalls, glaciers and volcanoes is very much a work in progress.
I first visited in June of 2016 as a stopover on the way back from Denmark. With only one night, I opted to do the classic tourist itinerary, the Golden Circle Tour, taking in a trio of the island's most famous sights: the geysir valley, Gullfoss waterfall and Thingvellir. The otherworldly landscape of colours, forms and textures was spellbinding. I vowed to return.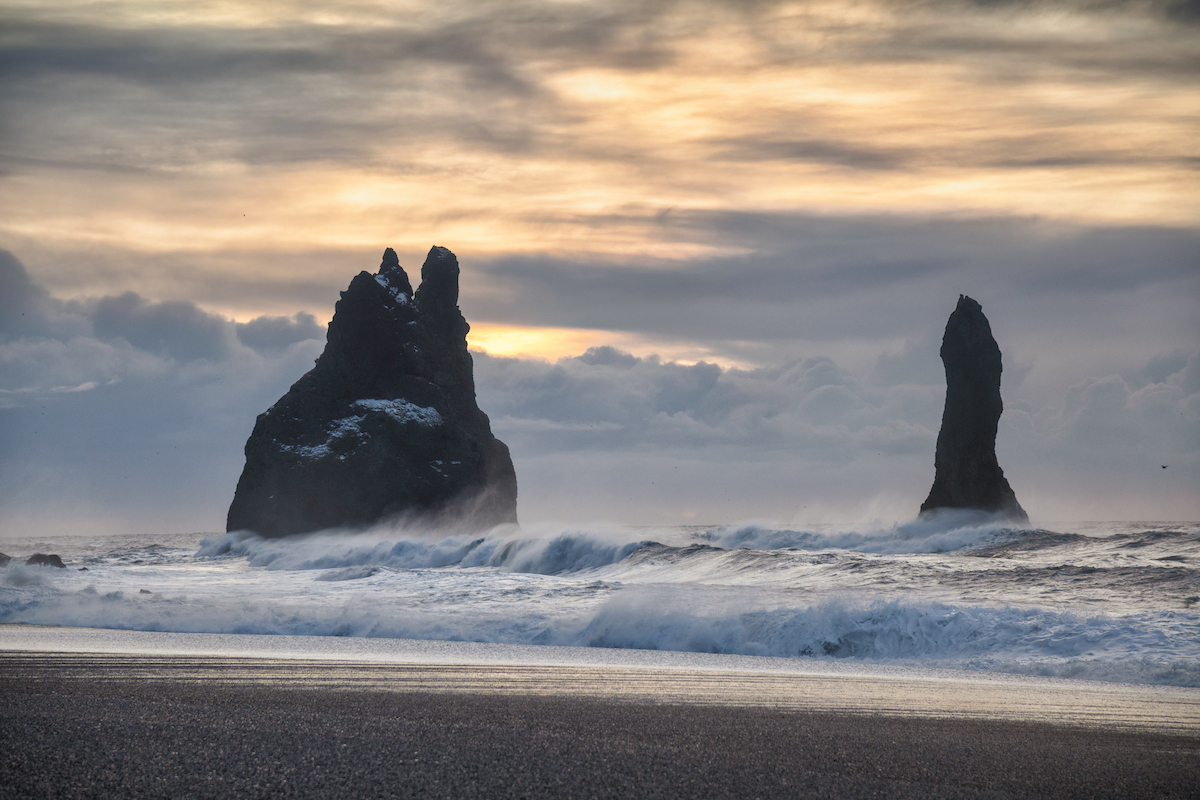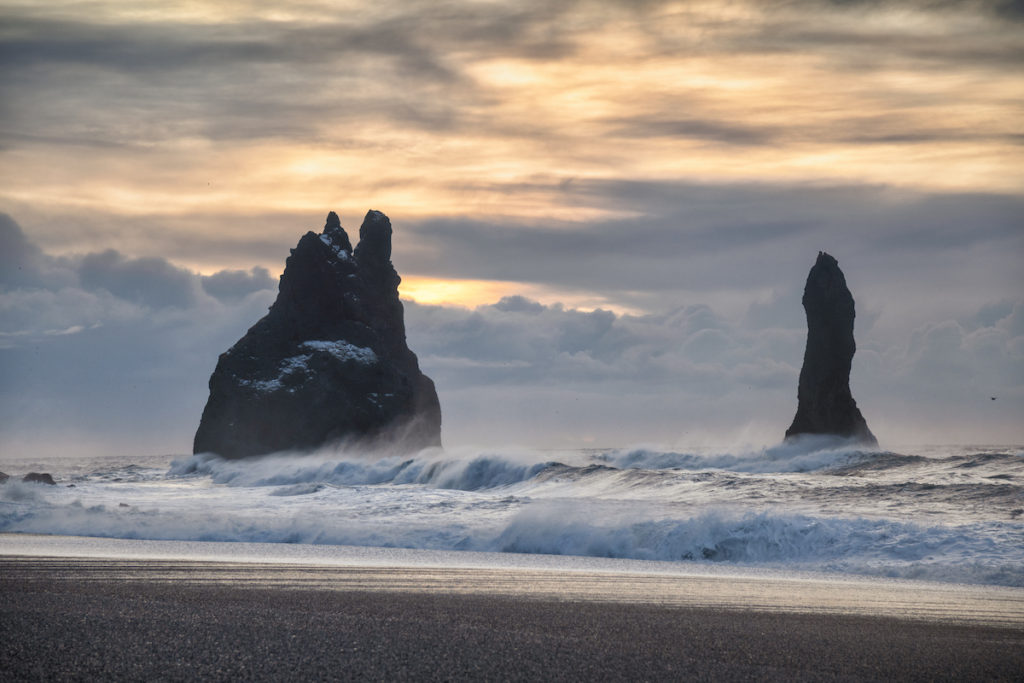 Fast forward to February 2020. I took a trip with Action Photo Tours, run by David Swindler out of Kanab, Utah. I had done other tours with David, and when Iceland was announced, my curiosity was piqued. Despite living in Canada, I'd never done any serious winter photography, so this would be something totally different.
Appearances on a map notwithstanding, Iceland is BIG. To drive its circumference would take an entire week, but our five-day itinerary encapsulated the island's south coast, following the Ring Road from the capital, Reykjavik, to Vestrahorn mountain in the east. Co-leading with David was Icelandic photographer Sigurdur "Siggi" Brynjarsson from Viking International Photo Tours. Seeing his photos in the trip dossier sold me on the spot!
Chasing waterfalls
Our first stop was Seljalandsfoss, one of Iceland's most iconic (and visited) waterfalls. Cascading from the summit into a large pool, it is one of the few waterfalls in the country that visitors can walk behind. Not so in February, though, as the relentless spray had transformed the surroundings into a skating rink.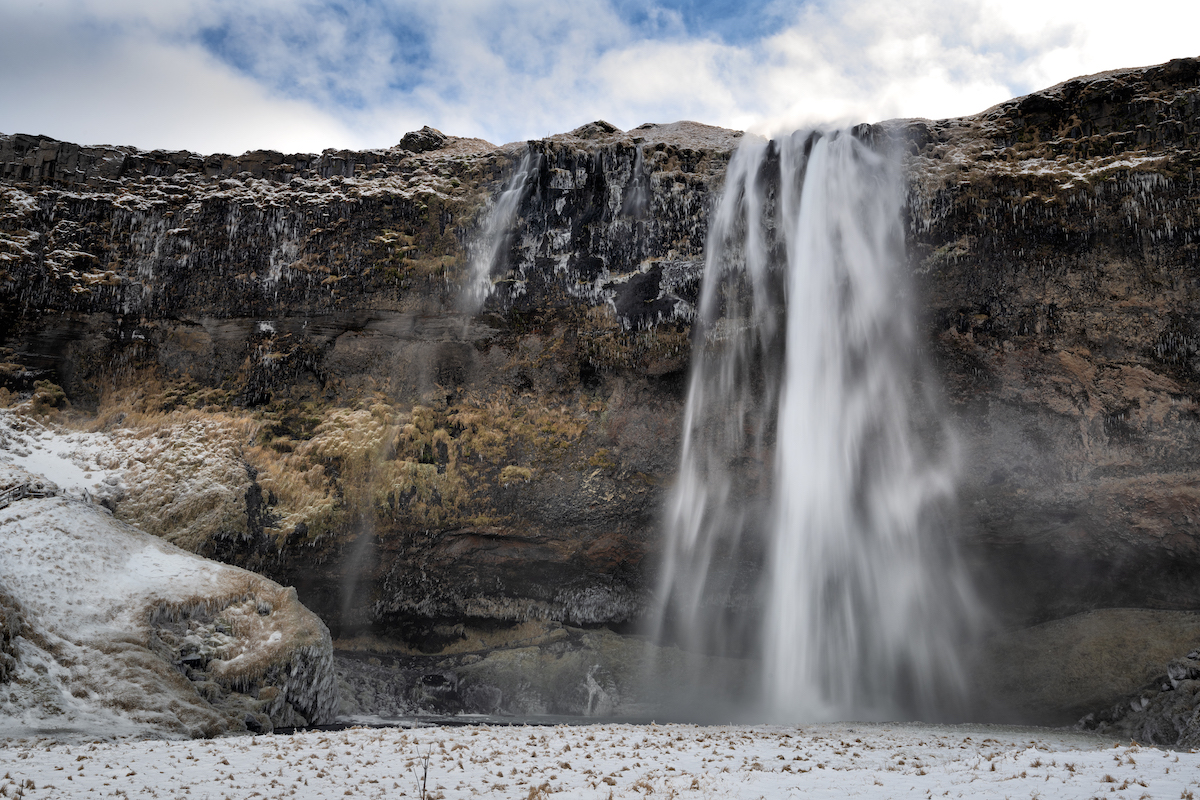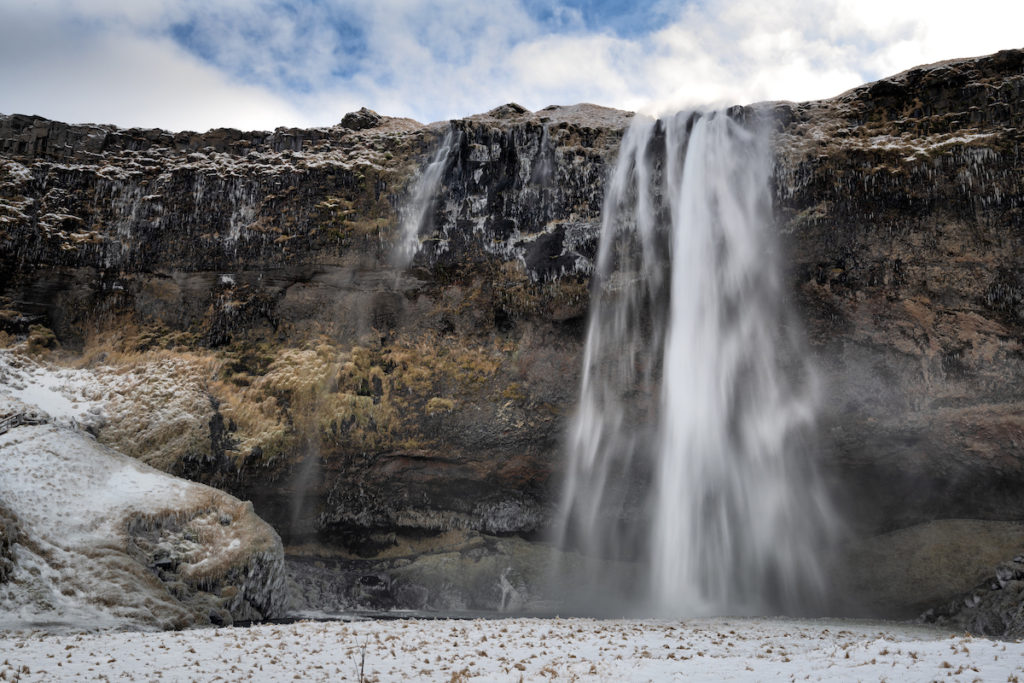 From here, we visited two more waterfalls: Skógafoss and Kvernufoss. Skógafoss was the taller of the two, with a drop of 60m. By now the sun had emerged and, from just the right angle, a rainbow was visible. The difficult part was getting an image without other people in it. Then, one member of our group moved closer, giving a sense of scale. Her red coat was an added bonus.
Tucked away in a nearby gorge, Kvernufoss was an easy 20-minute hike from Skógafoss but virtually deserted. Following the river, the trail was fairly level, but steepened approaching the falls. Occupying a niche in a natural amphitheatre, the falls were delicate compared to the raw power of Skógafoss. Snow blanketed the ground, and combined with the soft afternoon light, created a scene of sublime beauty.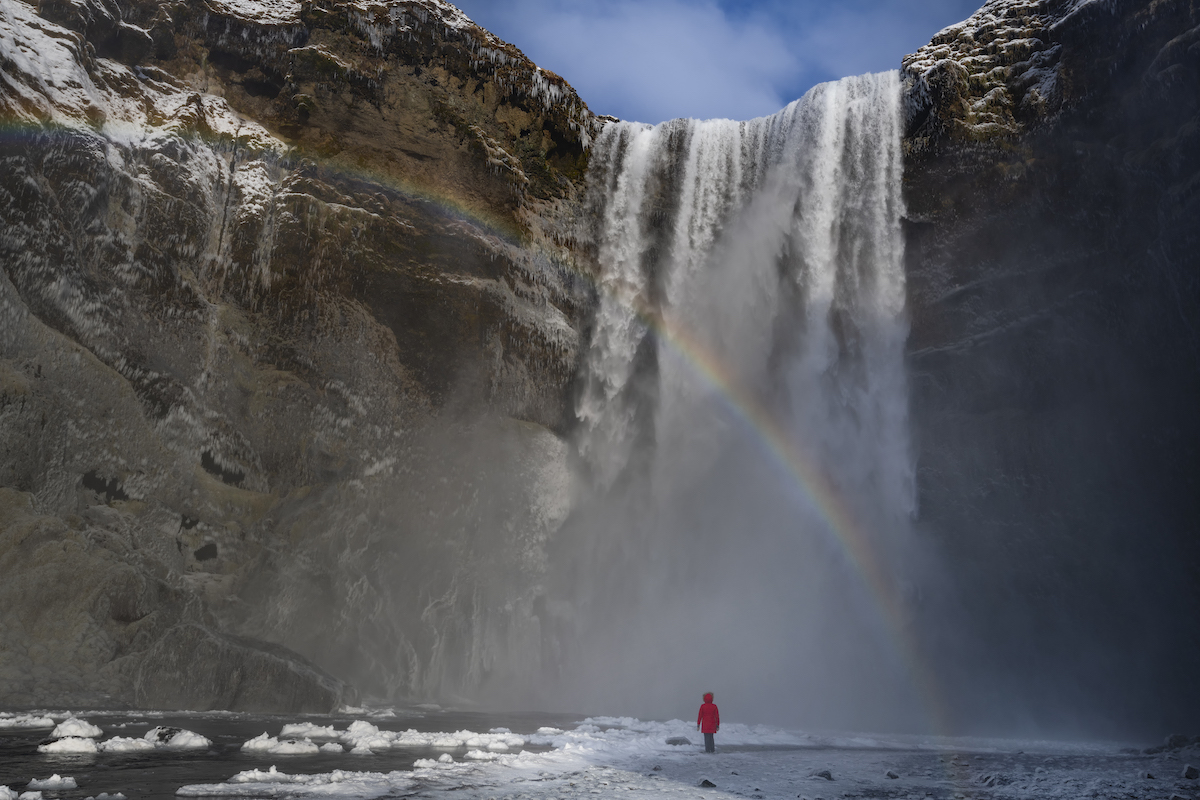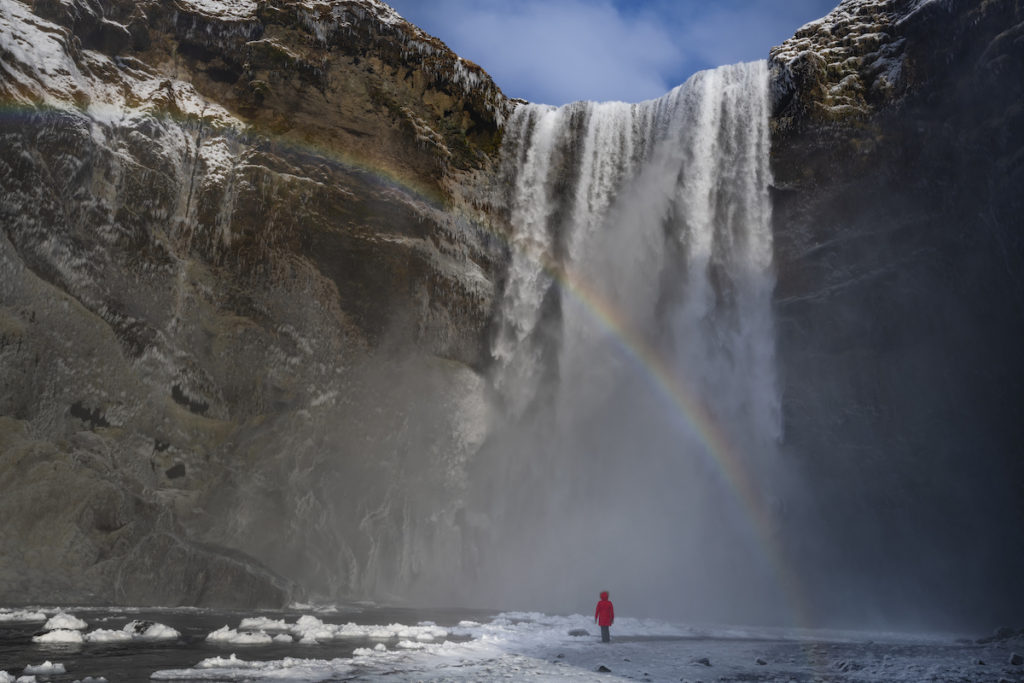 We finished the day at the small seaside village of Vik. Perched above on a hilltop was Reyniskirkja, a wooden church dating from 1929 and renowned as one of the country's most photogenic. The weather had changed again, the blue sky replaced by steel-grey clouds and serious gusts of wind.
Our last photo op was the Reynisdrangar Rocks, basalt pillars once part of a cliff but now isolated by the punishing surf. According to Icelandic folklore, the rocks are the solidified bodies of two trolls, who ventured into the water but turned to stone by the rising sun.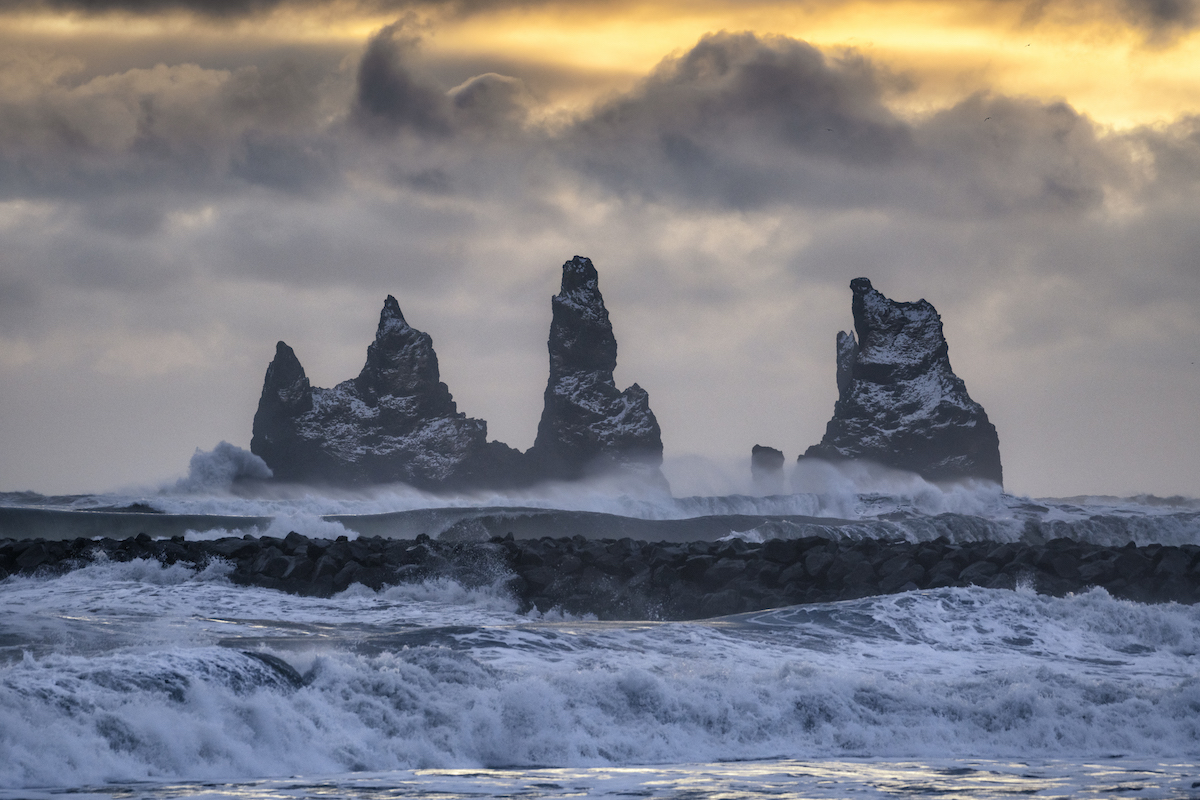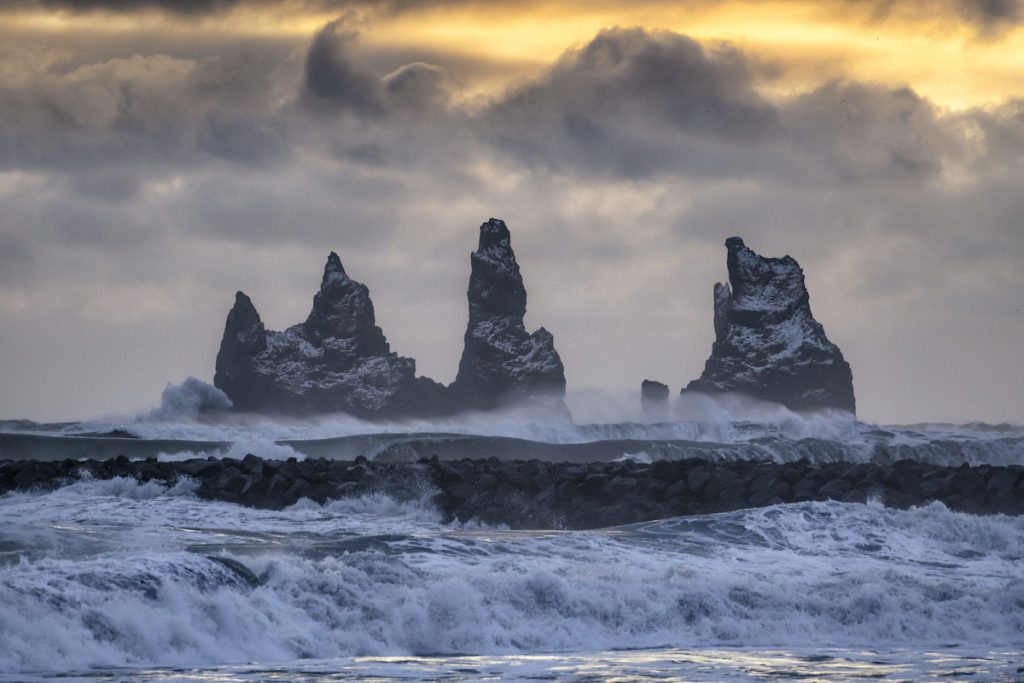 With no intent of joining the trolls, we headed to the beach for a safe vantage point. The wind and waves were ferocious, with a bitter cold that chilled to the bone. Keeping the camera steady, even on the tripod, proved challenging. Just as I turned to talk to someone, an icy gust blasted my face with black sand. Face stinging and fingers frozen, I'd had enough. I was learning that shooting in Iceland needs a lot of resilience.
Ruined bridges and black-sand beaches
Our next stop was the Reynisfjara black-sand beach, situated on the opposite side of the headland near the sea stacks. Arriving under a full moon, the scene was stark yet magnificent, the black sand framed by the headland's fluted basalt columns. Offshore, immense waves battered the sea stacks, a testament to the sea's raw power. Reynisfjara is reputed to be Iceland's most dangerous beach, and I happily kept my distance from shore.
After a coffee stop, we pushed on to Fjaðrárgljúfur Canyon. En route, we stopped to photograph Lómagnúpur Mountain, just off the Ring Road. Framed by a large pond encircled with ice and snow, the dramatic butte was reminiscent of the American southwest.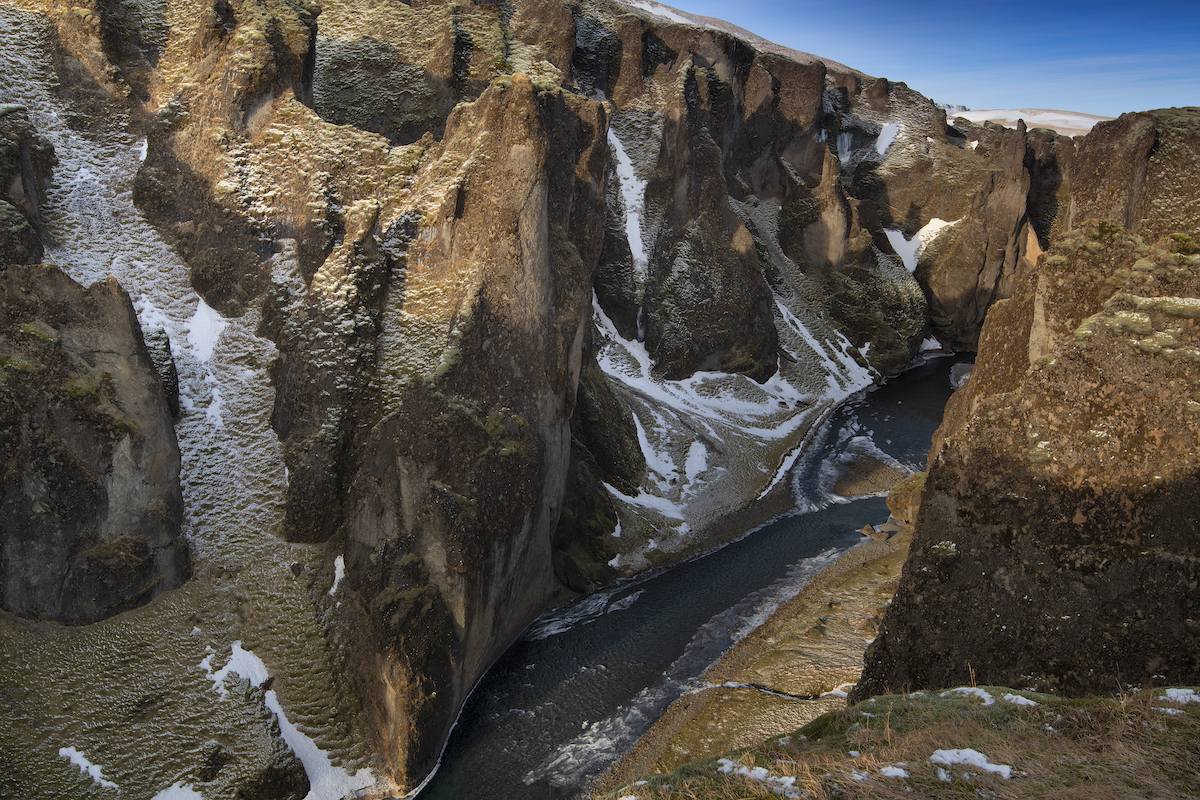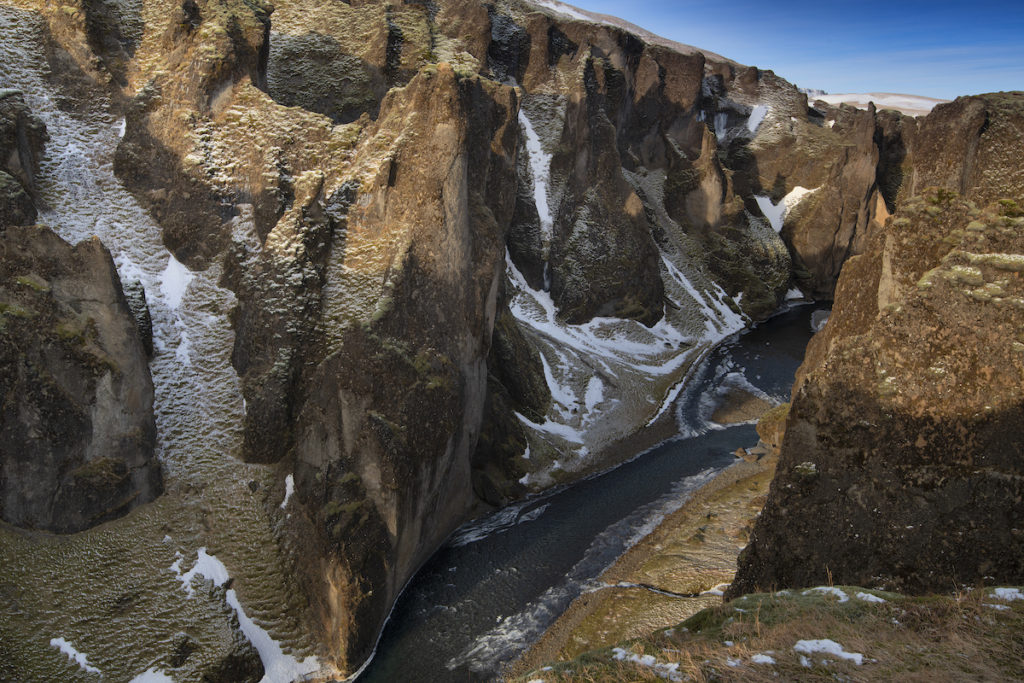 I was surprised at how conditions could change in such short distances. Fjaðrárgljúfur was virtually snow-free, apart from patches clinging to the precipitous walls. At 100m tall and 2km long, it was an impressive sight and, even in winter, traces of its mossy summer wardrobe were still in evidence. Following a trail to higher vantage points, I skidded repeatedly on the icy surfaces. "What's going on?" I thought, baffled by my struggling. Sheepishly, I realized I had put my crampons on upside down!
Later we stopped at a unique memorial devoted to a bridge. Part of the Icelandic Ring Road, the Skeiðarár bridge once spanned the Skeiðarár Sandur, a broad plain of volcanic sand interspersed with creeks fed by run-off from the Skeiðarárjökull glacier. In 1996, the eruption of Grímsvötn volcano melted portions of glacier, with the resulting floods sweeping house-sized icebergs down the plain, destroying the bridge.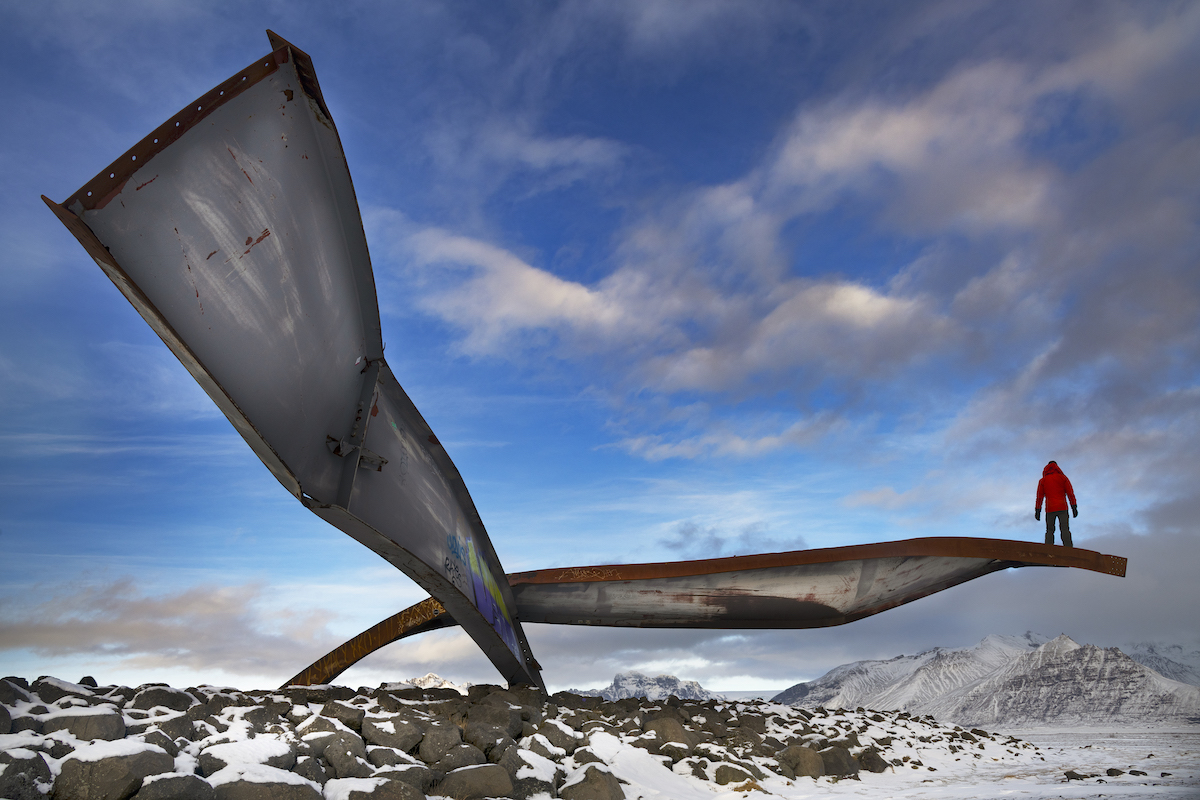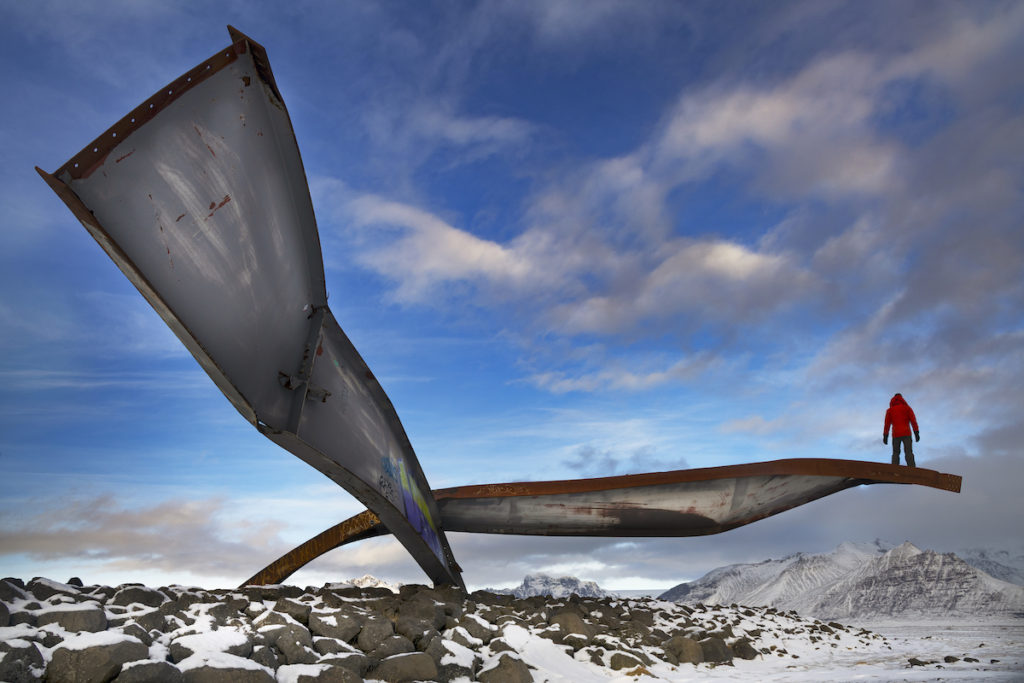 Fashioned from the bridge's remains, the memorial's twisted metallic beams were a sobering testament to the forces of nature. Another bridge has since replaced it, but a subsequent eruption could replicate the entire scenario. David climbed up to pose for some photos, his red jacket contrasting with the wintry white.
In the distance, I could discern the blue ice of Svínafellsjökull glacier, the day's final stop. Translated as 'pig head glacier', it is an outlet of Vatnajökull, the largest ice cap in Europe. Despite being 8km long and roughly 800m wide, Svínafellsjökull is but a mere sliver compared with the immensity of Vatnajökull, which encompasses 10% of Iceland's entire land mass.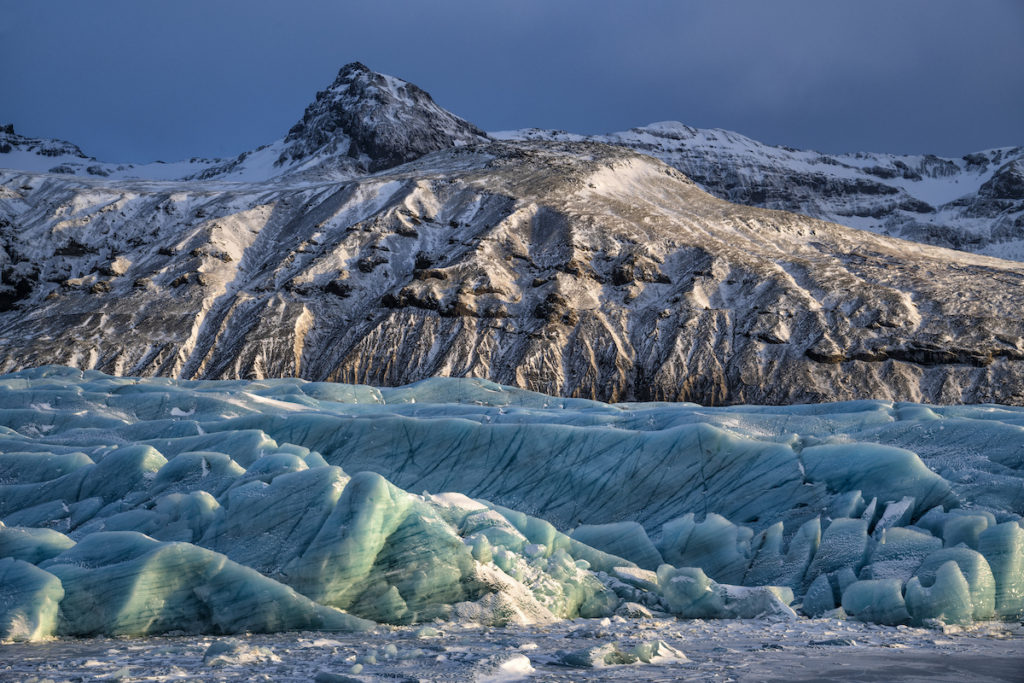 The grandeur stopped me in my tracks, the landscape's sheer magnitude was difficult to comprehend. Before me, a wall of ice cascaded down to a massive lagoon, now frozen solid. The textures and patterns were phenomenal. It was the first time I had ever seen blue ice and I was spellbound.
David encouraged me to head further up to a better vantage point, but I was reluctant. Even with crampons, trudging up a slope of sheet ice with camera gear did not compute. Taking only my camera and tripod, David helped me along and I made it. The viewpoint was even more spectacular, and I was grateful for making the effort. While setting up, the sun emerged from beneath the low cloud, bathing the entire scene with glorious light.
Jewelled caves and dancing skies
One of the highlights of a winter visit to Iceland is the chance to see the aurora borealis. Until now, evenings had been overcast but, with conditions now clear, Siggi checked his app. With solar activity in the forecast, we set out after dinner.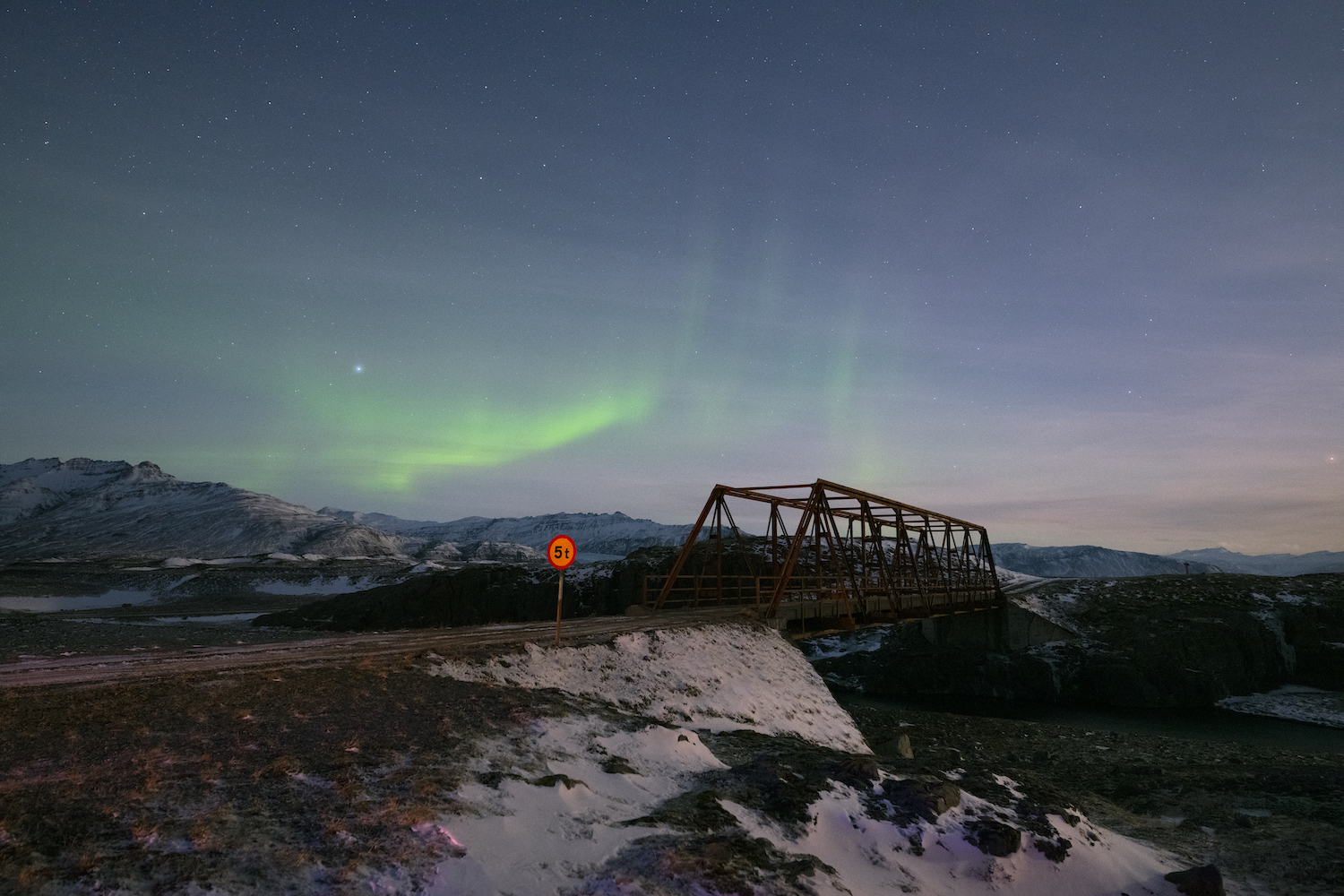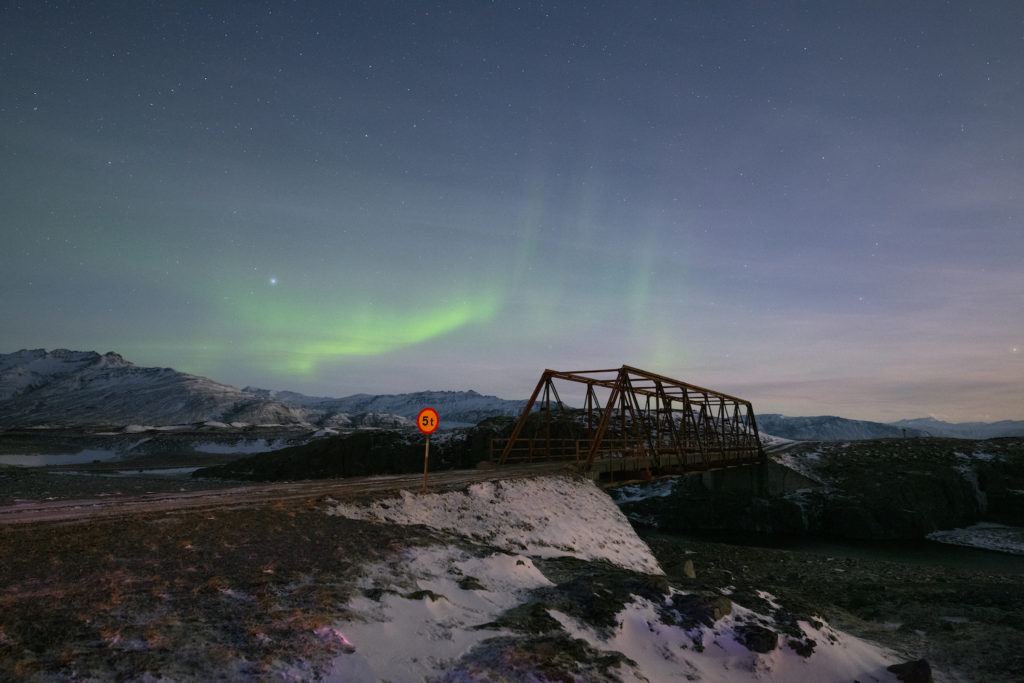 As we drove, things started to happen. We needed a foreground element and Siggi knew of a bridge. Upon arrival, everyone found a spot to set up, broke open some handwarmers and waited. And waited some more. Standing immobile was numbing, even with four layers of clothing. After a few false starts, the aurora finally appeared, but in a decidedly subdued manner. Still, we did get to see it and I managed a few images. Even in Iceland, nature has no guarantees.
If the trip hadn't been amazing enough, the following morning ramped up the wow factor. One of Iceland's true winter wonders, ice caves are formed by water running through or beneath a glacier. Visits are only possible in winter, but even then they can be hit or miss. If temperatures are mild, access is denied for safety reasons. Fortunately for us, the week had been cold, and we were good to go. Off we went to Sapphire Cave, situated within the Vatnajökull glacier.
Just getting there was an adventure. To arrive before sunrise necessitated a very early wake-up call. Bleary-eyed despite a full breakfast and multiple cups of coffee, I boarded the bus under a tableau of shimmering stars. After a 30-minute drive, we transferred to a massive six-wheel tundra buggy to get to the access point. Donning crampons, helmets and headlamps, it was then a 30-minute hike to the glacier itself in the dark. Fortunately, the trail was dry, with only a few icy patches. In the gloom, I could barely discern the glacier, but finally we reached the cave entrance.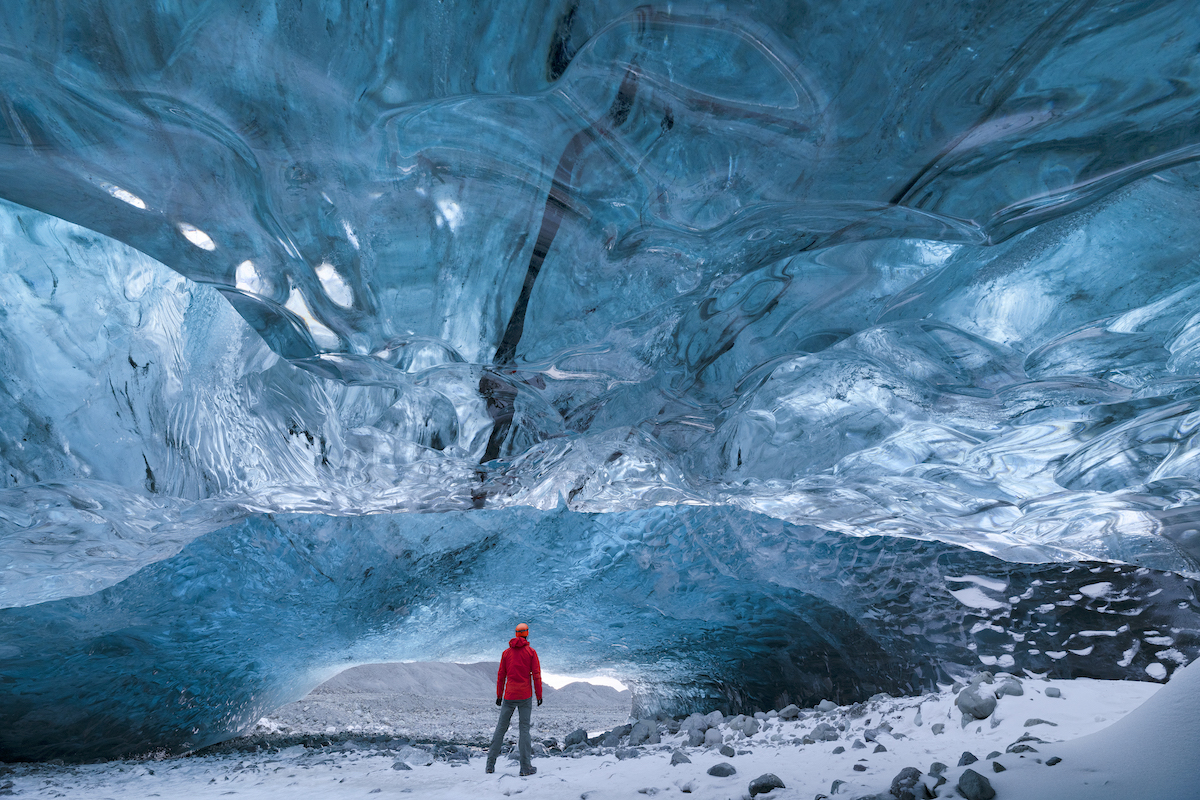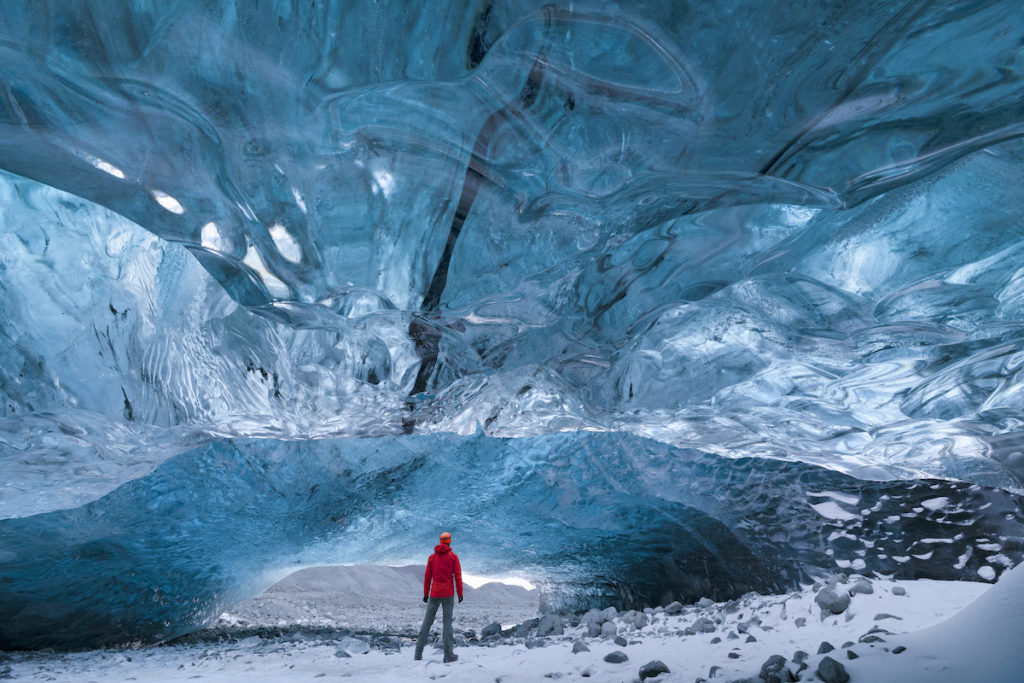 The scene was jaw-dropping; a wonderland of blue ice honeycombed with patterns and textures that didn't look real. There was little time for gawping; with conditions brightening, we wanted to shoot the entrance from the rear of the cave. This necessitated crouching in the most uncomfortable of positions with everyone lined up, tripod to tripod.
David posed for scale, his red coat again adding a splash of colour. I managed to fire off a number of images and then it happened: the tour groups arrived. Within minutes, the cave was a circus. Another photo group attempted the shot we had done, but the meandering rabble made it impossible. I immediately thanked David for dragging us out of bed.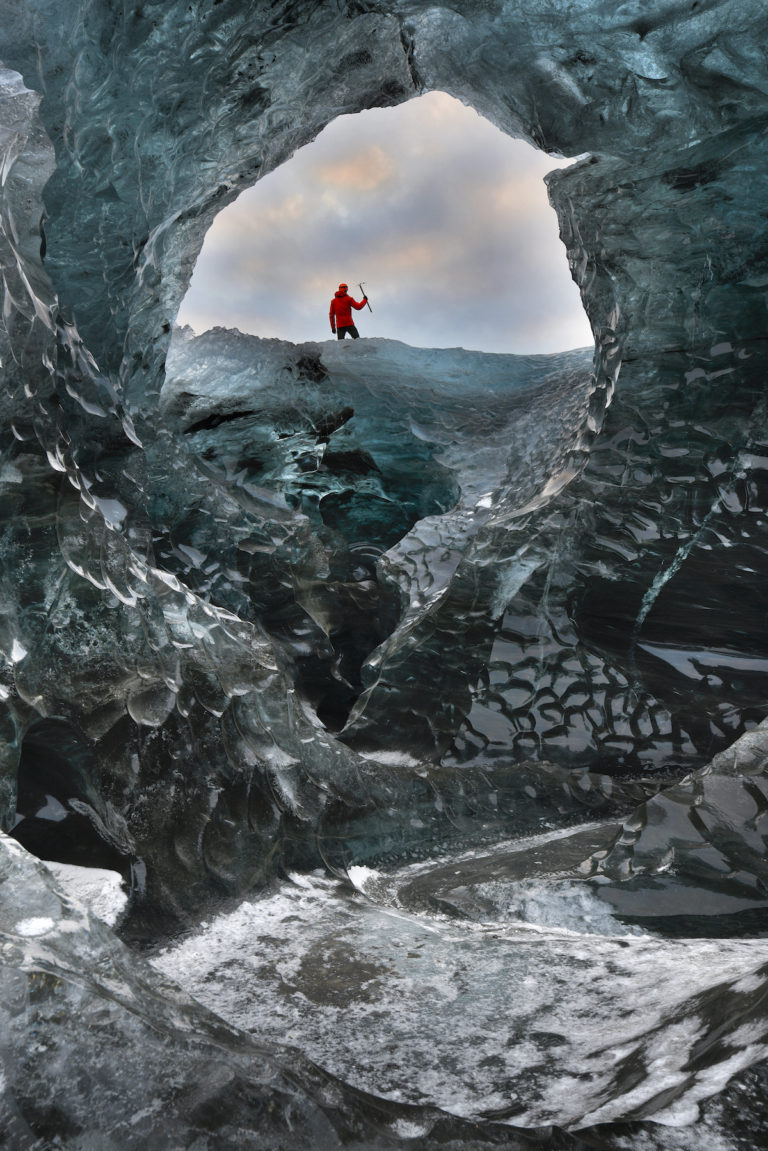 Escaping the horde, we then hiked up on to the glacier itself. Here lay another wondrous sight, a massive arch of ice. David hiked up to the ridge behind it to pose, his jacket contrasting with the green and blue hues. Siggi explained that the arch would likely collapse in days, another testament to Iceland's ever-changing landscape. Returning to the bus, I turned for a final look at the glacier. In the morning light, it now filled my entire field of vision. The scale was stupendous and something a mere still image couldn't capture.
Diamond beaches and mammoth mountains
And the highlights kept on coming. Our next stop, Diamond Beach, was one of the most surreal, yet beautiful places I've ever seen, its swathe of black sand strewn with icebergs washed ashore from nearby Jökulsárlón. Ranging in size from footballs to small houses, the icebergs boasted a whimsical array of shapes, resembling everything from modern sculptures to animals. It felt like walking through an immense open-air gallery, all set against a backdrop of the imposing 2,109m-high summit of Hvannadalshnjúkur, Iceland's tallest peak.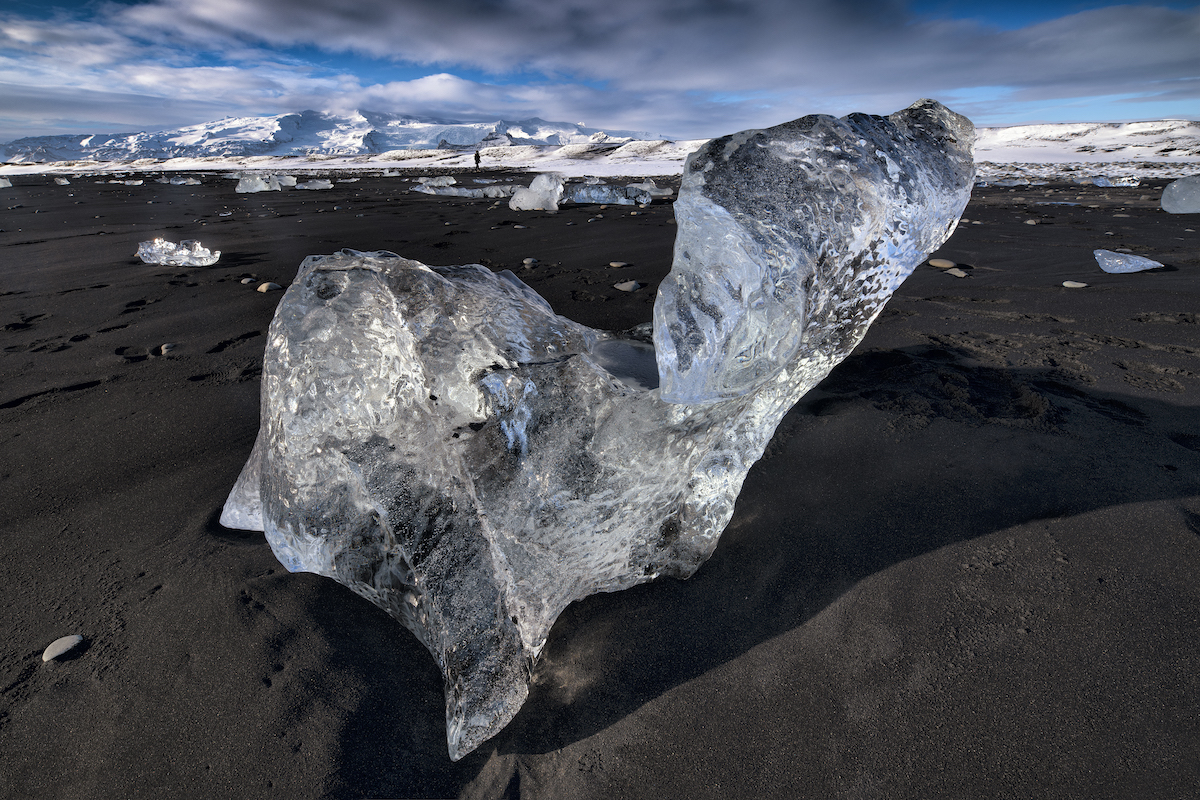 With conditions looking ideal, the guys recommended we head east to Vestrahorn Mountain for sunset. En route, we stopped to photograph some Icelandic horses. Admittedly, I'm not much of a horse fan, but these guys promptly changed my viewpoint. Small and very friendly, they are descendants of horses brought to Iceland by the Vikings a thousand years ago. Today, they are the sole breed of horse on the island and are renowned for their purity of bloodline. If a horse is taken off the island, it is not allowed to return.
The moment we got off the bus, they came right over to investigate. The only problem with photography was they got a bit too close, recognising tourists as a possible food source. Feeding is actively discouraged, but it doesn't stop them from trying!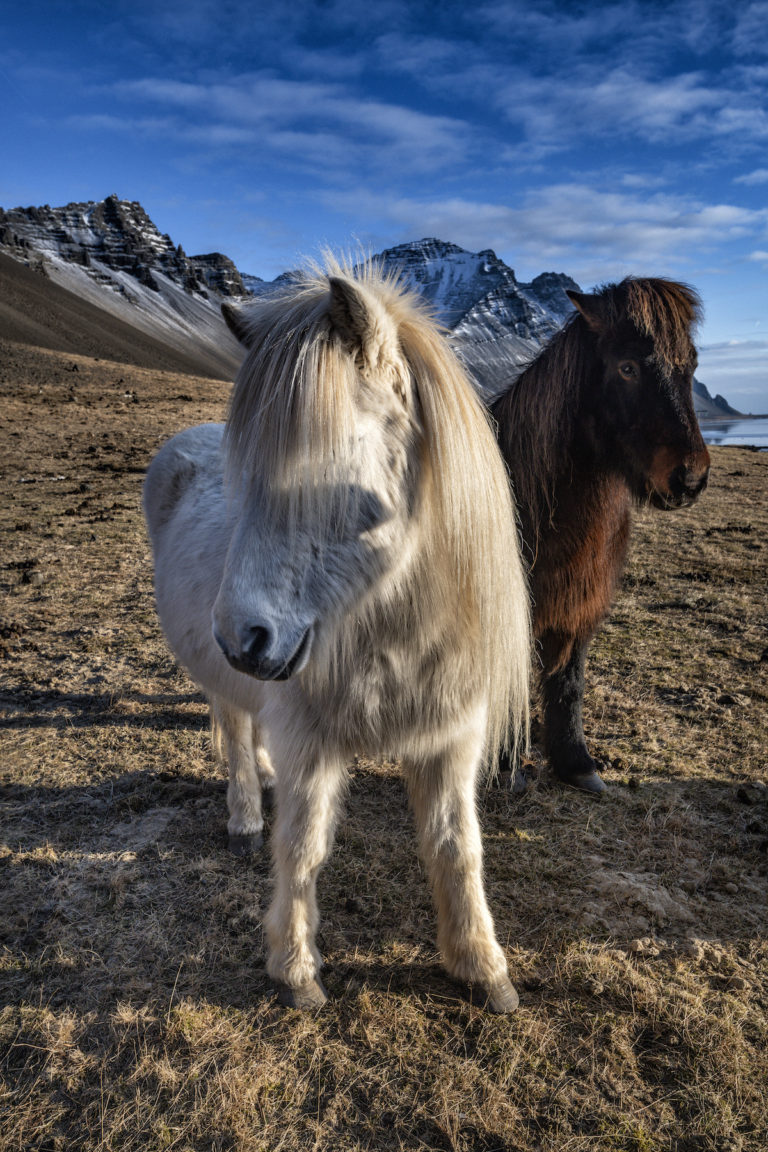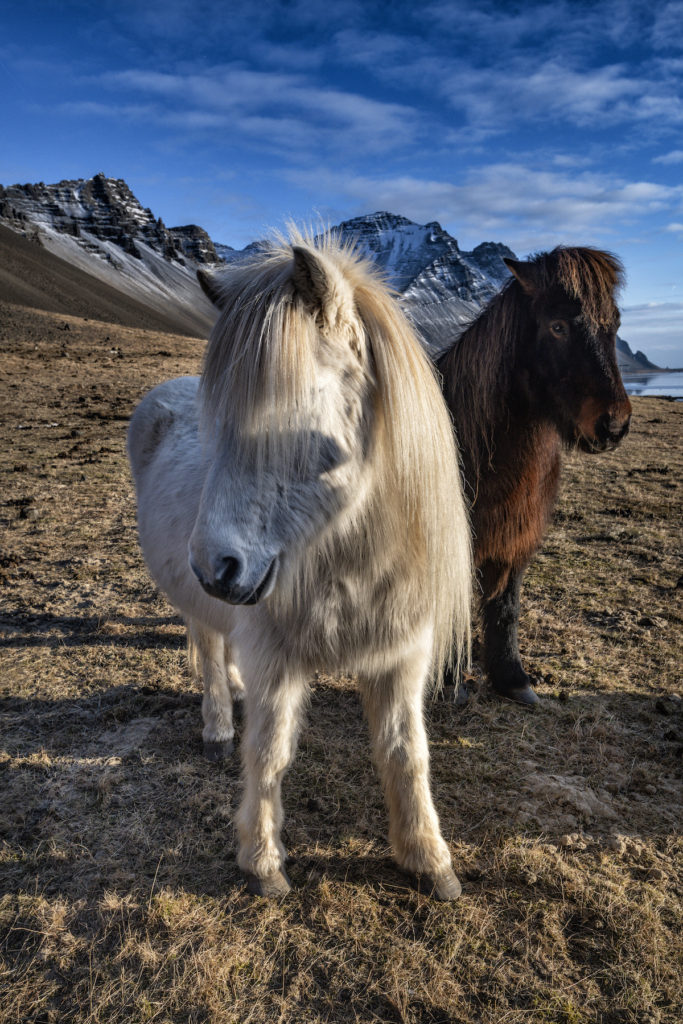 We then set out for Vestrahorn, located outside the town of Höfn and the furthest point of our journey. The mountain is regarded as one of the most beautiful in Iceland and it was easy to see why. From our vantage point, an assembly of jagged spires thrust skywards across the bay, their upper reaches lightly dusted by snow. Before us, clumps of tall grass punctuated the black sand, while the expansive beach was glazed with ice.
Our goal was to capture images of the mountain reflected in the ice. Although it was only a thin sheet, careful negotiation was required. We couldn't use our crampons, as they would puncture the ice with holes. Curiously, long cracks crisscrossed the ice, with black sand oozing up to fill the gaps.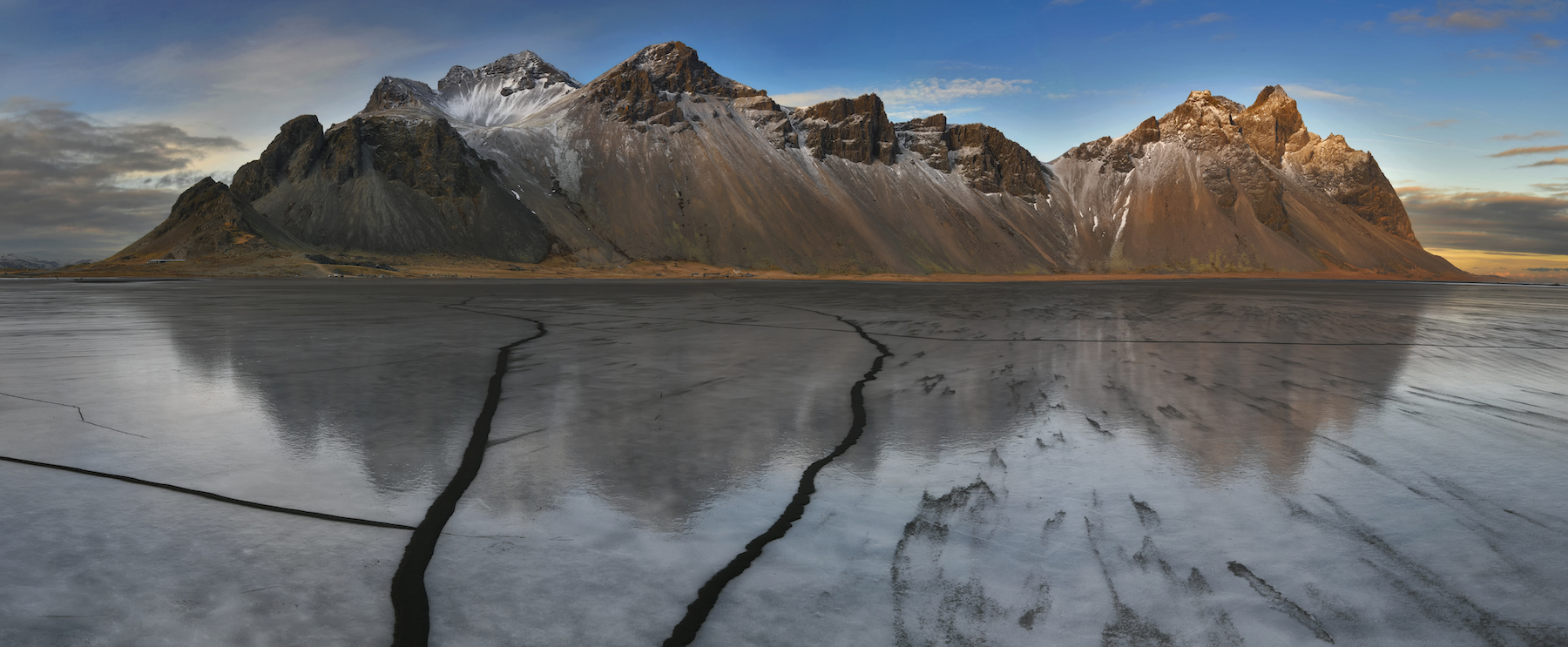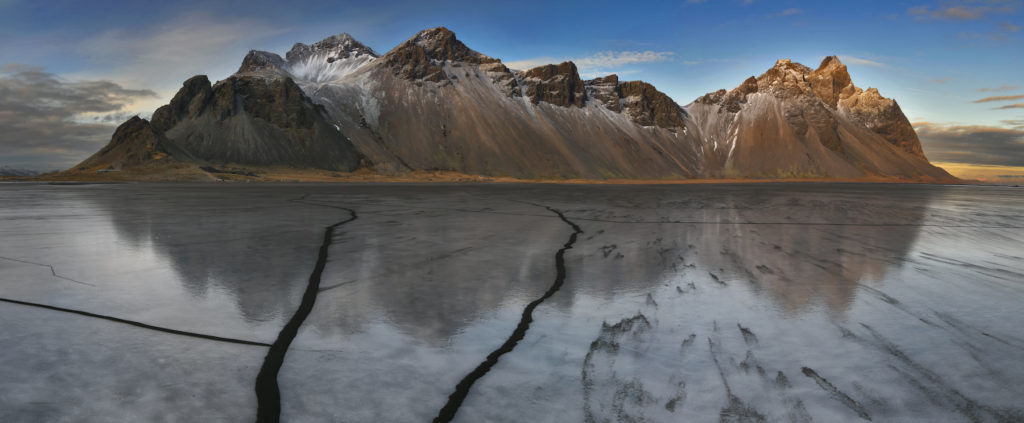 According to Siggi, it was the first time he had seen such formations in 20 years of visiting the site. Chilled yet enthralled, we called it a night and headed to Höfn for dinner. Photo days don't get better than this. Or so I thought…
The next morning, we awoke to unfortunate news. A winter storm with hurricane-force winds was heading our way. David and Siggi decided to return to Reykjavik that night instead of our planned stop at Vik. Once the storm hit, the entire island would be shut down.
Fortunately, it was mild and calm as we set out. Arriving before sunrise allowed ample time for photography. Unlike the previous day, there were few people around. Just the die-hard photographers!
The primary goal was to capture the retreating tide during a long exposure, revealing silky streaks on the dark sand. The results were magical. With ice backlit by the rising sun, Diamond Beach truly lived up to its name.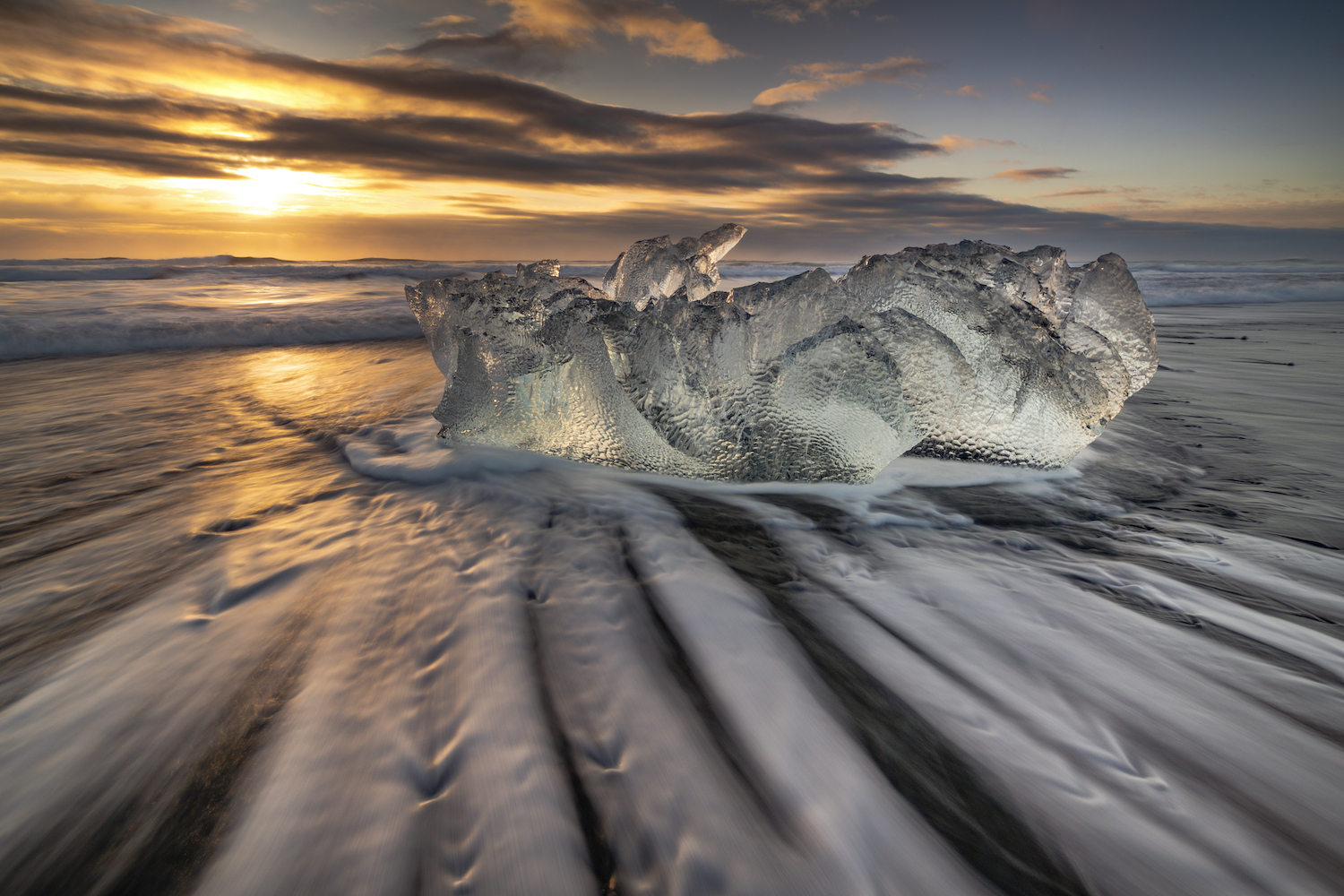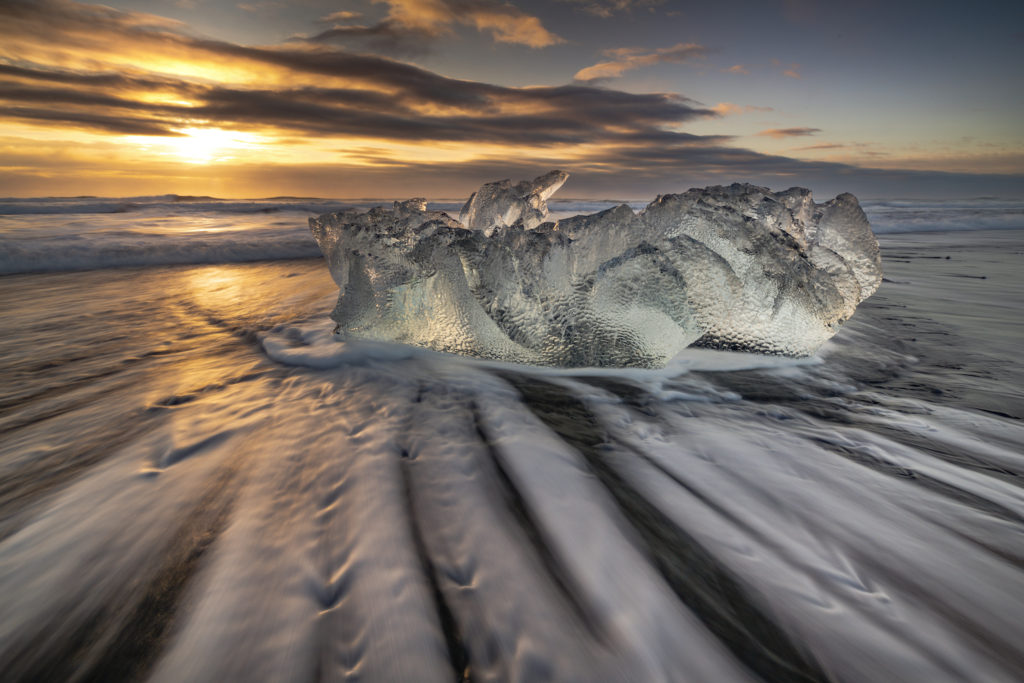 Siggi warned us to watch the water at all times. On average, one in every seven waves breaks further up the beach, catching visitors and camera gear unaware. In preparation, I wore a Gortex raincoat and pants along with some water-proof hiking boots, which I soon discovered… weren't. One wave swept over my feet, giving me an instant soaker. I got off easy; one participant tripped over her own tripod and plunged right in! Before I knew it, our time was up. Two hours wasn't remotely enough; I could have spent days. Even among 14 photographers, I was the last one back on the bus.
Gushing geysirs and glistening lagoons
With a long drive to Reykjavik ahead, our remaining schedule was tight. We stopped briefly at Jökulsárlón, bordering Vatnajökull National Park. Strewn with icebergs from the crumbling Breiðamerkurjökull Glacier, the lagoon has quadrupled its size since the early 1970s due to the receding glacier. Seals occasionally appeared, frolicking among icebergs lazily drifting towards the sea.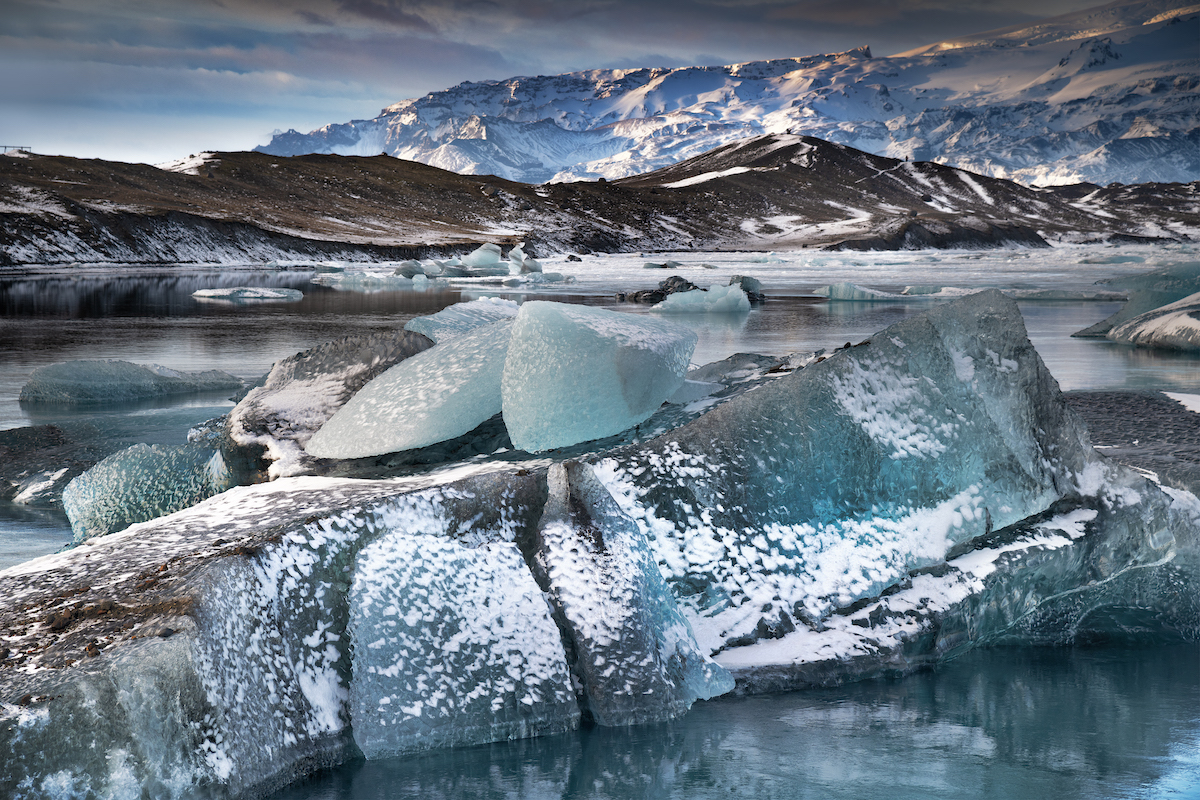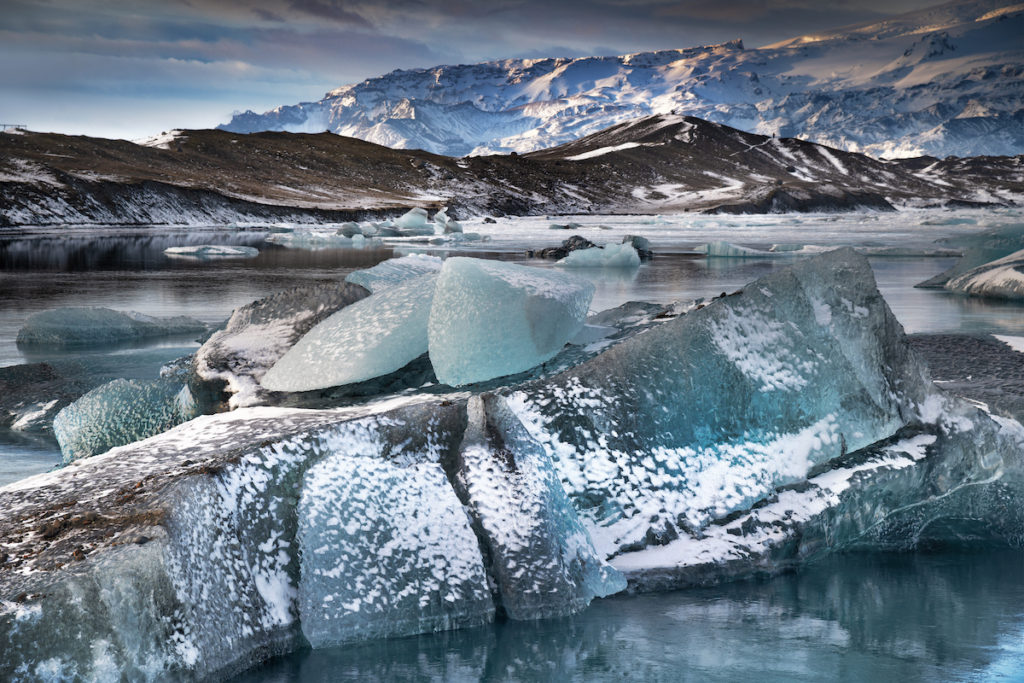 We fit in two more stops for the day: the Geysir Geothermal Area and Gullfoss waterfall. The former is home to fumaroles, boiling mud pits, hot springs, and, of course, geysers. It is named after the Great Geysir, which gave its name to all others and derived from Icelandic verb geysa ('to gush').
Although the Great Geysir itself remains inactive, Strokkur is the main attraction, erupting 20m-high jets erupts every five to ten minutes. The first view is startling, with virtually no warning it will go off. With camera ready, I managed to freeze the action with my camera's motor drive set on high.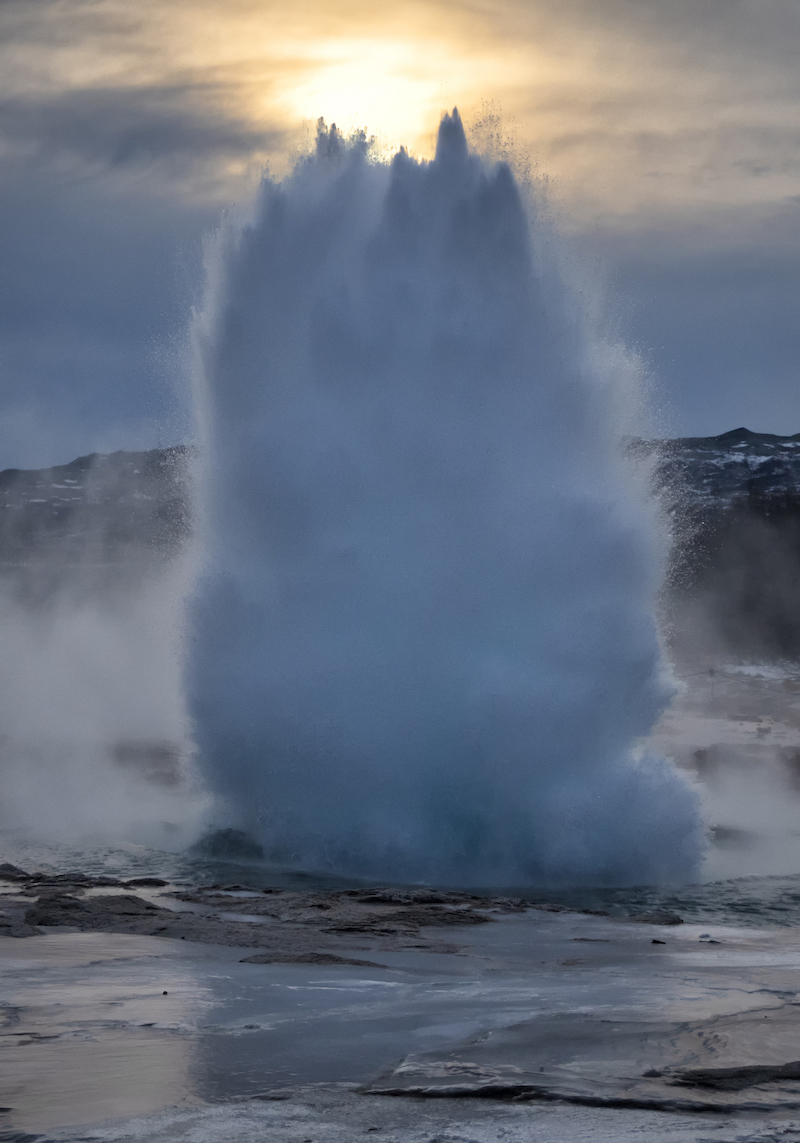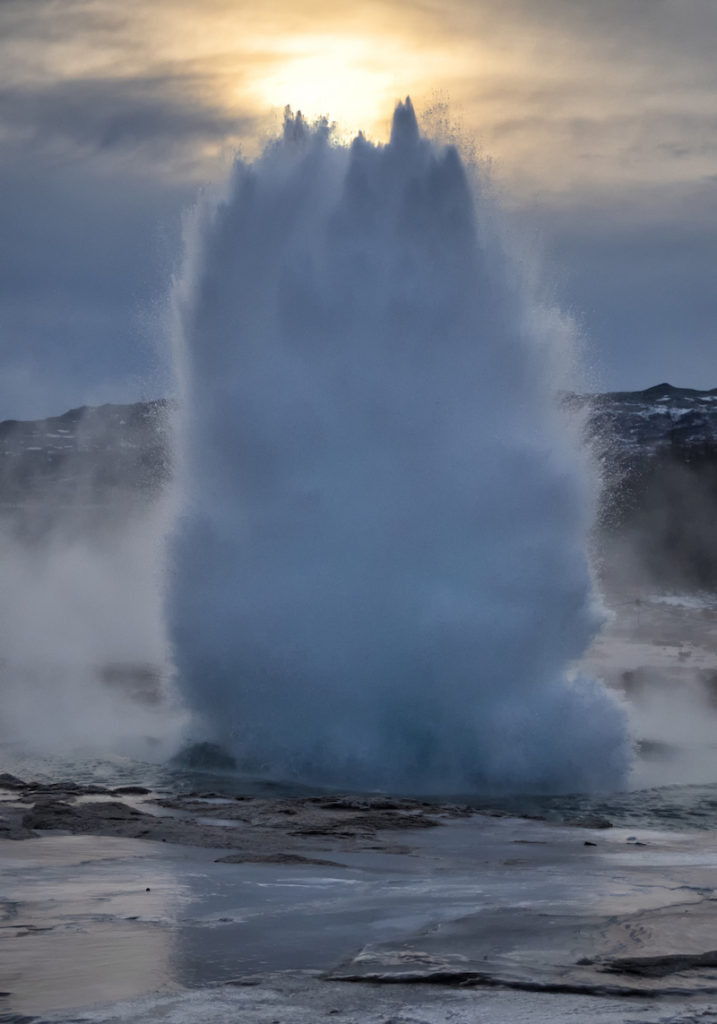 Equally impressive is Gullfoss, Iceland's largest waterfall. Starting at the main viewpoint at the front, we then moved to a higher spot looking down on the falls. The wind was intense, making it virtually impossible to capture a sharp image, even with a tripod. The bitter cold sealed the deal, and we all made a hasty retreat for the bus. Fortunately, we arrived at the Natura Hotel Reykjavik well before the storm hit.
Despite the challenges, travelling in winter was a unique experience that I would wholeheartedly repeat. My week-long adventure revealed but a fraction of the wonders this island nation has to offer, but for some of them, like Diamond Beach, glaciers and ice caves, it is the best time to experience them in their full glory. It truly was an amazing experience and one I would do again in a heartbeat. From now on, I really must re-think my relationship with winter.