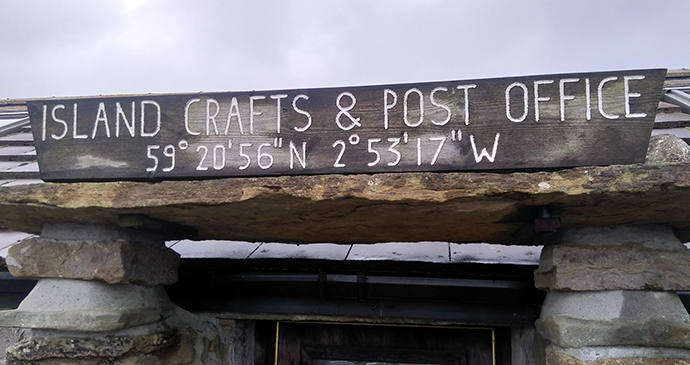 A local shop sign on Papa © Mark Rowe
Take the world's shortest scheduled flight to this beautiful little island; with a strong tailwind you'll be up and down inside 60 seconds.
Known as 'Papay' to its inhabitants and everyone else on Orkney, Papa Westray is one of those resonant names that brings to mind a far-flung location on the periphery of everyday life. Perched at the north of the Orkney archipelago, 20 miles north of Kirkwall, and lying more or less on the same latitude as Stavanger in Norway, Papay certainly ticks the geographical box for remoteness. Gaze north from the appropriately named North Hill and you're looking at water unbroken until you reach the Arctic. This is an island where mains electricity only arrived in 1980. There is, though, a certain irony in the fact that an island so cherished for being 'away from it all' is so well connected to the outside world, with its prime attraction being the blink-and-you-miss-it flight from neighbouring Westray.
Papay is tiny, just 4 miles long by a mile wide, yet there is plenty to keep you here for considerably longer than it takes the aircraft to fly here. The island has important Neolithic sites, viewed in the extraordinary light that you only really experience on small islands: fine, delicate sky blues that blur with sandy beaches and dark green moorlands. All this is framed and infilled by a fabulously indented coastline of cliffs, bays and farmland.