Everyone loves bluebells. It's the combination of swathes of that wonderful purplish blue with the almost translucent green of young beech leaves. Here are a few insiders' tips on the best displays of bluebells in East Devon and on Dorset's Jurassic Coast, from west to east.
Blackbury Camp
This wins my award for consistently offering the best display of bluebells in East Devon.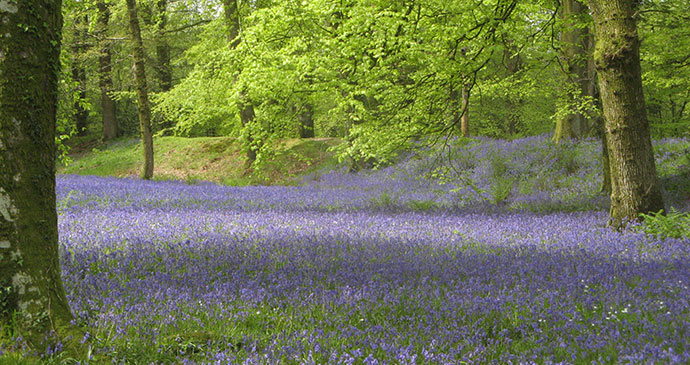 And there's parking nearby and level walking, and trees for the youngsters to climb – and some interesting ancient history described on noticeboards.
Holyford Woods
This Local Nature Reserve north of Seaton prides itself on its bluebells and has an annual Bluebell Day in early May to celebrate them. The downside (or upside for walkers) is that there is no parking nearby. Park in the layby near the top of Seaton Down Hill.
The Spittles
Just northwest of Lyme Regis is this little National Trust woodland of hillocks and bluebells. On a good year it's terrific because the hilly terrain gives you some unusual views of the flowers. You need a good pair of legs to climb the steep inclines.
Langdon Hill
Northwest of Golden Cap, the car park here (National Trust) is also the one for this popular climb so you can combine bluebells with coastal views. A broad, easy-to-walk track follows the perimeter of the woods where there is usually a good display of bluebells.
---
Eager to explore more of East Devon and the Jurassic Coast? Check out our comprehensive Slow Travel guide: