Sussex has seen an upward surge as a wine producer in the last few years, with a great number of vineyards appearing across the region. The soil in places, particularly near the Downs, is similar to that of the Champagne region in France, meaning Sussex vineyards are today producing some exceptionally classy stuff, winning the major awards and, as one wine seller once said, 'trouncing the French at their own game'.
The big hitters
Rathfinny Estate
Alfriston, Polegate BN26 5TU
If any single enterprise could be said to sum up the way the English wine industry has shifted gear in recent years, Rathfinny would be a good avatar. In its early days English winemaking was almost tentative, lacking both investment and identity. Bit by bit the pioneers were discovering what the English soil and climate could achieve, but it was only when the South East's suitability for the Champagne grape cohort – Chardonnay and the various Pinots – was firmly established that English wine decided what it was: Champagne, only better.
With that discovery has come a new confidence and a new dynamism, epitomised here on 600 acres of downland no more than a crow's mile from the sea near Alfriston in East Sussex. When Sarah and Mark Driver – she a solicitor, he a hedge fund manager – bought the derelict farmstead in 2010 they had big plans, and they had the professionalism, the experience, the acumen and the access to funding to get the wheels turning.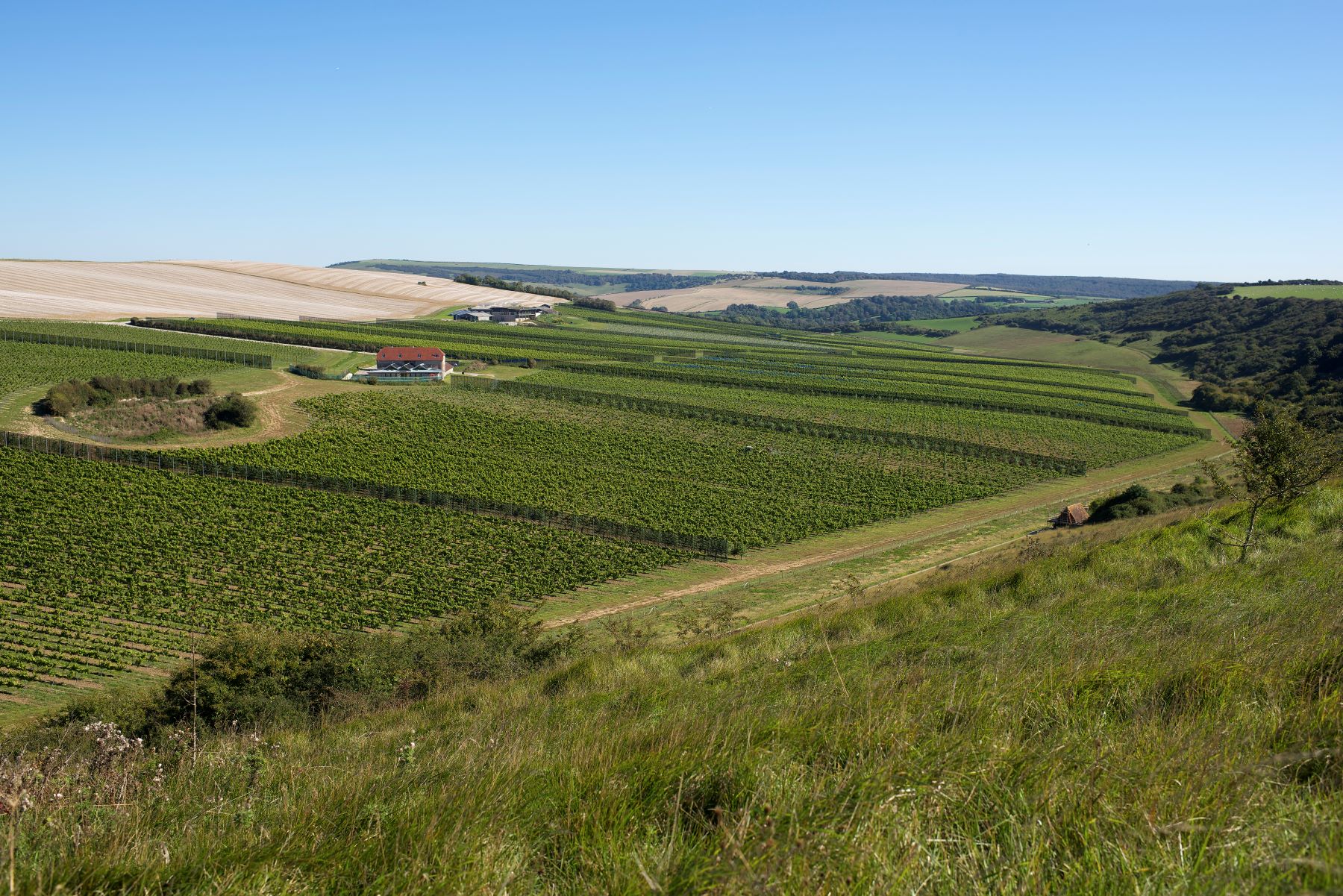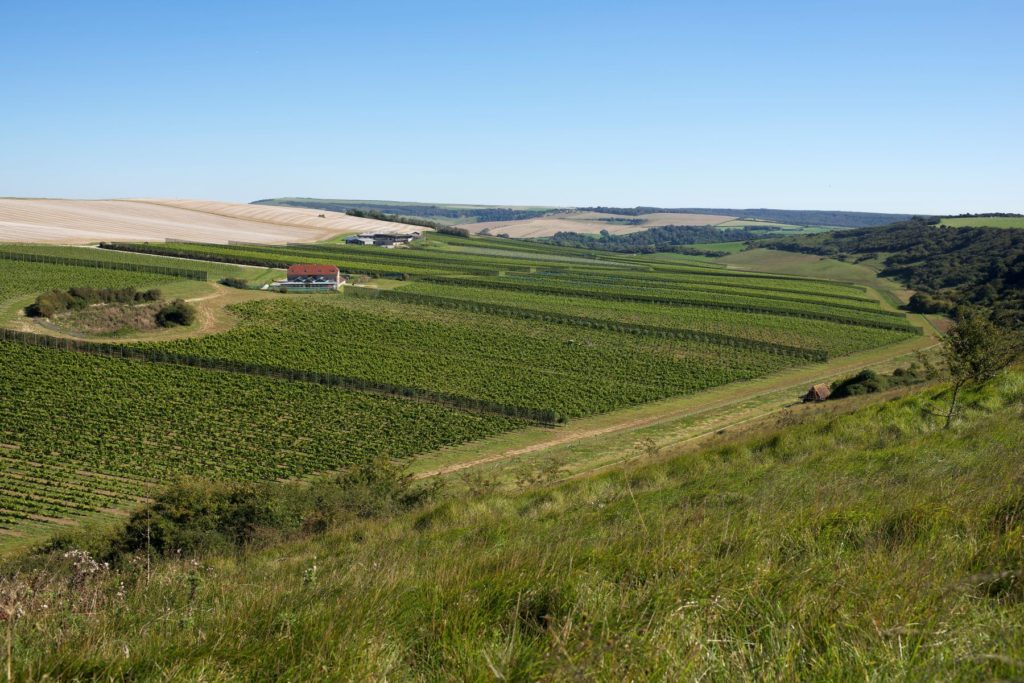 Planting started with 50 acres in 2012, with a programme intended to create 400 acres of vineyard capable of exceeding a million bottles a year. While the planting progressed under the watchful eye of experienced vineyard manager Cameron Roucher from New Zealand, work started on developing the estate buildings. A ramshackle set of modern but very rundown sheds disappeared under a new winery.
The original 1860s farmstead, left derelict after the 1987 hurricane, was not so much restored as rebuilt. The original flint and brick barn with its enormous wagon door has become an architectural landmark: in the pruning and picking seasons it's a ten-room hostel capable of putting up 45 workers in comfortable and stylish accommodation.
For the rest of the year it's a highly praised B&B. The Tasting Room fine dining restaurant and Cellar Door shop are just as distinguished, sculpted and shaped to meld into the landscape with a terrace commanding superb views of the Downs and the Channel beyond. The whole complex, even the 16,000 sq ft office building, scooped the commercial category awards at the 2015 Sussex Heritage Trust awards. Of course it is all designed to be as environmentally friendly as possible.
The estate is criss-crossed with footpaths that anyone is free to wander: the Drivers have devoted considerable effort to encourage wildlife through habitat restoration, so don't forget to bring your copy of the Observer Book of Butterflies with you. Alternatively, book a guided tour, followed by lunch and tastings or just dinner in the Tasting Room.
Carr Taylor
Wheel Ln, Westfield, Hastings TN35 4SG
When you arrive at Carr Taylor the protocol requires you to get down on your hands and knees and kiss the soil. That's because this soil is sacred. This is where David and Linda Carr Taylor came to the conclusion that English wine didn't have to be imitation German. And this, just a few miles inland of Hastings, is where the fightback against the French began in earnest.
When David, managing director of an engineering firm, and Linda, who had trained as a pianist and flautist at the Royal College of Music in London, planted the first vines at their farm, guess what they chose? Yup, it was 1971 and English growers still believed that our soil and climate were so like the Rhineland's that German varieties would do best here, so that's the direction they took.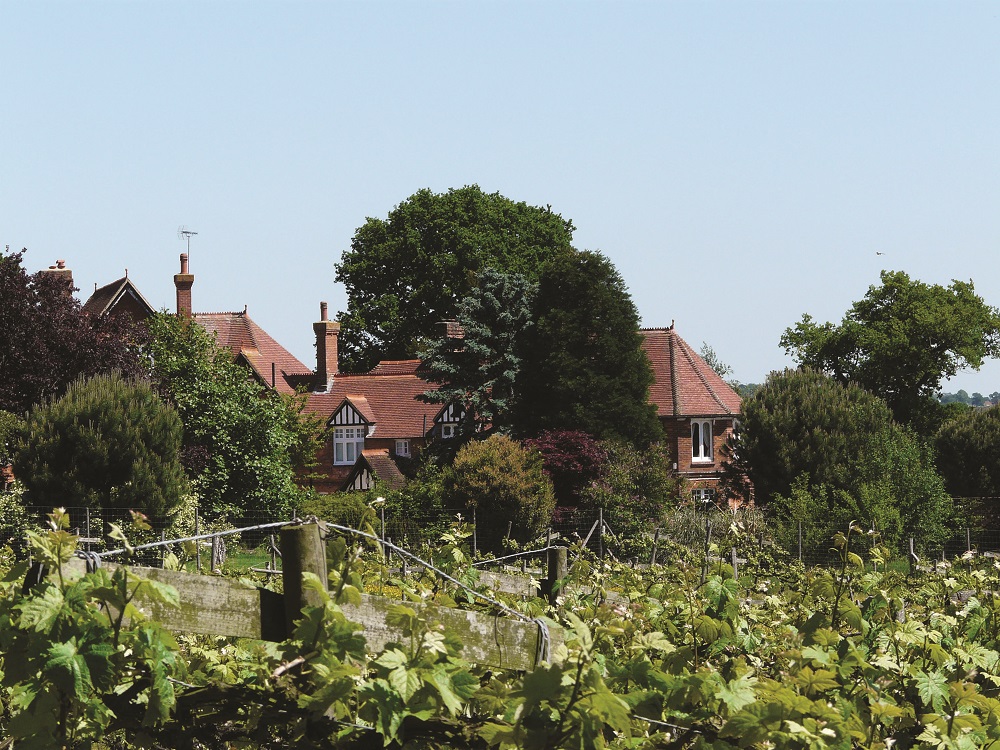 Their first commercial bottling was in 1976 and by the following year they had finished planting their 21 acres. Soon the prizes started rolling in – the 1981 Gutenborner won a silver medal in the 1983 International Wine & Spirit Competition, the 1982 Kerner Huxel took Bronze in the English Wine of the Year and the 1982 Schönburger scored a Médaille d'Or in the Challenge International de Vin.
At that time people were beginning to agree with pre-war pioneer George Ordish, who had written on the similarity between the climates and soils of southeastern England and the Champagne region. From as early as 1966 some growers were trying their hands at making Champagne-style bottle-fermented sparkling wines using German varieties, and in 1980 Hambledon Vineyard in Hampshire planted 1,000 Chardonnay vines.
Lamberhurst Vineyard, where Carr Taylor had its grapes vinified before its own winery was completed, also experimented with bottle fermentation. But it was David and Linda who got there first. From a bumper 1984 harvest, and with the century-old farm buildings now converted into the winery, warehouse and public spaces you see today, they made their first sparkler for release in 1987, entered it in the 1988 Concours Européen des Grands Vin… and won gold.
Of course it was only a modest affair back then with a trifling 1,800 challengers. The next time Carr Taylor scooped that same gold in 1999 there were 4,300! The wine world takes its competitions very seriously, so the French were understandably interlopers and wrote the wine off as a fluke.
However, as the awards piled up – not just for the Carr Taylors but for the many English makers who followed their lead – it was clear that the English wine industry had made the transition from (in the eyes of cynics) a bunch of middle-class eccentrics with more money than sense growing whatever they could persuade to sprout from their patch of freezing English mud, into serious competition.
And it started here. Right here where you're standing now. There are a range of tours, starting with a self-guided tour where you can just turn up without any booking and be given a map showing the vineyard trail; dogs are very welcome. Or you can book a group tour where you have your own dedicated guide which concludes with a wine-tasting session.
Nutbourne Vineyard
Gay St, Pulborough RH20 2HE
There are not many places in Britain where you can stand in a windmill tasting wine from grapes grown yards away and look out to a glorious view. Nutbourne Vineyard is one: the tasting room is in a sail-less tower mill, and the distant view of the South Downs escarpment is one to drink in at leisure. Bridget and Peter Gladwyn admit they weren't looking for a vineyard when they started property-hunting in the area a few years back, but the scenic qualities of this one (which they then enlarged) persuaded them to take up wine production.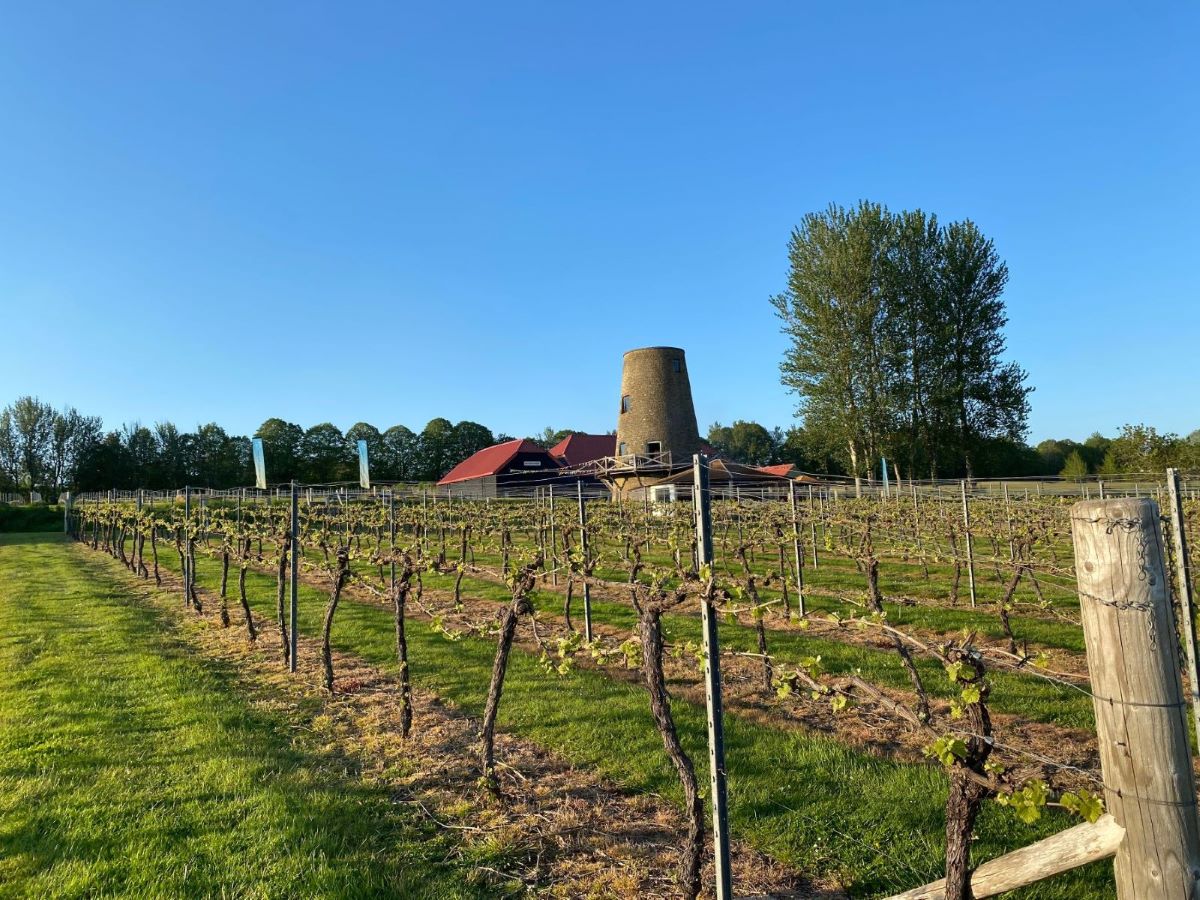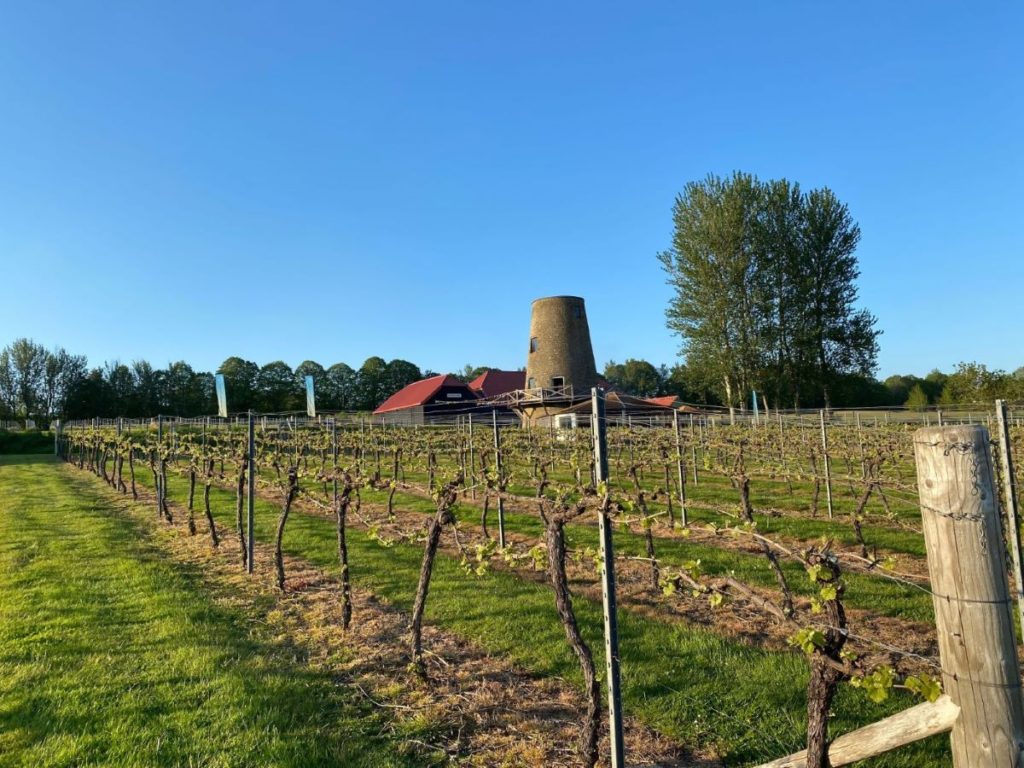 You can just turn up and wander around yourself for no charge, and try a free tasting of their excellent wines – these include Sussex Reserve ('dry, fragrant, with delicate citrus fruit characteristics') Blush (an 'aromatic, summery rosé'), Bacchus ('crisp and fresh with an elderflower bouquet') and sparkling Nutty Brut. For pre-arranged groups there are tours at a set price. 'We tell them about growing systems, what happens on the build-up to harvest. We go around the lakes, meet our alpacas.'
For the October harvest they get in specialist Romanian pickers who know the vines well, and bird-deterring goes big time: 'plastic hawks, anything that floats in the air, glittery things and bird scarers'.
Other Sussex vineyards
Bluebell Vineyard
Glenmore Farm, Furner's Green, Uckfield, East Sussex TN22 3RU
The first Chardonnay, Seyval Blanc, Pinot Noir and Pinot Meunier grapevines were planted at this former piggery in 2005 and it has since expanded to 70 acres, producing the well-known Hindleap range of bottle-fermented sparkling wines.
Vineyard and winery tours with tastings are conducted by appointment throughout the week but there are also woodland and vineyard trails and a picnic terrace overlooking the estate.
Kingscote Estate
Mill Place Farm, Vowell's Ln, East Grinstead, West Sussex RH19 4LG
The 150-acre Kingscote Estate produces cider from its own orchards as well as still and sparkling wines from its vineyards. It also offers country sports including angling and clay pigeon shooting and has converted a 15th-century tithe barn into a wedding venue and function suite.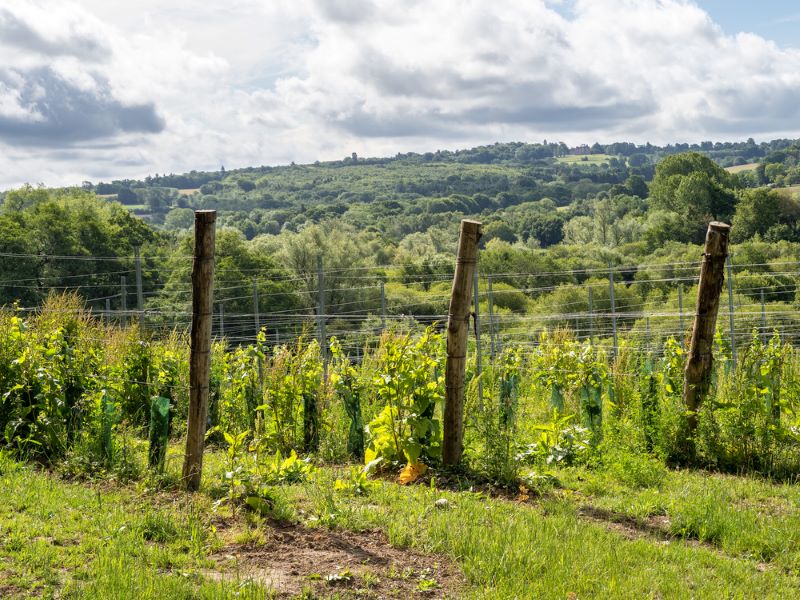 Kingscote has its own stop on the Bluebell Line preserved steam railway, so you can arrive in style!
Oxney Organic Estate
Hobbs Ln, Beckley, East Sussex TN31 6TU
At 850 acres, Oxney claims to the biggest sustainably farmed organic estate in the country. It includes 35 acres of Chardonnay, Pinot Noir, Pinot Meunier, Pinot Précoce and Seyval Blanc planted between 2012 and 2018, and it produces both still and sparkling wines in a brand-new winery sited in a converted oasthouse.
Several old barns have also been converted into comfortable holiday cottages.
Ridgeview Wine Estate
Fragbarrow Ln, Ditchling Common, East Sussex BN6 8TP
Established in 1995 in the beautiful prehistoric landscape of the South Downs in Sussex and now in the hands of the second generation of the founding family, Ridgeview was one of the vineyards that pioneered the production of English sparkling wine.
With a string of international awards under its belt it also helped British Bubbles earn their worldwide reputation for quality.
Sedlescombe Organic Vineyard
Hawkshurst Rd, Sedlescombe, Robertsbridge, East Sussex TN32 5SA
Founded in 1979 by self-sufficiency enthusiasts Roy and Irma Cook, Sedlescombe was England's first organic vineyard and produced the country's first organic bottle-fermented sparkling wine in 1990. Situated in the picturesque High Weald Area of Outstanding Natural Beauty, it has been fully biodynamic since 2010.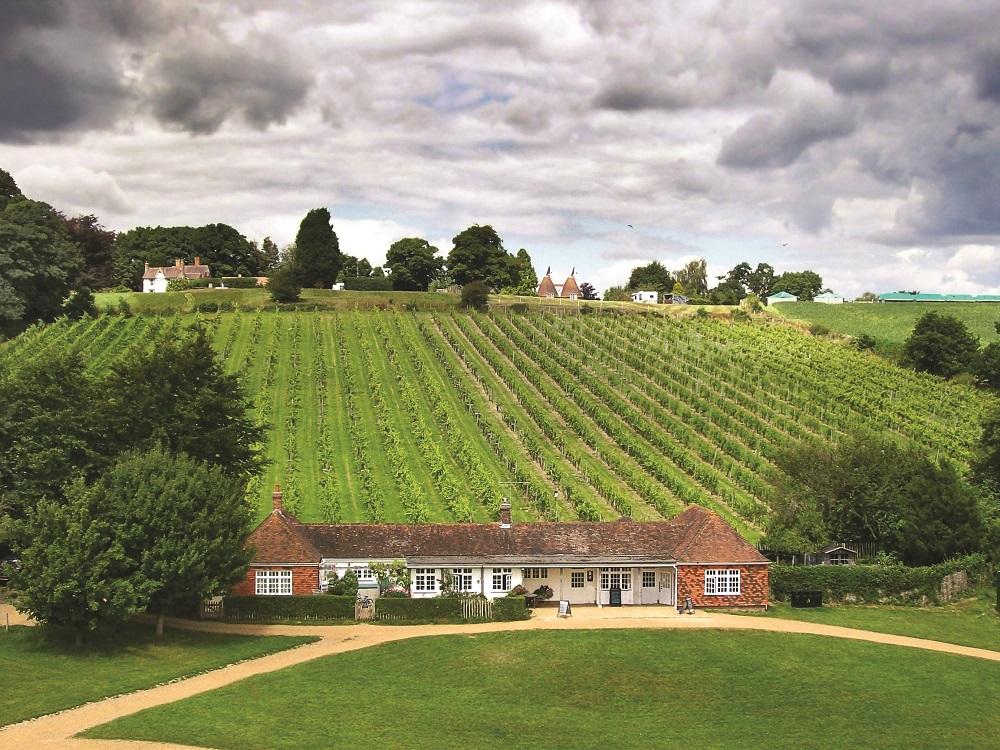 As well as a wide range of white, red, rosé and sparkling wines it also makes fruit wines and highly regarded ciders.
---
More information
For more information on Sussex vineyards, check out our guides: