Written by Bradt Travel Guides
We've said it before, there's more to Malawi than the lake. While you're exploring take a moment to stop, absorb and witness the incredible arts, music and culture that the country has to offer.
The Chongoni Rock Art Area and Dedza Pottery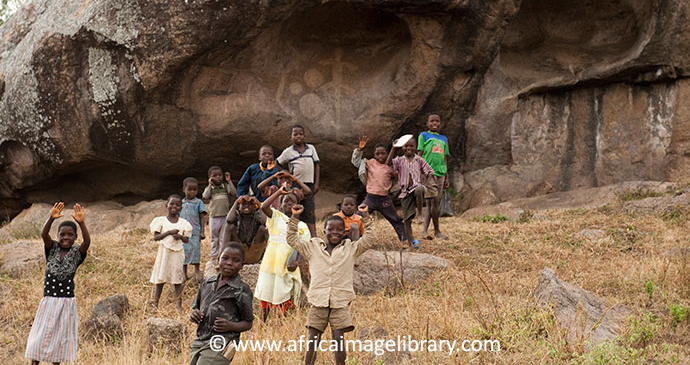 Children smile for the camera in front of Chongoni Rock Art Area © Ariadne Van Zandbergen
UNESCO-listed Chongoni is undoubtedly one of Malawi's most neglected national treasures. Some 127 rock faces and shelters here represent an ancient painting tradition dating back at least 2,000 years. However, despite its UNESCO status (one of only two in the country – the other being Lake Malawi itself), Chongoni is still considered rather off the beaten track and as such is little visited. If the rock art alone isn't enough to tempt you, perhaps the surrounding scenery will, studded as it is with dozens of dramatic inselbergs – it's ideal for casual rambling. There's also the chance to spot baboon, vervet and samango monkey – even leopard! If you do venture out this way, make time for Dedza Pottery – the best of Dedza's varied craft shops and stalls and well situated for visitors to Chongoni coming from Dedza – which specialises in handcrafted ceramic tableware, figurines and other statues.
The Lake of Stars
Consider planning your trip to Malawi around the annual music and arts festival: The Lake of Stars. 'World's Best Festival' by Fest300 for 2016, the festival showcases the best of UK and African live acts and DJs, whilst offering a wider variety of African and international films, visual arts and cultural dances. There's not many other places that you can party under the stars whilst knowing that you are helping the tourism and artists of a developing country.
Mua Mission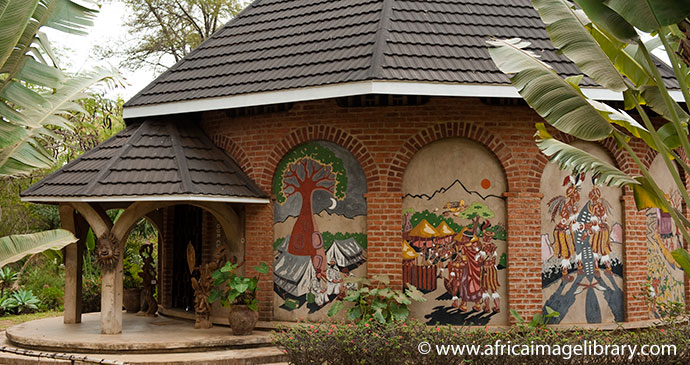 A mural on the walls of the Chamare Museum depicts a pictorial history of Malawi © Ariadne Van Zandbergen
Mua Mission is one of the oldest Catholic outposts in Malawi and is also now one of the key points on the tourist map of south-central Malawi, thanks to the superb Chamare Museum – the finest ethnographic museum in Malawi and the centrepiece of the KuNgoni Centre for Arts & Culture.
The Chamare Museum is covered, literally, in Malawian culture and also houses the world's largest collection of Gule Wamkulu Masks – the same masks featured on the rocks at the Chongoni Rock Art Area!
The mission is also a well-known training centre for woodcarving – make sure you visit the workshop and checkout the museum shop whilst you're there.
Create your own art
The incredible music, arts and dance that you will witness whilst exploring Malawi is bound to leave you inspired, so why not create some art for yourself? Art Safari offers fantastic tours combining art tuition and safari guiding.
Alternatively, if you want to go it alone, then you will be no doubt inspired by the life, colours and contours of Malawi – just make sure you always travel with your sketchbook, pencil, watercolours and camera so you're prepared to let your creative juices flow.
---
Inspired to explore more of Malawi's cultural heritage? Check out our comprehensive guide: