Love coffee? Then Madagascar is your mecca: a caffeine-fuelled culture where even the lemurs and fruit bats get in on the act.
Home to almost half the world's wild Coffea species, it's the place to discover the real origin of coffee and enjoy it like a local.
A bean in a forest, half a million years old
Based on genetic studies, wild coffee in Madagascar originated from a single species dispersed from Africa around 500,000 years ago, with all wild species now found on the island having evolved from this ancestral variety.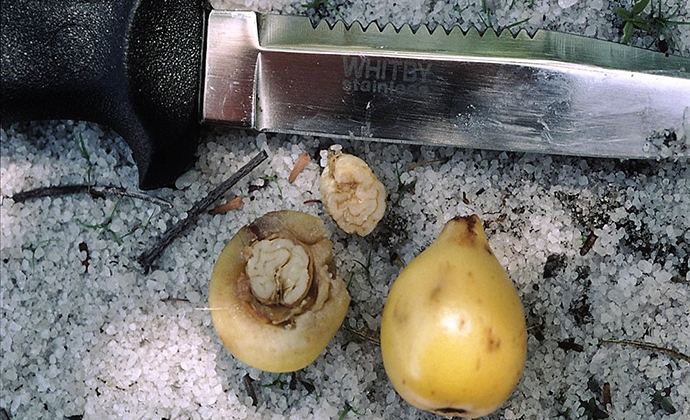 Over hundreds of thousands of years, Madagascar's 59 wild coffee species readily colonised its wide variety of environments – from lowland forests to high mountain ecosystems across the northern, eastern and western parts of the island. These newly evolved endemic species then spread from Madagascar to Mauritius, Réunion and beyond.
This amazing spread and diversification of Coffea plants across the island is largely thanks to Madagascar's exotic mammals, including lemurs and fruit bats, which eat whole seeds and fertilise the forest with them.
Trekking through the island is the best way to find wild Coffea plants. Not that it's easy. Even professional coffee hunters, familiar with the local landscape and with considerable dedication, have to work hard to spot and identify wild plants. Malagasy Coffea is highly diverse from supersize beans to hairy berries. Some plants even have 0% caffeine content!
Coffee under threat
Traipsing through the undergrowth searching for wild coffee is an adventure that, sadly, may be short lived. Research findings published in 2019 show that at least 60% of the world's wild coffee species are threatened with extinction. In Madagascar the figure is even worse at 72%.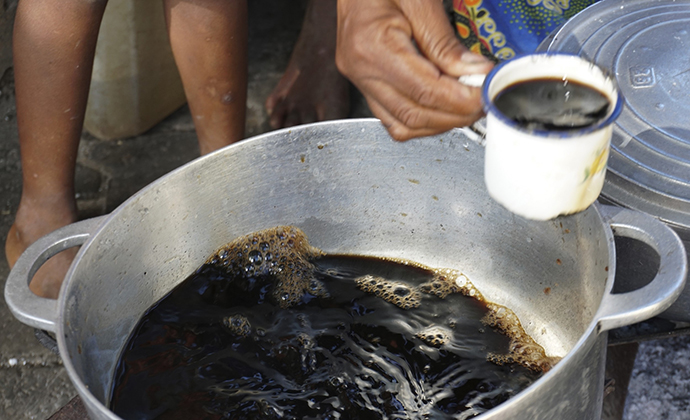 Given the importance of wild coffee species for crop development and long-term sustainability, these are worrying figures. Of the 124 species that make up the Coffea genus, only two are currently of commercial significance for coffee beverages and products: Arabica and Robusta.
If wild coffee plants disappear, great genetic diversity will be lost – not good news for the development of new commercial varieties.
The coffee bush is a fragile plant. Climate change, diseases and pests, together with the loss of habitat is threatening the precious bean. Population growth, livestock damage, slash-and-burn agriculture, forest fuelwood collection and charcoal production have all led to increased deforestation and the serious loss of endemic species. And as the forests disappear, so do the wild coffee species and the ecosystems on which they rely.
The case for coffee protection
A long day's drive southeast of the capital leads to a quiet set of buildings and a vast field. Here, rows and rows of evergreen trees produce clusters of cream-white flowers with green fruit that ripens to a crimson red, orange or yellow, depending on the variety. The trees can be as small as a small shrub or as tall as a medium-sized tree.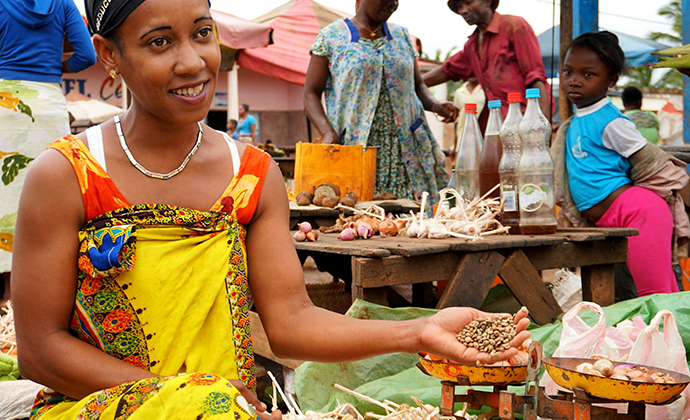 This is one of the world's most important coffee gene banks. Since the 1960s, coffee hunters for the National Centre of Applied Research and Rural Development in Kianjavato have collected wild coffee species from across the island. They work with World Coffee Research, the Global Crop Diversity Trust, Denver Botanic Gardens and the Royal Botanic Gardens, Kew, to preserve coffee species that almost no-one has heard of, much less consumed.
These nondescript little coffee varieties may just possess genetic traits with pest and disease tolerances that can protect the global coffee industry. The Kianjavato collections consist of accessions of around 44 species of endemic Malagasy Coffea.
Ultimately, the coffee industry wants to increase the supply of quality coffee to create greater product differentiation and sustainability. With over 100 million people dependent on coffee for their livelihoods in Africa, Asia and Latin America, and more than 80 countries as coffee producers, this is of increasing importance.
A short history of coffee in Madagascar
Madagascar has been a coffee-obsessed country since the late 1800s with the arrival of French settlers. Arabica coffee beans, including Bourbon Pointu varieties, were introduced from Réunion (formerly called Bourbon Island) into Madagascar. The delicate flavours of Bourbon were highly sought after by traders to supply Europe's growing coffee demand.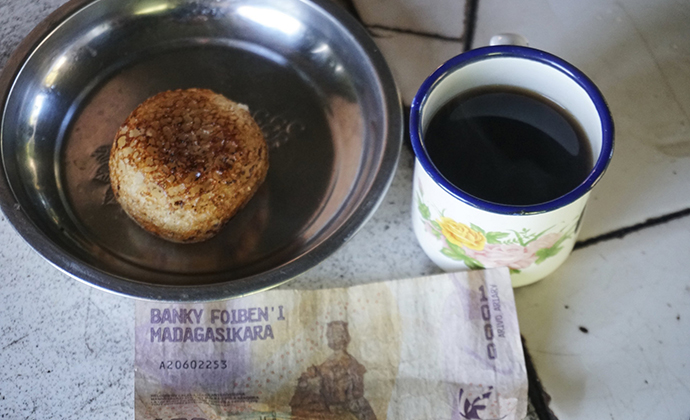 When the French invaded Madagascar in 1894 and ruled it as a colony for over 60 years, coffee played a major role in their reign. Coffee production rose dramatically during this period as the French introduced agricultural reforms and exported vast quantities back to Europe. In the 1930s, the French had placed such high demand on coffee that even small farms were growing coffee in lieu of other crops.
In 1946, Madagascar was declared an official District of France, becoming an attractive destination for its Réunion Island neighbours. Four years later, the Sakay colonisation scheme encouraged Réunionais immigrants to settle in the Itasy region west of the capital. Schools, medical facilities and even cinemas were established and Itasy soon became known as the real 'El Dorado' offering ideal soils and altitudes for growing coffee. Settlers planted Arabica coffee varieties from Réunion, Ethiopia, Kenya and Costa Rica, as well as other agricultural crops.
In 1960, Madagascar became an independent nation but the First Republic maintained close ties with France through a series of Co-operation Agreements. This relationship with the country's former colonisers was resented by Malagasy nationalists and in 1975, the Malagasy revolt led by Didier Ratsiraka ended these close ties.
The revolt saw many of the Réunionais coffee farmers in Madagascar – especially those who were part of the Sakay project – abandon everything. Many returned to Réunion, leading to the collapse of the coffee sector in Itasy and throughout Madagascar .
Today, Itasy is known as the 'kafendrazana' – the region of 'coffee grown by the old people', still recognised for its high-quality coffee. It's also home to some enormous fruit bats, who love to sniff out ripened coffee. When the bats start feasting, the local farmers know its harvest time!
Small-scale coffee farmers in Itasy's KMKFI co-operative run tours on the entire coffee process and its tumultuous Madagascan history. The popular Ampefy restaurant, l'auberge Chez Jacky, also arranges coffee tours and focuses on improving practices to produce quality coffee. For an Italian-style espresso made from Bourbon coffee varieties or a rum coffee, visit Fanihy café outside Ampefy town. Ramartour or Jacarando tours can arrange this in advance.
Madagascar's tall poppy dwindles
Between 1938 and 1954, coffee rose from 32% of total agricultural exports to 49%. In 1983, coffee covered an area of around 220,000ha, mostly along the east coast. The coffee industry employed a quarter of Madagascar's population. From 1965 to 1989, Madagascar was the 8th-largest coffee-producing country in the world, exporting this precious commodity through the sea ports of Toamasina, Mahajanga and Antsiranana. These historic towns remain key sea ports today.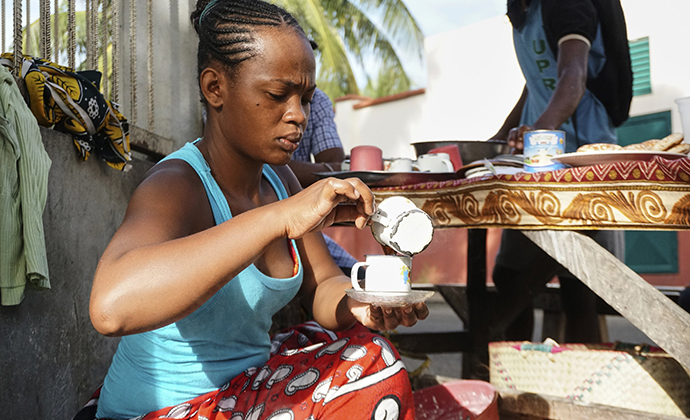 The French coffee producers were gradually displaced by Malagasy cultivators and by independence in 1960, local people grew 90% of the island's commercial coffee.
At the end of the 20th century, however, things took a disastrous turn. The global coffee price crash in the late 1990s, coupled with antiquated technology and weak commercial links to foreign markets, sent prices and investment plunging.
In desperation, Malagasy farmers uprooted their coffee trees in favour of the staple crop, rice. Annual coffee exports, which peaked at 81,000 tonnes in 1979, fell to less than 5,000 tonnes. In the last 30 years, coffee production has been well surpassed by vanilla, fisheries and textile manufacturing. Today, about 80% of total coffee production is consumed within Madagascar.
A homegrown coffee culture
Though no longer the pride of Madagascar's agricultural exports, coffee is an instrinsic part of Madagascan culture and the local economy.
Consumed morning, noon and night, and many times in between, coffee is a source of food, warmth and society in Madagascar. There's barely an activity that doesn't include an andao hisotro kafe, a strong, black, piping hot coffee, preferably topped with a generous dollop of condensed milk.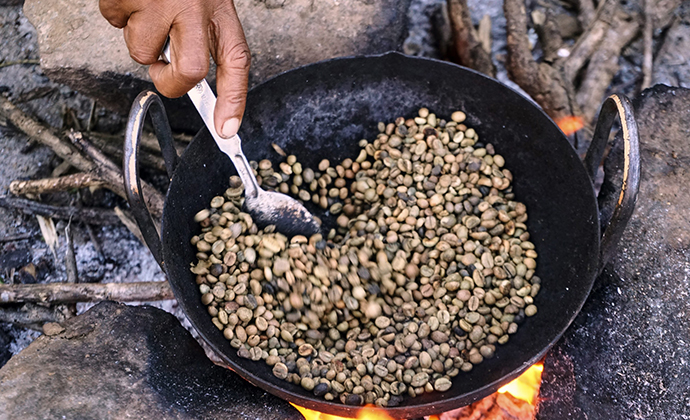 Coffee is sold on every corner of every street in Madagascar, usually hawked by street coffee vendors who scratch out a living one cup at a time. Coffee vending is a means of survival and independence for those who can handle the long hours and labour with skill and tenacity. Selling coffee on the street is a reliable way to generate some much-needed income, especially for women and poorer families. In this informal market, vendors are not deterred by a lack of basic services such as running water, electricity, shelters or stands and they service the local demand of customers who are cannot afford to patronise established cafés.
Sit down with the other customers at a makeshift wooden bench at any roadside kiosk across the island and admire the skilled moves of the coffee vendors who throw their energy into every step of the process, from roasting beans by hand to waving down passers-by.
Join young and old, poor and rich, before the day even starts, dipping freshly cooked mokary (small fried rice cakes), mofo gasy (fried doughnut rounds) or koba (a sweet made from ground peanuts, brown sugar and rice flour) into your hot, bracing coffee.
Track your coffee to the source
Wild Coffea species are sometimes used locally to make coffee but only on a very small scale. By far and away the most popular brew is the cultivated Robusta variety. It has a stronger, earthier taste compared with Arabica but almost double the caffeine.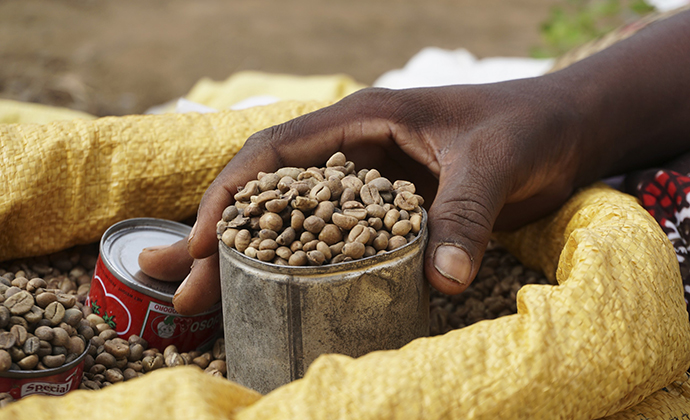 Green Robusta coffee beans are sold in the daily markets across the island. Sellers scoop the beans out of hessian sacks using a standard measuring tool – a 390g condensed milk tin or a 170g tomato paste tin. Payment is made per scoop. The green coffee is then roasted at home over an open fire, or by local coffee vendors.
To see Madagascar's coffee country, climb aboard the Fianaratsoa-Côte Est railway to the small port of Manakara in the south east. Breakdowns are frequent but provide more time to appreciate the 163km journey from the Arabica coffee highlands in the southeast to the lowland region of small-scale Robusta producers, and on to Manakara. The rusty old train rattles slowly down the world's third-steepest railroad incline and through rural regions inaccessible by road.
The old coffee heartlands of Manamapatrana are particularly beautiful. In April, the coffee fields are full of delicate white coffee blossom, best viewed by leaning precariously out of a lowered window. June to October is harvest time, with brightly-dressed women in sarongs, men and children out on the plantations picking and processing the bright red coffee berries. The sacks of coffee cherry are then packed up and carried by head, hand or truck to local markets.
Coffee is also grown in the north-west of the Great Island, on Nosy Be, around Ambanja, along the Sambirano river and in the north-eastern Sava region in Antsiranana province. The lushly forested SAVA is also known as home to Madagascar's famous vanilla bean and part of the 'Route de la vanille'.
Several upmarket cafés, particularly in the major cities, offer coffee experiences that are a few notches up from the simple wooden kiosks dotted throughout Madagascar. One of the most famous is the 1946 establishment, La Pâtisserie Colbert in Antananarivo, known for its superb Malagasy coffee, chocolate and desserts.
Café Liégeois serves a French dessert of sweetened coffee ice cream and chantilly cream alongside expresso coffee, long coffee, short coffee and cappuccino. Or for a western-style experience, L'Express Bleu, 3km from the Independence Avenue in Antananarivo serves a 'Segafredo' roast from Australia.
Coffee in Madagascar is everywhere, from hotels to the streets. The best part of coffee is that it allows you time to take a few moments watching Madagascar's bustling life passing by – or watch geckos climb up beams. It also gives you a let-up from the heat and insects, pollution or throngs of people – since there are over 25 million people in Madagascar it is busy and often chaotic.
Grab a bag of local coffee
TAF Le Gourmet established itself in 1945. Their original shop stocks their flagship coffee and other goods. It is located on Patrice Lumumba Street, near the Railway Station in Antananarivo. The Taf Le Gourmet tea room near the Jumbo Score on La Hydrocarbure is also newly refurbished and serves several different coffee varieties, giving customers the opportunity to try them out.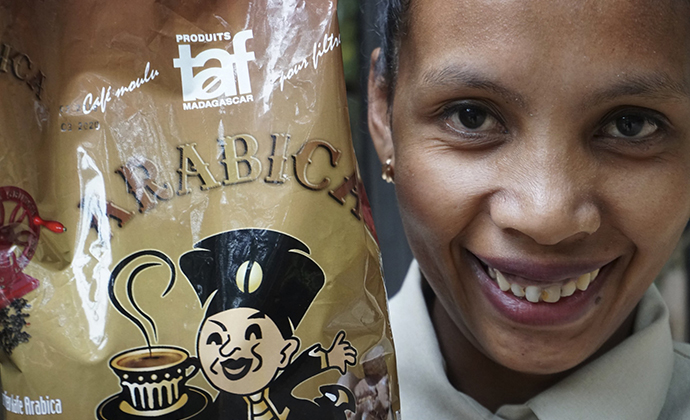 If you don't get time before you leave, Arabica and Robusta blends grown in Madagascar are sold at the airport. But wherever you buy, be sure to take home this amazing flavour of Madagascar.
---
More information
An abridged version of this article appears in the 13th edition of Madagascar: The Bradt Guide. It is written by sustainable coffee advocate and coffee development specialist Nicole Motteux with input from SEO copywriter, content and web designer and communication strategist Lilani Goonesena, and thanks to interpreter and guide Harry Rakotosalama.