Written by Bradt Travel Guides
When it comes to traditional craft making, Ghana boasts a wide variety of disciplines ranging from jewellery- to instrument-making. Koforidua's bead market, Sirigu's hand-decorated houses and even Teshie's fantasy coffin market should take pride of place on your itinerary, whilst Lawra's gyil-making and Ntonso's cloth-weaving shed light on the country's intriguing rites and customs. Whether indulging in retail therapy or looking for a culture fix, Ghana's craft culture is quite simply not to be missed.
Beads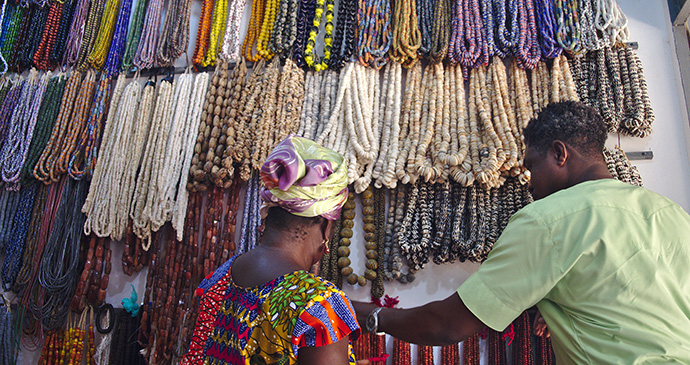 Update your jewellery collection at one of the many bead vendors in Koforidua © Nancy Chuang @nancyc_huang
Some 2 hours north of Accra in the town of Koforidua, the main tourist attraction is its long-standing bead market, which relocated from Jackson Park to a customised site that lies next to the Golden Jubilee Stadium. Strings of new beads are often very inexpensive here, but expect to pay considerably more for older pieces, which are often sold individually. There is also a small trade in ready-made pieces of jewellery, which can make good gifts, but steer clear of any ivory for obvious reasons.
Kente cloth
Kente weaving at Bonwire, one of the famed craft villages in the Ashanti region © Nancy Chuang @nancyc_huang
Of all the crafts practised in West Africa, few are more readily identifiable with a particular country than kente cloth with Ghana. Strongly associated with the Ashanti, modern kente is characterised by intricately woven and richly colourful geometric designs, generally dominated by bold shades of yellow, green, blue, orange and red. These days, much of the kente cloth you see on sale in Ghana is mass produced, and considered by experts to have little intrinsic merit. However, traditional centres of the kente craft still exist, most notably in the Volta Regions in small towns such as Kpetoe and Tafi Abuipe.
Adinkra cloth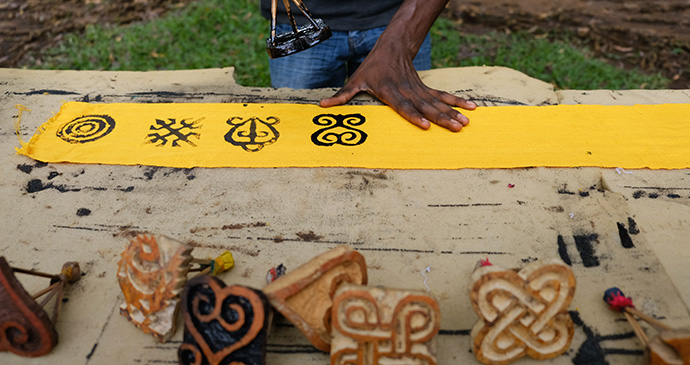 Some 20km northeast of Kumasi, Ntonso is Ghana's major centre for the design and manufacture of adinkra © Nancy Chuang @nancyc_huang
Adinkra cloth is also original to Ghana. Like kente cloth, adinkra is generally worn by men in the form of a toga, but its use is reserved for funerals and other relatively sombre occasions rather than for celebrations, and adinkra symbolism takes the form of monochrome graphics as opposed to the colourful geometric abstractions of kente. Most contemporary adinkra cloth is made using a plain white calico textile that is then decorated with various ancient designs using calabash stamps and a dye obtained by boiling the bark of the badie tree (Bridelia micranta).
Gyil-making
Samuel Saaku Baaru, traditional gyil maker and son of the famed Newin Baaru, demonstrates a new instrument in his Upper West workshop © Nancy Chuang @nancyc_huang
In the Upper West Region of north Ghana, the Lobi and Dagati people of Lawra and surrounds are known countrywide for their traditional music, which is based around drumming and a unique type of 14-key xylophone called a gyil. In Lobi society, the gyil's repertoire includes songs to commemorate all aspects of life, from weddings and funerals to a simple weekend's hanging out. The region's best-known xylophone-maker, Newin Baaru, now has debilitating arthritis, so his son Samuel Saaku Baaru has taken over the business. He charges about US$3 to watch him build instruments made with hardwood keys that reverberate into different-sized calabash gourds.
Painted houses of Sirigu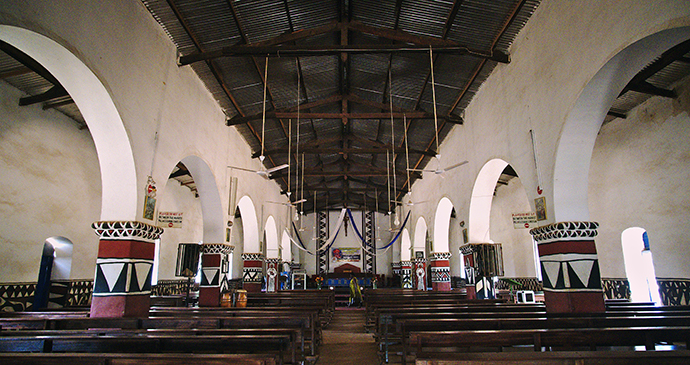 Built from traditional mud brick and beautifully decorated earthy frescos, the Cathedral of our Lady of the Seven Sorrows is not to be missed © Nancy Chuang @nancyc_huang
A chaotic but rather captivating town in Upper East Bolgatanga, Sigiru is known throughout Ghana for its pottery and basketwork produced by its women, but also for the elaborate symbolic wall paintings with which the artists decorate their flat-roofed and curvaceous adobe houses. Not to be missed is also the century-old Cathedral of our Lady of the Seven Sorrows, built entirely from traditional mud bricks and decorated with beautiful earthy frescoes.
---
Want to find out more about the highlights of this beautiful country? Check out our comprehensive guide: