High on a hill was a lonely goatherd… but thankfully not a single yodel escaped his lips, and Julie Andrews was nowhere to be seen.
Though the lush green pastures and mountainous backdrop might be reminiscent of Austria, especially in the spring when they are at their most verdant, Tajikistan has no need to imitate the Alps. Indeed, its history is older and richer, its peaks higher and wilder, and the sense of adventure more pronounced than anywhere you would find in Europe.
The smallest of the central Asian republics, Tajikistan is a natural fortress crowned by the magnificent Pamir range, large areas of which are a UNESCO World Heritage Site. The Pamir Highway regularly makes the list of the world's most dramatic road trips, but beyond this even the most well travelled would probably struggle to name one of the country's tourist sites.


Shirin Amonzoda, Chairman of the State Committee for Tourism Development, is on a mission to change that, educating international and domestic tourists alike about Tajikistan's numerous natural and manmade treasures.
I first met Shirin in Dushanbe, Tajikistan's leafy capital, in early 2020. Until that point, I had always thought of Tajikistan as an adventure tourism destination, a place for hiking and camping among epic landscapes, albeit with a side order of history and culture for intrepid travellers persistent enough to seek it out.
But Shirin's tourism vision is somewhat different: she sees Tajikistan's cultural heritage as one of its greatest strengths, and in equal partnership with the undeniably beautiful natural world. Since then I have looked anew at the country, considering it again through this lens. She's right. We can't separate Mother Nature from the marks that we make on the natural environment, and the stories we tell ourselves.
A bubbling oasis
In an otherwise desert-like landscape near Shahrtuz in southern Tajikistan, you will find the oasis of Chilu Chor Chashma (44 springs). The water from the springs, which bubble up into a pool, are perfectly clear: you can easily see the many fish darting through the shadows between rocks. There's a blue-green hue to the pool, in part reflecting the cloudless sky and the brilliant bright green of the leaves on the trees which encircle Chilu Chor Chashma and cast their welcome dappled shade.
The spring is an idyllic place to stop, to picnic, or to swim, but it is the human element which makes this particular spot a sacred space. Legend has it that Ali, son-in-law of Prophet Muhammad, came here with his army. As the land was so arid, he prayed to Allah for water. In the morning, his prayer was answered. Every time that Ali took a step, another spring burst forth from the ground.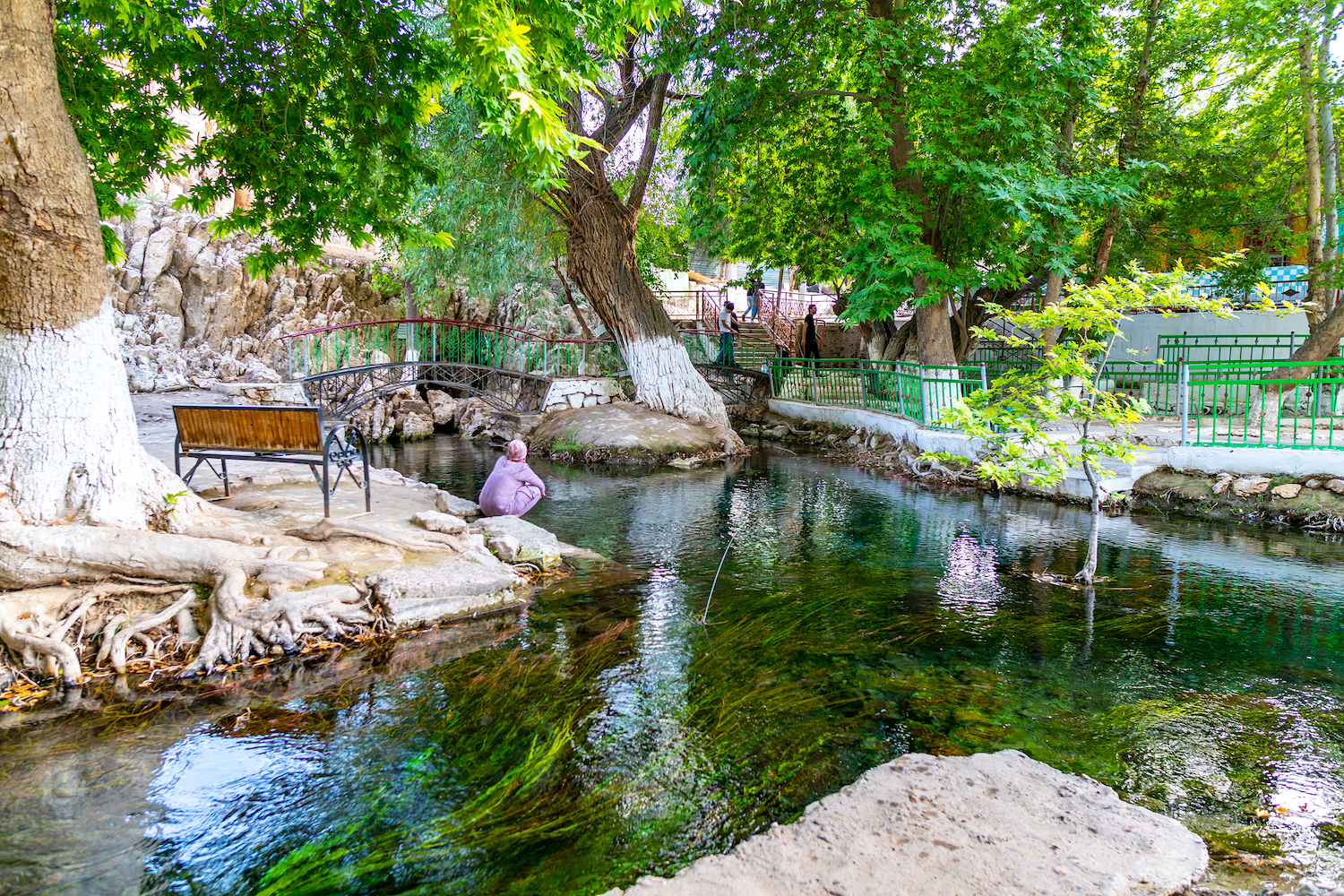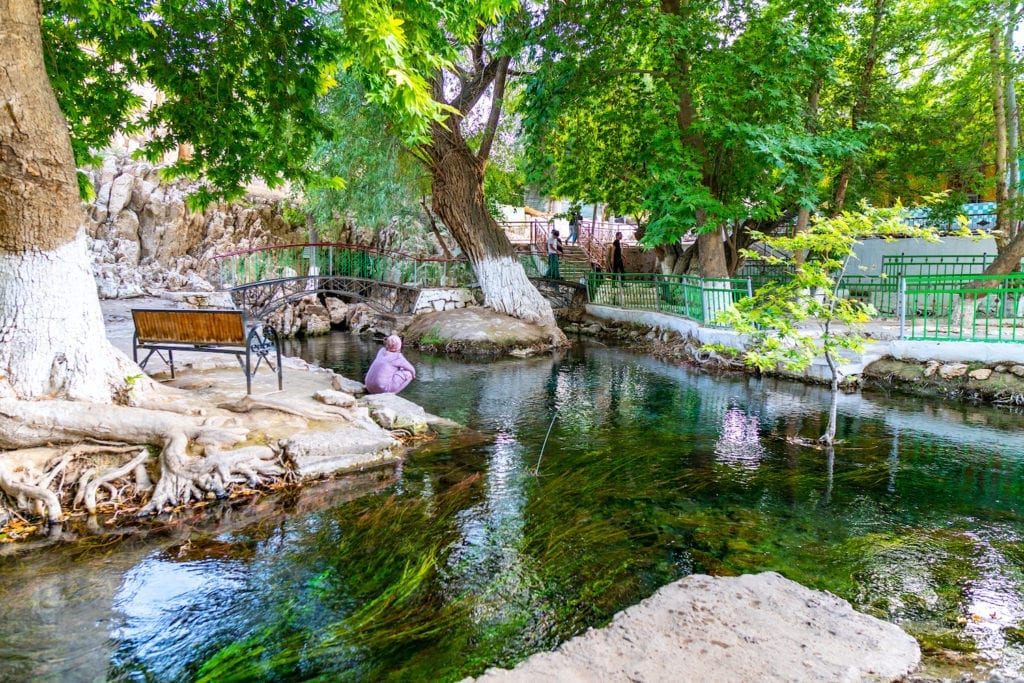 Pilgrims from across Tajikistan make the journey to Chilu Chor Chashma to bathe in the naturally warm water and pray for healing, especially for depression, muscle stiffness and infertility. Like with the water of the Ganges River, or from the spring in the Sanctuary of Our Lady of Lourdes, believers can recount numerous tales of miracle cures that have occurred after taking a dip in the holy springs, or as a result of drinking from them.
You can bottle water from the spring and take it home with you, if you're so inclined – you can even buy empty bottles at the entrance if you forget your own. It is also a popular picnic spot: mulberry and other fruit trees offer shade while small children splash and shriek in the pools.
Central Asia's answer to Machu Picchu
A second, no-less-extraordinary place where the landscape and cultural heritage are inextricably fused is the archaeological site at Castle Karon, high above the Panj River in Gorno-Badakhshan Autonomous Region (GBAO). I had driven along this road – a central part of the Pamir Highway – half a dozen or so times over the years, and never knew that Karon was there. It didn't appear on the maps, which hardly seems possible in an era of satellite imaging, especially in an area a stone's throw from the Tajik–Afghan border.
But at Karon, there's an entire city spread out across the mountaintop, occupying a dramatic, strategic position with clear views along several converging valleys. Veteran archaeologist Yusufsho Yukubov and his team have been excavating the site since it was first identified in 2012.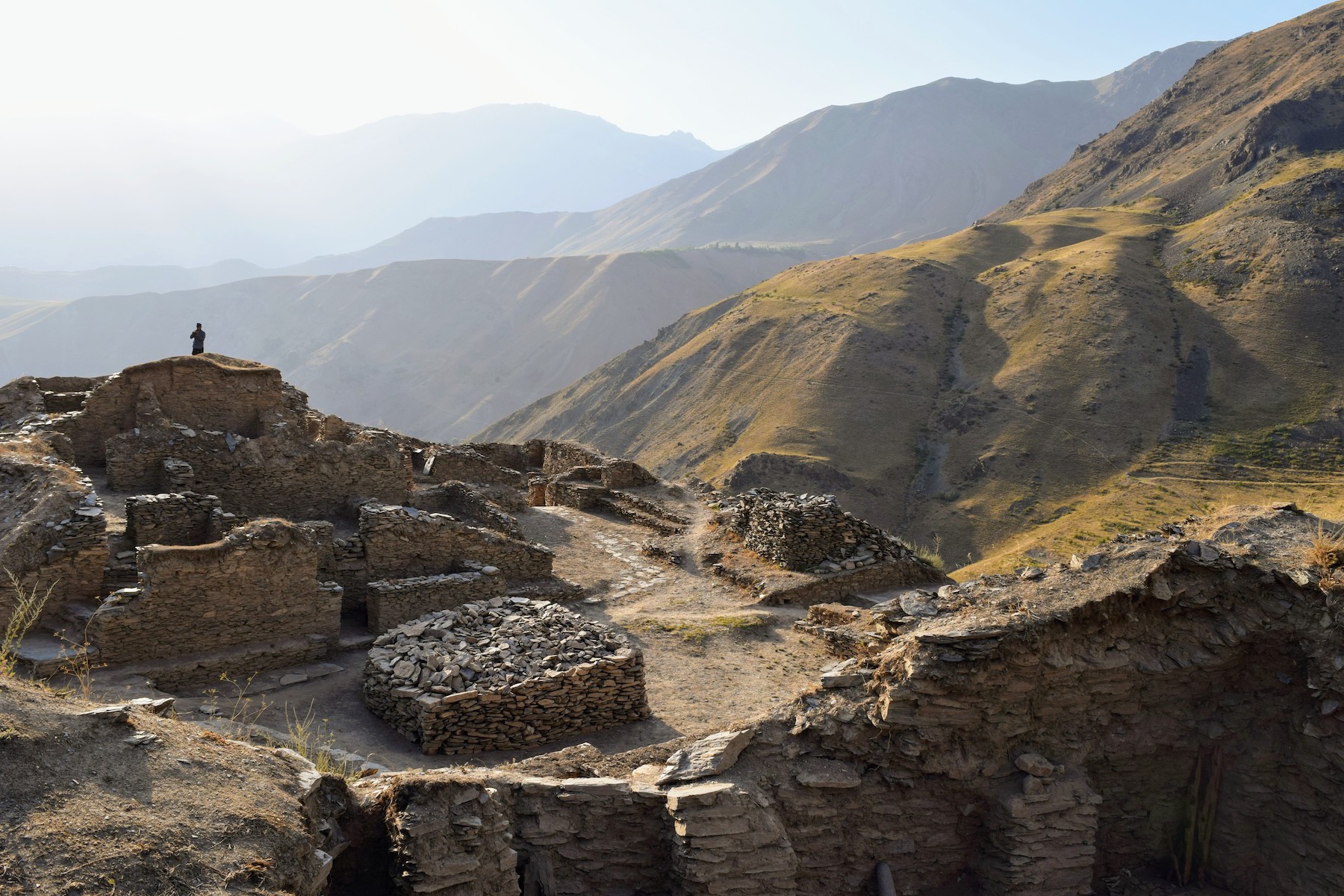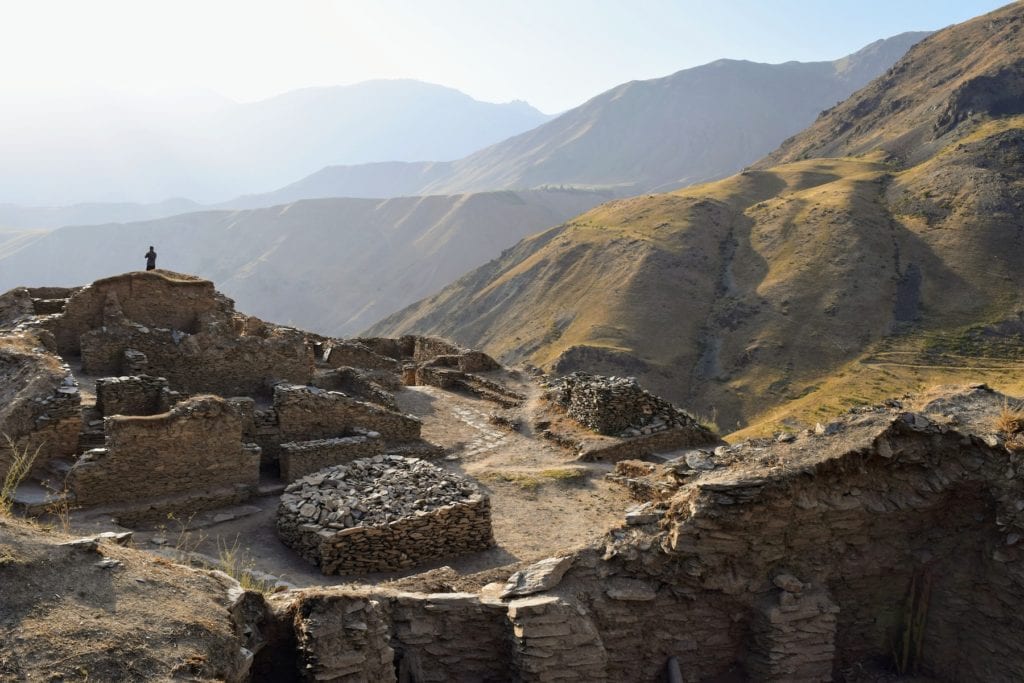 Every season they uncover another small section, which The Telegraph has now nicknamed 'The Machu Picchu of Tajikistan'. Karon is without doubt one of the most important archaeological discoveries of the 21st century, not just in Tajikistan, but worldwide.
The oldest finds in Karon thus far date from the 2nd millennium BC, though parts of the city may have been occupied as recently as 500 years ago. The Zoroastrian water temple dedicated to a river deity is the only one of its kind in central Asia. The nearby fire temple was built like a ziggurat but on a cross-shaped base, and its closest surviving architectural parallels are in Iran. Mithra – an ancient Iranian sun god later adopted by some Roman sects – was worshipped here too, as testified by evidence of blood sacrifices.
The discovery of temples and altars reveals the ritual importance of some structures within the city, but Karon wasn't a holy site: it was a large, secular settlement with strong fortifications. Travelling merchants could spend the night within the city walls (as long as they paid their taxes at the customs post), there were profitable mines nearby, and the city's own traders and artisans must have made good money processing and crafting the metals.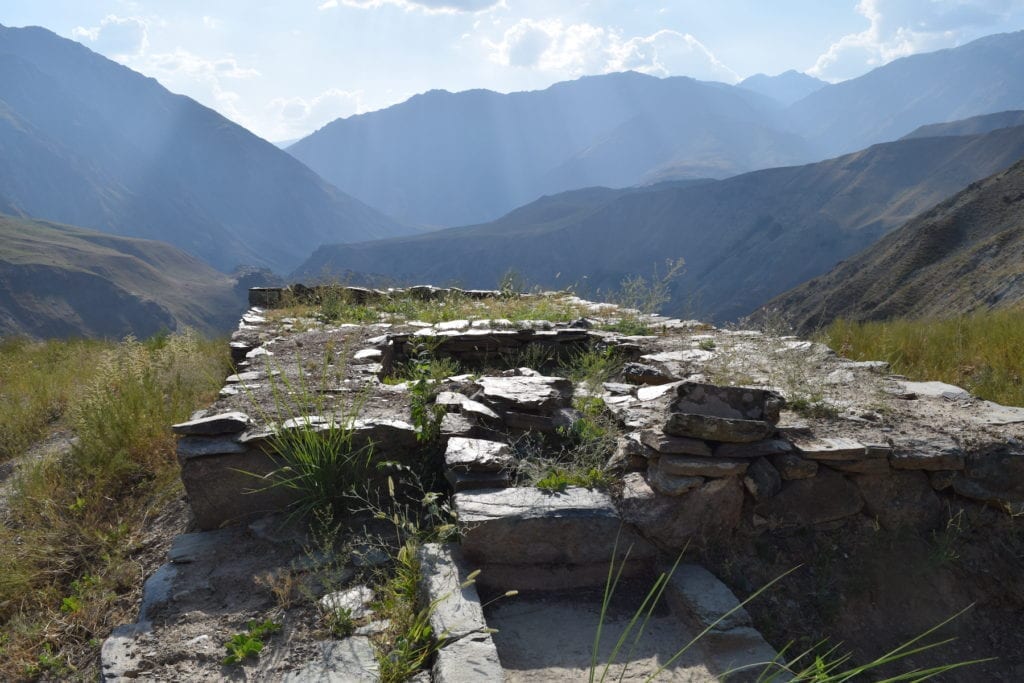 Standing at the top of Karon in the citadel, you get a sense of the scale of the site. Today, GBAO is the most sparsely populated area of Tajikistan, with a population of around 230,000 people in a region the size of Latvia or Sri Lanka.
But 1,500 years ago when Karon was thriving, tens of thousands of people would have lived in and around the city. We know this because one of Yukubov's most exciting finds is a polo field that measures at a whopping 300m x 50m. There was enough seating to accommodate 10,000 spectators at once, around the same capacity as Court One at Wimbledon.
The land must have been fertile enough to feed them all, and the trading links sufficiently sophisticated that there could be a constant flow of people, ideas and goods through challenging mountain terrain in every direction – not only the short distance to Afghanistan, but stretching west to Iran, southeast into the Indian subcontinent and probably east into China as well.
Indeed, Karon's remoteness enabled it to survive. Unlike so many other historic sites, it doesn't seem to have been sacked by invaders, and the stones haven't been pillaged to build later settlements. Time and weather have inevitably taken their toll: the Pamiri winter is far from gentle, and the summer heat is baking.
But on the whole, nature has protected Karon. The earth has swallowed up Karon's monuments and homes alike, but they are still there beneath layers of sandy soil. In a dry climate such as this, building materials don't easily rot away, so as the archaeologists dig and sift, there are plenty of structures and artefacts for them to find, allowing them to piece together Karon's long-forgotten stories.
Just two of many
Chilu Chor Chashma and Karon are just two of hundreds of tourist sites in Tajikistan, their historic and cultural significance and beauty intrinsically linked with the natural environment in which they were created.
Yes, the hiking and overlanding in Tajikistan are phenomenal, and you will struggle to find anywhere more awe inspiring for landscape photography. But when you plan your trip, remember that the natural world is punctuated with thousands of years of rich human history.
The monuments and sacred spaces that lie among the mountain passes, pastures and valleys are a reflection of the environment in which they were created, and a demonstration of the way in which people give meaning to the land on which they live.
More information
Discover more of Tajikistan's oft-overlooked historic sites with our guide: