Written by Sophie Ibbotson & Max Lovell-Hoare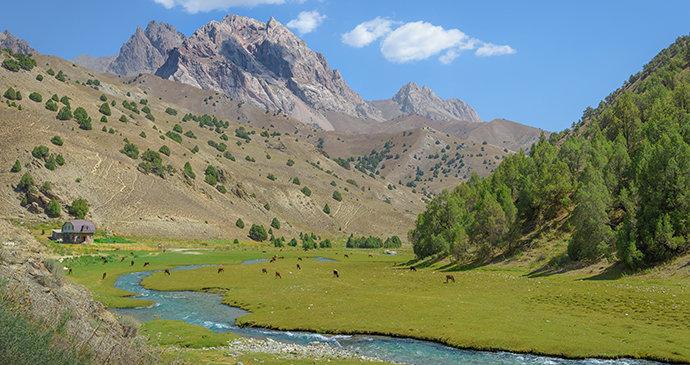 There's no better way to appreciate the beauty and scale of Tajikistan's landscapes than on foot © mbrand85, Shutterstock
More easily accessible than the Pamirs, the Fann Mountains (Fansky Gory) offer trekkers, climbers, mountaineers and even the occasional day tripper a bewildering array of routes and the opportunity to quickly escape all signs of habitation, getting in the midst of some awe-inspiring scenery. They can be accessed either via Iskanderkul, or travelling south from the valley road between Panjakent and Ayni, and the best time to visit is between June and September.
The majority of routes centre on Seven Lakes or Artuch. The Seven Lakes, or 'Haftkul' in Tajik, are a necklace-like string of turquoise lakes stretched out through the mountains to the south of Panjakent. There are numerous photogenic picnic spots and short walks along the various lakeshores, the best of which is at the seventh and final lake, Hazor Chashma. Trekking from Seven Lakes to Iskanderkul takes five days. Starting at Marguzor you cross the Tavasang Pass (3,300m) into the Archa Maidan Valley, from where the trail splits to either the northern Zurmech Pass (3,250m) and Artuch, or to the Sarimal Valley and the Pshtikul Pass (3,820m) into the Archamaidon Valley. The best camping spot in the valley is at Duobai Sarimat, the confluence of the Archa Maidan and Duoba rivers, where you are likely to meet local shepherds.
Keeping to the left side of the Archamaidon River, cross the bridge and climb the Dukdon Pass (3,810m), which has impressive views of Mount Pushnovat (4,637m) to the northwest and Mount Dudandon (4,300m) to the east. You descend to the junction with the Karakul River, and follow the north bank along to Sarytag, from where it is just 5km to the western end of Iskanderkul.
For a more demanding six-day route, try the Chimtarga Loop starting from Artuch, where there is both a campsite and a camping hut with bunks ($). Trek southeast to Kul-i Kalon Lake, then climb either the Laudan Pass (3,628m) or the steeper Alaudin Pass (4,104m) to the Alaudin Lakes and thence south to Mutnoe Lake. There are homestays and places to camp ($) at both lakes. Climb the icy moraine of the Chimtarga Pass (4,740m) between Mount Chimtarga and Mount Energiya, both of which are considerably over 5,000m. The path descends to Great Allo Lake. Continue northwest into the Archamaidon Valley, following the river as far as Gaza before taking on the Zurmech Pass (3,250m), which neatly leads you back to Artuch.
There are a number of well-run homestays in villages in this part of the Fann. There are formal homestays ($) at Shing, Nofin and Padrud, and informal ones in the villages along the shore of Marguzor and also in Guytan. Trekking guides know which families are happy to host trekkers in their homes, and you can also stop in any of the villages and ask for a recommendation.
---
For more on trekking in Tajikistan, check out our new guide: