First held in 2014, the World Nomad Games is becoming an increasingly high-profile event. Originally held at a purpose-built site just east of Cholpon-Ata in Kyrgyzstan, the games focus on those pursuits that Central Asia excel at. A showcase for all manner of traditional nomadic sports, in particular equestrian ones, in 2018 the games hosted more than 3,000 athletes from 77 countries. I spent four days experiencing all that they had to offer; these are my highlights.
Kyrchyn Gorge
Showcasing everything from cookery competitions to local crafts, this site, set within the spectacular valley of Kyrchyn Gorge, was a true celebration of the competing nations' cultures.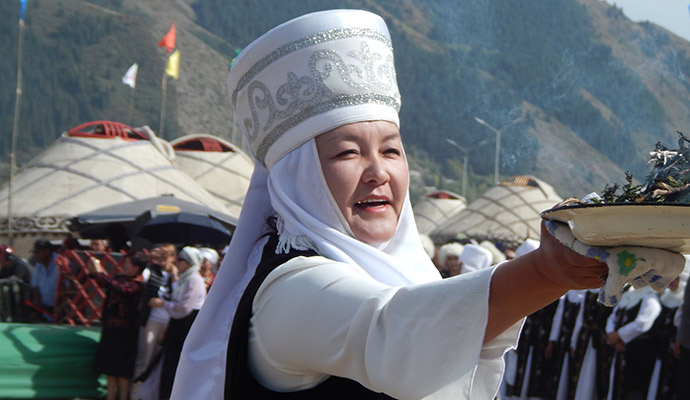 The site at Kyrchyn Gorge was a celebration of culture © Carys Homer
Traditional dress, music, food and sport all played a starring role here making for plenty of opportunities to fully immerse yourself in the atmosphere.
Archery
You may be wondering if archery, a sport first contested in medieval England, is really worth travelling all the way to Central Asia for. But this was no ordinary archery. During the horseback archery event, competitors donned the traditional dress of their home country and took turns to gallop down a straight track while aiming at a series of targets. As several arrows whizzed past their desired destination, I was relieved that I wasn't watching from the press zone on the bank behind.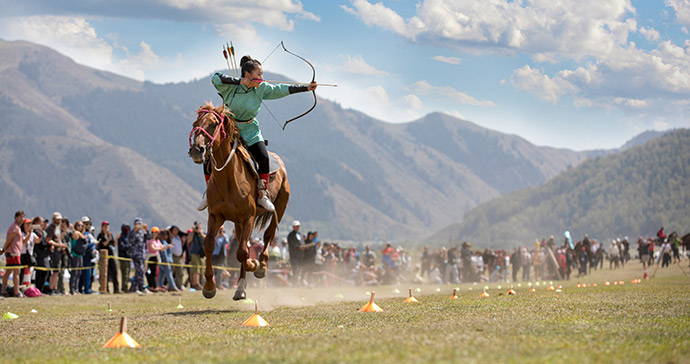 A competitor in the horseback archery competition © Katiekk, Shutterstock
Although this event was contested on four legs, there were also a variety contested on two … or should that be on two hands? Acrobatic archery saw competitors contorting their bodies and taking hold of the bow and arrow between their feet. A far cry from any display of archery I'd previously witnessed.
Eagle hunting
The tradition of hunting with large birds of prey, mainly golden eagles, goes back hundreds of years in Kyrgyzstan, and probably dates back to the Mongol conquest around the 12th and 13th centuries. At the games, hunters swung bait around on sticks, while their birds soared high above the jailoo towards them at alarming speed.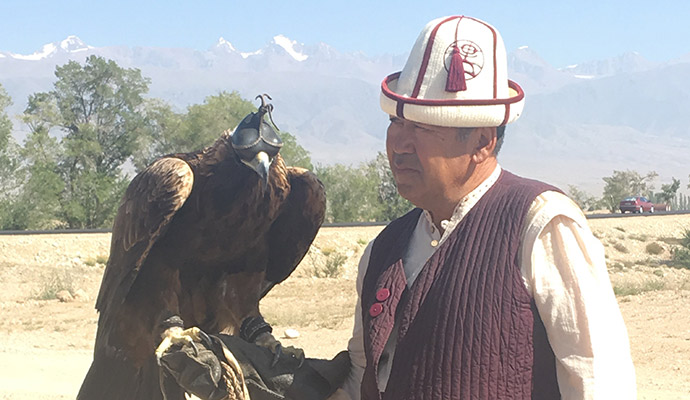 An eagle hunter giving a demonstration © Carys Homer
I also got to witness the gorier side of the sport when I was introduced to a local hunter who gave a demonstration involving a (then) live rabbit. If that wasn't enough to put you off getting up close to an eagle, there were plenty of opportunities to do so; local teenagers carried birds around the site, waiting for tourists to stop for a photo opportunity. 
Yurt village
The overriding highlight of the site at Kyrchyn Gorge was, for me, the yurt village. Wandering between the hundreds of yurts that had been set up at one end of the valley was a truly culturally immersive experience. I witnessed a gymnastics display, sampled boortsog (small pieces of fried doughnut-like bread) with jam and honey and shopped for souvenirs at one of the many craft stalls.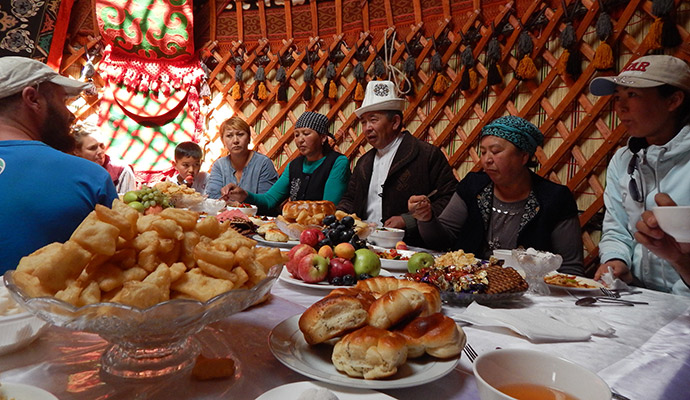 We were invited inside a local's yurt for lunch © Carys Homer
The village was also the place to head to if you wanted to experience the true warmth of Kyrgyz hospitality. Meandering slowly through the village, I'd stopped to take a photo when a young boy, sitting outside his family's yurt, caught my eye and smiled. Before I knew it, I was dining with his family. To say they'd prepared a feast would be putting it lightly; the food spread out in front of us was kept piled high, the tea and kumys (fermented mare's milk) constantly being poured. Soon, the head of the family joined us, sitting on the horizontal table opposite the door (it is traditional for elders to sit here, at the back of the yurt, as this area is considered to be the most sacred).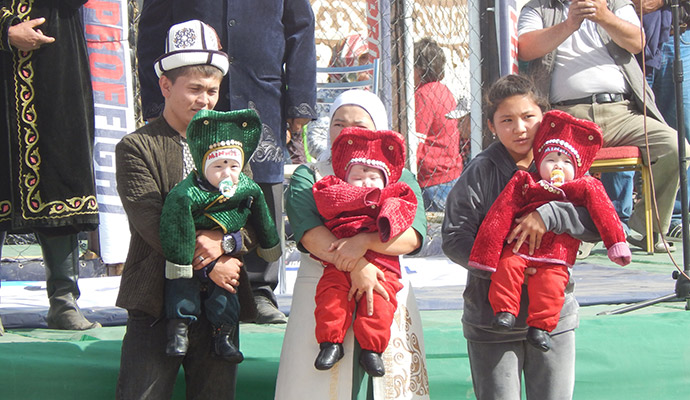 A ceremony for the three grandchildren of a local elder © Carys Homer
Through a Russian-speaking member of the group we learned that he was a well-known and well-respected elder from the Cholpon-Ata area, and that after lunch there was going to be a ceremony for his three grandchildren on the patch of grass outside. The spectacle featured a story-teller on horseback, a woman wafting incense past members of the local community, and a running race between a group of Kyrgyz children. While I wasn't always sure quite what was happening, I certainly felt privileged to have been invited to watch.
Ethno-village
If the cultural events at Kyrchyn left you wanting even more, the Ethno-village near Cholpon-Ata was the place to head.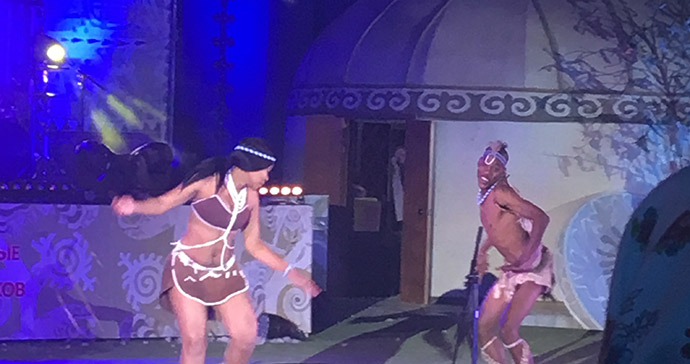 Along with traditional Kyrgyz performers, a Botswanan dance troop was one of the Ethno-village's highlights © Carys Homer
The evening performance I attended featured music from a Kazakh pop band, a throat singer, and a komuz (traditional stringed instrument) group. There was even a Senegalese drumming group and Botswanan dance troop in attendance.
Cholpon-Ata Stadium
Kok boru
Kok boru is a fast-paced and fascinating traditional horseback competition. Known in different parts of Central Asia as buz kashi or ulak tartysh, you may have heard of it as 'dead goat polo'. The sport is as brutal as it sounds; two teams, each on horseback, compete to be score goals … by throwing the carcass of a goat into one of two large buckets, set at opposite ends of the stadium.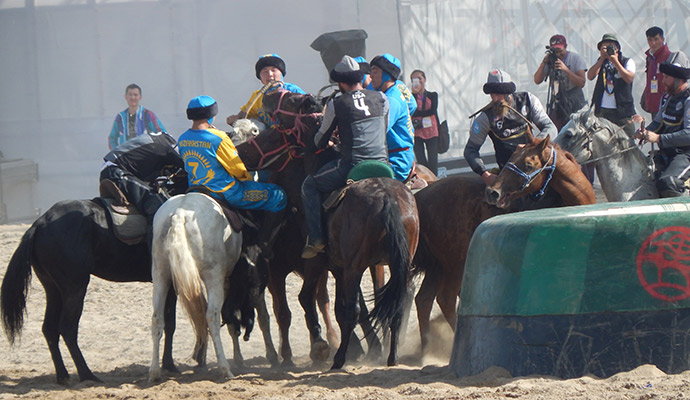 The Kazakh team beat the USA in their heat © Carys Homer
It wasn't just Central Asian nations competing in this adrenaline-fueled game. There was a team for the USA and even, for the first time ever, France. One of the American players had a habit of catapulting himself off his horse to follow the goat into the goal. Unfortunately, while this added to the drama and caused a few laughs among the crowd of locals, only goats count towards the final score, and the team was eventually knocked out of the competition.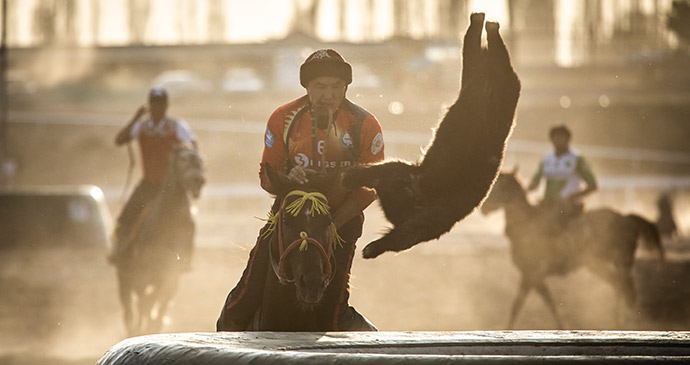 The Kyrgyz team were victorious in the final © Katiekk, Shutterstock
The final saw heavyweights Uzbekistan battling against Kyrgyzstan. The stands were packed with locals, all eagerly anticipating the home team's victory. They weren't disappointed – the final score was a mammoth 32–9.
Wrestling
Wrestling was a big deal. The sheer variety of traditional styles being competed (from mas-wrestling – essentially two men fighting over a stick – to great nomad wrestling – the ultimate, somewhat-confusing finale, in which the winners of every other type of wrestling came together for one final battle, representing not only their country, but also their chosen style) meant that die-hard fans could easily have spent the entirety of their World Nomad Games experience cheering athletes on from the stands of the indoor arena, located next door to the stadium.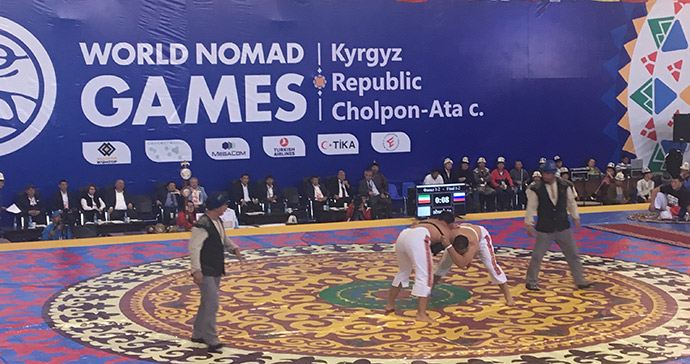 There were many varieties of wrestling being competed at the games © Carys Homer
Be warned, though, although it may sound like a safe option, this wasn't an event for the faint of heart. 10 minutes in the arena and I'd already witnessed a dislocated elbow in a particularly intense heat. I had to step outside for a breather.
Er enish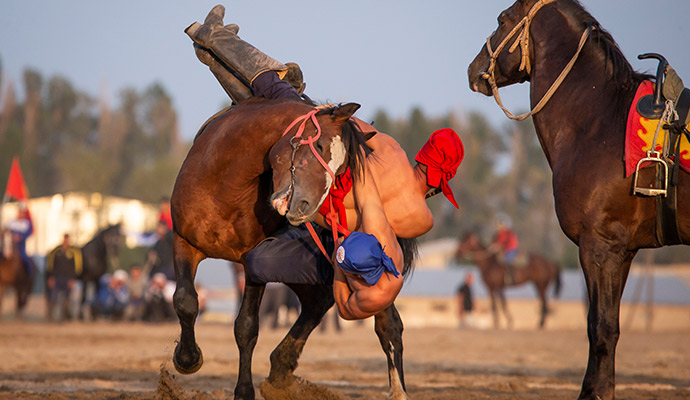 Er enish was one of the most brutal sports at the games © Katiekk, Shutterstock
Think nomadic wrestling sounds brutal? Meet er enish. The rules are simple – wrestle your opponent off their horse before you fall off yours. While also trying not to get trampled on.
Demonstrations
Even when there was no competition occurring in the stadium, something was happening. Interval demonstrations ranged from horseback gymnastics (which saw riders riding their horses backwards, upside down and while hanging off the saddle from their feet) to kyz kumai (sometimes referred to in English as 'catch the girl').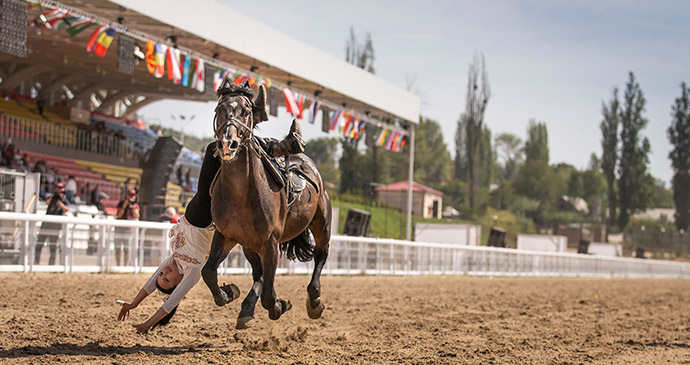 A horseback gymnastics display © Katiekk, Shutterstock
In kyz kumai, a male and a female race each other, the male trying to 'steal a kiss' from his competitor as she tries to speed ahead of him on horseback.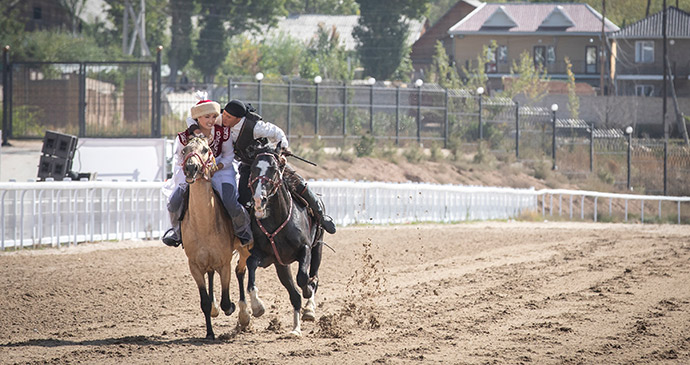 Kyz kumai is a popular traditional sport © Katiekk, Shutterstock
Olympic fever may be hitting Paris in 2024, but if you're searching for a more off-the-beaten-track sporting event to attend, this is also the year that the World Nomad Games will be returning, this time to Kazakhstan.
---
More information
Want to learn more about nomadic traditions? Check out our guide to Kyrgyzstan: