Hidden among the lush vegetation of Northern Thailand, Phrae may not be the top choice for conventional Thailand travel guides. However, it is slowly growing in popularity thanks to its revival of traditional crafts and its timeless sea-green landscapes and glittering architecture.
Here's our inside guide to the best things to do in Phrae.
Disclosure: I visited Phrae on a press trip with Fan Club Thailand. As ever, as always, I kept the right to write what I like.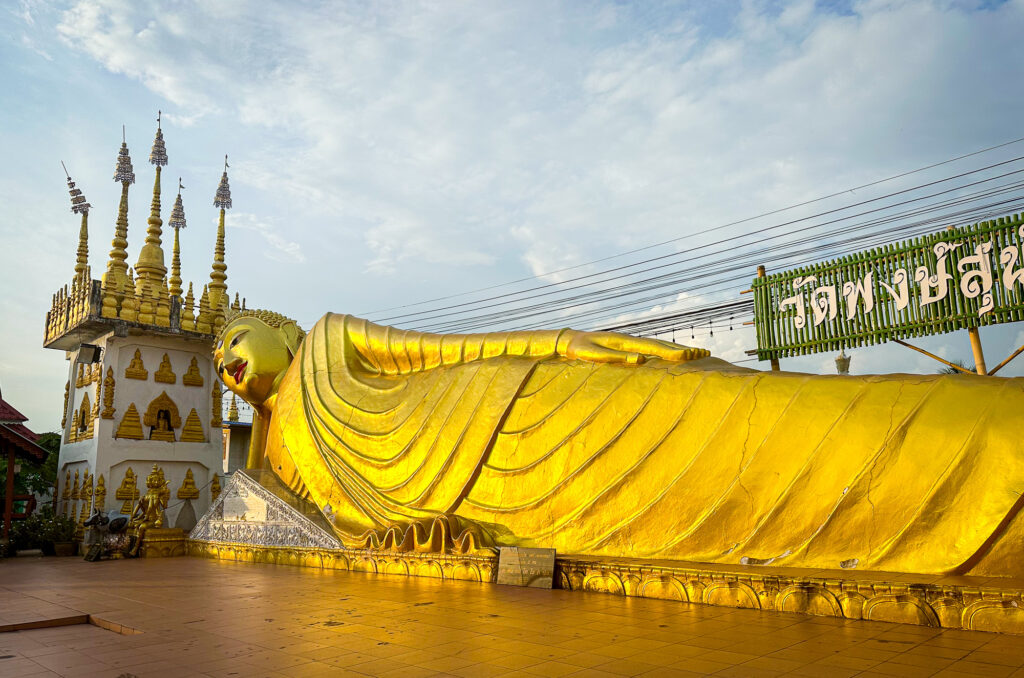 An introduction to Phrae, Thailand
Eat, Phrae, Love. It's seems distracting, disrespectful almost, to admit to myself just how often the words slip through my mind on the sticky streets of Phrae.
Yes, the pronunciation of Phrae shimmies over the h and half notices the r. So it kind of sounds like pray.
But that's really where the similarity ends with the novel about a woman who sets out to travel the world to forget about her problems.
And yet the earworm returns. Eat, pray, love. Eat, phrae, love.
Eat for the khao soi, fried noodles and coconut curry. The purple pea flower juice that turns pink with lemon. And the indigo blue sticky rice.
Pray for the Buddhist temples, gold and serene with gently lolling prayer flags.
And love. Of a different kind.
What matters in Phrae
Phrae isn't really a party place, nor is it a stereotypical honeymoon destination.
But it does show its love for both people and traditions through the revival of culture and the joy of sharing this with visitors.
There's Komol Panichpun, who founded a textile museum, Chris, who heads the cooperative where people make hats by hand to keep these skills alive. And Auntie Ngeam, who heads up one of the many indigo workshops in the area.
All in, when we're talking about the best things to do in Phrae, perhaps it does make sense to start with Eat, Pray, Love.
Where is Phrae?
Phrae is a landlocked province in northern Thailand, in between Chiang Mai and Bangkok.
Getting to Phrae, Thailand
Direct flights operate from Bangkok to airports in Nan, Lampang and Chiang Mai. From there, you can take a bus, car or taxi to reach Phrae.
Buses are the most affordable option, with frequent departures from major cities across Thailand including Bangkok, Chiang Mai, and Chiang Rai.
One in Phrae itself, you don't really need a car but it's handy to have your own set of wheels to explore the surrounding region. You can either rent a car or hire a private driver.
Finally, you could catch a train from Bangkok to Den Chai, where you can take a bus or taxi to Phrae.
The best time to visit Phrae
The best time to visit Phrae is between late November and late February. During the dry season, the weather is pleasant, with low humidity and cooler temperatures, making it ideal for outdoor activities such as trekking or visiting historical sites.
From March to May, temperatures rise and there's the annual Songkran festival in April.
The rainy season from June to October may limit some outdoor activities, but the rain doesn't usually last all day (and those green landscapes don't come from nowhere!)
This time of year is typically less crowded, too, so you'll be able to find more of a sense of solitude.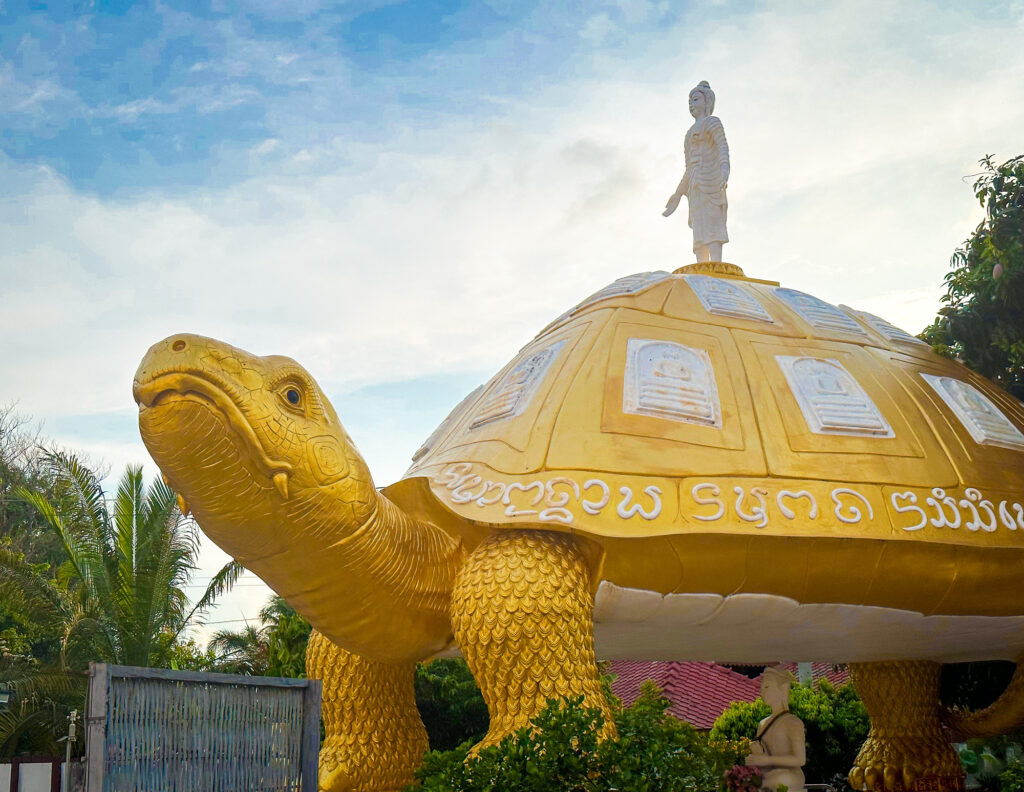 Five Reasons to Visit Phrae
Of course, there are more than five reasons to visit Phrae but let's start with something manageable, shall we?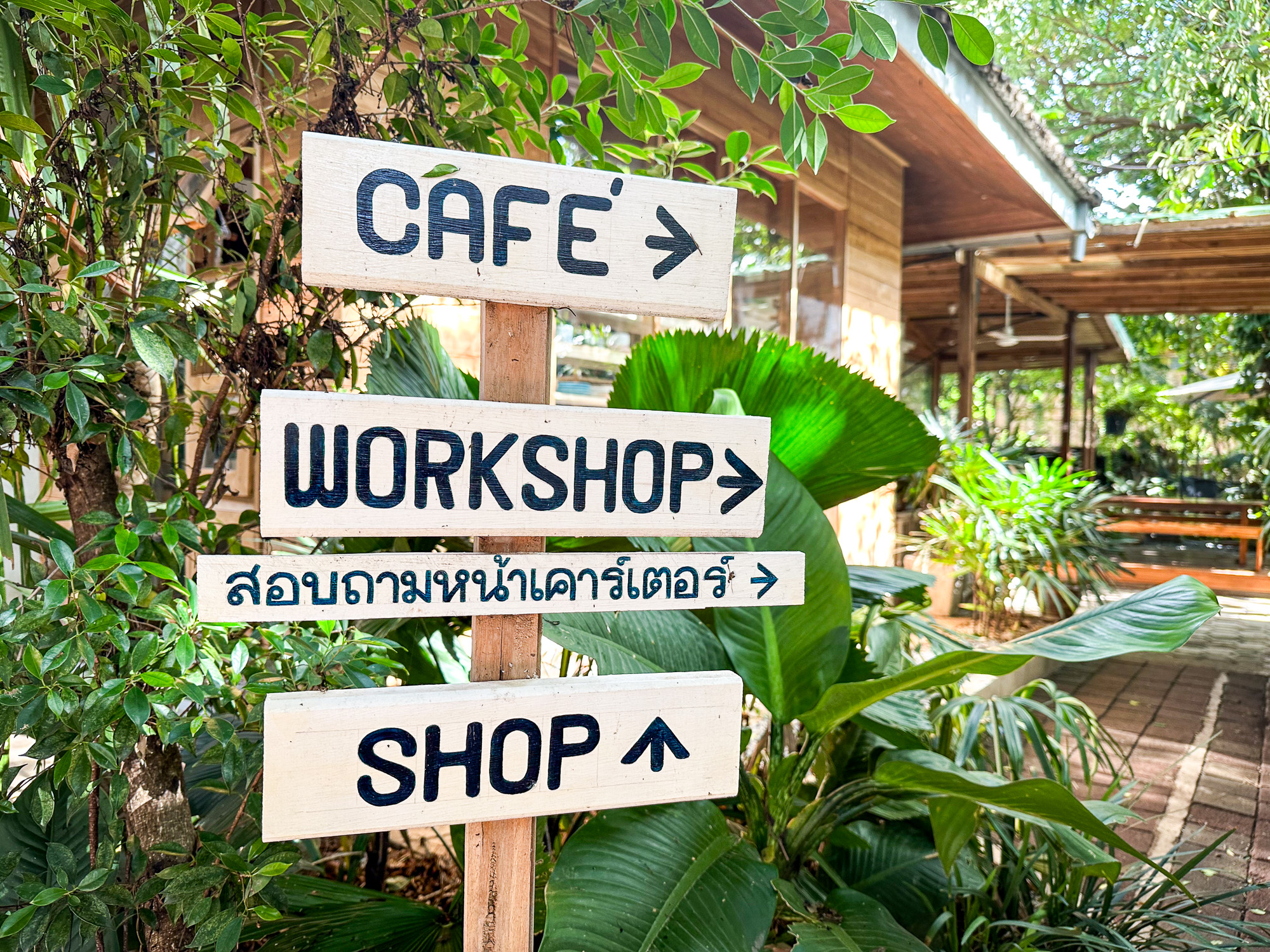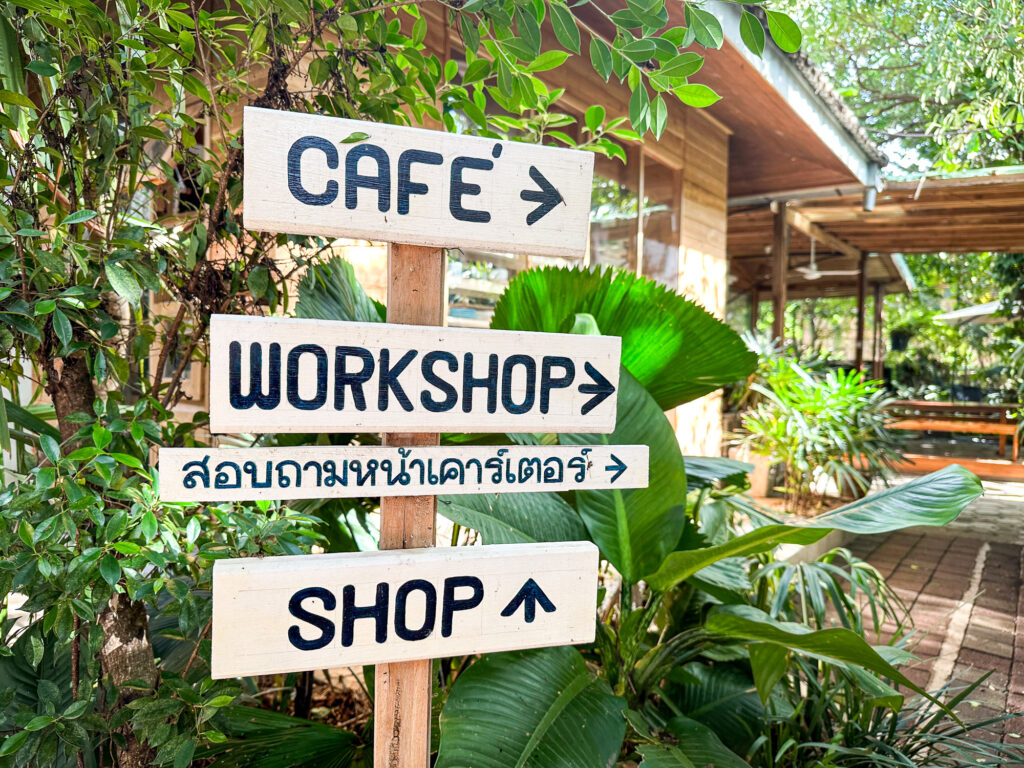 Traditional Crafts
Hands down, one of the best things to do in Phrae involves meeting the people who are doing their best to revive and reinvent the traditions and skills of the area.
Does that sound a little worthy or woolly? Not at all. Here are some museums, workshops and cooperatives where you can learn, interact and even contribute.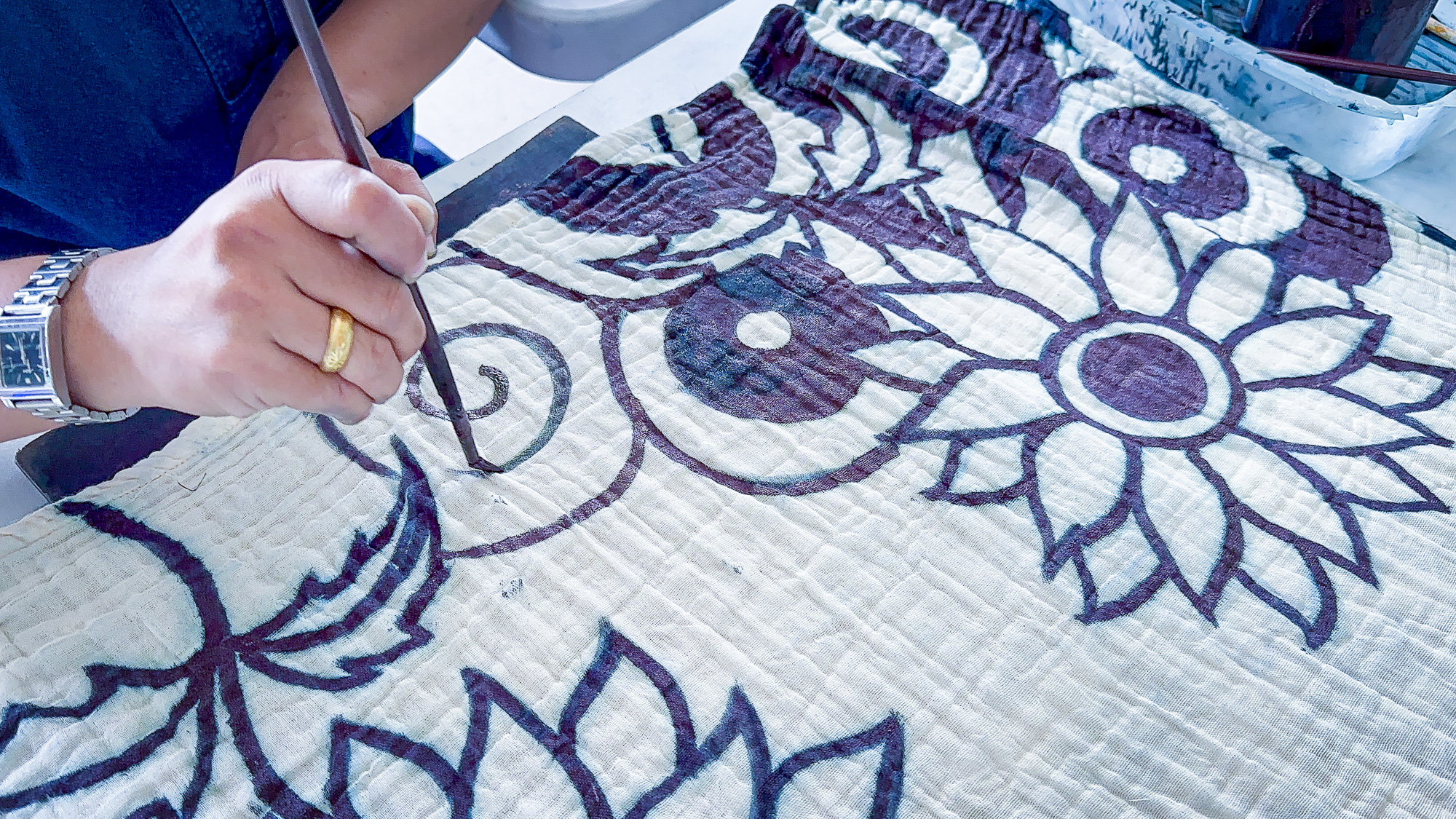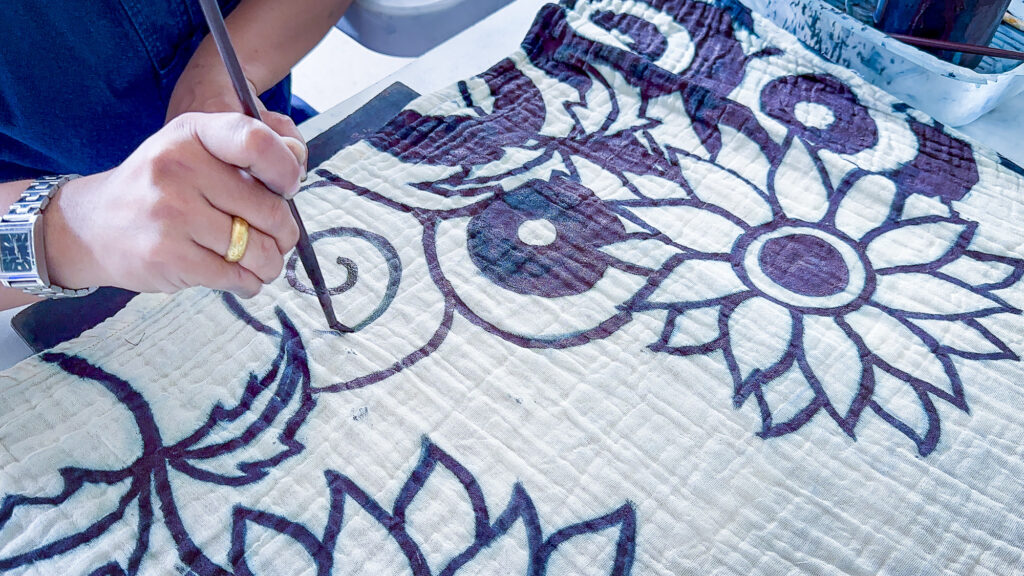 Indigo Tie-Dye Workshops
When refugees arrived in this part of Thailand after the end of World War Two, they arrived with indigo tie-dye skills.
Now, just a few generations on, Phrae is famous for "Thai denim," a rich, blue colour that flutters on roadside cafes throughout the region.
There's Baan Matjai, an instagrammable workshop shaded by leaves and cooled by mist. Chidchanok, Chadanoot and Amonpun help you to tie-dye your own bags or scarves in between sipping iced coffee in their hipster cafe. It's a relaxed, mother and daughter run enterprise.
Then, in Baan Thung Hong, Prapapan Sritrai runs a more industrial sized enterprise. You can flip through brochures to find the perfect pattern and then use elastic bands and folding techniques to create a piece of art of your own.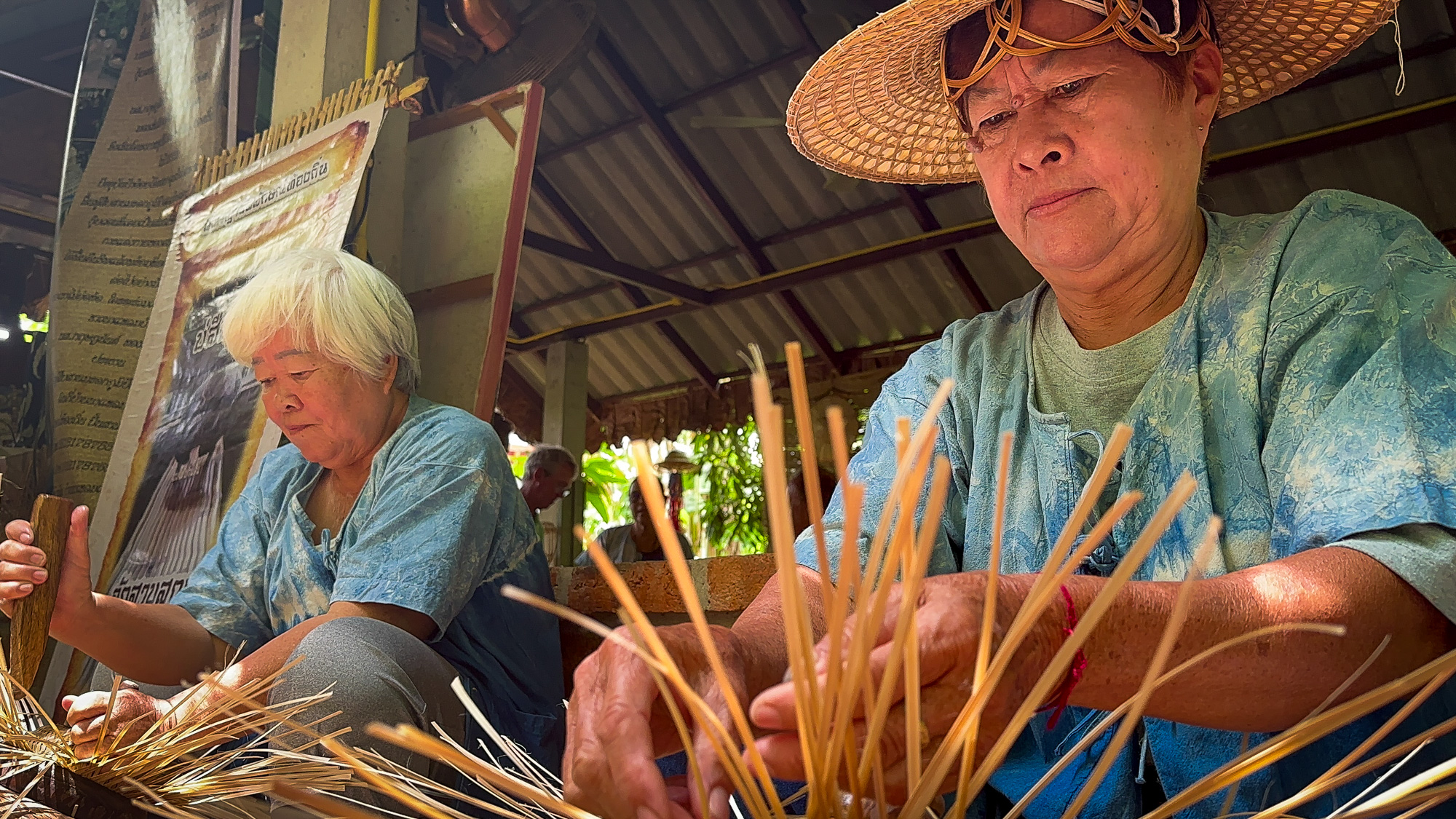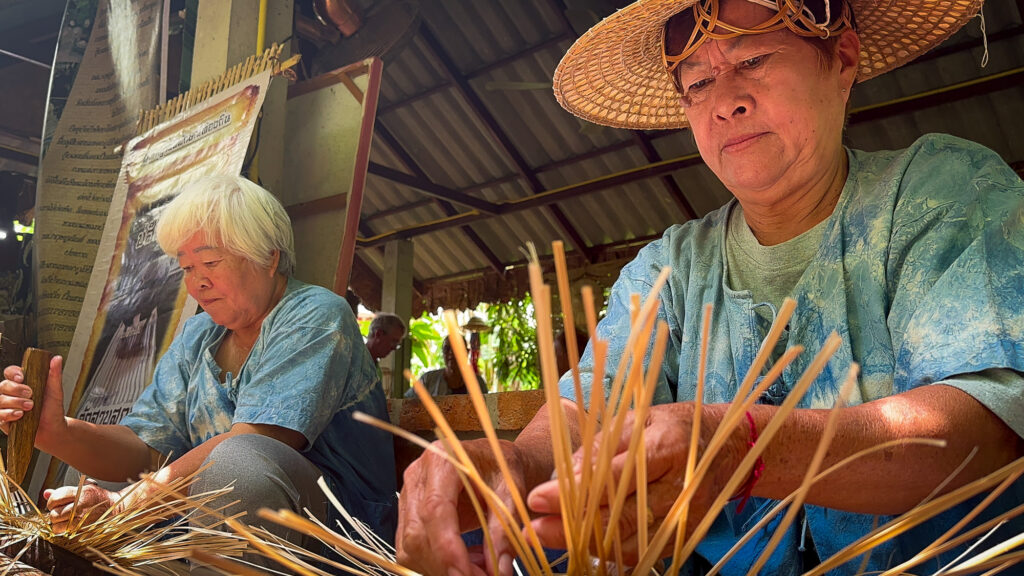 Handmade Hats
In Hommai Bandit, an inspiring cooperative near Phrae, Chris is trying to revive the ancient art of hat making. As the only place in the country who practices these skills, her eighteen students weave their bambo and palm leaves with quiet, yet fast, determination.
It's easy to watch them at work, although not so easy to do it yourself.
To complete the visit, feast on locally sourced foods which include the signature indigo blue rice.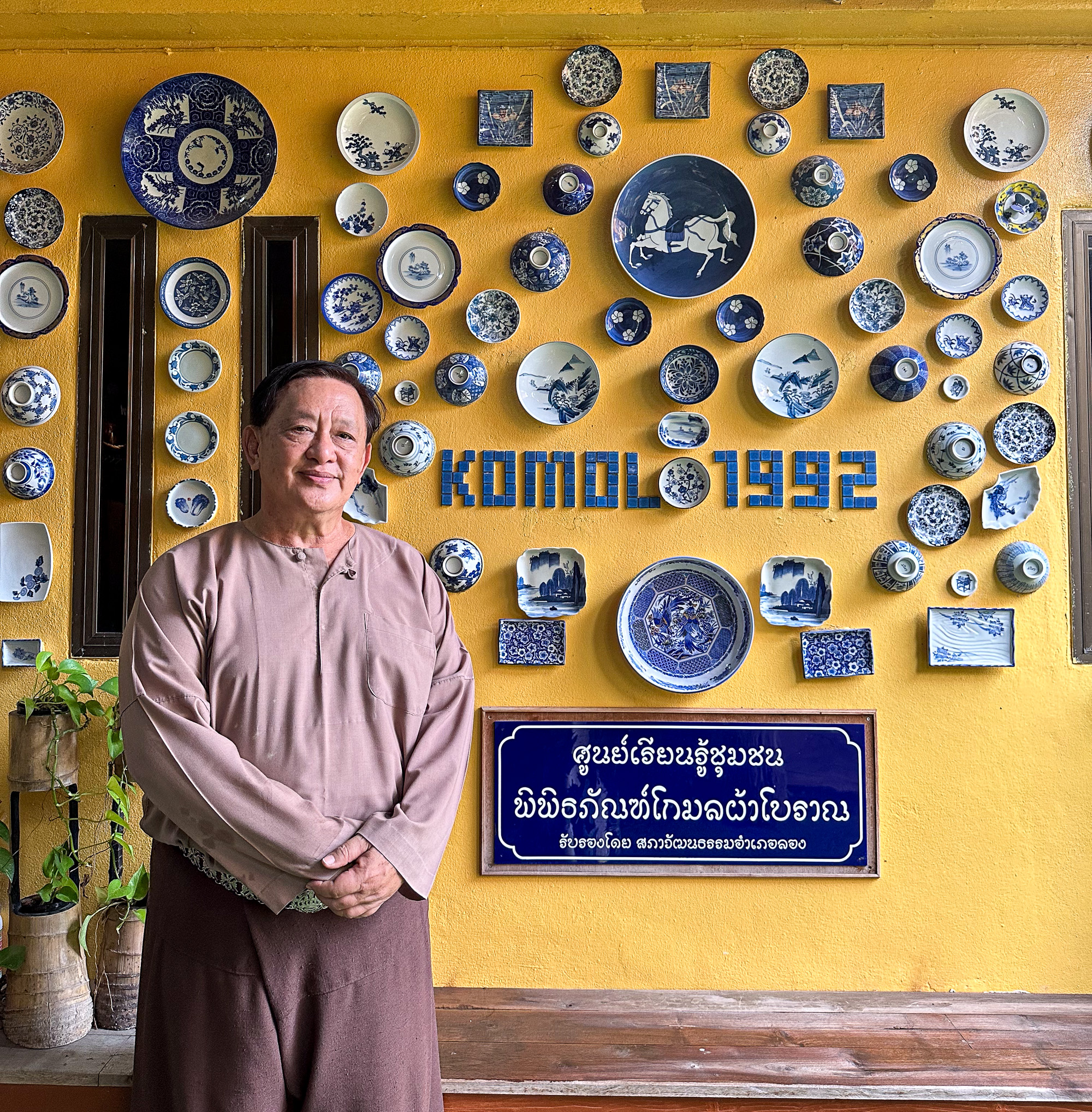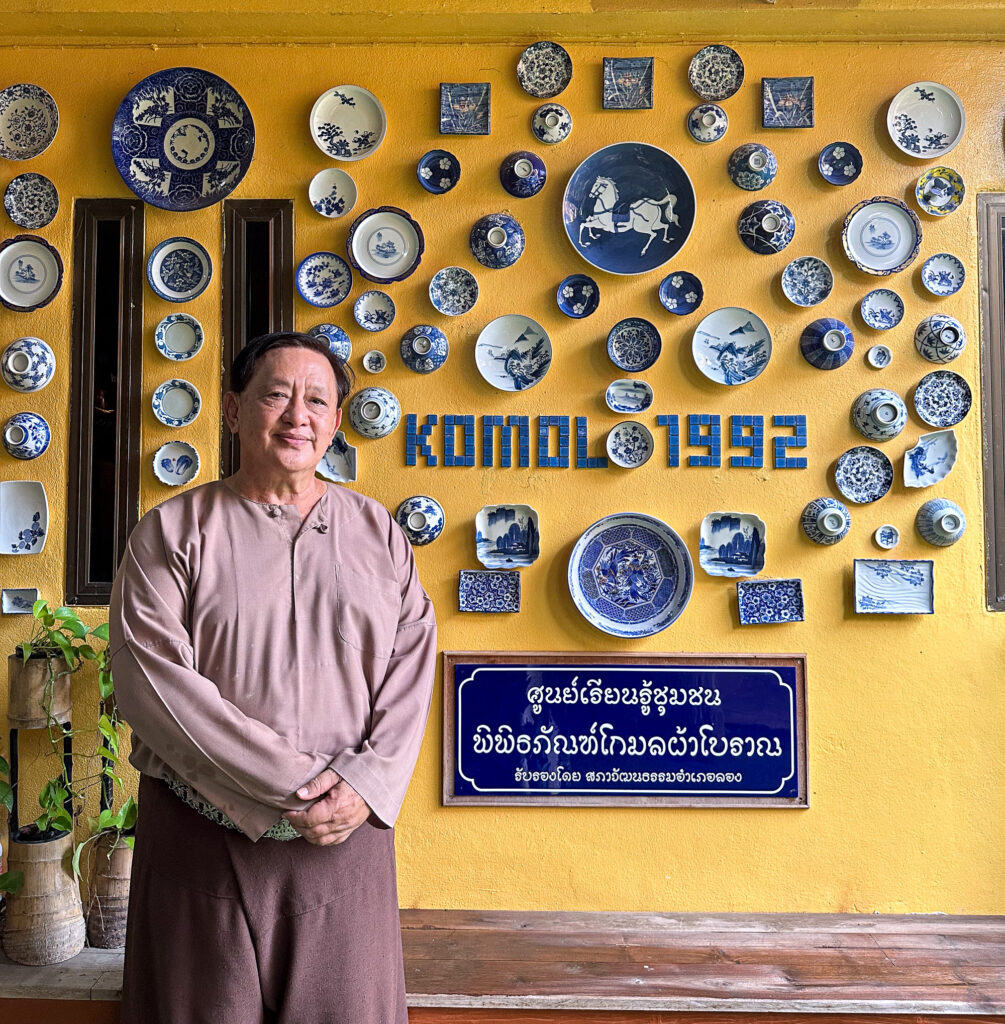 Komol Textile Museum
In today's world of fast fashion, it's easy to forget just how much work goes into weaving textiles and dying wool, silk and cotton.
Komol Panichpun founded this museum to preserve his local heritage and you can find photographs and textiles of outfits worn by local princesses with real gold threads as well as garments that date back to 1767.
Downstairs, find a curious collection of Barbies and other dolls dressed in traditional clothes from around the world.
Find all the details for the Komol Textile Museum here.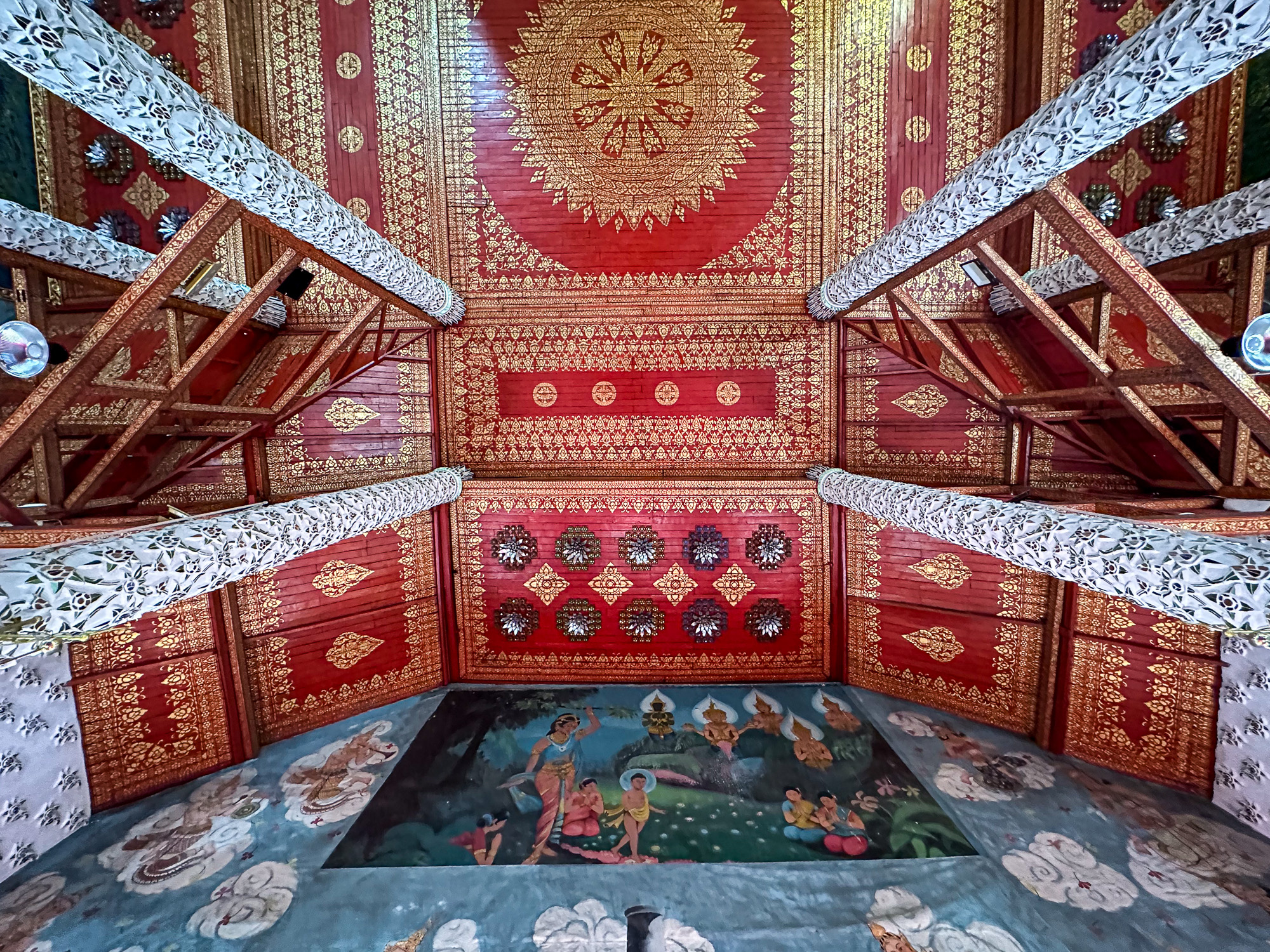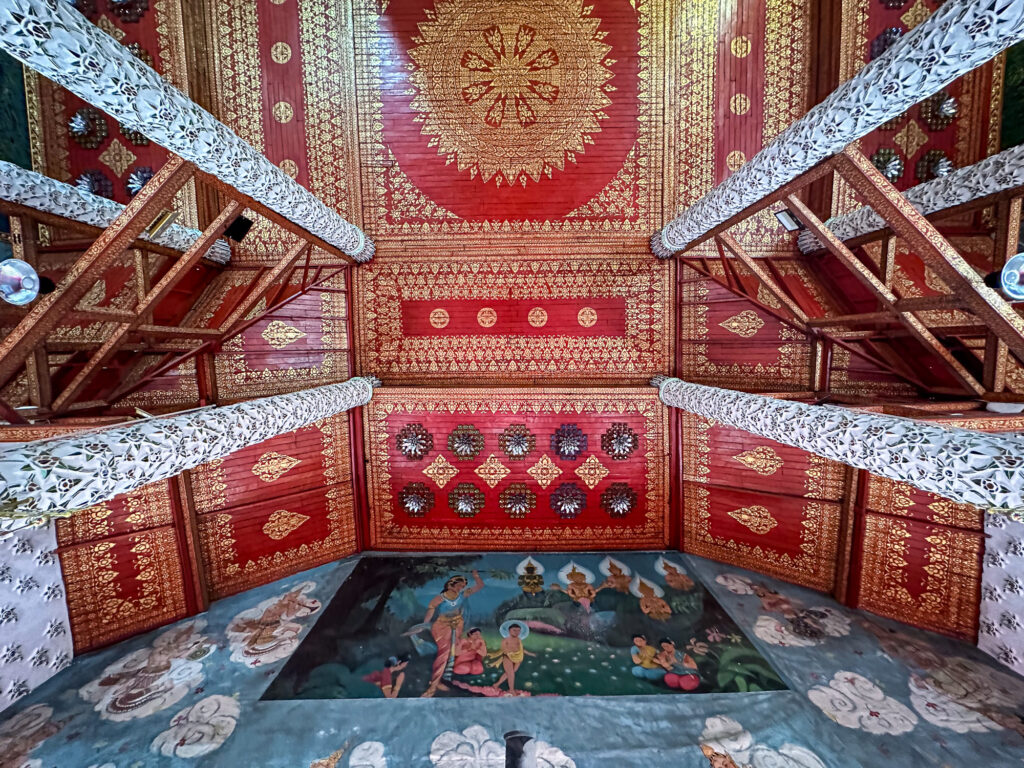 Temples in Phrae
There's no doubt that visiting temples is one of the best things to do in Phrae. The murals, the architecture, the sense of devotion. The incense.
That said, temple fatigue is real and it's a good idea to pace yourself. You will never be able to visit them all.
Here are our recommended highlights:
Wat Phra That Cho Hae
Often described as the most sacred site in Phrae, Wat Phra That Cho Hae is a Buddhist temple known for its serene atmosphere and beautiful architecture.
It was built in the 14th century and is believed to have been one of the first temples in the area.
It's other claim to fame is its 33 metre tall golden pagoda – and its panoramic views of the surrounding countryside.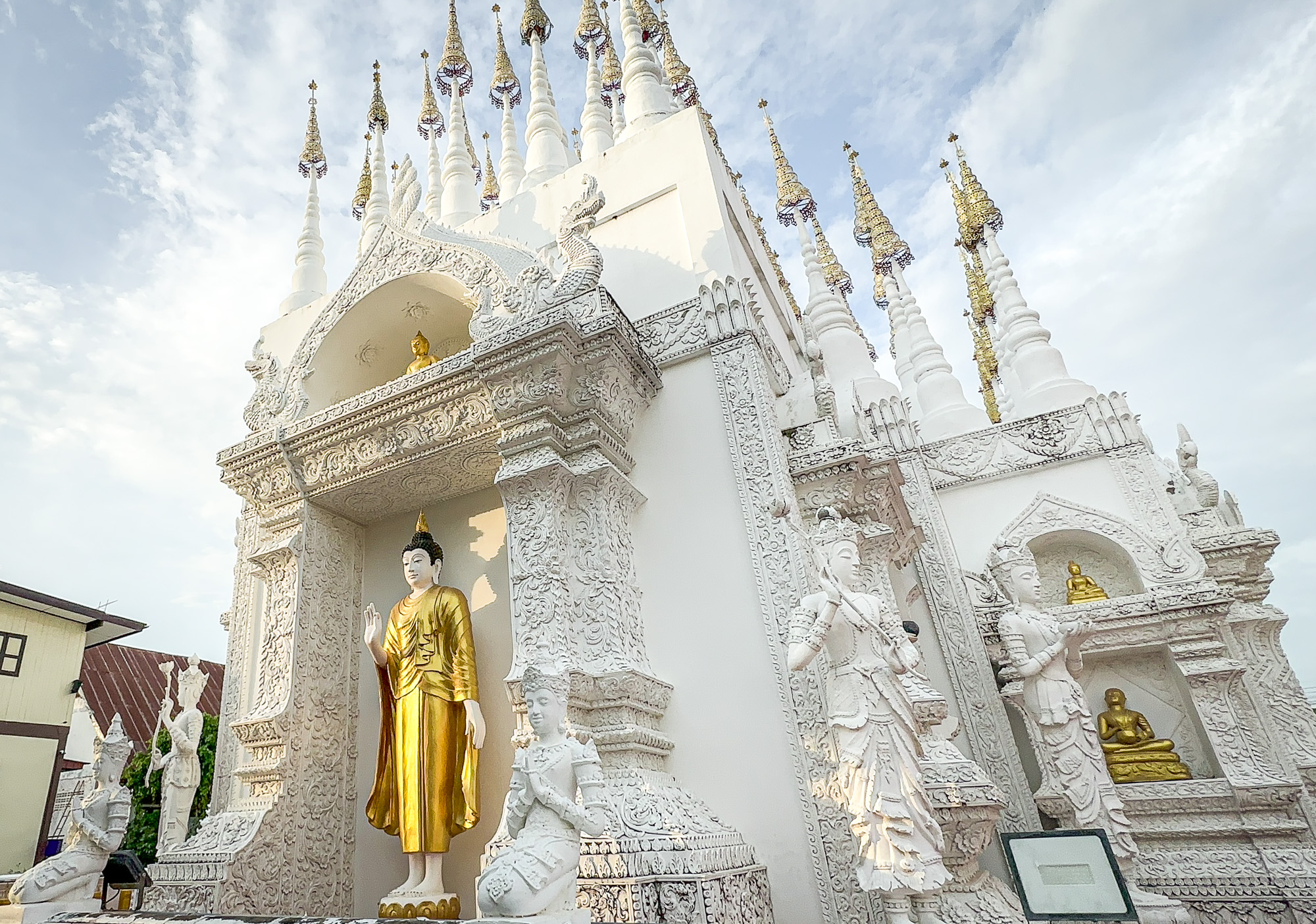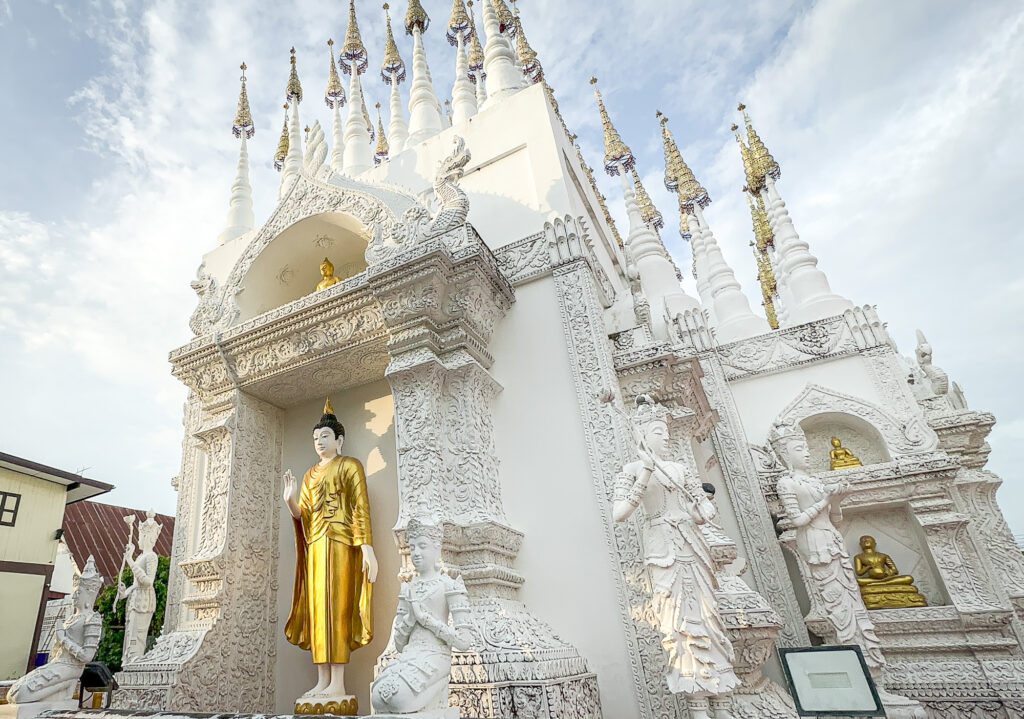 Wat Phong Sunan
The origins of this temple are lost in the mists of time, leaving us with only a restoration date of 1929 and a suitably mythical story.
Legend has it that a group of monks discovered the site while searching for a place to build their monastery. They were struck by the tranquillity of the area and decided to establish a temple there. But when was this?
The temple contains a Buddha said to be over 500 years old but beyond that, facts are scarce.
What's unmistakeable, though, is the white assembly hall with gold tipped spires. And the giant golden turtle.
If you have more time, you may wish to add these temples to your wish list:
Wat Phrabat Ming Meuang Worawiharn. Built in 1955, this newer temple is renowned for its sacred Buddha image, said to have miraculous healing powers. Plus, it's easy to access in the heart of Phrae City.
Wat Luang was built over 700 years ago and is believed to be the oldest temple in the province. The main attraction here is the Buddha image, which is said to have been brought to the temple by a group of monks who discovered it on their travels.
Wat Chom Sawan. Built in the early 20th century, Wat Chom Sawan features a unique blend of Thai and European style elements.
Wat Phra Non. Wat Phra Non is one of the prettiest temples in Phrae and is known for its reclining Buddha statue. The statue is 14 meters long and covered in gold leaf. Filled with the scent of flowers and incense and adorned with splendid murals, it's a lovely little spot.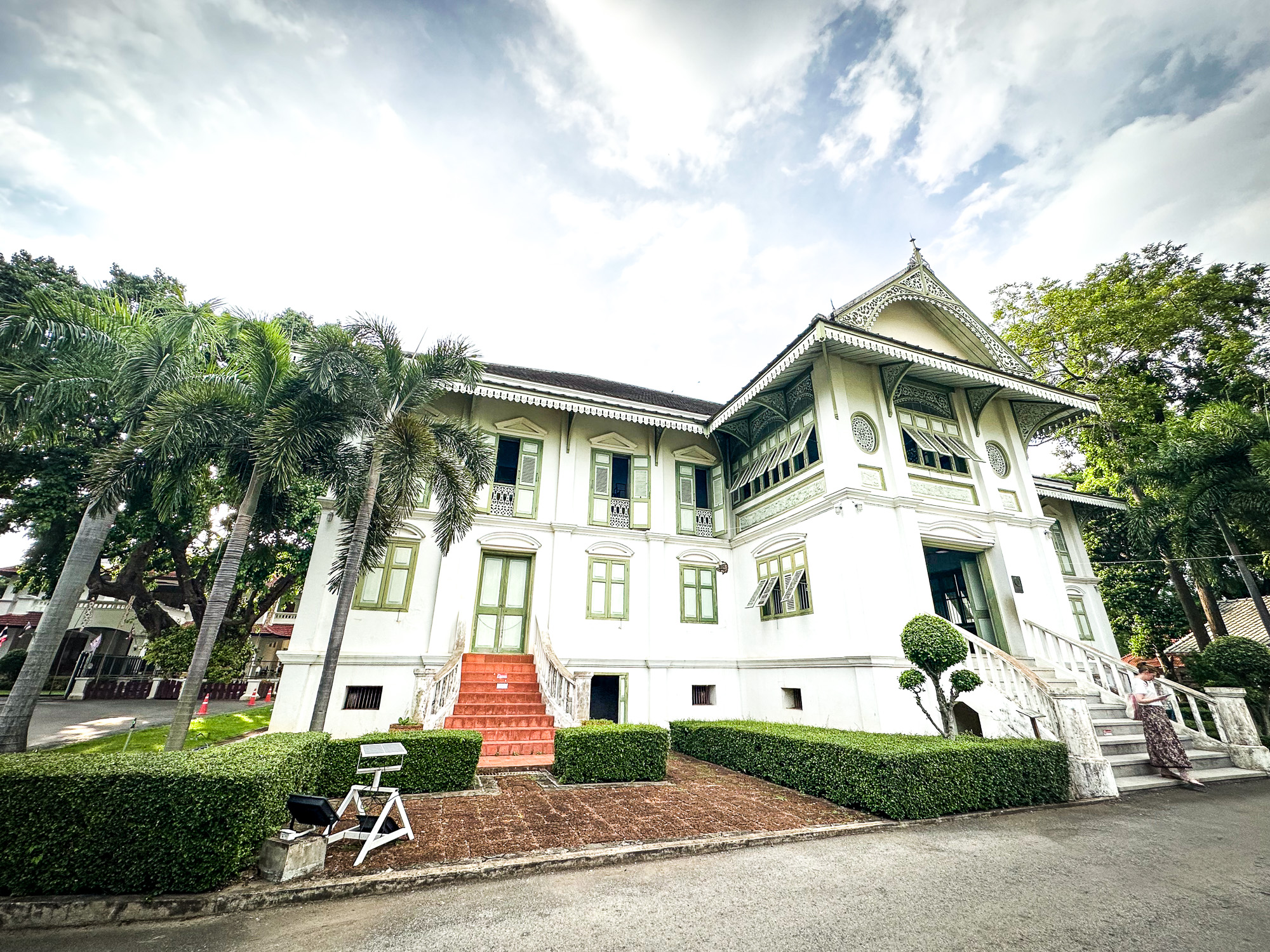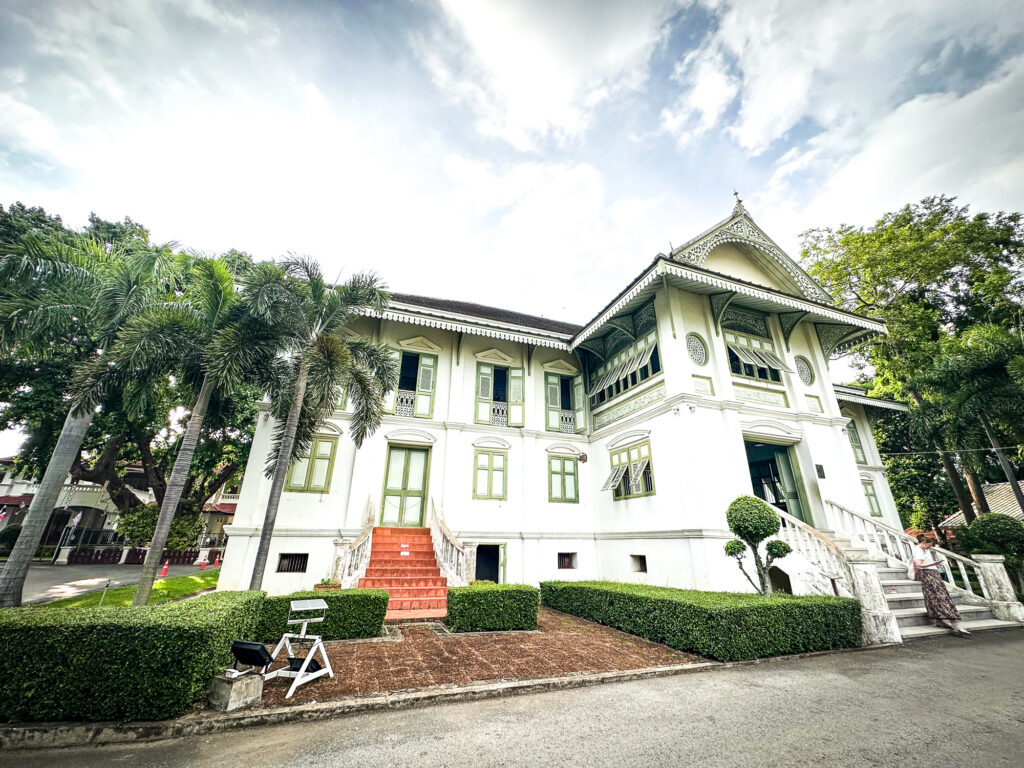 Explore Phrae's Old Town
If you are not sure where to start your Phrae itinerary, taking a guided walking tour around the Old Town is always a good idea. Most tours take you through the narrow streets and past the old city wall, into the Khum Chao Luang Museum, Wat Phra That Cho Hae temple, and the old wooden houses that populate the centre.
Another fun suggestion is to take a tram tour. While this does sound like tourist hell, it's actually a really efficient and convenient way to get around. You'll see plenty and you'll thank me later for the breeze.
Here are some of the highlights you'll find:
Khum Chao Luang Mueang Phrae
For a glimpse into life during the 19th century in Phrae, make sure to stop by the Khum Chao Luang Mueang Phrae, a traditional Thai house museum.
The house was built in 1892 and was the residence of Chao Luang, the governor of Phrae. The museum showcases the traditional architecture and furnishings of the time, including antique furniture, textiles, and ceramics.
Here you can learn about the history of the region and see how local people lived in the age before air conditioning.
The Vongburi House Museum
The Vongburi or Wongburi House Museum is a lovingly restored teak-wood house that provides a glimpse into the past.
Built in the late 19th century, the house was originally the home of a wealthy teak trader.
Today, it is a museum that showcases traditional Lanna architecture and contains a collection of antique furniture and household items that tell the history of the teak industry and old wooden houses that once dominated Phrae.
Landscapes in Phrae
It would be remiss of any guide to the best things to do in Phrae to omit her fabulous landscapes. So, while I didn't have the chance to visit all of these myself, they come very highly recommended.
Tham Pha Nang Khoi Cave is filled with stalactites and stalagmites, creating a supernatural atmosphere in limestone form. Legend has it that a beautiful princess once lived in this cave, hence the name "Pha Nang Khoi" which means "cliff cave of the waiting princess." To visit, take a tuk-tuk from the city centre and brace yourself for the flight of stairs, bats and rare insects which await.
Phae Muang Phi Forest Park: this landscape of bizarre mushroom rocks also has a strange story for its visitors. Legend tells of an elderly woman who entered the forest seeking bamboo shoots but lost her way. She discovered a well brimming with silver and gold, but the forest's guardian angel forbade her from taking the treasure. Forced to leave the riches behind, she made handrails from wood for support. Despite her efforts, an unseen force pushed her back. After leaving the forest, she shared her story with the locals. They searched for the handrails and treasures, finding only footprints leading to columns and no further direction. In awe, the villagers named the place Phae Mueang Phi, meaning "ghost town grove."
Tom River is famous for its clear water and peaceful surroundings, perfect for a picnic or a lazy afternoon nap. It is also a popular spot for fishing and boating.
Doi Pha Klong National Park. Away from the city centre and a bit off the beaten path, the mountainous landscape of the Doi Pha Klong National Park, with its hiking trails and diverse wildlife, is an adventure waiting to happen.
Mae Yom National Park has rolling hills, lush forests, and a variety of wildlife. It is easily accessible, with hiking trails and picnic areas suitable for visitors of all ages.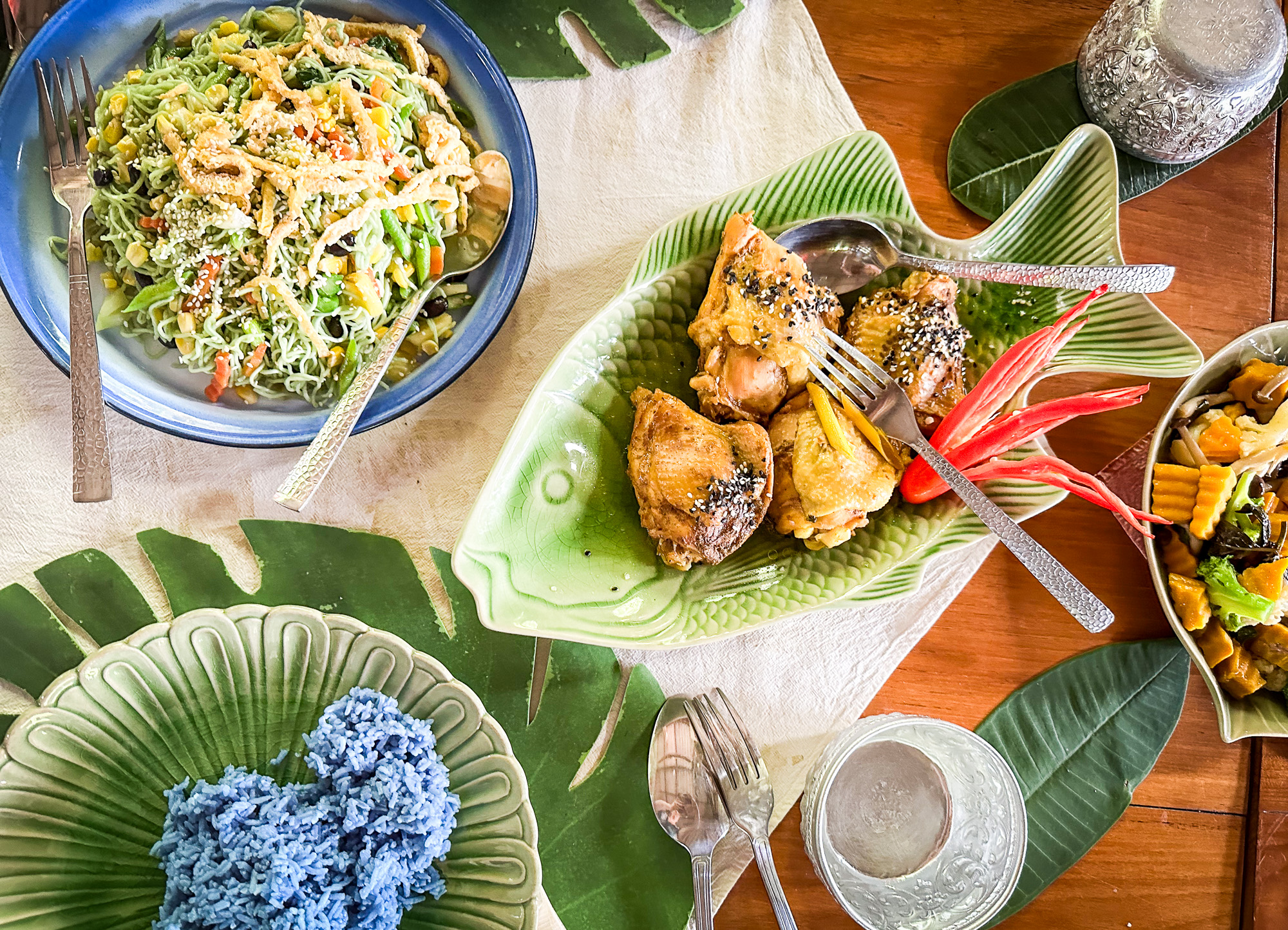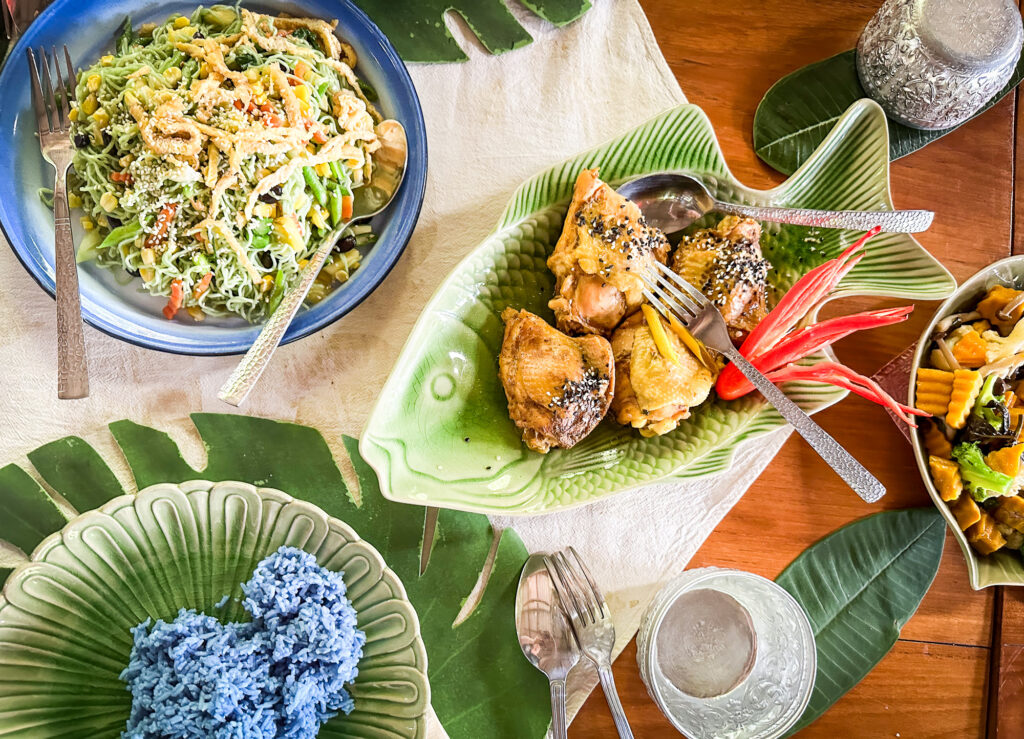 Where to Eat in Phrae
Whether you are looking for a snack or a big dinner, here are some recommended dining options in Phrae:
The Gingerbread House Gallery and Cafe. With a sloping roof, wooden frame, and ornate details, the Gingerbread House Gallery and Cafe has a quaint, fairytale-like appearance. Inside, find homemade treats including cakes, cookies, and pies, all made using high-quality ingredients. Don't miss their signature gingerbread cookies.
Wee wee. This popular place combines traditional Thai architecture with European influences. It specialises in Northern Thai cuisine and serves a range of dishes, including khao soi, a spicy coconut-based soup with noodles and meat.
Khaosoi Che Lek. Despite its modest appearance, Khaosoi Che Lek offers excellent service, with staff who are attentive and friendly. The restaurant's menu is focused on Northern Thai cuisine, with a particular emphasis on khao soi, which comes in both chicken and beef versions.
Phrae's Saturday Walking Street Market takes place every week, as vendors set up stalls along the street. Try traditional dishes, such as Khao Soi and Kai Yang.
Pratu Chai Night Market. With 19th century origins as a place where local farmers sold their wares, today the market is a meeting point for tourists and young people alike. Vendors offer a wide variety of traditional dishes, and you can sample everything from sweet and savoury snacks to spicy curries and noodles.
Where to Stay in Phrae
Phrae has plenty of budget and mid-range accommodations, so it's easy to find a good place to stay. Here are just a few ideas:
Huern Na Na Boutique Hotel features both modern and Northern Thai architectural style, with wooden furnishings and decor inspired by local culture. It offers services such as massage therapy, bike rentals, airport shuttle, and free Wi-Fi and has a charming outdoor pool.
Phoom Thai Garden Hotel. Designed with a mix of traditional Northern Thai and colonial architectural styles, this hotel offers large rooms and antique furnishings. Also, the hotel's garden has a pond and waterfall, providing a serene environment for guests to unwind. Other amenities include a restaurant, free Wi-Fi, and laundry services.
Praepimpalai Thai Spa & Resort. This luxurious resort showcases traditional Thai architecture with complicated wooden carvings and decorations. Rooms are spacious and elegant, with modern amenities such as a flat-screen TV and air conditioning, so you are up for a treat if you choose it.
Combining Nan & Phrae
Once you've seen Phrae, it makes sense to explore the neighbouring region of Nan. Here's a guide to the best things to see and do in Nan, Thailand.