The puffin is everyone's favourite North Atlantic bird. They are irresistibly cute, intelligent and highly expressive – for centuries their character has been compared to that of whimsical parrots or clowns. Their Latin binomial 'little brother of the north' pinpoints their monkish appearance and reveals a long-standing affection for the bird, and with good reason. You can watch puffins for hours and never get bored.
The puffin's appearance is unmistakable: black wings, neck and hood, with a podgy white tummy and white cheeks. Their eyes look like triangles, and their parrot-shaped beaks show bright red, yellow and blue in summer (winter sees the colours fade to grey). They waddle on bright-orange webbed feet but with such small and stubby wings, puffins are not nimble flyers – to stay airborne they must flap their wings at around 100 beats per minute.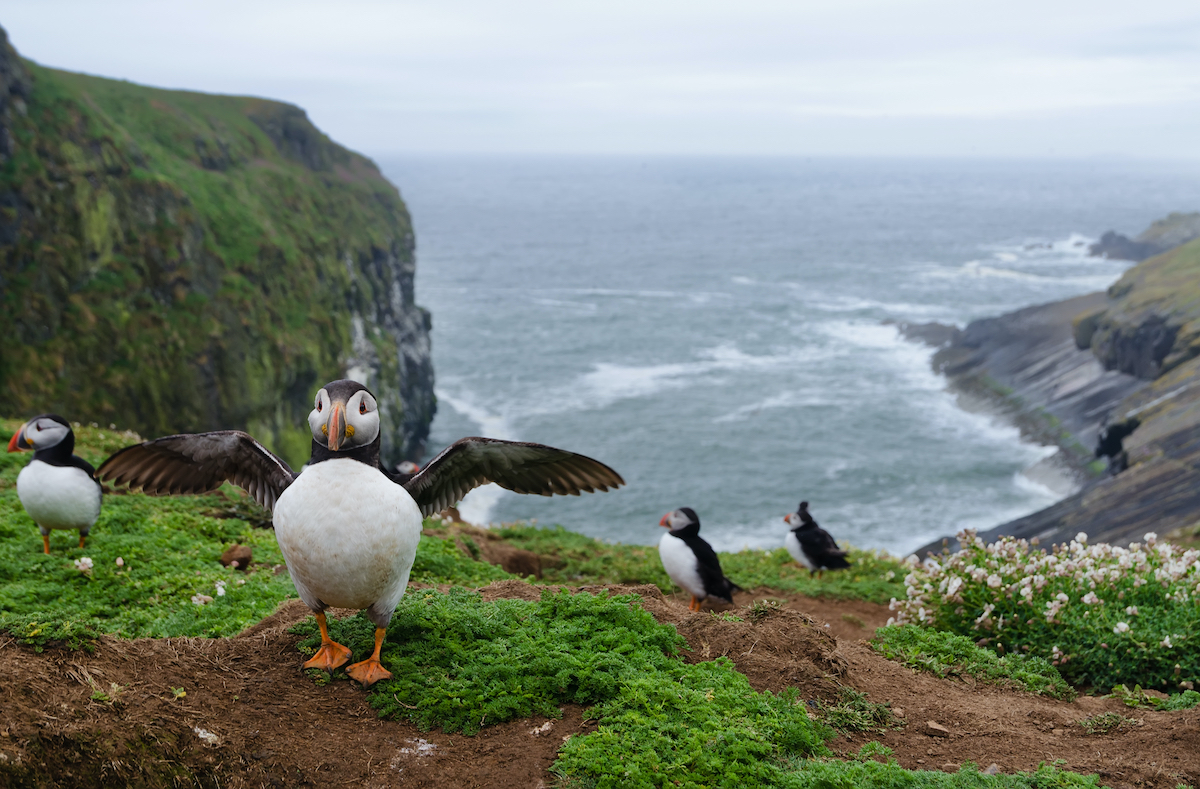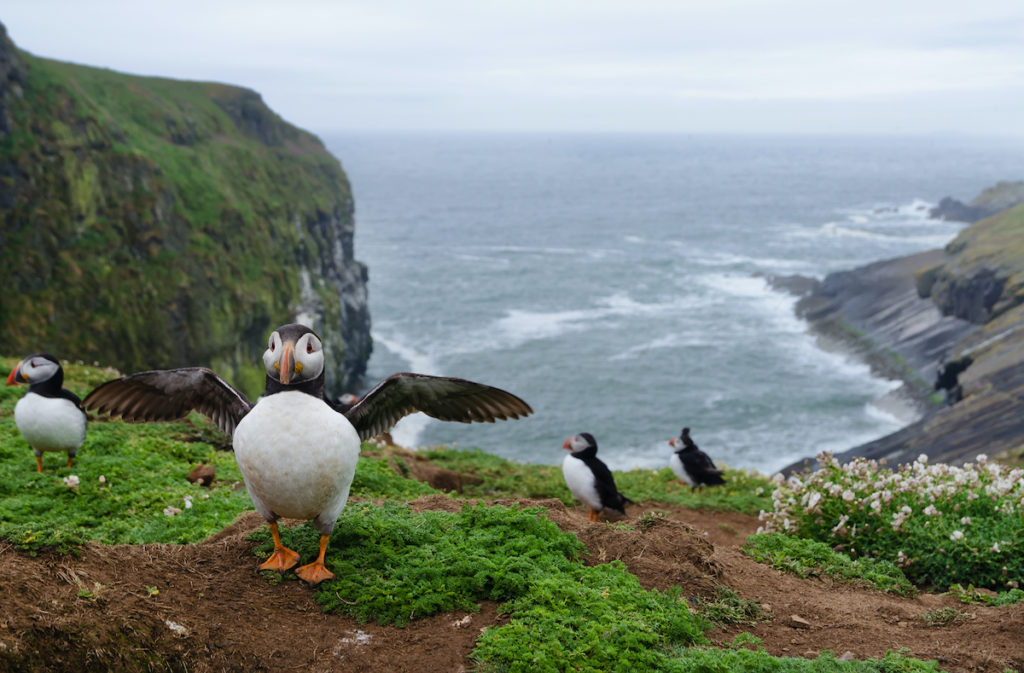 Puffins are, however, incredible divers and swimmers. They can easily outdo some of the other birds, diving to depths of 15m and staying underwater for up to one minute. They also have a jagged palate that allows them to hold fish against the roof of their mouths while they fish for more. It is common to see a puffin flying around with as many as ten fish in its mouth.
Puffins live long and interesting lives. They spend the winters in the deep waters of the Atlantic, feeding mainly on eels, capelin and herring. The first three years of life are spent exclusively at sea, after which they fly back to the very cliff on which they were born. By age five, the sexually mature males will have finished digging a burrow at the very top of a sea cliff. Puffins typically mate for life, laying a single egg in the same burrow year after year. A puffin burrow is between 1m and 2m long with a fork at the back – one side is where the egg is incubated and the chick is fed, with the other side used to collect waste.
From an early age, the chick is trained to relieve itself in this other chamber and keep itself clean, dry and – most importantly – waterproof. The newborn chick is an awkward greyish bundle that bit by bit transforms into the black-and-white patterns of its parents. In Iceland, puffin parents spend their days zipping back and forth between clifftop and sea.
They are feeding a demanding chick who (by the end of the summer) weighs twice as much as its parents. In the long days of summer, the adults return to the cliffs only to rest late at night – typically after 22.00. That's why the best time to watch puffins up close is around midnight.
But where are the best places to see these entertaining creatures?
St Kilda
The abundance of birdlife on this island in the Outer Hebrides is unparalleled in the UK. At the height of the breeding season from May–August, St Kilda is home to a scarcely comprehendible one million seabirds, the largest colony in northwest Europe, which includes the UK's largest puffin colony.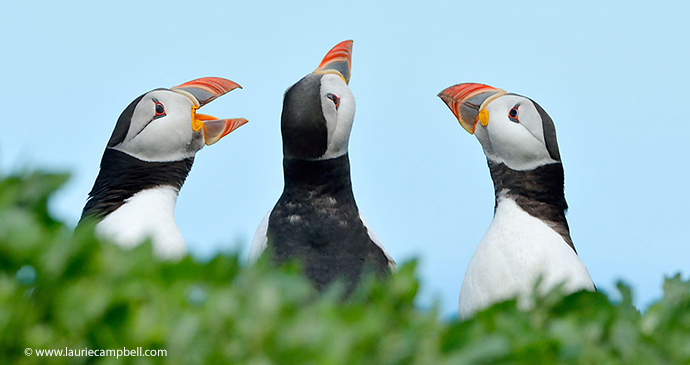 For all these reasons, St Kilda is one of only 24 global locations to be awarded 'mixed' UNESCO World Heritage Status for its natural and cultural significance.
Westray and Papa Westray
Orkney is home to 21 breeding species of seabird, most notably marine birds. Some reports suggest that one in six of all seabirds breeding in Britain nest in Orkney. The charismatic puffins breed here from May to early July (they total around 60,000 pairs, though the vast majority of these are on the inaccessible Sule Skerry, 36 miles west in the Atlantic).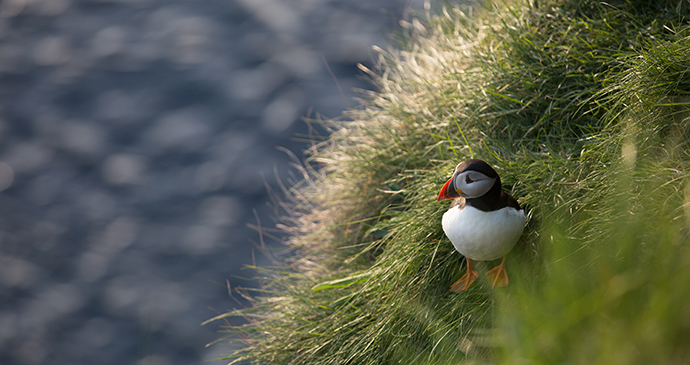 The best place to see them is around Castle o' Burrian and Noup Head on Westray and on the southeast coast of Papa Westray; less substantial numbers nest around the Brough of Birsay and Marwick Head on the Mainland.
Canna
Arguably the most remote of all the Inner Hebrides, Canna and Sanday feel like a reward for those who take the time to travel there. Joined by a bridge, the two islands share a community and are most often referred to as a single entity, Canna. Peace, wildlife and scenery are many people's reasons for coming to the Hebrides and it's hard to find anywhere better than Canna for these things.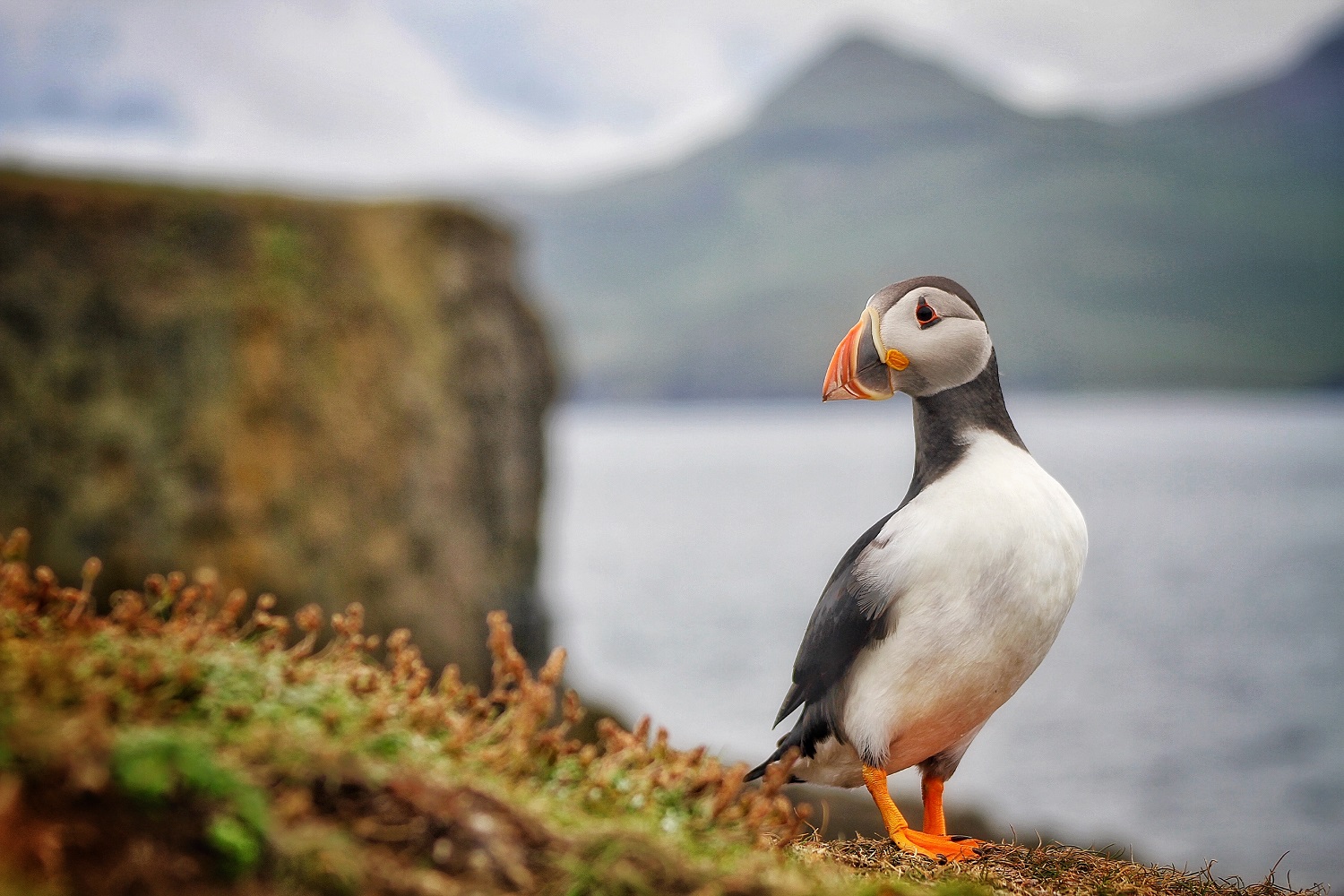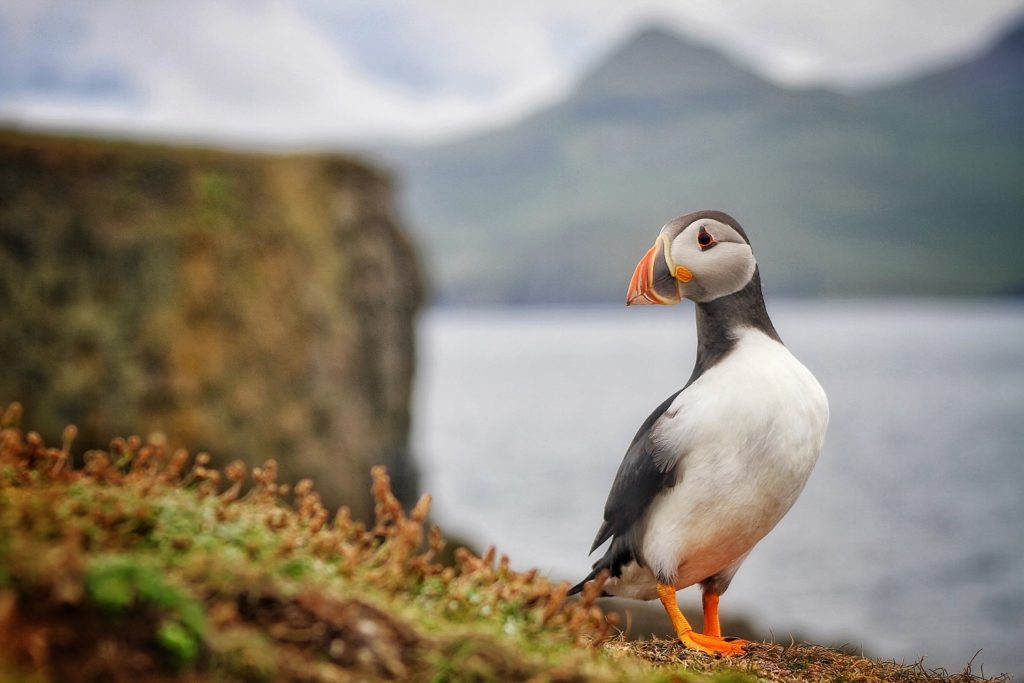 Seabirds come here in swathes, and from May to August Canna's basalt columns are aflutter with thousands and thousands of puffins, but also kittiwakes shags, guillemots and razorbills, all of which nest on the islands. There is also a nesting pair of golden eagles and a pair of sea eagles, as well as peregrine, long-eared owls and numerous other species.
Farne Islands
From the moment you step ashore at this Northumberland nature reserve, you'll see puffins crash-landing with beaks stuffed full of sand eels, terns wheeling in the sky or spearing fish from the sea, cormorants sitting proud on their castles of dried seaweed, and guillemots guarding rock stacks painted white with guano.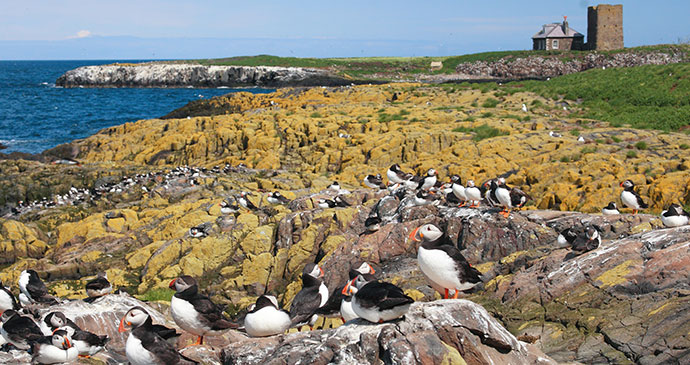 There is no other wildlife experience quite like this anywhere else in Northumberland. But only for a few months of the year. Come mid-August, the birds depart for open waters, abandoning their empty nests to the wind and sea.
Flamborough Head
What draws most people to Flamborough Head are its birds. Two nature reserves are dedicated to the protection of the huge seabird colonies here, Bempton Cliffs Nature Reserve (RSPB) and Flamborough Head Nature Reserve (Yorkshire Wildlife Trust).
Seven or eight species of bird breed on the chalk cliffs of Flamborough and Bempton, 200,000 in total, most feeding on small fish, sand eels and sprats. Kittiwakes and guillemots are the most numerous and nest on ledges high on the most vertical sections of cliff with gannets and razorbills preferring the lower sloping sections. The puffins here are unusual – elsewhere in the country, such as the Farne Islands in Northumberland, they raise their young in soil burrows at the clifftop. At Flamborough, natural cavities in the rock face do the job and puffins have the unusual experience of tenement living with fulmars as neighbours.
Lundy Island
'Lunde øy' is Norse for Puffin Island, so it's no surprise that this isle off the coast of north Devon is famous for its population. It hasn't always been plain sailing for the birds, though: in the late 1930s the population of puffins was thought to be around 3,500 breeding pairs; by 2000, there were just five individuals.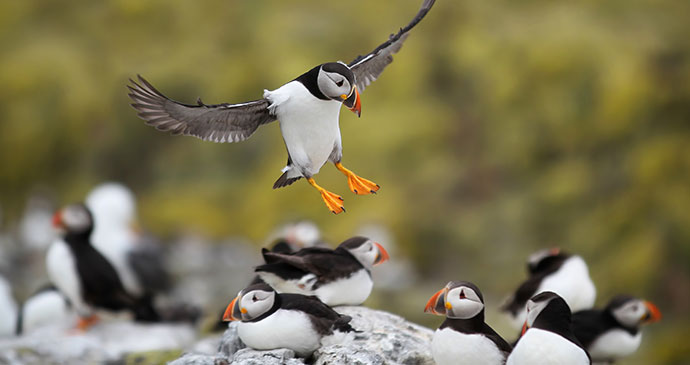 Something had to be done – Puffin Island without any puffins was unthinkable. A programme of rat elimination was successfully initiated in 2002, and by 2006 the island was officially declared 'rat-free'. Since then the population of puffins has steadily increased, numbering 375 in 2017. 
Annet, Isles of Scilly
West of St Agnes is the green-topped island of Annet, home to colonies of puffins and shearwaters, among thousands of other seabirds. Boats from St Agnes and St Mary's offer birdwatching trips around the islands, though landing is prohibited as Annet is a bird sanctuary.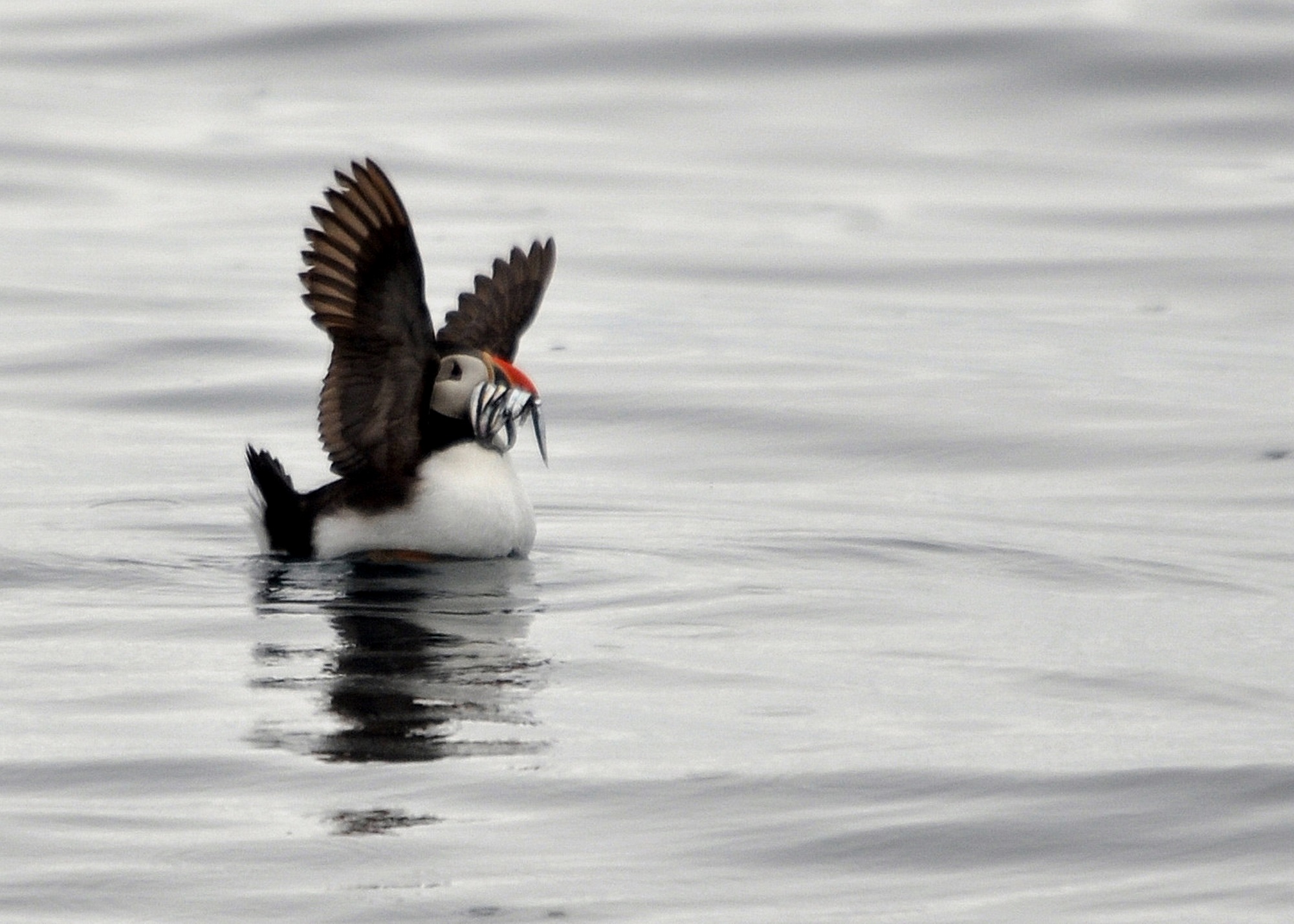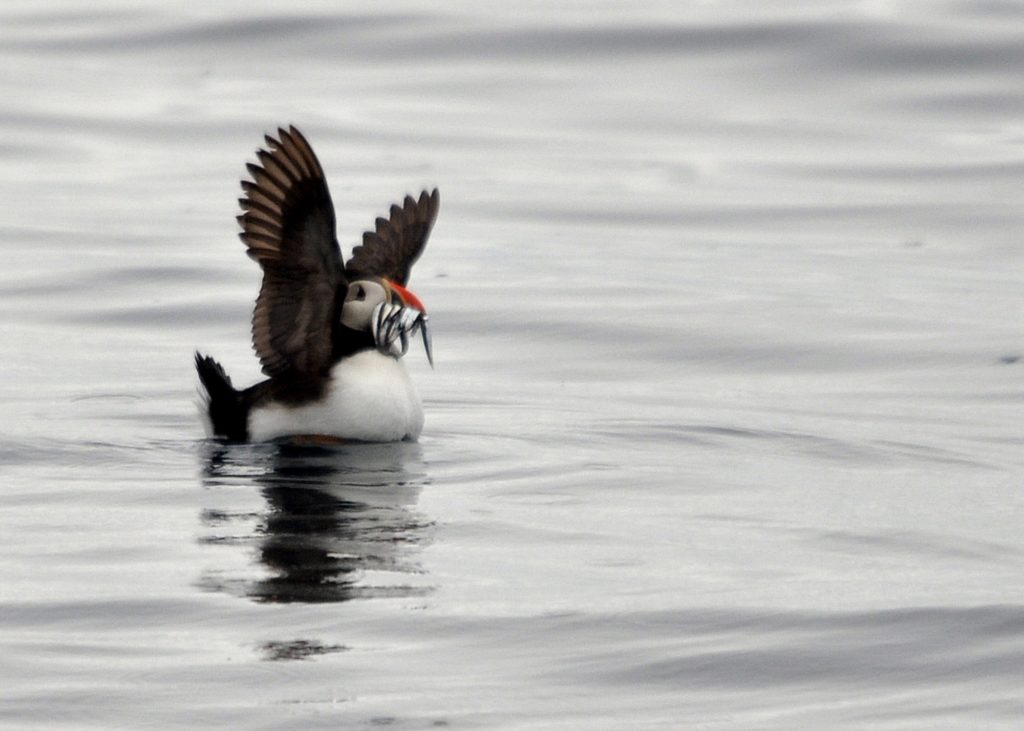 Sadly, the puffins find no sanctuary from black-backed gulls, who predate viciously on the vulnerable chicks at breeding time.
---
For more on the best places to see puffins, check out our guides: