Written by Ben le Vay
The world-famous Brighton Line is not any old railway: it is Britain's oldest, best, most loved and most famous holiday line. It created entire communities of commuters, whom it enables to live in lovely Sussex yet work in London. It populated Brighton, 'London-by-Sea', with thousands of cockneys escaping the Big Smoke, and has given millions of others the chance of seaside air and fun, or a day at the races, crossing the perfect English countryside en route. It even created the concept of the 'dirty weekend', with countless Mr and Mrs Smiths following a certain adulterous Prince of Wales, checking into countless seedy or, indeed, posh hotels, spied on by countless investigators for divorce-seeking spouses, featuring in dozens of B-movies and paperback novels.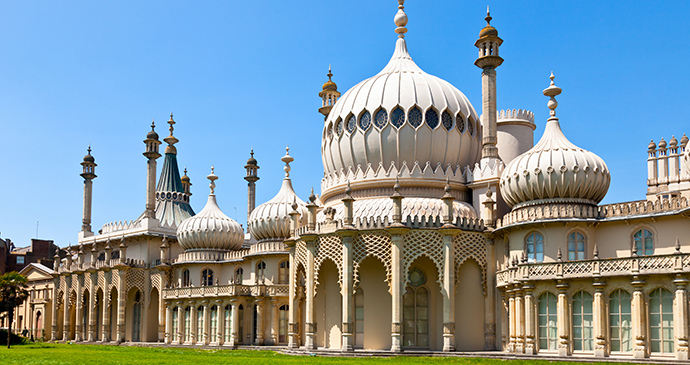 Brighton is arguably England's original seaside resort © Dmitry Naumov, Dreamstime
It also spawned the harmless fun of 'Kiss Me Quick' hats, the sticks of rock, the garish piers with their naughty 'What-the-Butler-Saw' slot machines, the smell of fish and chips, candyfloss and cheap beer. It hid the raffish gangsters of the great Graham Greene book, and film, Brighton Rock, giving the place a not-at-all respectable but rather fun feeling that endures today. Legions of 'luvvies' of theatre and screen have caught the late theatre train down from London's West End, and countless writers, intellectuals, politicians, gays, rebels, artists and jobbing journalists have inhabited Brighton, a town, now a city, with attitude. It has carried the political great and the good, and the fawning and fake, to the great party conferences there each autumn. The Brighton Line has created all this, and several towns and suburbs en route, virtually single-handedly.
Here, Britain from the Rails author Ben le Vay delves deeper into this historic line's hidden secrets.
---
Learn more about Britain's railways in Ben's fascinating book: