Since its inception in 1978, the UNESCO World Heritage List has grown exponentially, with over 1,000 sights deemed to have 'outstanding universal value' being added over the last 40 years. You'll find countless architectural masterpieces, ancient ruins and natural marvels on the list, with wonders ranging from well-known sites like the Grand Canyon and Great Wall of China to more off-the-beaten-track curiosities.
Below we take a look at some of our favourite UNESCO-listed cities and towns, celebrated by the organisation for their well-preserved architecture and crucial role in history.
Acre, Israel
Acre's Old City remains today as it has done throughout its long years of existence. It is undoubtedly one of Israel's most picturesque and historically fascinating places to visit, and a must-see on any itinerary. A jumble of cobbled lanes snake around, through and past ancient stone buildings, piled one upon another; majestic, vibrant mosques and churches stream with devout worshippers; immaculately preserved relics remain, left by the city's passionate invaders; people crowd into the aromatic souks; and the tranquil waters of the ancient sea port lap against the old sea walls.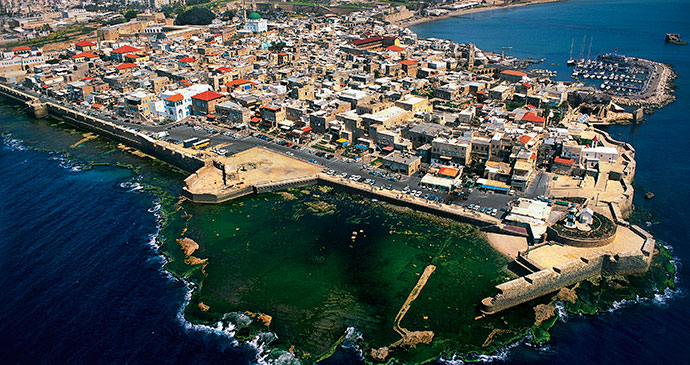 Acre was one of the most crucial cities of ancient times on a par with Alexandria and Troy, a fact difficult to envisage while wandering the lively yet peaceful alleys that today house large Arab – both Muslim and Christian – populations. The UNESCO-designated Old City is a veritable maze, and while maps are handy, your time would be better spent relaxing into the ambience around you than trying to follow one.
Évora, Portugal
Alentejo's capital, Évora, earned its richly deserved UNESCO World Heritage Site status in 1986, and more and more people have been flocking to soak up the history of this beautiful city ever since. Begin a wander around old Évora in the centre of the city, at the Largo Conde de Vila Flor. This attractive rectangular praça is surrounded by some of the best examples of the Roman, Gothic and Baroque architecture that earned Évora its World Heritage Site status.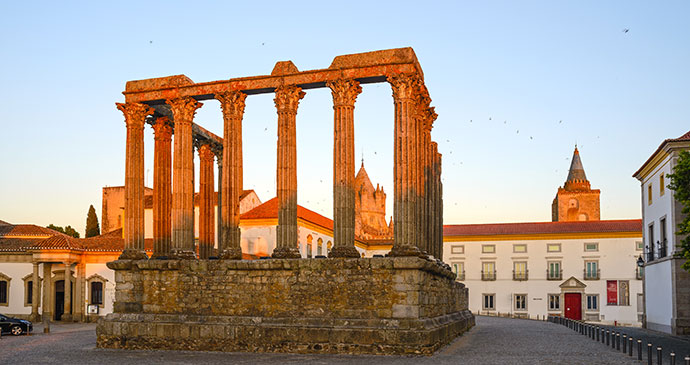 Highlights include the Roman Temple and the fine small museum located directly opposite. Make sure you also head to the modern heart of the city, the Praça do Giraldo, from where you can explore Évora's most famous attraction, the Igreja de São Francisco, with its grisly Chapel of Bones.
Gammelstad, Sweden
One of Lapland's top sights, Gammelstad was added to the UNESCO World Heritage List in 1996. It is an outstanding example of what's known in Swedish as a kyrkstad, a 'church town' consisting of 408 gnarled timber cottages, which were used on Sundays and during religious festivals by people attending services in the spectacular late medieval stone church, Nederluleå kyrka, around which they are grouped.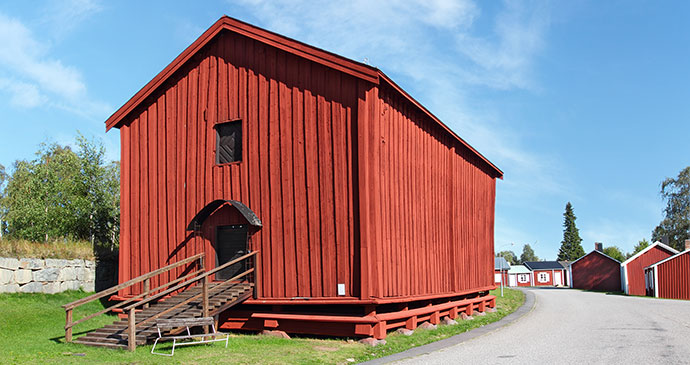 The cottages provided overnight accommodation for parishioners who lived too far away to make the journey to the church and back in one day.
Grand-Bassam, Ivory Coast
Bassam has more history in its Quartier Colonial (Colonial Quarter) – now a UNESCO World Heritage Site – than the rest of the Ivory Coast combined. Ranged along a network of floral boulevards, these romantic old French buildings were erected between the 1890s and the 1930s.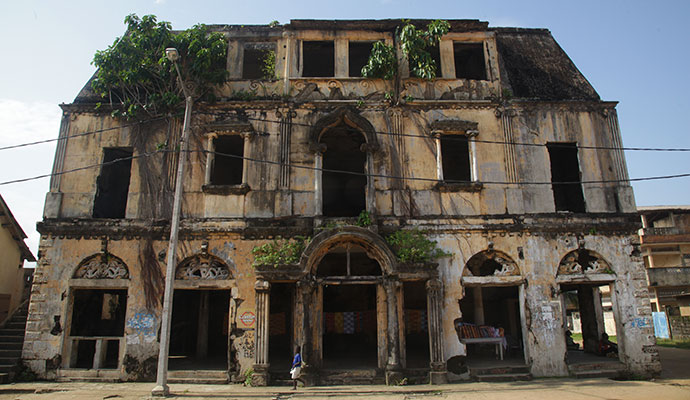 The sweeping balconies, hipped roofs and paper-white stucco walls recall films such as Gone With the Wind. Amid the atmospheric architecture are quill-shaped banana leaves and the giant carapaces of papaya trees. Natty flowerbeds add colour to expansive backyards and driveways.
Historic Inner City of Paramaribo, Suriname
A UNESCO World Heritage Site due to its trademark colonial architecture, central Paramaribo incorporates the largest wooden building in the Americas in the form of the Saint Peter and Paul Cathedral.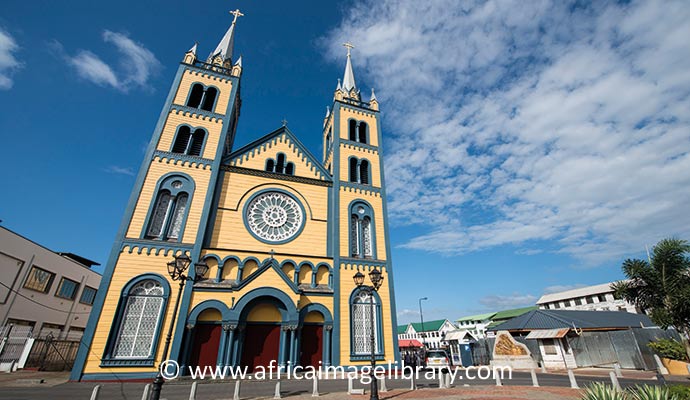 The street plan of the inner city has changed little since the 1760s, although around 400 of the original buildings were lost to the fires of 1823 and 1831, and have subsequently been rebuilt.
Lunenburg, Canada
All in all, Lunenburg is one of Nova Scotia's most interesting and appealing towns. Established in 1753, it is the best-surviving example of a planned British colonial settlement in North America. The UNESCO-listed Old Town sits on a steep hillside overlooking the harbour, and as you drive – or better still, walk – through you'll realise just how steep some of the narrow streets are.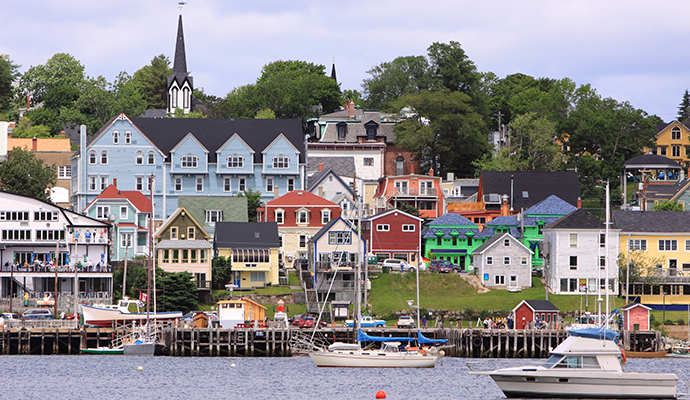 Many of the well-preserved brightly painted historical buildings now house inns, cafés, restaurants, shops and a seemingly ever-increasing number of galleries. In the Old Town area, most of the shops, museums and services are in the rectangle bounded by the waterfront, Lincoln, Cornwallis and Hopson streets.
Sighişoara, Romania
This 12th-century Saxon citadel town does not disappoint and everything looks like a Dracula film set, from the dusty lower town to the steep climb up to the citadel itself, adorned by a fairytale clock tower, the covered wooden steps up to the Gothic church on the hill and the ancient medieval houses lurching into narrow cobble-stoned streets.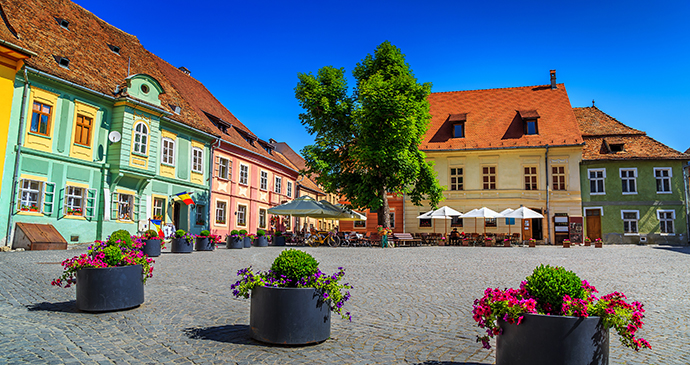 Sighişoara has a great atmosphere that even the cheesy Dracula souvenir shops cannot diminish. The historic centre of the town is a miss-at-your-peril item on the Transylvanian tour agenda.
Stone Town, Zanzibar
One writer has compared the old Stone Town of Zanzibar to a tropical forest where tall houses stretch to the sky instead of trees, and the sun filters through a network of overhanging balconies instead of foliage.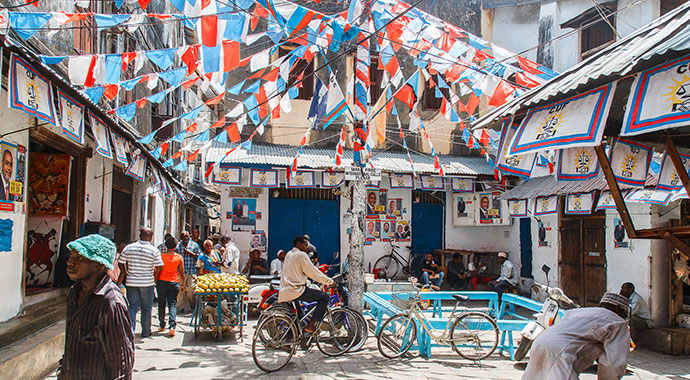 Its labyrinth of twisting streets and alleys is a stroller's paradise, with new sights, sounds or smells to catch the imagination at every turn: massive carved doors, ancient walls, tiny tempting shops with colourful wares and bustling shoppers, old men hunched over a traditional game, kids with homemade toys, ghetto-blasters at full volume, little boys hawking cashews or postcards or fresh bread, the sound of the muezzin calling from the mosque and the scent of cloves or ginger or lemongrass – and everywhere the echoes of Zanzibar's rich and fascinating history, the sultans, shipbuilders, explorers, slave markets, merchants and exotic spice trade.
Trogir, Croatia
Most people think of Dubrovnik if you mention UNESCO-listed towns in Croatia, but lesser-known Trogir possess a charm of its own. One of the most attractive stops in Dalmatia, just 26km from Split, the old town is not just excellently preserved but also delightfully car-free.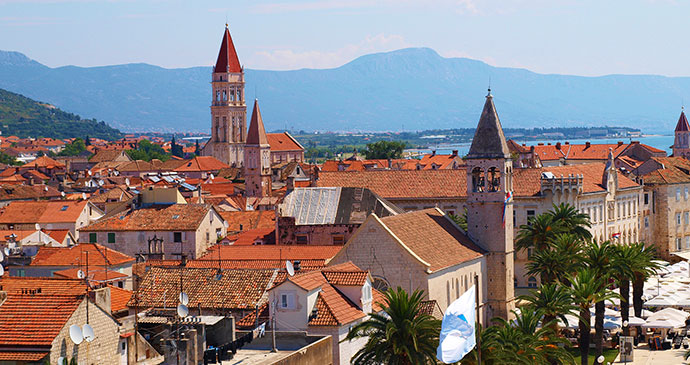 Come here to soak up a pleasantly uncorrupted medieval atmosphere, where stone-carved balconies overhang the narrow streets, and Renaissance and Gothic palaces compete for your attention with the ancient cathedral.
Palmanova, Friuli Venezia Giulia
During the Renaissance, despite all its theories on planning, only a handful of new towns were ever constructed. One that has survived, Palmanova, was built in 1593 by the Venetians as their eastern bulwark against the Austrians and Turks; the end result was so pristine and new-fangled that no-one wanted to live there, forcing the Venetians to seek out prisoners and offer them free lots and building materials if they promised to settle.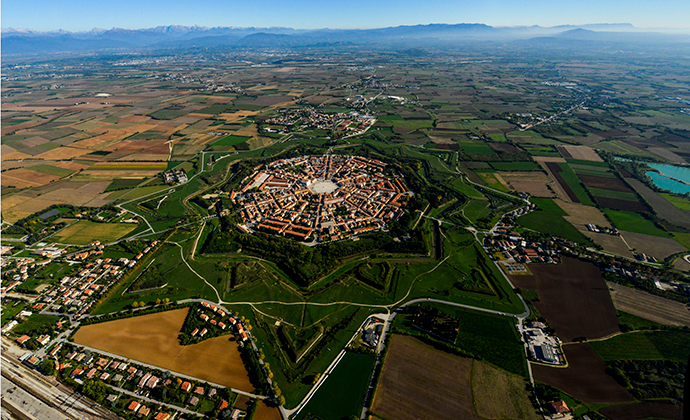 Perhaps because it was never actually needed, Palmanova remains intact, a perfect example of 16th-century 'ideal' radial planning: a hexagonal city inside a nine-pointed star of fortifications, complete with a secret network of underground galleries. The walls and moat are now overgrown, their stone softly moulded into strange, serpentine green hills and gullies. Palmanova was made a UNESCO World Heritage Site in 2017.
Ferrara, Emilia-Romagna
Once hailed 'the first modern city in Europe', this town situated in Northern Italy may have been Roman Forum Alieni, a settlement whose site has never been discovered. However, as far as anyone can tell the city had its beginnings in a Byzantine fortified camp, built to control trade on the Po in the 6th century.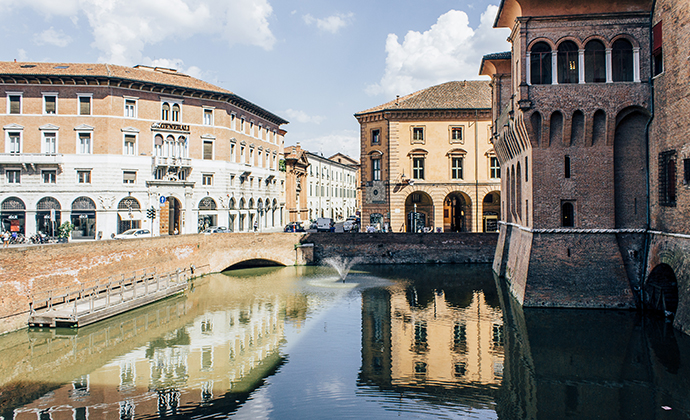 Today, Ferrara is a contented and very prosperous city of some 135,000, with a big chemical industry leading a diversified economy. The entire city is a UNESCO World Heritage Site, and its university is rated as one of Italy's best. But don't ask about the microclimate; it's steamy and swarming with mosquitoes in summer, weirdly frosty in winter. A lot of its important buildings are still closed, under repairs from the earthquake of 2012.
---
Inspired to start planning a visit? Then why not check out our guides?