Written by Bradt Travel Guides
If you haven't yet discovered Suffolk, now is the moment. Offering a range of cultural activities to take part in, historical sites to visit and wildlife to be seen, there is always something to do. Whether you prefer walking in the rolling hills or enjoying a cosy afternoon tea in a pretty village, Suffolk has something for all tastes. Here we have selected our top five reasons to visit Suffolk.
Visit picture-perfect villages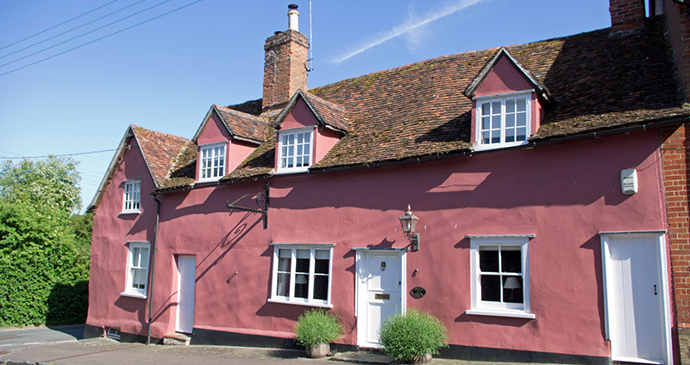 Colourful houses are quintessential to many small Suffolk towns and villages, such as this cottage in Lavenham © Lavenham Tourist Information
From picture-perfect Tudor villages with half-timbered, pink-washed cottages to market towns with a wealth of historical buildings, Suffolk's settlements are as much a draw as the attractive countryside that surrounds them. Cavendish, Bury St Edmunds and Lavenham are just a few of these picturesque towns.
Walk in distinct landscapes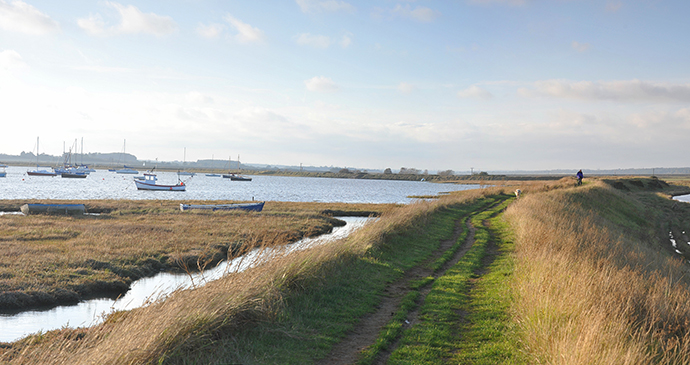 Take a transect of the county and you'll find sand and shingle beaches, saltings, spits, estuaries, heaths and rolling farmland © John Miller, The Landmark Trust
Suffolk abounds with walking potential, from windswept coastal strolls to circular walks through forest and open farmland. Several notable long-distance paths run through the county. Longest of all is the Suffolk Way, a 113-mile route that begins at Flatford and crosses central Suffolk to finish at Lowestoft. The best known though is probably the Suffolk Coast Path between Lowestoft and Landguard Fort at Felixstowe.
Go birdwatching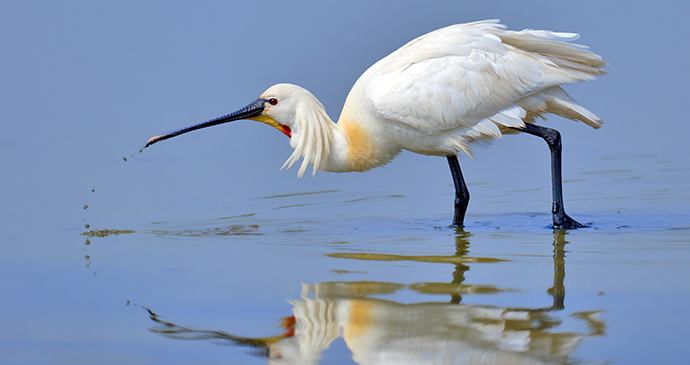 This Eurasian spoonbill can be found in Suffolk, along with the great spotted woodpecker and the bearded tit © Andreas Trepte, RSPB
Suffolk is one of the best counties in England for watching birds. The salt marshes of the coastal hinterland are particularly rich in wading species. The RSPB reserve at Minsmere near Leiston, with its breeding avocet population, has been established in this region since 1947. The Eurasian spoonbill is one of many exotic-looking wading birds to be seen at the Minsmere and Havergate RSPB reserves and Suffolk holds many potential sites for hearing the elusive and increasingly rare nightingale sing.
Attend colourful local festivals and events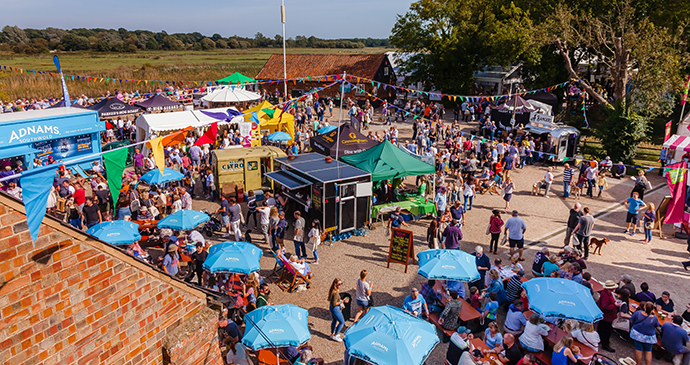 This yearly event in Aldeburgh is a great place to enjoy local delicacies © Bokeh Photographic
Suffolk embraces the 'local' in its many guises. The county has no end of events and activities for both visitors and locals to enjoy. From attending lively food and music festivals, to horseracing or hiking, there is plenty to take pleasure in year-round.
Explore a wonderful coastline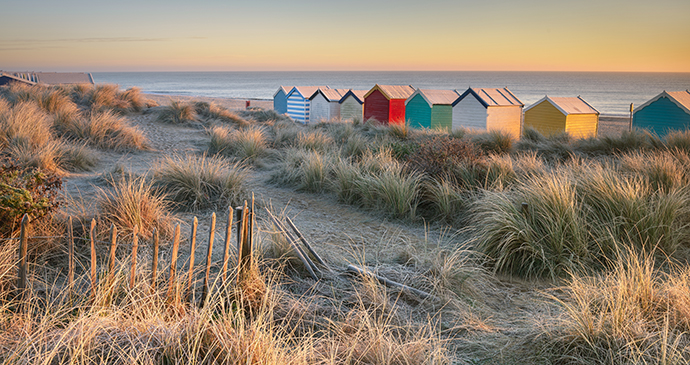 These beach huts make a beautiful sight at Southwold beach © Philip Ellard, Shutterstock
The Suffolk coast is typified by muddy river estuaries, marshes, shingle beaches and a handful of charming former fishing towns like Southwold and Aldeburgh that now serve as resorts. Erosion has played a big part in shaping this coastline. This is evidenced in places like Dunwich, once an important port but now almost vanished.
---
Interested by what else Suffolk has to offer? Take a look at our brand new guide: