Emily Laurence Baker is a journalist, a Blue Badge Guide and the author of Bradt's New Forest Slow Travel Guide. Here, Emily shares her wealth of experience on where to stay in the New Forest.
The accommodation listed on this page is just a sampling of the many available offerings. This is not a comprehensive list; there are many delightful options that I have not included and where I would happily stay. I've chosen to list those that I feel reflect the Slow philosophy in some way, whether it's through commitment to the environment, a particularly lovely or convenient setting or a proprietor especially dedicated to their guests.
Because the New Forest is relatively small, there is some geographical overlap. With that in mind, peruse all three areas when you are choosing a place to stay; don't assume that these are rigid location guidelines.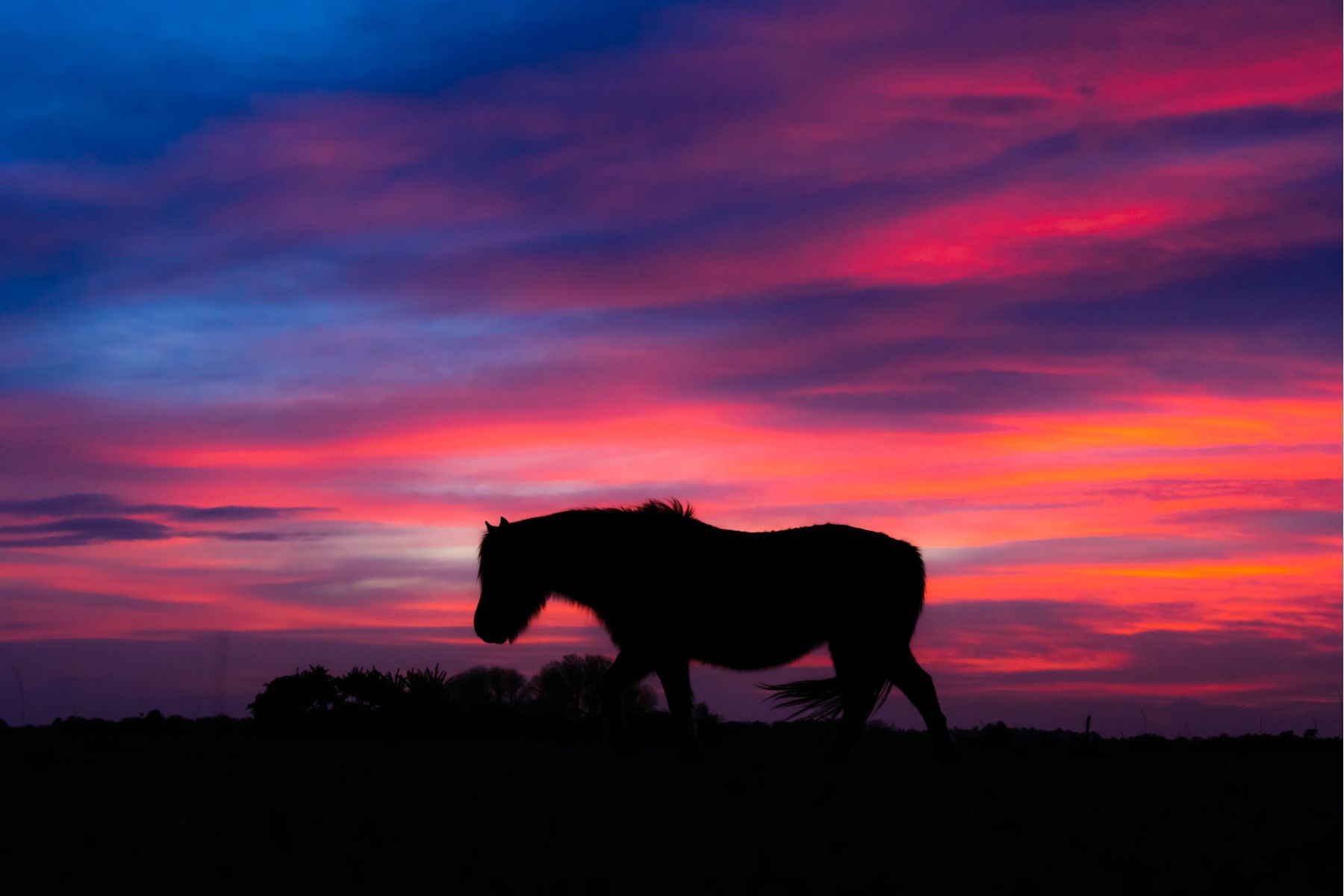 The North and West
Hotels
The Bell Inn
Roger Penny Way, Brook, SO43 7HE • 02380 812214 • bellinn-newforest.co.uk
Hotels in the north Forest are few and far between. The Bell Inn is nicely situated for access to the spectacular scenery of the north as well as the amenities of the south. This 26-bedroom coaching inn dates from 1782 but feels modern, and though it lacks the charm of a historic hotel, it ticks a lot of boxes. All rooms are dog friendly – you can even order a welcome pack for your pooch – and breakfast is included in the rates.
The hotel also serves lunch, afternoon tea and dinner, with menus emphasising local suppliers and a real effort to evoke a Forest feel. The cosy rooms are indeed, cosy; if space is a requirement, go for one of the larger ones on the upper floor. Because this is an old coaching inn, it is situated on the main road; ask for a room at the back if you want it quieter. This is a great choice for golfers as the Bramshaw Golf Club has two contrasting golf courses on-site and Paultons Golf Centre is just five minutes away. You can design your own golf getaway or sign up for a pre-arranged golf package.
B&Bs
The Three Lions
Stuckton, near Fordingbridge, SP6 2HF • 01425 652489 • thethreelionsrestaurant.co.uk
Located one mile outside of Fordingbridge, and just off the A338, this pleasant 'restaurant with rooms' suits those who want a convenient base in the north Forest. Rooms are straightforward; three of the six have hot tubs in small garden spaces. Breakfast is served in the restaurant across the residents' courtyard.
Self-Catering
New Forest Shepherd's Huts
The Royal Oak, Fritham, SO43 7HJ • 07464 545428 • newforestshepherdshuts.co.uk
Three shepherd's huts nestle into the hillside just a stone's throw from The Royal Oak pub in the tiny hamlet of Fritham. The huts sleep two adults and have a kitchenette, en-suite toilet and shower, and a log burner. You can even pre-order a home-cooked evening meal to have on your private veranda. There is direct access to the Forest and, of course, one of the New Forest's best-loved pubs on the doorstep. No children or dogs.
Newton Farmhouse
Southampton Rd, Whiteparish, SP5 2QL • 01794 884416 • newtonfarmhouse.com
Ideal accommodation if you want to explore a bit of Salisbury (just seven miles away) but to also be on the doorstep of the New Forest. The three-acre property is on the boundary of the northeast Forest and adjacent to Langley Wood Nature Reserve. This former B&B now offers self-catering accommodation in the form of one holiday home that sleeps two adults and two studio apartments housed within an old barn. The two studio apartments would suit a family with older children as they share a common entrance. The apartments have tiny kitchenettes with only a microwave in terms of cooking facilities. David, the host, is a fantastic resource for things to do in the area, including pubs and restaurants. It's a friendly place to stay and good value. No children under 14 or pets.
Sandy Balls
Godshill, SP6 2JZ • 0844 693 2949 • sandyballs.co.uk
Jokes about the name aside, this family holiday centre. The is about two miles from Fordingbridge in a beautiful part of the Forest. The 120-acre site is like a mini village with a small grocery shop and restaurant. The premium cabins cost more than nearby self-catering accommodation but you get all the facilities which include beauty treatments, bike rental, a leisure centre with pool and indoor and outdoor children's activities. There are also rates for half-price board which includes a two-course dinner and breakfast. Less expensive units are very close together so would not suit people desiring a reclusive get-away but lots of fun for families looking for a sociable atmosphere.
Undercastle Cottage
Woodgreen • 01747 828170 • hideaways.co.uk (property number H211)
This dream hideaway is located about three miles south of Fordingbridge. An artfully decorated self-catering cottage, situated right on the banks of the River Avon, it gets booked up well ahead despite upmarket prices. The high-ceilinged, thatched, timber-frame house looks old but is a modern build which means modern-day comforts abound, including underfloor heating beneath beautiful flagstones.
The main house sleeps four and a separate cottage with glorious floor-to-ceiling windows has space for two more. The small kitchen is immaculate. Guests can enjoy private fishing on half a mile of river and a rowing boat is available. Owner Shabs Kay really cares about the house and her guests; she provides a welcome hamper and can arrange to greet a grocery delivery ahead of guests' arrivals. You can also organise a private chef. It is close to the busy A338 so you might hear road noise but the property itself is completely secluded. Highly recommended.
Camping
Harry's Field
Abbotswell Rd, Frogham, SP6 2JA • 07476 988855 • newforestcampsite.com
Family-run campsite about two miles from Fordingbridge, which is highly commended by many camping authorities for being flat and well-drained. Hire a pitch or bring your own camper – or, better yet, book a furnished bell tent. Direct access to walking and cycling trails and the Forester's Arms is adjacent. Shower block, flush toilets and covered camping kitchen. No electrical hook-ups. Extra fee for dogs and gazebos. Open second May bank holiday weekend, then weekends only from mid-July to August. Min two-night stay, three nights on bank holidays.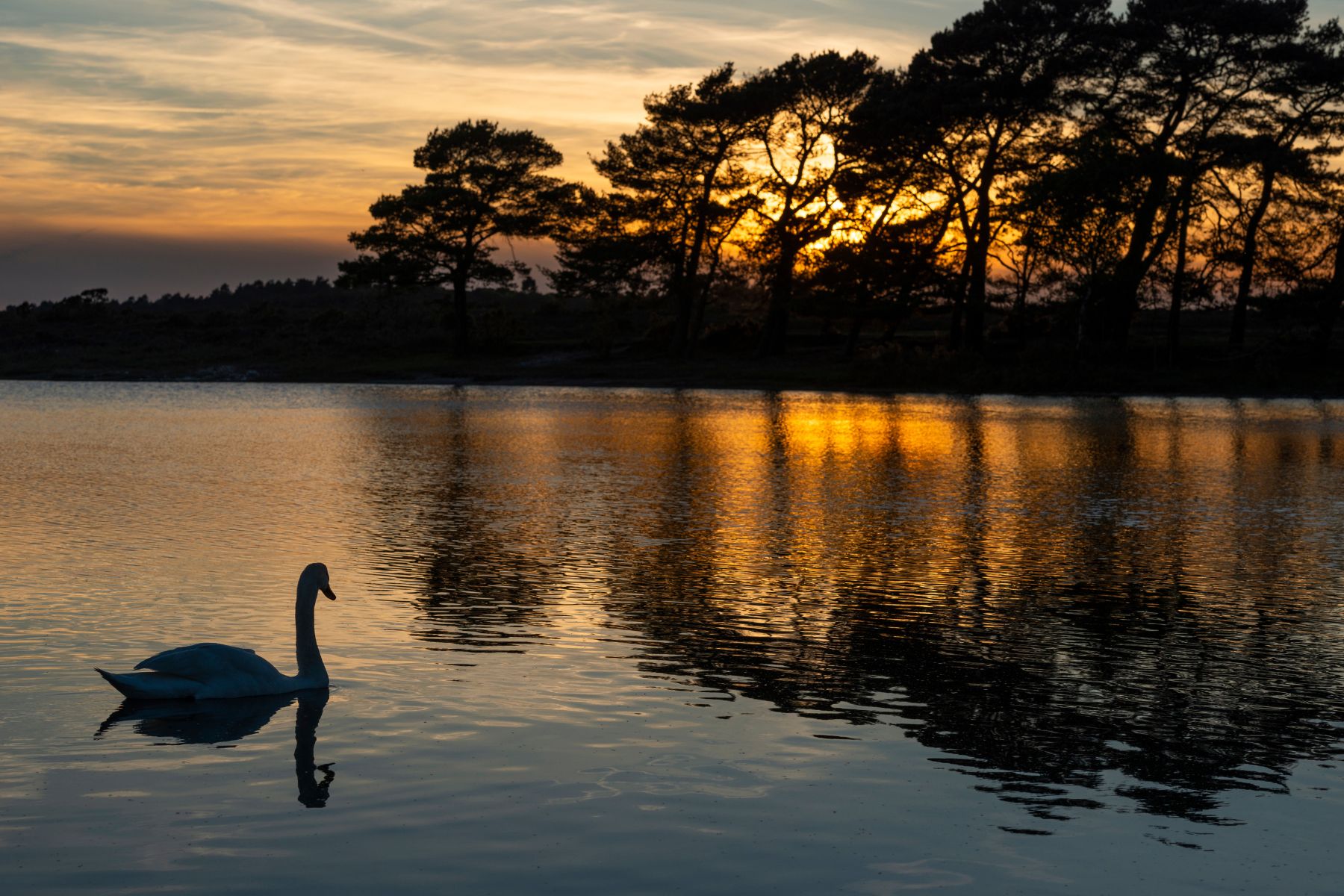 The Southwest Brockenhurst and the Lymington Coast
Hotels
Cottage Lodge
Sway Rd, Brockenhurst, S042 7SH • 01590 622296 • cottagelodge.co.uk
This charming, low-key hotel is walking distance from the train station and the Forest so ideal if you are travelling without a car. Personal service is the distinguishing feature here and it's brought to you by a very experienced hotelier who runs eco-friendly lodging with European dignity. The main part of this 17th-century cottage was built from boat timber that was felled in the 12th century. Bedrooms are delightfully quirky; some have beds and tables hand-carved from Forest wood.
The owners, Maurizio and Francesca, are determined to own the first 100% sustainable hotel in the New Forest and they are well on the way. Solar panels provide some of the hotel's energy supply, and toiletries and food are sourced locally. But at the end of the day it's the personal touches that make Cottage Lodge memorable: the hand-made table decorations in the breakfast room, tables made from fallen Forest trees, and a good, old-fashioned honesty bar in the sitting room. White Tails restaurant is a separate entity but adjacent to the hotel. There are two dog-friendly rooms.
The Manor at Sway
Station Rd, Sway, SO41 6BA • 01590 682754 • themanoratsway.com
Located just by the train station, this beautiful Edwardian house was renovated by a former manager of some swanky London hotels in 2014 who swapped the frenzy of the capital for the life in a very tiny village. All rooms are elegantly furnished and the larger ones overlooking the garden are spacious and airy. The hotel comes into its own in warmer weather when you can dine on the outdoor terrace and the gardens are in bloom. Breakfast and dinner are served but the kitchen is small so dinner meals can get repetitive if you are staying for a longer period. Bikes can be delivered to the hotel but only if you stay at least two nights.
The Old Mill
Silver St, Hordle, SO41 6DJ • 01590 683073 • theoldmillnewforest.co.uk
It's hard to beat the tranquil setting at the Old Mill and it's even better that it's only three miles from Lymington. The 18th-century mill house is located on the banks of the River Avon and the modern-day pub with rooms makes the most of it. The eight rooms in the main house are character-filled with wallpaper, striped armchairs and fabric headboards galore. The prize one is number 8 in the main inn, with its separate sitting room overlooking the river. Five rooms in the annexe are more modern. There is a family room with bunk beds; cots are available and some rooms are dog friendly. The gardens are among the nicest of any pub in the New Forest; residents can stroll among sheltered paths and there are lots of outdoor tables for dining. Check out the special breaks packages that include dinner. Absolutely delightful.
The Pig
Beaulieu Rd, Brockenhurst, SO42 7QL • 01590 622354 • thepighotel.com
Located just outside of Brockenhurst village, The Pig has all the appeal of an old-fashioned country house party but with a modern twist. From the grand drive to the plush sofas in the bar, it's a pampering experience. This slightly expensive 'restaurant with rooms' is very popular with the London set and has a buzzy ambience.
The 32 rooms have various locations other than the main house, so be sure to check the website. There are some good options for families with children, plus some swanky couples-only cabins tucked away in the garden, including one with floor-to-ceiling windows that look over the countryside. Guests have the added benefit that The Pig's restaurant is one of the best anywhere in the New Forest. Spa treatments are available in two converted sheds that make for a memorable massage. Although The Pig is a bit too cool to be officially Slow, its dedication to sustainability makes it a winner.
B&B
Vinegar Hill B&B
Vinegar Hill, Milford on Sea, SO41 0RZ • 01590 642979 • vinegarhillpottery.co.uk
Located about half a mile from the amenities of Milford on Sea. Not too many B&Bs have a built-in pottery studio where you can enjoy a weekend course as well as explore the area. There are two well-priced doubles, one with a separate sitting room and one at the top of winding outdoor stairs. The prize accommodation (summer only) is Rosie, a refurbished caravan with a cosy double bed. Continental breakfast is delivered to your room.
Self-catering
Upper Kingston Farm Cottages
Upper Kingston, Ringwood, BH24 3BX • 01425 474466 • upperkingstonfarmcottages.co.uk
A working farm with clean, spacious self-catering accommodation two miles from Ringwood. Five airy cottages in a former stable, three of which are large enough for a family of four, are arranged around a courtyard where you can barbecue and picnic. The cottages promote sustainable tourism; air-source heat pumps provide underfloor heating and hot water. You can arrange grocery delivery or order from the nearby Crow Farm Shop. A large laundry facility has a noticeboard listing things to do in the area. There is plenty of space to park bicycles. In the quieter months, Upper Kingston hosts astronomy nights; ask for details.
Warborne Farm
Warborne Ln, Boldre, SO41 5QD • warbornefarm.co.uk
Just one mile from Lymington, this is an incredibly special spot. If you want to stay in complete eco-friendly comfort on a working farm with a delightfully hospitable host, look no further. George Heathcote's family has been working this land since the 1940s and his love and pride in his 100 acre-farm is infectious. Thankfully, he decided to share the joy when he converted five former barns into luxury accommodation that reflects the original uses but without the creepy crawlies. And it's carbon neutral. Original farm features have been incorporated into the furnishings all the way from stable partitions to a grain pulley that now serves as a lamp – even corrugated iron from an old dung heap.
Kitchens are stunning (one incorporates the original butcher's block from its farm shop days). The best part is that guests are given free rein to wander about the farm. You can select multi-coloured freshly laid eggs and choose vegetables from the organic farm. Kids (and adults!) can climb into the pen with the Kuni Kuni pigs (they love to have their bellies rubbed and will purr appreciatively) and hold newborn lambs (in season). The Grain Loft has a glass floor pane looking down on the goats. Perfect for families and groups; bunk beds and characterful single beds abound. Highly recommended.
Wilf's Cabin
Burley, BH24 4HT • 01425 403735 • burleyrailscottage.co.uk
This simple self-catering log cabin deep in the Forest near Burley provides the rare opportunity to lodge within an ancient New Forest enclosure. Owner Ian Thew is a qualified fishing coach, as is his wife Tracy, although she's very busy baking New Forest Shortbread now; they are charming hosts. You can board your horse in the stables and have use of a paddock. It's expensive but a one-of-a-kind location. Well-behaved dogs welcome for a small extra charge. Highly recommended. Good value if you bring horses.
Camping & glamping
Aldridge Hill Campsite
Rhinefield Rd, Brockenhurst, SO42 7QD • 01590 631641 • campinginthenewforest.com
A simple, back-to-nature Forestry Commission campsite just two miles from the centre of Brockenhurst. It's a particularly pretty setting, bordered by two streams and very convenient for many Forest trails. There are 170 pitches; no electricity or facilities; you'll need your own chemical toilet. Open summer only.
Fernwood Glamping
Ringwood BH24 3JN • 07730 586601 • fernwood-ringwood.co.uk
This is a stand-out in the glamping scene, partly because of hostess, Rachel, who embodies the Slow spirit and genuinely cares about her guests. An immaculate shepherd's hut and gypsy caravan are situated in Rachel's large back garden, surrounded by flowers and backing on to an open field. Firepits are available to cook meals. Rachel has thought of every detail to make a visit special: from marshmallows and forks for evenings around the firepit, to ponchos to keep warm.
A shared shower and toilet are located a short walk away but each unit has its own adjacent compost toilet. The hand-painted caravan is truly special; the flowered, canvas ceiling glowing with fairy lights is a cosy sanctuary. Thanks to a wood-burning stove, the Shepherd's Hut is open well into winter; the caravan is warm-weather only. Sleeping quarters are small; ideal for couples but you can fit two small children as well. No Wi-Fi; you can count bats instead. A true gem; highly recommended.
Long Meadow Campsite
New Park, Brockenhurst, SO42 7QH • 01590 622489 • longmeadowcampsite.com
Set well back from the A337 just behind New Park Manor, this private campsite is a large, flat field bordered on two sides by forest. It's likely to be quieter than larger campsites nearby because the 10.30pm quiet rule is strictly enforced. It's popular with families because of the easy access to the Forest with walking and cycling trails, and the many deer. You can walk to Brockenhurst through the woods or there is a bus stop on the main road outside the campsite. The simple shower and toilet facilities are clean, and many campers are repeat visitors, which might justify the slightly higher prices. Limited electrical hook-ups must be booked ahead. Note that even though this site is just beside the New Forest Showgrounds, it is closed during the Show. Open March–October.
Red Shoot Camping Park
Linwood, BH24 3QT • 01425 473789 • redshoot-campingpark.com
There is camping for tents, caravans and motorhomes in a pretty field behind the Red Shoot, a popular pub that brews its own ales and welcomes children inside. It has 110 pitches in one main field with several side fields separated by hedges. Dogs are welcome and it is very family orientated – there is a children's play area and the small on-site shop stocks as many toys as it does food. This will not suit those who are looking for a secluded getaway. Unlike many New Forest campsites, Red Shoot has a cattle grid so you will not awaken to a curious cow poking her nose inside your tent. The shower block has underfloor heating, there's laundry facilities and it's quiet at night, though it can get crowded at peak periods. Booking ahead is essential for one of the 45 pitches with electricity hook-ups.
Roundhill Caravan & Camping Site
Beaulieu Rd, Brockenhurst, SO42 7QL • 01590 631641 • campinginthenewforest.com
The open, grassy spaces amid the 500 pitches of this Forestry England campsite make this child-friendly. Set in a particularly appealing part of the Forest,2½ miles east of Brockenhurst, surrounded by woodland and heath with plenty of ponies wandering through. No electricity, toilet nor shower blocks. Close to Hatchet's Pond for fishing and access to bike trails. Local cycle companies will deliver cycles upon your arrival. Booking essential in peak season; well-priced for area. Open April–October.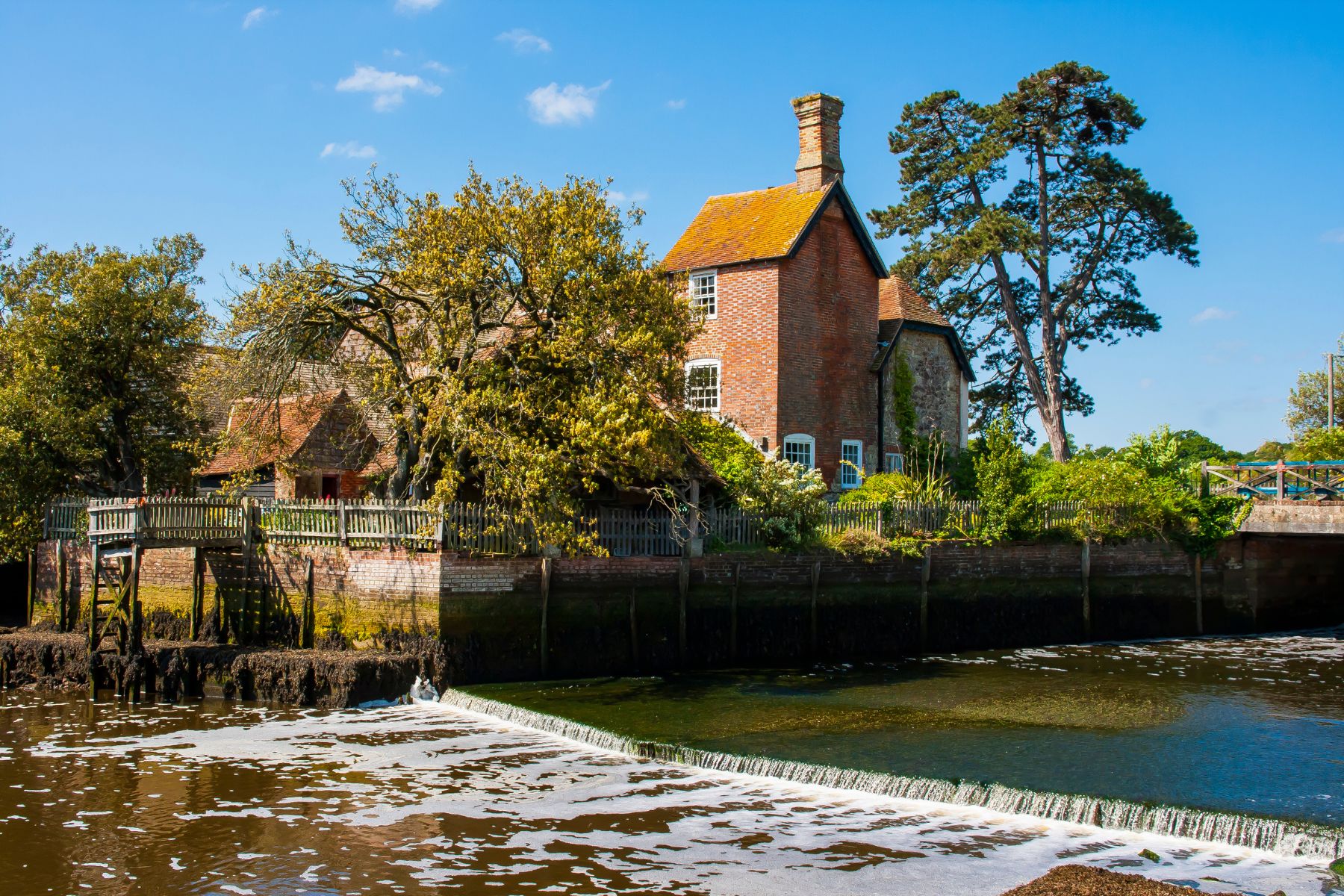 Lyndhurst, Beaulieu and the East
Hotels
Lime Wood Hotel
Beaulieu Road, Lyndhurst, SO43 7FZ • 02380 287177 • limewoodhotel.co.uk
Set 1½ miles from Lyndhurst village, but it feels much further away. The ultimate in luxury. You could argue that the price tag and well-heeled clientele defy Slow criteria but the emphasis on local ingredients in the restaurant; low-key atmosphere and total relaxation make Lime Wood a special addition here. This destination hotel and spa is popular with Londoners; impeccable rooms in the Georgian manor house are solidly booked all year long. The entire experience is about indulgence, from the Herb House Spa (with its own restaurant) to meals curated by Angela Hartnett. The hotel is situated close to woodland with loads of walking options nearby. You can even walk into Lyndhurst although I'm not sure why you'd want to. If you can't quite manage an entire weekend here; the afternoon tea is wonderful.
Master Builder's House Hotel
Buckler's Hard, SO42 7XB • 01590 616253 • hillbrookehotels.co.uk
This was the home of the master shipbuilder, Henry Adams, between 1749 and 1805. The hotel, which will appeal to those who like unusual architectural features, comes into its own when the museum closes and the guests have the hamlet of Buckler's Hard virtually to themselves. The eight rooms in the main house are the most characterful but not all of them have views so be sure to ask. Number 19 has a corner view over the river and the main street. Next door is the bridal suite with a four-poster bed and a crown-shaped chandelier. Three suites have separate rooms for children; number 30 is the largest and can accommodate a family of four. The 18 modern rooms in the Henry Adams Wing are separate from the hotel and cost less than the expensive luxury of the house. A self-catering cottage in the centre of the hamlet sleeps four. Both half-board and B&B are available, as well as lots of package offers. Dogs are allowed in some rooms.
Spot in the Woods
174 Woodlands Rd • 023 8029 3784 • spotinthewoods.co.uk
A charming, low-key hotel in the northeast Forest that feels as if you are staying with an old family friend. There is a cosy sitting room and delightful outdoor roofed deck for eating in summer. All but two rooms are dog friendly – so much so that there is dog room service. Shepherd huts with walk-in showers are arranged in a garden; note that they are fairly close together. Check the website for off-season deals and packages.
B&Bs
Angels Farm Pottery
Lyndhurst, SO43 7FE • 023 8028 4079 • angelsfarm.co.uk
This 17th-century farmhouse is an ideal place to leave it all behind, especially if you participate in one of the on-site Pottery Slowdown courses run by Jo, who has lived in this house for most of her life. There are two bedrooms: one has a king-size and a single bed with en-suite bathroom and the other has a double and single with en-suite bath plus an additional attic room with two singles – perfect for families. The shared living space downstairs has a table that's great for evening card games and breakfast is served here in the morning. It's a good old-fashioned B&B; absolutely charming.
East End Arms
Main Rd, East End, SO41 5SY • 01590 626223 • eastendarms.co.uk
Three miles east of Lymington, the five small rooms above the pub in this sleepy corner of East End are stylish and welcoming. The two superior rooms differ from the three standards only in size – for those who want a bit of extra space, they are essential. Numbers 2 (superior) and 3 (standard) have the best views over a long expanse of field leading to the Forest. Breakfast is served in the pub dining room or outside on the terrace where donkeys frequently peer in. Good value for low-key hotel style.
Penny Farthing Hotel
Romsey Rd, Lyndhurst, SO43 7AA • 02380 284422 • pennyfarthinghotel.co.uk
If you want to be right in town, Penny Farthing Hotel has 20 well-priced B&B rooms that are comfortable and straightforward. The three triples and one family room are ideal for families. There are two three-bedroom self-catering cottages which suit mixed groups. Breakfast in the Alice in Wonderland-themed dining room is available for self-catering cottages for small extra charge. The hotel is right on the busy A337 that leads into town but the advantage is that it's a quick walk to all the facilities of Lyndhurst High Street. Delightful, no-nonsense owner. Book direct for best rates.
Self-catering
Countryside Education Trust
Palace Ln, SO42 7YG • cet.org.uk
Here is a fantastic opportunity to stay on a working farm for groups travelling together – especially those with children. Located just across the river to the east of Beaulieu village, the large residential space with garden has four family rooms (bunk beds) and two twins. There is an enormous commercial-size kitchen and shared bathrooms for each wing. Animal feeding can be arranged for an additional fee, as well as local recreational activities. There is even an adventure play area within sight of the accommodation. It's every kids' dream.
Luttrell's Tower
Eaglehurst, Fawley, SO41 1AA • landmarktrust.org.uk
Here's a chance to relive smugglers' history in this Georgian folly situated between Calshot and Lepe. The tower, which overlooks the Solent towards the Isle of Wight, is an upmarket self-catering let sleeping four and owned by the Landmark Trust. The basement tunnel leads directly to the beach, possibly a remnant of its original owner, Temple Luttrell, an MP who reputedly was also a smuggler in the late 18th century. Upstairs virtually every inch of living space has a view of ships entering and leaving Southampton. All rooms have restored chimney pieces and there is elegant plaster and shellwork in the top room. The bathroom is not exactly cutting edge but, if you like quirky charm, this is a small concession for staying in such a spectacular place.
Camping
Acres Down Farm
Minstead, SO43 7GE • 02380 813693 • acresdownfarm.co.uk
Located just three miles west of Lyndhurst centre, the very basic camping facilities for 40 tents offer a chance to stay on a working commoners' farm with cows, sheep, pigs and chickens. Payment is according to the size of your tent so can be excellent value. There is a small farm shop that sells beef from the farm; on-site home-made quiche and pies and other local goods. The tea shop serves cream teas in summer; there is a large garden with tables. Simple toilet block and showers for small extra fee. The campsite is open all year but there are no reservations. Cash only.
Ashurst Caravan and Camping Site
Lyndhurst Rd, SO4O 7AR • 01590 631641 • campinginthenewforest.com
Ashurst is ideal for those dedicated to visiting the New Forest without a car. Just a five-minute walk from Ashurst station, the campsite has 280 standard pitches, with some in more open ground than others. No dogs due to ground-nesting birds. Unlike many campsites, you can use raised, non-disposable barbecues. Toilets and showers available. Open April–September.
Lepe Beach Campsite
Lepe Rd, SO45 1AD • 0330 1000 842 • eazycamp.co.uk
One of the very few campsites in the New Forest area with a water view. The tent-only campsite is very basic and backs on to Lepe Country Park where there are playgrounds and a picnic area. And of course you are 150yds from Lepe Beach. You can even hire a firepit. Bring your own tent or order a pre-erected tent or bell tent . Specific pitches are not marked out so groups of families (no single-sex groups allowed) can pitch tents together but be aware that it's first come, first served. Toilets and showers available. Gates are locked at night so you have to be all snuggled in by 22:30. Open May half-term and 7 July to August.
More information
For more on planning your perfect New Forest trip, buy a copy of Bradt's Slow Travel Guide to the New Forest, written by Emily Laurence Baker.
The only comprehensive travel guidebook to this compact, increasingly popular national park barely 90 minutes from London, it contains all the practical information you need to enjoy time here, including accommodation options ranging from fine hotels to campsites where grazing ponies may nose at your tent flap.