You can find out more about this picturesque region of Italy in our guide to Abruzzo.
Just a short drive from Rome, Abruzzo is a rare find in Italy these days – an area that has not been trodden and devoured by the travelling masses. Despite its under-the-radar credentials, however, this unspoilt region may well offer more to visitors than its better-known neighbours, principally thanks to its stunning ancient hilltop towns. From Scanno to Castelli, these are the most beautiful villages in Abruzzo.
With their remote clifftop locations, accessed only by winding mountain roads, these beautiful settlements are set up to accommodate just a few visitors at a time. They also boast a wealth of wonderful self-catering villas and apartments, removing the worries of social distancing that conventional hotels bring. All of this, combined with fantastic local food and wine, means that this Italian region might just be the answer to your summer holiday dilemma.
And not only that. In March 2001, the Consulta del Turismo dell'Associazione dei Comuni Italiani (an alliance of Italian towns which loosely oversees matters of tourism) began the programme known as I Borghi Più Belli d'Italia (the Most Beautiful Villages in Italy). The initiative ranked and categorised villages (and towns) according to aesthetic beauty, but also for the likes of historical importance, art, culture and liveability.
At present, a whopping 23 of Abruzzo's towns and villages have won the award. So, if you're planning a summer getaway, you may well want to consider one of these as your base.
Castel del Monte
Strangely, most of the awarded villages are not bursting with famous landmarks or churches, and Castel del Monte (population: 460), first settled around the 11th century, is no exception. Its charm lies in its picturesque streets and its location, at a height of 1,345m.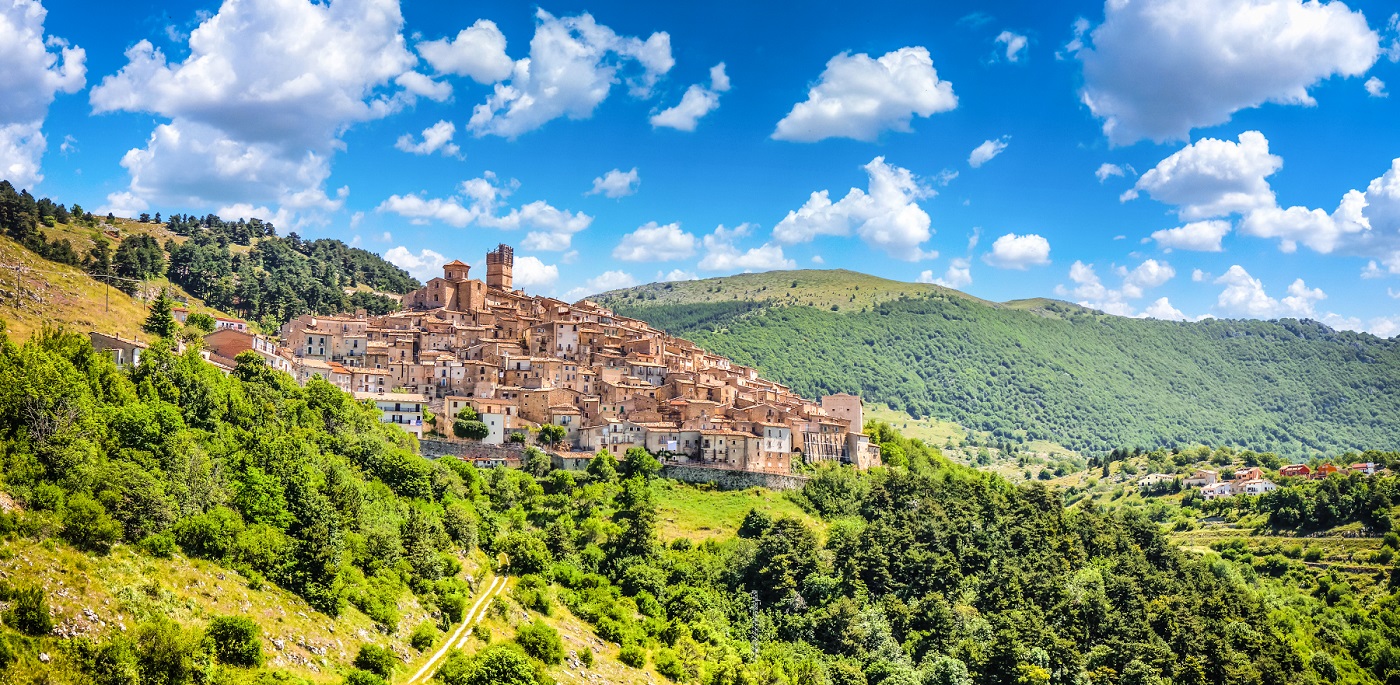 However, the town does contain the interesting Church of Madonna del Suffraggio. This early 15th-century building houses a carved, wooden altar as well as a statue of the Madonna clad in local costume.
Opi
Rising from a rocky spur is the striking old town of Opi (population: approx. 500), whose narrow, medieval alleyways are as pretty as a picture whether doused with snow or drenched in sunshine.
It is one of the highest settlements in the national park and its popularity as a tourist resort is overshadowed only by the liveliness and accommodation on offer in nearby Pescassèroli. As far as towns go, however, Opi is definitely the prettier of the two.
Pacentro
The pretty town of Pacentro (popoulation: approx. 1,300), east of Sulmona, was first settled around the 8th century, and occupies a lovely setting at 650m on the western hills of the Majella National Park.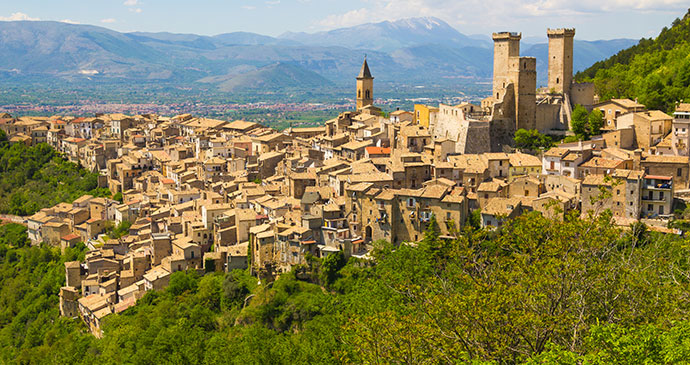 Aside from the castle, there isn't a particularly famous church or landmark; the town's real charms lie in its steep streets and abundant examples of medieval housing.
Scanno
Densely packed medieval palazzi, terracotta roof tops, church spires and quirky ancient doors: this is Scanno (population: approx. 2,000). It is a picturesque, relatively secluded village in the upper Saggitario Valley and is one of the highlights of any visit to the area.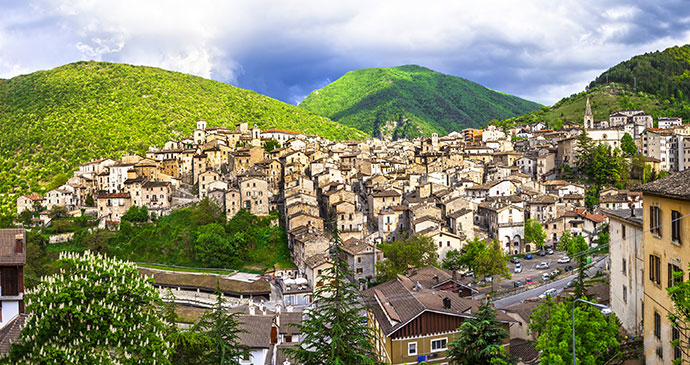 The town – well known for cheese, cheese and more cheese (think pecorino classico, ricotta, gregoriano, etc) – lies at 1,050m above sea level.
Villalago
This village sits peacefully at 930m on Mount Argonetta, its ancient buildings clinging onto the cliff face. There are no 'sights' as such, the real attractions being the narrow streets and alleys of its medieval street pattern.
However, the Church of Santa Maria di Loreto is a hidden gem, with its striking 15th-century doorway. For foodies, it's worth noting that Villalago specialises in pacchiarozze, a fettucine-style pasta with lamb and pecorino cheese sauce.
Anversa Degli Abruzzi
Anversa (population: approx. 400) is one of the loveliest villages in Abruzzo.
It is situated almost 600m above sea level on a spur that overlooks the Sagittario Gorge, carved, as the name suggests, by the river of the same name. The village is known locally for its smoked ricotta cheese.
Civitella del Tronto
If you visit only one place in the province of Teramo, it should undoubtedly be the stunning town of Civitella del Tronto (population: approx. 5,000).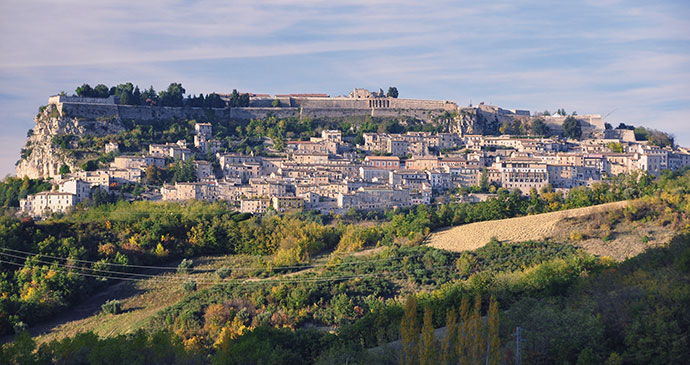 It is a small, wall enclosed gem about 650m above sea level and is famous for its impressive fortress, important from both an architectural and a historical point of view.
Castelli
The village of Castelli (population approx. 1,300), occupies one of the most dramatic settings in Abruzzo.
Located at 497m on a spur at the foot of a mountain, it is surrounded by the thick forests of the national park and the barren, serrated cliffs of Monte Camicia, which soars to a height of just over 2,500m above sea level.
Pietracamela
The pretty village of Pietracamela (population approx. 300), first settled in the 12th century, is located right in the middle of the Gran Sasso National Park, at 1,005m.
It's near to Prati di Tivo (officially part of Pietracamela), a popular hub within the park.
Rocca San Giovanni
Rocca San Giovanni (population approx. 500) is a charming little village not far from the coast of the Chieti Province, and engaged in olive oil production. It is first mentioned in documents dating from the 11th century AD.
Today, to all intents and purposes, it offers little to occupy your time other than wonderful narrow, sun drenched lanes. Allow at least an hour or two to simply walk through the village (preferably on a sunny day when the warm pastel colours of the buildings really stand out).
---