I travelled in April and stayed in The Level, which starts from THB 6,000 per room per night (room only) in low season and THB 8,000 per room per night (room only) during the high season. Other rooms start from THB 5,000 per room per night (Melia Room, room only) in low season and THB 6,500 per room per night (Melia Room, room only) during high season.
These rates are a discounted rate, applicable for member rate which can be applied for free of charge through the hotel website.
Contact
Phone: +66 52 090 699
Website https://www.melia.com
Melia Chiang Mai overview
A really special hotel with welcoming staff and great views over Chiang Mai from their rooftop bar serving creative cocktails and mocktails with signature Spanish tapas; a nod to the hotel brands' Spanish heritage but with a Thai twist.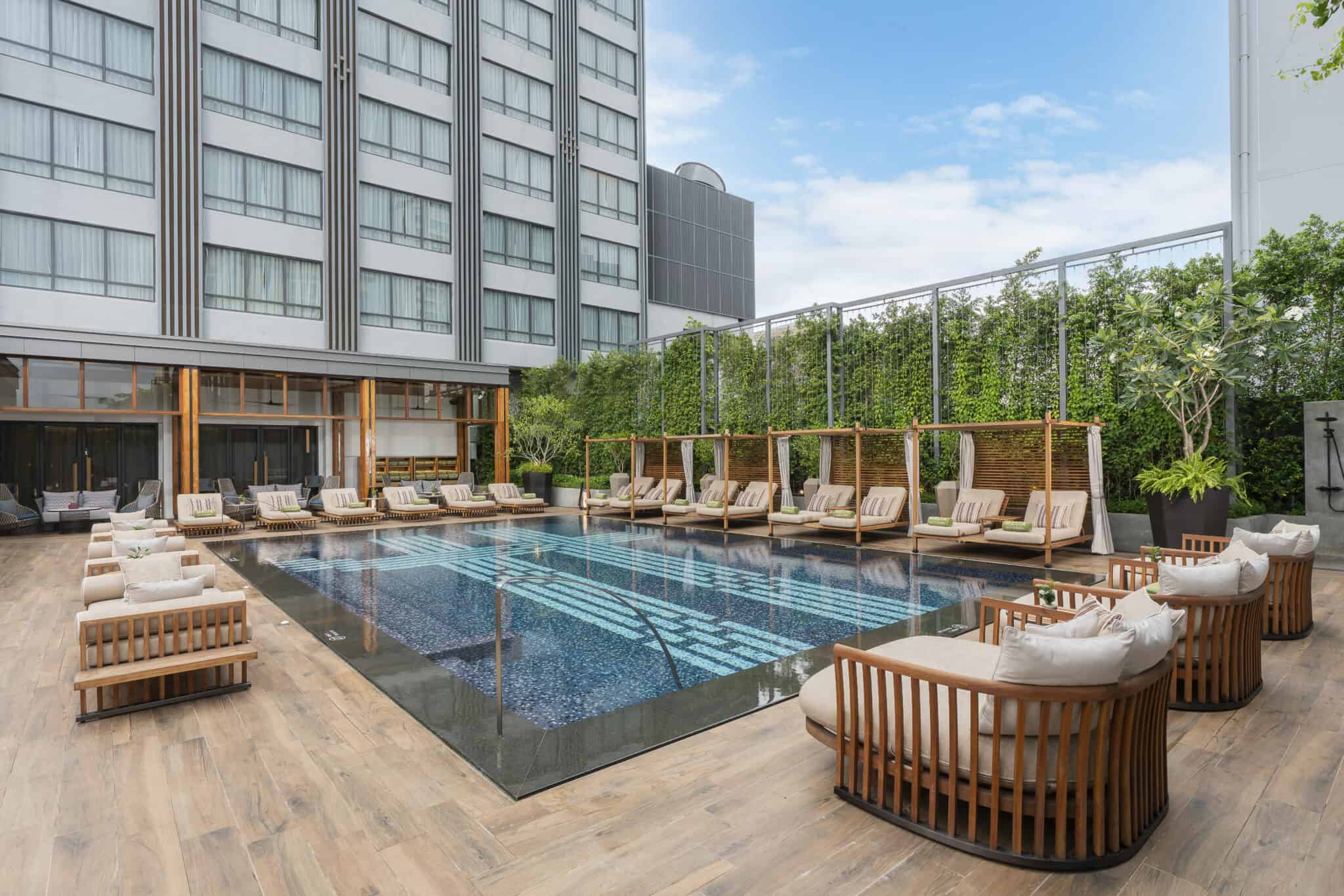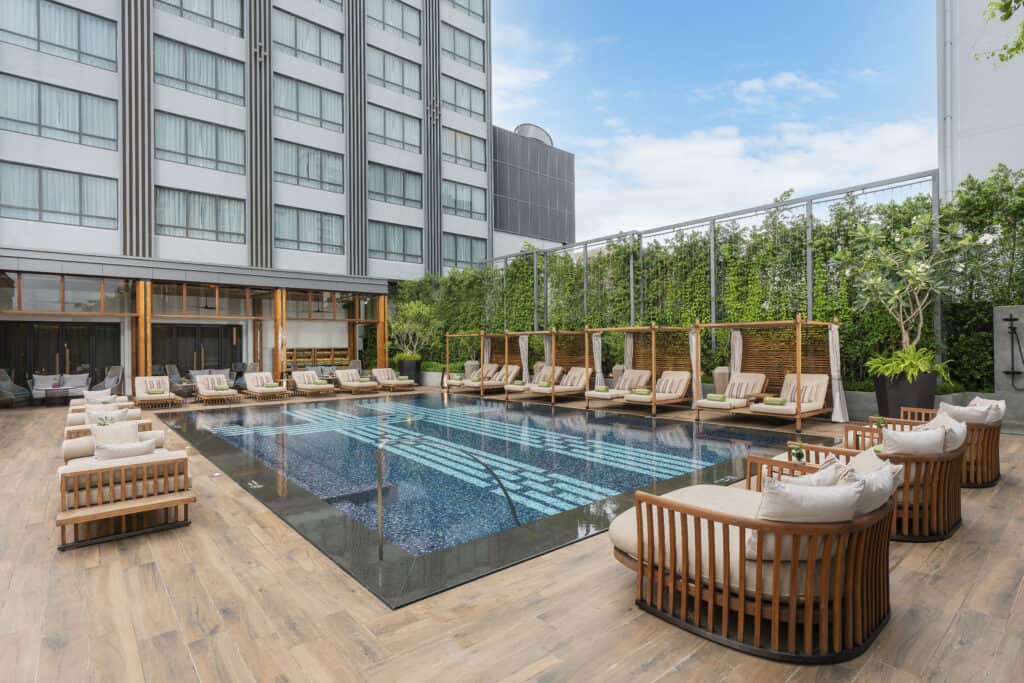 The spa offers treatments that blend ancient Thai methods with more modern approaches, as well as a traditional Thai herbal steam bath. Do not leave without eating at Mai Restaurant, serving a fusion of northern Thai classics and global ingredients.
Rooms and suites are calm spaces with northern Thailand flare featuring traditional local crafts and fabrics, if you book one with Club access you won't be disappointed with tasty treats served throughout the day.
Décor and vibe
The hotel is spacious and honours its logistical situation with arches that mimic that of the famous local Wat Umong and Doi Suthep temples, umbrellas in various stages of making adorning the walls representing one of Chiang Mai's best known crafts.
Being a former independent Kingdom the people had to be self-sufficient so are touted as Thailand's top artisans, through to the local rattan used; there is no mistaking that you are in a northern Thai hotel, yet the shell of the hotel is clean-lined, neutral colours on the walls and welcoming.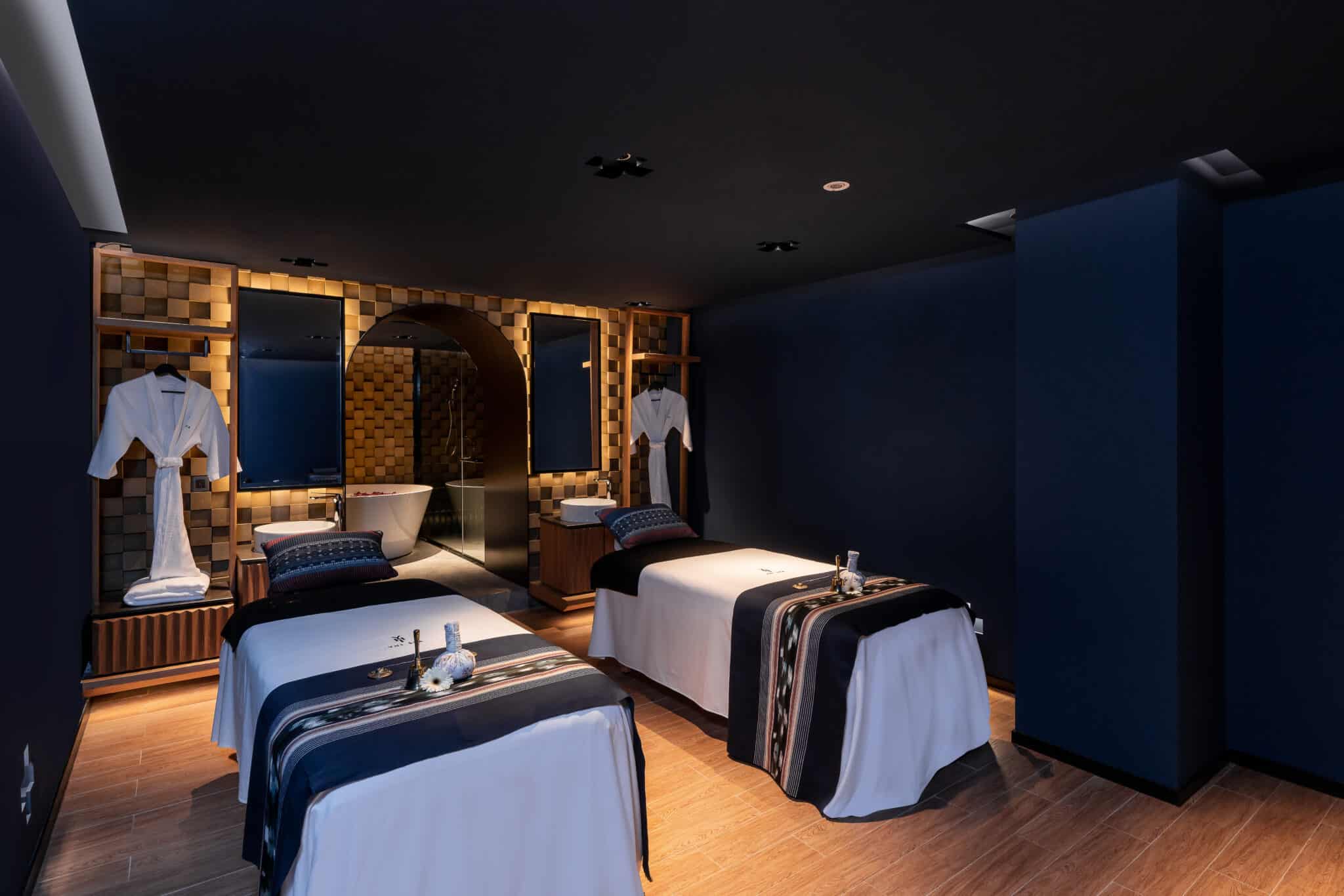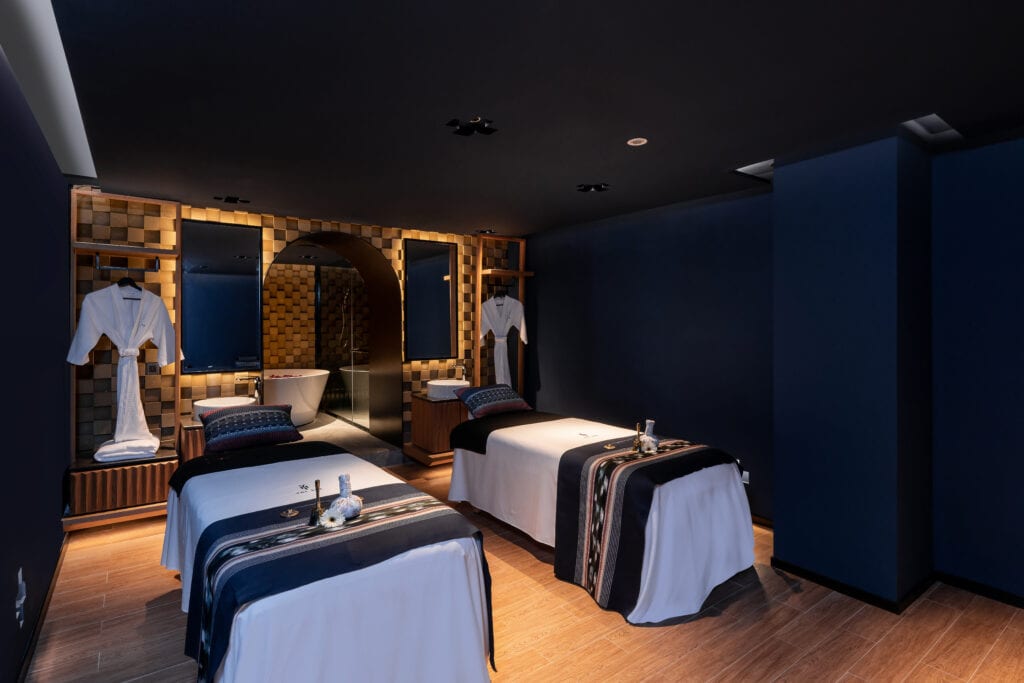 There is much to look at as you walk through the property and the open spaces boast attractive foliage and enviable views over Chiang Mai.
Services and facilities
Room service
Pool
Laundry
Parking
Fitness centre
Sauna
Steam room
Rooms (and suites)
My room boasted clean white walls with accents of natural wood, creating a calming atmosphere, the comfortable large sofa seating with decorative gold and red scatter cushions added warmth whilst the metal lantern sculptures are a nod towards Chiang Mai's famous lantern festival, along with the rattan objet d'art which is a product of Chiang Mai, cultural context is evident.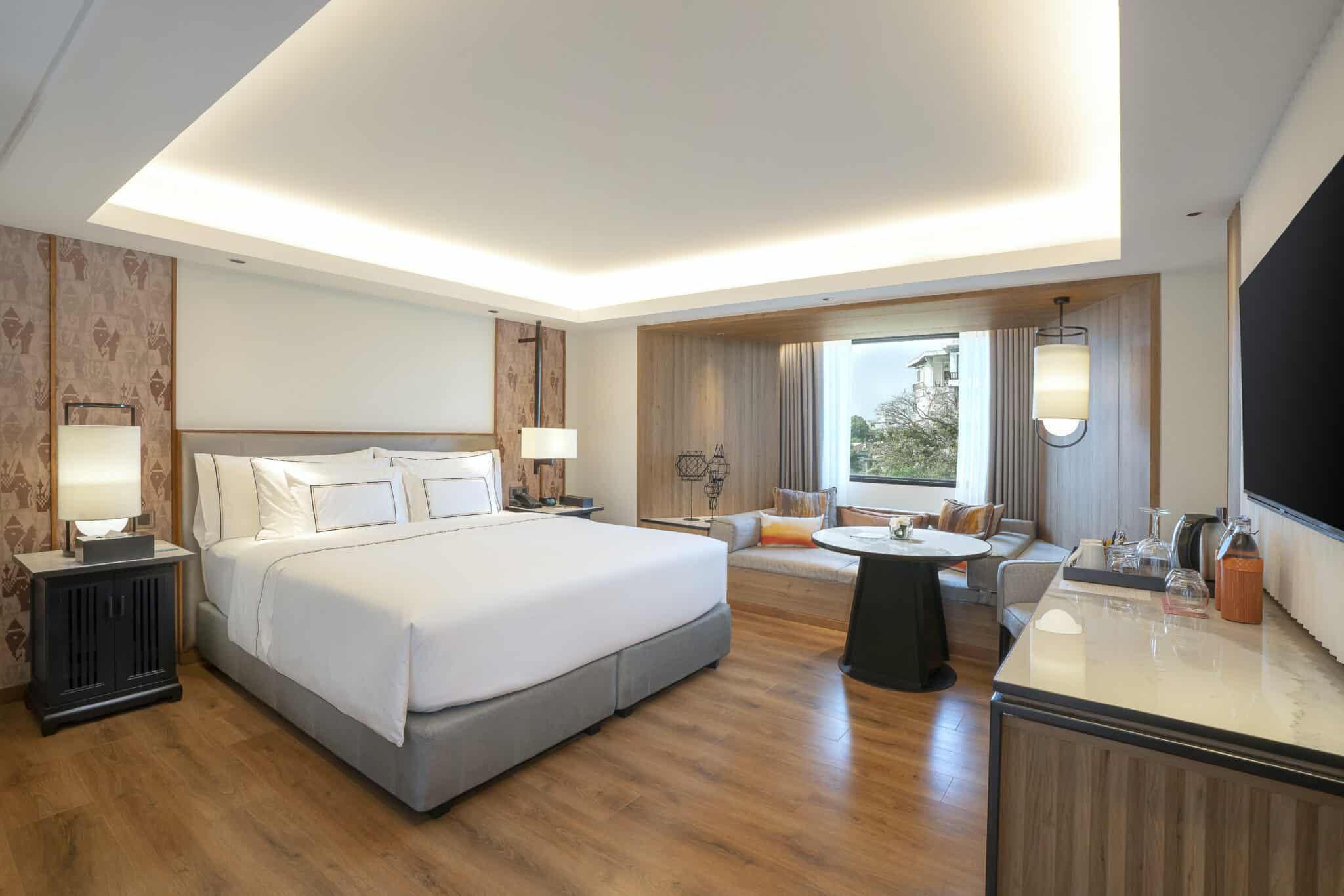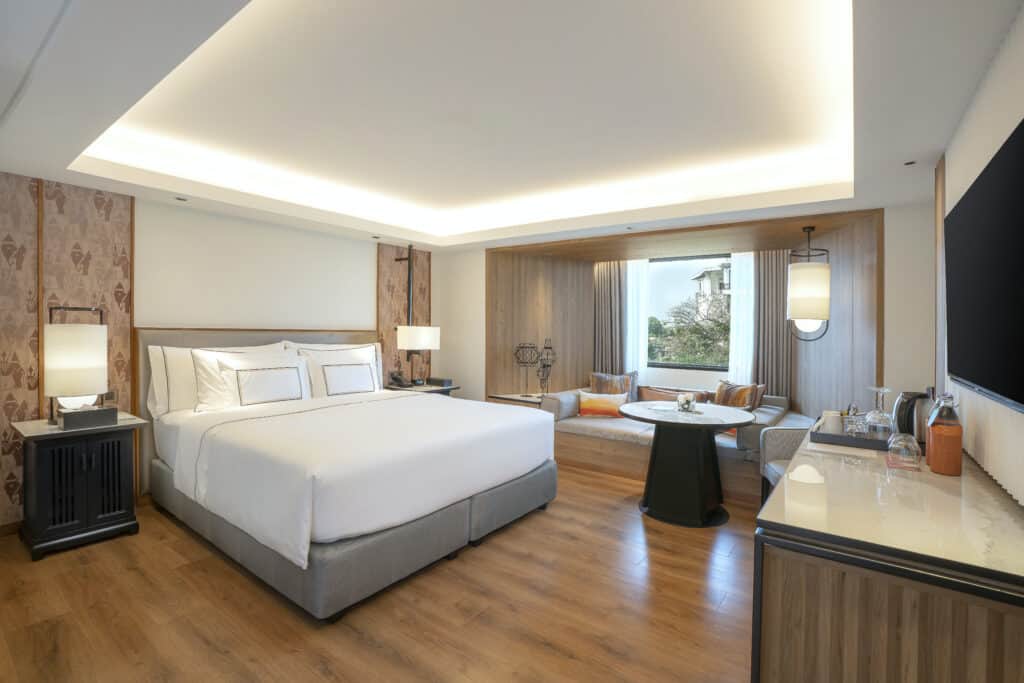 The clear glass wall diving the shower and bedroom create a larger space and give the room added glamour. Other rooms and suites include local artisan touches, crisp white linen paired with earthy upholstery and natural wooden flooring, walls are neutral with panelled Thai print material either side of the bed for a splash of colour and interest.
Food and drink
If you are staying in a room or suite with Club access, then you will have the added benefit of exceptional snacks throughout the day.
Because the hotel brand is Spanish you can order suso de Gerona cream filled Spanish doughnuts with your coffee in the Ruen Kaew Lounge and keep an eye out for the quirky afternoon tea offerings, when I was there, they had a 'summer purple afternoon tea' with many of the items tainted a natural purple with local butterfly pea flowers.
The Laanna Kitchen restaurant, called thus after the ancient Kingdom of Chiang Mai serves Mediterranean classics, whilst the rooftop bar not only offers creative cocktails and mocktails but also refreshing signature iced teas and tapas such as hot fried garlic prawns and salted chili soft crab.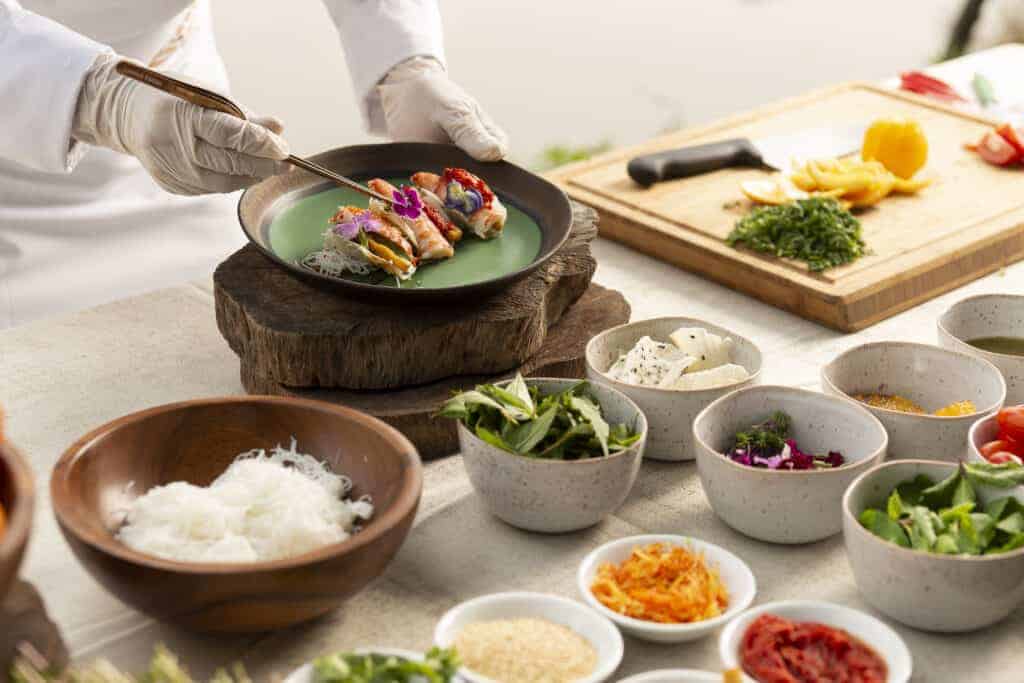 You won't be disappointed with a meal at the exceptional 'Mai Restaurant and Bar'.Appetizers included tasty northern Thai-style pork sausage, soups included a delicious gaeng phak whan baan smoked dried fish consommé, mushrooms and local greens.
The main course offered a fabulous fusion of local dish khao Soi, instead of noodles they use pappardelle served with Australian beef sirloin, leave space for pudding, such as their grilled vanilla scented banana, rice puff crumbles, salted caramel and steamed pandan rice.
More information
For more information and bookings, visit the hotel website at melia.com