I've always had a thing for edible souvenirs and presents, whether for friends who have only a hazy notion of São Tomé and Príncipe as an exotic destination, or for Portuguese acquaintances who have a personal connection to the country.
Gifts you cannot get anywhere else are hugely appreciated: coffee beans from the misty hills surrounding Monte Café; cocoa nibs from the 'chocolate islands'; or lovingly wrapped dried tropical fruit. Jackfruit jam anyone? Cocoa liqueur? Or a medley of aphrodisiac herbs brimming with the exuberance of the jungle? The vast majority of São Tomé and Príncipe's produce is organic, as the use of pesticides mostly stopped when the country became independent; lack of money became an opportunity and USP. And with every purchase you help a burgeoning sector, provide employment to local people, and show your appreciation of their culture and land. A true win-win situation.
Chocolate
Chocolate production started in São Tomé for the first time in the 1990s. For a long time, the only producer actually making chocolate on the islands was the Italian Claudio Corallo, who arrived in 1992; now the Diogo Vaz plantation in the north has opened a chocolate café (with factory) in the capital. With the trend towards single- estate, vintage and craft chocolate, 'São Tomé' chocolate bars are beginning to appear in shops all over the world.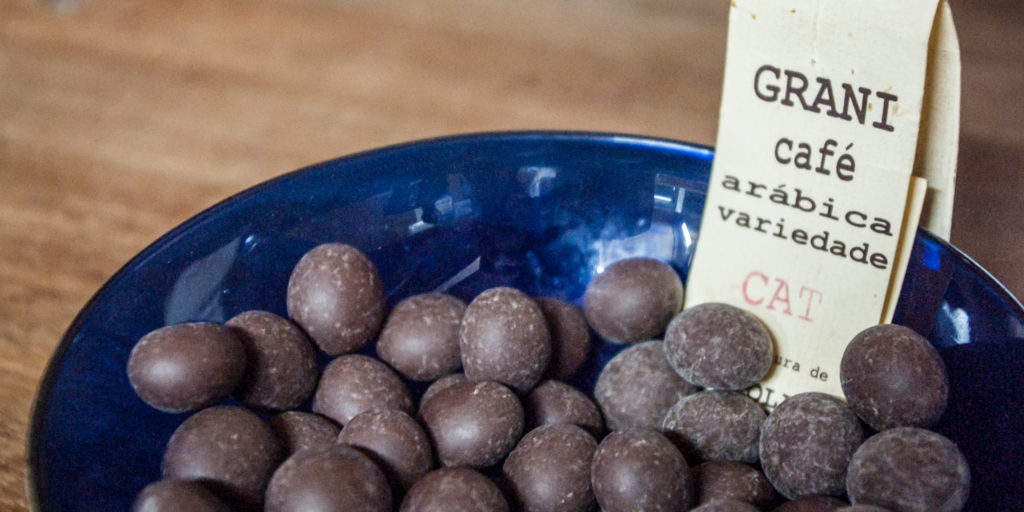 In 2011, the Italian Corriere della Sera newspaper called Claudio Corallo chocolate 'the best in the world' – and it is kind of true. Even those who swear they don't like dark chocolate are rapidly converted. On the islands, the best place to pick up chocs is after a visit to their factory located on Avenue Marginal in the capital. In-depth tasting sessions are held three times weekly (sample around a dozen types of chocolate, after which you'd have to have an iron will not to buy anything). Prepare for an epiphany: this chocolate can be truly moodaltering, in the best sense of the word.
Nearly half a century of passion and care about the exact calibration of the ingredients are much in evidence here, and new flavours and new products are continually being developed. Claudio is passionate about providing a counterpoint to 'sick' industrial chocolate, where the beans are roasted to cinders and buyers are brainwashed into believing good chocolate has to be black and bitter. Tours run in alternating Portuguese and English and include a presentation on the history and workings of the chocolate factory, followed by the tasting.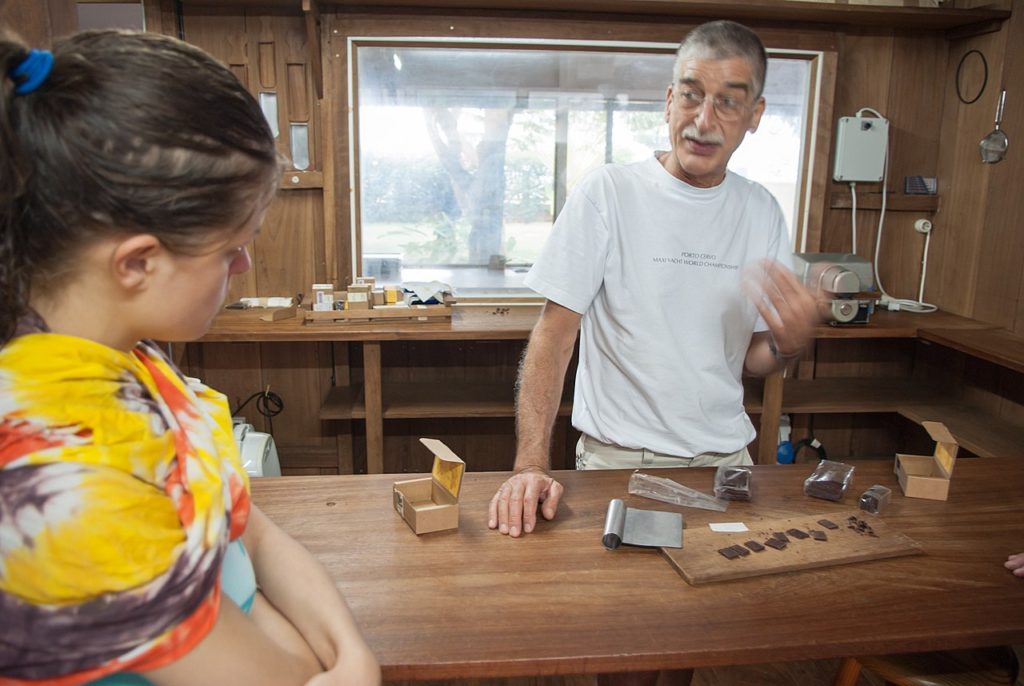 Chocolateria Diogo Vaz is the new kid on the block! This beautiful shiny temple to chocolate opened in 2018, serving sophisticated 'tree to bar' artisan chocolate delicacies alongside coffee and tea in a stylish indoor–outdoor space with sea views. Maybe it was not the most delicate move for the island's second chocolate factory to pitch up on the same stretch of the Marginal as world-famous Claudio Corallo, but it is a very different concept and you should make time for both. Diogo Vaz is more a sophisticated tasting and café space.
They kindly allow visitors to try each of the four varieties of certified organic chocolate made with cocoa from the plantation in the north of the island; the 70% Unroasted is intriguing. Other highlights available in the café include the brownies with pistachios and the coffee/cocoa blend. You can buy chocolates, chocolate spread, drinking chocolate and bonbons to take home and there are workshops about once a month.
Delicias das Ilhas
Delicias das Ilhas is a family business founded in 2009. Their base, and location of their workshop, is off Rua 3 Fevereiro in São Tomé, but they sell in shops all around the city, including in some hotel gift shops – many of the locally made food products you'll find on sale are theirs.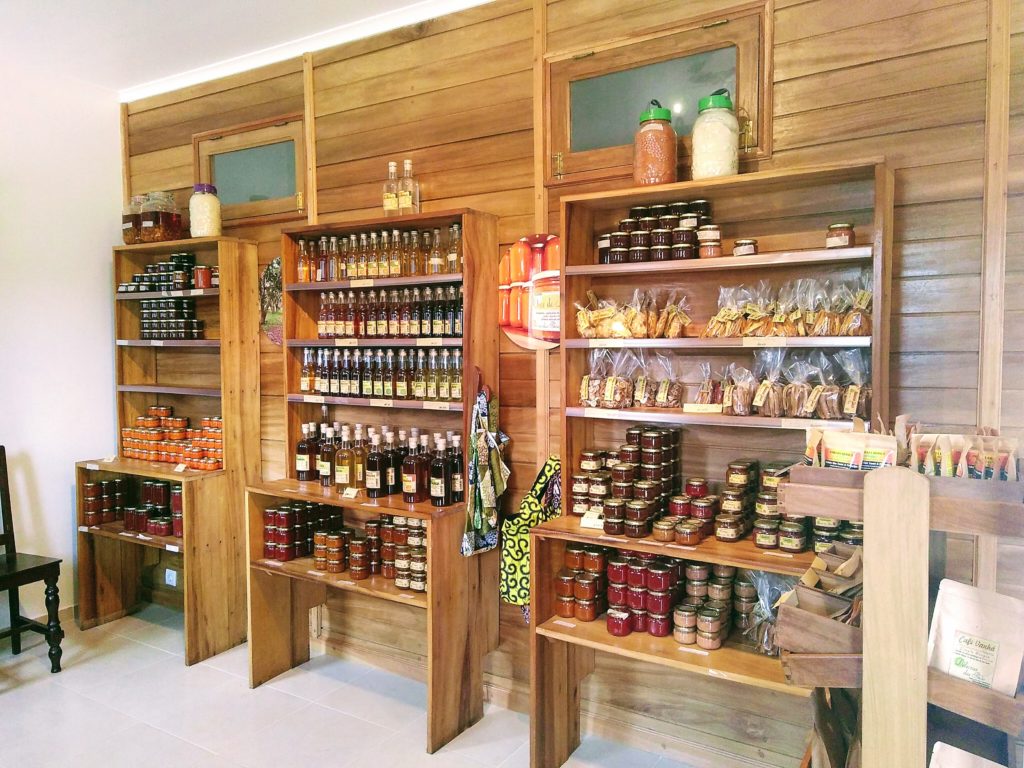 Aiming 'to publicise what São Tomé and Príncipe has to offer: a nature rich in flavours and aromas', they produce an impressive variety of dried fruits, tropical jams, fruit liqueurs, local herbs and spices, teas, sauces, soaps and oils. The workshop itself is a buzzing place, with all sorts of drying, grinding, cooking, packing and bottling going on. One-hour tasting tours run on Mondays, Wednesdays and Fridays. Owners Bastien and Delicia speak Portuguese, French and English, and they'll happily explain their different processes with visitors and share their passion for local produce.
Just above Praia Vá Inhá at São Tomé island's southern tip they have their own 5ha plantation, where they cultivate some of the organic materials used for their products: fruits and herbs of all sorts, including lemongrass, micocô leaves, cinnamon, ginger and vanilla.
Fluta Nón
This developmental initiative is located in the town of Neves on São Tomé's northwest coast. Locally run by Italian-born long-time resident Giovanna, Fluta Nón produces minimalist energy bars made from local fruits and spices – a great gift for hiking friends at home, or to take on hikes in the surrounding hills. The enterprise is also 'committed to the enhancement of agroforestry in São Tomé and Príncipe by supporting the production and processing of products into dehydrated flours': an array of exotic flours – cocoyam, banana, cassava, jackfruit – that are perfectly suited to a gluten-free diet are therefore also on offer here.
The visiting structure is still to be formalised, but expect to give a small fee or donation. Coming from the capital, Fluta Nón, housed in a striking building of stone and wood, is reached by taking a left before you reach the Contador River.
Efraim
Efraim (also known as Alei Coffee Shop), is located in Monte Café, the roça that used to produce most of the island's coffee before independence. Founded in 1858 by pioneer planter Manuel da Costa Pedreira from Brazil, Monte Café once had ten dependencies and employed thousands of workers. The big house fell down and had to be demolished in 2017, but the bell that marked the labourers' workday is still here – ringing at 05.30, and then again for the 06.00 formação line-up – along with other photogenic industrial ruins.
More recently, and for a number of years, Efraim's charismatic English-speaking owner Catoninho (Amedy Pereira) has been producing excellent organic coffee as a family business here. Their smooth arabica is a highlight and is great value for money. (Santomean coffee is usually expensive, not least because it is so rare.) Amedy can show you how coffee is made, while the processing facility (tecnologia) has excellent bilingual panels about coffee and cocoa cycles. If you're looking to learn even more about coffee while you're here, the roça is also home to the Museu do Café, where exhibits are spread throughout several rooms.
Valúdo coconut factory
This flag-festooned, award-winning coconut factory is located next to Quinta da Favorita, en route to Trindade. It is named for the 'dry kernel of the coconut' in Santomean creole. Under French-Belgian ownership, the factory produces a variety of organic, Fairtrade coconut products, including oil, flour, soap, dried fruit, and more, sustaining more than 300 families in the process. They are also committed to preserving the biodiversity of São Tomé and Príncipe and are working to rehabilitate the country's abandoned coconut groves.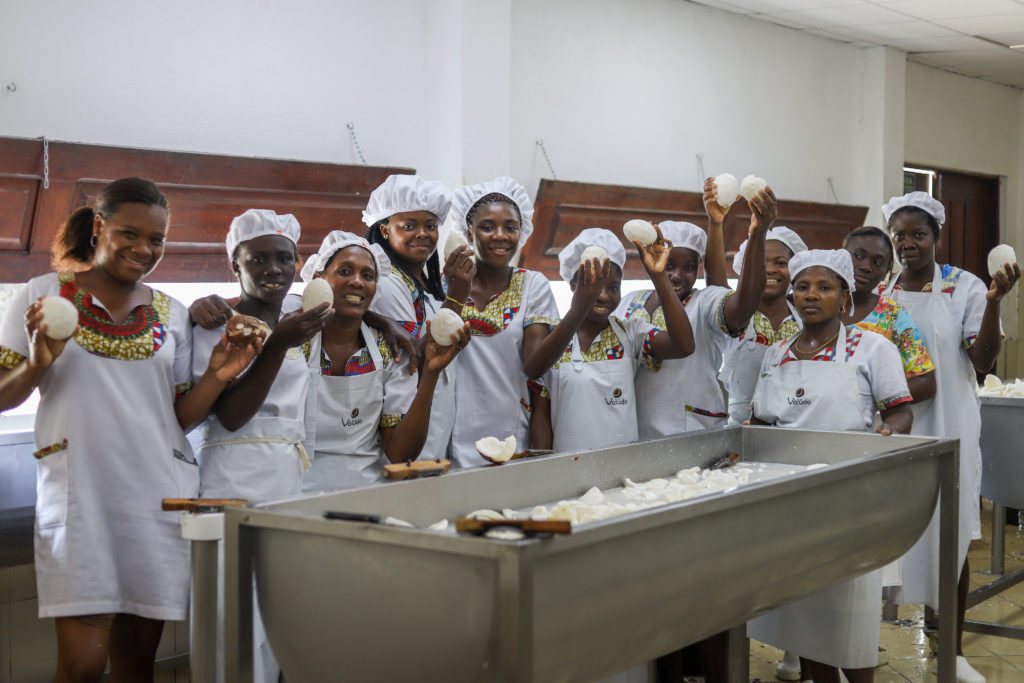 On site, there's a shop and showroom, and visitors can observe the production chain from outside. Customers are offered free coconut water. The products are also for sale at shops around the country. At the 2020 Gourmet Oils competition in Paris, Valúdo coconut oil won the gold medal.
Roça de São João
This roça is the place to head to for cookery classes – the lessons are educational, and it is enormous fun to pull out manioc by the root, cut some okra shoots, piri-piri and Taiwanese lemons, and then to prepare a feijoada a modo da terra (meaty bean stew), salted mangoes, coconut slivers with cinnamon, pineapple rice and maybe a filled breadfruit. Moreover, it serves some of the best, if not the best, food in São Tomé and Príncipe, cooked with fresh local ingredients using lots of herbs and spices and all lovingly presented.
The head chef is the local 'Mr Culture', João Carlos Silva, presenter of a successful TV programme on RTP Africa, Na Roça Com Os Tachos – literally 'On the Plantation with Cooking Pots'. The tasting menu, including a palate-cleansing exercise with wine and ginger, has become one of São Tomé's must-do experiences. The cool airy veranda where meals are taken is great for relaxing, with hammocks, comfy bamboo furniture, art books and local produce for sale such as wooden cookery spoons, jungle pepper (if you liked it during the lunch get some here as you won't find it elsewhere) and fantastic mango jam.
More information
For more information on local businesses in São Tomé and Príncipe, check out our guide: