These two beautiful and enigmatic African islands have much more to offer than their diminutive size suggests, and many exciting adventures await the intrepid traveller.

Kathleen Becker, author of São Tomé & Príncipe: The Bradt Guide
Lying just off the western coast of Africa, the diminutive islands of São Tomé and Príncipe remain unspoilt by mass tourism, making the former Portuguese colony a perfect place for holiday adventure and independent travellers.
Immerse yourself in local culture as you explore misty rainforests, deserted white-sand beaches, and crumbling plantations. Discover hiking trails that meander past thundering waterfalls, the best spots for diving, birdwatching and surfing, and a wide range of accommodation and restaurant choices to suit all budgets. Journey through the living history of this former transatlantic slavery hub, tick off endemic birds in Obô National Park, admire the botanical beauties and majestic trees providing traditional medicine, and myriad mysterious forest life.
There is so much to do: spend time with this friendly, humble and curious people, straddle the Equator under starry skies, sip sweet palm wine along plantation trails and kick back at eco lodges on the beach. Snorkel or dive in balmy uncrowded waters, dance to the kizomba beat and help release turtle hatchlings – an unforgettably moving moment.
Explore a lost universe of crumbling architecture and colonial saudade, chat to inventive local craftsmen and artists and cruise the cool culture of São Tomé town, try bizarre tropical fruit and take a picnic to famous Banana Beach on beautiful rugged Príncipe. The fit and fearless can scramble up to the Pico de São Tomé amongst the mystical cathedral arches of the rainforest – and who wouldn't enjoy a taste of single-estate chocolate from the 'Cocoa Islands' – said to be the best in the world…?
Food and drink in São Tomé & Príncipe
The staple item of the Santomean diet and standard restaurant fare is fish – grelhado – grilled, baked (asado) or to a lesser degree cooked/boiled (cozido). The most popular are flying fish (peixe voador), and you will see these cut open and laid out to dry on the beach or in drying sheds in large quantities. They have a delicate taste, but aren't seen much in restaurants as they are full of little bones.
One of the most popular fish you will be served in restaurants is the red grouper (cherne). Another is the sea bass (corvina), with firm flesh and great flavour, associated in forro culture with prestige, luck and knowledge. A good option for a beach lunch is to buy a fish directly from the fishermen, around midday. Expect to pay around 50Db for a big fish, and ask whether you can grill it over the fisherman's fire (pode-se grelhar o peixe?); if you bring a lime and some salt from town, you can have yourself a real feast.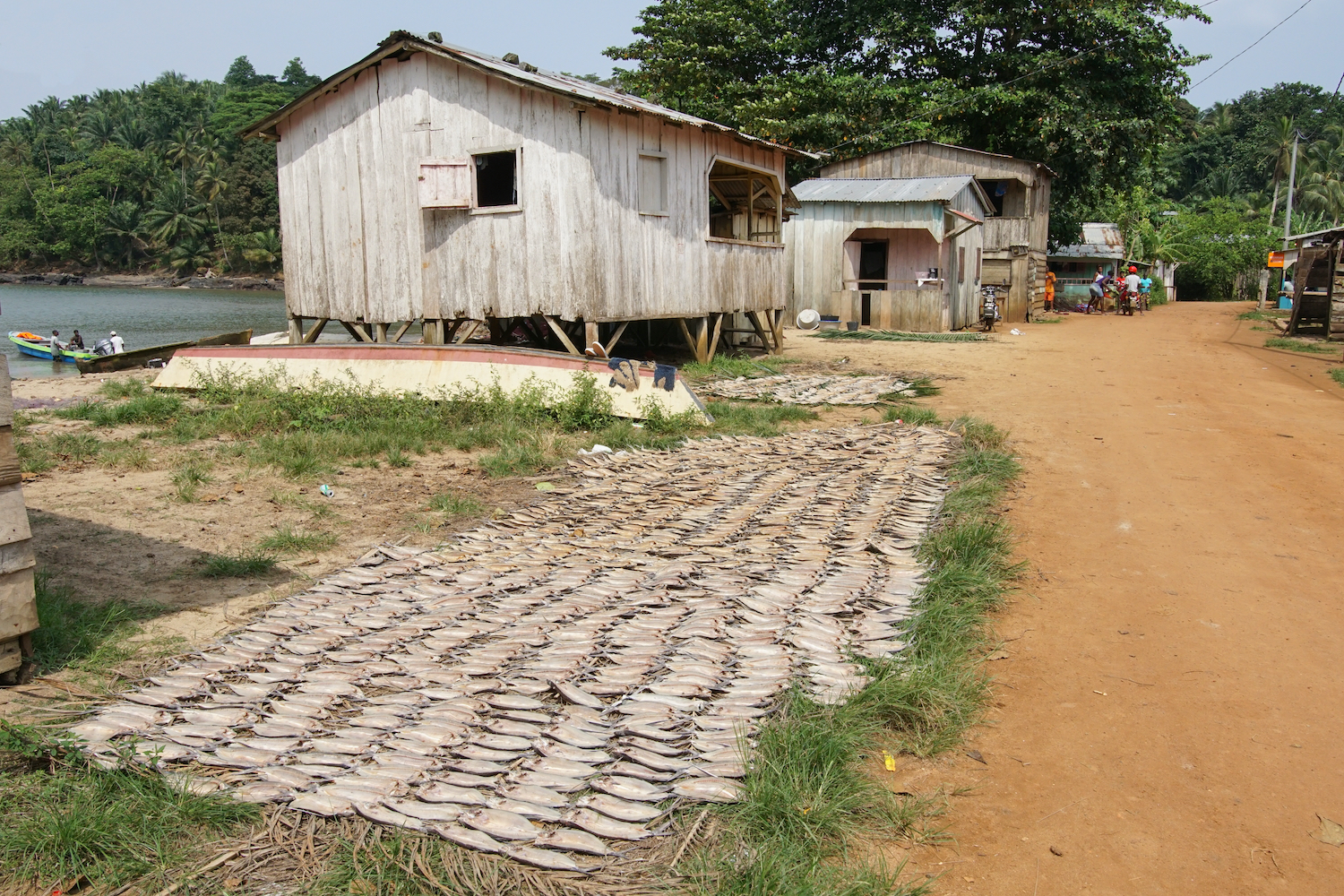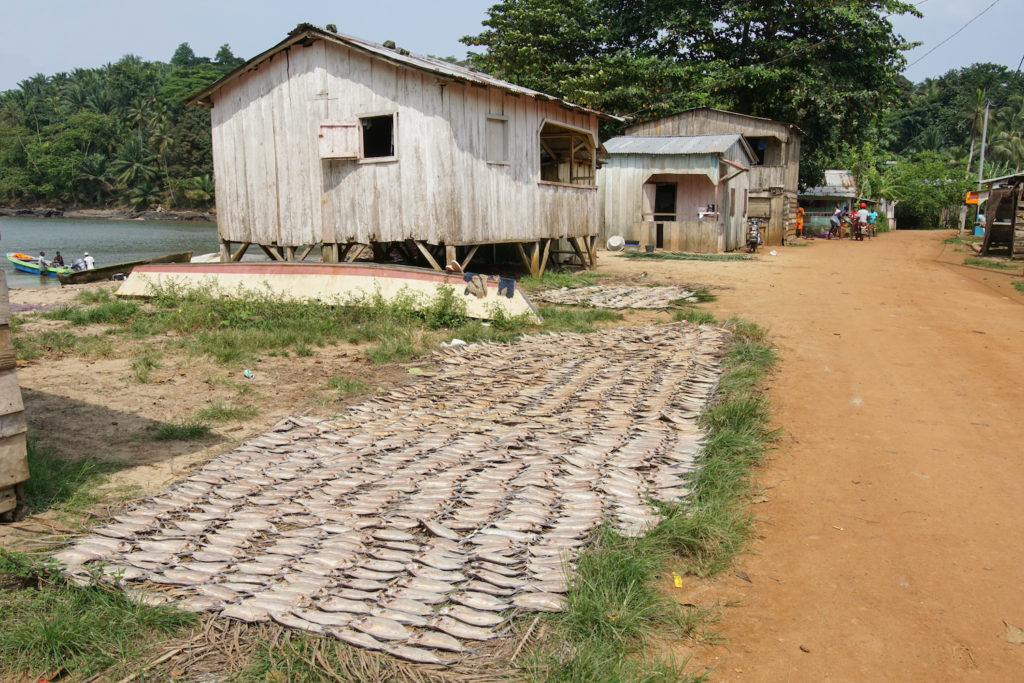 Small eating establishments – petisqueiras, churrasquerias, quitandas and quiosques – might not be immediately visible to you as they often look like small wooden shacks. For those with a sweet tooth, pastelarias are a welcome Portuguese heritage and serve a selection of homemade pastries. At lunchtime, in every village, there should be at least one person who will serve simple cooked food; you just have to ask Onde há comida quente? The food, mostly fish or chicken with manioc, fried banana or jackfruit, is often very tasty.
The grilled fish 'belly', barriga de peixe (usually peixe andala, Atlantic sailfish), is frequently served with rice (arroz), breadfruit or manioc. Beans (feijão) are a staple food. Another staple is banana cozida (cooked banana), the blandness of the banana offset by wonderful spicy sauces, like the red malagueta piri-piri sauce found in every restaurant.
The Santomean signature dish is calulú: dried smoked fish in a delicious sauce made from ocá leaves, palm oil, lady's fingers (okra), malagueta chilli and watercress, plus a variety of fresh herbs, resulting in a multi-layered flavour. Calulú takes about five hours to prepare.
The ubiquitous refreshing Sagres lager and the slightly sweeter Super Bock are imported from Portugal. The national beer, known either as Rosema or Nacional, is brewed in the north of São Tomé, and comes in big pint-sized bottles with no label. This is environmentally friendly drinking: the bottles are recyclable, so people will not allow you to stray very far from the bar with one. A new (canned) beer arrived on the scene in 2019: Santola, named after the spider crab and brewed in Bobo Forro by Procombe.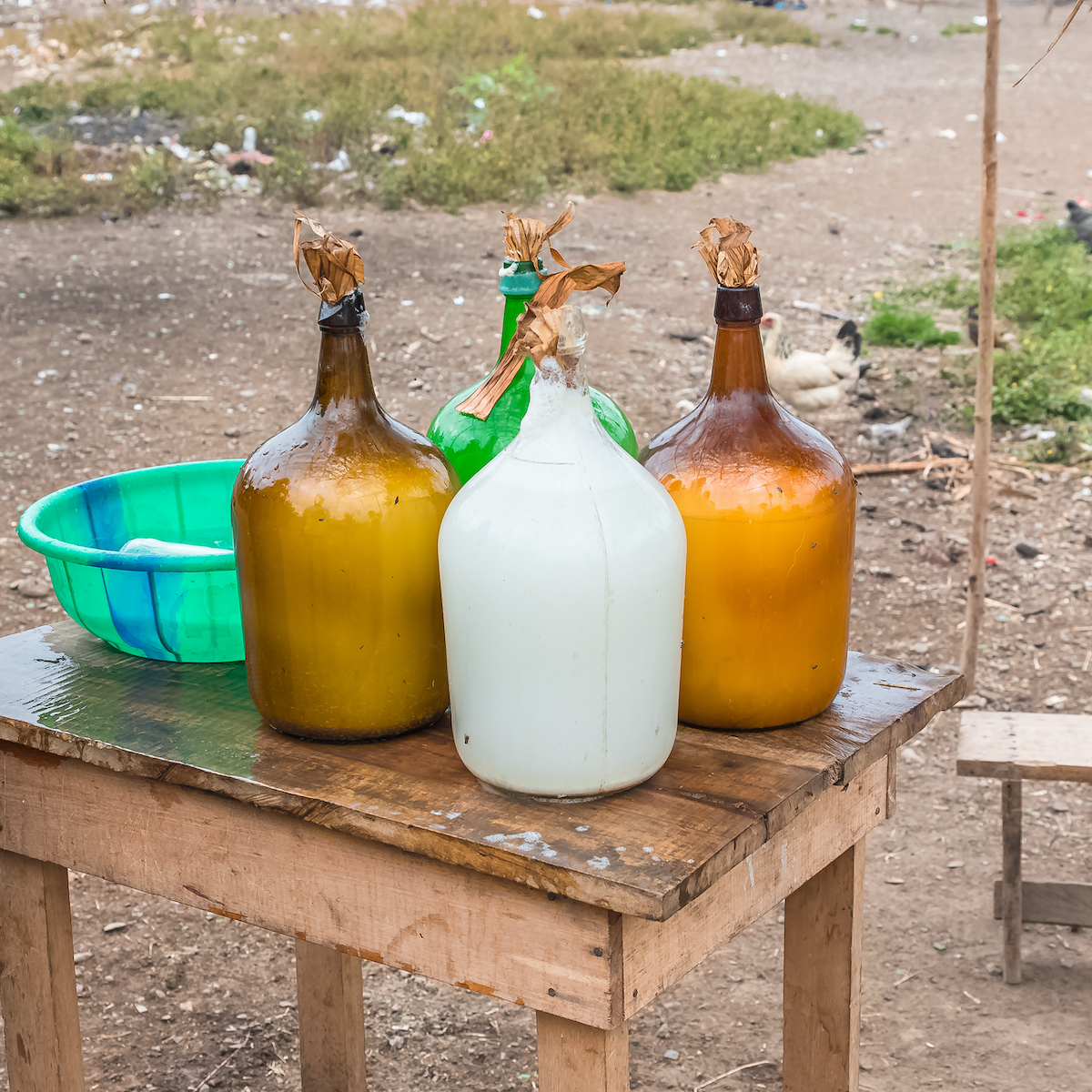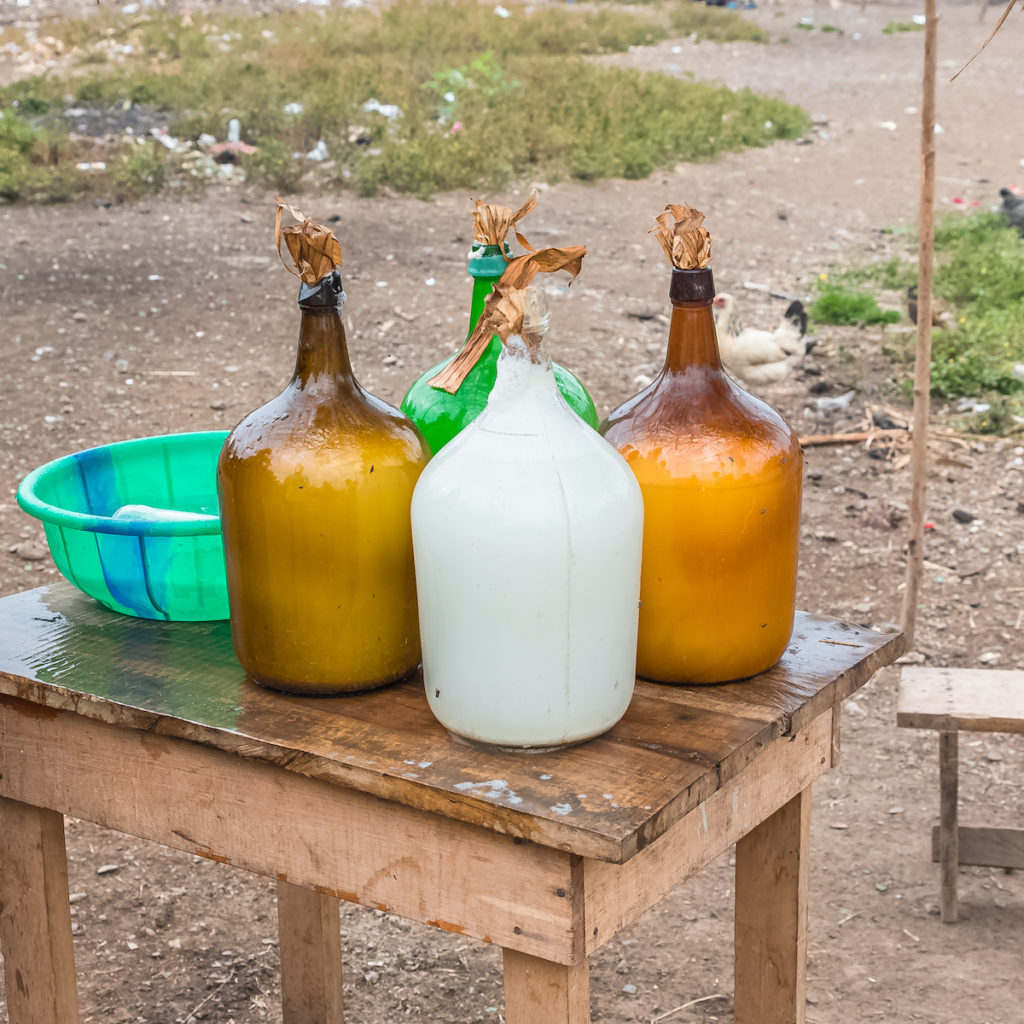 The national drink, however, is palm wine. Vinho de palma, or vim pema in creole, comes in three qualities; the purest, most undiluted variety is made at high altitude, decreasing in quality the closer to town you get. In the forest, ask the vianteiro to improvise a cup with a rolled banana leaf, or bring your own container; the sawn-off mineral water bottles typically used can be pretty filthy.
The wine continues to ferment over the course of the day. In the morning, it is like milk (doce, sweet); the longer the liquid ferments, the more acidic it becomes, turning into what is called ussuá. Come night, a cork will come flying out of the bottle, champagne-style, and the increased alcohol content makes it more explosive, too.
Health and safety in São Tomé & Príncipe
Health
People new to exotic travel often worry about tropical diseases, but it is accidents that are most likely to carry you off. With the increase in traffic, road accidents are becoming more common in São Tomé and Príncipe, so be aware and do what you can to reduce risks. Try to travel during daylight hours, always wear a seatbelt, and refuse to be driven by anyone who has been drinking.
Preparations to ensure a healthy trip require checks on your immunisation status: it is wise to be up to date on tetanus, polio and diphtheria (now given as an all-in-one vaccine, Revaxis, which lasts for ten years) and measles, mumps and rubella (MMR). Immunisations against hepatitis A, tuberculosis, typhoid, hepatitis B and rabies may also be recommended. Ideally you should visit your own doctor or a specialist travel clinic to discuss your requirements, if possible at least eight weeks before you plan to travel as many immunisations require a longer pre-trip period to begin working.
In addition to the various vaccinations recommended above, it is important that travellers be properly protected against malaria. There is no vaccine against this mosquito-borne disease, but a variety of preventative drugs are available, including mefloquine, atovaquone/proguanil (Malarone) and the antibiotic doxycycline.
Malarone and doxycycline need only be started one to two days before entering STP, but mefloquine should be started two to three weeks before. Doxycycline and mefloquine need to be taken for four weeks after the trip and Malarone for seven days. It is just as important to complete the course as it is to take the malaria tablets before and during the trip. The most suitable choice of drug varies depending on the individual and the country you are visiting so visit your doctor or a specialist travel clinic for medical advice.
A full list of current travel clinic websites worldwide is available here. For other journey preparation information, consult Travel Health Pro or CDC: Traveller's Health.
Safety
Generally, São Tomé and Príncipe is a very safe place indeed for travellers. There is very little violent crime, and armed robberies and rapes are rare still. Where else in Africa can you walk around the streets of the capital at practically any time of the day or night, the only danger a raspy throat from answering so many questions? Não temos fronteira, you'll hear as an explanation, we have no border – nobody can just jump on to the next plane to immunity.
There has, however, been a rise in petty crime. Stealing telemóvels (mobile phones) has become common. Getting mugged for a mobile phone used to be unknown, but there have been occurrences, especially targeting foreign women. Don't leave phones unattended for an opportunist thief to take advantage.
Clubs and beaches are the most common place for this to happen; a beach that looks completely deserted to you may not be. Lock your valuables in the car and if you don't have one, carry your money/mobile phone in a waterproof pouch (available from outdoor shops back home, not on the islands) that you can sling over your neck and take into the water. Other possibilities might be to pay trusted locals a few dobras to look after your things, or to hide them under palm leaves or suchlike.
Female travellers
STP remains a very safe country compared with the mainland, though women travellers should prepare for gentle harassment, hissing and hailing in the street. Further, women should be careful on their own on beaches, especially close to towns, and wild camping is not recommended – tourists were assaulted overnight in 2019 when camping in their car on the beach.
Exercise the usual caution in an unfamiliar place and be aware that a white woman, especially, on her own is seen as a potential adventure, trophy, or even a potential second or third mulher (woman). A friendly chat, a dance, or a desire to learn about the country and its culture is easily misconstrued as romantic interest. All of a sudden, you're being beckoned to follow this guy so you can 'get to know each other better'.
Expect to be repeatedly asked the following: whether you are travelling on your own (sozinha), where you are staying (onde estás hospedada?), whether you have a boyfriend (namorado) or a husband (marido; to be married is casada) and where the boyfriend or husband is, plus how many children (filhos) you have. Santomean men like to tell women travellers without children that they must at least have one – and offer to put you out of your misery!
Travellers with a disability
Santomean law prohibits discrimination against people with disabilities (of all types), but there is no legal requirement ensuring disabled access to buildings or services (except for schools), and as such these types of facilities are extremely rare. Bearing in mind the above, it is a small country with few tall buildings and remarkably helpful people, so depending on your abilities, travel may still be possible with advance planning.
Travel and visas in São Tomé & Príncipe
Visas
Since 2015, citizens of the EU/EEA, UK, US, Canada, Russia and Brazil no longer require visas for stays of up to 15 days in São Tomé and Príncipe. Other passport holders who hold valid Schengen area or US visas are also exempted from the visa requirement. As the UK is no longer a member of the European Union, documentation requirements for UK citizens may change. Check before travelling.
Stays beyond 15 days still require a visa. A 30-day visa can be acquired using the e-visa service provided by the Serviço de Migração e Fronteiras (SMF; Migration and Borders Service), through a tour agency, or at a Santomean diplomatic mission abroad – of which there are only a few!
The e-visa service is known for being a bit glitchy, with service outages and travellers occasionally having to apply more than once. Therefore, you should start your application at least two weeks before travel. The online application asks for information on your visit, including where you plan to stay, travel dates and method of travel. Upon completion, you will be given a reference number (Referência Autorização de Entrada) – be sure to note this down so you can check the status of your application later if need be. When your application is approved, you will be emailed an entry authorisation form (Autorização de Entrada) that must be printed and presented to the airline in lieu of a visa and again upon arrival in STP. The visa itself is paid for (€20 – bring euros cash) and inserted into your passport upon arrival in STP.
If you are using a tour operator they will take care of your entry authorisation, and you will pay €20 for the visa on arrival (as with the e-visa). Another option, eVisa.ST, is a private visa service that facilitates visas online for a fee. Note that you may be asked where you plan to stay (the first place, at least) and to show proof of funds and a return ticket on arrival.
Getting there and away
By air
As of 2021, all international flights arrive at São Tomé International Airport (IATA code TMS) in the capital. There has long been talk of introducing international flights to Príncipe, but at the time of writing all arrivals to the smaller island involve a domestic connection from São Tomé.
In terms of getting to Príncipe from São Tome the recommended option is: a short 40-minute hop offering great views of the Tinhosa Islets and the spectacular Príncipe coastline (choose a seat on the left). STP Airways flies five times a week, sometimes twice daily (roughly €250 round-trip), and you can book online or buy your ticket from the office in São Tomé or even at the airport. Be aware that seats get booked up quickly, especially for festivities such as São Lourenço in mid-August.
By sea
There are cargo boats operating from Libreville, but they are overloaded, uncomfortable and dangerous – not many recommend this way of travelling to São Tome.
With regards to reaching Príncipe from São Tome, a regular, reliable and fast boat connection would be one of the best things that could happen to Príncipe, and STP tourism in general, but as long as tourist numbers remain relatively low, and air fares to the country high, investors remain understandably reluctant.
Few locals can afford the airfare from São Tome to Príncipe so most go by cargo boat, on an overnight passage taking between 8 and 12 hours. Be aware that boats have gone down on this crossing, with loss of life, including the cargo ship Santo António (or 'Ferro-Ferro'), which disappeared with 12 on board in 2017, and the Amfitriti, previously regarded as the reliable choice, which sunk in April 2019; 55 of the 72 passengers survived. Other ships have lost their way or run out of fuel and had to be rescued.
In light of the above, travel between the islands by boat is not to be recommended at this time. Currently, only the Príncipe makes the crossing once a week, taking passengers and light cargo. Departure information and tickets are available at the port in São Tomé if you decide to take the risk.
When to visit São Tomé & Príncipe
While you can visit the islands at any time of year, the most popular time is during one of the two dry seasons, either between June and September, or between December and February. Temperatures on the islands hover around 27 ̊C all year round, but the summer months of the long dry season, gravana, are the best time for hiking and birdwatching. July–August visitors in particular have a good chance to catch popular saints' feast days and cultural events, where the streets throng with stalls, open-air discos and entertainment; don't miss the unique tchiloli and Danço Congo dramatic performances. Mid-August, around the St Laurent's festivities, is an ideal time to visit Príncipe.
Another good option is the short dry season, gravanita, which lasts from around mid-January to mid-February, including carnival celebrations which are a good opportunity to see traditional dances. This period is good for birdwatching too, as the birds are sporting their mating plumage. Between November and March visitors may watch marine turtles laying their eggs, and hatchlings being returned to the sea between September and April. Divers will find best visibility between December and March. However, January, February and March are the hottest months of the year, with the dry and dusty winds blowing sand from the Sahara into the Gulf of Guinea, often clouding the scenery in a 'Harmattan' haze, locally called bruma seca.
In the rainy season (October, November, April and May), hiking becomes tricky on muddy terrain and the air is heavy with humidity, but photographers will find better light, blue skies and brighter contrasts. Days can be a mixed bag: you might get rain in the morning, then a beautiful afternoon, with blue skies and the air feeling fresh after the tropical downpour, then a more cloudy evening with some rain, or a string of days where it only rains in the afternoons and evenings. The rainy season is best for orchid spotting, but if you want to see orchids and still be comfortable hiking, a lot of the species growing above 800m are still in flower in January.
Climate
São Tomé and Príncipe lie in the Gulf of Guinea, some 250km west of Gabon. The islands form part of the 1,200km Cameroon Line volcanic chain, which stretches southwest from the Jos Plateau in Nigeria and includes Bioko (formerly Fernando Pó), Príncipe, São Tomé, and Annobón (formerly Pagalu). Both Bioko and Annobón belong to Equatorial Guinea.
At 1,001km2, São Tomé and Príncipe is the second-smallest country in Africa after the Seychelles; it is roughly three-quarters the size of Greater London, or a third of Rhode Island state. Nicknamed the 'Centre of the World', it is the closest landmass to the point in the Atlantic where the imaginary line of the Equator crosses the zero meridian. The larger island, São Tomé, has a surface area of around 854km2, while some 150km to the northeast, Príncipe is about six times smaller (142km2).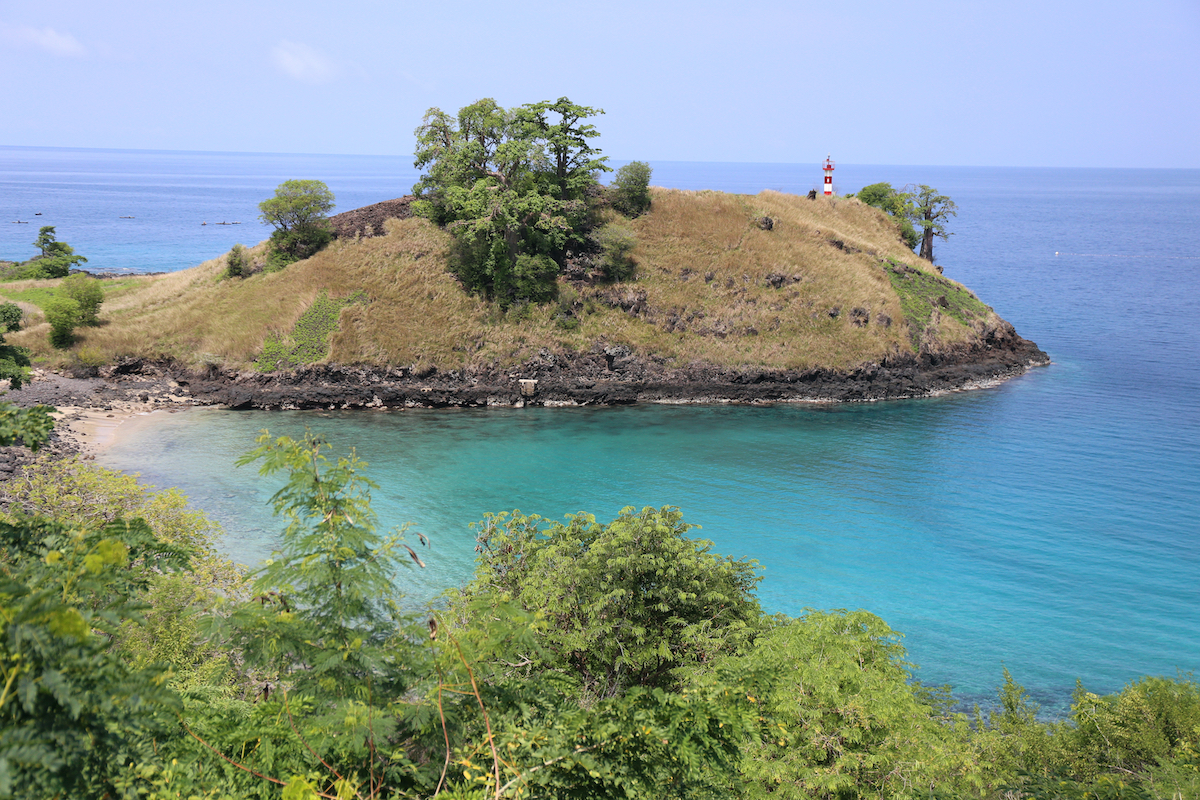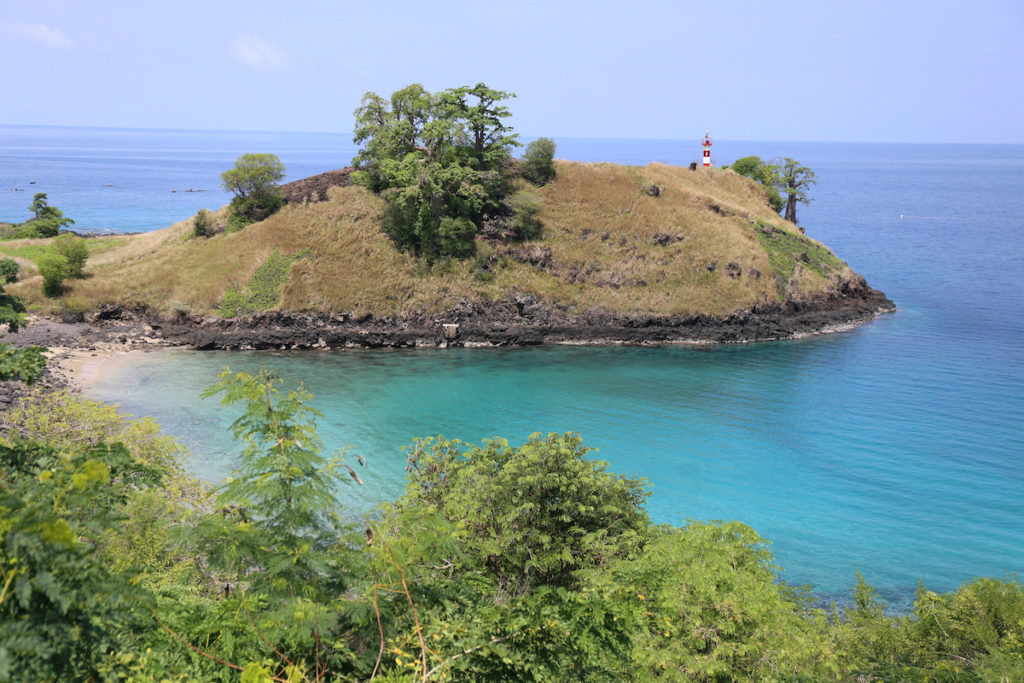 While the equatorial climate means maximum average daily temperatures of 27°C to 29°C, there is a massive difference in rainfall across these small islands. The dry savannah area in the rain-shadow to the northeast of São Tomé, including the capital, receives only around 60cm of rain per year, whereas the mountainous southern and western parts, in the path of the mainly southwesterly winds, receive about 6m. Of the two islands, Príncipe has the wetter climate, again with the south of the island receiving much more rain. Most rain falls in March and April.
What to see and do in São Tomé & Príncipe
São Tomé: the capital
Established around the wide sweep of Ana Chaves Bay in 1493, São Tomé became the capital of the island when, according to legend, the Portuguese left their first settlement, Anambó, 30km further north. Some 50 years after São Tomé was granted city status in 1535 by the Portuguese king, João III, the cathedral and the fort of St Sebastian were built. Today, many of the old colonial buildings, with their carved wooden wraparound balconies, arched windows and balustrades, are falling down, while others have been restored in pretty bright or pastel colours.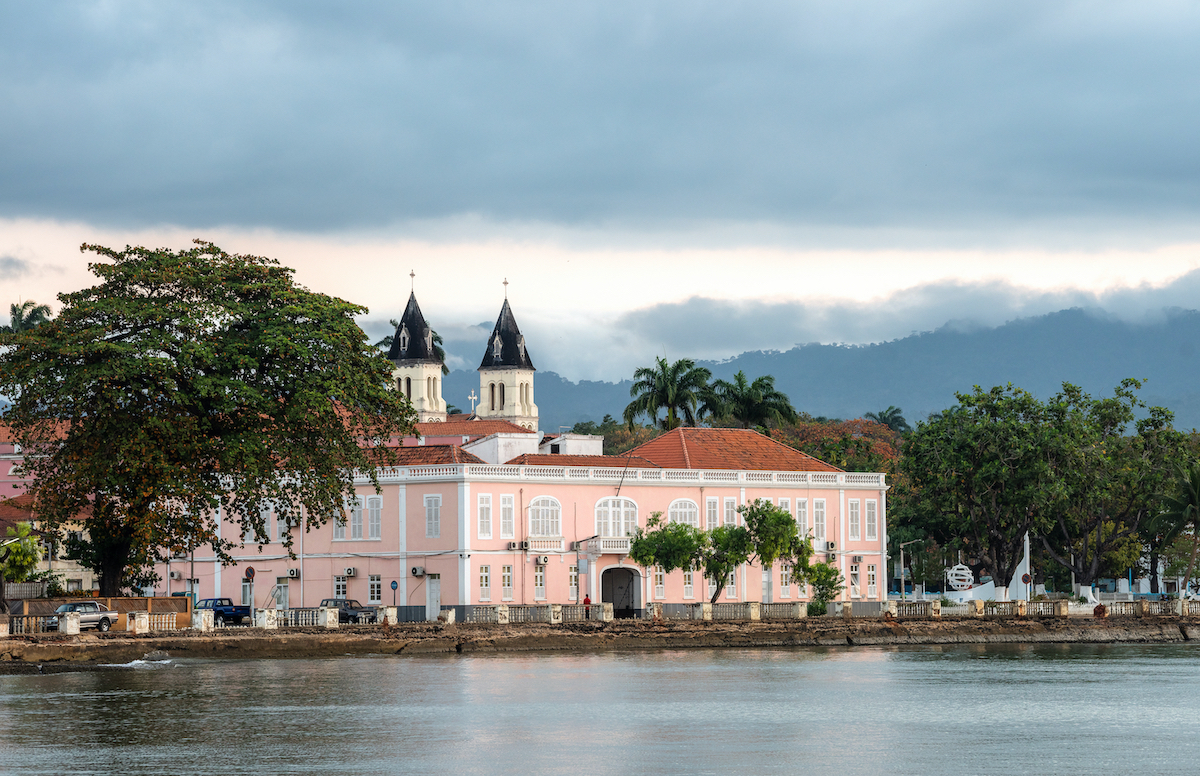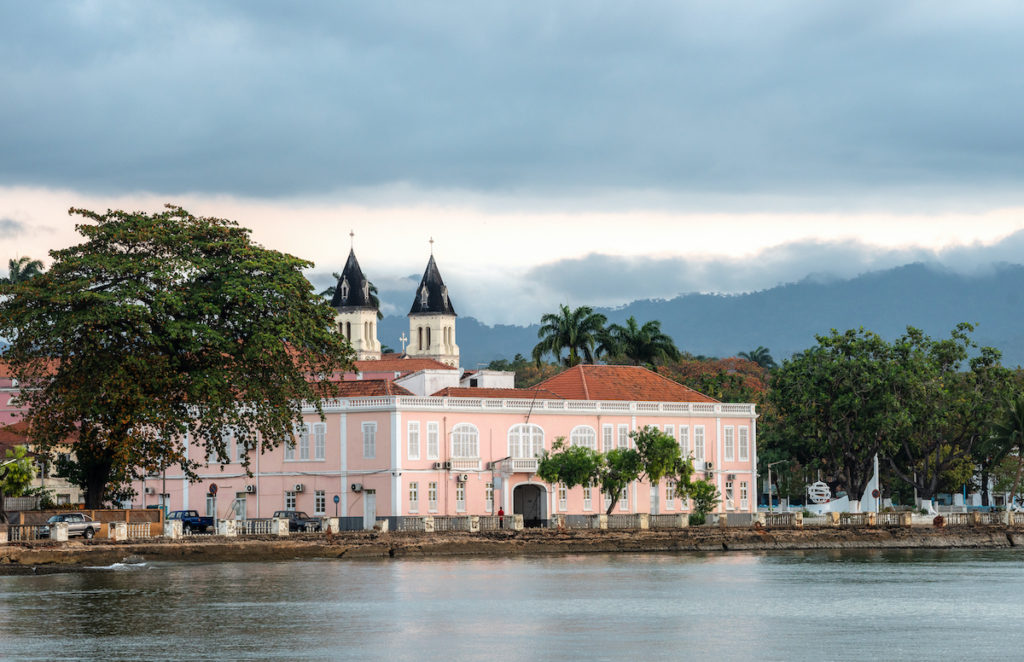 In the streets, yellow taxis vie for space with buzzing motorbikes and mud-caked jeeps; the pavements are populated with teenagers in baseball caps, businessmen and functionaries in suits. Moneychangers chat on corners, schoolchildren in uniform mingle with street vendors sporting torn and faded election T-shirts and mothers carrying babies in a sling on their backs. Stray dogs scavenge among the rubbish on dusty streets, black kites divebomb the harbour for fish, while the citizens negotiate the broken pavements on the broad avenues leading towards trim garden villas, red-roofed white stone residences, and the occasional hulking Salazarist relic.
The sea spray crashes on to the wide boulevard of the Marginal running around the bay, past sandy inlets strewn with black rocks. A short walk out to the other side of the city towards the popular Riboque neighbourhood reveals traditional wooden houses on stilts, humble shacks with zinc roofs propping each other up, and, in between, delicately carved wooden roofs reminiscent of Swiss chalets.
Nossa Senhora da Graça Cathedral
Who would have thought that one of sub-Saharan Africa's oldest cathedrals was the Santa Sé here in São Tomé? Across from the presidential palace, Nossa Senhora da Graça (Our Lady of Grace) was built and rebuilt over the course of 400 years, from 1576 to 1958. The impressive cathedral occupies the dividing line between the business part of the city and the administrative part.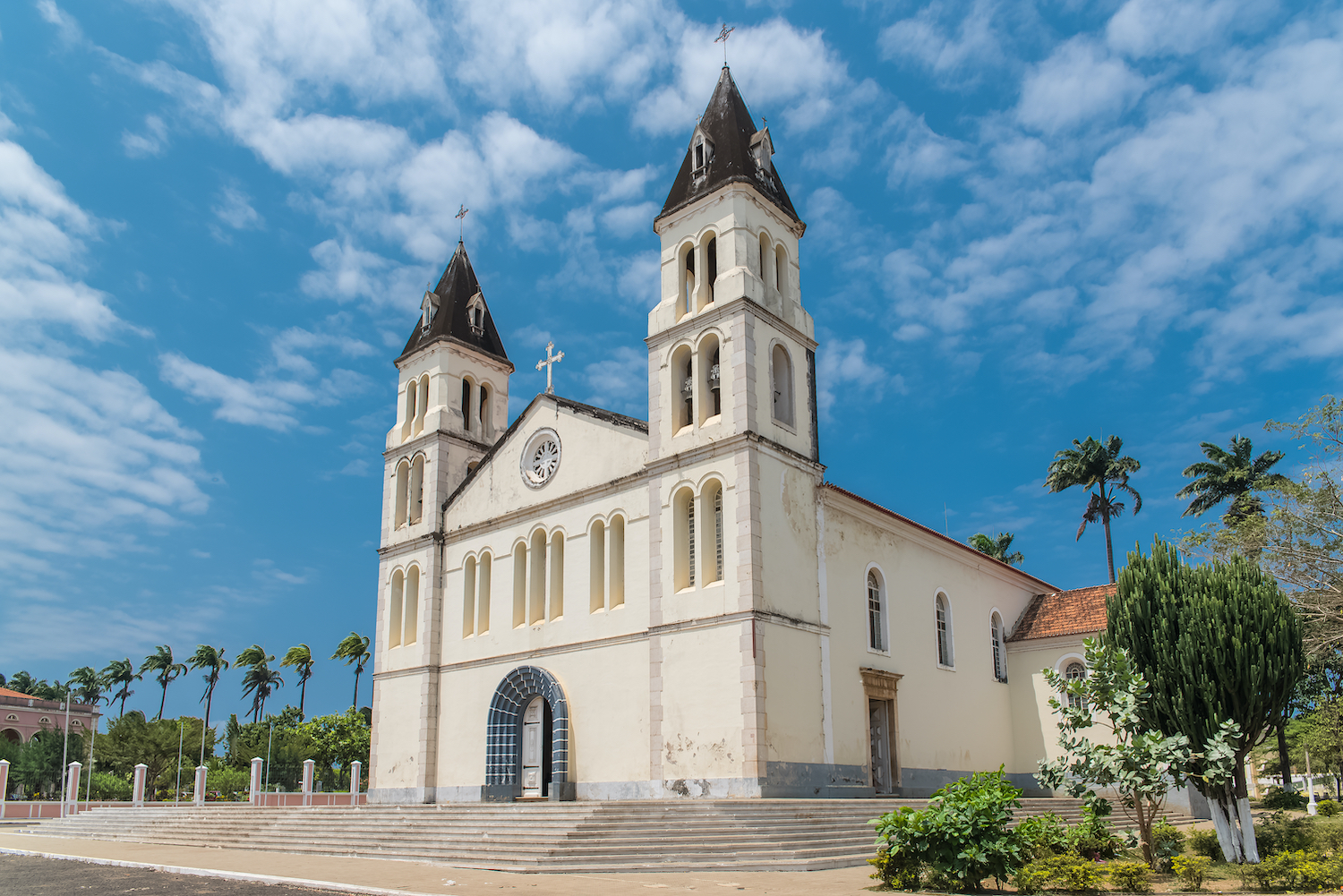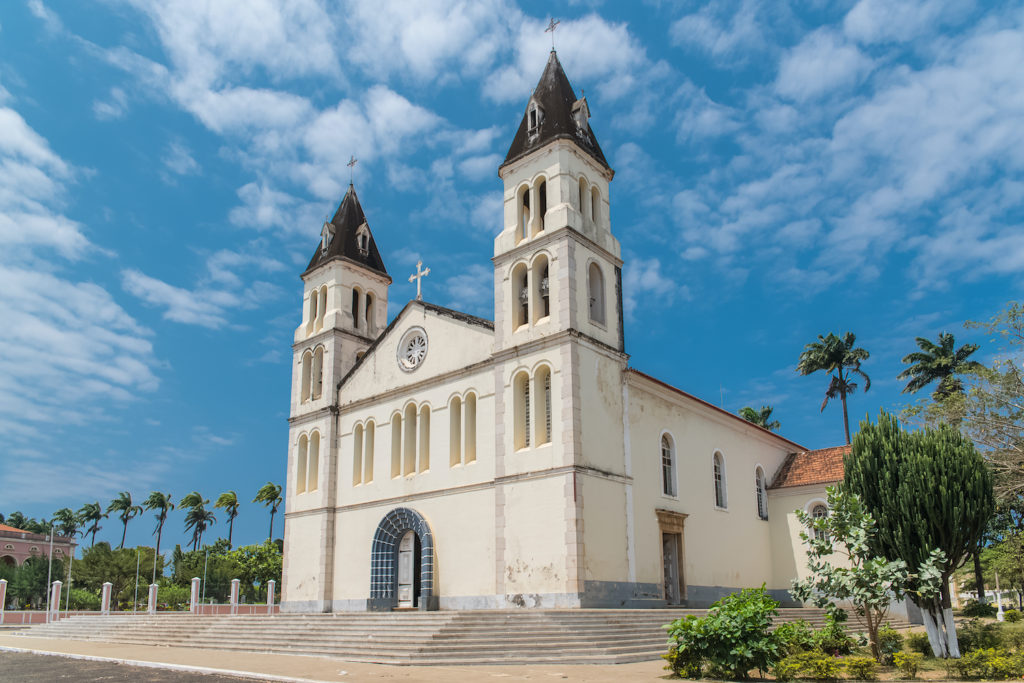 Today, the spacious interior has a beautiful frieze of simple blue-and-white tiles; one of the 200-year-old originals is kept in the sacristy, together with the valuable ivory crucifixes and silver liturgical instruments. More blue-and-white azulejos form a large fresco of the Holy Trinity above the main altar. It is said that under the altar lie the (transferred) bones of Ana de Chaves, a local noblewoman who died in 1566, giving her name to the bay just out front. The stained-glass windows are recent, as are the Stations of the Cross in bas-relief which came from Madrid, and the paintings of the Annunciation and the Sacred Heart of Jesus, from Braga in Portugal (1950s).
Museu Nacional
A must if you have any time in the city. Since 1975, the Museu Nacional has been housed in the striking cream-coloured former fort of St Sebastian, built by the Portuguese in 1576 on this strategic point to guard against the frequent French and Dutch attacks on the island.
The first room, displaying sacred art and liturgical garments, illustrates the continued presence of the church during the two centuries of decline between the sugarcane cycle in the 16th century and the beginning of the coffee/cocoa cycles in the 19th century. The niche between rooms one and two has a sandstone sculpture of the Virgin and Jesus with Sant'Ana, the island's female patron saint.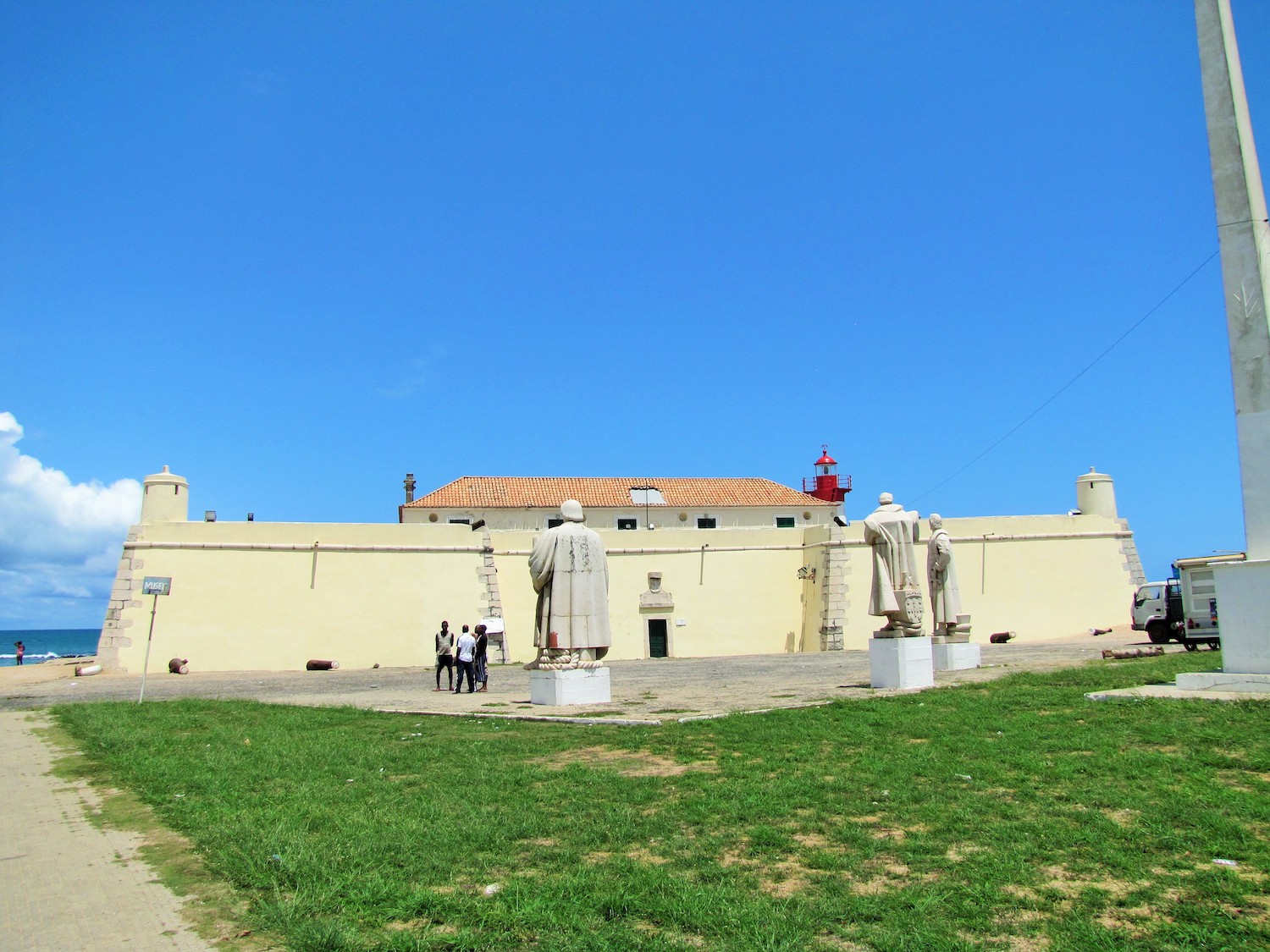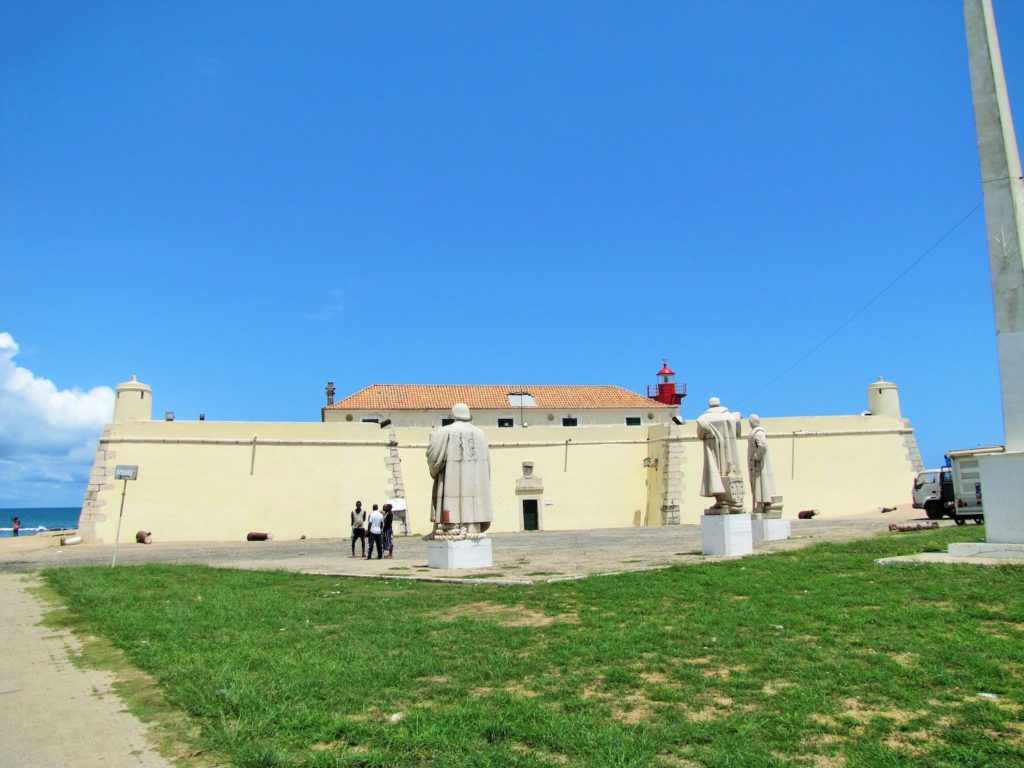 Also on display is a collection of impressive dark-wood furniture in the Indo- Portuguese style, originating from the pharmacy at Bombaim plantation. The agriculture room, dedicated to coffee and cocoa cultivation, has a portrait of João Baptista da Silva, who introduced coffee to Príncipe in 1800. A black-and-white photograph shows Santomeans' joy at the nationalisation of the plantations in the autumn of 1975. The turtle room has a lot of information on São Tomé and Príncipe's marine turtles, with ping pong balls not doing such a bad job representing turtle eggs. There is also a life-size reproduction of an ambulância leatherback turtle.
Claudio Corallo Chocolate Factory
Nearly half a century of passion and care about the exact calibration of the ingredients are much in evidence here, and new flavours and new products are continually being developed. The slight, grey-haired, Italian Claudio is passionate about providing a counterpoint to 'sick' industrial chocolate, where the beans are roasted to cinders and buyers are brainwashed into believing good chocolate has to be black and bitter.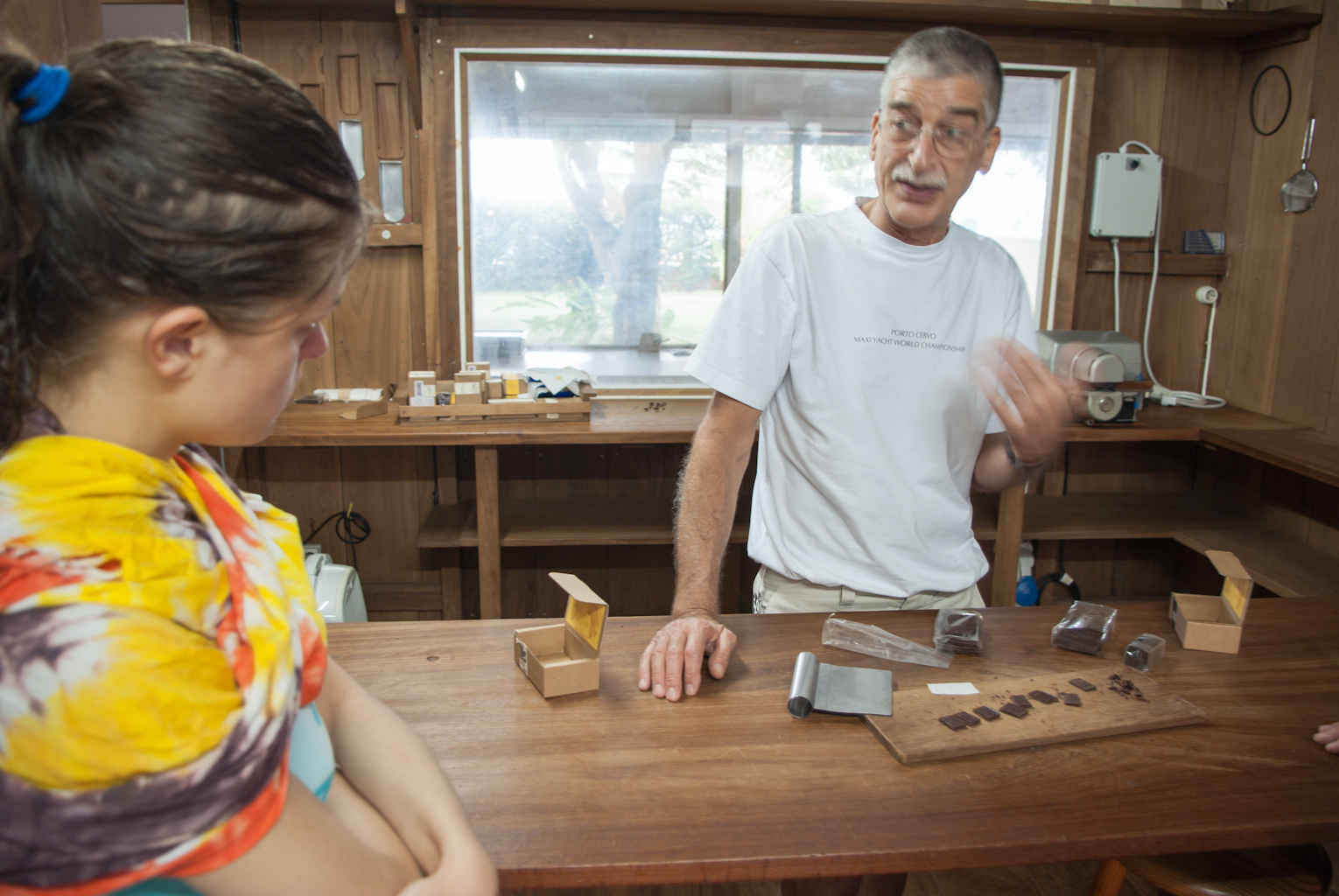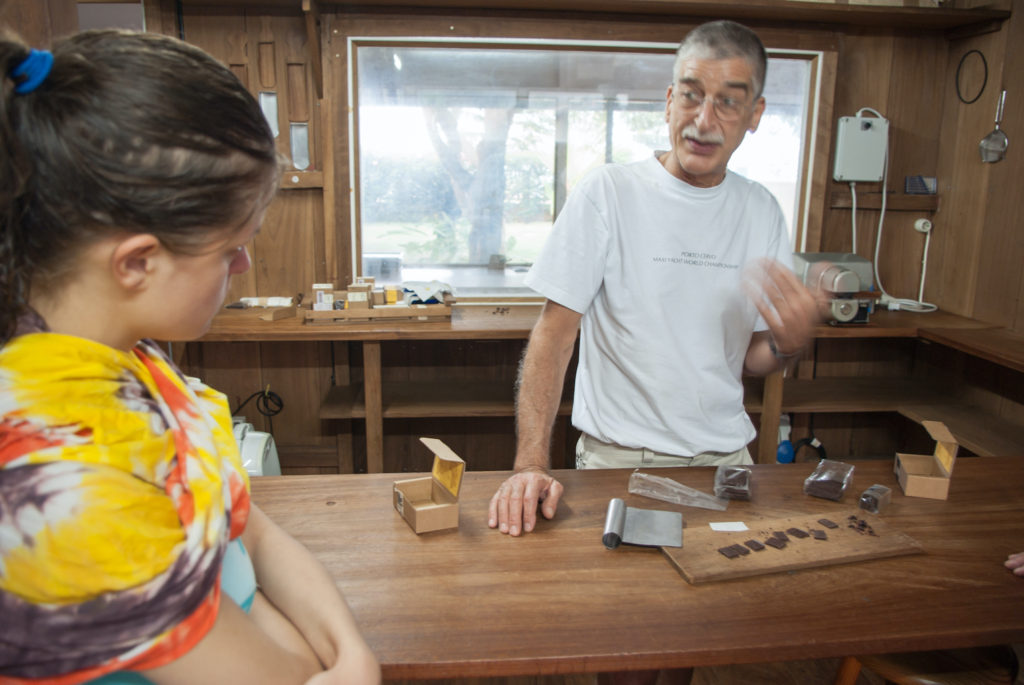 Fabulous in-depth tasting sessions of what has been called 'the best chocolate in the world', from their Terreiro Velho plantation on Príncipe are available here.
Praia Lagarto
Unlike in many other African capitals, it's clean and safe enough to hit the waves right in the city in São Tomé. Praia Lagarto (also known as Praia Maria Emilia – in practice a contiguous arc of sand that goes by two names) sits just opposite Omali Lodge between the city centre and the airport. It's a perennially popular spot for bathers in the city, especially at weekends. It's not the place to go for peace and quiet, but for a convenient afternoon splash and a slice of island life it's hard to beat. There are no facilities for bathers, but the terrace restaurant at Omali Lodge is worth a stop.
Santo António
The city is marked out by overgrown vegetation and a collection of dilapidated but pretty pastel houses slowly crumbling in the salty sea air. The appropriately sluggish Papagaio River flows along the southeast side of town, across which you'll find the massive, perpetually chugging diesel generator responsible for powering the city.
In the town centre, only the church, the government building and a handful of other pretty 19th-century colonial buildings found around the central square have been restored. Pay a visit to the new Centro Cultural opposite the Mercado Municipal, it has a library and offers a chance to meet ambitious and educated locals.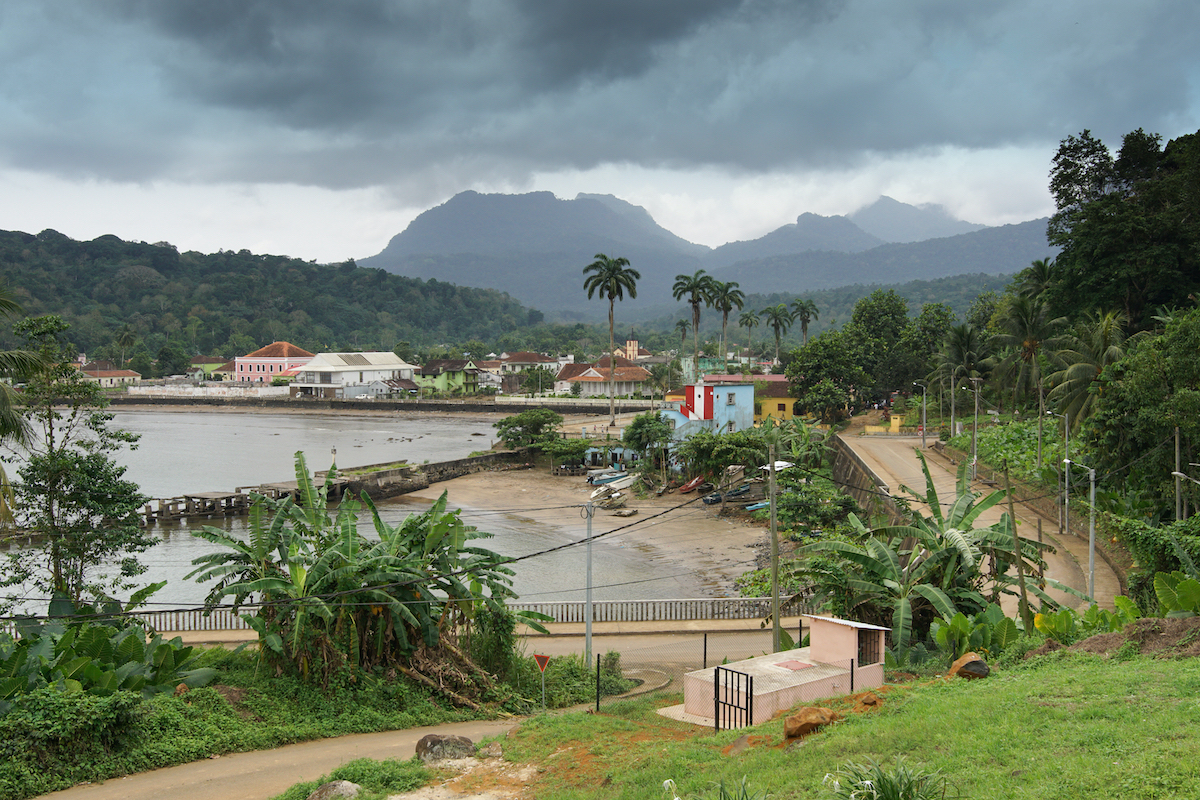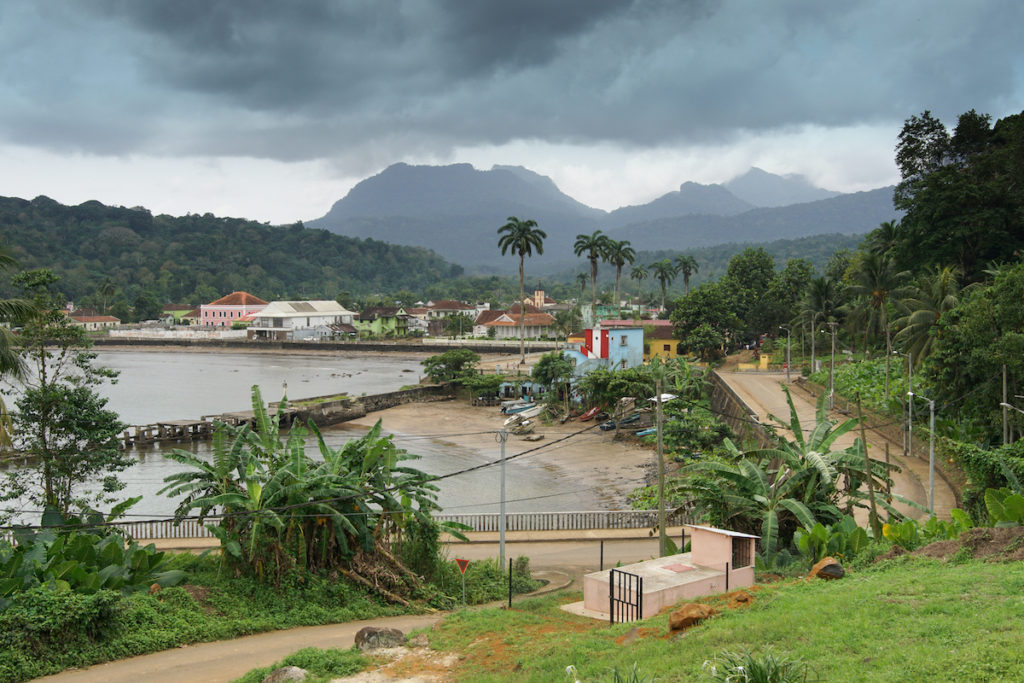 In the centre of town is the Nossa Senhora da Conceição church. Restored in 1940 and recently repainted, it has a light-blue wooden ceiling and yellow-painted walls. Look for the baptistery font when you come in and the beautiful stone-carved St Anthony to the left of the altar. On the square outside the church is a little stone pillar with a tile showing Santo António. St Anthony is the patron saint of the poor and helps ward off shipwrecks and starvation, and find mislaid items. Close by, at the cemetery, tamarind shrubs with bright red and orange flowers grow among the graves.
Outside the festivities around St Laurent's day in mid-August and other saint's days and public holidays, there is not a lot of entertainment here, but at Príncipe discotecas you can often find a good party, mainly at the weekend and mainly playing kizomba, zouk or kadence music. You have to rely on word of mouth to know where the festa is. On Saturdays there is sometimes a dance on at the plantations.
Given the size of the island and the central location of Santo António, no settlement on Príncipe is more than about 10km from the capital by road. It's therefore quite possible to explore (even on foot) using Santo António as your base, but owing to the paucity of public transport, the relatively high cost of private transfers, and the charm of the outlying roças, most visitors who can swing the expense will spend at least a night or two away from the capital during their time here.
Roça São João
For the past 25 years, João Carlos Silva has been a man on a mission: to transform Roça São João, the former slave trade hub of São Tomé, into a hub for culture, especially for countries sharing the Portuguese language. This is where the first Biennial was held in 1995, and artistic creation continues in the form of residences and other projects. Foodies should make a point of signing up for one of their cookery classes, which are a true farm-to-table experience.
A bit set back in the grounds, past the calabash trees and passionfruit hedges, is the former Hospital da Criação, which has spaces for art and music classes, and workshops where local girls produce woodwork as part of the Agarra a Vida and Roçamundo social projects. Especially when you're on your own, sensitive minds will feel the heavy history of a plantation hospital.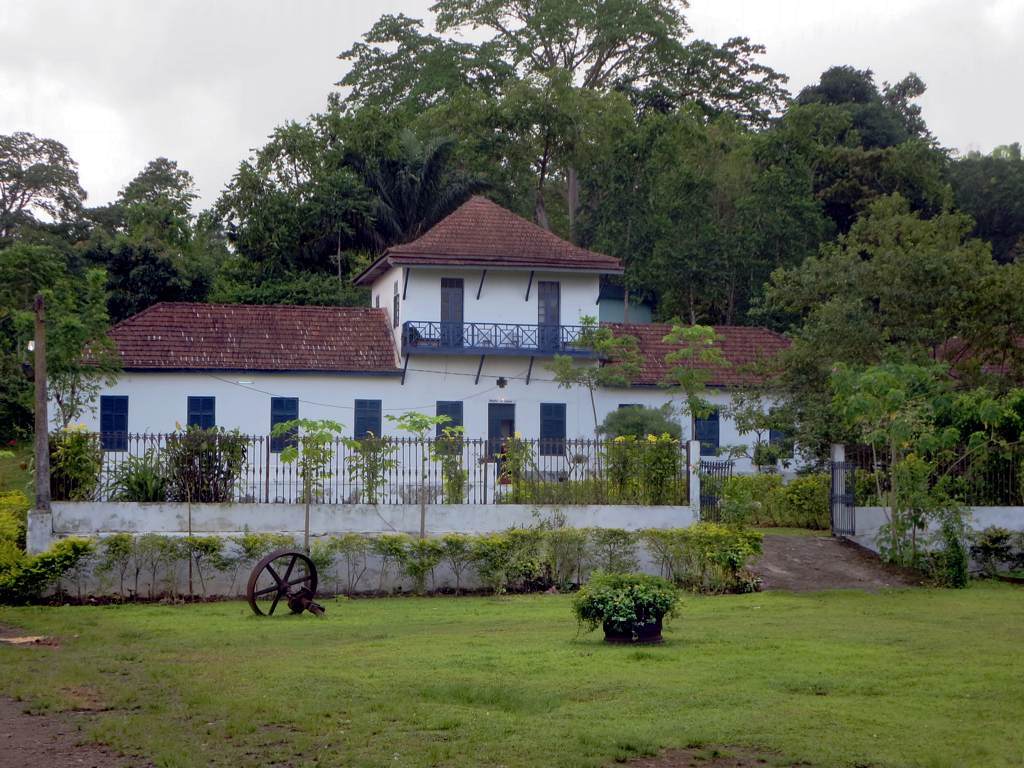 There are various guided nature trails that can be tackled on foot, bike or canoe (reserve at least a day before as there are no bikes on site); picnics cost €8–10, and a guide €45 per day. A band playing traditional bulawê music can also be organised (€60).
Birdwatchers can track down the rare endemic dwarf olive ibiswith friendly guide Zeca (though its habitat has shifted with the encroachment of oil palm plantations). You can spot other fabulous endemic birds, including: the São Tomé speirops, olho grosso; Newton's yellow-breasted sunbird, tsélélé; the São Tomé thrush, toldo and the São Tomé oriole, papa-figo.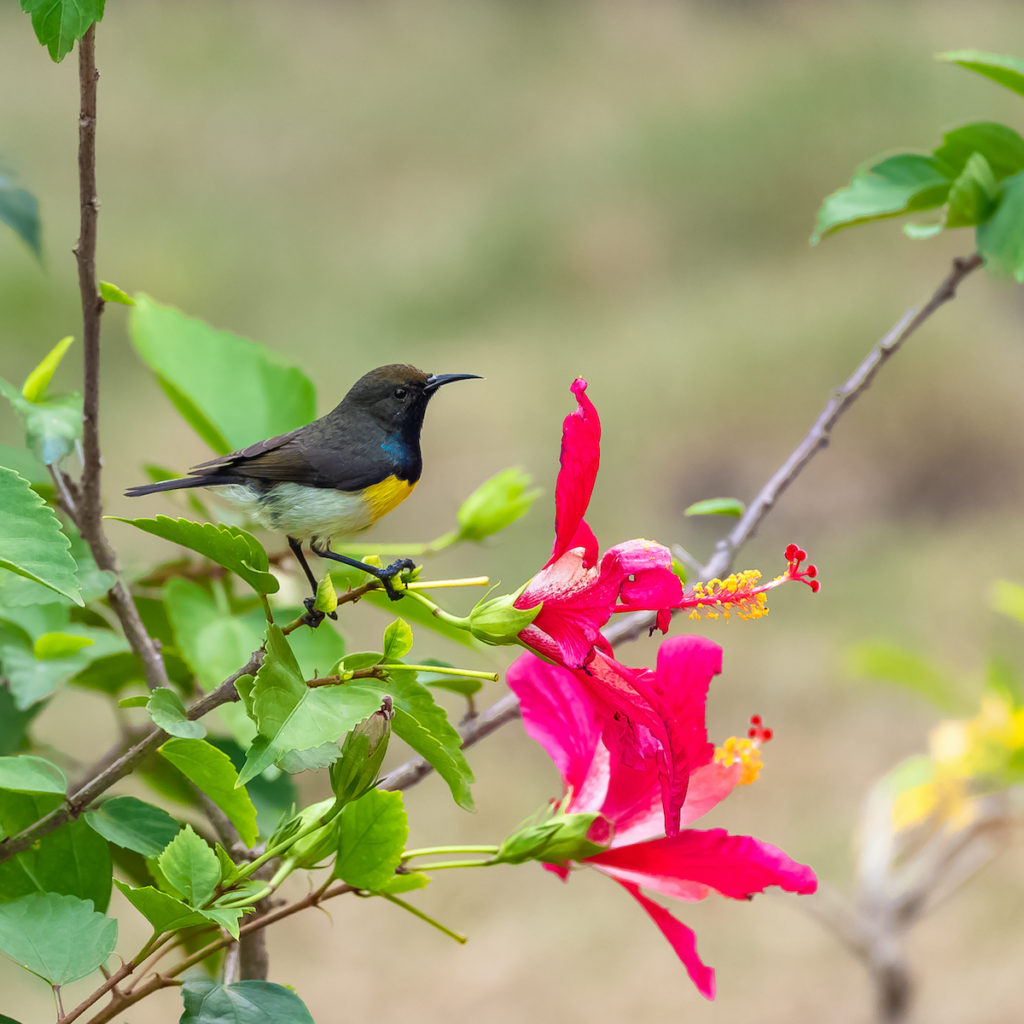 For most of the time, you are walking on the old Bombaim road (a 12-hour walk in total, requiring camping; if you fancy it, a guide can probably take you with advance arrangement), passing the palm wine seller's place, marked by cut-off plastic bottles upended on sticks, and the abandoned plantation of Vale do Carmo. Zeca can also take you on a giant sunbird mission to Dona Augusta and around the peaks of María Fernandes or Cão Grande. A guide for this trip costs €20/40 for a half/whole day. There is a waterfall 30 minutes' walk away, but it's only worth a visit in the rainy season. Fortunately, the guide can take you to local swimming beaches instead.
Porto Alegre
At first glance there's nothing much in this very poor fishing village of fewer than 1,000 souls to detain you; consequently, most visitors to São Tomé just drive through on the way to the beaches and accommodation further along: N'Guembú, Praia Inhame and Praia Jalé. However, it's worth a look if you have the time – there are now a couple of accommodation and food options in town, along with some interesting colonial buildings and ruins to take in.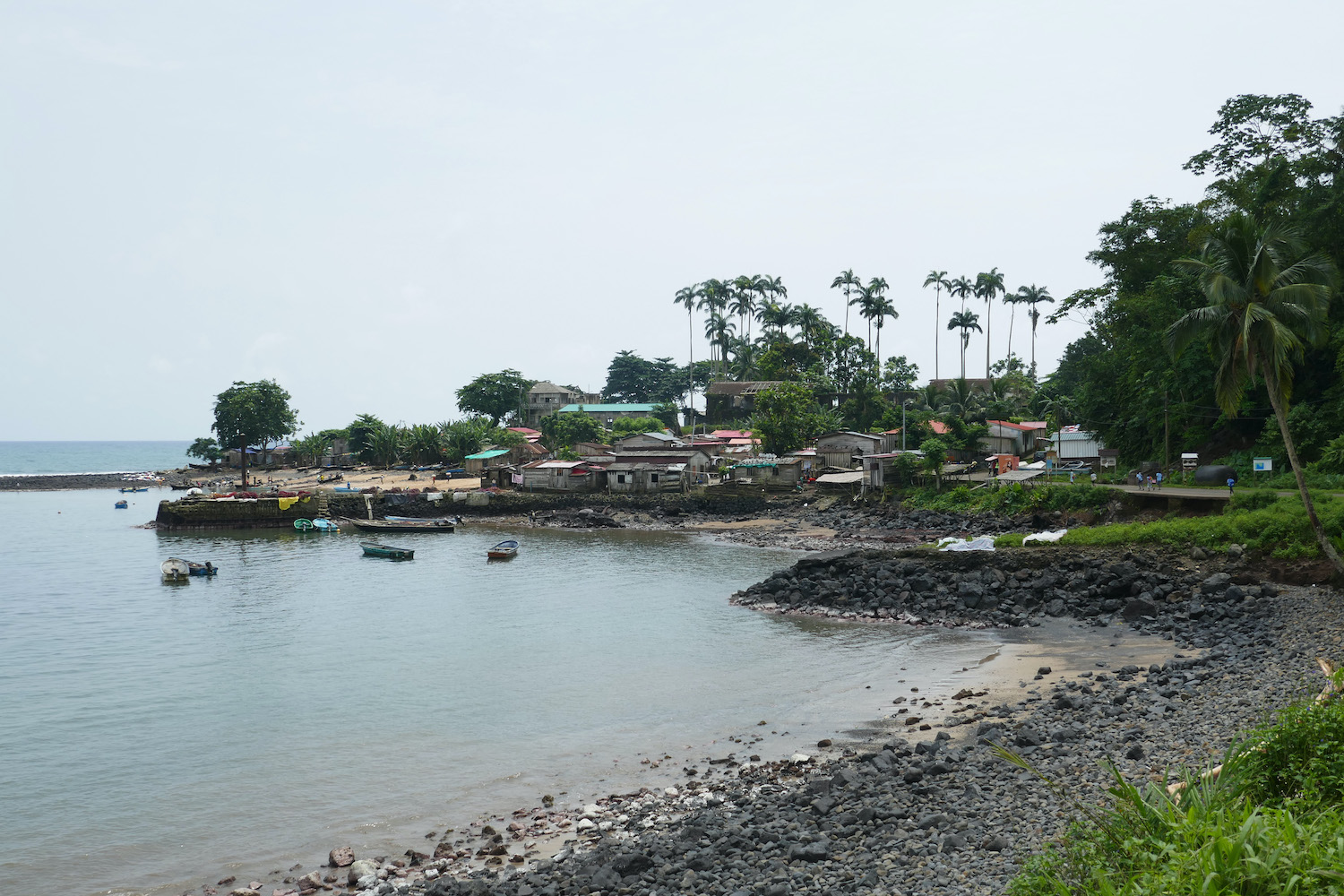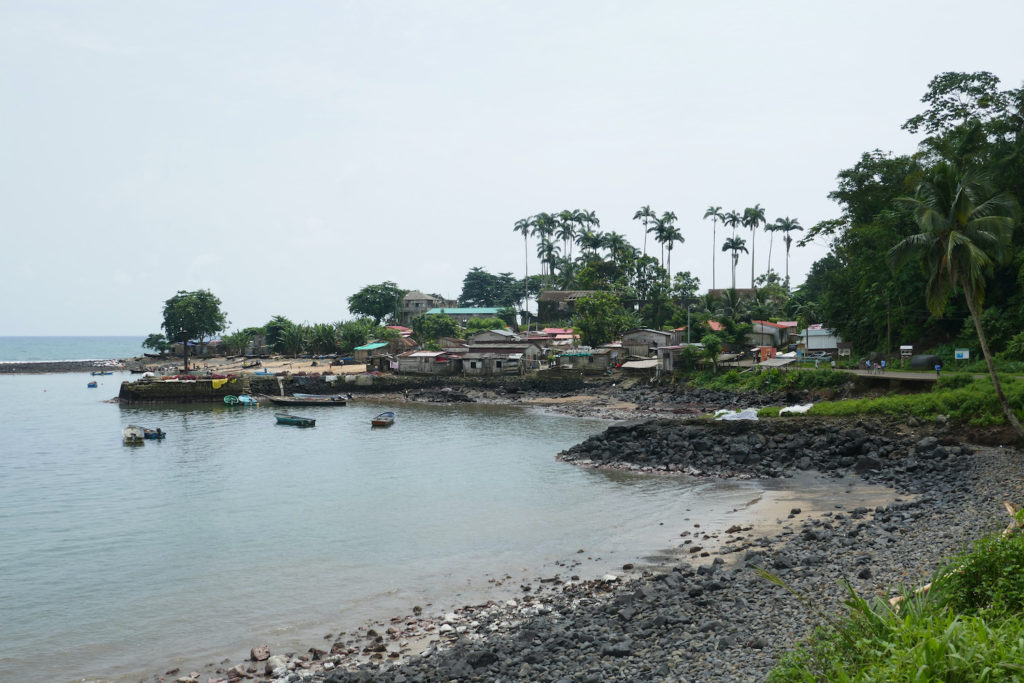 On the way into town from Malanza, look out for the roadside panels with portraits telling the stories of local artisans, healers, craftspeople, and fishermen (in English and Portuguese). These are part of the Histórias do Sul (Stories of the South) project from Portuguese organisation Leigos para o Desinvolvimento, giving a face to the inhabitants of these Angolar fishing villages too often just passed through by tourists on the way to the beach hotels beyond. Interested visitors can also stop into the primary school, which is happy to receive visits (ask for Dona Arminda). Donations of school supplies are gratefully received.
A guide can be arranged to show you around, but if you just wander about somebody will usually materialise, people are very friendly and appreciative of the interest.
Goats hop among the ruins and abandoned farm machinery, with the disused brick chimneys providing a compelling backdrop. The most impressive building in Porto Alegre is the big white New Apostolic church up on the hill, and it's a pleasant stroll up here for views back over the town. You can just about make out the date (1935) on the tall red-brick chimney above the former soap and palm oil plant.
High up on a bluff on the other side of the bay sits the old governor's house, Casa do Governador. It is privately owned and not open to the public, but you can take a pleasant 30-minute walk up here for a good view over the town and the bay.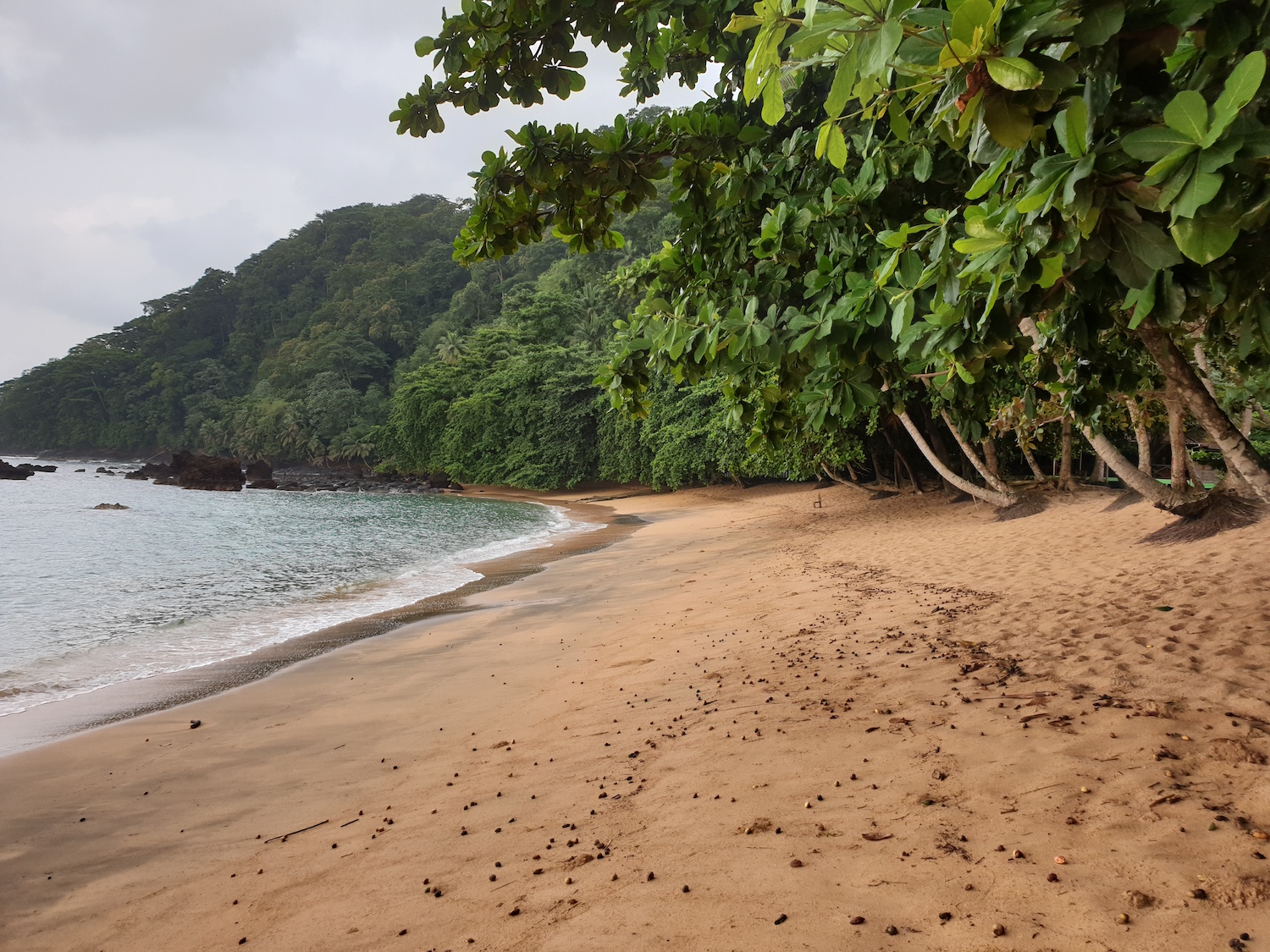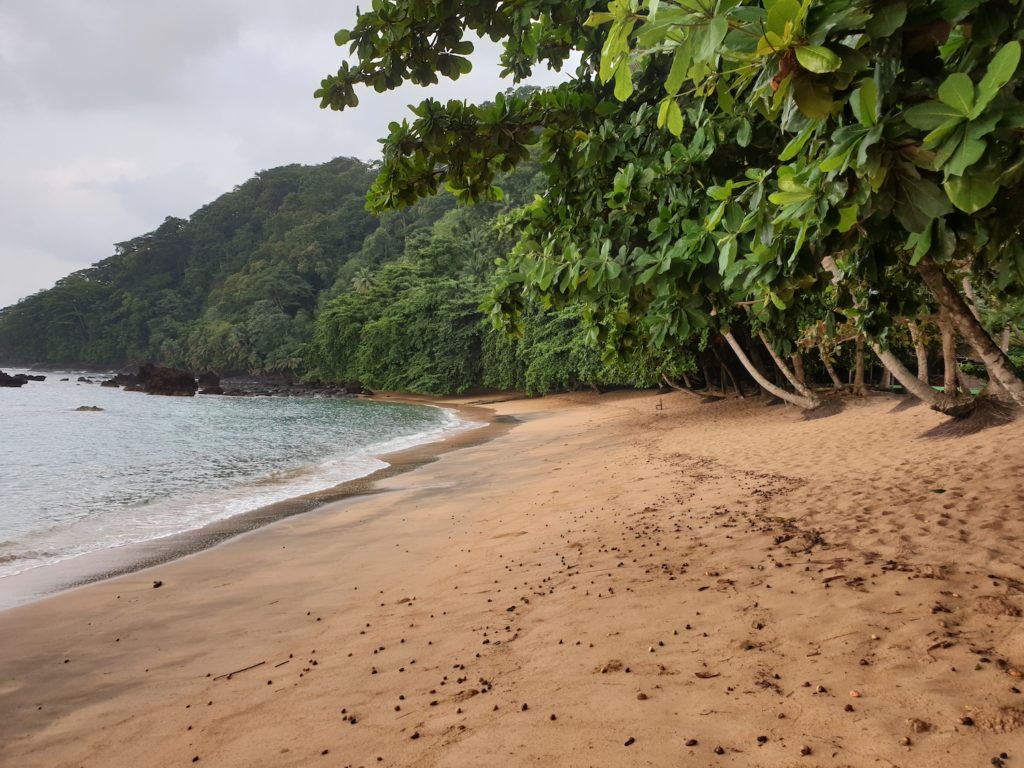 To find it, leave Porto Alegre on the coast path leading towards Praia Jalé; 5 minutes after passing the sign for Praia Jalé a gentle path leads up to your left. Continuing along the coast track towards good swimming beaches, you're likely to meet a fisherman with his colourful daily catch dangling from his harpoon, or a palm wine tapper working high up in the trees. A local fisherman/diver should be able to offer snorkelling trips.
Obô Natural Park
Primary forest (obô) still covers about a quarter of the islands, and the Obô Natural Park was established over 300km2 (on both islands) to protect this sensitive and species-rich habitat. (You may note, that depending on the source, Obô is referred to as either a 'Natural' or a 'National' park – Natural is the official name, but the park's function and conservation status is no different to what would more commonly be called a national park.)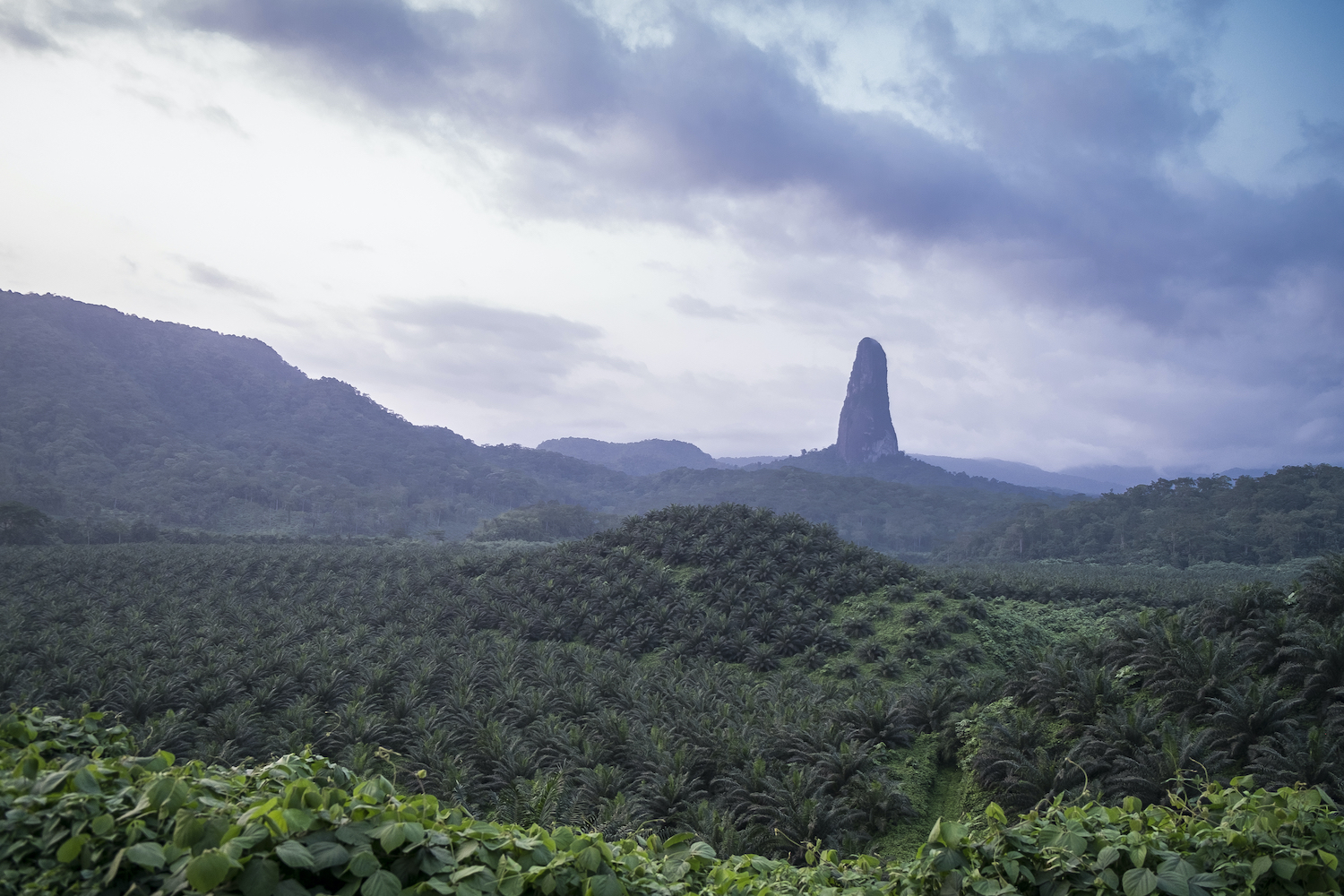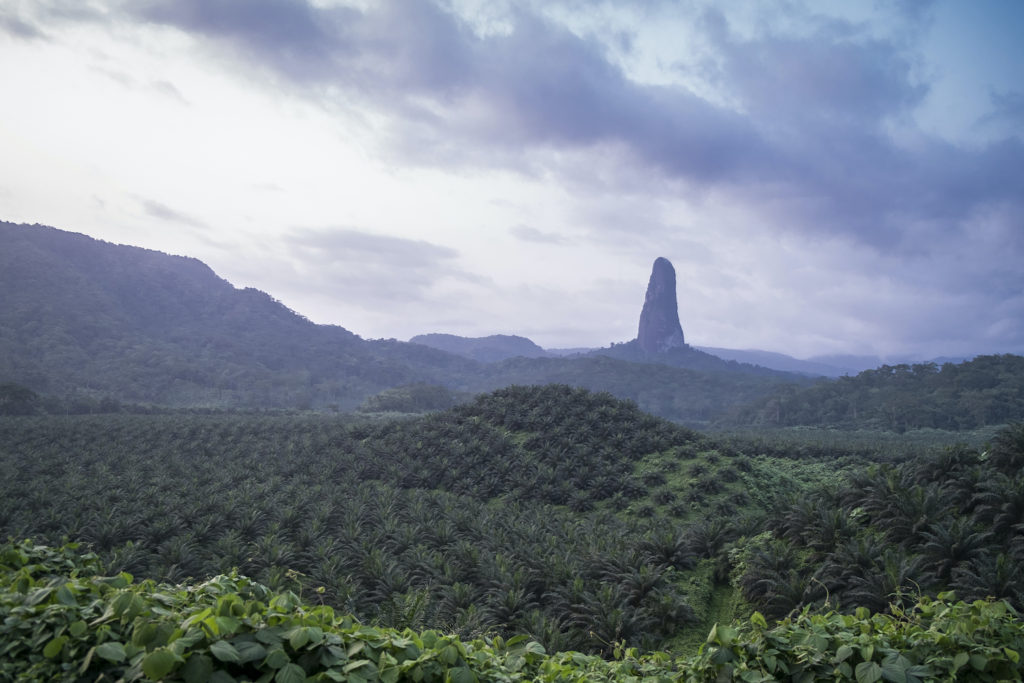 Containing populations of every endemic species, this type of forest is now restricted to small areas in southwestern and central São Tomé.
Hike from Bom Sucesso to Lagoa Amélia
Bom Sucesso is a relaxing, if basic and not particularly easy-to-organise base where you can really feel close to nature, as well as an excellent starting point for walks in the Obô Natural Park: the most popular is an easy walk to the dried-up crater lake of Lagoa Amélia. In theory, you could do this walk on your own; however, taking a guide not only enhances the experience – learning about the trees, plants and birds you encounter on the way – but also supports the local economy.
After about half an hour's walk, you enter the Obô Natural Park, its wooden marker sign fallen down. One of the aims in creating the park in 2006 was to stop agricultural land from encroaching further on the important forest habitats around the crater lake.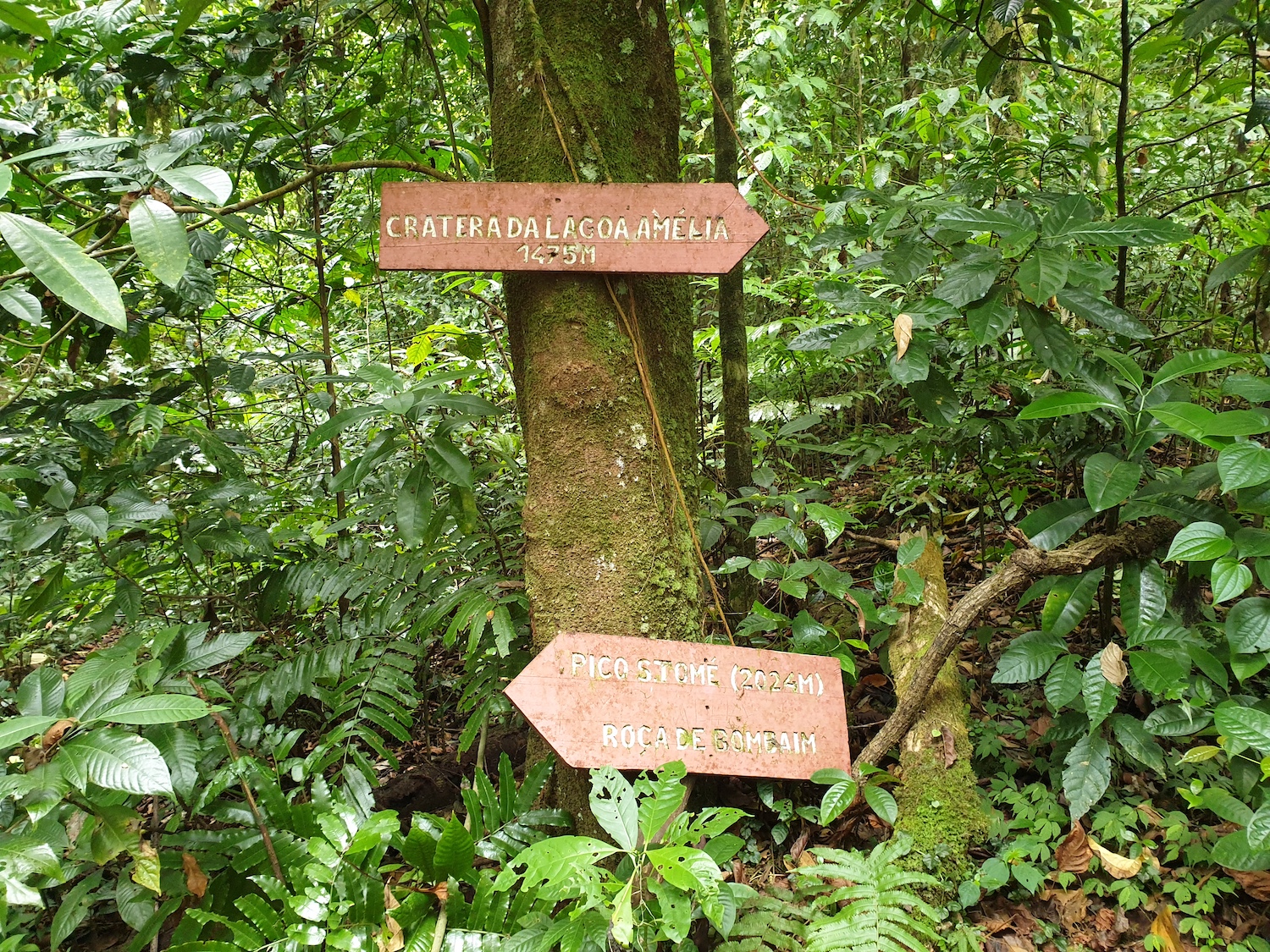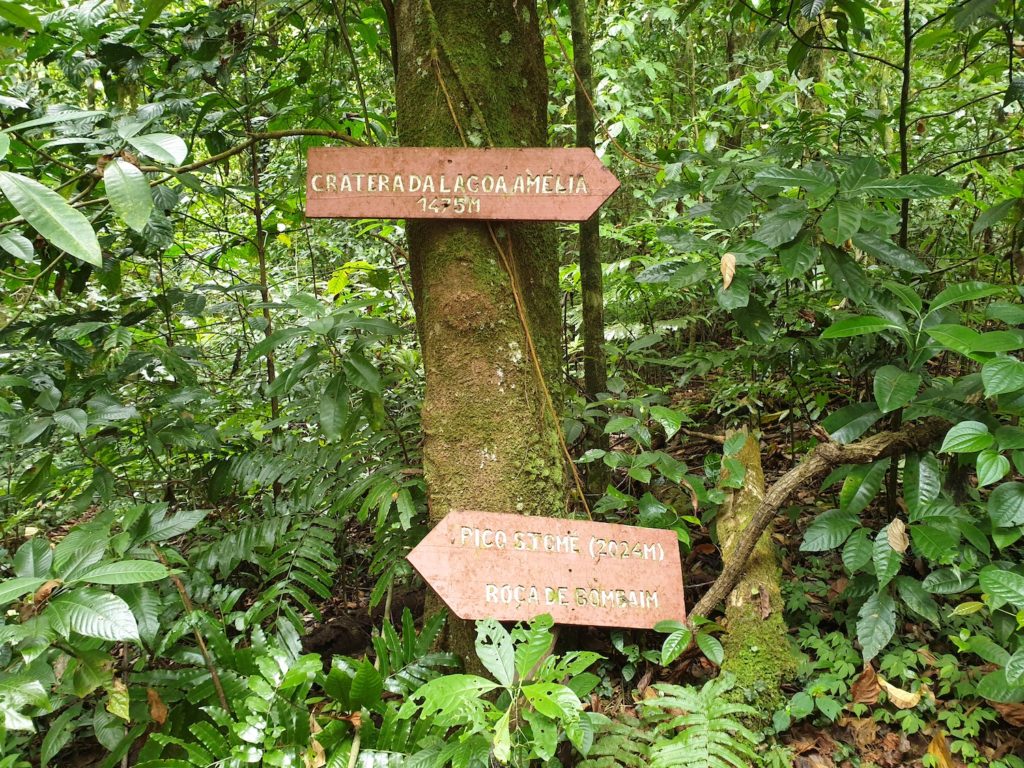 Continuing up, the path is strewn with beautifully coloured leaves, jasmine-scented kata de obô flowers, and discarded monkey nuts; ask the guide to point out the most distinctive trees, such as the cubango (used to ward off the evil eye), for instance, or the quebra-machado, whose 'machete-breaking' wood was used for railway sleepers in colonial times. The mussiníca tree, also known as the African stinkwood, is believed to cure prostate cancer – you'll notice they are often missing bark for just this reason. Most of the identification plaques have fallen down or are covered in moss.
Take your time exploring, as the beauty of this walk lies less in the Lagoa itself as in the rich bird-and plant-life encountered on the way; it might be a good idea to make clear early on that you will be stopping frequently. Apart from the common endemics, such as the tomé-gaga paradise flycatcher, ask your guide to look out for the maroon pigeon, the São Tomé scops owl, the giant sunbird, the São Tomé oriole, with its soft plaintive song, and the São Tomé white-eye.
'Amelia Lagoon' itself is not a lake anymore, but a filled-in crater surrounded by trees and giant begonias. There is a sign asking you not to step on the spongy grass, topping a 3m layer of rainwater, which most visitors ignore, of course. Your guide will tell you the sad story of how Lady Amélia met a sticky end here, and treat you to a performance with a long wooden stick to show you the depth of the swamp. This is the best place to see the giant begonias in situ, well worth the steep descent. You may see some São Tomé spinetails flitting across, hunting flying insects.
Ilhéu das Rolas
Set just off the southern shore of São Tomé, the 2 km2 Ilhéu das Rolas (Rolas Islet) is famous for its equatorial location, and was formerly known as Ilhéu Gago Coutinho, for the Portuguese naval officer who first proved that the Equator indeed crossed the island in 1919. If you want to just stand on the Equator mark once in your life, Rolas can be visited on an organised lunch trip, but for relaxation and to really enjoy the island, two to three nights are ideal, longer only if you are a keen diver.
When the resort was built in 2000, the Angolar villagers of São Francisco had to move, receiving some compensation. Later, the new owners Pestana Group tried to entice the villagers to leave the island entirely, but there was some resistance and criticism of the low level of compensation offered. The state has subsequently moved the school to Porto Alegre, but Pestana has since provided the village a generator, water, medical support, school transport, etc.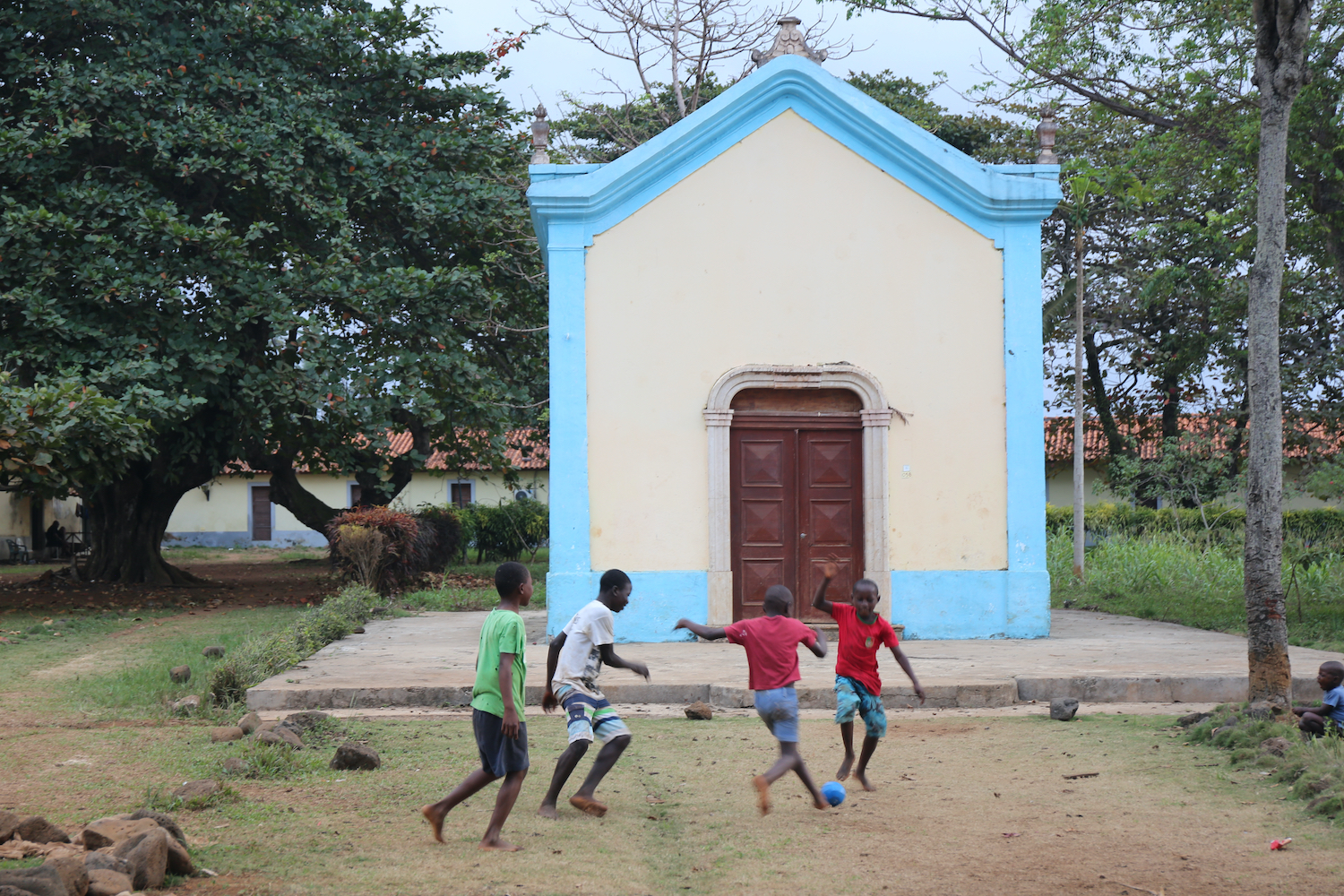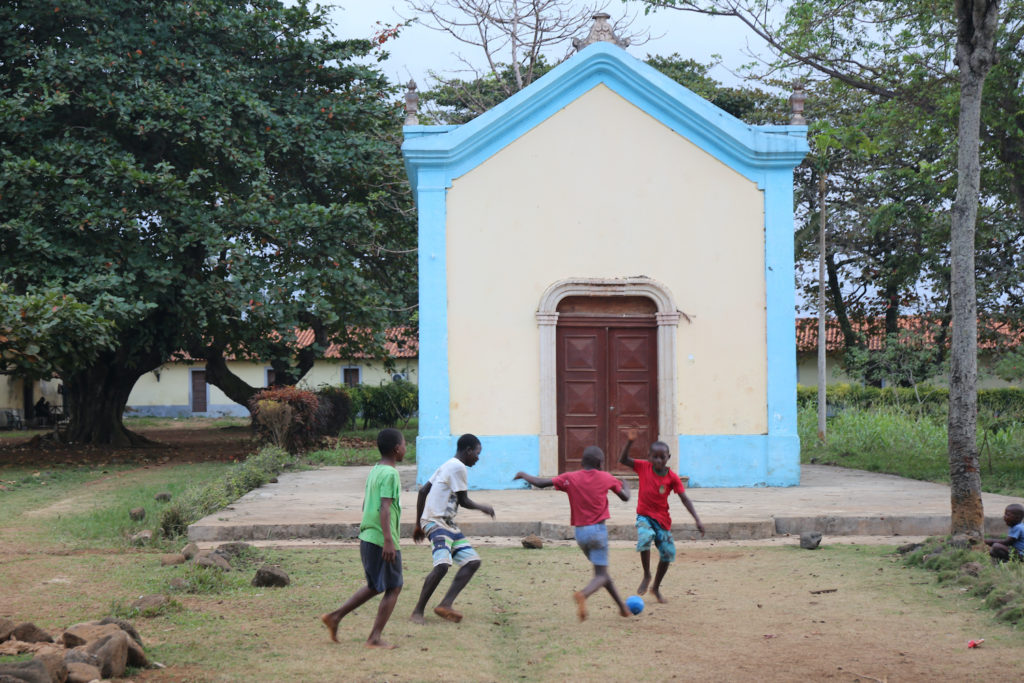 There was another recent drive to get the remaining 150 villagers (who are not really welcome to enter the resort by the way) off the island amid escalating conflicts about loud music. Resort jobs are still sought-after locally, despite a waiter here earning only the minimum wage of about €90 a month. Look out for the little chapel dedicated to St Francis, to the right of the pier, when you arrive.
Beaches and snorkelling
The best beach on the island is Praia Café, a 10-minute walk from reception across the staff area and past the Praia Pesqueira fishing beach with a beached, rusty wreck, where you can make friends with the local kids, especially if you're willing to share your snorkelling mask. There is lovely sand and good shade here, with waters glowing turquoise in the sunshine. Snorkelling yields sightings of various colourful fish (asma preto, bolião, caqui, garoupa), with the occasional turtle or moray eel on the little reef to the right.
According to the locals, the next beach along, down from the abandoned cemetery, Praia Pombo, is also good for snorkelling. Hiring a mask, fins and snorkel cost €10 a day right on the beach from a local, Wilson. Praia Marinho, also on this stretch, is a turtle beach. A volta à ilha trip round the island of Rolas, stopping for a snorkel at Praia Xinha (also some turquoise waters there) is offered free to guests every other day by the resort.
Walking trails
There are several walks you can do, and the island is criss-crossed by a number of little trails cutting through the dense forest of coconut palms, but it is quite impossible to get lost. The resort tidies up more than 20km of trails around the island, and you can pick up a photocopied map from reception. If in doubt, just plough on straight until you hear the sound of waves. You will hit the path going around the island; following that in either direction will get you back to the resort.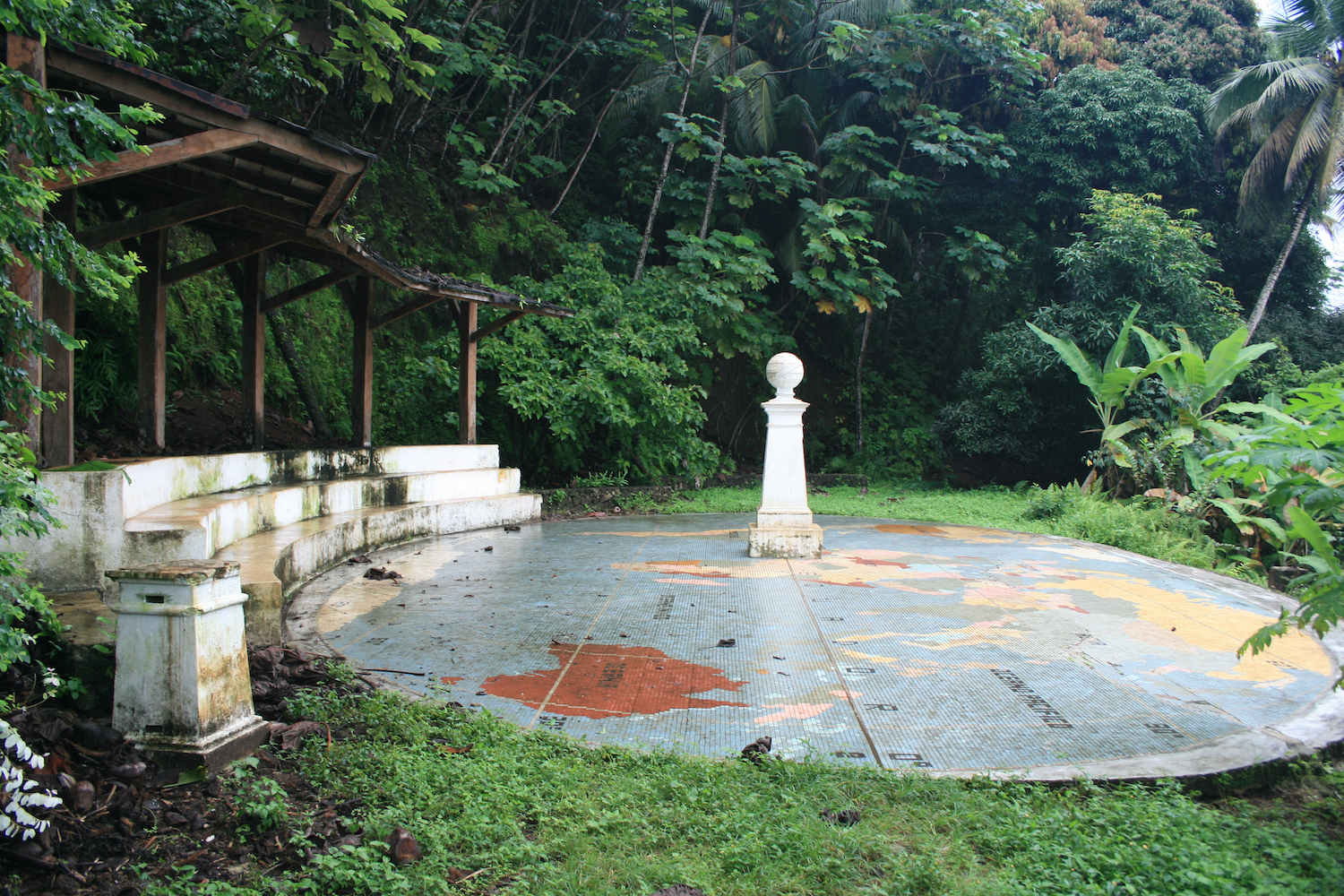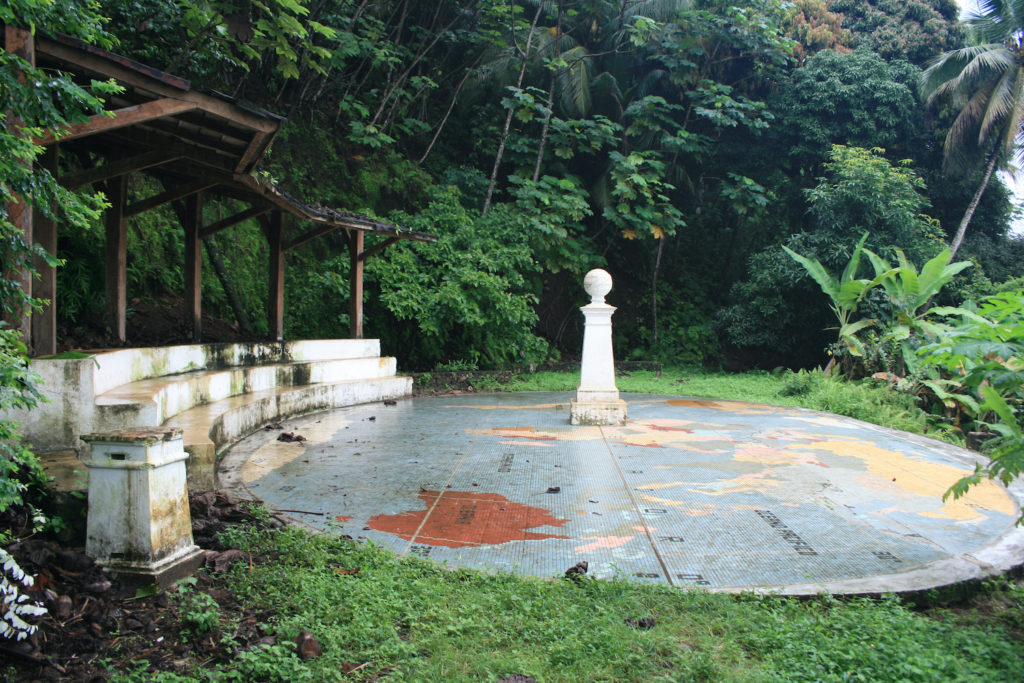 Guided walks are offered free of charge to guests at 09.30, otherwise €6. They are very knowledgeable, and will show you all kinds of medicinal plants, ferns and trees along the coast trail, leading past blowholes and steep rocky cliffs. (The only issue for non-Lusophone visitors is a recurrent one in STP in general: none of the guides speak English.)
Diving
Diving off the island reveals an undisturbed underwater world of snappers, sweetfish, stingrays, octopus, sea horses, turtles, fan coral, moray eels, sea slugs, and more. There are plenty of surprises for those who haven't got a fixation with the big fish. Sharks are visible, but are not guaranteed on every dive. Whales have passed by occasionally. There are fewer colours than in the Caribbean; visibility is also not perfect, and the open Atlantic brings a strong swell.
Since 2019, the Portuguese-run Dive Tribe has been offering the full range of diving services in association with Pestana. They get excellent reviews from divers, and offer night dives, snorkelling with turtles (in season), and whale watching (in season).
Ilhéu das Cabras
The oldest part of the archipelago is Príncipe, which has been reliably dated to 31 million years. Volcanic activity stopped earlier here than on São Tomé, some 15.7 million years ago; the island is much more deeply eroded, resulting in spectacular phonolitic rockscapes on a small surface area, seen particularly well along the southern coast. The oldest exposed rock on São Tomé is the Ilhéu das Cabras (Goat Island) off the northern coast of São Tomé, at some 13 million years of age.
The most recent dated volcanic rock, the basaltic cinder cones, mainly in the southeast of São Tomé, only formed around 100,000 years ago. The fact to remember to impress your friends is that São Tomé and Príncipe are respectively three and six times older than the oldest Hawaiian and Galapagos islands. Boat, snorkelling and diving trips, and possibly kayak excursions, go out to 'Goat Island', so don't miss a chance to explore the oldest exposed rock on the island.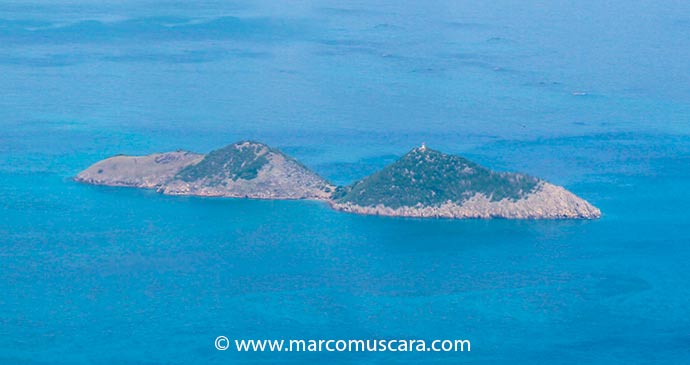 An aerial view of Cabras island, São Tomé and Príncipe © Marco Muscarà
There are plenty of good dive sites dotted around the coast of São Tomé as well as near Club Santana and Ilhéu das Rolas, just off the southern tip of the island. Príncipe has less human intervention and even fewer fishermen, trawlers and dragnets disturbing the marine fauna and flora of the shallow littoral than ST.
At night, with the coral flowering, it turns into a garden. However, there is no dedicated diving infrastructure here yet, as the big player, the HBD company, are taking the cautious approach and will not offer diving without the presence of a decompression chamber.
Bom Bom Island Resort
It also boasts the distinction of being the first hotel in Africa with the Biosphere Responsible Tourism certification – their 'Water & Recycle' project collected 100,000 used plastic bottles in four days, exchanging them for 2,000 aluminium ones. A very photogenic wooden walkway connects Ilhéu Bom Bom, where the restaurant, bar and marina are found, with the bungalows and pool area on mainland Príncipe.
Around the island there are beautiful rock pools with different ecosystems hosting coral and an array of small tropical fish. Around the pier, yellowtail sardinella/goatfish (grey with yellow) can frequently be seen. At night-time, watch you don't step on the large land crabs, with a span of up to 20cm.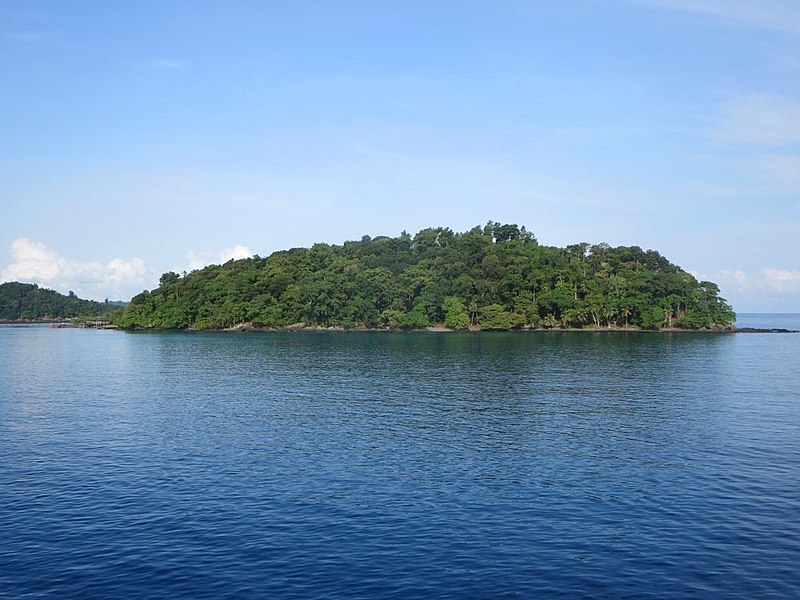 Maybe understandably, some tourists never make it out of Bom Bom, but considering how far out you've come, it would be a shame not to spend a leisurely half-day at least looking around Santo António or the plantations, organised through the resort or by yourselves.
If you're staying at budget accommodation in Santo António, you can still treat yourself to a day or just dinner at the Bom Bom Island resort. Entry to the resort is subject to the right of admission. The day use fee (€85) buys you entrance and access to a bungalow for the day. Budget travellers wanting to get to the resort for some early-morning birdwatching or to spend the day there can only visit at management's discretion; costs for a car service from Santo António or other plantations range between €10 and €20.
There are a wealth of activities that can be organised through the resort. You can go snorkelling and dolphin watching, take a workshop in nature photography, kayak to a fishing village, go gorge swimming, take a (seasonal) turtle trip, or enjoy rainforest and coastal walks. Take note that the trail around Ilhéu Bom Bom, while short, is overgrown in parts and has some steep bits – ask for someone to accompany you if you're not fully surefooted.
It's also possible to join an excursion to some of the island's plantations, such as Ribeira Izé with its ruins of a 400-year old church, or a working roça tucked-away among huge oká trees.
Birdwatching
The resort is a great birdwatching base. Both blue-breasted and white-bellied kingfisher can often be seen flitting around the compound. An early morning walk before breakfast is the easiest way to encounter many of the island's endemics.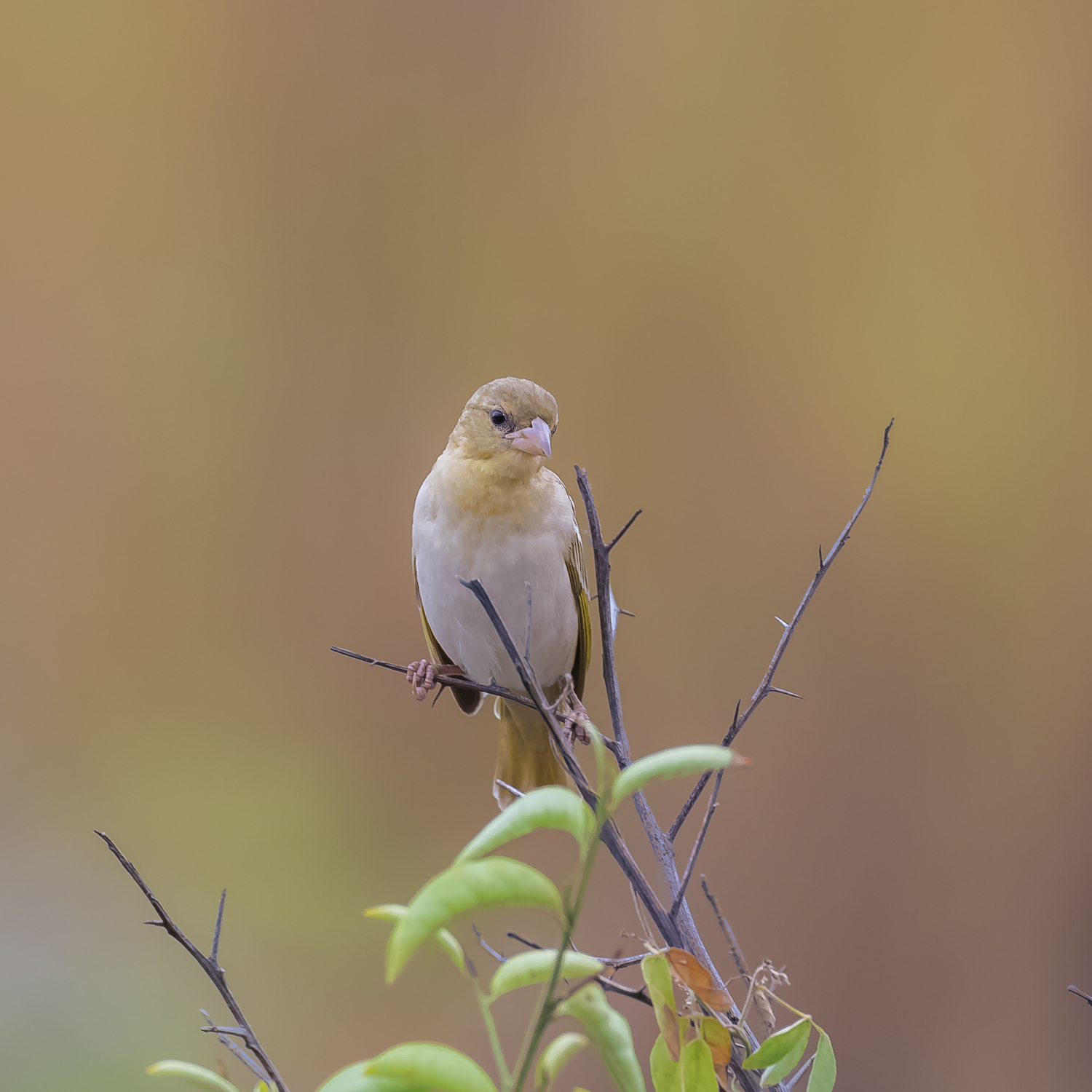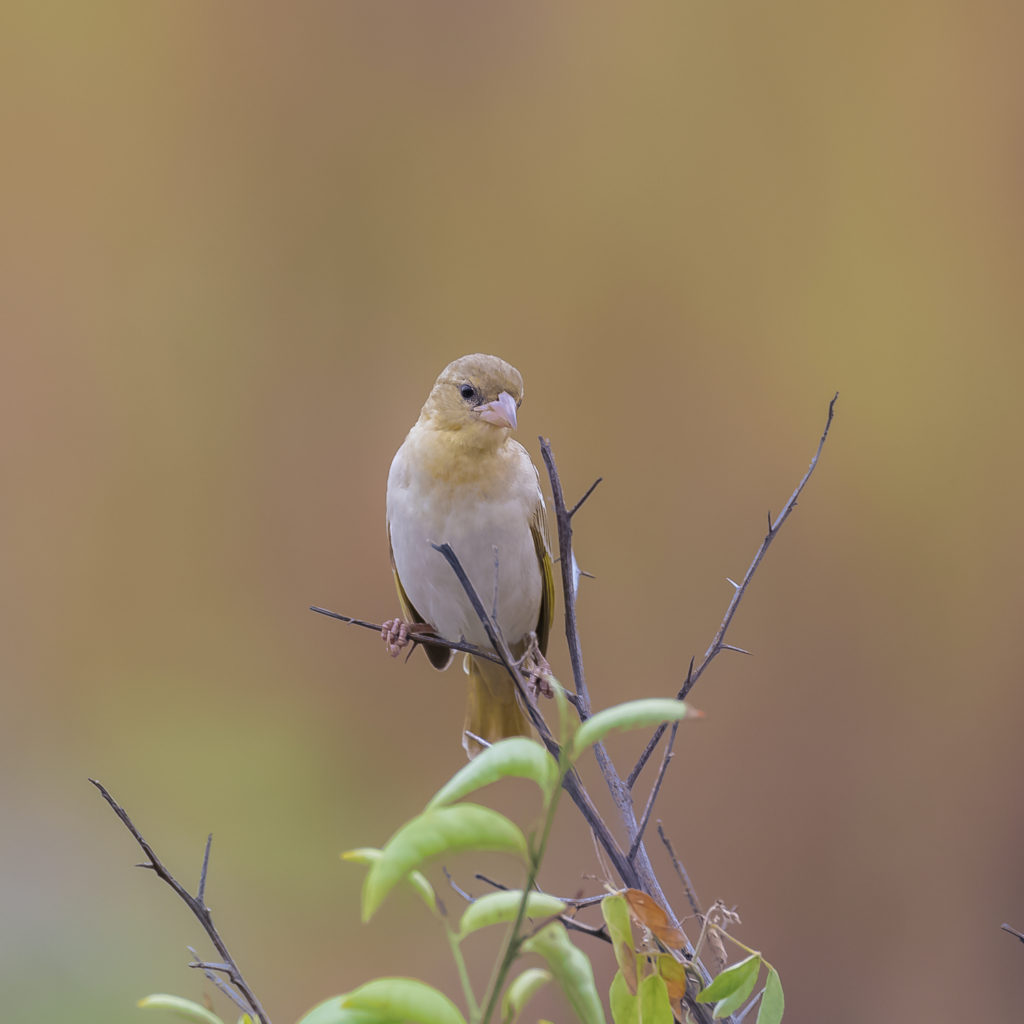 Species that you may see include: golden weavers, Príncipe starlings, bronze mannikins, Príncipe drongos, and Dohrn's thrush-babblers (some of the most vocal birds on the island). Don't forget to look down, too, for the fascinating Príncipe blue-speckled mudskipper ('walking fish') that might be stretched out on the ground eyeing you up.
Boat trips
All year round the resort has boats available to visit beaches (the most popular being Banana Beach, 25 minutes away) or for whale or dolphin watching – though sightings are not guaranteed. Depending on the weather, the experience can be very different.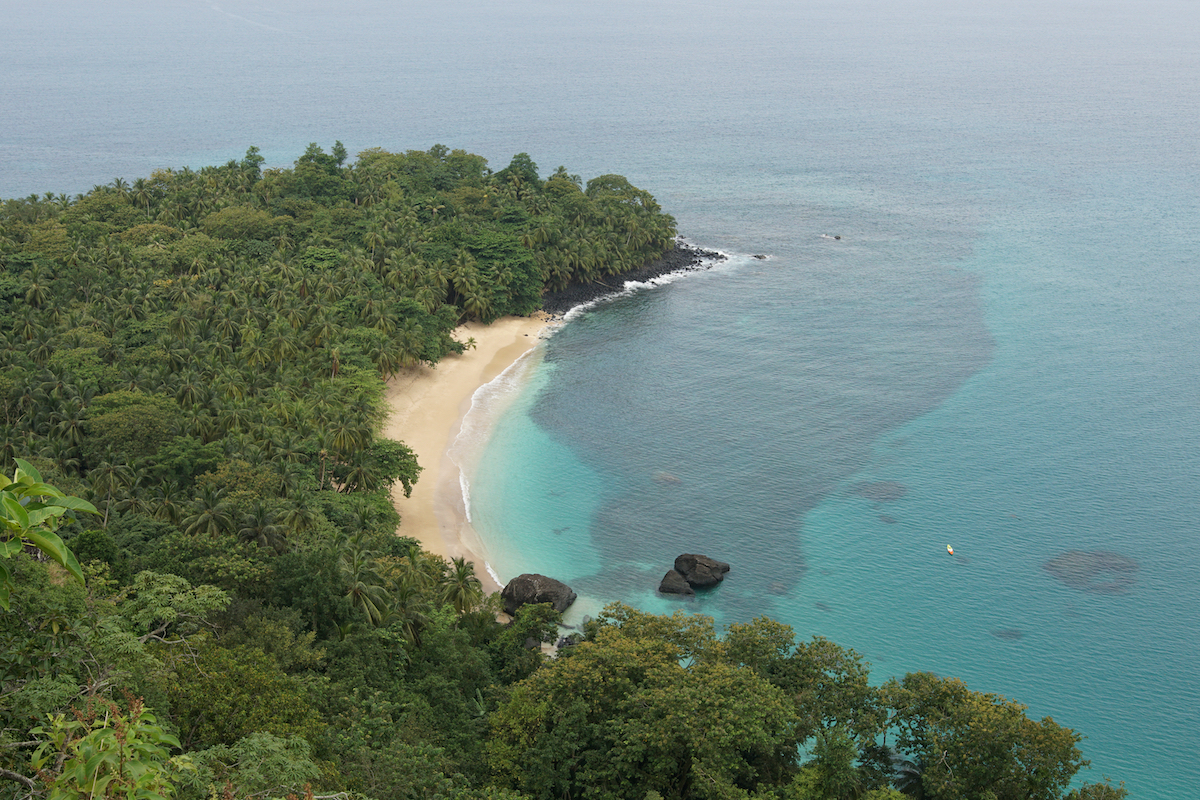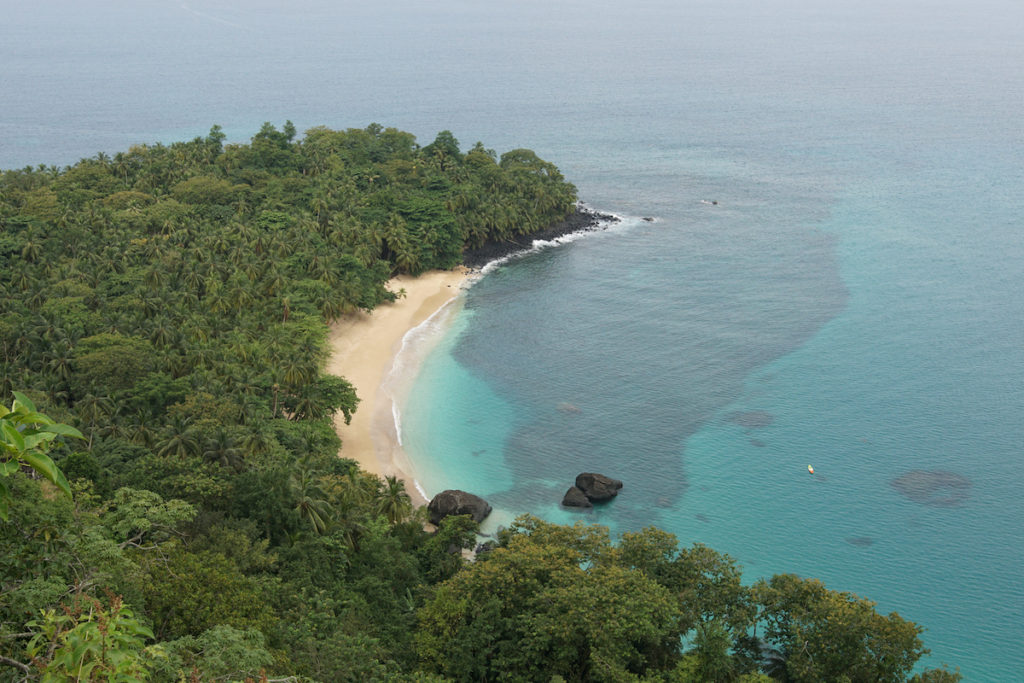 Flying fish will be your constant companions, propelling themselves out of the boat's path to whir across the waves for up to 300m. Ruffled brown boobies sit on the Pedra da Galé offshore rocks, and you might see storm petrels on the way to the Ilhéu dos Mosteiros – the islet has a navigational light and sits just next to a small group of rocks popular with nesting noddies and tropicbirds. For a fun photo, strap yourself into the marlin-fighting chair. If you're not staying at the resort but would like to take a trip, consider asking around to find other travellers to share with to bring the price down.
Diving
An average water temperature of 26°C, average visibility of 20–30m (clearest December to March) and excellent dive sites only a 20-minute boat ride away make the Bom Bom Dive Center a great diving base. While beginners can take advantage of calm waters, experienced divers can go down to a depth of 30m. Single dives go for €75 each, with discounts for two or more. PADI certification courses are now available for €450.
Snorkelling
Hiring a mask, snorkel and fins is free for guests and included in the day visitor's rate for non-residents. On the Praia de Santa Rita beach, check out the reef to the left, where you can see West African butterfly fish and parrotfish.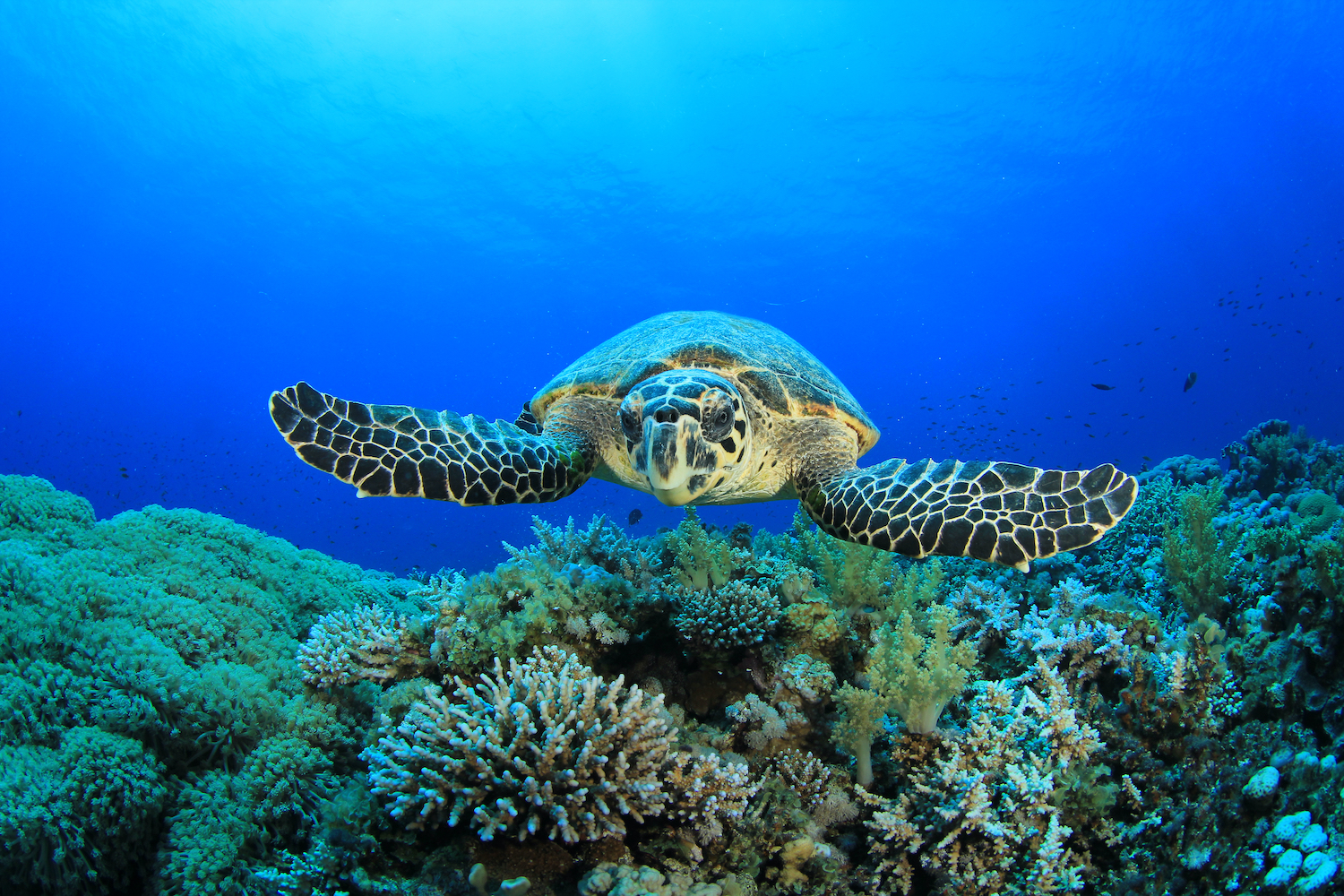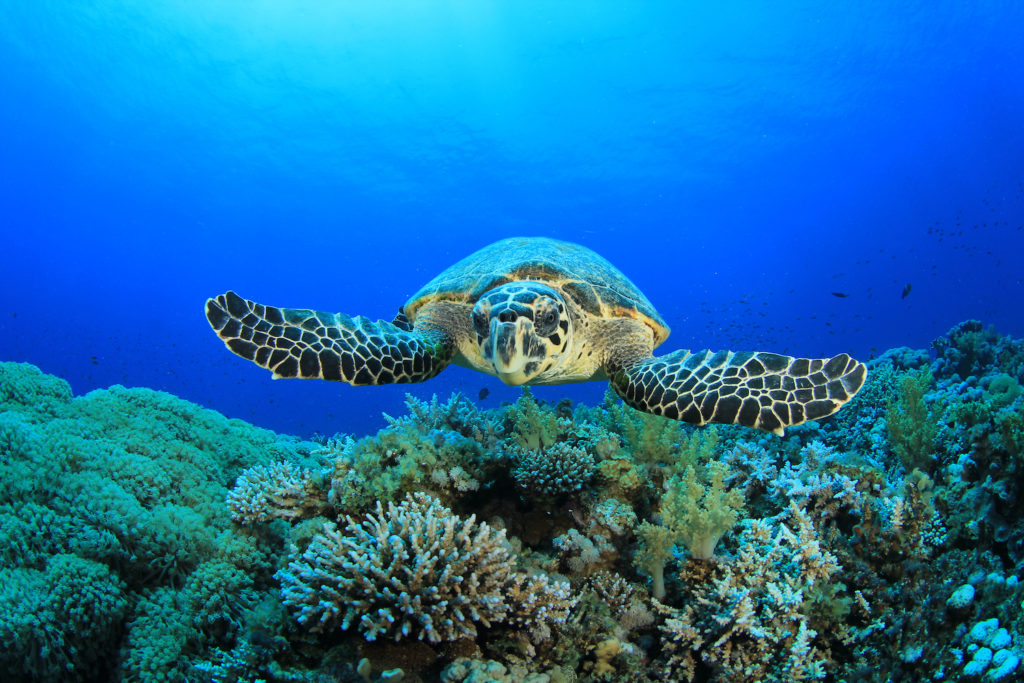 On an ambitious 2-hour snorkelling trip around Bom Bom (don't go alone and watch out for currents!) you have a good chance of seeing barracuda, sharks, turtles, golden African snapper, the largest of the snapper family the cubera snapper, and the yellow jack, all year round. You will find shoals of small yellowtail sardinella swarming around the pier.
---
Related books
Related articles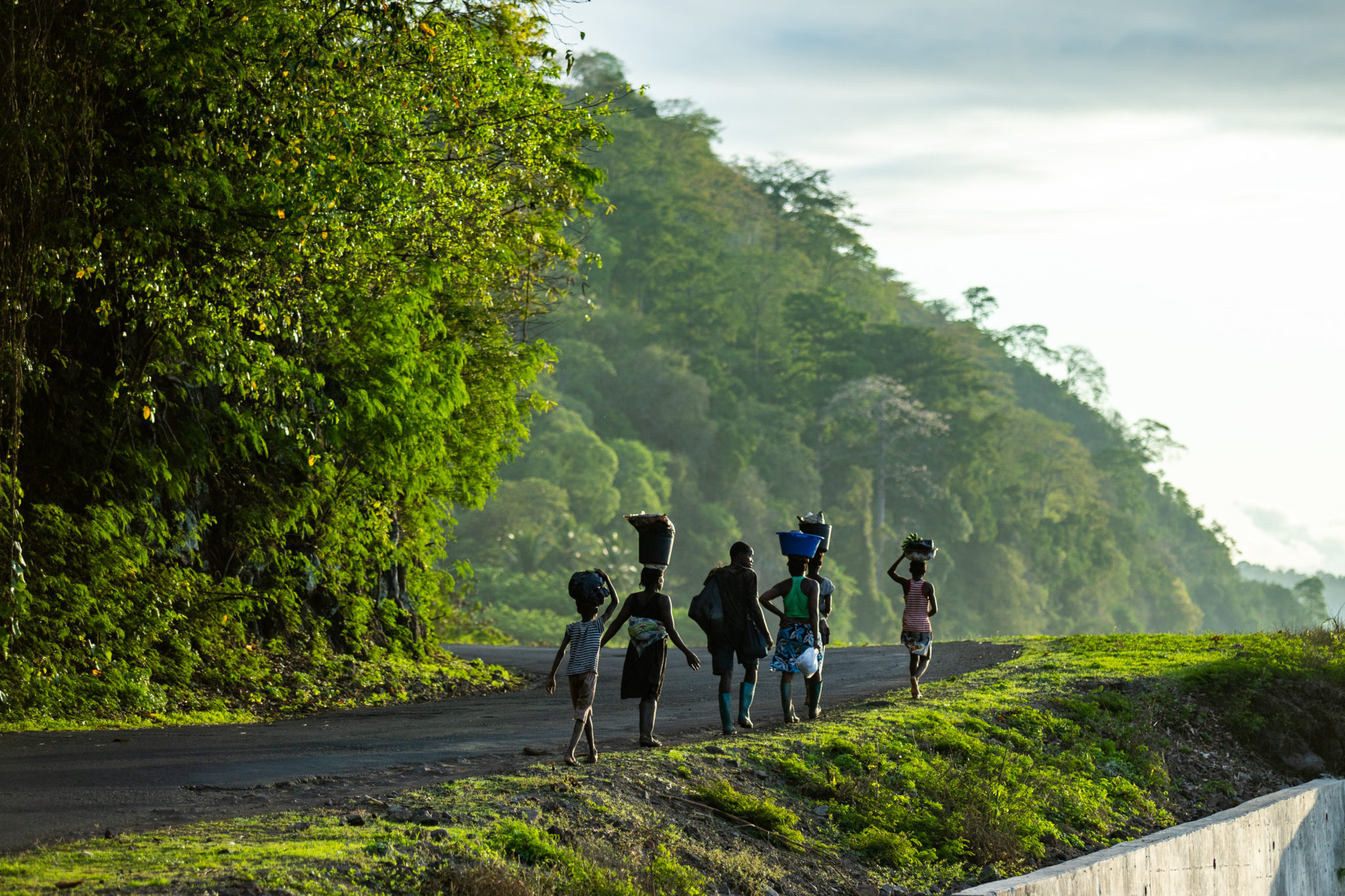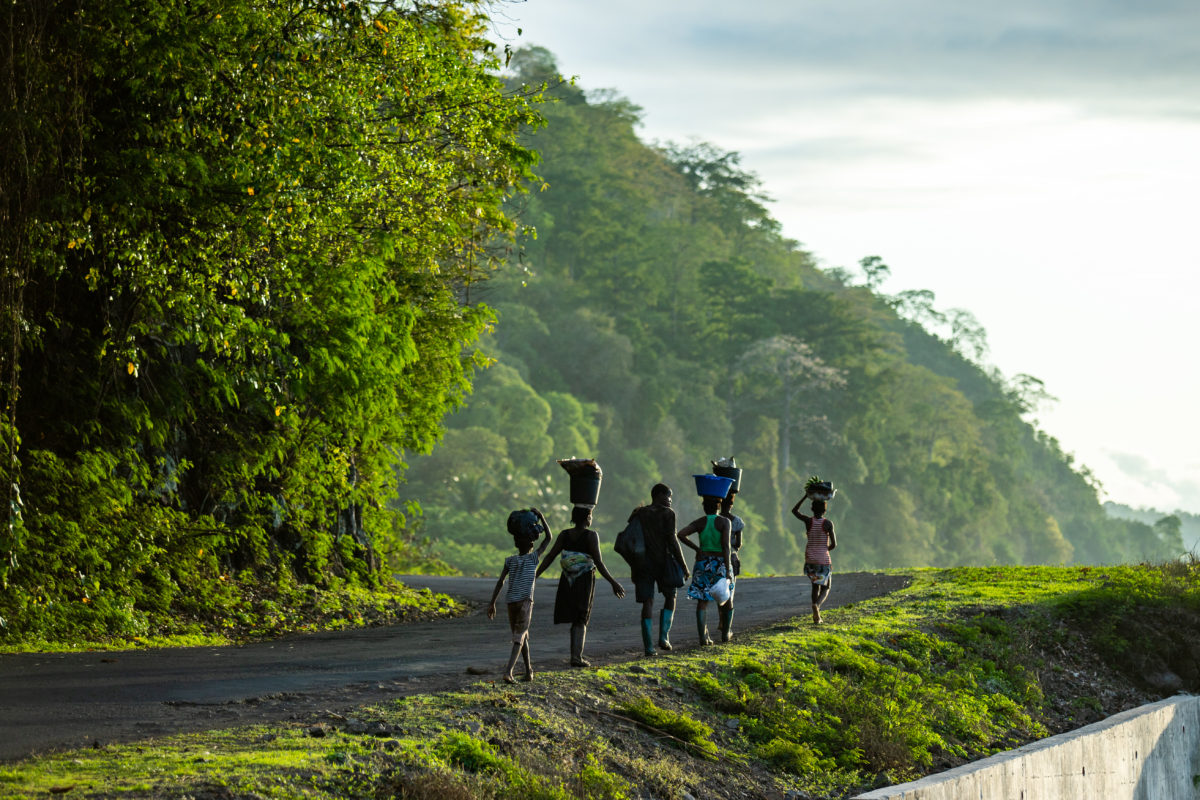 Businesses in São Tomé and Príncipe often place an emphasis on local, organic, produce.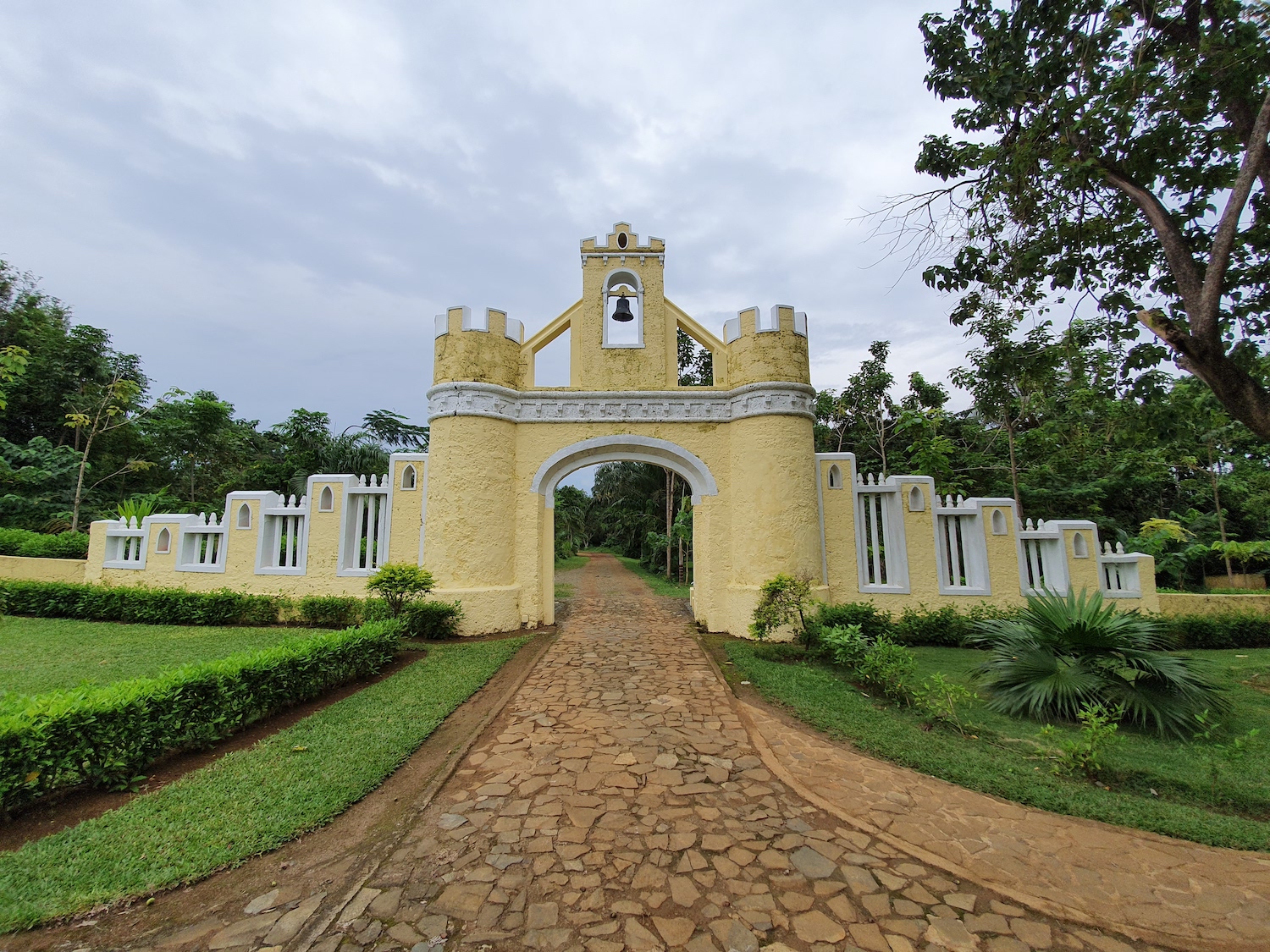 From coffee to cocoa, these estates provide a fascinating insight into the islands' past and present.