Do you have a well-thumbed copy of Roald Dahl's The BFG or Thomas Hardy's Tess of the d'Urbervilles on your bookcase? Are you an avid fan of Agatha Christie's fictional detectives Hercule Poirot and Miss Marple? Or do you indulge in the pastime that A A Milne's Winnie the Pooh, Piglet and Co invented – poohsticks?
The UK is home to some of the world's most beloved novelists, poets and playwrights. To celebrate this rich heritage we have compiled a list of our favourite literary landscapes – how many have you visited?
The Chilterns for Roald Dahl
Great Missenden
The most famous person with a connection to Great Missenden is author Roald Dahl, who lived in the village for 37 years and drew inspiration for some of his books from the surrounding area. Since 2005 his life and work have been celebrated at the Roald Dahl Museum and Story Centre.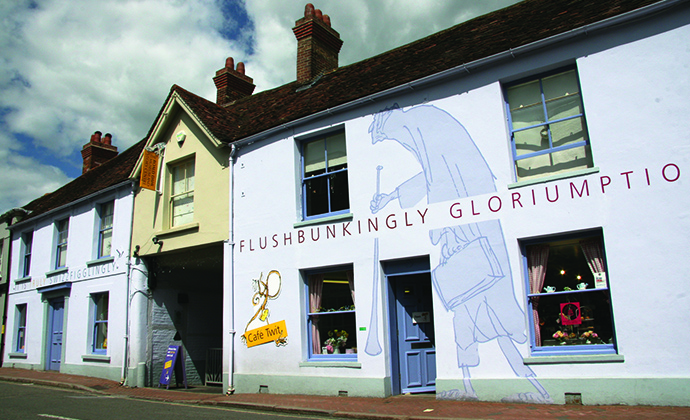 This museum is partly about the life of Roald Dahl, and partly about the process of creative writing. Once you've entered via the chocolate doors (which do smell of chocolate!) there are three galleries, the Boy Gallery which covers his school days, the solo gallery which showcases his adult life and the Story Centre.
At the museum you can pick up a leaflet for the Roald Dahl village trail, featuring locations that have links to Dahl's life and writings. These include the library, an unremarkable 1970s building, which Dahl's character Matilda used to frequent while her mother went to Aylesbury to play bingo; the old petrol pumps, which inspired the description of a garage in Danny the Champion of the World; Crown House, a timberframed building that was Dahl's inspiration for Sophie's 'norphanage' in The BFG; and Whitefield Lane, leading to Hobbs Hill Wood, where Dahl used to take his children.
Cornwall for Daphne du Maurier
Fowey
Fowey seems to exercise a particular hold over writers, in the same way that St Ives continues to draw its artists, and du Maurier is the most famous of these. The du Maurier Festival, held each May since its inception in 1997, has become a huge affair, spanning ten days and attracting big names as speakers; the events, which include music, exhibitions, guided walks, boat trips and open gardens, spill out into the neighbouring villages and countryside.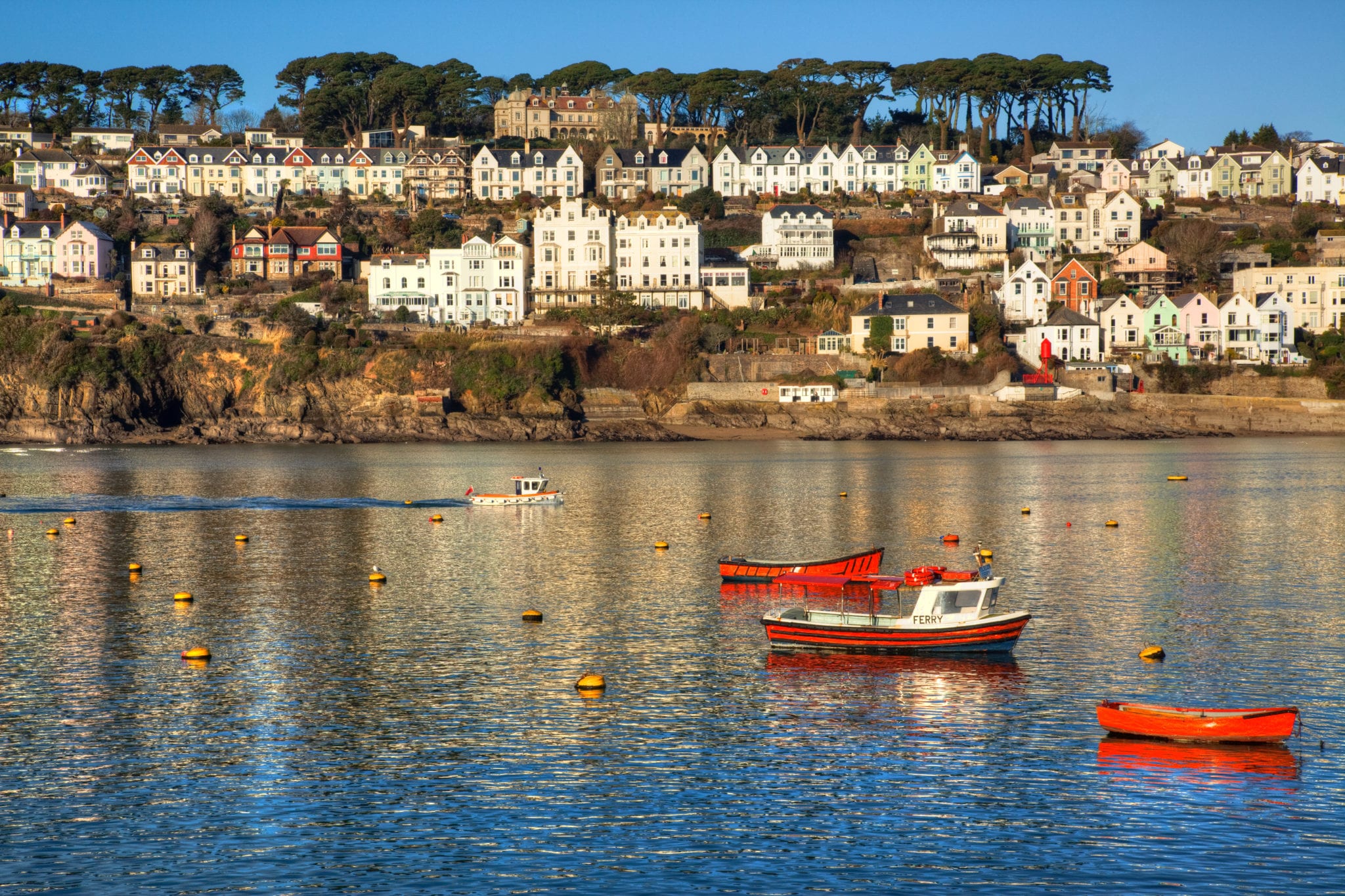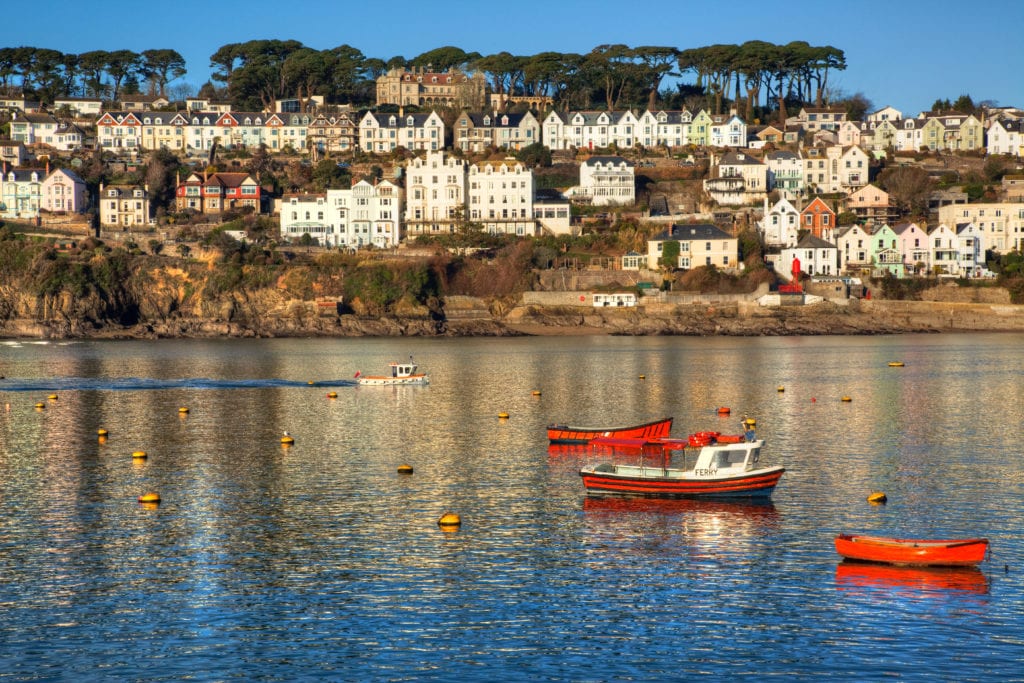 Bodinnick
Daphne du Maurier's name will always be linked with Bodinnick, whose pretty cottages and ancient pub cling to an impossibly steep hill that terminates abruptly on the slipway of the small chain ferry that links the village to Fowey. Ferryside, the big white house with the blue paintwork, built against the cliff face to the right of the slipway, is where the 19 year old fell in love with this part of Cornwall.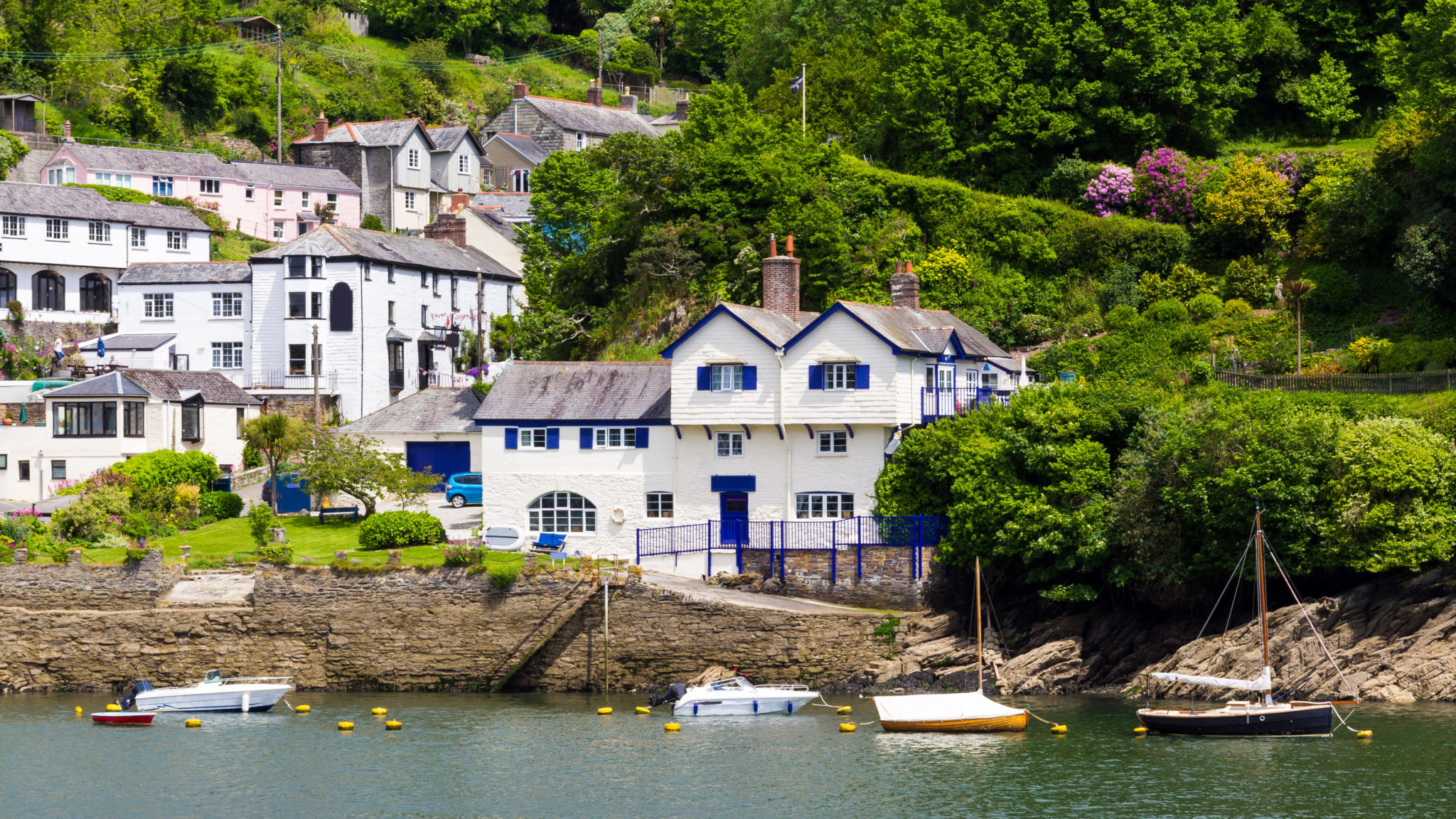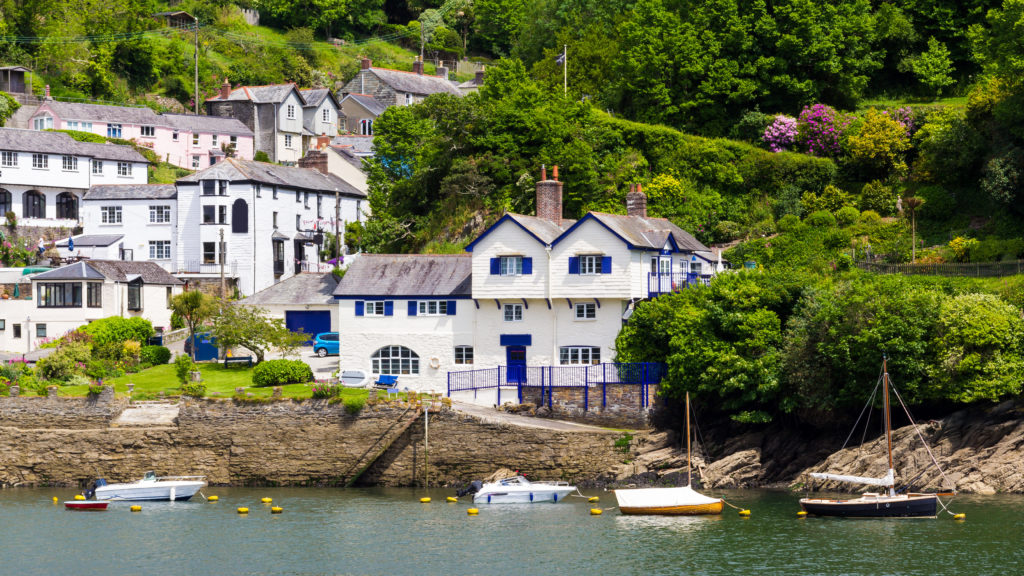 She persuaded her parents, who had bought the house for holiday visits, to let her use it as a writer's retreat. Soon after, she wrote in her diary: 'The lights of Polruan and Fowey. Ships anchored, looking up through blackness. The jetties, white with clay. Mysterious shrouded trees, owls hooting, the splash of muffled oars in lumpy water… All I want is to be at Fowey. Nothing and no one else. This, now, is my life.'
Four years later, in 1932, Major 'Boy' Browning sailed into the Fowey estuary, looking for her. He had read her first novel, The Loving Spirit, and fired by her descriptions of the Cornish coast, was determined to meet the woman behind the prose. A few weeks later, they were married – at the lonely church of St Wyllow, high in the hills behind Polruan.
Her husband's military career often took her away from Bodinnick, but Ferryside remained their base until 1943, when they moved into the grand house at Menabilly (Manderlay in Rebecca) on the other side of the Fowey. Ferryside was restored by her son, Christian Browning, who lives there; the house is not open to the public.
The Cotswolds for Lewis Carroll
Oxford
No author was actually called Lewis Carroll: this is the pseudonym of Charles Lutwidge Dodgson. The Latin for Charles is Carolus, thereby Carroll, while Lutwidge translates as Ludovic, or Lewis when anglicised, hence Lewis Carroll. Charles Dogdson both attended and taught mathematics at Christ Church College.
The college was significant in the lives of he and Alice Liddell, upon whom his book is based; Alice's father was Dean of Christ Church and a very good friend of Charles Dodgson. The mathematician would take Alice and her siblings for frequent rowing trips and picnics on the Isis, telling bizarre stories as they travelled. Alice's Adventures Under Ground was born from this, and was later published as Alice's Adventures in Wonderland.
There are many places and features around Oxford that crop up in Lewis Carroll's books, one of which is the Oxford dodo. The Great Hall in Christ Church College houses portraits of Henry Liddell, Alice's father, and Charles Dodgson plus an 'Alice' window depicting Alice Liddell, the dodo and other Wonderland characters.
The St Catherine Window in Christ Church Cathedral is dedicated to Alice's sister, Edith. Alice's Shop, opposite the entrance to Christ Church Meadow on St Aldates, stuffed with Alice memorabilia today, was the sweet shop where the little girl would buy her favourite barley sugars.
Dorset for Thomas Hardy
Higher Bockhampton
It is fortunate that Thomas Hardy was born in a picture-perfect thatched cob cottage with flower-filled garden, for this must be one of the most photographed addresses in Dorset. The cottage, now held by the National Trust, is nestled at the base of Thorncombe Wood, a five- to ten-minute walk from the car park.
Built by his great-grandfather, this was Hardy's home, on and off, from his birth in 1840 until he married Emma Gifford in 1874. Visiting it gives you an appreciation for how quiet, secluded and reflective Hardy's young life must have been. You have the chance to wander the tiny rooms, negotiate the perilously steep staircase and see where he wrote Under the Greenwood Tree and Far from the Madding Crowd.
Marnhull
Hardy enthusiasts seek out Marnhull, which Hardy referred to as Marlott, for it was here that the eponymous heroine of Tess of the d'Urbervilles was born and raised. The historic, partly thatched Crown Inn on the edge of the village was the Pure Drop Inn in the novel. Visitors expecting a village that has barely changed since Hardy's day might be disappointed; it is a large scattered community with much new development.
There are, however, plenty of attractive, old buildings in the local, creamy white limestone, quarried at nearby Todber. Particularly handsome are the village's stone farmhouses, such as Senior's Farm, adjacent to the church, which dates from 1500, and Chantry Farmhouse (formerly Pope's Farm) on the road to Stalbridge.
Shaftesbury
Thomas Hardy had plenty to say about Shaftesbury: he referred to it as 'Shaston' in his writings and it appeared in both Jude the Obscure and Tess of the d'Urbervilles. He described it as 'one of the queerest and quaintest spots in England', 'breezy and whimsical' and said 'beer was more plentiful than water'.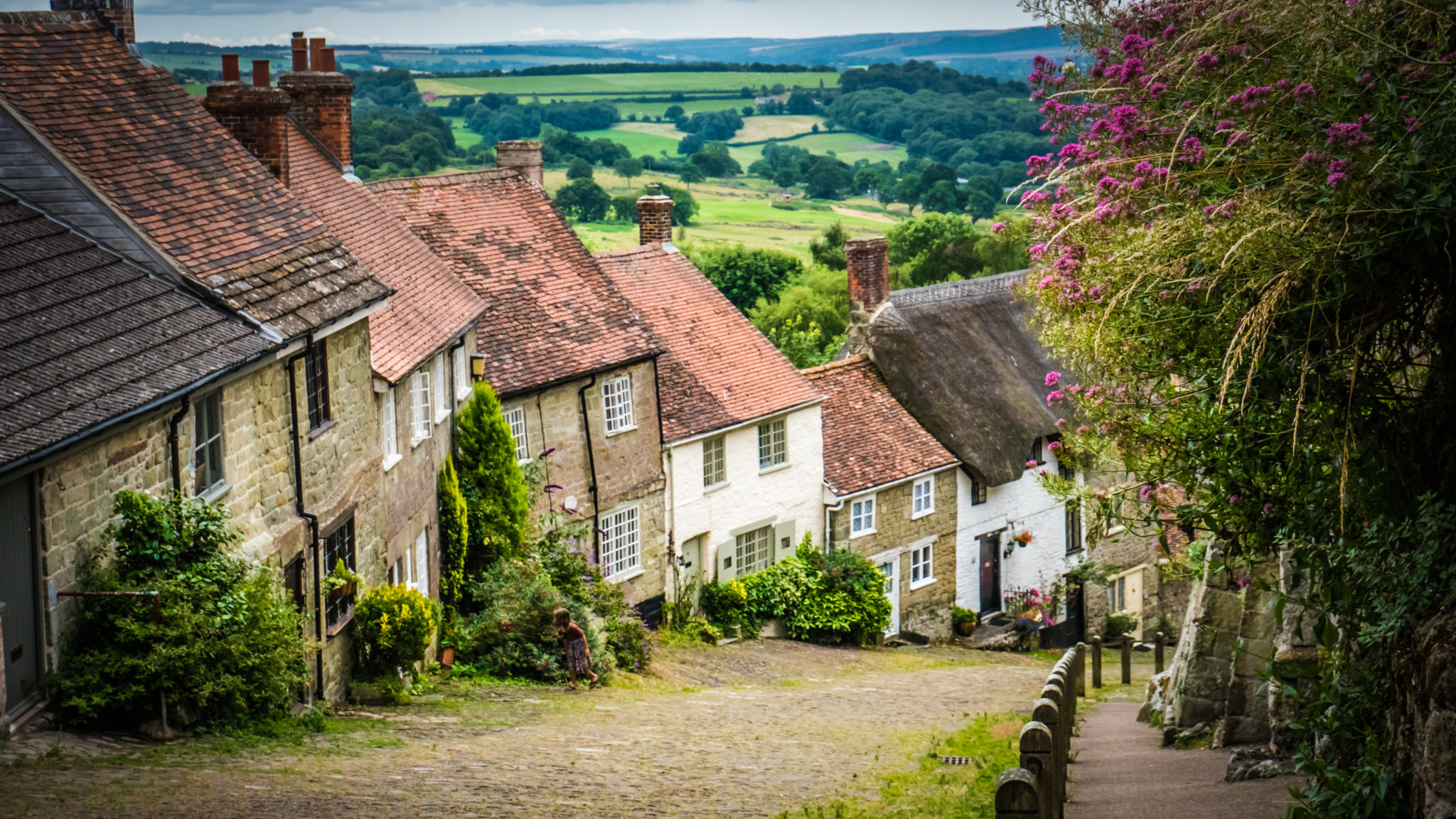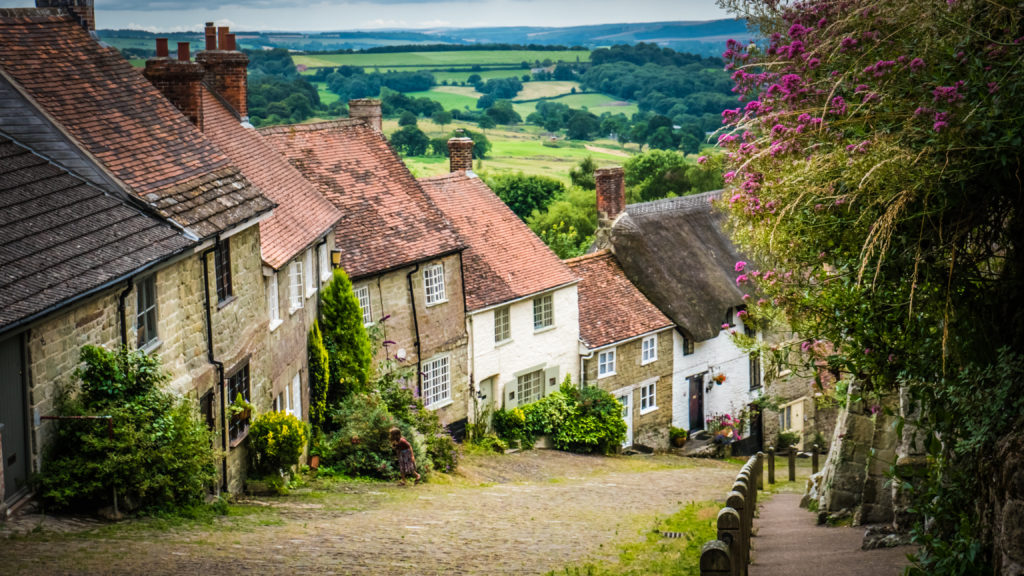 It is certainly quaint and, thanks to its hilltop position, has a tendency to be breezy. Catch it on a fine day and you will be amply rewarded by this queer, quaint, whimsical town that so fascinated Hardy.
Dumfries and Galloway for Robert Burns
Nithsdale
The area is strongly associated with Burns. Afton Water, captured by Burns in his eponymous poem, rises just outside the Dumfries and Galloway boundary in East Ayrshire and joins the Nith at New Cumnock. Burns lived in Nithsdale and travelled its length and breadth during his time as an exciseman, before moving in his final years to Dumfries.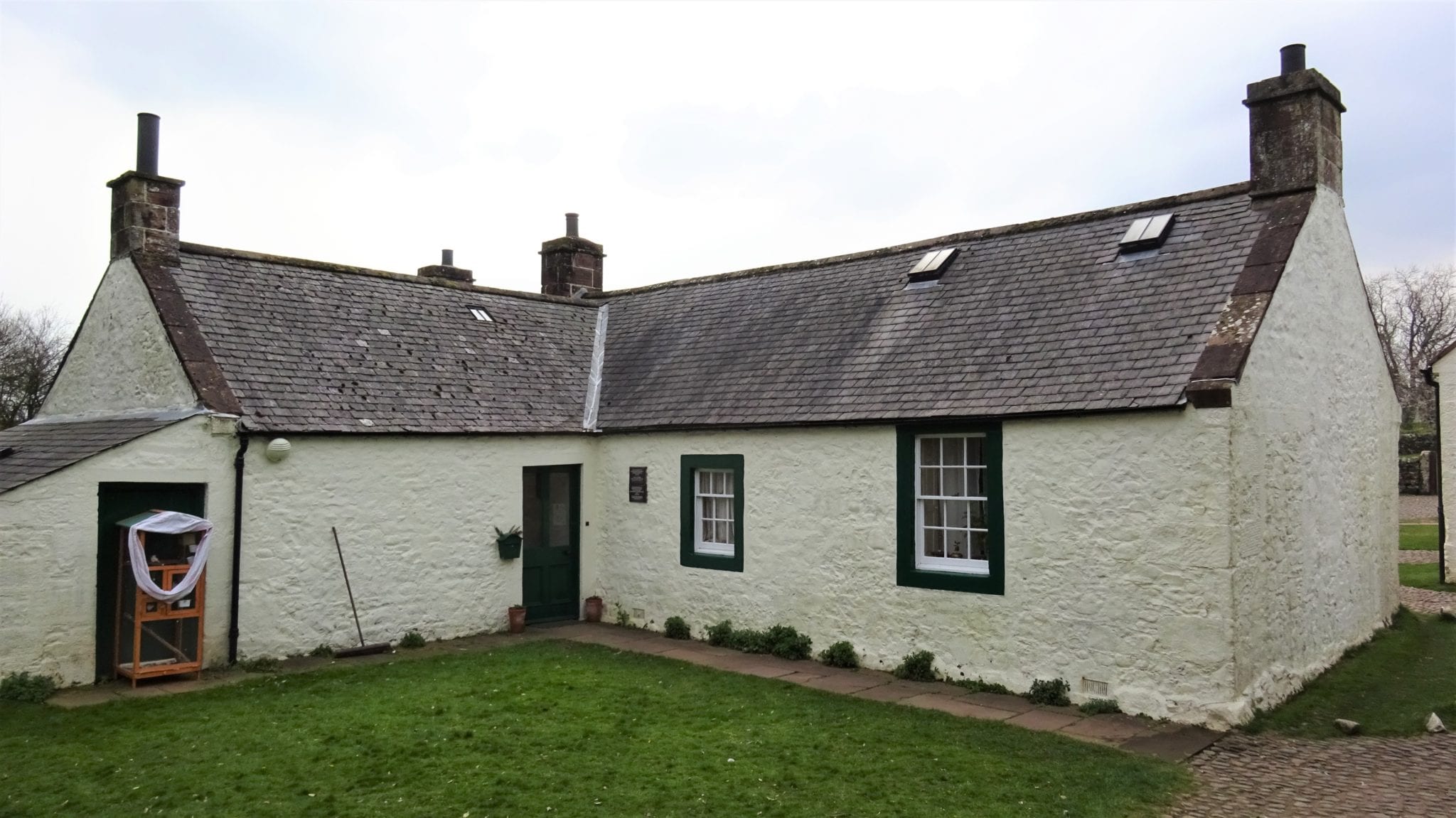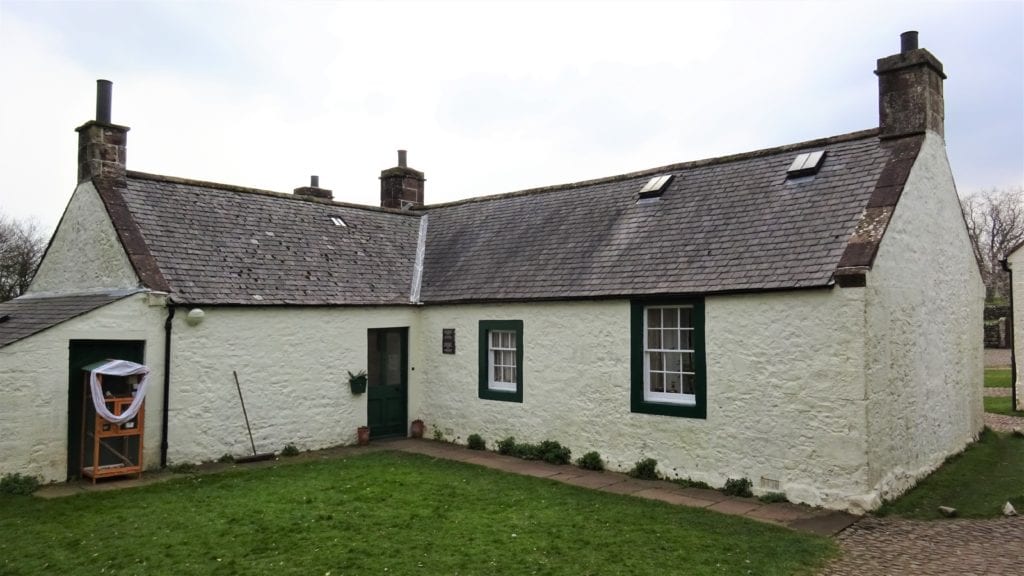 Whilst at Ellisland Farm he was at his most productive in terms of his body of work, even if this period highlighted how unsuited he was to being a farmer. Whitewashed cottages around a central courtyard are evocative of a bygone era at Ellisland. Only one room in the house in which Burns lived is open to the public, but in the adjacent Old Granary there's a very good audiovisual presentation and interesting displays, including one on excise which contains Burns' own arithmetic book.
There's also a collection of fun limited editions of the Robert Bryden 1896 etchings illustrating some of Burns's best-known work, including The De'ils Awa' Wi' the Exciseman, Tam o'Shanter and The Haggis. Other buildings from the time contain a selection of displays, including dioramas and a collection of agriculture and farming instruments.
Dumfries
After living at Ellisland, Robert Burns moved into Dumfries while still working as an exciseman and here he spent the final years of his short life. The town is replete with references to the poet and there is a Burns Trail which links all of the relevant points of interest (a leaflet is available from the visitor information centre), many of which are also covered by the walk overleaf. Burns first lived in a flat in the 'wee vennel' as it was known, or Bank Street, before moving to his house in Mill Street (now Burns Street).
A Burns statue stands prominently at the top of the High Street and in addition to the Burns Trail there is a Burns Walk along the Nith, from Dumfries to Dalscone, passing the confluence with Cluden Water at Lincluden. Along the High Street, the Hole in the Wa' was one of Burns's regular drinking haunts, though perhaps his favourite was the Globe Inn Close, also on the High Street. And near to both is the Midsteeple, where in July 1796 Burns's body lay in state before the funeral procession to St Michael's Kirk.
Each year Dumfries also hosts one of Scotland's premier winter music events, the Big Burns Supper, to coincide with the bard's birthday on 25 January.
Exmoor National Park for Lorna Doone
The publication of Lorna Doone in 1869 gave Exmoor tourism a marketing high from which it's never recovered. Certainly R D Blackmore's novel is more identifiably set in a genuine English landscape than most other literary classics, and the number of visitors to Oare's church of St Mary testifies that fiction is as powerful as fact. Blackmore's grandfather was rector here from 1809 to 1842, so the author knew the place well. Setting that aside, it's a church with lots of interest. Note the box pews. The one for the squire has seats round three sides so he and his family could be fenced off from his labourers, and in a position to ignore the vicar if so inclined.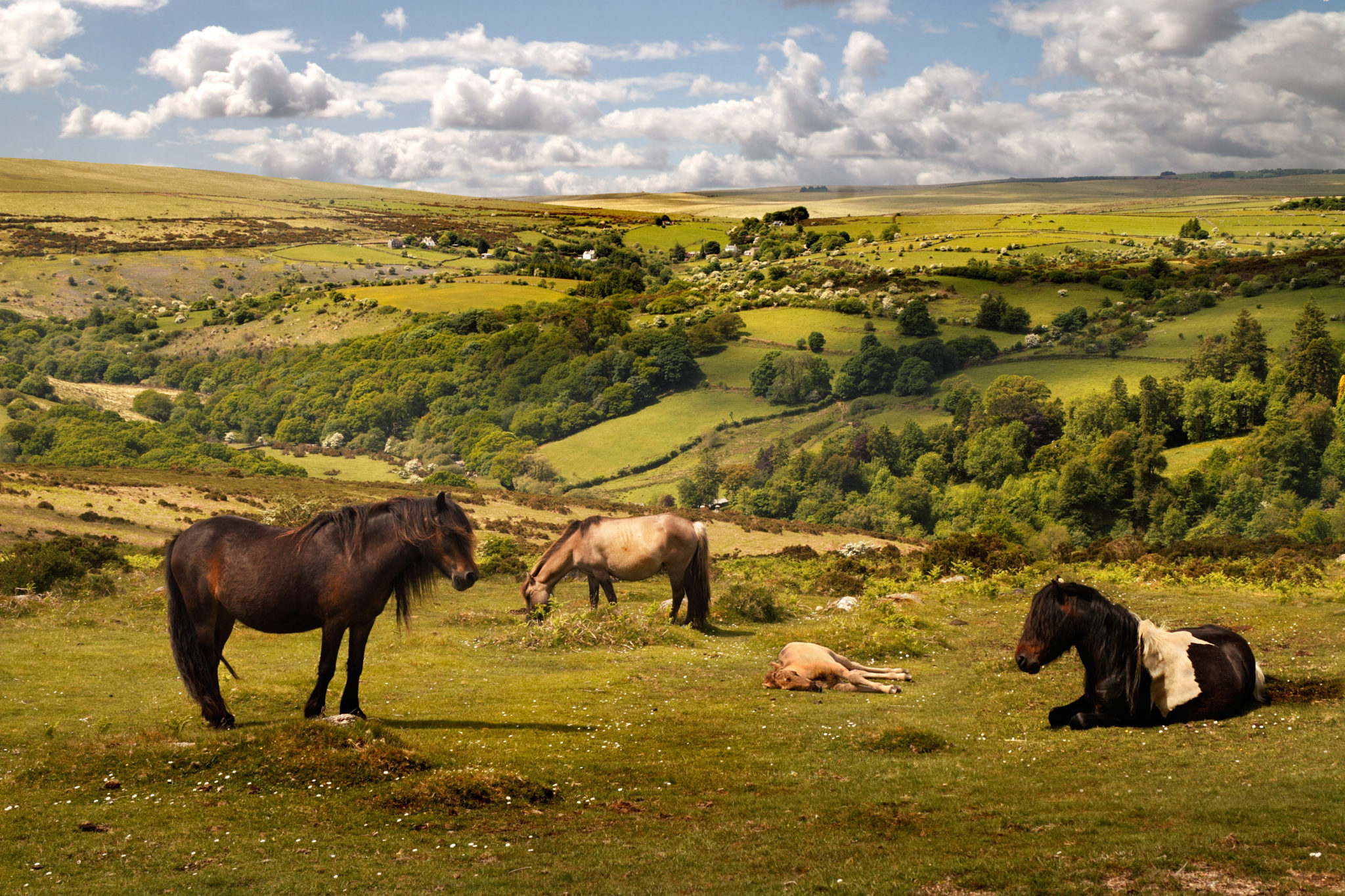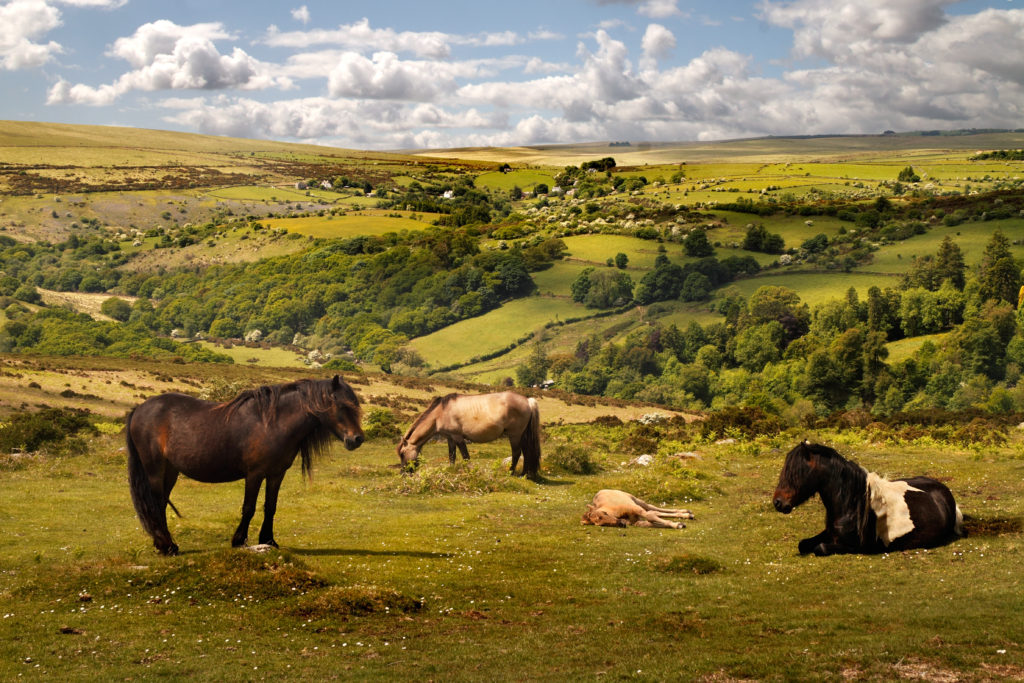 Nearby in Malmsmead, you will find the Lorna Doone Inn where, if you sit outside, your cream tea will be shared by bold wild birds, and, near the packhorse bridge, Lorna Doone Farm where you can indulge in yet more snacks and cream teas.
South Devon for Agatha Christie
Greenway
Agatha Christie bought the house in 1938 for £6,000. She took a break from writing while on holiday here, but the sloping grounds, with glimpses of the river through the trees, provided settings for some of her murder mysteries.Christie fans will love the visit to the house, marvelling that you are looking at the actual Steinway piano she played, and appreciating the papier-mâché tables that she collected.
Archaeology fans will also be happy, since Christie's husband, Max Mallowan, organised digs in Iraq and other Middle Eastern sites and his collections are more interesting than her bits and pieces. Perhaps the lasting impression is of coupledom. The Mallowans clearly loved doing things together and Agatha was an enthusiastic helpmate on Max's archaeological trips. And it would be hard not to be happy in such a setting. The garden is worth a visit for its peacefulness and some unusual plants.
Sussex for A A Milne
Ashdown Forest
'Drawn by Me and Mr Shepard helpd' wrote (supposedly) Christopher Robin on the map of the 'forest' at the beginning of A A Milne's immortal quartet of children's books which began with Winnie-the-Pooh in 1926, followed by The House at Pooh Corner (1928). Simply penned with pine trees and sandy tracks, and variously marked 'Pooh trap for heffalumps' and 'nice for piknicks', E H Shepard's map and the illustrations that follow perfectly evoke the Ashdown Forest landscape.
Some names are only slightly changed: 'Hundred Acre Wood' in the stories is Five Hundred Acre Wood in reality, not far from Cotchford Farm near Hartfield where the Milnes had their country bolthole. Galleons Lap is really Gill's Lap, the 'enchanted place on the very top of the Forest' (close to which is thought to be where that Heffalump trap was set), easily picked out nowadays by an ice cream van that's often in the car park at a Y-junction of roads; just beyond, a memorial stone to Milne looks north across the Weald in celebration of hat his stories gave to the world. Poke around further and you might find Owl's Tree or 'the North Pole'.
More information
Find out more about Britain's literary heritage in our Slow Travel series.