Tracking mountain gorillas in the Virungas ranks among the absolute highlights of African travel, and it is the undisputed 'must-see' on any visit to Uganda. But the country's location at the point where the eastern savannah meets the West African jungle means that it offers visitors the best of both these fantastic worlds – and the wildlife to match.
In no other African destination can one see a comparable variety of primates with so little effort – not just the great apes, but also more than ten monkey species. And if Uganda will have primate enthusiasts wandering around with imbecilic grins, it will have birdwatchers doing cartwheels, with over 1,000 bird species recorded. So don't be blinded by just the gorillas in the mist – there are countless exhilarating wildlife experiences to enjoy in this remarkable country.
Track golden monkeys in Mgahinga Gorilla National Park
The next-best thing to seeing the mountain gorilla is the chance to track the golden monkey, a little-known bamboo-associated primate listed as 'Endangered' by the IUCN. Endemic to the Albertine Rift, the golden monkey is characterised by a bright orangegold body, cheeks and tail, contrasting with its black limbs, crown and tail end.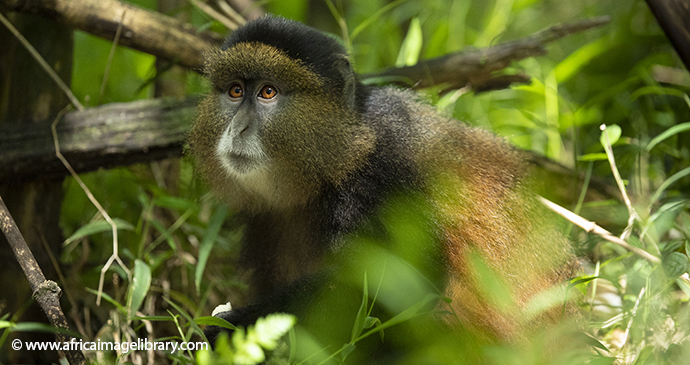 Once quite widespread in the forests of southwest Uganda and northwest Rwanda, it is now near-endemic to the Virunga volcanoes, though a small number still inhabit the relict forests protected within Rwanda's recently gazetted Gishwati-Mukura National Park. Within this restricted range, however, it is the numerically dominant primate – indeed a 2003 survey estimated a population of 3,000 to 4,000 in MGNP alone. Visitors to Mgahinga might luck a glimpse of this charismatic monkey on any hike that passes through the park's bamboo zone, but to be sure of seeing them close up, it is best to do the golden monkey tracking excursion that leaves from Ntebeko at 08.30 to 09.00 daily.
Walk with rhinos at Ziwa
A 70km² tract of tangled woodland situated a short way south of the Kafu River, Ziwa Rhino Sanctuary is the only place in Uganda where rhinos can be seen in a more-or-less wild state, thanks to an ongoing introduction programme overseen by the NGO Rhino Fund Uganda.
The sanctuary's main attraction is a white rhino population of 26 (and growing), which can be tracked on foot by day or overnight visitors in the company of an experienced ranger. Offering accommodation to suit all budgets, the sanctuary makes for a great overnight bush break out of Kampala, but it is also conveniently located for a day visit or overnight stop en route from the capital to Murchison Falls, Gulu or elsewhere in the north.
Go in search of shoebill on Lake Albert
Murchison Falls National Park might be home to some 550 species of bird, but the star attraction is undoubtedly the shoebill, an elusive and bizarre waterbird frequently seen in the delta where the Nile empties into Lake Albert.
The 20km voyage downriver from Paraa to the Lake Albert Delta is favoured by birdwatchers as one of the best opportunities anywhere in Africa to see the rare shoebill, particularly during the rainy season. More often than not, those who take the boat trip are rewarded with multiple shoebill sightings, but nothing is guaranteed and occasionally they dip totally.
Make friends with chimps at Kalinzu
The highly accessible Kalinzu Eco-Tourism Project, set alongside the Kasese–Ishaka Road 35km south of Katunguru, now ranks as Uganda's most reliable chimpanzee-tracking option for budget-conscious travellers. Kalinzu harbours at least 300 chimpanzees, including a 40-strong community habituated for tourist visits, and a slightly larger one reserved for researchers.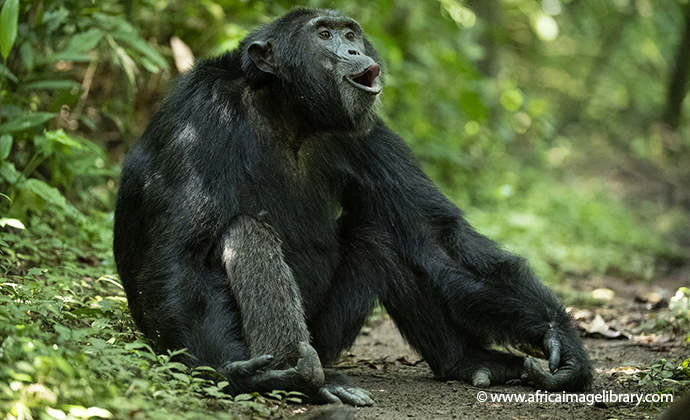 Chimp tracking now comes with a 95% success rate, making the site almost as reliable as Kibale Forest, and the quality of sightings is usually very good. There is no fixed departure time, tracking can start from 07.30 until around 14.00, but an early start offers the best chance of a good sighting.
Get up close to Ishasha's tree-climbing lions
As a rule, lions are strictly terrestrial. Indeed, Ishasha is one of a handful of places anywhere in Africa where these regal predators regularly take to the trees (the others being Lake Manyara National Park and parts of the Serengeti, both in Tanzania), and it is probably the most reliable site of the lot. The explanation for this localised behaviour is open to conjecture. Limited studies undertaken in Lake Manyara indicate that the custom of ascending trees is culturally ingrained rather than a response to any immediate external stimuli, though it may well have been initiated to escape the attention of biting flies during an epidemic of these irksome creatures.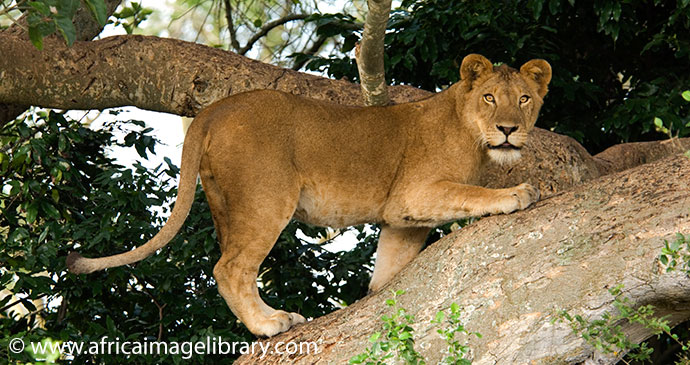 In Ishasha, sycamore fig and to a lesser extent Albezias are favoured over other trees, with around 20 specific individual trees being favoured – which makes it quite easy to locate the lions when they are up in the canopy. The behaviour might be observed throughout the year but it is most frequent during the rainy seasons. Ishasha's lions are most likely to be seen in arboreal action in the heat of the day, between 11.00 and 15.00, and they invariably descend back to the ground well before dusk.
Fancy getting up close with golden monkeys? Start planning your trip to Uganda with our comprehensive guidebook.