You notice the change in air as soon as you arrive in Calama, a two-hour flight from Santiago, into Chile's arid north. There are people who don't cope well with the thin, dry atmosphere, even at the airport altitude of some 2,000m. But as you steadily climb to the town of San Pedro de Atacama, and even higher to visitor attractions like the geysers at El Tatio, it only gets more challenging.
I didn't know anything about Slow Travel 15 years ago, but gently is the only way to do anything when above the 3,000m mark. Fast won't get you anywhere but down, to lower climes and a chance to catch your breath.
'Otherworldly' is a term that gets used a lot to describe places we're not familiar with, but Chile's Atacama Desert is one of the few locations in the world that truly deserves it. It's the planet's highest and driest desert, occupying over 100,000 square kilometres and used by NASA to test vehicles for Mars exploration and by film companies for 'outer space' location shooting.
Like nothing you've ever seen before
In my first few months of a two-year contract in Santiago in 2004, my initial jaunt up north was like all travel firsts – eyes wide open and senses fully engaged. I landed in the chill, night air, and darkness obscured the views on the drive from the airport to San Pedro. Subsequent visits have revealed the 75-minute transfer cuts through an impressive sand-hued lunar landscape, punctuated at higher elevations by snow-tipped volcanos and mountain peaks. But back then, all I could see was a blue-black sky and stars, and that was remarkable enough.
A few days in, I became rapt by a landscape that is known for its tendency to floor even the most cynical, seen-it-all, world traveller. From salt lakes replete with flamingos to hot springs and oases, the altiplano, or high plane, has a topography that is, without doubt, out of this world. And down in San Pedro, even the perfect cone of Licancabur volcano is visible.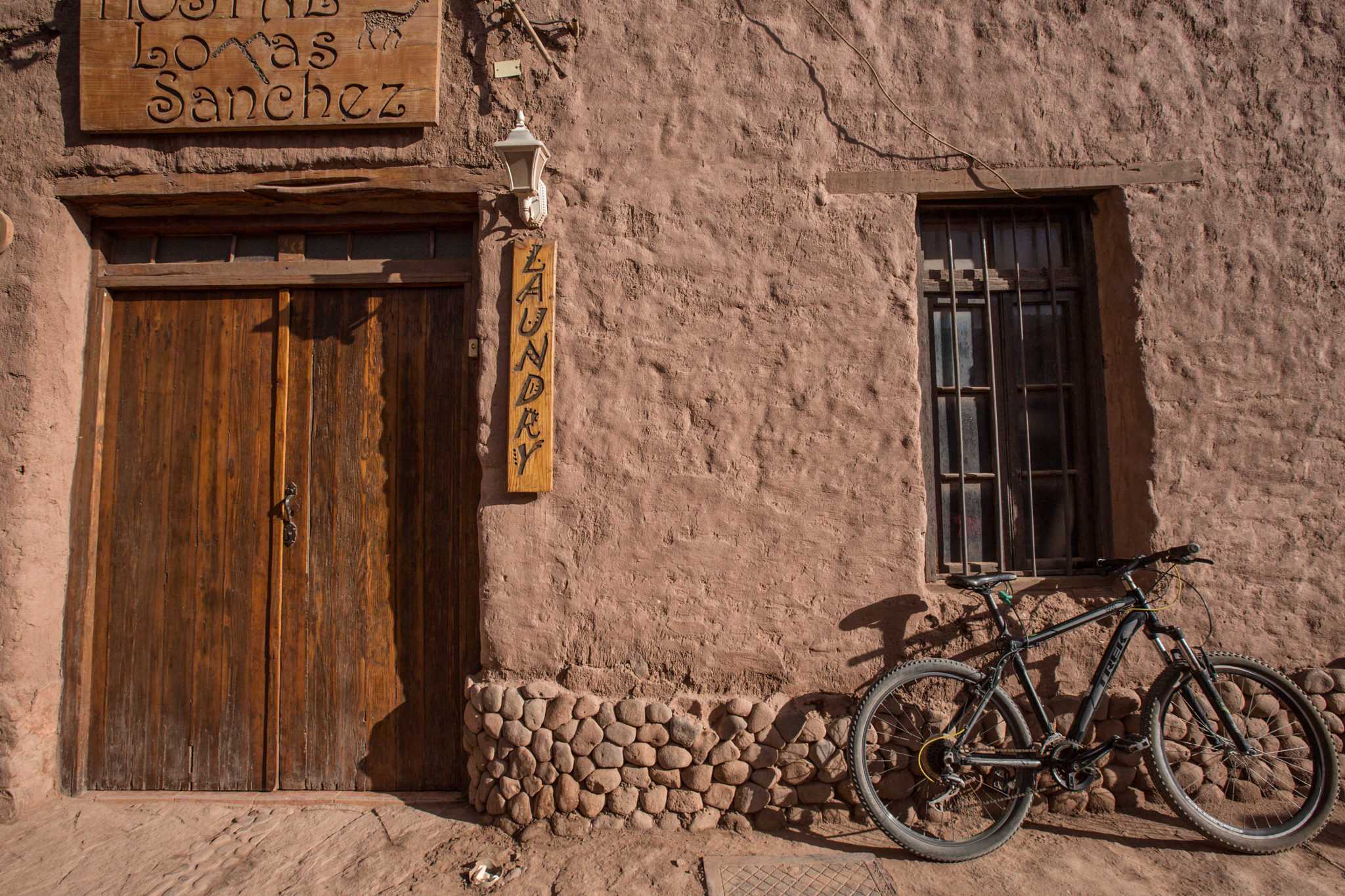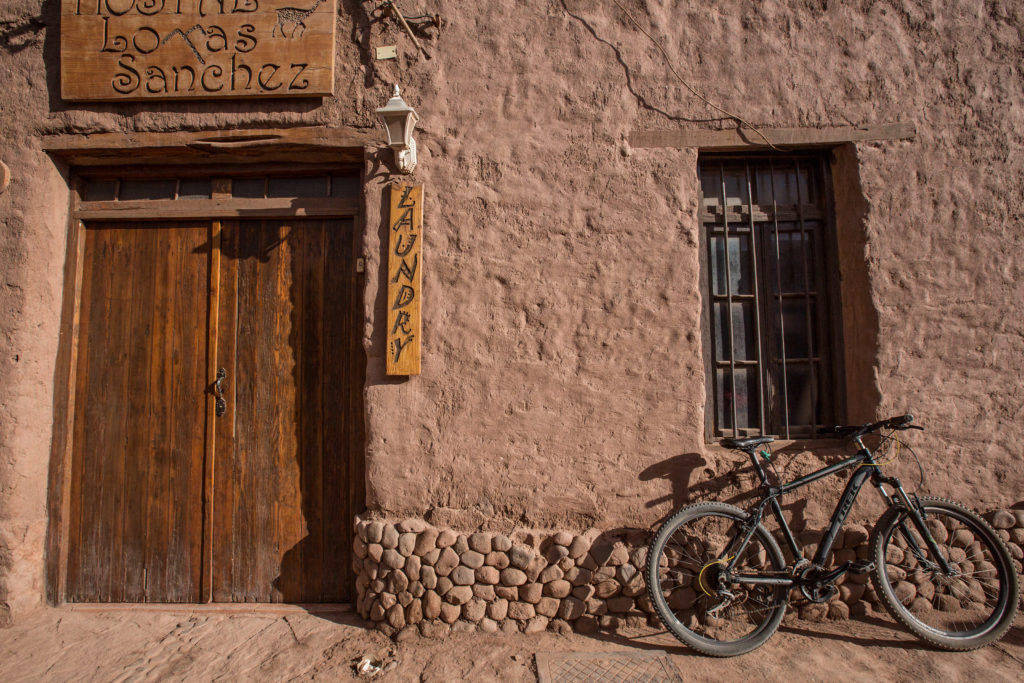 On that new morning my friend Ceri and I bounded, as far as altitude would allow, out of our adobe hostel on to San Pedro's dusty main drag. We wanted to experience it all. Tour office windows were full of images of day trips to the Andean plateau. We knew about Laguna Miscanti, the deep-blue lake backed by Miñiques volcano, and Cerro Miscanti, strikingly contrasted by tufts of surrounding yellow-green salt grass. And Valle de la Luna, or Moon Valley, is on everyone's list, especially at sundown when the rocks and undulations transform, a fiery golden into crepuscular violets.
The road to Uyuni
But it was a four-day road trip over unsealed roads, crossing the Salar de Uyuni and the Bolivian border that was our main goal. And we booked it from one of just a few operators running trips at the time. It would all be a bit different within a few years and the advent of Instagram – the salt flats have become a must-see location on the 'highlights of Latin America' trail, with ubiquitous photographs of the white, contourless backdrop, creating optical illusions of human size and scale.
For us though, it was just the faded, laminated window displays that hinted at the immense white expanses, llama herds and grass-strewn frozen streams to come. A dog-eared guidebook we'd borrowed from the hostel guided our way.
None of that road trip was easy – from sharing a battered jeep and its dubious suspension with four complete strangers, to having to wear all of the clothes we had with us one night to keep warm in sub-zero temperatures. The makeshift overnight shelter had broken windows, which was possibly a bonus given that one of our group had digestive issues. He also snored like a hippo, and we spent the night throwing rolled-up socks at him.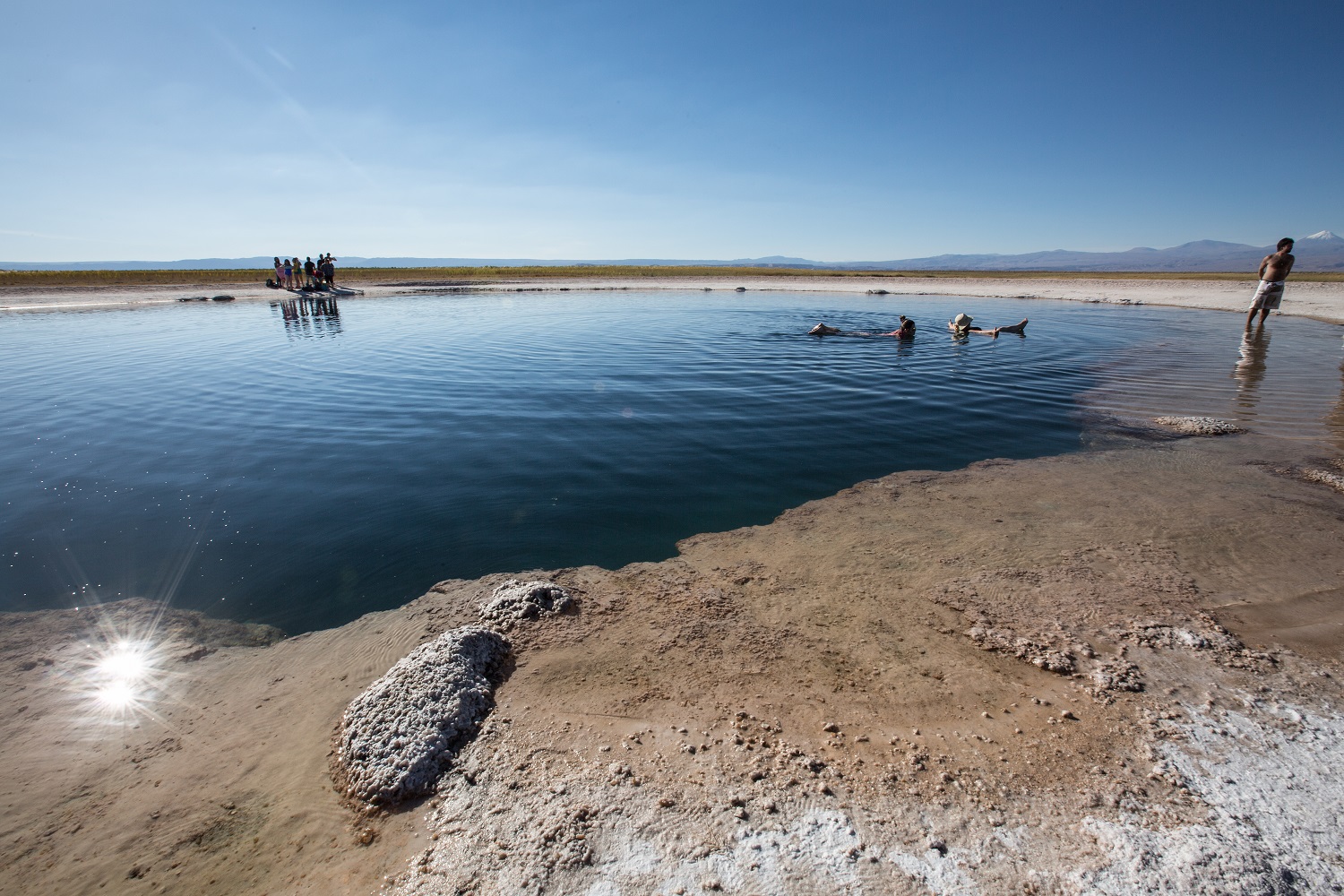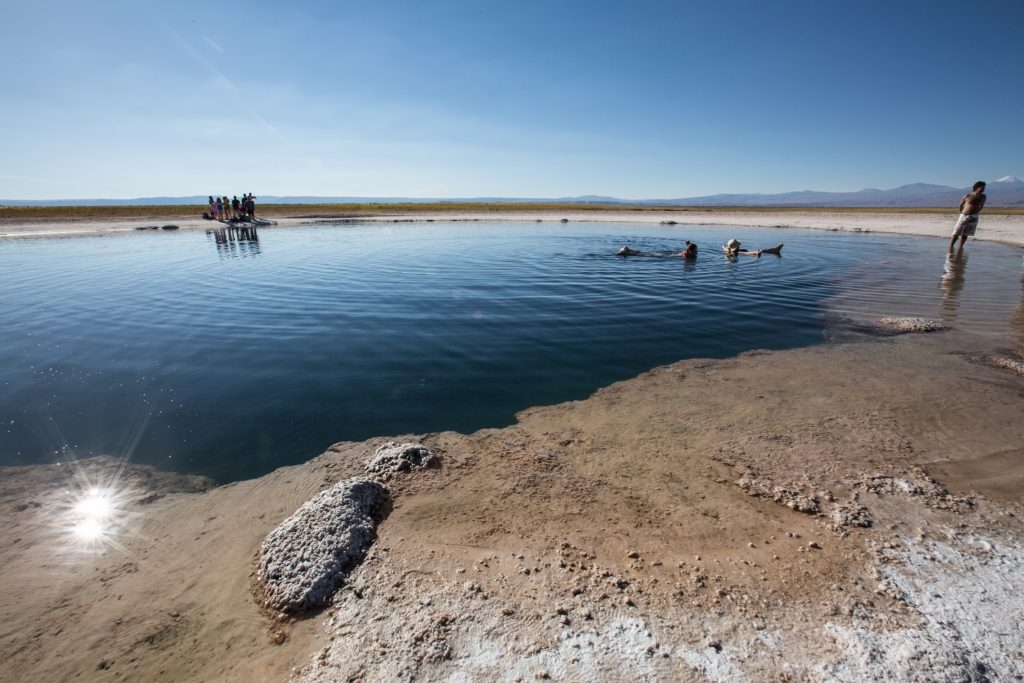 The sun was fierce during the day, especially through the vehicle's windows. We were so high, often around 4,500m, it was all we could do to stay alert, and the bone-shaking rough terrain was strangely soporific. There were a lot of languid limbs and whimpered questions on that first day's full drive to Bolivia.
We also had two punctured tyres, the first early on but the second one that night, on the outskirts of Uyuni. As the jeeps carried only one spare, we waited for a vehicle going in the opposite direction to save us – I always wondered if they'd made it to San Pedro intact. On our slower return to Chile we saw vizcachas, a high desert rodent that's more rabbit-like in appearance, stripped off to bathe in a deserted thermal pool and gazed at flamingos through the heat haze and glare of cool blue salt lakes.
But it was having the luxury of time after we returned to San Pedro that was also so much part of this trip. Often visitors will have a few days there, before moving on – who can blame them, as Chile has so much to offer. But living there, we were in no rush.
Meeting up again with our jeep mates at local bars and getting to know Chileans (not locals, but southerners who'd come up to live in this hippy desert) meant invitations to house parties; an assortment of stripey-trousered Chileans and backpackers sitting round the outdoor fire pit. At one we met up with Michael, our flatulent jeep-mate, who drunkenly finished the night hanging from a washing line that he'd wrapped himself around for support, to the great amusement of our hosts.
Coming back for more
I initially went to live in Chile for two years, and it was the trips like this that kept me there for much longer – Rapa Nui (or Easter Island, as it's known), the mountains, the lakes, Patagonia, Antarctica – it was all there to be explored over weekends, on buses that crossed over high mountain passes, and on longer trips crossing the borders by taxi into Peru and Bolivia before hiking off into the unknown. And, like a lot of the places I saw during my years in Latin America, the Atacama seared its way into my memory, filling me with longing.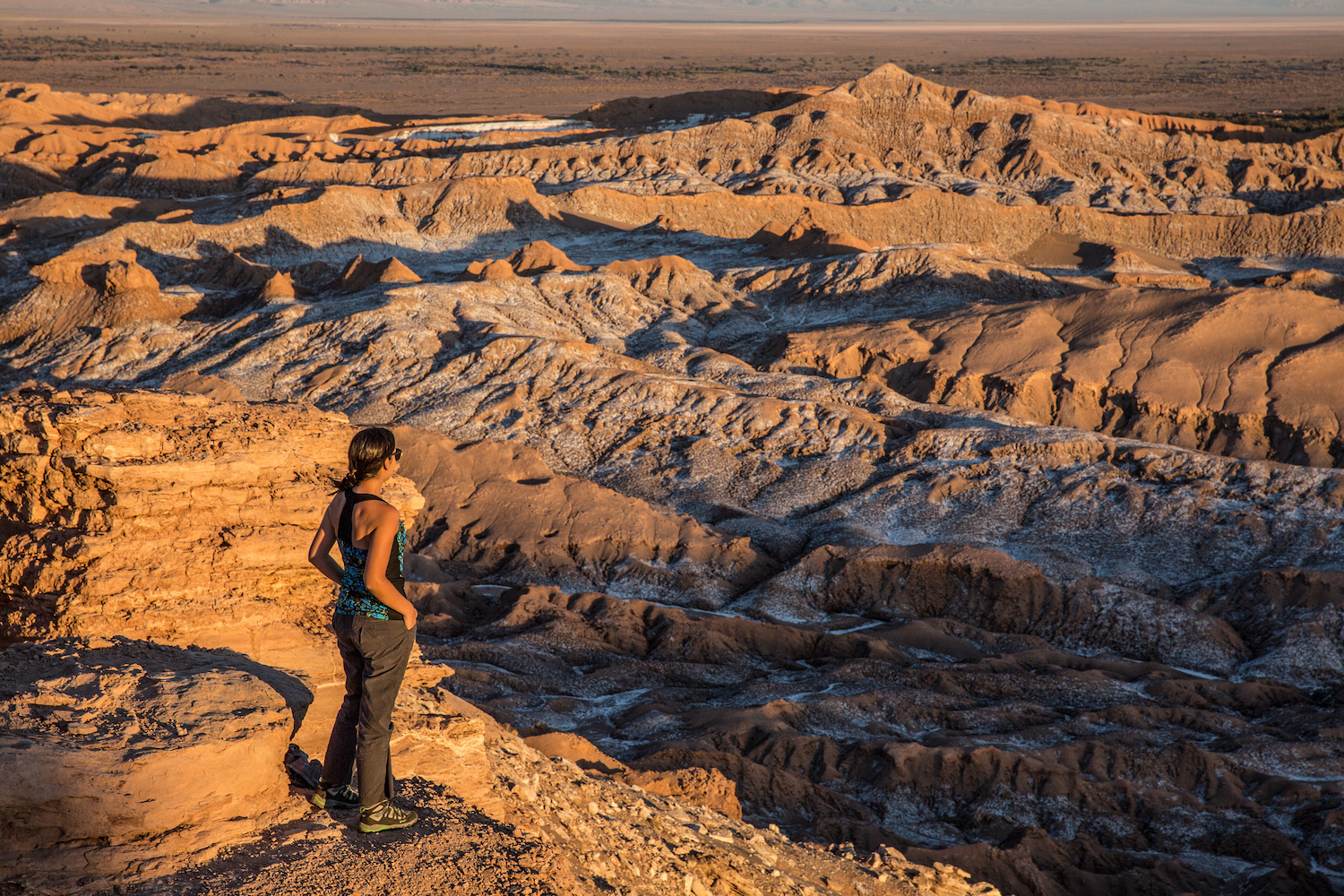 And I did go back, more than once. The first, a couple of years later with other friends from Santiago who were in need of some down time rather than high-altitude adventure. So we existed mostly at 'ground level' around San Pedro. The hotel and its pool was a step up from my previous one, and we had time to shop for silver and textiles, have leisurely lunches and go star-gazing in the garden of a resident French astronomer.
Our leisurely pace quickened one day though on a group horse ride, which was fine for the horse, but not so great on my sternum, which was being whacked by the heavy camera around my neck. Taking one hand off the reins to hold it down, my rather nifty cowgirl hat blew off at roughly the same time. With no free hand to save it, I watched our guide do a U-turn, hardly slow down as he swooped down low from the saddle, and dusted it off like Indiana Jones before handing it back.
'Time is the most valuable thing we have'
South America really honed me as a photographer, and I returned to the UK having won Wanderlust magazine's Photograph of the Year. I'd shifted from a traveller who photographs and writes, to a photographer and writer who travels.
Although many travel journalists flit around the world, meeting deadlines while still on the road to their next job, those years in Chile had primed me for staying longer. It suits the way I work to go slow – you have to wait for the light, search out the best spots and find people who'll trust you and be comfortable enough to be photographed.
I know how lucky I am, as I've also been back to Chile several times since coming back to London. My first return was special, and I knew exactly where I wanted to go. San Pedro solo for ten days, with no check list, no pressing desire to do as much as I could, and quite enough time to see how a place I knew well had changed.
Maybe it's being older, or the journey to becoming a professional travel photographer, but I cannot really think of a better way to fully immerse in a place than on your own. Knowing a country's language eases the way, and not being in a hurry gives you a chance to seek out local people, go with the flow or just enjoy the silence.
I used to think Slow Travel was just an excuse for people who couldn't or didn't want to move in a hurry – but now I believe it's how we should try to navigate the world. Everyone is re-evaluating how we travel, especially given climate and environmental concerns. Flying from city to city, or trying to get from Rio to Santiago in two weeks is off the cards for all of us anyway, but many had already begun eschewing that way of life.
For me, staying longer in one location was the best piece of advice a fellow photojournalist ever gave me. After all, time is the most valuable thing we have, and the earth deserves much more than a whistle-stop tour.
---
Nori Jemil is an award-winning photographer, writer and videographer whose works have been acclaimed by the likes of Nat Geo Traveller UK, BBC Travel and Wanderlust magazine. You can see more of her fantastic work on her Instagram, Twitter and Facebook pages.
This article was originally published in The Travel Club, our monthly members-only e-zine. Click here to become a subscriber.